Making a cake but don't have any cake flour on hand? Use your all-purpose flour to make this cake flour substitute and save yourself a trip to the grocery store.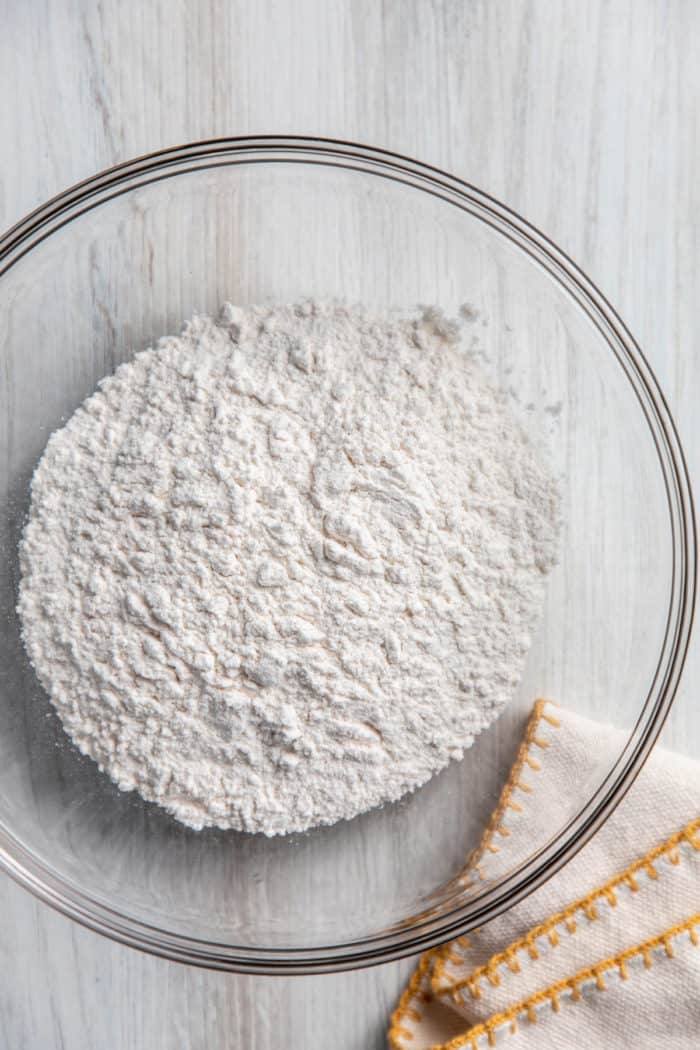 This post contains affiliate links.
It's no secret that I love a good baking substitution hack.
Whether it's knowing how to whip up a buttermilk substitute, how to make powdered sugar, or how to make self-rising flour, these tricks save me from having to go to the grocery store on a regular basis.
Today we're going to talk about cake flour: what it is, why you use it, and how to make a simple cake-flour substitute using all-purpose flour.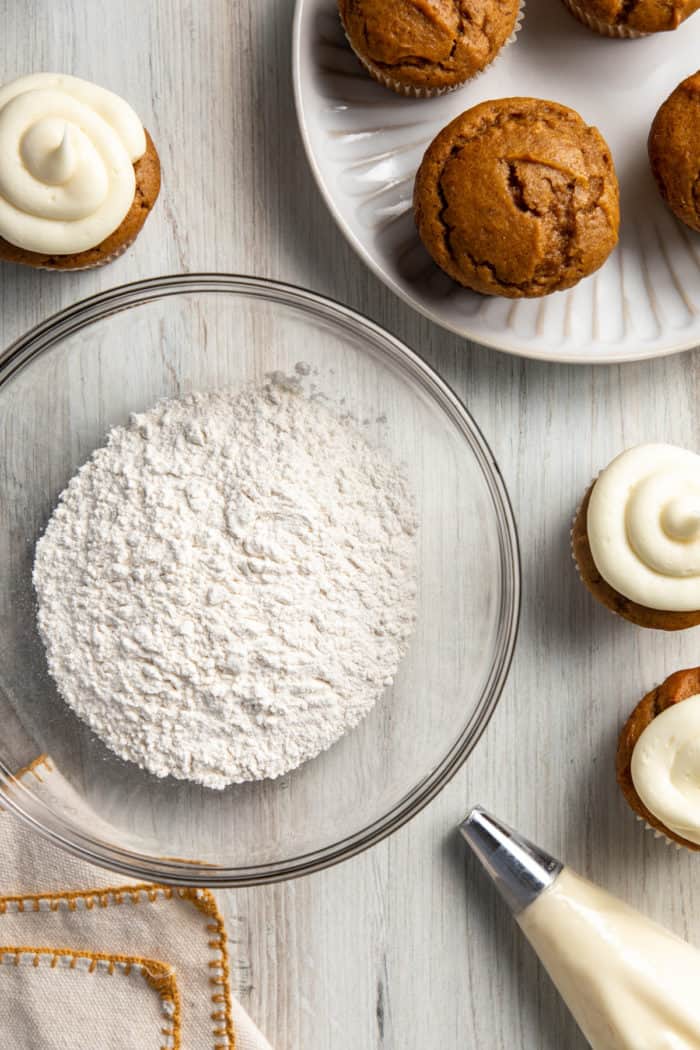 WHAT IS CAKE FLOUR?
Cake flour is a low-protein, finely milled flour that is typically used to get a soft, fluffy crumb in cake recipes.
Protein is an important component of flour. The more protein a flour has, the more gluten development you'll get.
In other words: more protein = chewier crumb, while less protein = more tender crumb.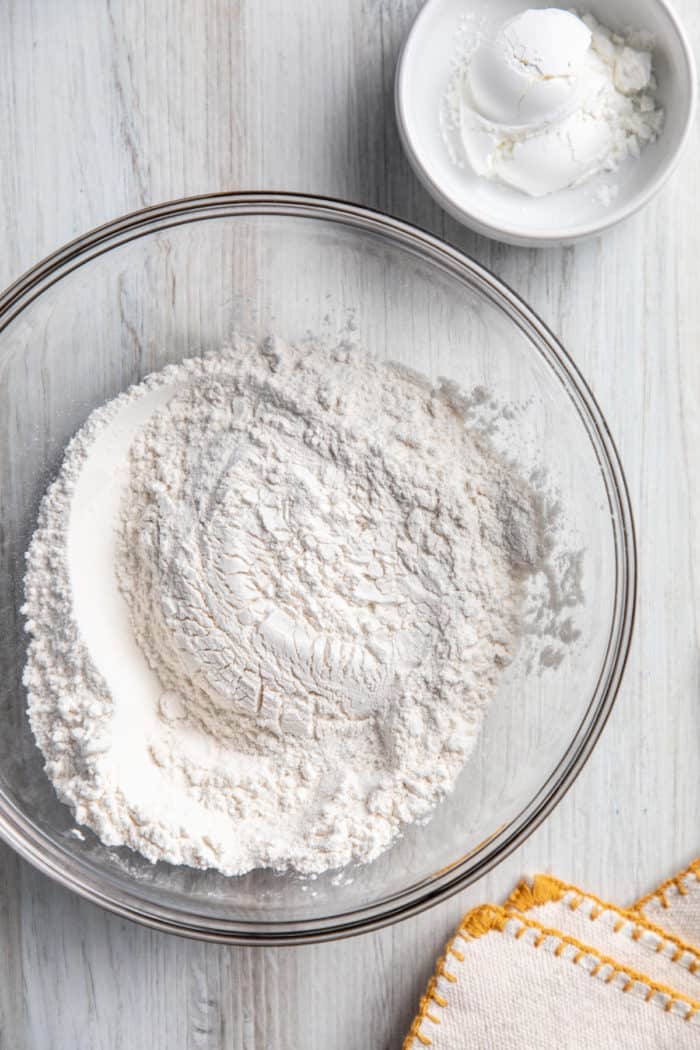 For reference, all-purpose flour typically contains 10-12% protein. Bread flour, which is typically used for things like bagels or sourdough bread where you want a nice chewy texture, usually contains 11-13% protein.
Cake flour, on the other hand, usually has around 9% protein.
A couple percentages points difference might not sound like much, but it can make a big difference in the final recipe.
As a note, if protein content really matters in your recipe, I recommend buying a higher-quality flour, such as King Arthur, as it will have a more precise protein percentage.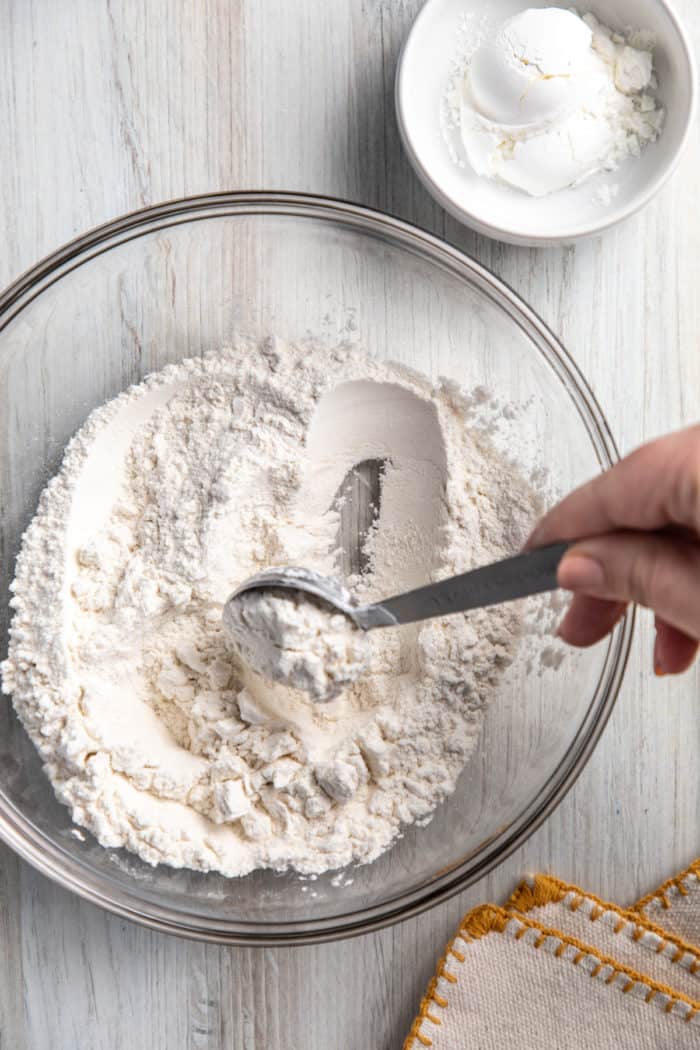 Are cake flour and pastry flour the same thing?
Short answer: Nope.
Longer answer: Remember how cake flour has around 9% protein? Pastry flour has around 8% protein, so it's even lower in protein.
Pastry flour is often used in things like biscuits, scones, or even pie crust, where you want an even lighter, more delicate texture.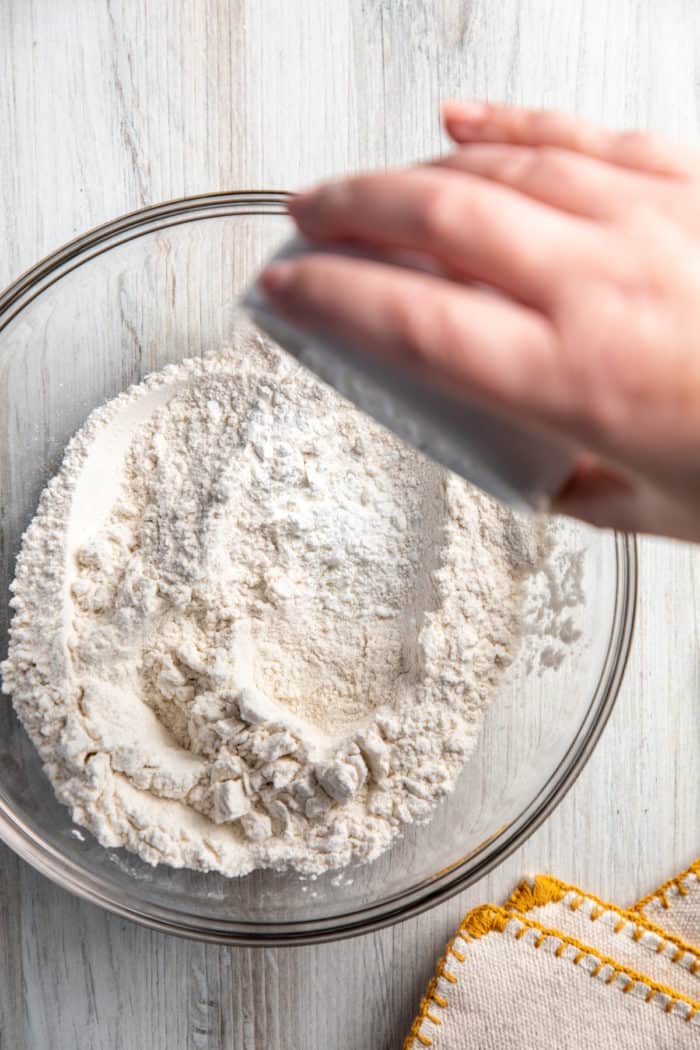 CAN YOU SUBSTITUTE ALL-PURPOSE FLOUR FOR CAKE FLOUR?
So can you use all-purpose flour in recipes that call for cake flour? Not without doing a little bit of work first!
Since all-purpose flour is higher in protein than cake flour, you can't just swap it in one for one.
But with a bit of tweaking, you can use all-purpose flour to make a cake flour substitute that works remarkably like cake flour.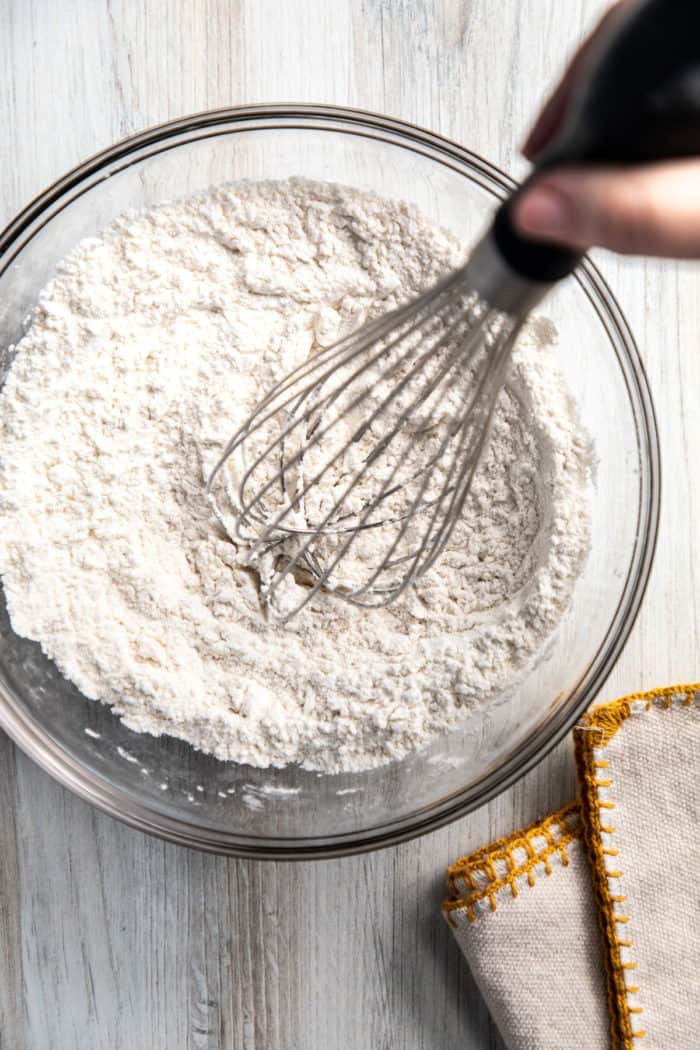 What you'll need
To make your cake flour substitute, you will need:
1 cup all-purpose flour
2 tablespoons cornstarch
Cornstarch is incredibly fine, so just a little bit of it will help lower the gluten formation in the all-purpose flour.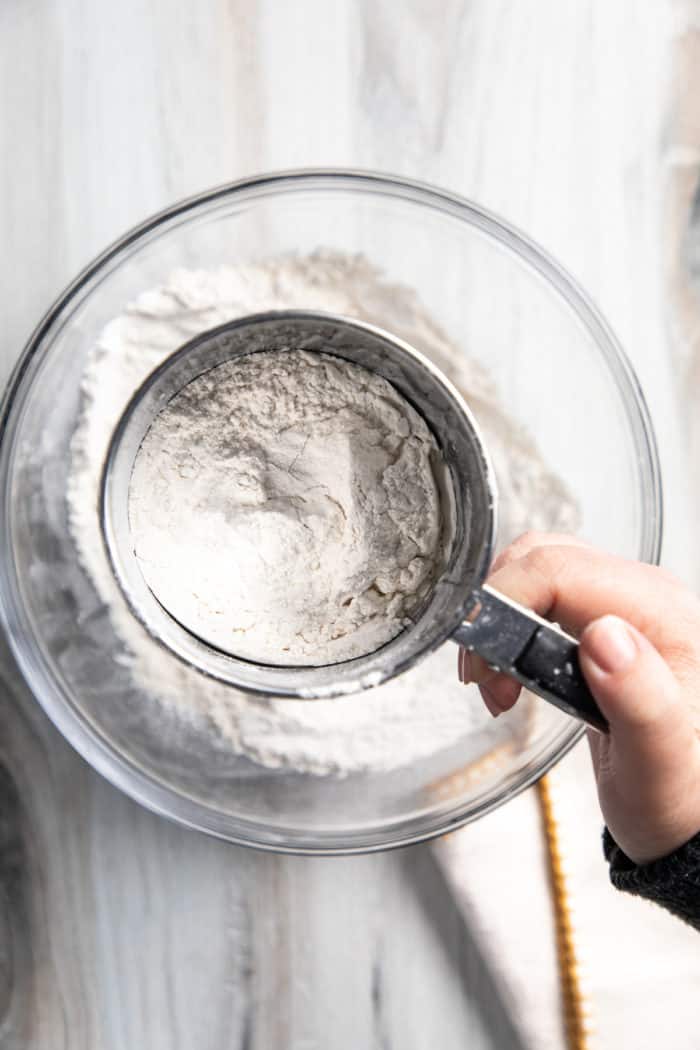 Making a cake flour substitute
To make this substitute, measure out 1 cup of all-purpose flour. Make sure you are following the steps for how to measure flour correctly!
Remove 2 tablespoons of the flour and replace it with the 2 tablespoons of cornstarch.
Now use a sifter to sift the mixture 2-3 times. Yes, 2-3 times! You want to sift it until it mimics the light and airy texture of cake flour.
Now you can measure out the cake flour substitute to use it in your recipe.
(Remember that even though you started with 1 cup of all-purpose flour, sifting the flour multiple times will slightly increase the volume, so make sure you measure the substitute before adding it to your recipe.)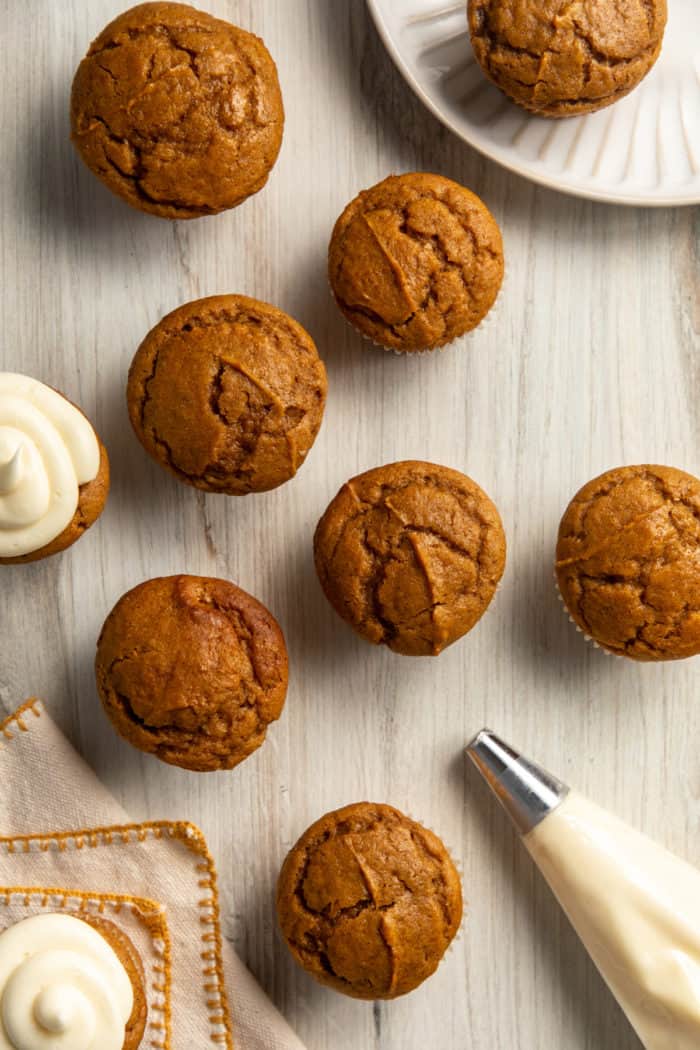 USES
You can use this cake flour substitute in recipes that call for cake flour, such as cherry cheesecake cupcakes, homemade funfetti cupcakes, angel food cake, or snickerdoodle cake.
You can also use this mixture in recipes that call for all-purpose flour, but where a light and tender crumb would be desired. Pumpkin pancakes or banana pancakes would be an example.
If you make more cake flour substitute than you need, you can store it in an airtight container in the pantry.