This homemade buttermilk substitute comes together in 5 minutes and requires only 2 ingredients. Skip the grocery store and make your own!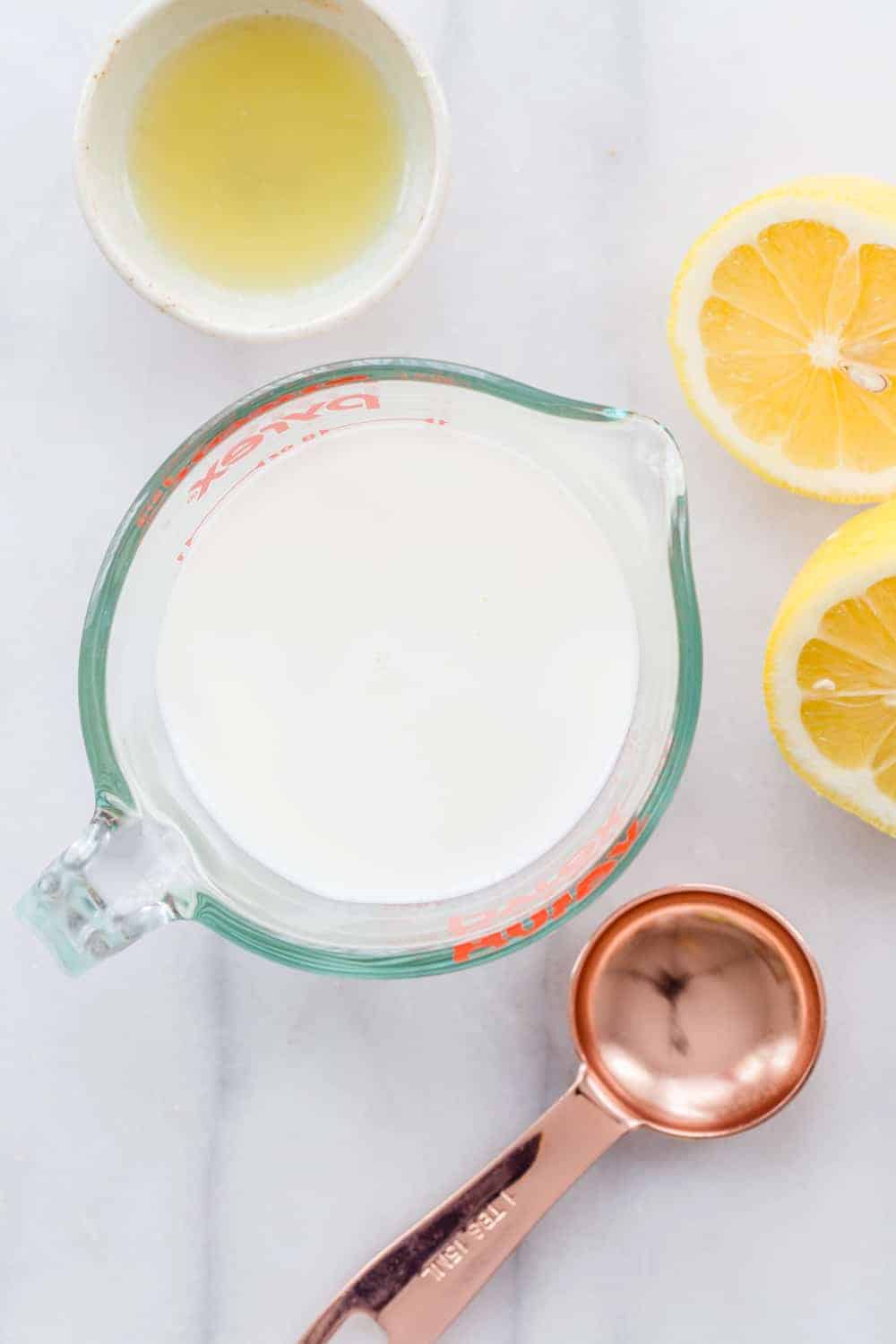 I cannot tell you how many times I've started pulling out the ingredients for a recipe and realized that I didn't have any buttermilk on hand. It's just not something that is regularly in our fridge.
Instead of bribing Eric to make a quick run to our local market or placing an Instacart order, I typically just skip both of those and make a quick and easy buttermilk substitute at home.
Buttermilk is an ingredient that I only pick up from the grocery store if I know I'll be using most of it, which usually means I'm planning to make multiple recipes that call for it.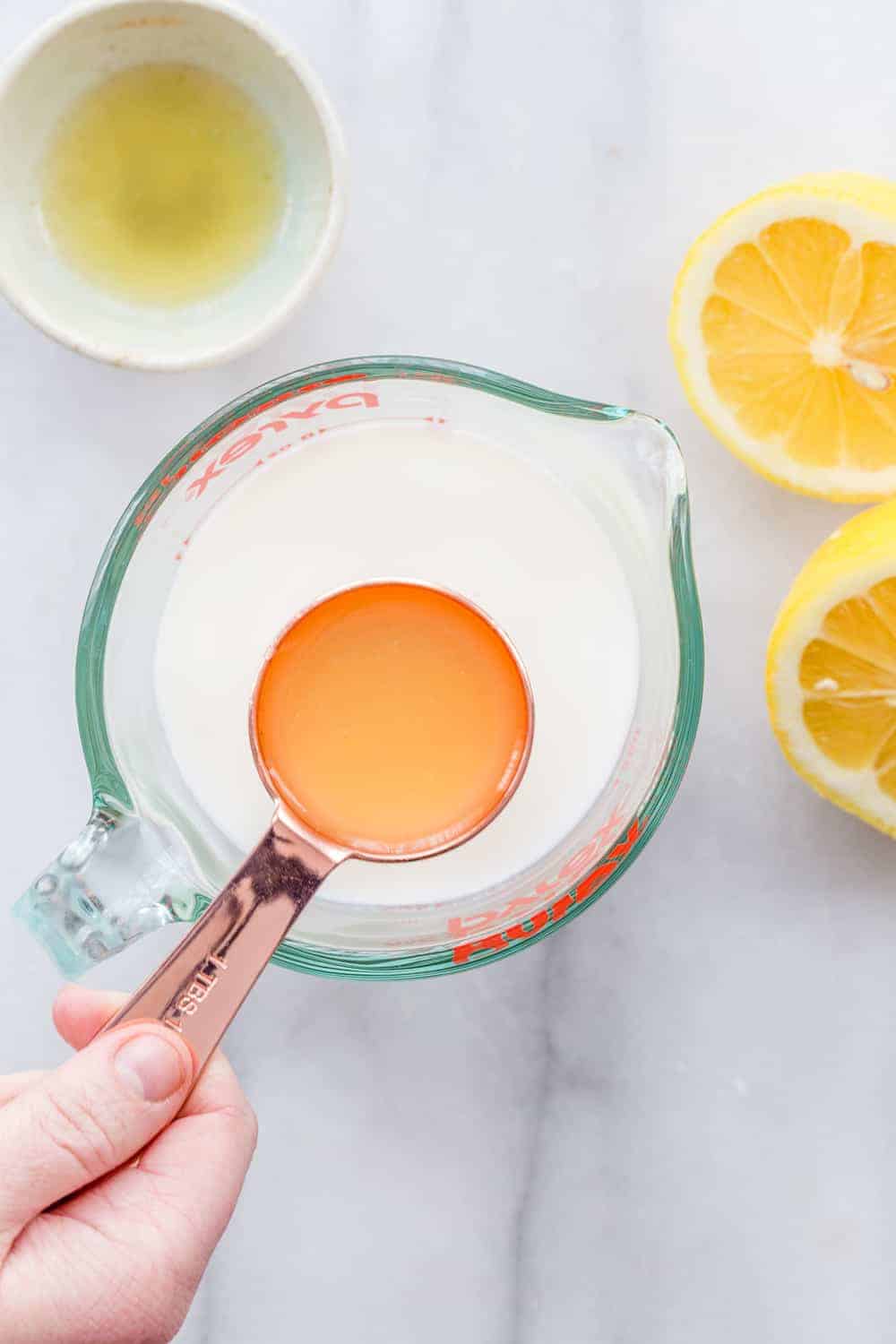 If it's a recipe that requires just a bit of buttermilk, I skip buying the two quart container, and just make a homemade buttermilk substitute to save a few bucks and not be wasteful.
Because let's be real, I'm definitely not going to be dunking my favorite chocolate chip cookies into an ice cold glass of buttermilk.
In general, I shy away from ingredient substitutions when it comes to baking. Sometimes they can definitely affect the finished product.
However, I've used a buttermilk substitute for years in countless recipes without any issues.
From the best chocolate cake, and moist banana cake to Texas sheet cake, this homemade buttermilk substitute works like a charm.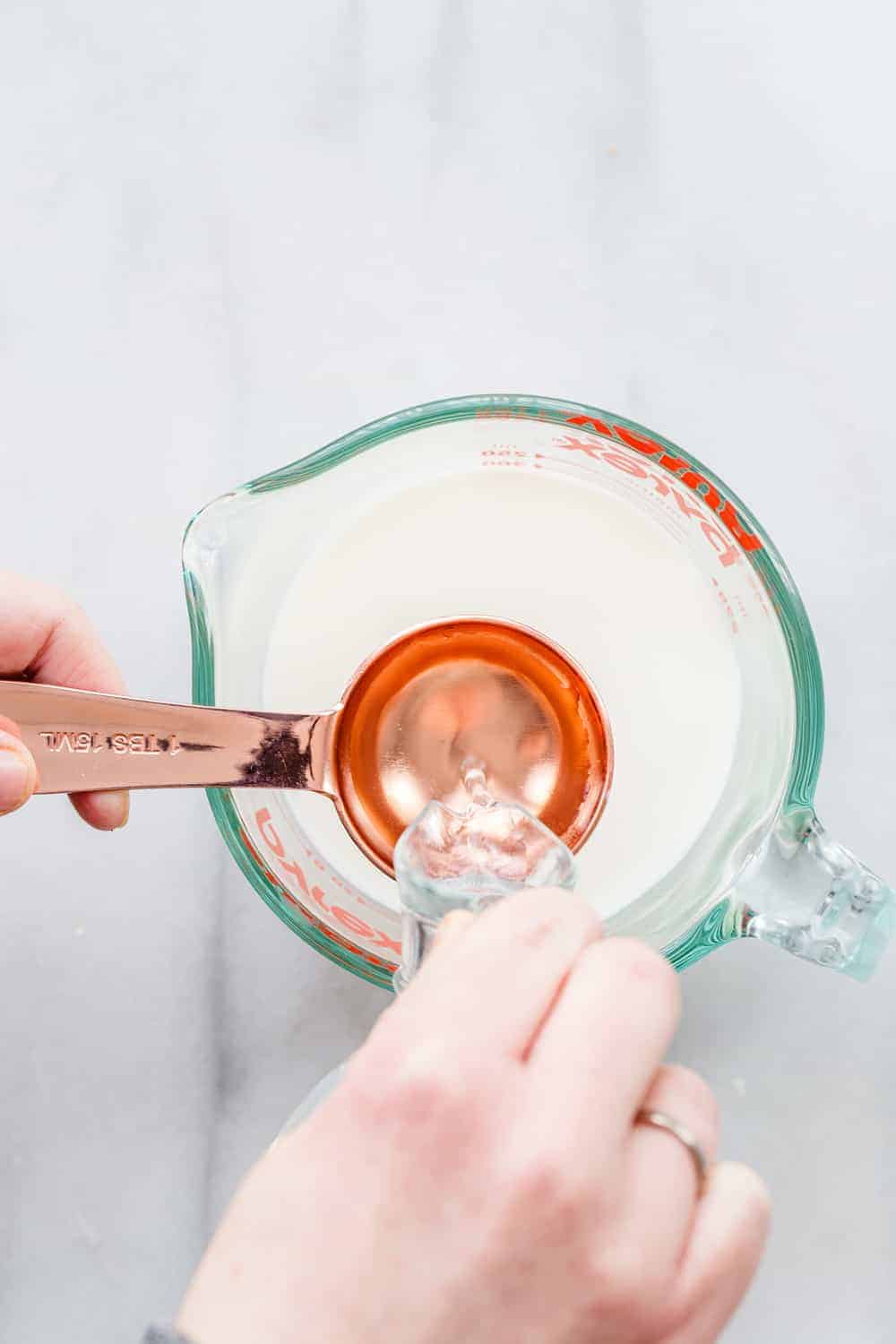 Buttermilk is definitely an ingredient you don't want to omit. Creamy and tangy, it brings beautiful flavor and tenderness to sweet and savory recipes.
The acidity of the buttermilk also reacts with the baking powder or baking soda, leaving a delicious and delightfully light texture.
Buttermilk can be used in biscuits, cakes, pancakes, fried chicken, waffles, salad dressings, quick breads, and countless other delicious recipes.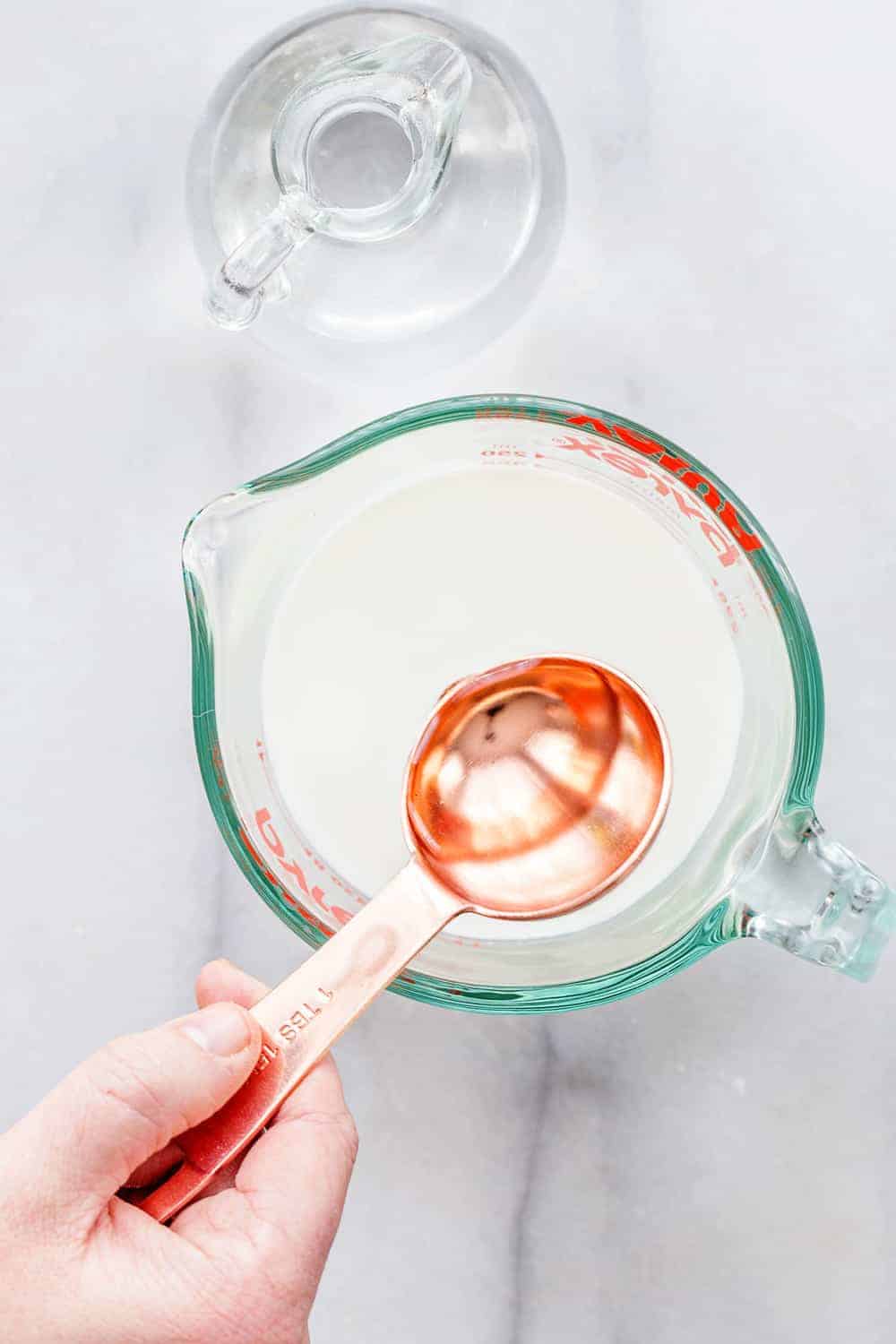 If you find you don't have buttermilk on hand, don't fret. Before you grab your wallet and jump into the car for a grocery store run, you probably have everything you need in your kitchen right now to make a buttermilk substitute.
And the great news is, once you know how to make buttermilk, you'll have your buttermilk substitute in a fraction of the time it would take you to go to and from the store.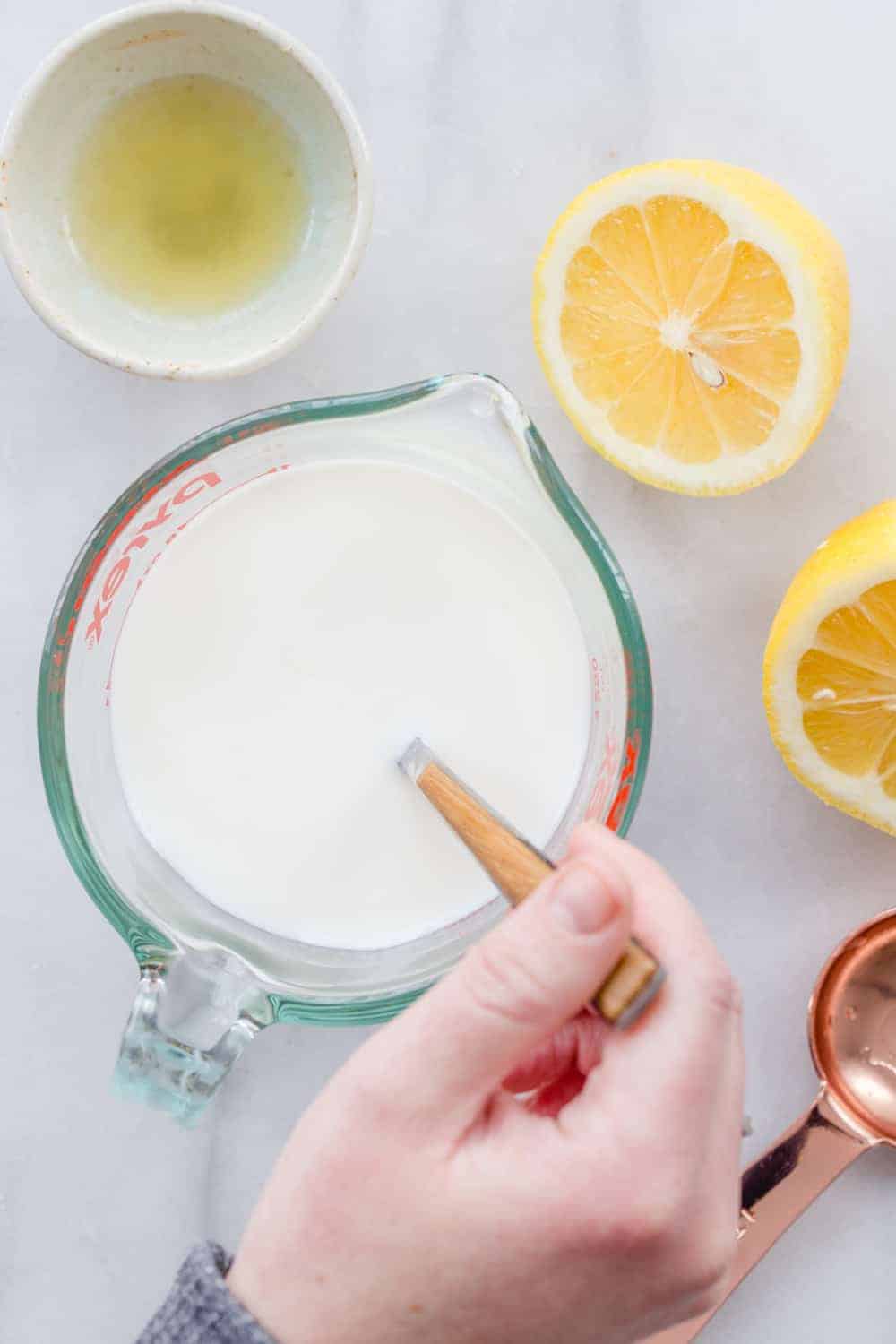 SUBSTITUTE FOR BUTTERMILK IN BAKING
All you need to make a substitute for buttermilk in baking recipes is milk and white vinegar, or lemon juice. I typically opt for 2% or whole milk and fresh lemon juice, but bottled will also do the trick.
Measure one tablespoon of white vinegar or lemon juice into a liquid measuring cup.
Add in a scant cup of milk and fill to the 1 cup measurement line.
Stir the mixture together and let sit for 5 minutes.
HOW TO SUBSTITUTE BUTTERMILK
Once the buttermilk and vinegar (or lemon juice) mixture has rested for 5 minutes, the milk will have thickened and curdled slightly.
That means it worked! You can now use your buttermilk substitute 1-for-1 in your favorite baking recipes. If your recipe calls for 1 cup of buttermilk, use 1 cup of buttermilk substitute, ½ cup for ½ cup and so on.
Can you freeze buttermilk?
Yes! You definitely can. My problem is that I end up leaving it in the fridge too long and by the time I remember to freeze it, it's gone bad.
As one of my readers pointed out in the comment section below, you can freeze buttermilk in ice cube trays.
The easiest way to do this is to measure 1-2 tablespoons (depending on the size of your ice cube trays) of buttermilk into each ice cube well. Freeze the buttermilk in the trays. Pop the frozen cubes into a freezer bag and place them back into the freezer.
Just be sure to make a note on the bag to reference later. For example, each cube = 1 tablespoon, so you know how much to take out for each recipe.
When you're ready to bake, you can let the buttermilk cubes defrost in the fridge, or melt them on the lowest power setting in your microwave.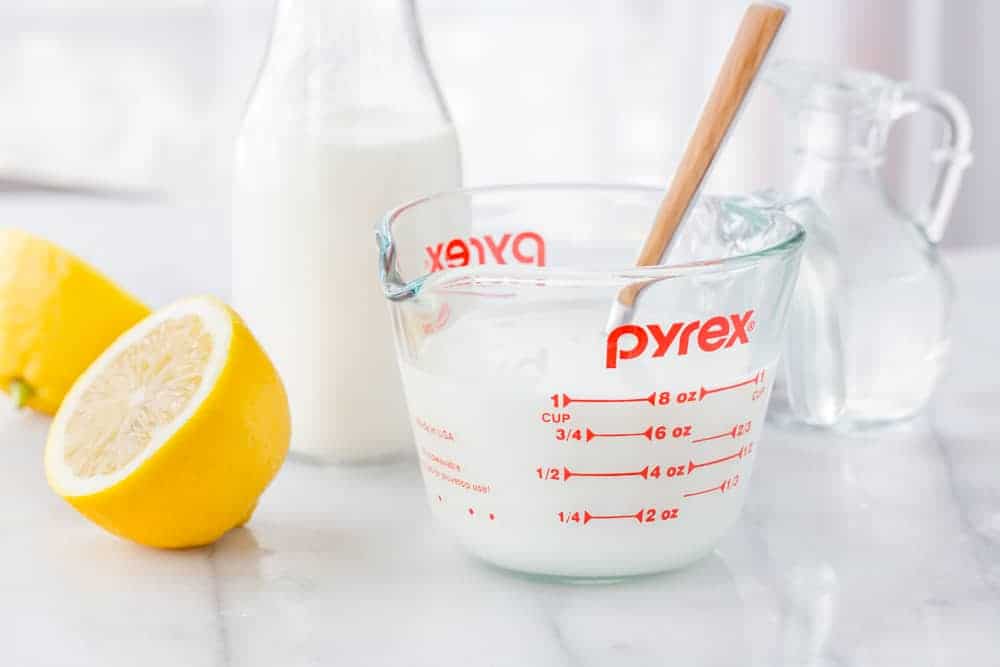 And there you have it, a homemade buttermilk substitute! Add it to the recipe exactly as the recipe reads in the exact amount the recipe calls for.
Try this homemade buttermilk substitute in my raspberry lemon cupcakes, or add it to my red velvet cupcakes for a moist and fantastic flavor and texture.
No need to panic if you don't have buttermilk in your kitchen. With two basic ingredients, you can make a homemade buttermilk substitute for any recipe.