When I was asked to help bake a few sweet treats for our end of the year luncheon at work, I thought this blend of fruit would be the perfect way to kick off our summer vacation.
I like making cupcakes for functions because they have such a high level of portability. They allow people to grab one and go about their day while savoring something delicious. The tulip cupcake/muffin wrappers I baked them in added a little level of uniqueness to a very delicious cupcake.
People were intrigued my these little yellow paper wrappers and thought I made them myself. I am betting they can be easily replicated with parchment paper, but I picked mine up at the local cake decorating store.
For the cupcakes, I used my favorite cake recipe from Dorie Greenspan and topped them with a big swirl of raspberry buttercream. Beware…this frosting may force you to lick the bowl, spoon, beaters, spatula and maybe even your fingers! Yeah, it's that good, so don't say I didn't warn ya!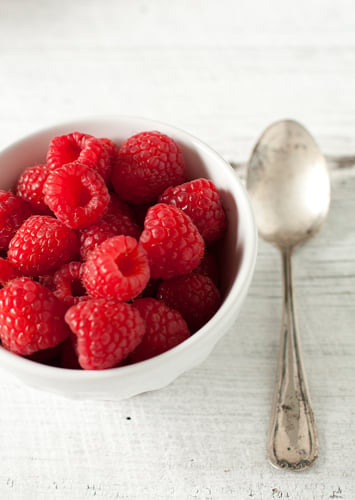 Raspberry Lemon Cupcakes
adapted from Dorie Greenspan | makes approximately 24 cupcakes

For the Cake
2 1/4 cups cake flour
1 tablespoon baking powder
1/2 teaspoon salt
1 1/4 cups buttermilk
4 large egg whites
1 1/2 cups sugar
lemon zest from two lemons
1 stick (8 tablespoons) unsalted butter, at room temperature
1 teaspoon pure vanilla extract
1/2 teaspoon pure lemon extract

Getting Ready: Center a rack in the oven to 350 degrees F. Prepare cupcake tins by using liners or spray with non-stick cooking spray

To Make The Cake:
1. Sift together the flour, baking powder and salt.
2. Whisk together the milk and egg whites in a medium bowl.
3. Put the sugar and lemon zest in a mixer bowl or another large bowl and rub them together with your fingers until the sugar is moist and fragrant. Add the butter and, working with the paddle or whisk attachment, or with a hand mixer, beat at medium speed for a full 3 minutes, until the butter and sugar are very light. Beat in the extracts, then add one third of the flour mixture, still beating on medium speed. Beat in half of the milk-egg mixture, then beat in half of the remaining dry ingredients until incorporated. Add the rest of the milk and eggs, beating until the batter is homogeneous, then add the last of the dry ingredients. Finally, give the batter a good 2-minute beating to ensure that it is thoroughly mixed and well aerated. Place the batter into the cupcake tins.
4. Bake for 18-22 minutes, or until the cupcakes are well risen and springy to the touch – a thin knife inserted into the centers should come out clean.
Cool on wire rack.

For the Raspberry Buttercream
Ingredients
1/2 cup raspberries (blended into a puree and pushed through a fine mesh sieve to remove seeds)
1 stick salted butter – room temperature
1 stick unsalted butter – room temperature
1/2 cup shortening*
1 tablespoon clear vanilla extract
1/2 teaspoon of raspberry extract*
1 1/2 pounds confectioner's sugar (powdered sugar, 10x)
2-4 tablespoons very cold milk (add until you reach desired consistency)

Directions
1. Cream the butter and shortening in the bowl of an electric or stand mixer. Add extracts and raspberry puree and combine well.
2. Begin adding in the sugar and mixing thoroughly after each addition. After all of the sugar has been added and mixed thoroughly, begin adding the very cold milk… one tablespoon at a time, combining very well after each addition (mixer on medium-high to high speed) until you reach the desired consistency.

Notes:
*If you don't have raspberry extract, simply add a little bit more raspberry puree until you reach your preferred level of raspberry flavor. If you add more puree, cut back on the milk.
*If you do not like to use shortening, simply sub in butter. The frosting will not be as structurally sound, but will taste just as delicious.

The combination of raspberries and lemons epitomizes summer in my book. There is sweet simplicity about this flavor duo that just works together to form some seriously stunning desserts.