Homemade Ranch Seasoning is easy to make and convenient to keep on hand. Use it for dips and dressings or in any recipe that calls for a packet of ranch seasoning.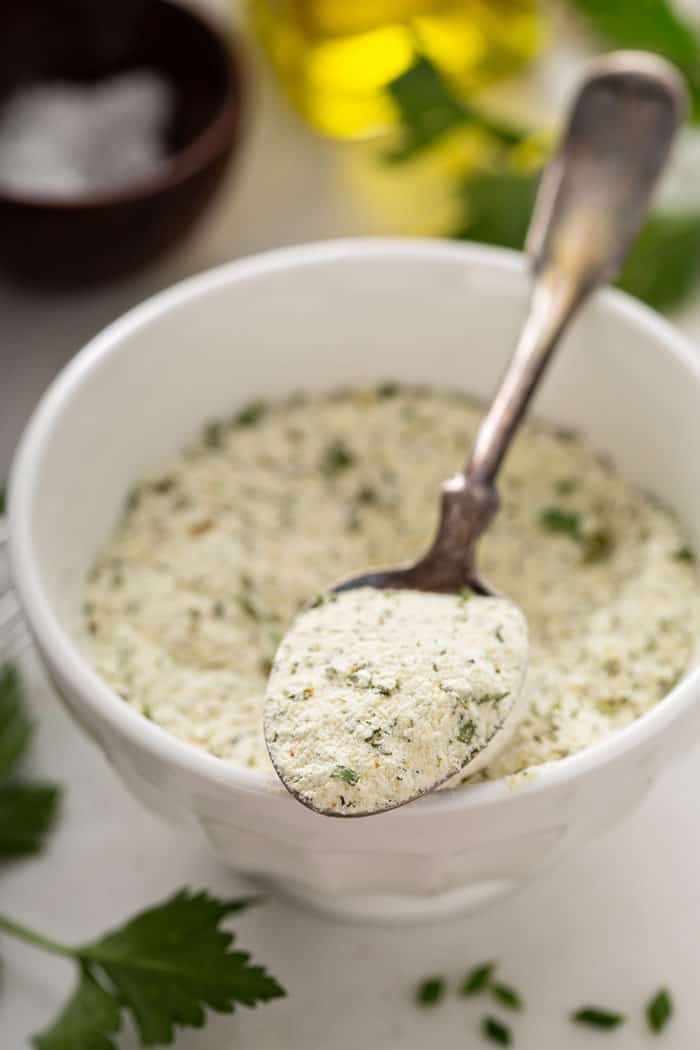 My girl is obsessed with all things ranch. And while she's loved Hidden Valley Ranch Dressing as a dip for fresh veggies for years, she's recently wanted to try all the ranch things after I showed her Dawn Farmer's TikTok (@dawnnfarmer).
If you aren't familiar with Dawn, she is a young girl that lives in the U.K. and is known for trying American snacks. After trying ranch dressing for the first time, she too became obsessed with it and people starting sending her every available ranch product from American grocery stores.
Now Elle and I like to browse our local grocery stores for ranch flavored items and we've been having so much fun taste testing new to us products like ranch popcorn seasoning, Ranch Corn Nuts and Ranch Pringles and Ranch Veggies Straws. So naturally I thought, let's try to make our own Homemade Ranch Seasoning.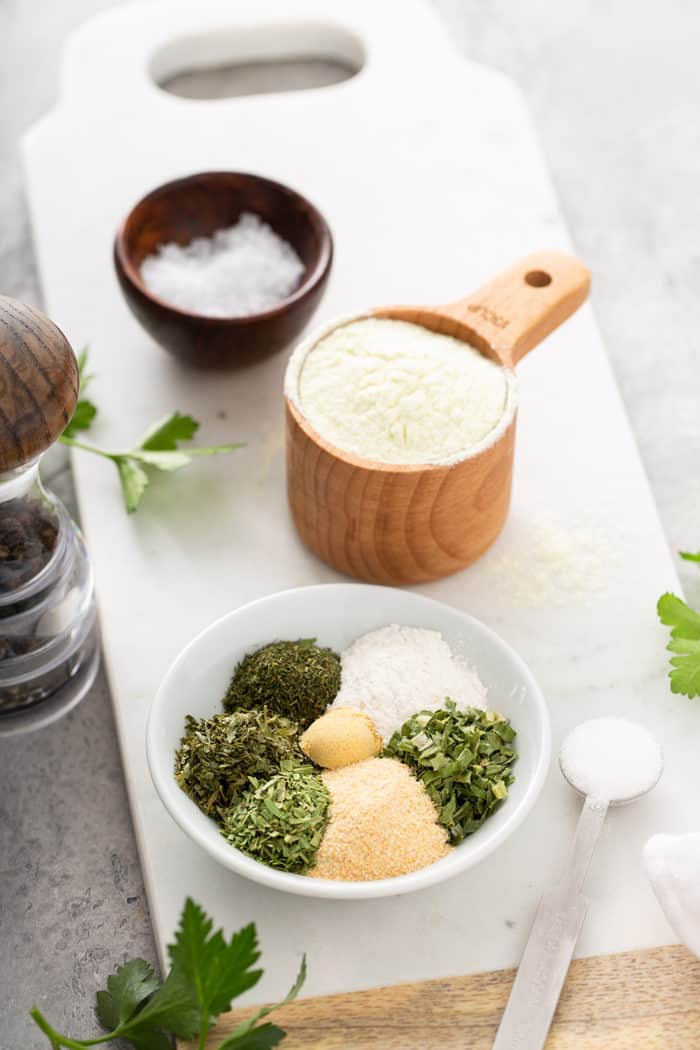 HOMEMADE RANCH SEASONING INGREDIENTS
You know by now that I'm a big fan of making homemade seasoning mixes. I go through loads of homemade pumpkin pie spice, chai spice blend, apple pie spice, and homemade taco seasoning.
I just think it's more convenient to keep jars of the homemade stuff in my pantry than to have to remember to buy packets at the grocery store every time I want to make a recipe. Plus, it's nice to be able to control how much of each spice goes into the mixes.
So is anyone really surprised that I had to whip up a recipe for Homemade Ranch Seasoning?
I definitely don't have anything against the packets of ranch mix you can buy at the store, but have you ever tasted the actual mix? It's super salty and not really very flavorful.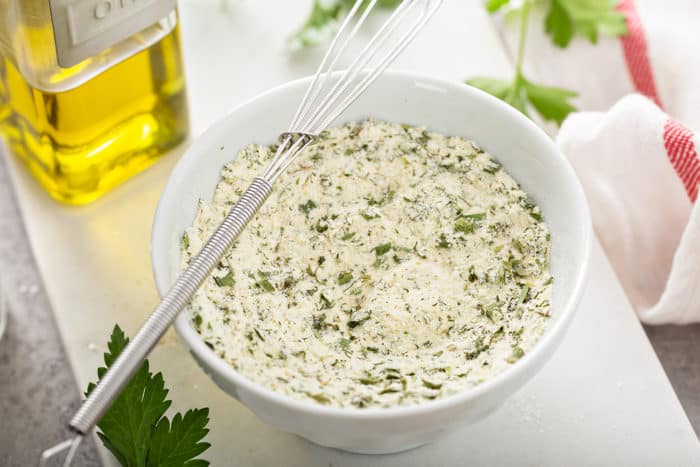 So I grabbed my favorite dried herbs and spices to make this homemade mix:
Dry buttermilk powder
Garlic powder
Onion powder
Mustard powder
Dried parsley
Dried dill
Dried chives
Dried tarragon
Fine sea salt
Fresh cracked black pepper
Sugar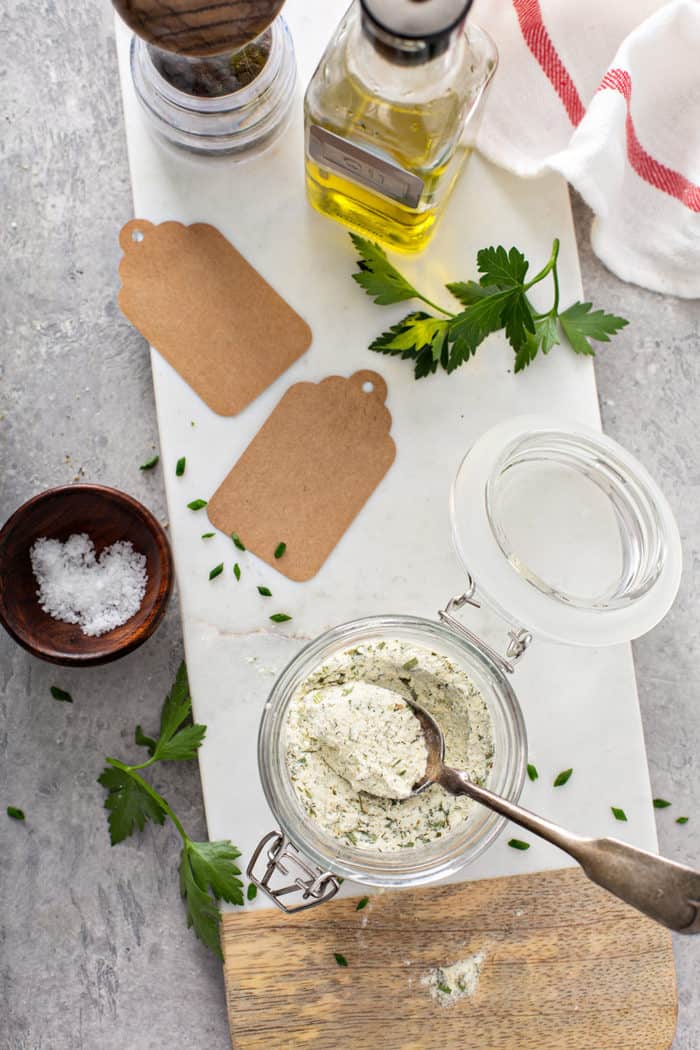 Out of all of these ingredients, the only one I didn't have on hand at the time was the buttermilk powder, which you can usually find in the baking aisle at the grocery store.
You can use leftover buttermilk powder in baking in a pinch, but I usually just keep it on hand for making this Homemade Ranch Seasoning.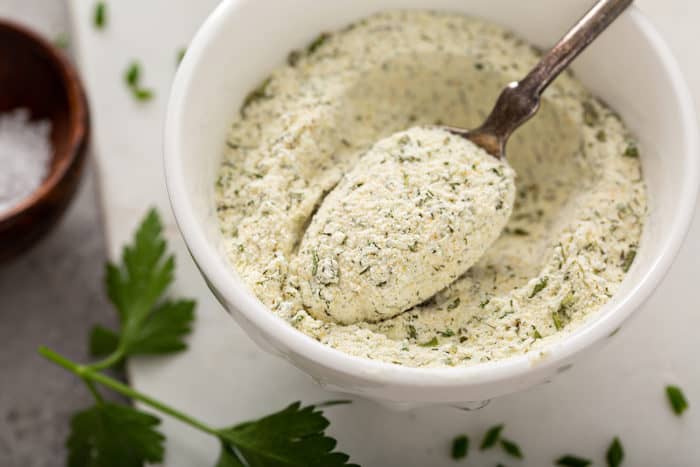 HOW TO MAKE MY HOMEMADE RANCH SEASONING
You know those recipes that feel silly to even write down? This is one of them.
To make this Homemade Ranch Seasoning, all you have to do is put all of the ingredients into a bowl and whisk them to combine.
Yep, that's it!
You can easily double or even triple the recipe if you want to have lots on hand or gift it when going to cookouts this summer.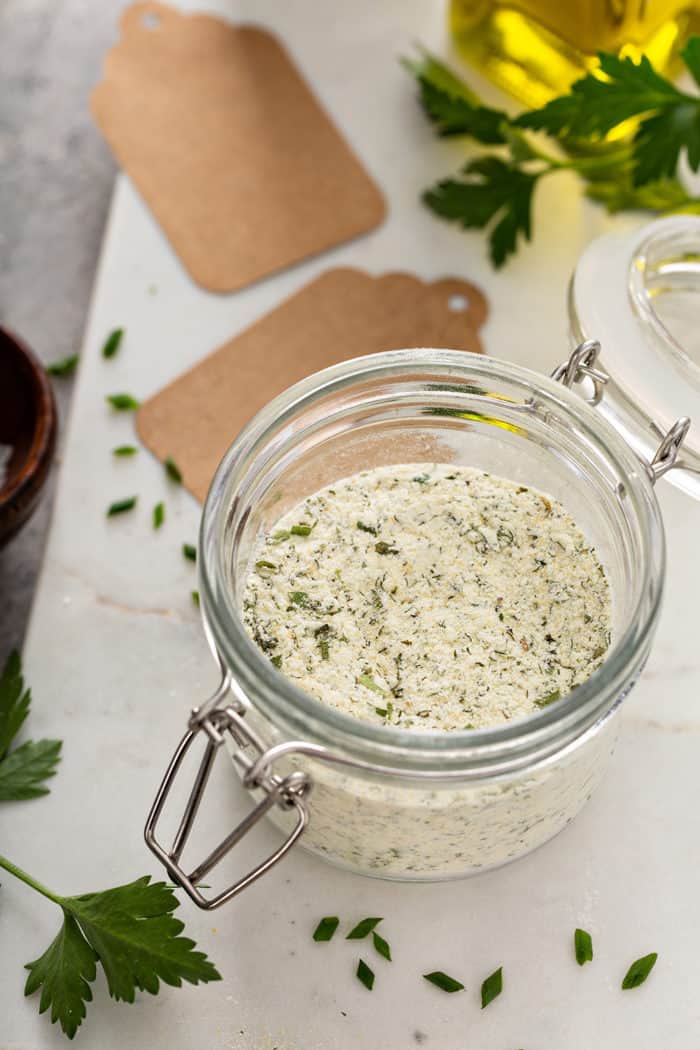 HOW TO STORE THIS SEASONING MIX
I keep my ranch mix in a small glass jar, but any airtight container will work. Just store the container in a cool, dry place.
It will keep for months, although I doubt it will last that long!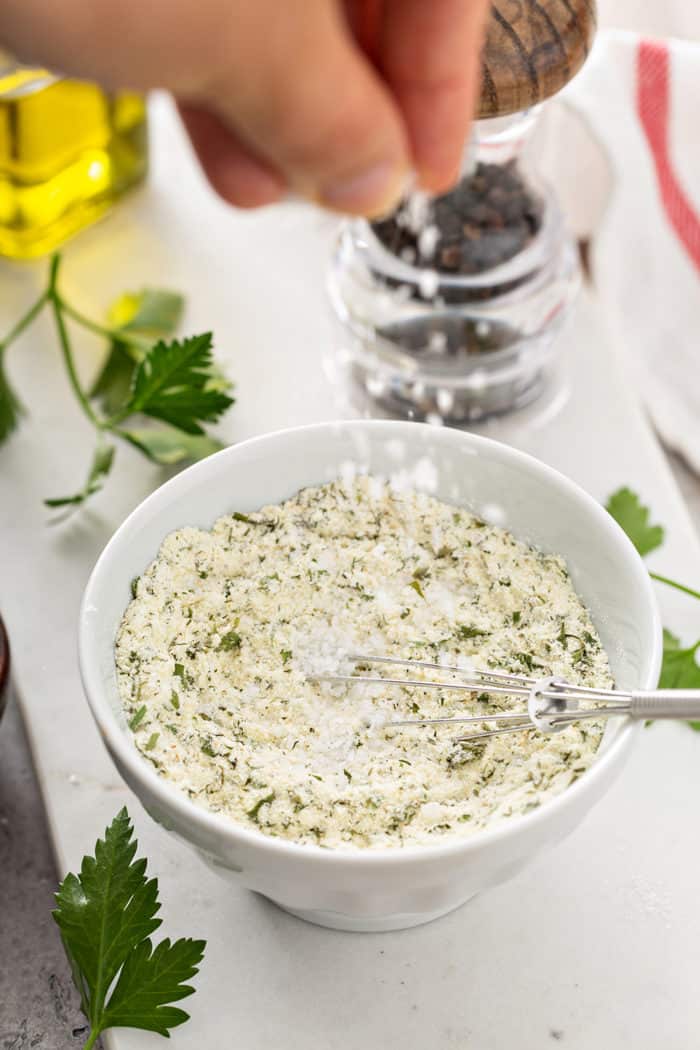 HOW TO USE YOUR HOMEMADE RANCH MIX
You can use this Homemade Ranch Seasoning anywhere you might use a store-bought ranch packet.
To substitute the homemade mix for store bought, use 2 tablespoons of the homemade mix to replace 1 packet of ranch mix. Try it in Mississippi Pot Roast, Ranch Burgers, Cheesy Ranch Pull-Apart Bread, or Bacon Ranch Cheese Ball.
You can also use the mix to make homemade ranch dip and homemade ranch dressing.
And you can add it to any of your favorite savory recipes! Try it on Air Fryer Roasted Potatoes, in Twice-Baked Potatoes, or in the breading for Ritz Cracker Chicken.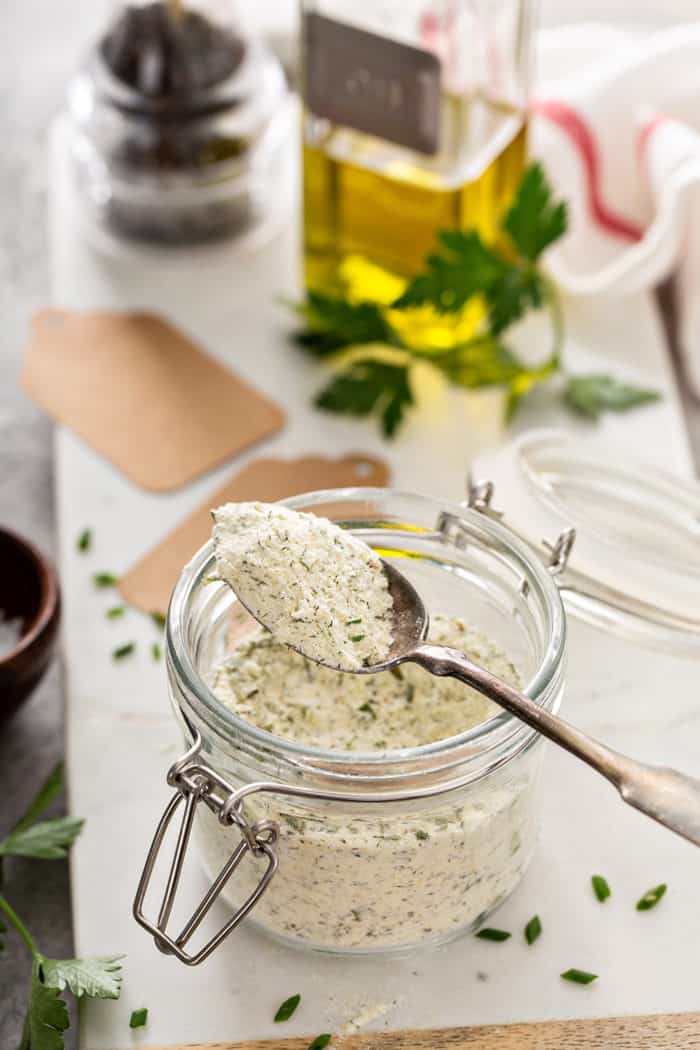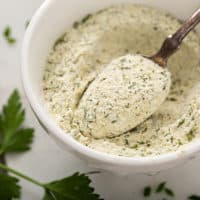 Homemade Ranch Seasoning
Homemade Ranch Seasoning is easy to make and convenient to keep on hand. Use it for dips and dressings or in any recipe that calls for a packet of ranch seasoning.
Print
Pin
Ingredients
⅓

cup

dry buttermilk powder

1

Tablespoon

garlic powder

1

Tablespoon

onion powder

2

teaspoons

dried parsley

1 ½

teaspoons

dried dill

1 to 1 ½

teaspoons

dried chives

1

teaspoon

fine sea salt

½

teaspoon

sugar

½

teaspoon

dried tarragon

optional but recommended

¼

teaspoon

fresh cracked black pepper

or to taste

¼

teaspoon

mustard powder
Instructions
Combine all ingredients in a bowl and whisk to combine. Store in an airtight container in a cool, dry place.
Notes
Use 2 tablespoons of homemade ranch seasoning to replace 1 packet of store-bought ranch seasoning mix.
Makes about 2.8 ounces dry mix.
The default measuring system on My Baking Addiction is US Customary. Unit conversions are provided as a courtesy; please be aware that there may be some discrepancies.
Card may contain affiliate links. As an Amazon Associate and member of other affiliate programs, I earn from qualifying purchases.