Crockpot Mississippi Pot Roast is absolute comfort food! Serve this tangy pot roast with potatoes or egg noodles for a meal the whole family will love.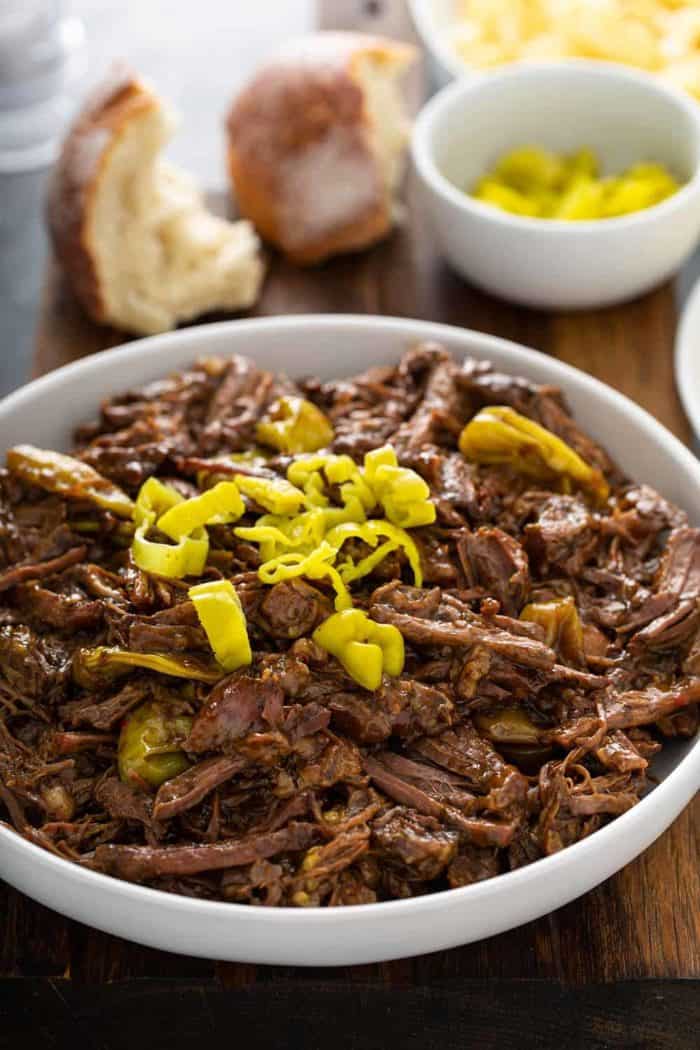 Typically around this time of year, I start relying on my slow cooker a lot more than I usually do. It's like I get in a cooking funk as soon as the Christmas decor comes done.

There are numerous slow cooker recipes that I typically always have the ingredients for in my pantry and this Mississippi Pot Roast is one of them.
That way if I'm not in a cooking mood, I can toss a few things into my slow cooker and still have a home cooked meal on the table with very little effort.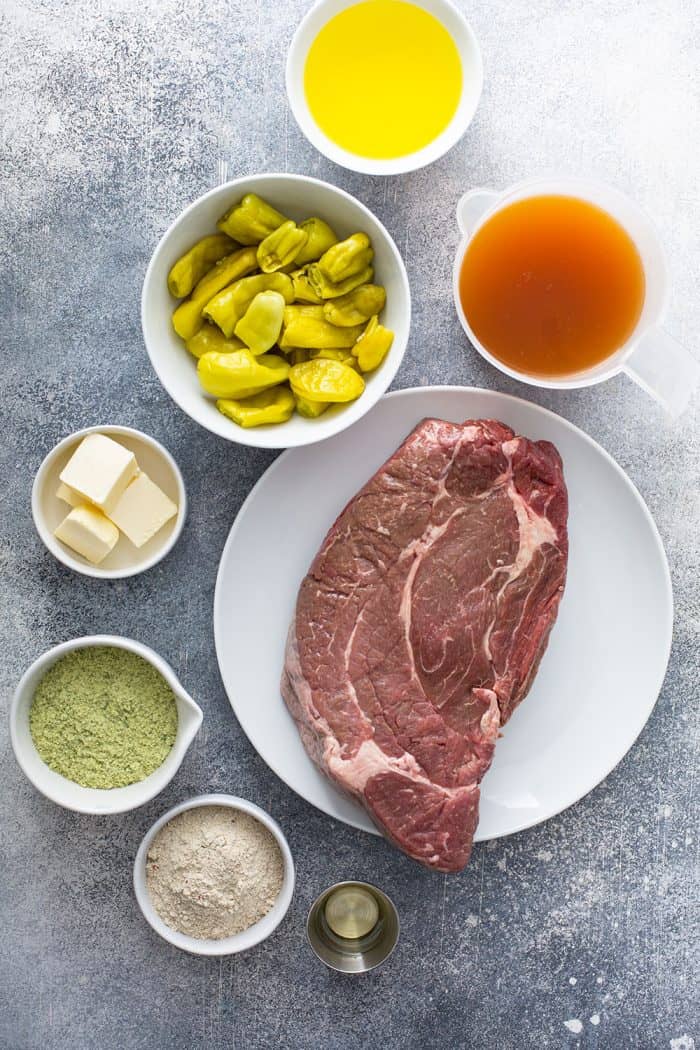 WHAT IS MISSISSIPPI POT ROAST?
If you've never had the pleasure of trying Mississippi Pot Roast, you might be wondering what it is or how it got its name.
The story goes that a home cook from Mississippi created the recipe while trying to adapt one of her aunt's recipes. The recipe she stumbled upon in the process ended up taking the internet by storm in the early 2000s.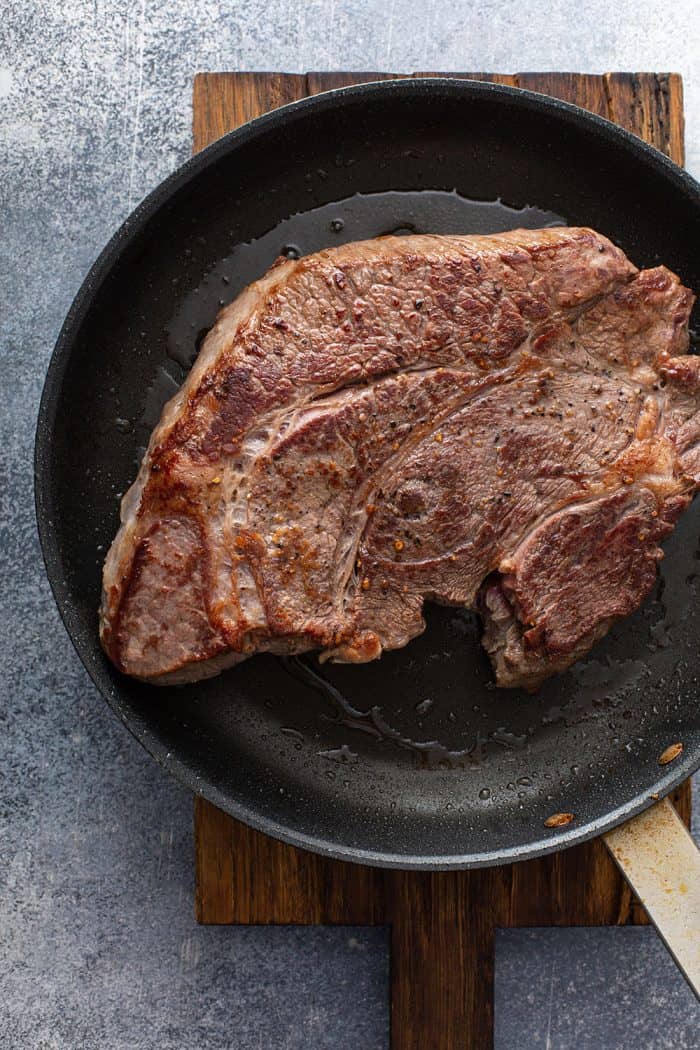 If you're used to classic pot roast, you might find the staple Mississippi roast ingredients to be a little unusual:
Ranch seasoning
Au jus seasoning
Butter
Pepperoncini peppers
The final roast is similar to Italian beef, but served like traditional pot roast instead of as a sandwich.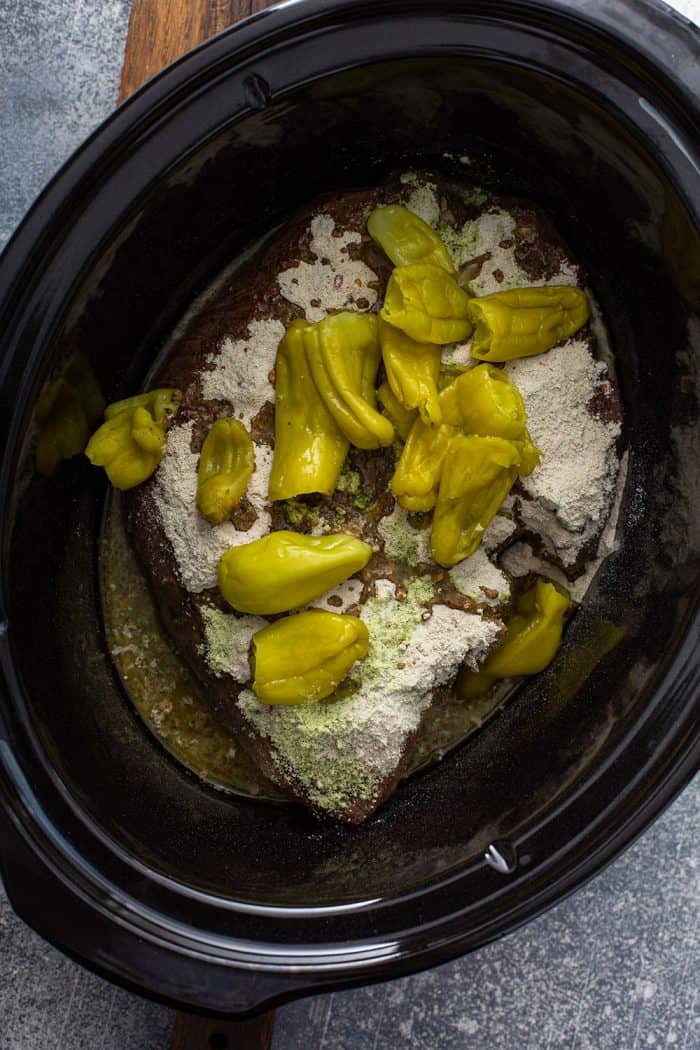 I love anything with a bit of spice to it, so I love Mississippi Pot Roast. I love the kick that the pepperoncinis add to it.
Pepperoncini peppers are usually labeled as medium heat, so this roast does have a slight kick to it. If you prefer your food a bit milder, simply use a bit less of the pepper brine in the recipe or cut back on how many of the sliced peppers you add.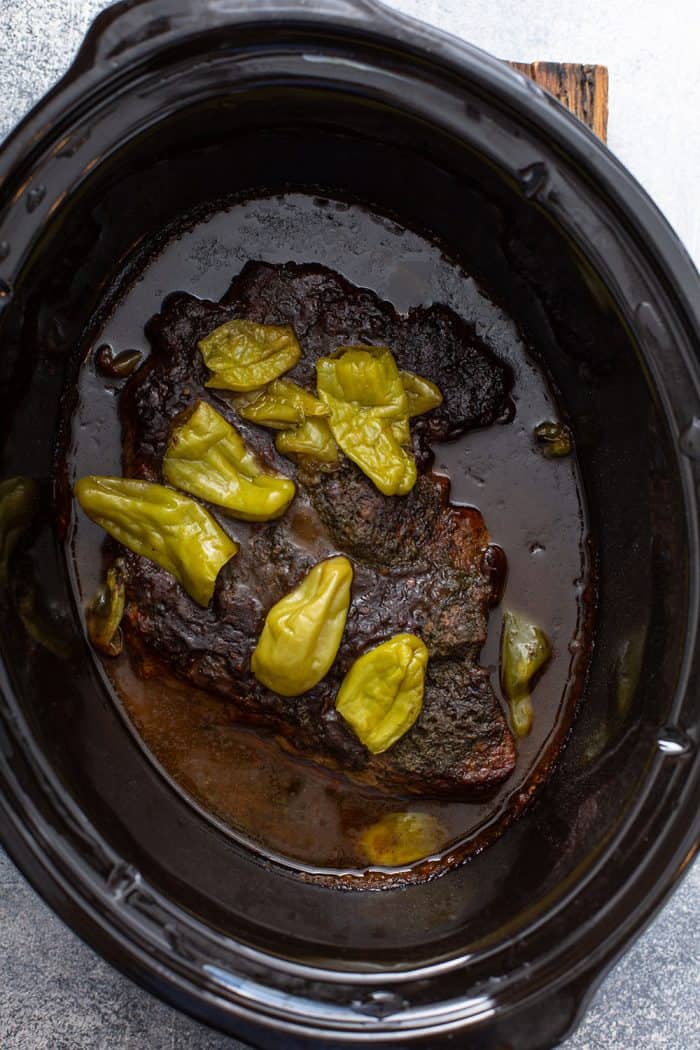 HOW TO MAKE THIS SLOW COOKER POT ROAST
I like to make my Mississippi roast in the crockpot. It's a great meal to "set and forget" before you drop the kids off at school or go to work for the day.
Start by seasoning a chuck roast liberally with salt and pepper, then browning it on all sides in a heavy pan or dutch oven.
While the roast is browning, turn a large slow cooker on low and add the butter. Once the butter has melted, add half of the ranch and half of the au jus seasoning; stir that up and let the seasonings bloom for a few minutes.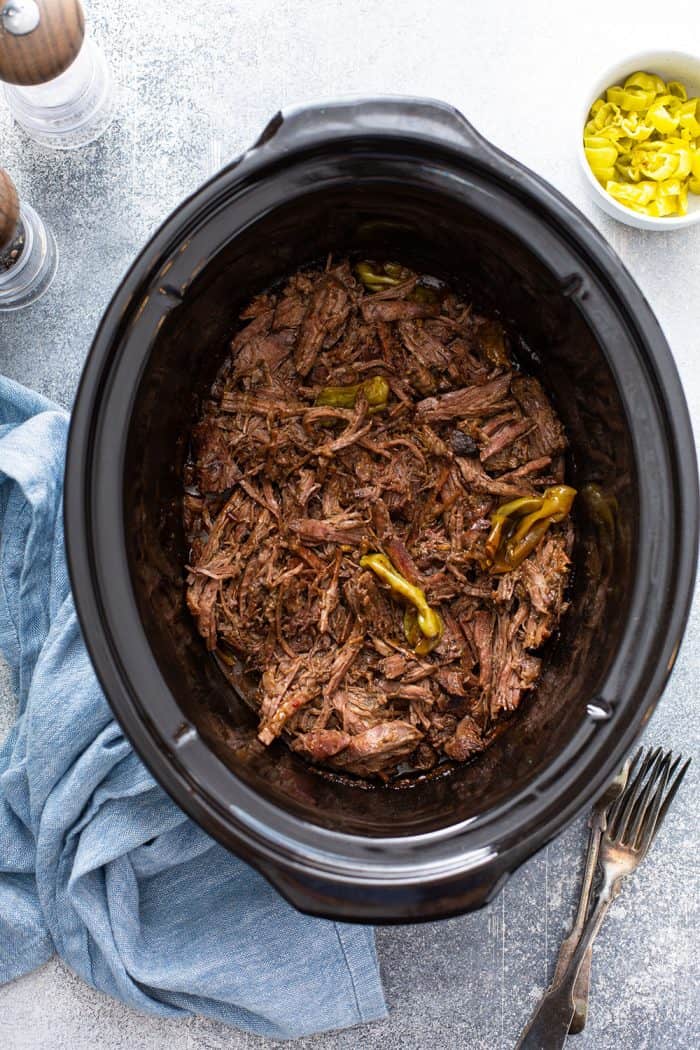 This step isn't 100% necessary (you could definitely skip it), but I think it does make for a better final flavor!
Add the browned roast to the crockpot along with the rest of the seasonings, half of the pepperoncinis, and about ¼ cup of the pepper brine. Cook on low for 8 hours.
When the meat is done, move the meat to a large bowl and shred it. Add in the rest of the sliced pepperoncinis and any solids from the slow cooker.
Strain the liquid from the slow cooker into a medium sized sauce pot; add the beef stock and as much of the leftover pepper brine as you'd like. Simmer this over medium-high heat until it has reduced and thickened into a gravy.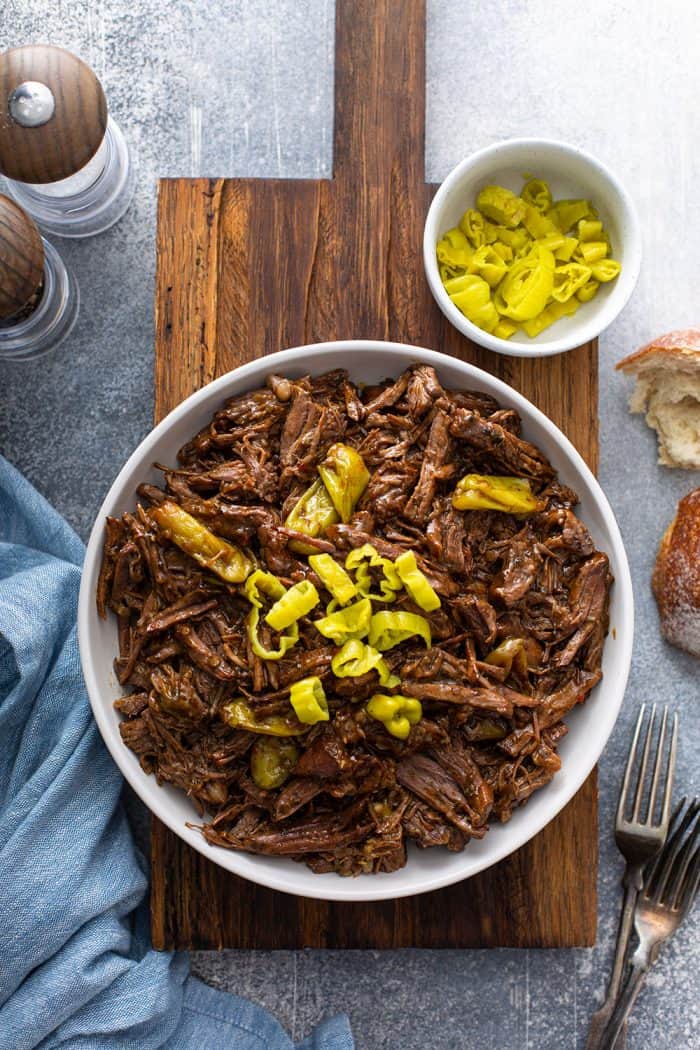 HOW TO SERVE YOUR MISSISSIPPI ROAST
I like to serve my Crockpot Mississippi Pot Roast over buttered egg noodles. I'll round out the meal with a salad with homemade blue cheese dressing and – if I'm really feeling fancy – some garlic and herb parker house rolls.
If mashed potatoes are more your pot roast style, though, this roast is just as good over potatoes as it is over egg noodles!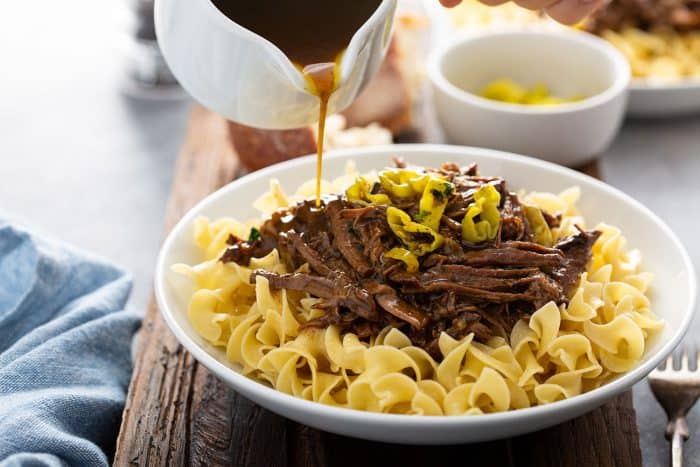 CAN YOU FREEZE ANY LEFTOVERS?
Just like Chipotle Barbacoa or crockpot pulled pork, Mississippi Pot Roast freezes well.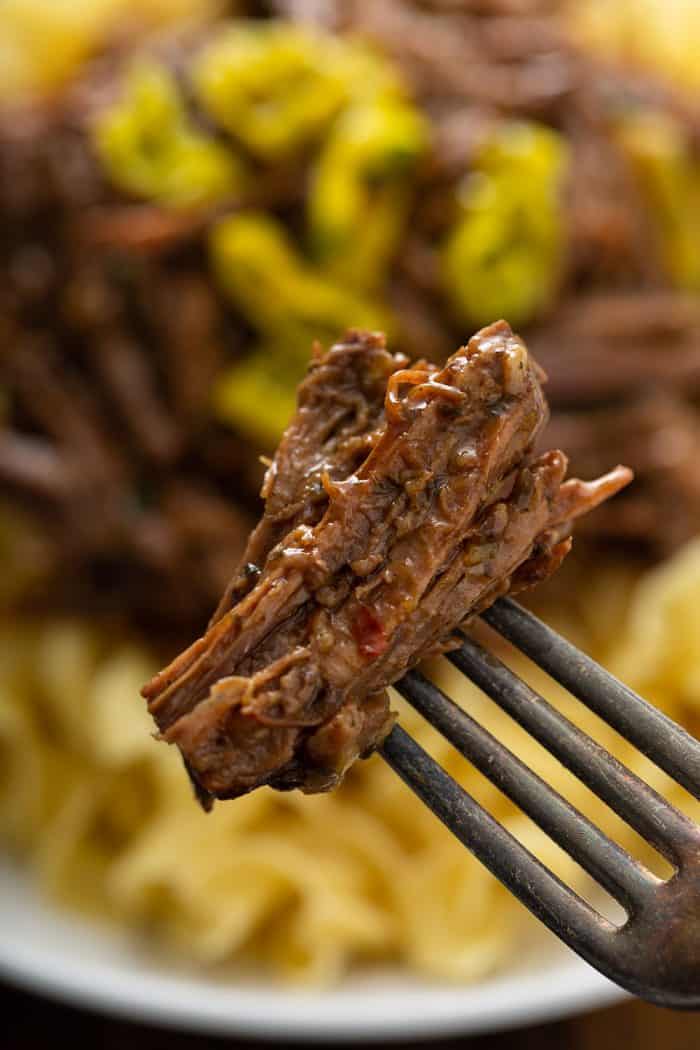 Package up any leftovers in freezer-safe airtight containers and freeze for 1-2 months. I like to freeze leftovers in individual servings for quick dinners and lunches on the fly.
This easy roast is definitely one of my family's favorites. I hope your family enjoys it as much as we do!