Homemade Blue Cheese Dressing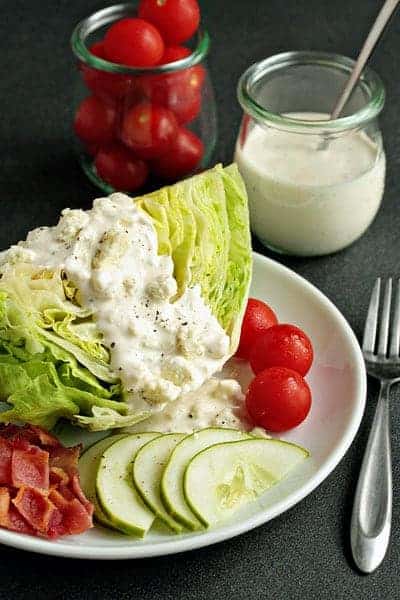 You know how sometimes you have a preconceived notion of a random food item, and refuse to touch it based on that preconception? That was me and blue cheese dressing. My scorn for the popular salad topping was based purely on my experiences with the store-bought bottled variety of Blue Cheese dressing, and I'd never known any different. To this day, the thought of it makes me a little bit sick.
I became fond of blue cheese about four years ago when I started working part time as a server at a local high end steak house. One of my coworkers coerced me into trying the homemade blue cheese dressing. I succumbed to the peer pressure and dipped the corner of carrot stick into the thick, creamy concoction and was fully prepared to wince in disgust. But it was blissful and I was immediately a convert.
Although I have always been a ranch girl, I now find myself craving blue cheese dressing. The other day that craving hit, so I decided to whip up a batch at home. This recipe comes together easily and gets even better if has a little time to hang out in the fridge before serving. It's the perfect topping for a crisp salad or plate full of spicy chicken wings.
Homemade Blue Cheese Dressing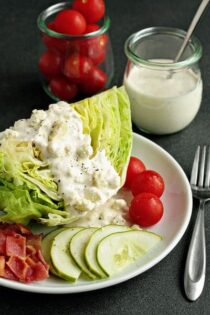 Ingredients:
1/2 cup mayonnaise
1/4 cup sour cream
1 tablespoon milk
2 tablespoons white wine vinegar
1/4 teaspoon Worcestershire Sauce
1/2 teaspoon sugar
1/2 teaspoon kosher salt
1/4 teaspoon freshly ground black pepper
1/8 teaspoon garlic powder
1/2 cup (2 oz.) crumbled blue cheese
Directions:
Combine mayonnaise, sour cream and milk in small bowl; mix until smooth. Stir in vinegar, Worcestershire sauce, sugar, salt, pepper and garlic powder until well blended. Fold in cheese.
Transfer to container with tight-fitting lid. Chill until serving time. Stir well before serving.
Notes:
This recipe is still incredibly tasty if you substitute in reduced fat mayonnaise and sour cream.
Recipe for homemade blue cheese dressing adapted from Sargento Cheese.
All images and text ©
Follow Jamie on Instagram. We love to see what you're baking from MBA! Be sure to tag @jamiemba and use the hashtag #mbarecipes!
This post may contain affiliate links. We are a participant in the Amazon Services LLC Associates Program, an affiliate advertising program designed to provide a means for us to earn fees by linking to Amazon.com and affiliated sites.