Salted Caramel Sauce
A simple recipe for homemade salted caramel sauce that is the perfect topping for just about anything.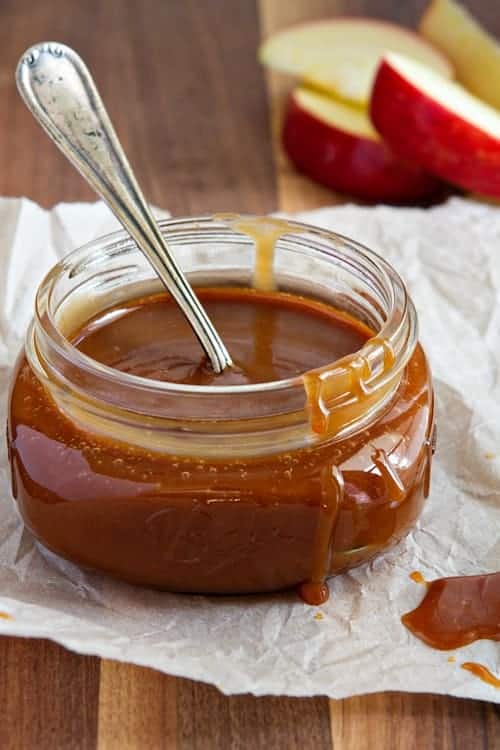 Yesterday I was watching The Biggest Loser on the DVR while making mini cheesecakes – the irony, right? Come on, they were mini!
When I was ready to top them, I realized that I was out of salted caramel sauce. I made a batch about 2 weeks ago, but had forgotten that we had used it up last week.
I was feeling a tad bit lazy and totally engrossed in watching the last chance workout – again with the irony. Needless to say, I wasn't quite up to the task of making a new batch of salted caramel sauce.
However, changing out of my yoga pants and slippers and heading to the market seemed like so much more of a hassle considering it was 10pm. I can't be the only one.
I ended up pausing the DVR and heading into the kitchen to whip up a fresh batch of salted caramel sauce. It's definitely more delicious than the store bought version, and who wants to shell out $7 for a small jar at the market?
Not this girl, especially when I can make it at home with ingredients that I always have on hand. And customize it to make it just right for us.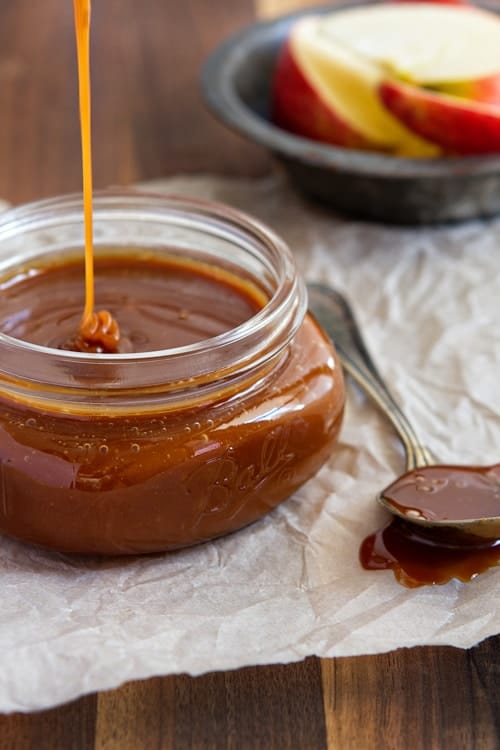 If you've never made homemade salted caramel sauce at home, it can definitely seem a bit overwhelming, but it's honestly not too hard – I promise.
One key tip is to rely on the color of the sugar before adding in the cream.
You can definitely use a candy thermometer if you have a reliable one. I have 3 and each of them varies by 3-5 degrees which can be quite a difference when you're making homemade caramel sauce or candy.
In my opinion, it's best to look for that deep amber color, but be forewarned – that gorgeous deep amber color can transition to a burnt mess in a matter of seconds. Just be sure to be free from distractions and keep your eye on the pan and you'll be good to go!
I'm pretty confident that if you follow the directions below, you'll be a salted caramel sauce making pro in no time!
Salted Caramel Sauce is pretty darn delicious drizzled over just about any dessert. From ice cream and cakes to a dipping sauce for apples, pretzels and brownie bites – it's addictive!
You can keep it in the fridge for a week or so, if it lasts that long! Once I made it, we were dipping apples and pretzel sticks every chance we got. Dangerous situation, let me tell you.
If you're feeling fancy, you can also add a few spices – cinnamon, or apple pie spice would be awesome, or even pumpkin pie spice if you're making it in fall. Do a trio of customized sauces and gift them to your favorite hostess!
It's just so easy to make, I bet you'll find yourself in the kitchen at 10pm, whipping it up. Biggest Loser or not!
Love social media? Be sure to follow My Baking Addiction on Facebook, Pinterest, Instagram and Twitter.
Plan on making this recipe or any others here on MBA? Be sure to tag me and use the hashtag #mbarecipes – I love to see your delicious creations.
Craving salted caramel? Check out these delicious recipes!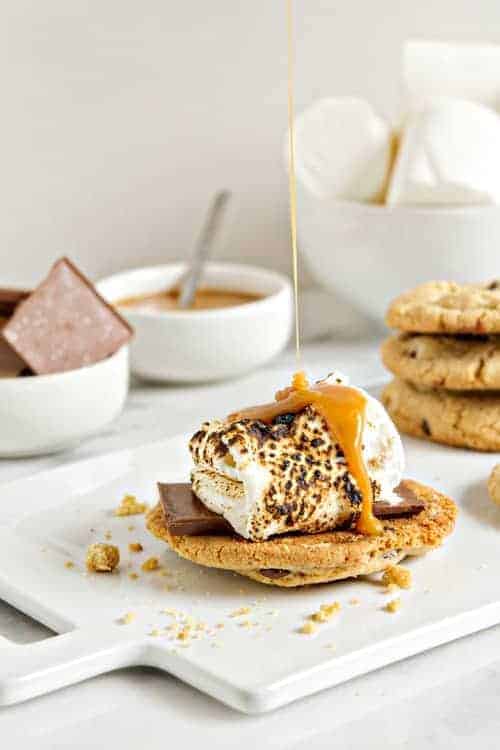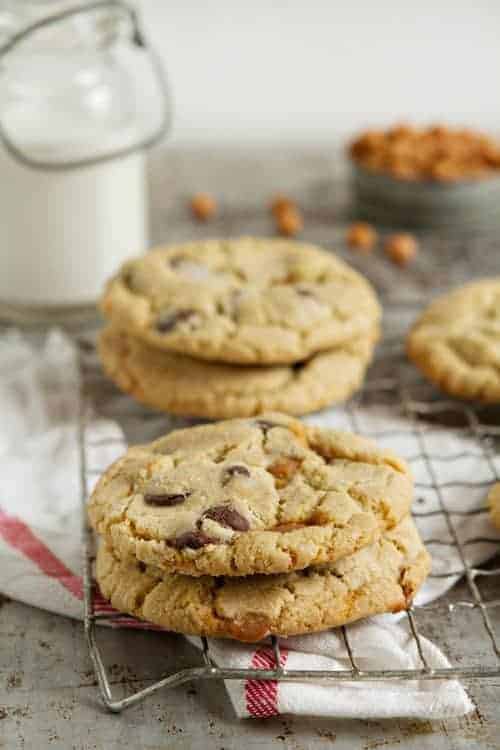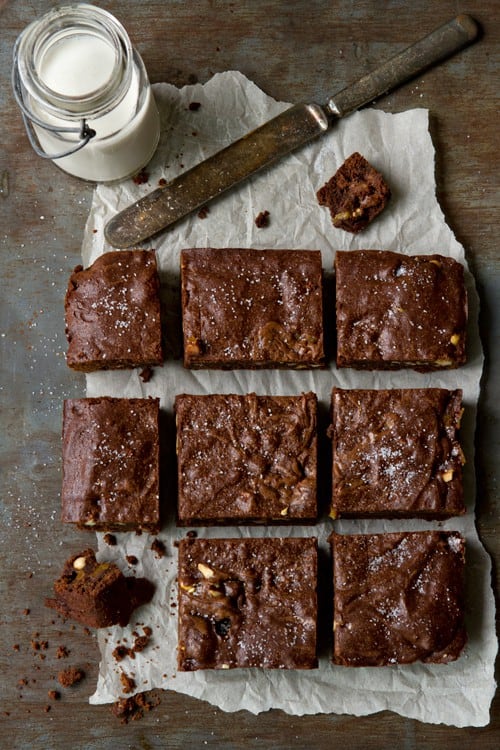 Salted Caramel Sauce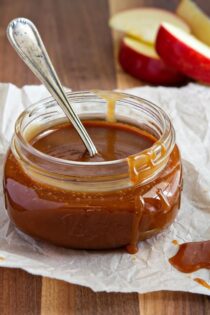 Ingredients:
1 cup granulated sugar
1 tablespoon light corn syrup
1/4 cup water
1/2 cup heavy cream, heated until warm
2 tablespoons unsalted butter, softened
1 teaspoon fine grain sea salt (or more to taste)
1 teaspoon pure vanilla extract
Directions:
In a heavy saucepan (at least 5 cup capacity), stir together the sugar, corn syrup, and water until the sugar is completely moistened. If you are using a candy thermometer, place it into the pot taking care that it is tip in immersed into the sugar mixture.
Heat, stirring constantly, until the sugar dissolves and the sugar syrup is bubbling. Stop stirring completely and allow it to boil undisturbed until it turns a deep amber (like the color of Bass Ale) (see notes below). This will occur right around 350 degrees. Immediately remove it from the heat and slowly and carefully pour the hot cream into the caramel. It will bubble up furiously.
Use a high-temperature heat-resistant rubber spatula or wooden spoon to stir the mixture until smooth, scraping up the thicker part that settles on the bottom. If any lumps develop, return the pan to the heat and stir until they dissolve. Stir in the butter and salt. The mixture will be streaky but become uniform after cooling slightly and stirring.
Allow the sauce to cool for 3 minutes. Gently stir in the vanilla extract.
Notes:
Keep at room temperature for up to 3 days; refrigerated, about 3 weeks. To reheat, simply place in a microwave safe container and heat for about 45-60 seconds. Stir well.
I have 3 thermometers and they all register different temperatures. In my opinion, it's best to rely on the color of the caramel as opposed to the temperature. You want to look for a dark dark amber color. However, dark amber goes to burnt in a matter of seconds. If using a thermometer, start paying close attention at about 340 degrees. Once the color deepens, pull the mixture from the heat.
All images and text ©
Follow Jamie on Instagram. We love to see what you're baking from MBA! Be sure to tag @jamiemba and use the hashtag #mbarecipes!
This post may contain affiliate links. We are a participant in the Amazon Services LLC Associates Program, an affiliate advertising program designed to provide a means for us to earn fees by linking to Amazon.com and affiliated sites.