Impossibly easy salted caramel mini "apple pies" are a true holiday treat. They're a match made in holiday heaven!
This is a sponsored conversation written by me on behalf of Betty Crocker via Burst Media.
I'm starting to think more and more about the big move to a new house, and the traditions we'll start once we're there. From decorating the outside with lights and wreaths to planning our Thanksgiving menu, I'll be honest, I'm both excited and overwhelmed.
I've been trying to come up with ways to make Thanksgiving and Christmas absolutely perfect without spending eleventy million hours in the kitchen, away from my guy, my baby, and my family. Pretty sure I don't want to spend Elle's first Thanksgiving slaving over a hot stove.
And then I agreed to become a Bisquick Holiday Make-Ahead Ambassador, and my whole holiday agenda got infinitely easier.
We use Bisquick quite a bit around here. I actually like it a lot as a muffin base when I'm in a hurry, and you can't beat it for light and fluffy pancakes. But did you know that Bisquick is actually great as the starting point for all sorts of recipes?
From breakfast casseroles to appetizers, pot pies with all that leftover turkey, and completely show-stopping desserts, Bisquick can be a tool in your culinary toolbox that makes you look like a complete superstar with minimal effort – keeping you in front of the Christmas tree with your babies instead of in the kitchen.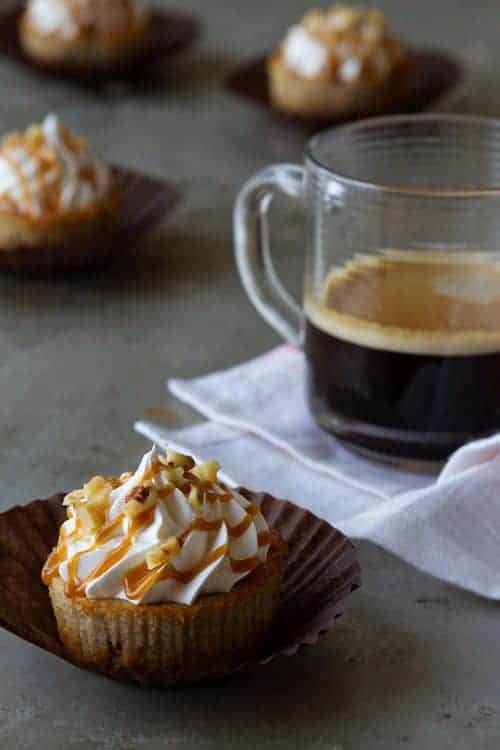 Even Betty Crocker knew a good thing when she saw it, you guys. There are a whole slew of fantastic make-ahead recipes for a happier holiday right there on the website.
That's where these Impossibly Easy Salted Caramel Mini Apple Pies come from. It's not really a secret that I'm not great at traditional pie crust. I appreciate it, but it's a whole lot of effort for something that doesn't always elevate the filling it contains. But these mini apple pies have a biscuit batter base that's topped with gorgeous apples, whipped cream, salted caramel sauce, and walnuts to take everything over the top. Who the heck needs pie crust?!
These lovely little desserts come together pretty quickly too – 45 minutes from start to finish – including clean-up time – and you've got 12 muffin-sized desserts that will please a crowd. They travel well, so you know you can take them along to your auntie's house without any worry. Just wait to top them with caramel sauce, walnuts, and whipped cream until just before you're ready to serve. And if I'm being honest, they're pretty perfect for breakfast too!
And don't get me started on the garlic cheddar biscuits that I'm totally serving with our giant turkey. Dinner with those babies, then dessert with these babies. I think we're set. Our holiday meals are going to be awesome.
For more delicious make-ahead recipes, be sure to check out Bisquick on Facebook and Pinterest.
This is a sponsored conversation written by me on behalf of Betty Crocker via Burst Media. The opinions and text are all mine.
Mini Apple Pies with Salted Caramel Sauce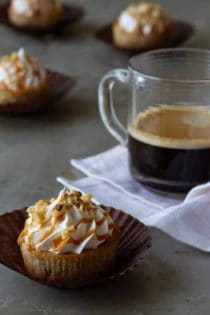 Ingredients:
For the Filling
1 1/2 cups peeled diced (1/4-inch) Granny Smith apples
1 teaspoon apple pie spice (click link for recipe)
For the Batter
1/2 cup Original Bisquick™ mix
1/3 cup granulated sugar
1/2 teaspoon apple pie spice
1/3 cup milk
2 tablespoons butter, melted
1 large egg
1 teaspoon pure vanilla extract
For the Topping
3/4 cup sweetened whipped cream
1/2 cup salted caramel sauce (click link for recipe)
1/4 cup chopped toasted walnuts
Directions:
1. Heat oven to 375°F. Line 12 regular-size muffin cups with paper liners and spray with cooking spray.
2. In small bowl, combine apples and apple pie spice. Set aside.
3. In a medium bowl, whisk together Bisquick, sugar, apple pie spice, milk, butter, egg, and vanilla.
4. Spoon 1 tablespoon of batter into each prepared muffin cup. Top with 2 tablespoons of apple mixture. Spoon 1 level measuring tablespoon remaining batter over apples in each muffin cup.
5. Bake in preheated oven for 15 minutes, or until set in center and edges are golden brown. Cool 5 minutes; remove from muffin pan. Just before serving, top each mini apple pie with 1 tablespoon whipped cream, 2 teaspoons salted caramel sauce and 1 teaspoon walnuts.
Recipe slightly adapted from Bisquick
All images and text ©
Follow Jamie on Instagram. We love to see what you're baking from MBA! Be sure to tag @jamiemba and use the hashtag #mbarecipes!