Learning how to make caramel sauce is a trick you will use time and again! Making caramel sauce only takes a few minutes, and the result is so much better than anything you can buy at the store.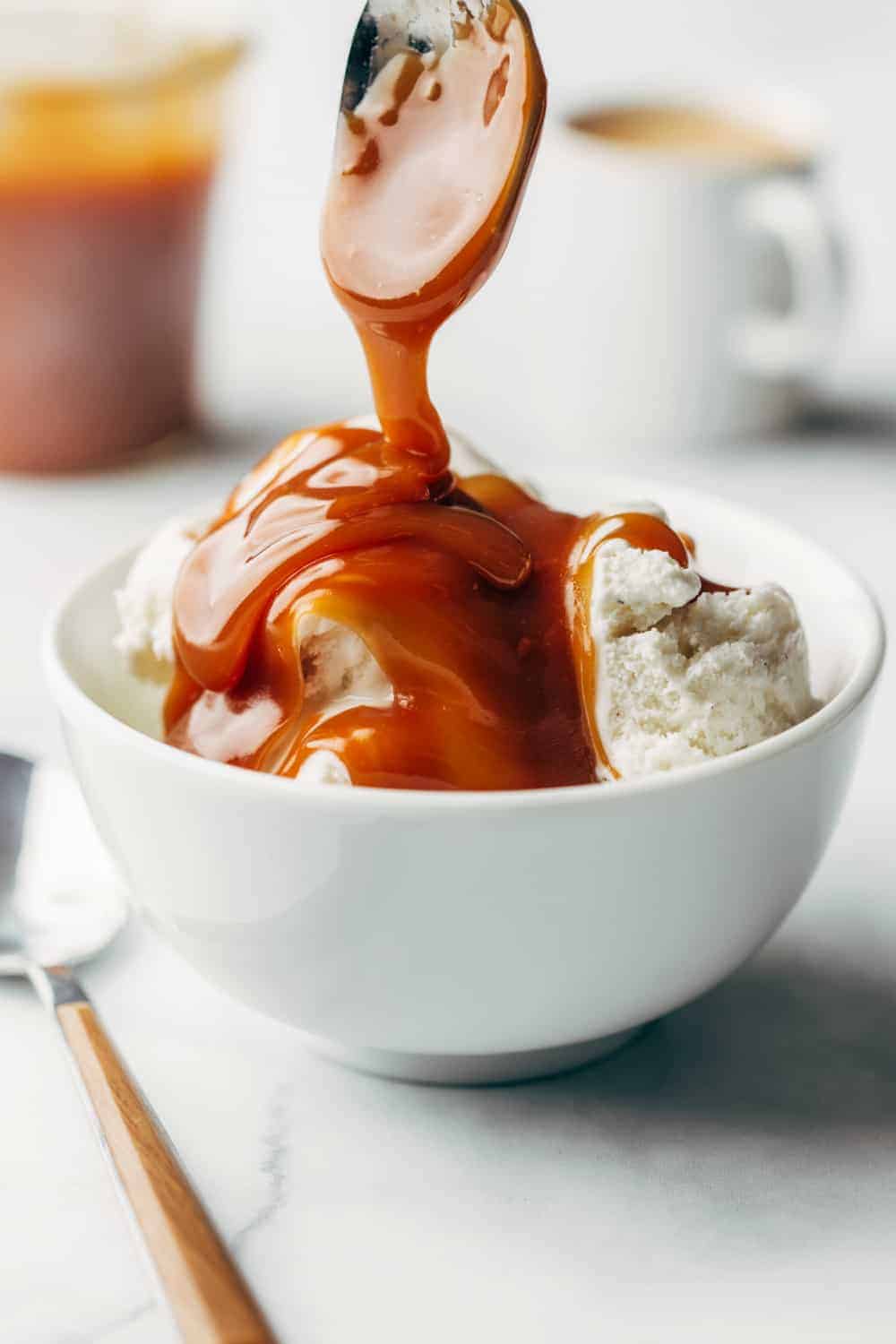 I love, love, love all things caramel. Borderline obsessed, ok?
If there's a new chocolate with caramel in it, I'm trying it. A new caramel coffee drink at Starbucks? I'll take one, please.
I love salted caramel cheesecake, caramel apples, salted caramel s'mores…I'm into it all.
Sadly, my family can't stand it. That's right, my husband and sweet baby girl loathe caramel. So I have to get my caramel fixes in separate from them, and spending $7 on a jar of fancy caramel sauce at the store is something my husband would die over.
Luckily, I know how to make caramel sauce at home, so I can have my own little stash of caramel any time I want, free of judgement from my family.
Today I thought I would share some of my tips for making caramel sauce so that you can also indulge any time you like. Us caramel lovers have to stick together, after all.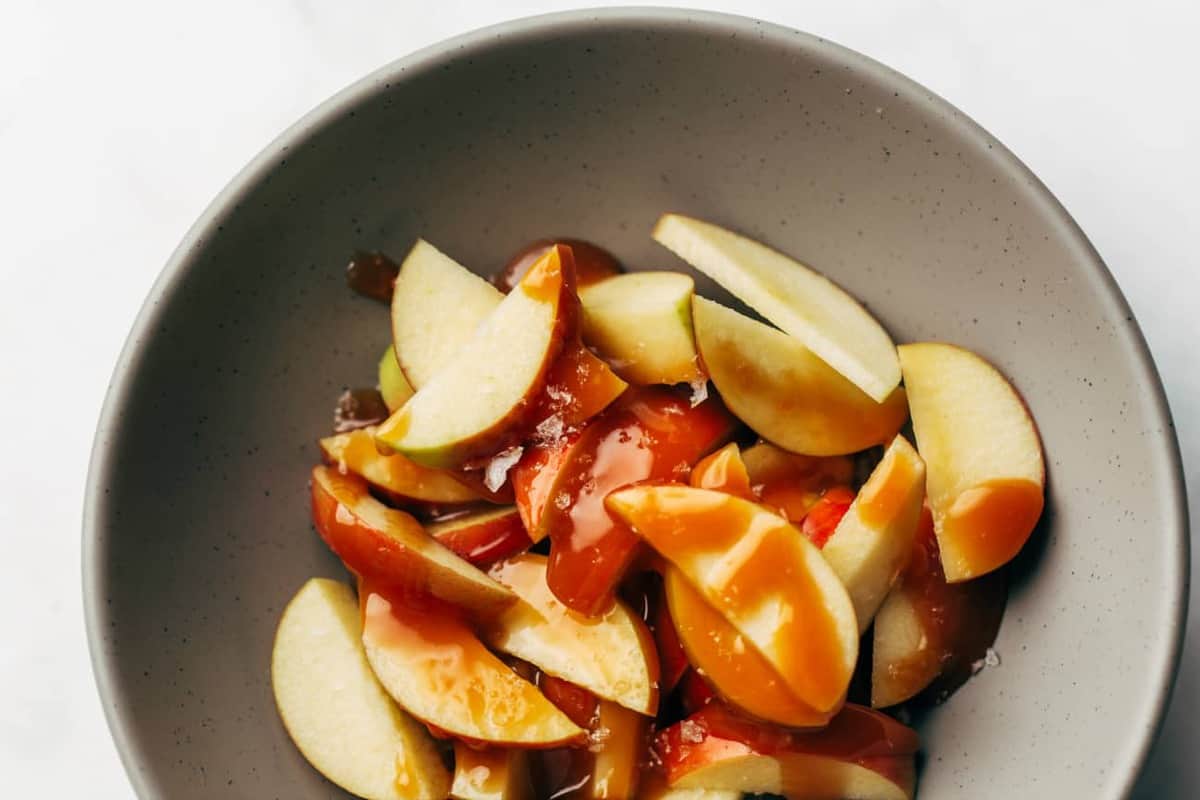 CARAMEL SAUCE INGREDIENTS
Making caramel sauce at home really only requires a handful of ingredients, most of which you probably have on hand already.
All you really need to make a basic caramel sauce is granulated sugar, cream and butter.
I also like to use a little bit of light corn syrup to make my caramel sauce. Corn syrup helps to stabilize the sugars, making things a little more fool-proof.
As in my Salted Caramel Sauce recipe, you can also add other flavors you'd like to have in your caramel sauce, such as salt or vanilla. You could even add cinnamon or apple pie spice to change things up!
But as long as you have the basic ingredients, you are well on your way to making a delicious homemade caramel sauce.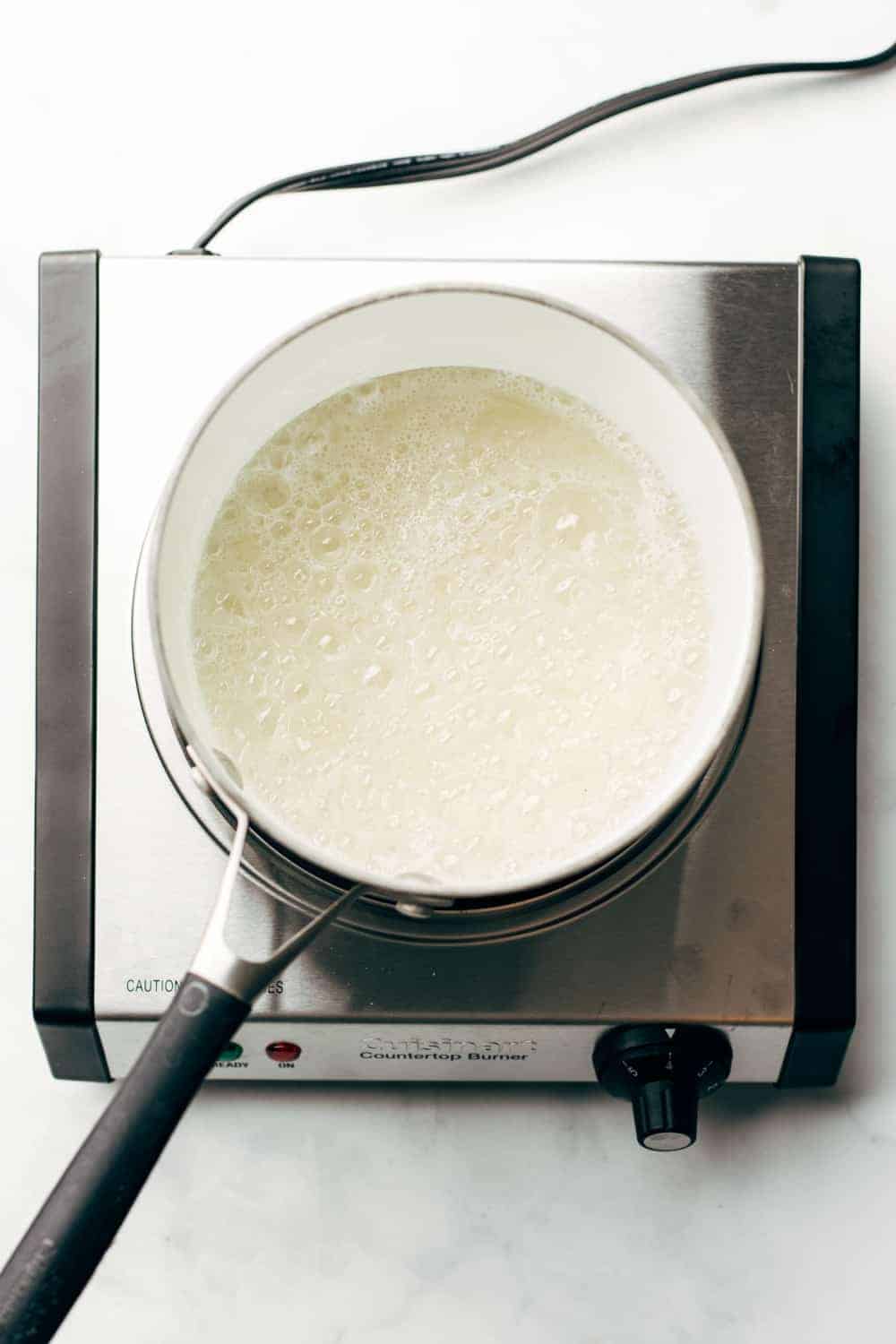 HOW TO MAKE CARAMEL SAUCE
So now let's talk about how to make caramel sauce. I promise that it isn't as complicated as it seems!
Stir together the sugar, corn syrup and water until the sugar is completely moistened. Place this over the heat and stir just until the sugar is dissolved and the syrup starts to bubble. Then stop stirring!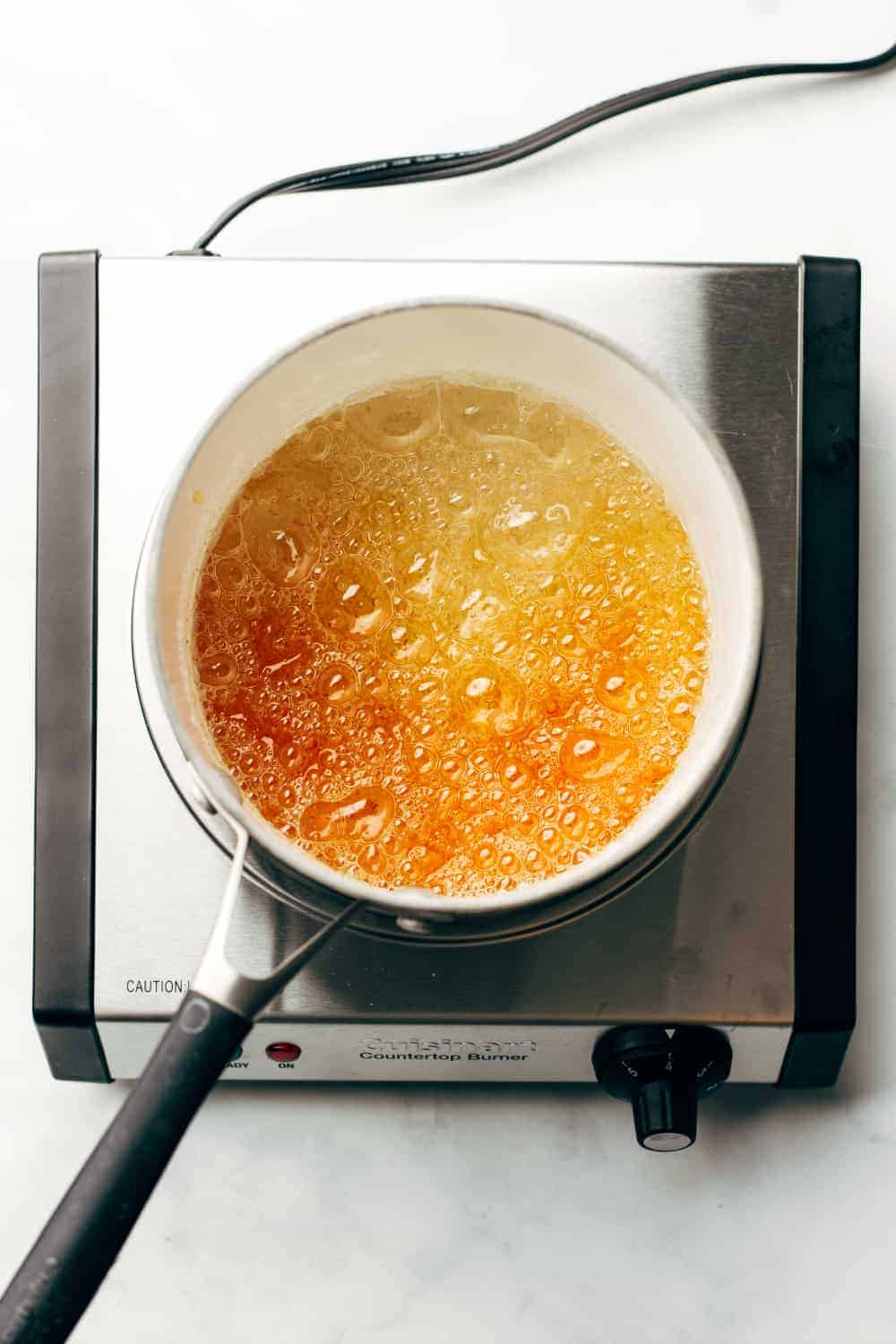 Let the syrup boil, without touching it, until it is a deep amber color. If you are using a candy thermometer, this will happen around 350 degrees.
As soon as this happens, remove the sauce from the heat and add the cream. Make sure you add it slowly and carefully; the sauce will bubble up quite a bit.
Stir the caramel sauce with a wooden spoon or heat-resistant spatula until it is smooth. Then stir in the butter and any additional flavors or ingredients you are using.
Congrats! You have just made caramel sauce. But I have a few tips and tricks for you that will make the process even easier.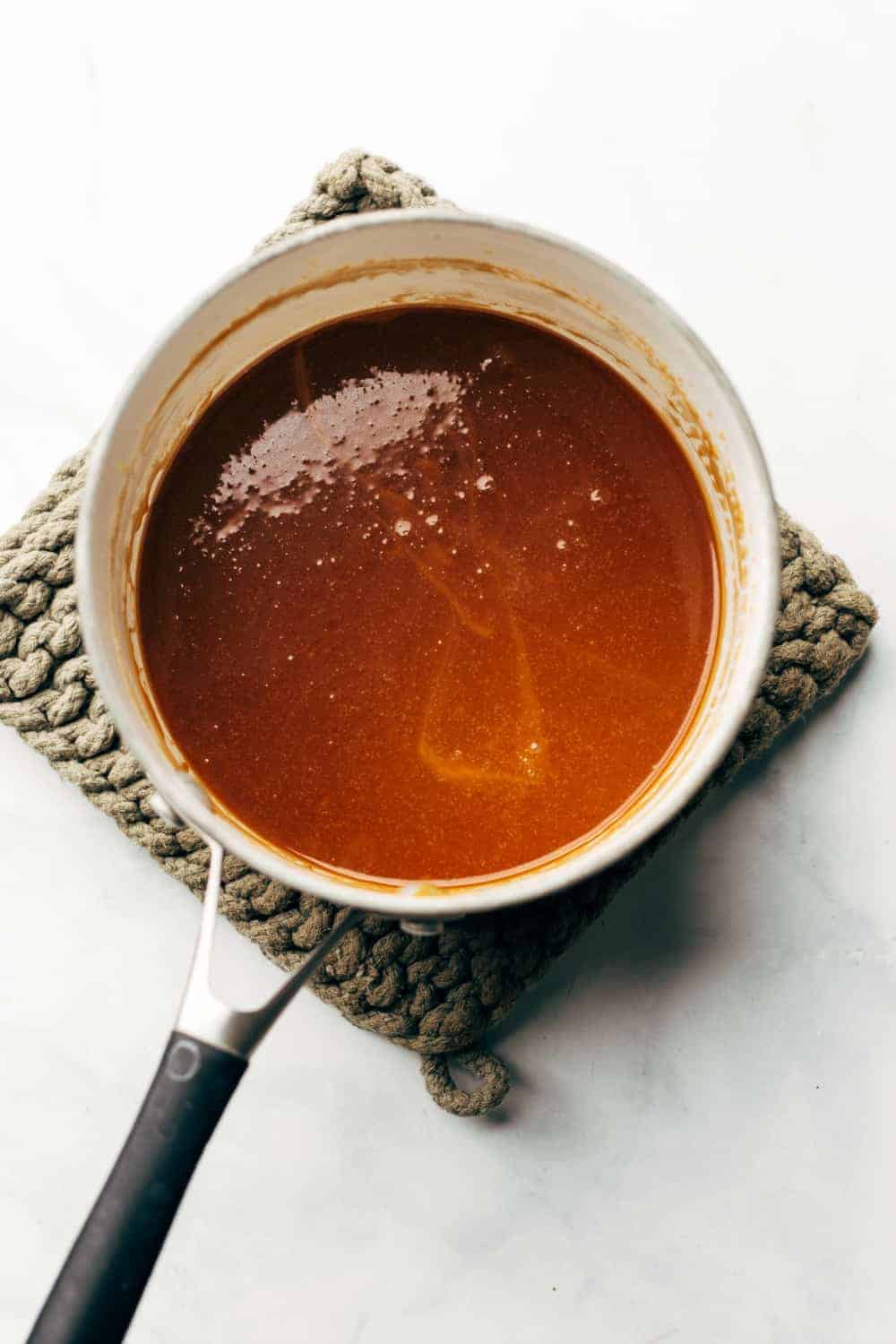 TIPS FOR MAKING CARAMEL SAUCE
I've made caramel sauce enough times that I have accumulated a few tricks to help keep you from going from amber caramel perfection to a burnt sugar mess.
Trust me, I've learned some of these things the hard way.
Use a heavy, light-colored saucepan. And make sure it is larger than you think you will need, since the caramel will bubble up when you add the cream. I use at least a 5-cup saucepan to make 1 cup of caramel.
I like to use a saucepan with a light-colored interior, such as an enameled pan, so that I can easily see the caramel change colors. A dark pan will make it much harder to note the color.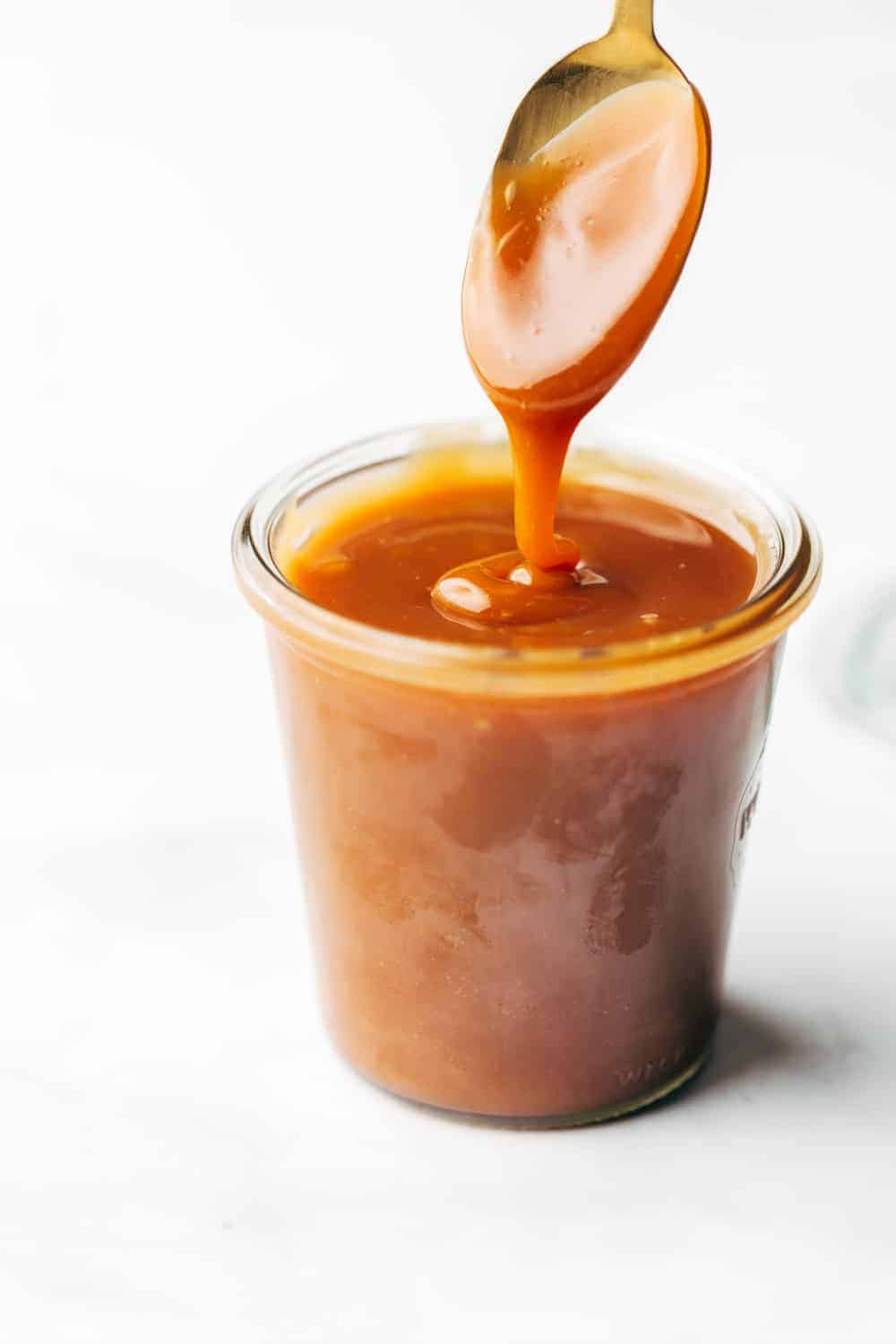 Which leads me to my second tip: Rely on the color of the sugar before adding in the cream.
You can definitely use a candy thermometer if you have a reliable one. I have 3 and each of them varies by 3-5 degrees, which can be quite a difference when you're making homemade caramel sauce or candy.
In my opinion, it's best to look for that deep amber color. But be forewarned – that gorgeous deep amber color can transition to a burnt mess in a matter of seconds.
And lastly, measure out your ingredients ahead of time and be free from distractions. Once the sugar gets going, things move fast! You'll want to make sure your cream and butter are already measured and you're paying attention so that you can add them at the right time.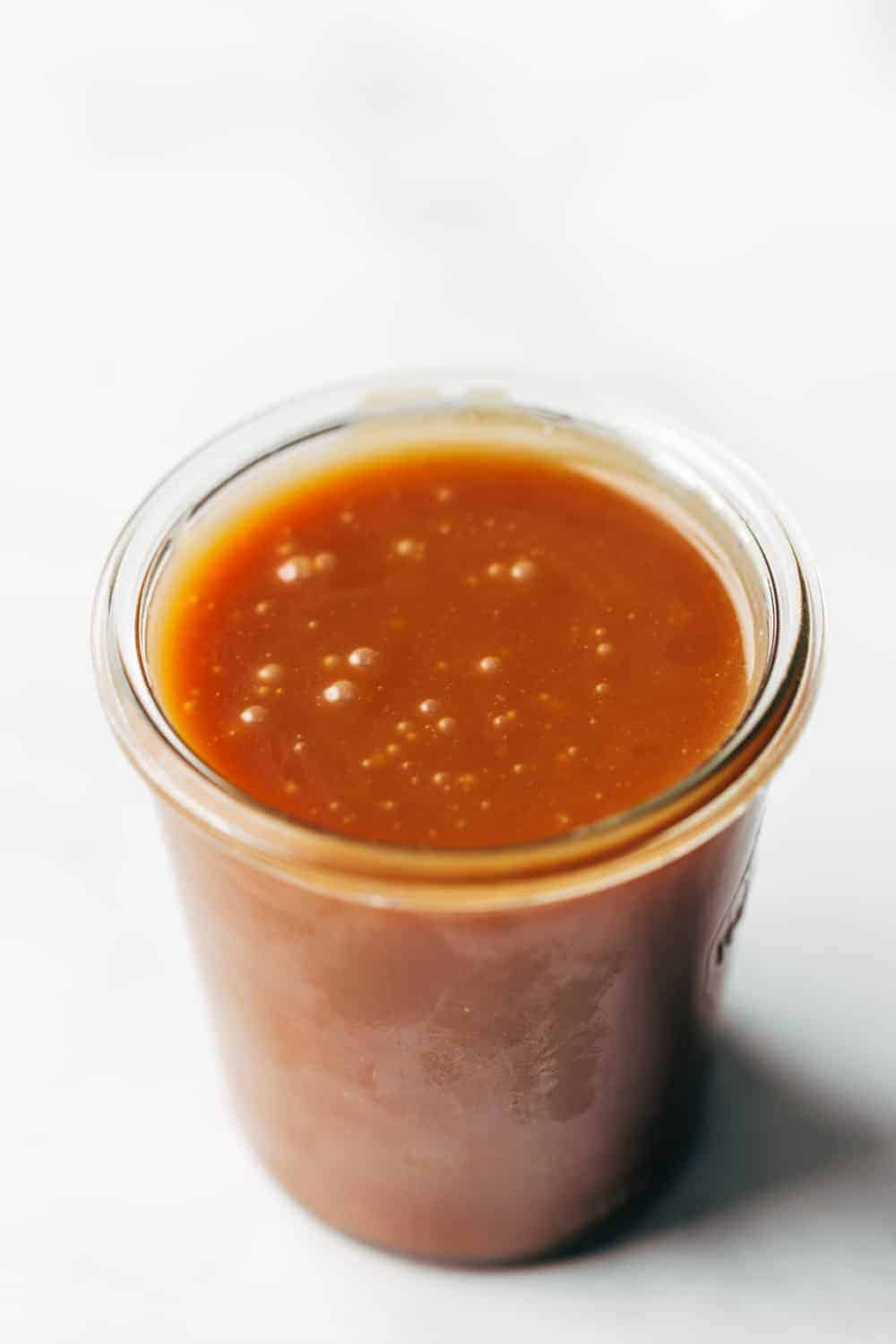 WHAT CAN I MAKE WITH CARAMEL SAUCE?
Knowing how to make caramel sauce is just the beginning. What you do with it after you make it is when the magic really happens.
Homemade caramel sauce is perfect for topping any number of baked goods, such as mini apple pies, mini pumpkin cheesecakes, or gingerbread. And don't forget to drizzle it over as much homemade vanilla ice cream as you can eat.
It also makes a great mix-in for milkshakes (try my Salted Caramel Pretzel Milkshake) or cocktails such as a Salted Caramel Apple Cocktail.
And then there's always the dipping possibilities. Apple slices, pretzels, cookies – they're all great for dipping into homemade caramel sauce.
Or you can just eat it from a spoon like I sometimes do.
Now that you know how to make caramel sauce, how will you serve it?