Salted Caramel Cheesecake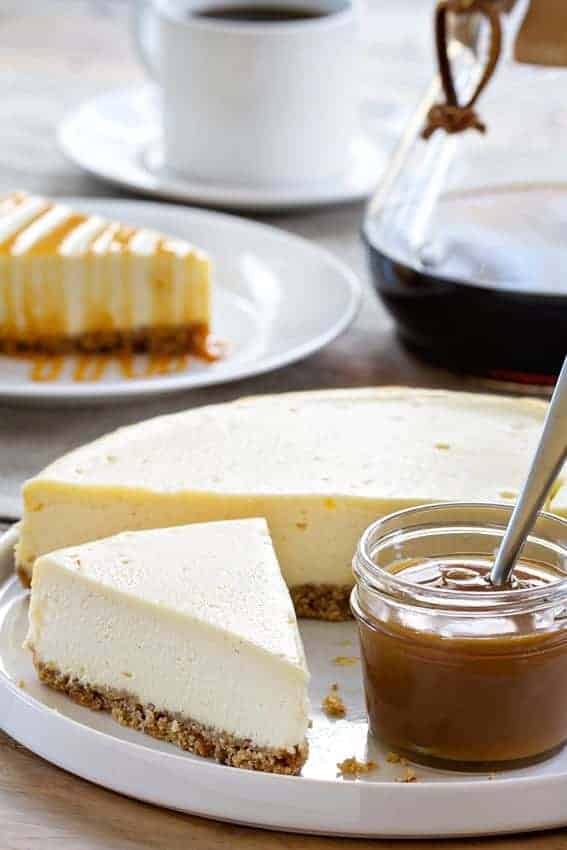 Salted Caramel Cheesecake is a delicious and creamy cheesecake with a sweet and salty pretzel crust. Every bite is amazing.
This post is sponsored by Challenge Butter. Thank you for supporting the brands that make My Baking Addiction possible.
If you aren't new around here, you know that cheesecake is my THING. My ultimate dessert. What we have at every family birthday party and holiday party. How I wow new people in my life with my dessert-baking prowress. (Just kidding on that last part – kinda.)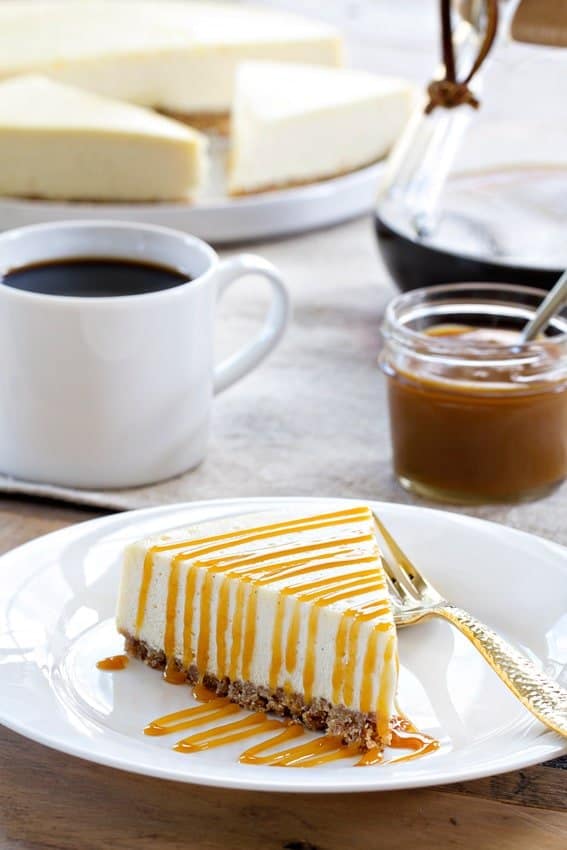 The thing I love most about cheesecake, besides eating it, is just how versatile it can be. From vanilla bean cheesecake and pumpkin cheesecake to Snickers cheesecake, there's hardly a version I haven't tried – and loved.
The other day, I was thinking about butter – as one does when they bake for a living. And how much I love the stuff, especially in crumbly cheesecake crust. You know what else is buttery? Salted caramel sauce. Sounds like a match made in cheesecake heaven to ME!
This buttery, crispy, sweet and salty crust comes to you courtesy of salted caramel pretzels and Challenge Butter. I love using Challenge Butter in desserts I know I'm going to be feeding to my whole family. Not only is the quality top notch, it's made from the cream of cows not treated with Growth Hormone rbST. That's important to me with a growing family, so knowing I can pick up these high quality butter and not have to think twice about it is fantastic.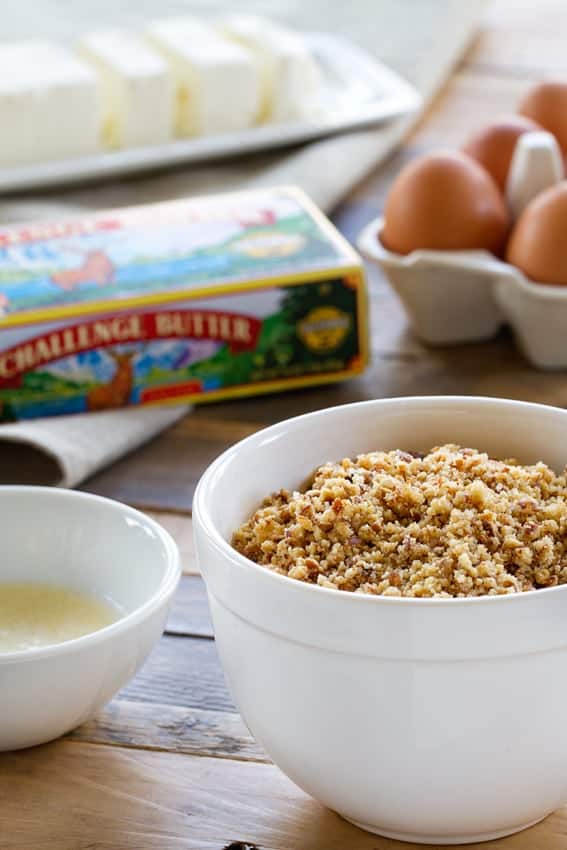 I'm especially proud to be an Challenge Butter ambassador because Challenge and UNICEF have joined forces to address and build awareness of the childhood malnutrition crisis. Did you know that nearly half of all deaths in children under five is attributable to undernutrition? This results in the unnecessary loss of nearly three million young lives a year.
Together they've created a Pinterest campaign where for every recipe pinned, Challenge will donate a meal to UNICEF to feed a child in need.
Together we can all fight malnutrition all over the world. And all it takes is a few pins.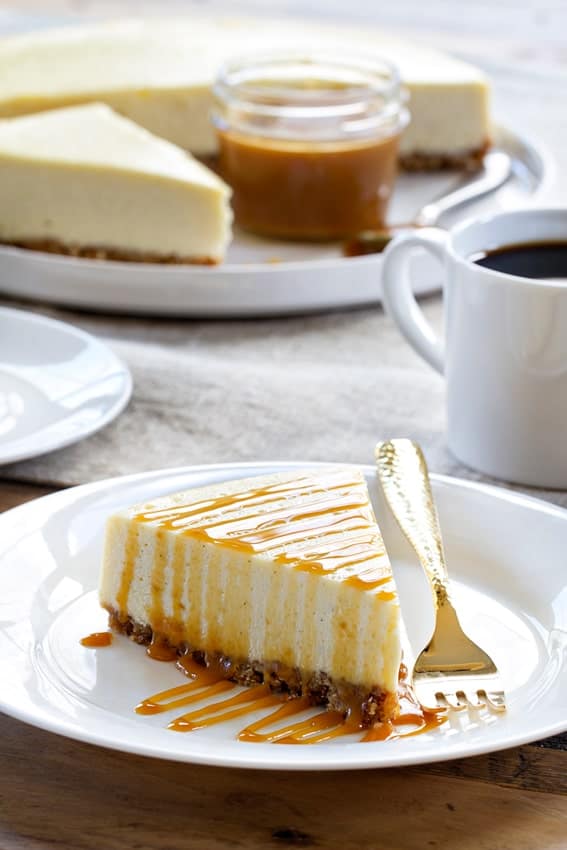 Beginning November 2nd through December 31, 2015, Challenge will donate a meal for a child in need to the UNICEF foundation for each recipe pinned from its "Pin a Recipe, Feed a Child" Pinterest board. Challenge has commited to provide up to 75,000 meals through this campaign.
I hadn't made a big ol' cheesecake in a while, but with several family get-togethers on the horizon, now seemed like exactly the right time. And if it can help raise awareness and cash towards this global problem? Bonus!
Go forth and make Salted Caramel Cheesecake for your crowd. They'll thank you for it, I promise. And I thank you in advance for pinning a bunch of the delicious recipes from this board.
Salted Caramel Cheesecake
Yield: 8-12 servings
Prep Time: 20 minutes
Cook Time: 55 minutes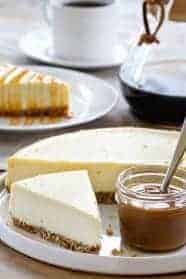 Ingredients:
For the Crust
2 1/3 cups Snyders Salted Caramel Pretzel Pieces, crushed in a food processor until they form fine crumbs
5 tablespoons salted Challenge Butter, melted
For the Cheesecake
32 ounces cream cheese, room temperature
1 cup granulated sugar
4 large eggs; room temperature
1/2 cup heavy cream
1 tablespoon pure vanilla extract or vanilla bean paste
For the Topping
Directions:
Preheat oven to 325°F. Tightly wrap a 9 inch springform pan in heavy duty foil. This step prevents leaks when using a water bath. I also take the extra step by placing the foil wrapped spring form pan inside an oven bag while baking, but this is optional.
Mix together the crust ingredients and press into the bottom of your pan. Bake for 8 minutes and cool completely on a wire rack.
Begin to boil a pot or kettle of water for the water bath.
In the bowl of your stand mixer fitted with your paddle attachment, beat the cream cheese until smooth. Add sugar and mix until combined.  Add eggs, one at a time, fully incorporating each before adding the next. Make sure to scrape down the bowl in between each egg. Add heavy cream and vanilla and mix until smooth.
Pour batter into prepared crust. Place pan into a larger pan and pour boiling water into the larger pan until halfway up the side of the cheesecake pan.
Bake 55-60 minutes, the edges will appear to be set, but the center will still have some jiggle to it. At this point, turn off the oven, but leave the door cracked and allow the cheesecake to rest in the cooling oven for one hour.
After one hour has passed, carefully remove the cheesecake from the water bath and place on a cooling rack to cool completely. Once the cake is completely cooled, place it into the refrigerator for at least 8 hours.
Serve with salted caramel sauce.
35 Responses to "Salted Caramel Cheesecake"