Cookie Dough Cheesecake Bars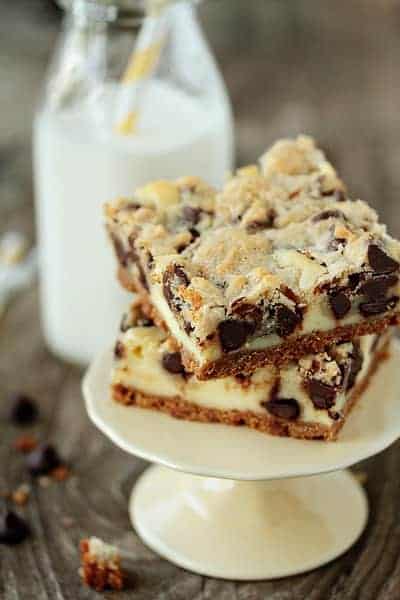 Sometimes I sit and ponder delicious baked goods to make for the blog and jot them into my iPhone notepad. And sometimes I think my ideas are utterly genius – well, momentarily genius that is. As soon as I type my brilliant idea into Google, it typically reveals that someone else had the same amazing idea long before I did.
That was the exact scenario with these Chocolate Chip Cookie Dough Cheesecake Bars. It's no wonder someone came up this deliciousness before me… I mean, can you think of a more amazing combination than the love child of a cheesecake and chocolate chip cookies? I think not!
Although this is a multi-step recipe, it's simple to prepare and it's pretty much the perfect comfort food. Serve them up with glass of ice cold milk and like magic, everything will seem a little bit better! Okay, so I can't really guarantee these will brighten your mood, but trust me – if there's a food that can, it's these Chocolate Chip Cookie Dough Cheesecake Bars.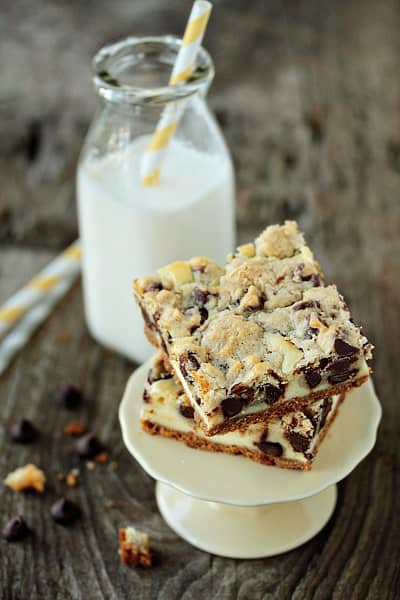 The buttery graham cracker crust is the perfect foundation for a layer of creamy cheesecake and buttery, chocolate-y goodness of chocolate chip cookie dough. When I first pulled these out of the oven, I was a little disappointed that the cheesecake layer wasn't taller because as you all know, I love me some cheesecake.But after tasting the bars, I think the ratio is just fine. I tell ya, it's a good thing this recipe only makes an 8×8 inch pan or otherwise your waistline could be in for some serious expansion.
Cookie Dough Cheesecake Bars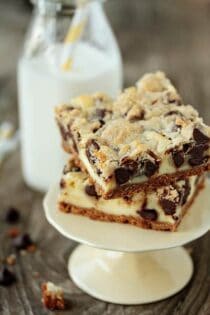 Ingredients:
For the Crust
1 1/4 cups graham cracker crumbs
5 tablespoons unsalted butter, melted
Chocolate Chip Cookie Dough
8 tablespoons unsalted butter, room temperature
1/3 cup packed light brown sugar
3 tablespoons granulated sugar
1/4 teaspoon salt
1 teaspoon pure vanilla extract
3/4 cup all-purpose flour
1 cup chocolate chips
For the Cheesecake Filling
8 ounces cream cheese, room temperature
1/4 cup granulated sugar
1 large egg, room temperature
1 teaspoon pure vanilla extract
Directions:
Preheat the oven to 325 F. Line an 8 inch square baking pan with parchment paper or foil allowing a little overhang and spray with nonstick cooking spray. Set aside.
Mix the melted butter and graham cracker crumbs until thoroughly combined. Press the mixture into the bottom of the prepared pan. Bake in preheated oven for 6 minutes. Remove pan to a cooling rack. Do not turn your oven off.
While the crust is cooling, prepare the chocolate chip cookie dough. In the bowl of a stand mixer fitted with the paddle attachment or in a large bowl with an electric mixer, beat butter, brown sugar, granulated sugar, salt and vanilla until smooth and thoroughly combined, about 1 minute. Mix in the flour on low speed, and mix until just incorporated. Mix in the chocolate chips. Set aside.
In the bowl of a stand mixer fitted with the paddle attachment or in a large bowl with an electric mixer cream together the cream cheese and sugar until smooth. Mix in the egg and vanilla on low speed just until incorporated. Pour the cheesecake batter into the prepared crust. Using your hand to form clumps. Flatten the clumps of dough in your palms to flatten them out a bit. Distribute the cookie dough onto the top of the cheesecake batter. Be sure to use all of the dough. You will cover most of the cheesecake batter.
Bake for about 30 minutes, until the top feels dry and firm (the cookie dough) and the entire pan looks set if given a gentle shake. Move bars to a cooling rack and allow to cool completely.
Lift the bars out by the overhang; slice into desired size and store in the refrigerator. Serve cold or at room temperature.
adapted from The Essential Chocolate Chip Cookbook
All images and text ©
Follow Jamie on Instagram. We love to see what you're baking from MBA! Be sure to tag @jamiemba and use the hashtag #mbarecipes!
This post may contain affiliate links. We are a participant in the Amazon Services LLC Associates Program, an affiliate advertising program designed to provide a means for us to earn fees by linking to Amazon.com and affiliated sites.