How to Bring Butter and Eggs to Room Temperature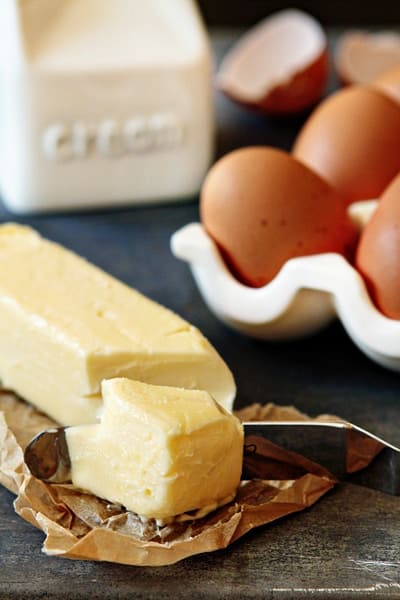 The easiest way to get your baking ingredients to room temperature is to simply allow them to sit at – room temperature. That's pretty much a no-brainer, right? But this method usually means that you have a bit of a plan in place. If I know that I am going to baking early in the morning, I always take my items out of the fridge and allow them to sit on the counter overnight.
However, if you're at all like me, sometimes ya just get the urge to bake something without a plan in place. I often find myself in this situation and it can be a real bummer if the recipe you're using calls for room temperature items such as butter, eggs, and cream cheese. But no worries, I've got ya covered – so the next time you find yourself staring at ice cold butter and eggs, you'll know exactly what to do to get those items to room temp in no time!
I usually bake with room temperature eggs because they seem to disperse much better through batters when they aren't fresh out of the fridge. Typically if the recipe calls for room temperature butter, it's a good idea to use room temperature eggs.
How to Bring Eggs to Room Temperature
Place eggs in a bowl and cover them with warm (not hot) tap water. Allow the eggs to sit in the water for about 5 minutes or until they are no longer cool to the touch.
How to Bring Butter to Room Temperature
The Microwave Method
If you bake a lot, I'm betting you've attempted to soften butter in the microwave, right? I know some microwaves have a fancy schmancy feature that allows you to soften butter at the press of a button, but unfortunately, my microwave is not rocking that feature. Softening butter in the microwave can can be tricky because if you get distracted you'll end up with a pool of butter instead of a beautifully softened stick.
Ya know you've done it – and I'll attest to the fact that cleaning up melted butter from the inside of the microwave is a pain in the booty. After some trial and error, I've pretty much perfected my microwave softening technique, here's what I do:
Place stick(s) of butter on a microwave safe plate. Leave the paper wrapper on.
Place the plate into the microwave and heat on high power for 5 seconds. Open microwave give the stick 1/4 turn (meaning, pick it up and flip it over onto its side) and heat again for 5 seconds. Do this on all four long sides of the stick(s) of butter. Typically after about 20-25 seconds my butter is perfect. This time will vary depending on your microwave – simply watch it closely and keep flipping it. The flipping action will help the butter to evenly soften.
The Cube Method
If you have a little bit of time on your hands, you can cut the stick(s) of butter into fourths and then cube into small pieces. The smaller the cubes, the quicker the butter will soften. Just leave them at room temperature for about an hour or until soft to the touch.
The Grating Method
I always have a lot of butter on hand and when it's on sale I stock up and store it in the freezer. But sometimes I forget to move some to the fridge when I'm running low, and then find myself with pounds pounds of only frozen butter. The easiest way to bring frozen butter to room temperature to take out your handy box grater and grate the butter into a bowl.
Within no time, your butter will be soft and ready to be added to your favorite recipe. This grating method also works wonders when a recipe calls for frozen butter such as scones and pie doughs.
And there you have it, my not so technical methods of bringing ingredients to room temperature on the fly. I hope it helps you out the next time you feel the urge to bake up a batch of cookies in a hurry!
Notes
The Microwave and Cube Methods will also work for cream cheese. If you use the microwave method, be sure to unwrap the cream cheese before placing it into the microwave.
This post may contain affiliate links. We are a participant in the Amazon Services LLC Associates Program, an affiliate advertising program designed to provide a means for us to earn fees by linking to Amazon.com and affiliated sites.