These chewy M&M cookies are loaded with crunchy M&M's for a childhood classic! Make these with all-purpose flour or follow the alternative directions for a gluten-free version.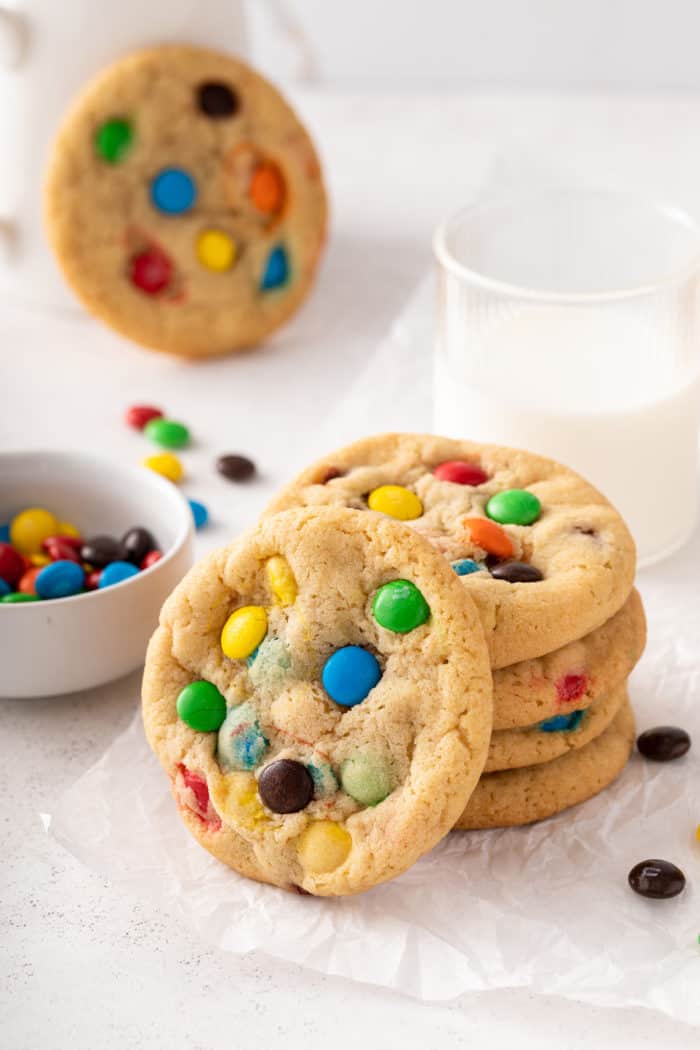 Post contains affiliate links.
There are some treats that are essential to childhood.
Classic rice krispie treats. No-bake cookies. Funfetti cupcakes. My favorite chocolate chip cookies.
And M&M cookies, of course.
With everyone getting into their fall routines and Halloween coming up next month, it seemed like the perfect time to remind you about this recipe from my friend Erin from Texanerin Baking.
Whether you're making these as an after-school treat, a surprise for some hard-working teachers, or as a way to use up leftover Halloween candy, these chewy cookies are always a hit.
Not to mention that you can easily make them gluten-free by following the alternative directions! So they really are perfect for everybody.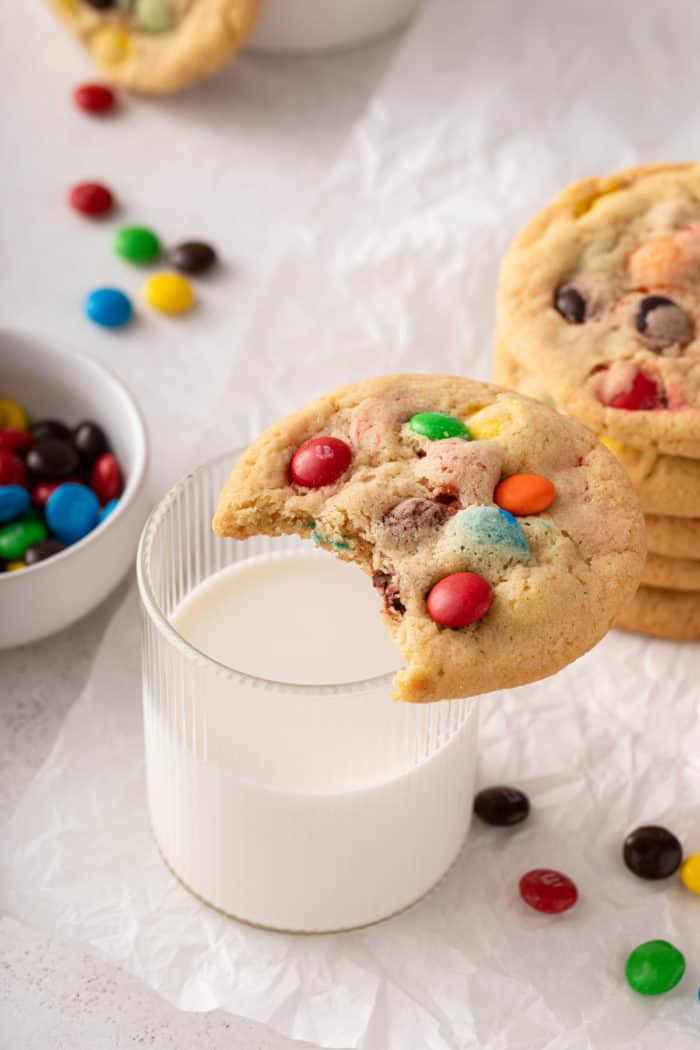 PERFECT M&M COOKIES
M&M cookies were a favorite of mine growing up. My mother never made them or bought them, so whenever other parents brought them to school parties, I made a beeline for the cookie tray!
Since the days of elementary school class parties, I've made my fair share of M&M cookies. I always just mixed the M&M's into the dough and baked them up.
One thing that nagged at me is that they never looked as pretty as the cookies from my childhood.
So this time, I experimented with the best way of incorporating the M&M's. I made them every way imaginable and finally found the best method.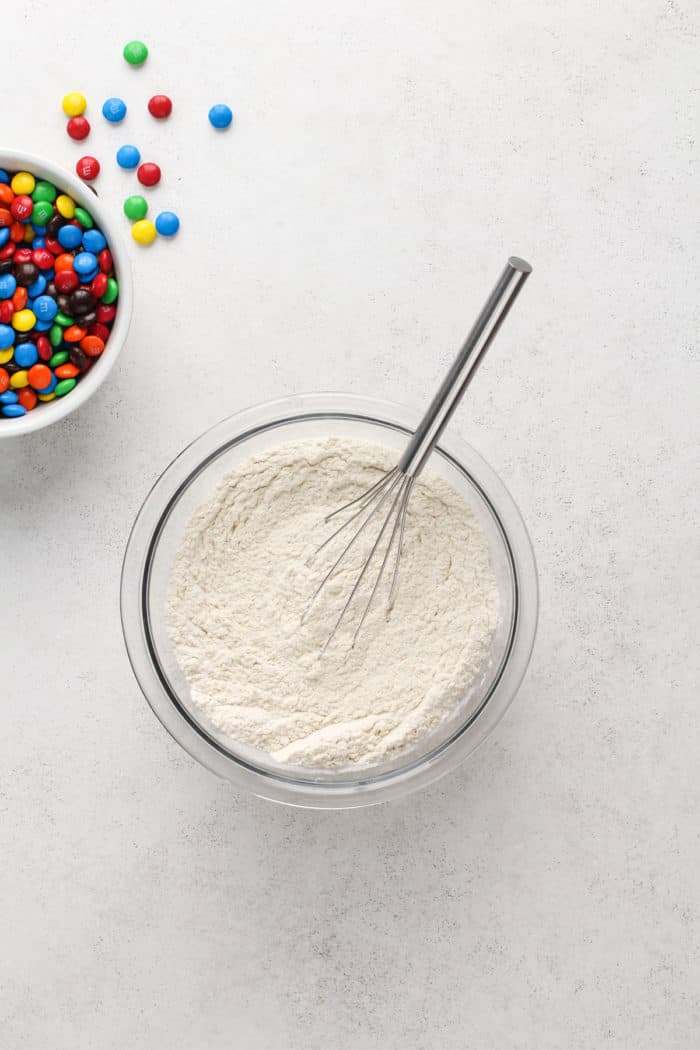 My not-so-secret method
So here's what you do:
Add the M&M's to the dough like you normally do. Roll the dough into balls and don't worry about having a lot of M&M's peeking out.
After baking, add more M&M's on top!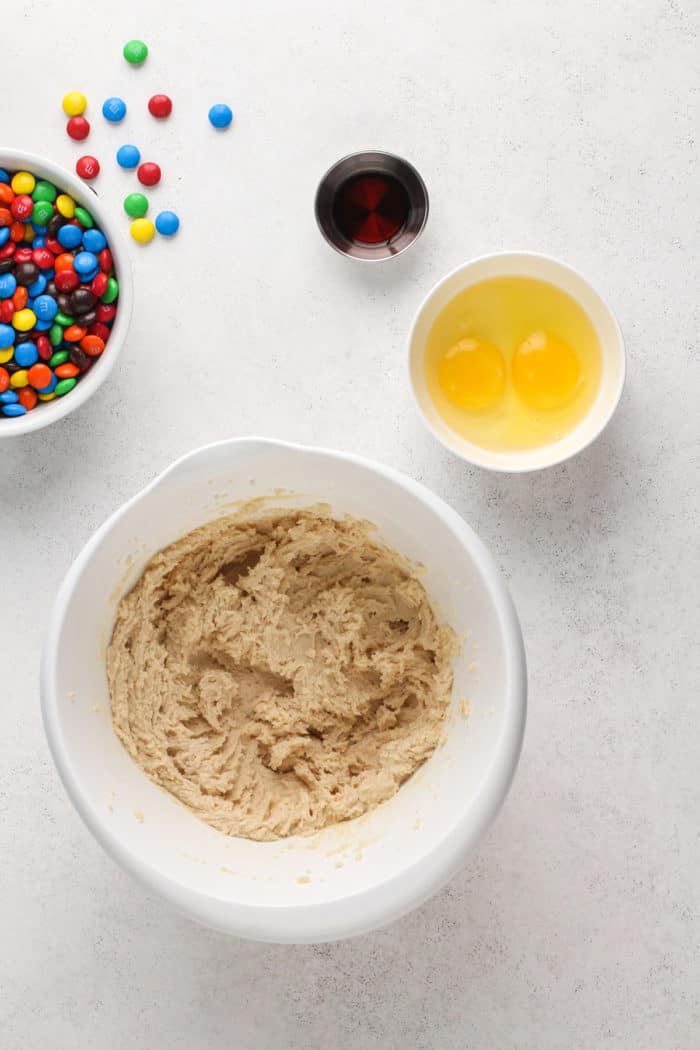 I like my M&M cookies to be loaded with M&M's and so my recipe calls for a lot more M&M's than other recipes I've seen.
These cookies are actually 1/3 M&M's by weight! And that's before you press more on top of the cookies after baking.
You can absolutely use fewer M&M's or toss in some other add-ins like chocolate chips or walnuts.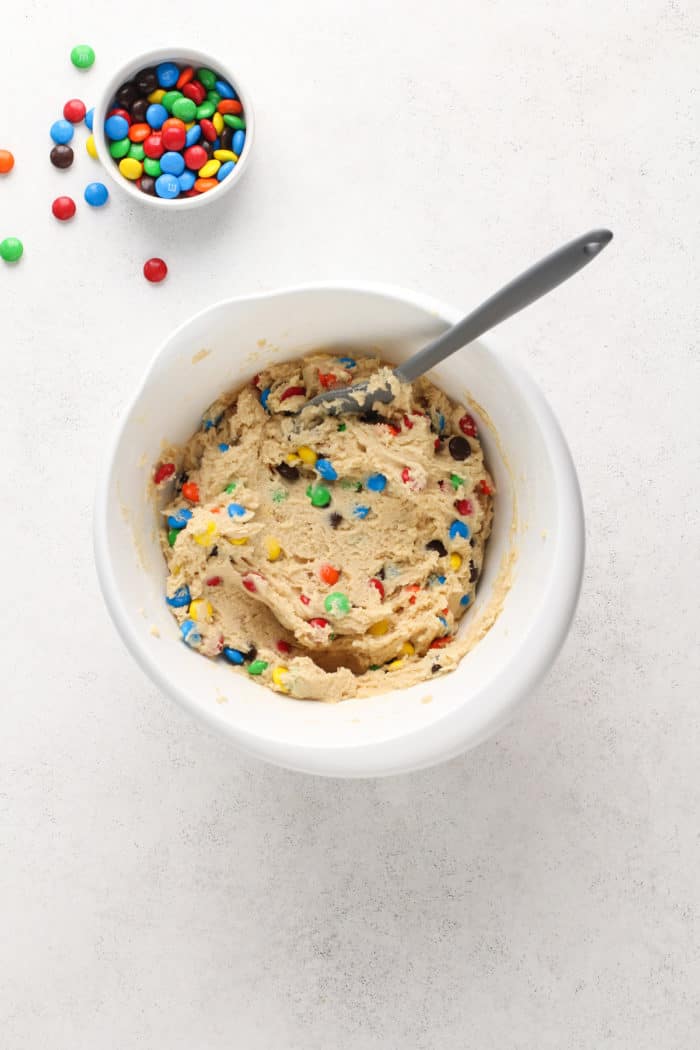 HOW TO MAKE THESE M&M COOKIES
The best thing about this recipe is that you can make it with all-purpose flour or you can make these cookies gluten-free by following a super easy alternative option.
Gluten-free option
If you choose to make gluten-free M&M cookies, you will want to replace the 3 ¼ cups of all-purpose flour with a mixture of: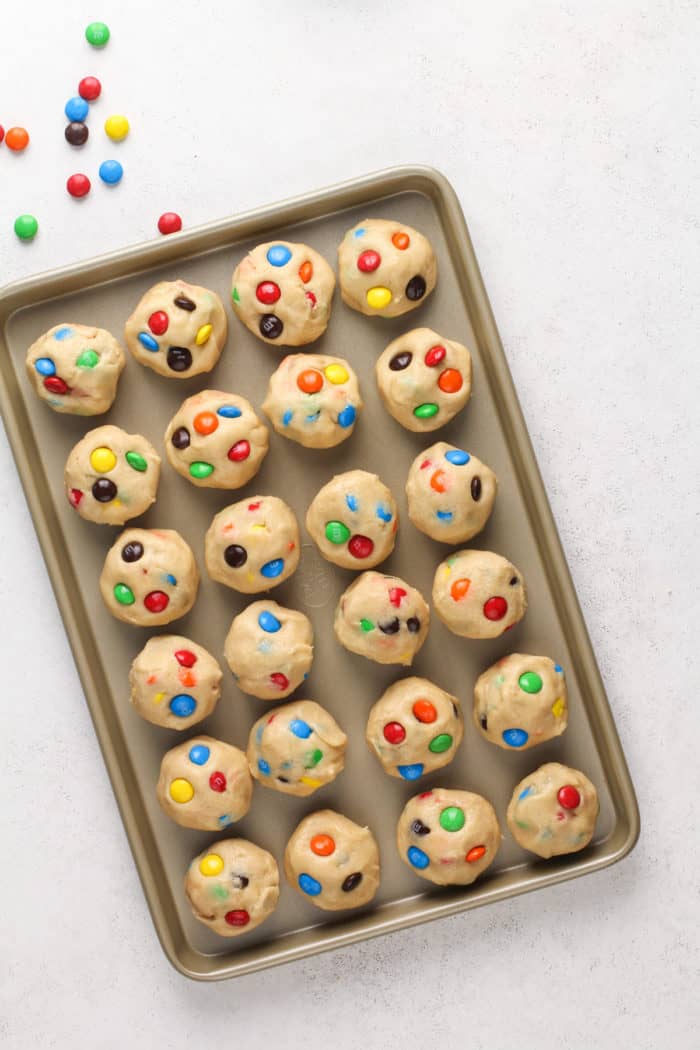 I know that the mixture above only yields 3 cups of flour, but it works perfectly to replace the all-purpose flour!
If you're making these gluten-free, make sure you check that all of your other ingredients are certified gluten-free as well. Original M&M's in the US are gluten-free, but some of the other varieties are not.
Making this recipe
These cookies come together much like most of the cookie recipes you're probably familiar with, such as paleo double chocolate chip cookies or cornflake cookies.
Start by creaming together the butter and sugars until light and fluffy. Add in the eggs and vanilla and mix to combine.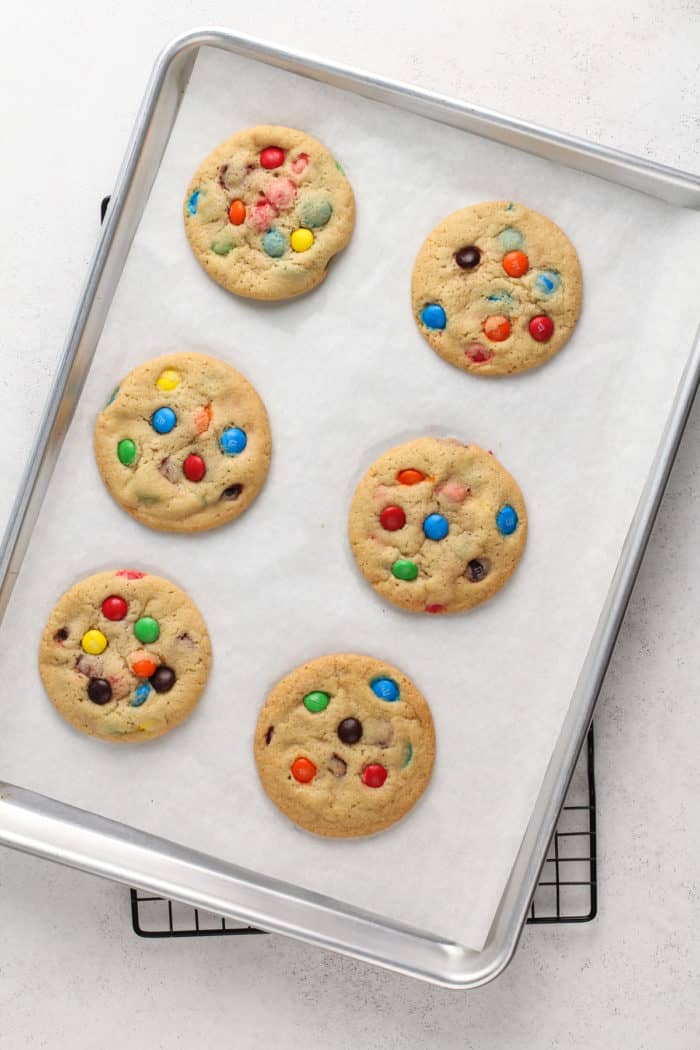 Gradually add the all-purpose flour or the gluten-free flour mix combined with the leavening and salt. Add in the M&M's.
If you're making these with all-purpose flour:
Roll the dough into balls and place on a baking sheet.
Place the baking sheet into the freeze for 2 hours, or until the dough balls are firm.
If you're making the gluten-free version:
Wrap the dough in plastic wrap and chill in the fridge for at least 2 hours.
Roll the dough into balls and place on lined baking sheets.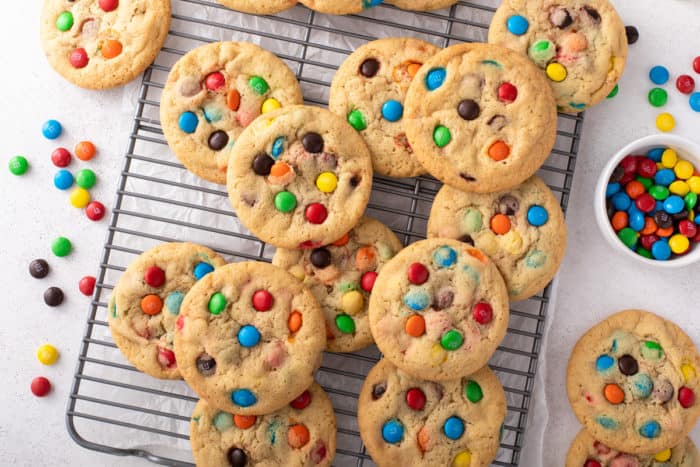 Once the dough has chilled, bake the cookies for 16-20 minutes. If you're baking in batches, make sure you keep the dough you haven't baked in the freezer or refrigerator until it's ready to go in the oven.
When the cookies are done, press some extra M&M's into the tops if you like. Let cool for a few minutes on the baking sheet before moving to a wire rack to finish cooling.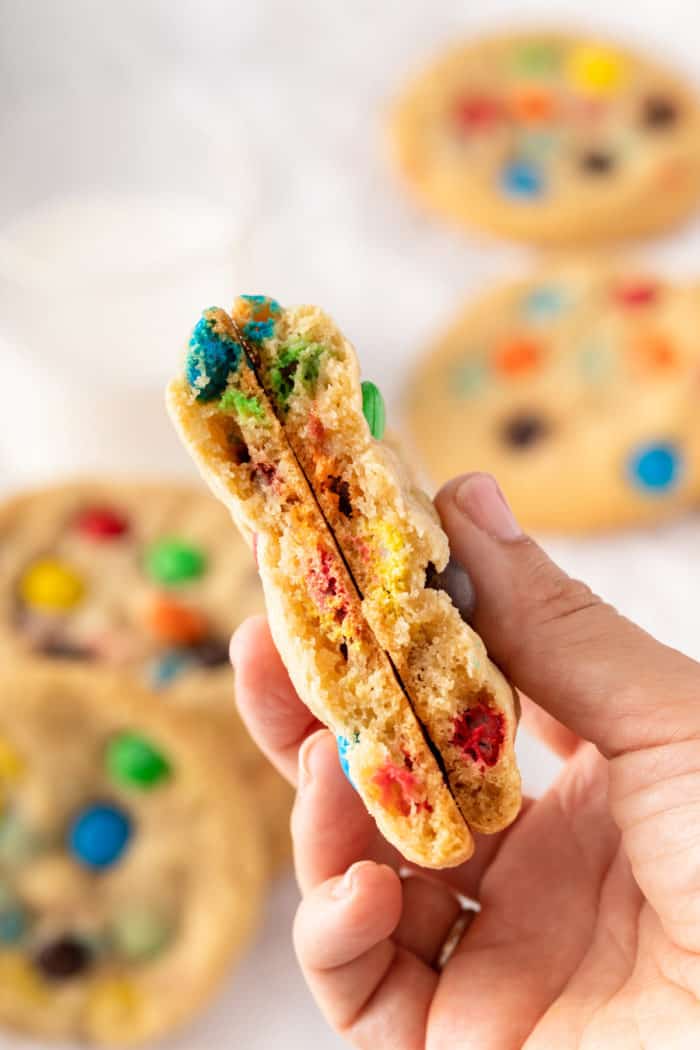 STORAGE
Store these M&M cookies in an airtight container at room temperature for up to 4 days.
If you'd like to freeze them, store them in an airtight container or a zip-top freezer bag in the freezer for up to a month.
You can also freeze the dough so that you can enjoy these cookies warm from the oven any time! Follow my instructions for how to freeze cookie dough to do that.