My Favorite Chocolate Chip Cookies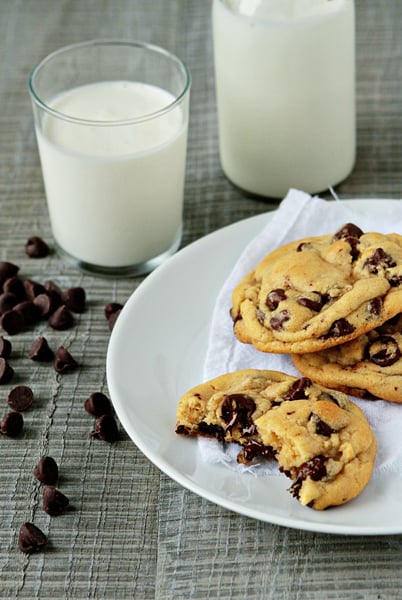 I am not one to really repeat recipes in my kitchen and rarely here on MBA. However, sometimes a recipe is so incredibly good that it's totally worth another post. These New York Times Chocolate Chip Cookies certainly fit into that category and are hands down my absolute favorite recipe for chocolate chip cookies.
If you don't believe me, hit up your friend Google and take a looksie. These New York Times Chocolate Chip Cookies took the blogging world by storm about two years ago and immediately changed my perception of chocolate chip cookie perfection.
The method for New York Times Chocolate Chip Cookies is certainly a bit different than what most of us are used to. They do require a little planning ahead, because the ingredient list calls for bread and cake flours and they require a 24 hour chill time, but trust me, it's so worth it!
I am certain the flour blend and long marinating time has something to do with the amazing texture of these cookies.
They're big, dense, chocolatey, and perfectly chewy. It's honest to goodness perfection and that's what makes them unequivocally the best chocolate chip cookie that I have ever tasted.
Their size alone is enough to intrigue people, and after one bite you'll see pure bliss spread across peoples' faces and they'll be begging you for the recipe.
This is one recipe that I don't recommend messing with the first time you try them. Don't be tempted to toss in anything fancy schmancy (aside from good chocolate), just leave the recipe as is your first time around, and I promise you'll be in love with them.
Looking for more Chocolate Chip Cookie recipes?
White Chocolate Chip Pistachio Cookies from Good Life Eats
Levain Bakery Chocolate Chip-Walnut Cookies from Bluebonnets and Brownies
Chocolate Chip Cookies from I Am Baker
Browned Butter Triple Chocolate Chunk Cookies from Under the High Chair
Chocolate Chip Peanut Butter Doozies from Add A Pinch[/donotprint]
New York Times Chocolate Chip Cookies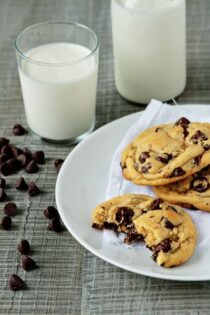 Ingredients:
2 cups minus 2 tablespoons (8 1/2 ounces) cake flour
1 2/3 cups (8 1/2 ounces) bread flour
1 1/4 teaspoons baking soda
1 1/2 teaspoons baking powder
1 1/2 teaspoons coarse salt
2 1/2 sticks (1 1/4 cups) unsalted butter
1 1/4 cups (10 ounces) light brown sugar
1 cup plus 2 tablespoons (8 ounces) granulated sugar
2 large eggs
2 teaspoons pure vanilla extract
1 1/4 pounds bittersweet disks or fèves, at least 60 percent cacao content  (see note below)
Sea salt (sometimes I add this, sometimes, I don't)
Directions:
Sift flours, baking soda, baking powder and salt into a bowl. Set aside.
Using a mixer fitted with paddle attachment, cream butter and sugars together until very light, about 5 minutes. Add eggs, one at a time, mixing well after each addition. Stir in the vanilla. Reduce speed to low, add dry ingredients and mix until just combined, 5 to 10 seconds. Drop chocolate pieces in and incorporate them without breaking them. Press plastic wrap against dough and refrigerate for 24 to 36 hours. Dough may be used in batches, and can be refrigerated for up to 72 hours.
When ready to bake, preheat oven to 350°F . Line a baking sheet with parchment paper or a nonstick baking mat. Set aside.
Scoop 6 3 1/2-ounce mounds of dough (the size of generous golf balls) onto baking sheet, making sure to turn horizontally any chocolate pieces that are poking up; it will make for a more attractive cookie. Sprinkle lightly with sea salt and bake until golden brown but still soft, 18 to 20 minutes. Transfer sheet to a wire rack for 10 minutes, then slip cookies onto another rack to cool a bit more. Repeat with remaining dough, or reserve dough, refrigerated, for baking remaining batches the next day.
Notes:
For regular sized cookies, use a heaping tablespoon and bake for approximately 12 minutes.
I have used regular chocolate chips in this recipe and they turn out just fine. Nestle recently released Dark Chocolate Morsels that work beautifully in this recipe.
I have baked these before the full 24 hour chill time and they simply just aren't as good.
Check out Katie's tip on How to Freeze Cookie Dough.
All images and text ©
Follow Jamie on Instagram. We love to see what you're baking from MBA! Be sure to tag @jamiemba and use the hashtag #mbarecipes!
This post may contain affiliate links. We are a participant in the Amazon Services LLC Associates Program, an affiliate advertising program designed to provide a means for us to earn fees by linking to Amazon.com and affiliated sites.