My favorite chocolate chip cookies are big, dense, chocolatey and chewy. This New York Times chocolate chip cookie recipe is truly the best – I am yet to try a better cookie!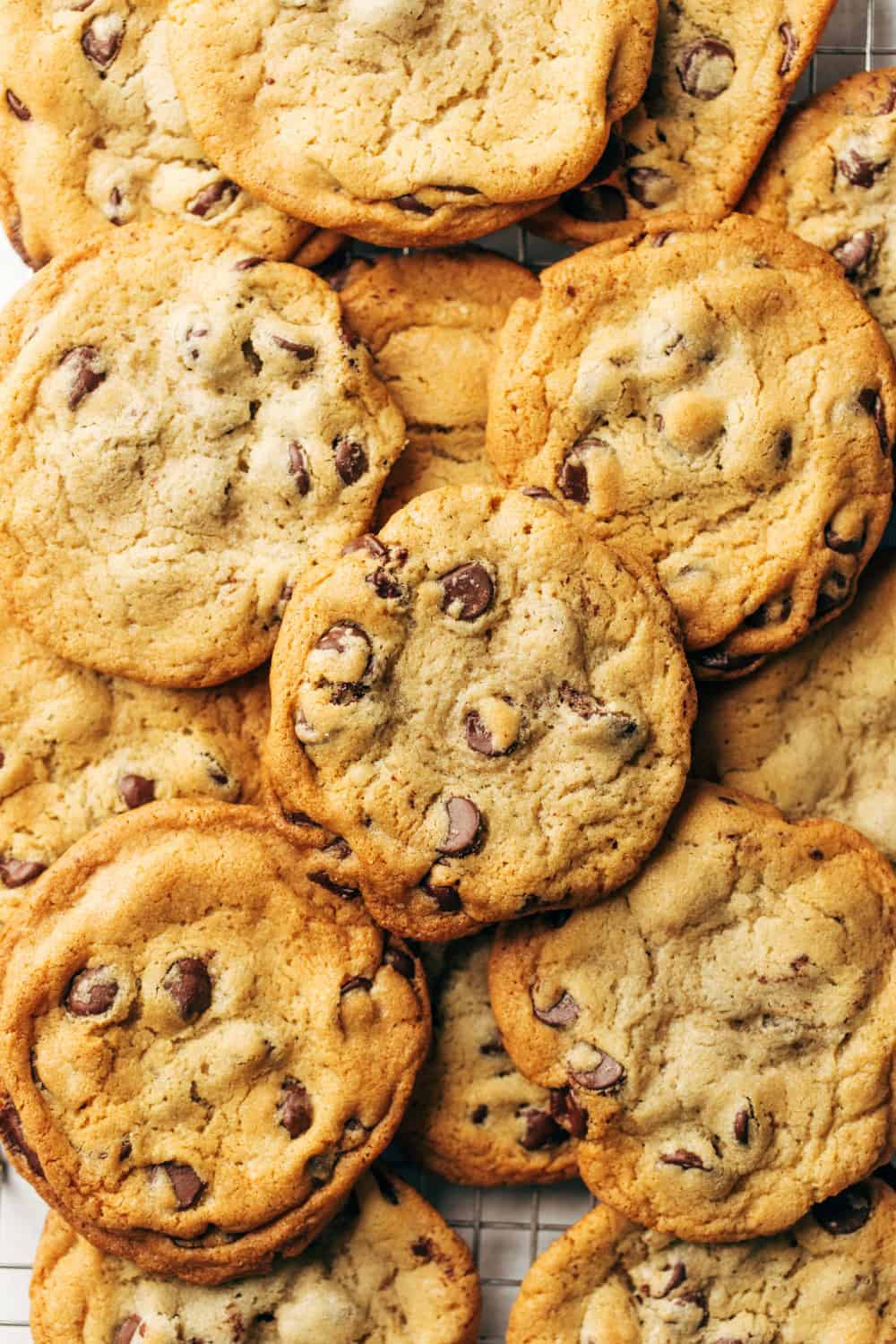 There are a few things I'm known for amongst family and friends.
Cheesecake ranks pretty high on the list and so does my homemade lasagna, but these chocolate chip cookies are probably number 1.
In my opinion, they are second to none. I've put these cookies head-to-head with local bakeries and I honestly, I just haven't found a better chocolate chip cookie.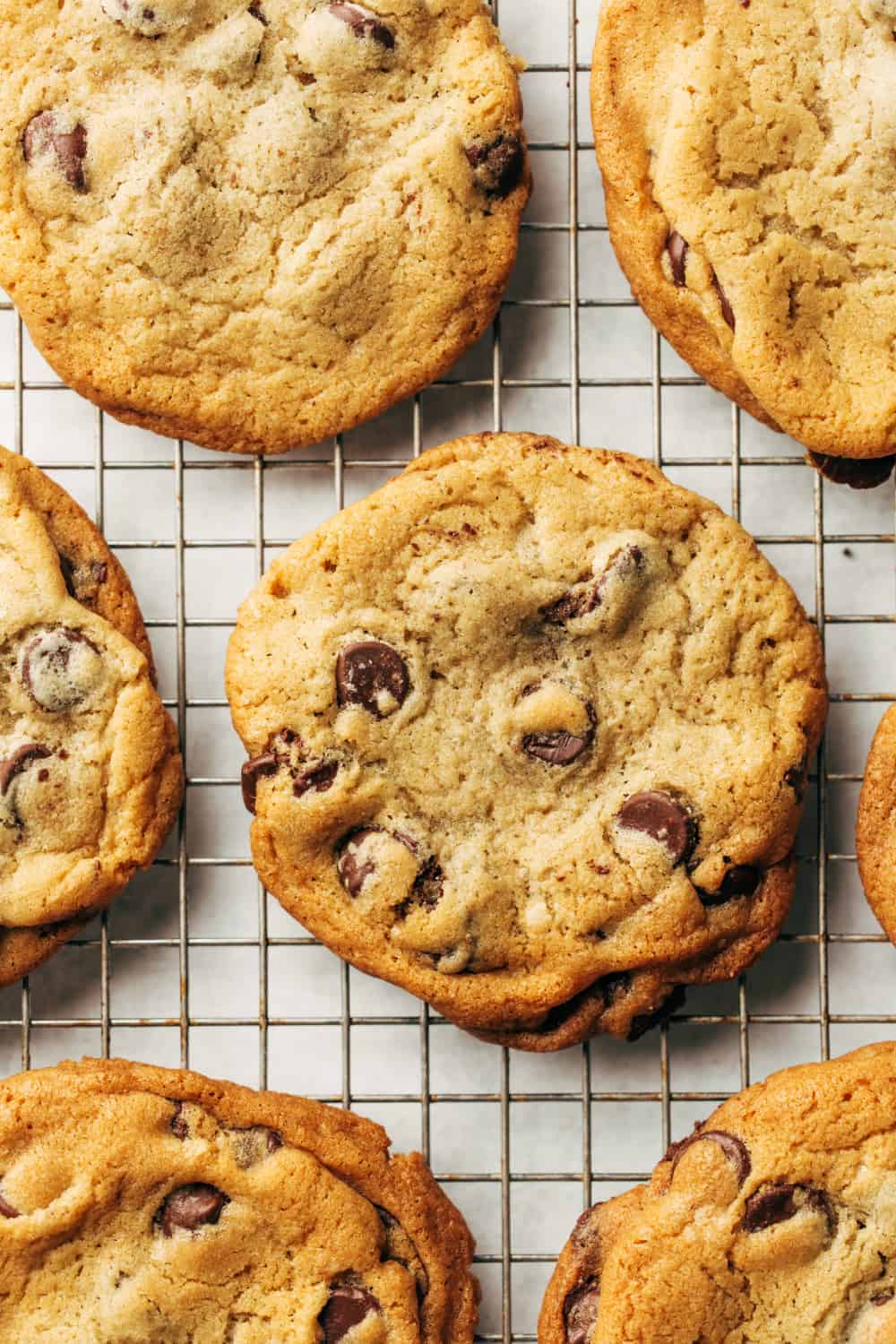 In fact, I love them so much, they're pretty much the only base recipe I use. If I'm feeling something other than chocolate chips, I'll just toss in a few add-ins to give them a little twist.
I've done Caramel Coconut Chocolate Chip Cookies, Chocolate Chip S'mores Cookies, Salted Caramel Chocolate Chocolate Chip Cookies, Dark Chocolate Chip Pecan Cookies and even a Pistachio-Pomegranate version.
I wasn't kidding, these are my fave!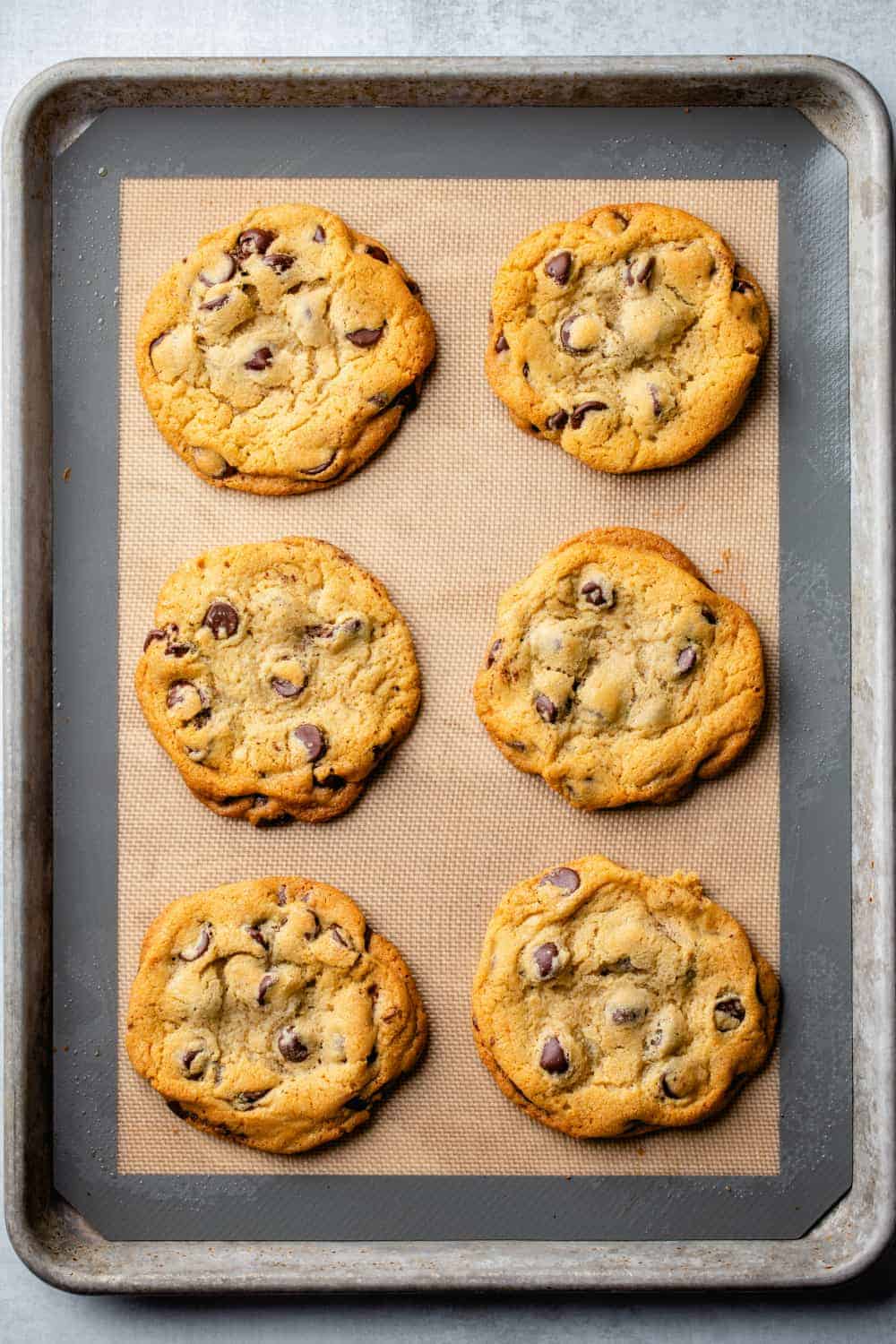 NEW YORK TIMES CHOCOLATE CHIP COOKIES
While I have a small handful of recipes – such as Doctored Cake Mix and Easy Crockpot Pulled Pork – that I repeat in my kitchen, I'm not really one to repeat recipes very often.
However, sometimes a recipe is so incredibly good that I can't help but make it over and over again. As you can guess by my ode to them already, these New York Times chocolate chip cookies certainly fit into that category.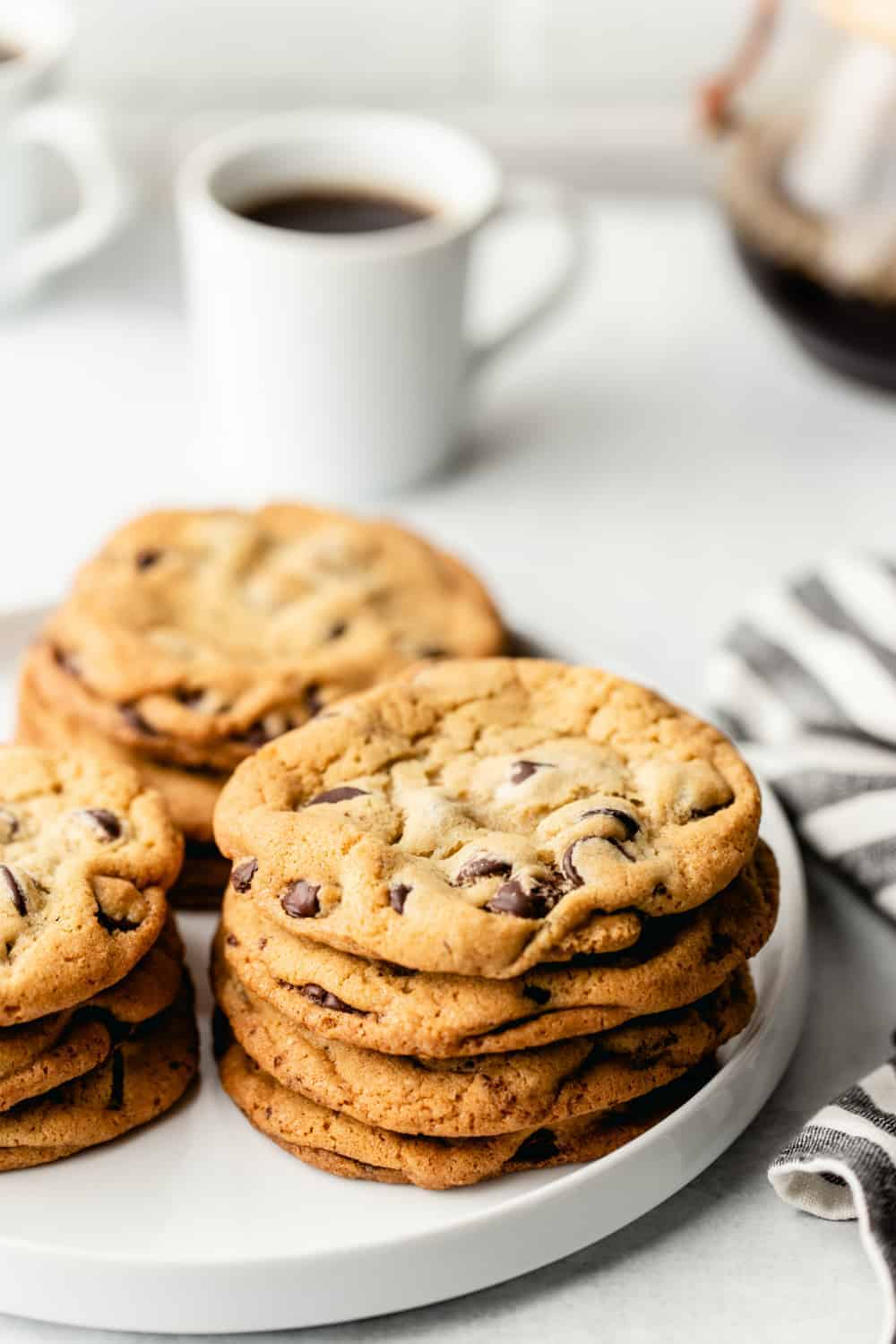 Now, this recipe for my favorite chocolate chip cookies is far from a new one. They took the blogging world by storm several years ago. As soon as I tried them, my idea of chocolate chip cookie perfection forever changed.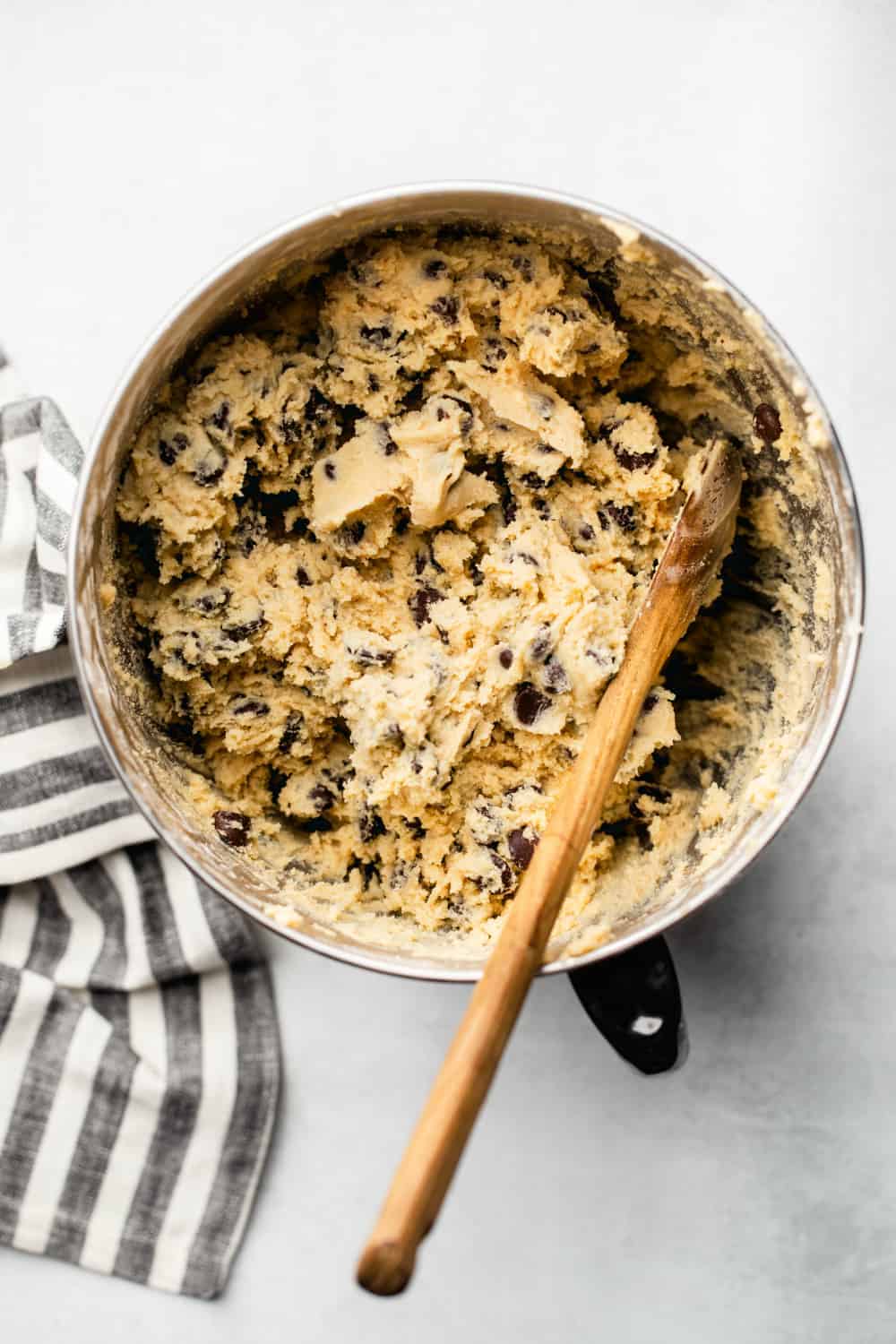 24 HOUR CHOCOLATE CHIP COOKIES
The method for New York Times Chocolate Chip Cookies is certainly a bit different than what most of us are used to.
They do require a little planning ahead, because the ingredient list calls for bread and cake flours and they require a 24 hour chill time, but trust me, it's so worth it!
I am certain the flour blend and long marinating time has something to do with the amazing texture of these cookies.
They're big, dense, chocolatey, and perfectly chewy. It's honest to goodness perfection and that's what makes them unequivocally the best chocolate chip cookie that I have ever tasted.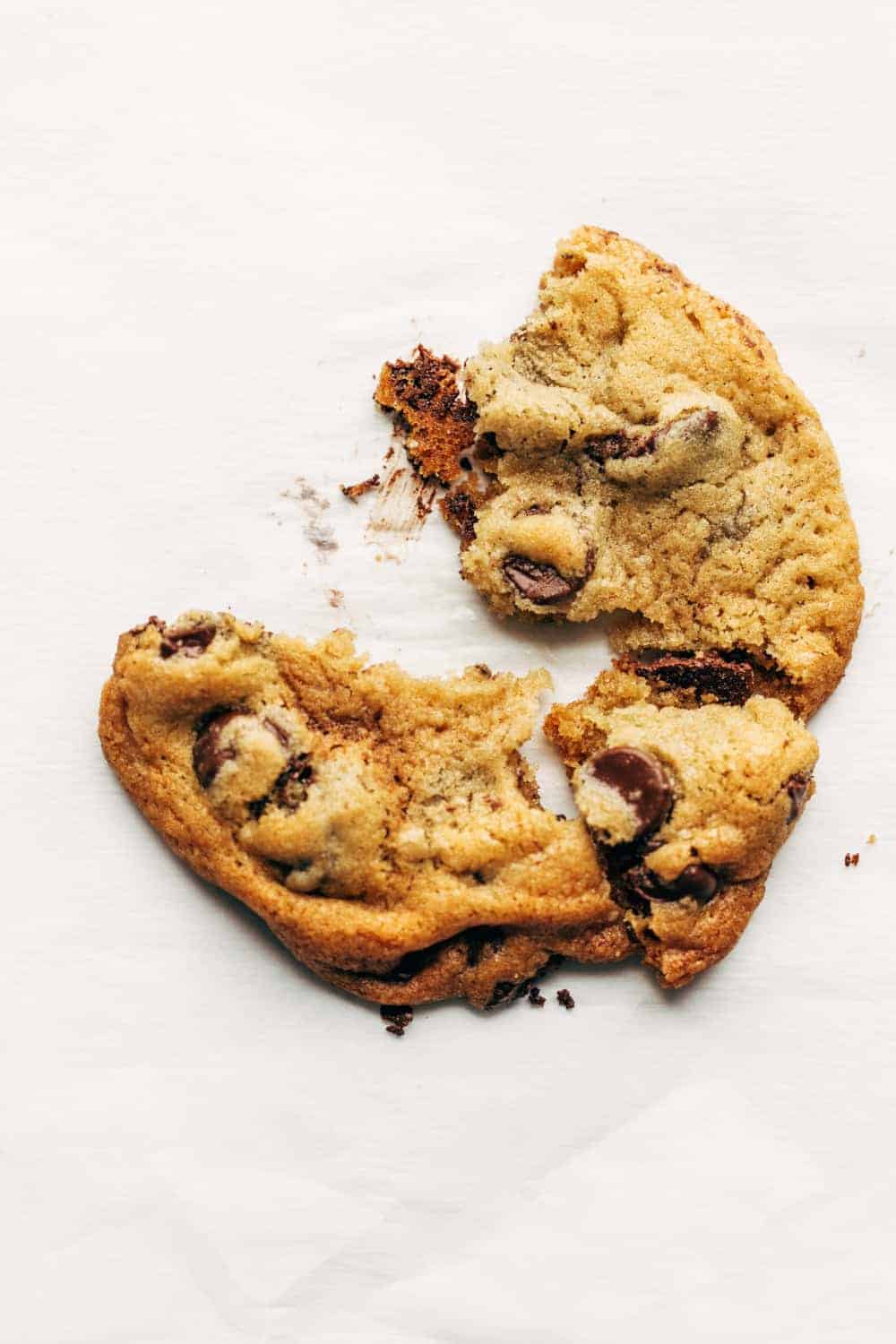 Their size alone is enough to intrigue people, and after one bite you'll see pure bliss spread across peoples' faces and they'll be begging you for the recipe.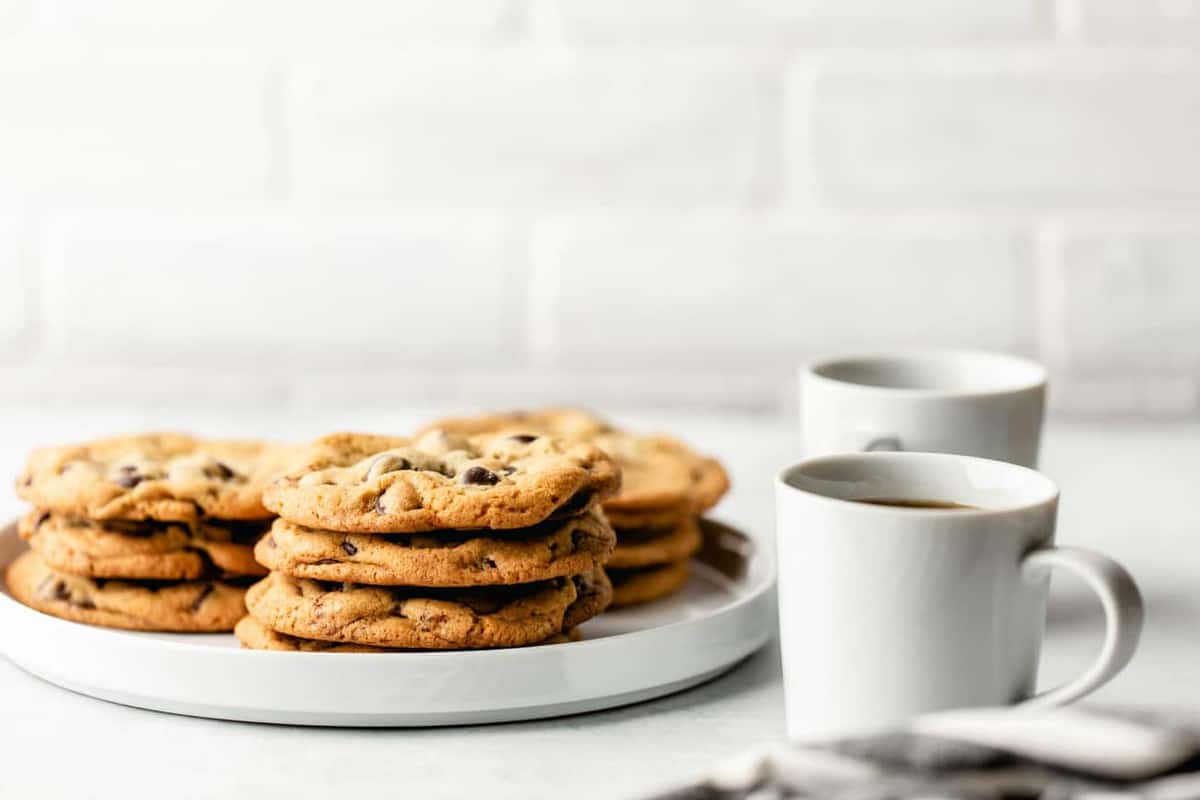 HOW TO MAKE MY FAVORITE CHOCOLATE CHIP COOKIES
This is one recipe that I don't recommend messing with the first time you try them. Don't be tempted to toss in anything fancy schmancy (aside from good chocolate), just leave the recipe as is your first time around, and I promise you'll be in love with them.
Making the dough for these New York Times chocolate chip cookies is pretty straightforward, aside from using two different types of flour instead of one.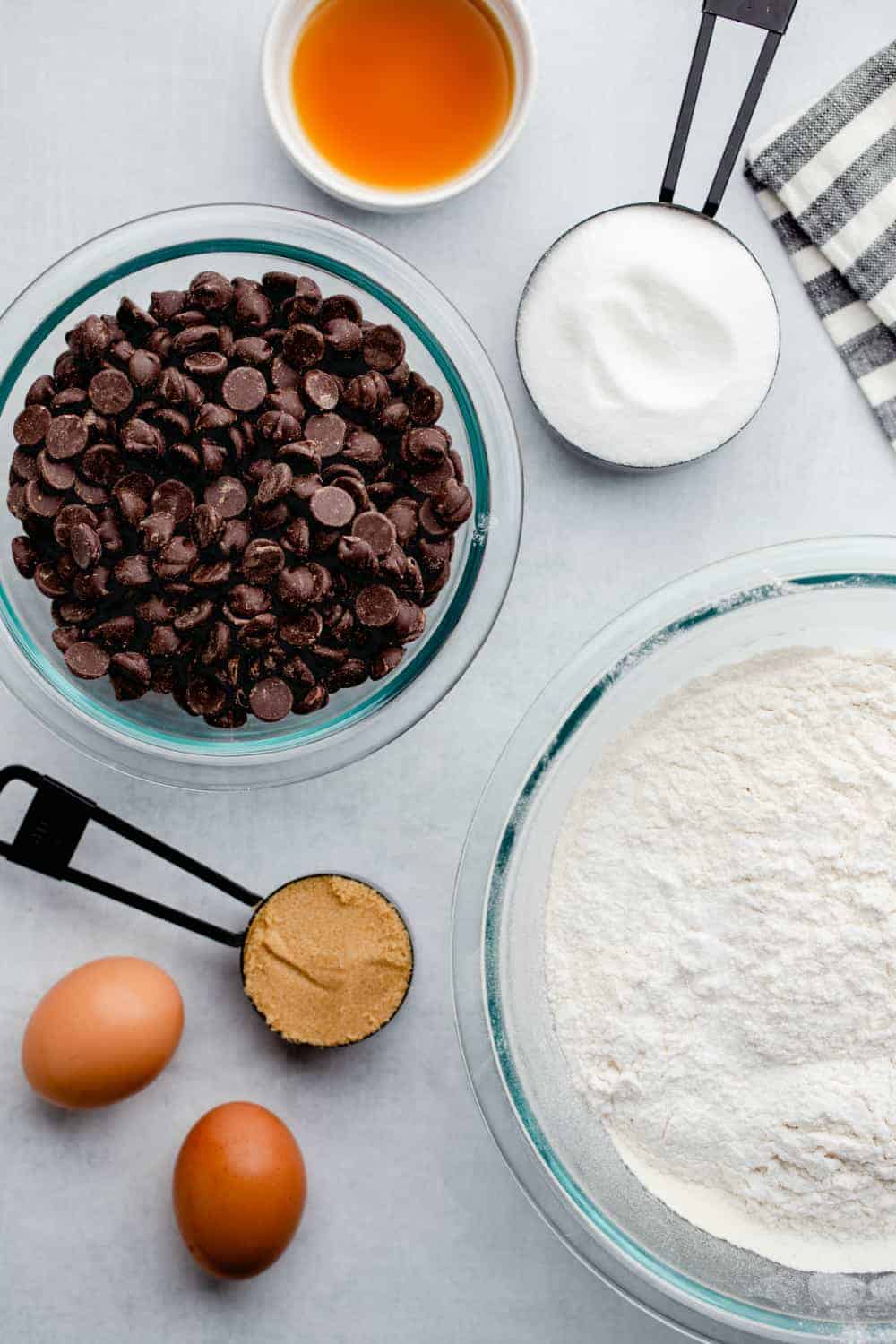 Once the dough is made, go ahead and wrap it in plastic wrap and refrigerate it for at least 24 hours or up to 72 hours. And yes, this is mandatory! I have tried baking these cookies before that 24-hour mark and they simply were not as good.
If you want to freeze the cookie dough, you can do so now or go ahead and bake the cookies.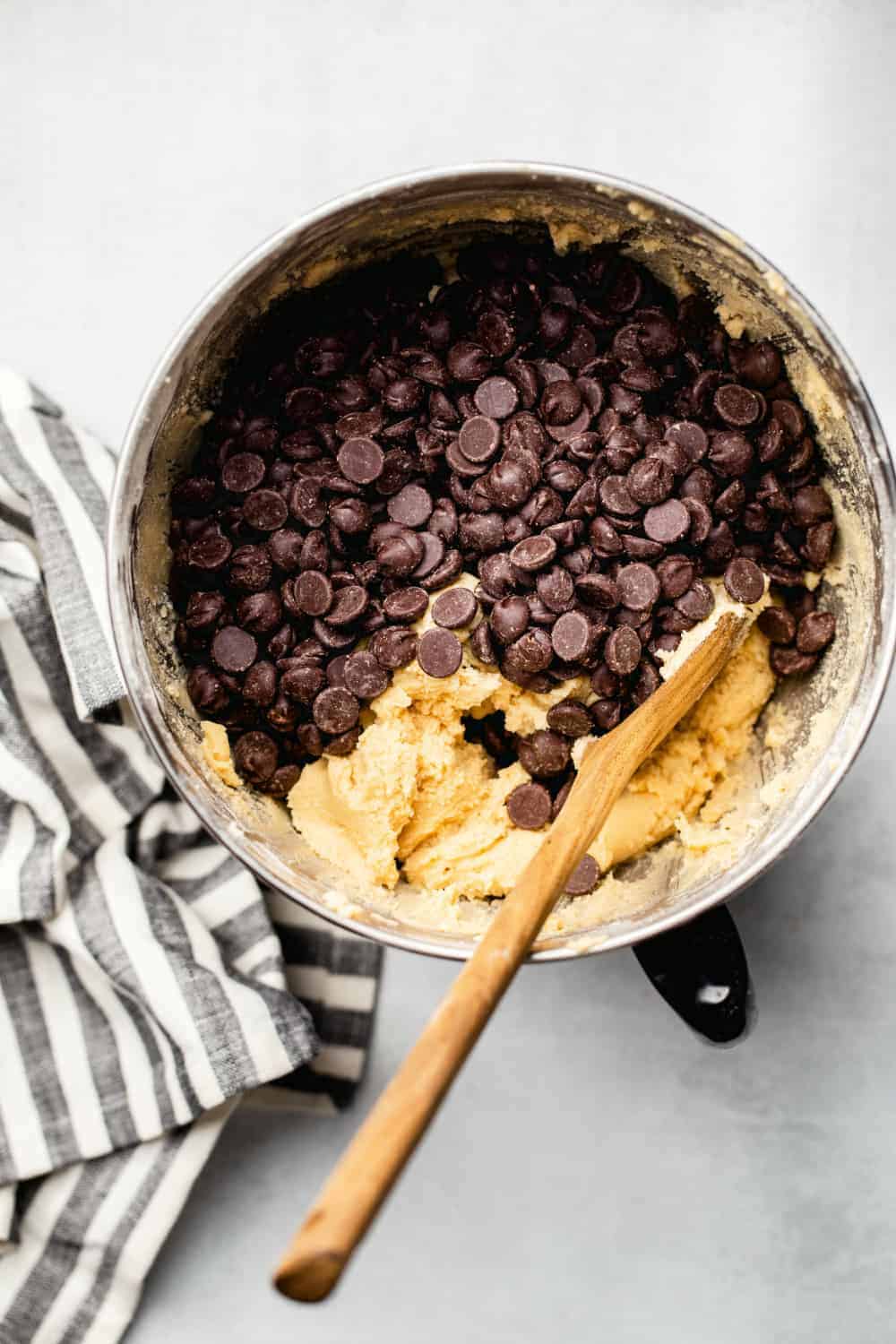 Scoop golf-ball-sized mounds of dough onto prepared baking sheets. Because the cookies are so large, only put 6 cookies per baking sheet.
If you like, you can sprinkle the dough balls lightly with sea salt just before baking. I don't always do this, but it will make for a really nice flavor against the good chocolate.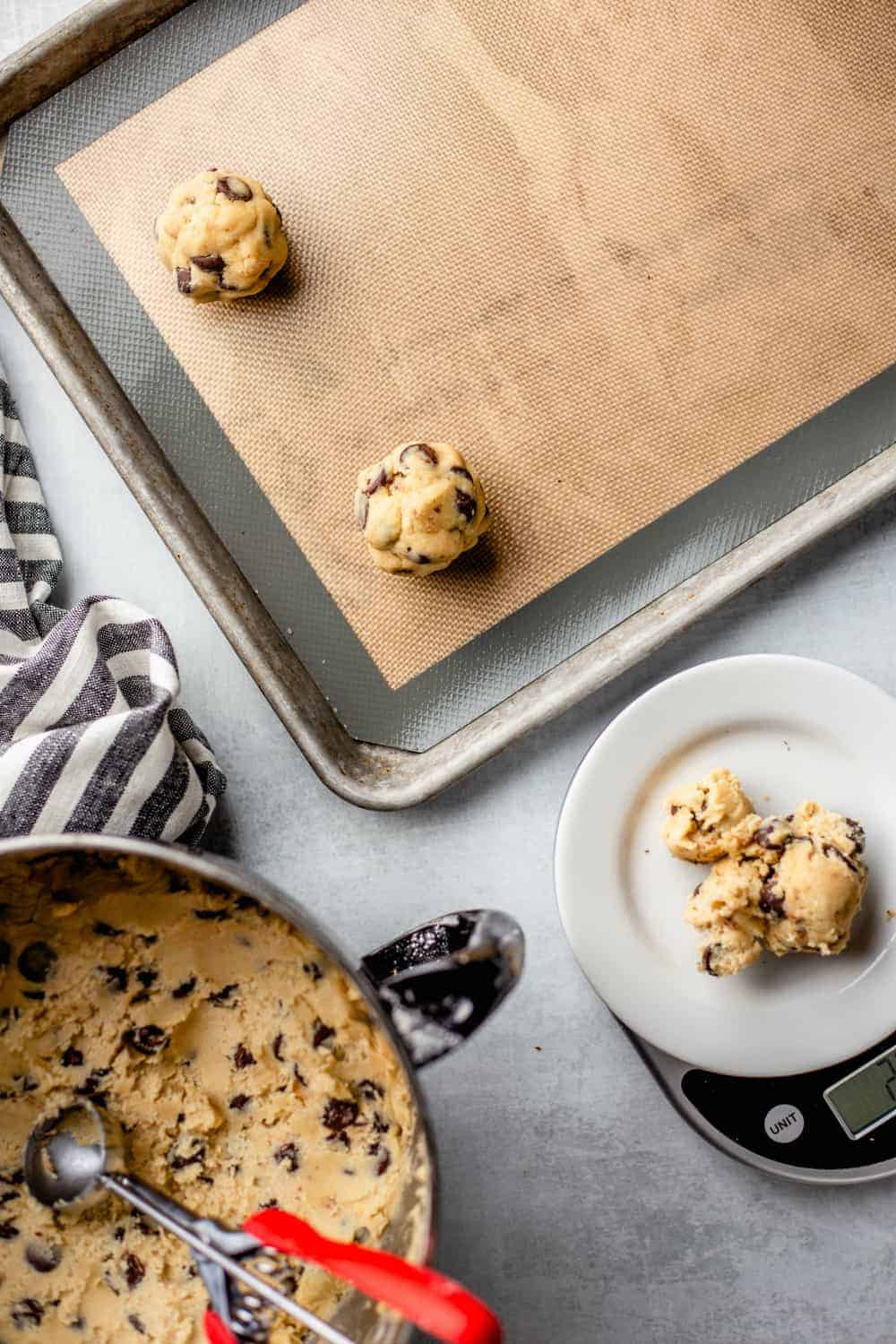 One of the nice things about this recipe is that, since the dough keeps for up to 72 hours in the refrigerator, you can bake a few each day if you want your cookies to be fresh from the oven.
Although, I doubt the dough will last very long after you taste your first New York Times chocolate chip cookie! At least, it never does around our house.