My Favorite Chocolate Chip Cookies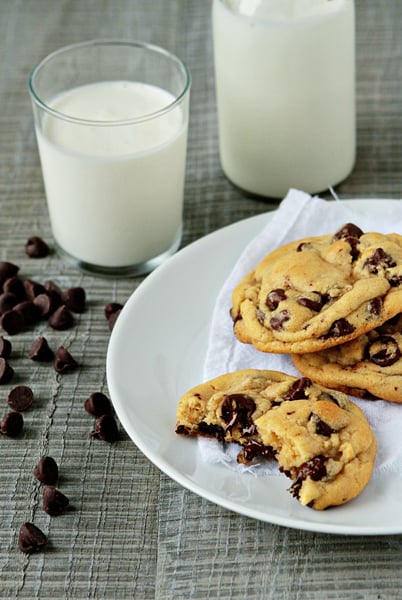 I am not one to really repeat recipes in my kitchen and rarely here on MBA. However, sometimes a recipe is so incredibly good that it's totally worth another post. These New York Times Chocolate Chip Cookies certainly fit into that category and are hands down my absolute favorite recipe for chocolate chip cookies.
If you don't believe me, hit up your friend Google and take a looksie. These New York Times Chocolate Chip Cookies took the blogging world by storm about two years ago and immediately changed my perception of chocolate chip cookie perfection.
The method for New York Times Chocolate Chip Cookies is certainly a bit different than what most of us are used to. They do require a little planning ahead, because the ingredient list calls for bread and cake flours and they require a 24 hour chill time, but trust me, it's so worth it!
I am certain the flour blend and long marinating time has something to do with the amazing texture of these cookies.
They're big, dense, chocolatey, and perfectly chewy. It's honest to goodness perfection and that's what makes them unequivocally the best chocolate chip cookie that I have ever tasted.
Their size alone is enough to intrigue people, and after one bite you'll see pure bliss spread across peoples' faces and they'll be begging you for the recipe.
This is one recipe that I don't recommend messing with the first time you try them. Don't be tempted to toss in anything fancy schmancy (aside from good chocolate), just leave the recipe as is your first time around, and I promise you'll be in love with them.
Looking for more Chocolate Chip Cookie recipes?
White Chocolate Chip Pistachio Cookies from Good Life Eats
Levain Bakery Chocolate Chip-Walnut Cookies from Bluebonnets and Brownies
Chocolate Chip Cookies from I Am Baker
Browned Butter Triple Chocolate Chunk Cookies from Under the High Chair
Chocolate Chip Peanut Butter Doozies from Add A Pinch[/donotprint]
This post may contain affiliate links. We are a participant in the Amazon Services LLC Associates Program, an affiliate advertising program designed to provide a means for us to earn fees by linking to Amazon.com and affiliated sites.