These Peanut Butter Cookies are packed with peanut butter flavor and Reese's Pieces making them the perfect cookie for any peanut butter lover!
Okay. I have a confession. I have a completely unhealthy relationship with Reese's Pieces. Much like Nerds and the Skittles in the blue bag, I simply can't have them around, or I will eat every single piece. And I've been known to get a little feisty if someone asks me to share. Don't mess with a girl's Reese's Pieces. Or Nerds. Or Skittles. You've been warned.
A couple of weeks ago, I happened upon large bags of Mini Reese's Pieces. If you've been reading MBA for any length of time, you are well aware of my infatuation with everything mini, so despite my better judgement, I chucked not one, not two, but three bags into my cart. Is that aforementioned unhealthy relationship making a little more sense now? The struggle is real, folks.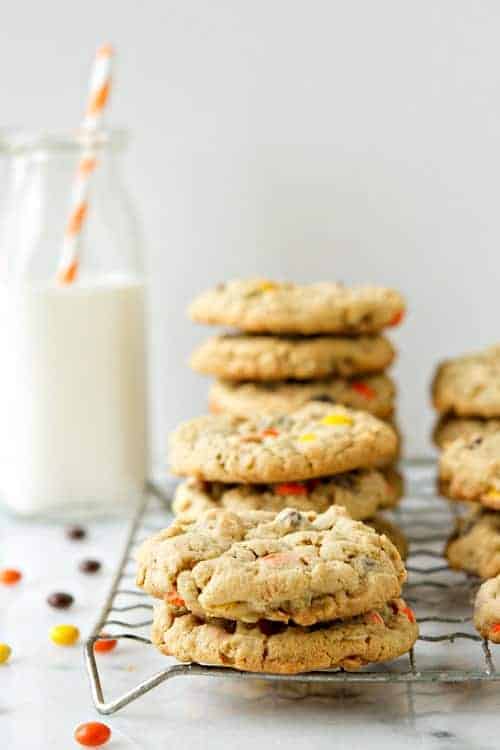 I knew if I didn't find something to do with those little gems of peanut butter goodness, Eric might find me hiding out in the closet pouring them directly into my mouth. Mini candy equals less calories, right?
I decided that bag number one was going to be folded into peanut butter cookie dough, because what could possibly make soft, chewy peanut cookies more amazing than an entire bag of Reese's Pieces?
I took these Reese's Pieces Peanut Butter Cookies to my dad because he loves peanut better almost as much as he loves chocolate. Eric dropped them off at his work and they were completely wiped out in less than 30 minutes.
If you want cookies that'll impress a mob of people and get them on your good side, these are those cookies. If you want cookies that will make your kids look at you with adoration, these are those cookies. If you want cookies that won't affect your dress size, these are not those cookies. Do you even know me?
Reese's Pieces Peanut Butter Cookies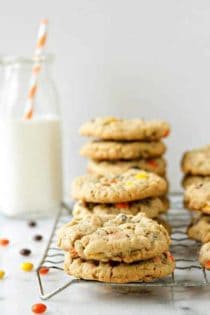 Ingredients:
1 cup (2 sticks) unsalted butter, softened (I used Challenge Butter)
1 cup sugar
1 cup lightly packed light brown sugar
1 1/2 cups creamy peanut butter
2 large eggs
2 teaspoons pure vanilla extract
1 3/4 cups all-purpose flour
2 teaspoons baking soda
1 teaspoon salt
1 1/2 cups quick cooking oatmeal
1 10-ounce bag Mini Reese's Pieces (about 1 1/3 cups)
Directions:
1. In the bowl of a stand mixer fitted with the paddle attachment or in a large bowl with an electric mixer, cream butter, sugar, brown sugar and peanut butter until light and fluffy - about 2 minutes. Beat in eggs one at a time and add vanilla extract, mixing until incorporated.
2. In a large bowl, sift together flour, baking soda and salt. Gradually add the dry ingredients to the butter and sugar mixture and mix until thoroughly combined. Mix in oats and fold in Mini Reese's Pieces. Cover and chill dough for at least 3 hours or up to 2 days.
3. When ready to bake, preheat oven to 350 degrees and line baking sheets with parchment paper. Using a medium cookie scoop (1 1/2 tablespoons), scoop cookie dough onto prepared baking sheets. Bake in preheated oven for 12 - 15 minutes, or until edges are golden brown. Allow cookies to cool on cookie sheets for 5 minutes before transferring to wire racks to cool completely.
Notes:
Store cooled cookies in an airtight container at room temperature for up to 3 days.
All images and text ©
Follow Jamie on Instagram. We love to see what you're baking from MBA! Be sure to tag @jamiemba and use the hashtag #mbarecipes!
Looking for more Reese's Inspiration? Check out these delectable desserts:
Reese's Peanut Butter Milkshakes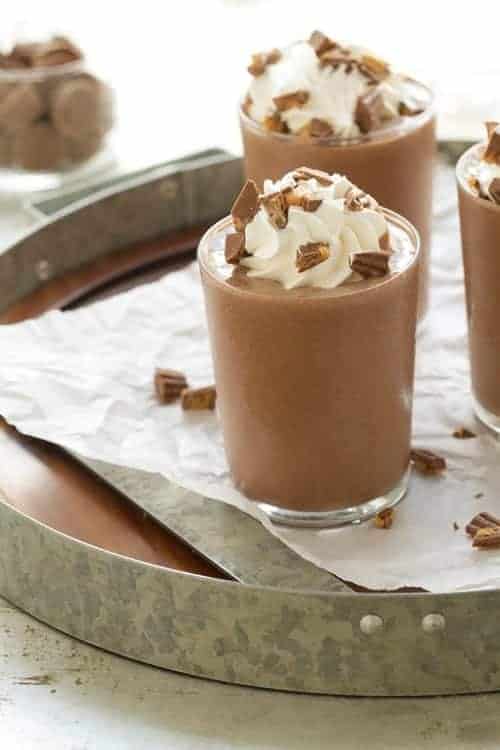 Reese's Cups Stuffed Chocolate Chip Cookies