Monster cookie bars couldn't be easier to make. This sweet treat bakes up in no time, to make your littlest monsters happy!
So Easter has come and gone, but since I'm a total holiday candy hoarder, we have a huge basket of the pastel, festive stuff stashed away in the pantry.
And because we're the best egg hiders on the planet, Elle is still locating those colorful plastic eggs filled with miniature candy bars, weeks later.
I swear this kid is going to forever grow up thinking you can randomly find candy everywhere as long as you look in the right places.
I decided to take a proactive approach and attempt to reduce our candy stash – especially the M&M's – because let me tell ya, Miss Elle is obsessed with them.
She'll waddle over to the pantry and point to the basket uttering a little baby word that is undoubtedly her trying her hardest to say, "Mama, mama, M&M." And let's just say I can't deal with the cuteness, so I usually drop one candy into her chubby baby palm.
Minutes later, she's following me around the house using the sign for more. Obsessed, I tell ya.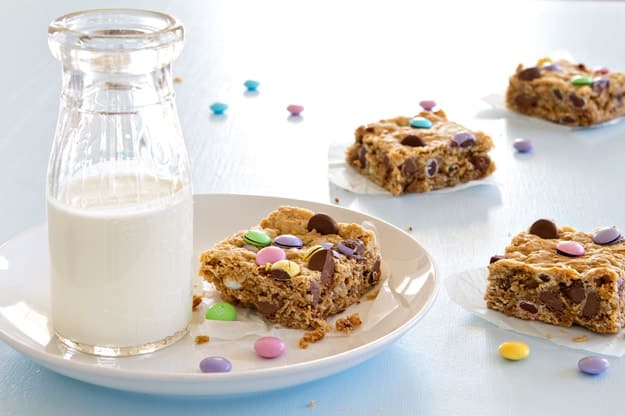 We love Monster cookies around here almost as much as we love the New York Times chocolate chip cookies and Reese's Pieces peanut butter cookies.
With loads of milk chocolate chips, M&M's, oats and peanut butter how could Monster cookies ever be a bad thing?
Last week, I whipped up this cookie batter with the intention of making a ton of cookies, but at the last minute decided to toss it all into one pan and bake up a batch of Monster cookie bars.
Let's just say I had the sudden urge to run to Target for a few home décor items and baking several batches of cookies was no longer a priority.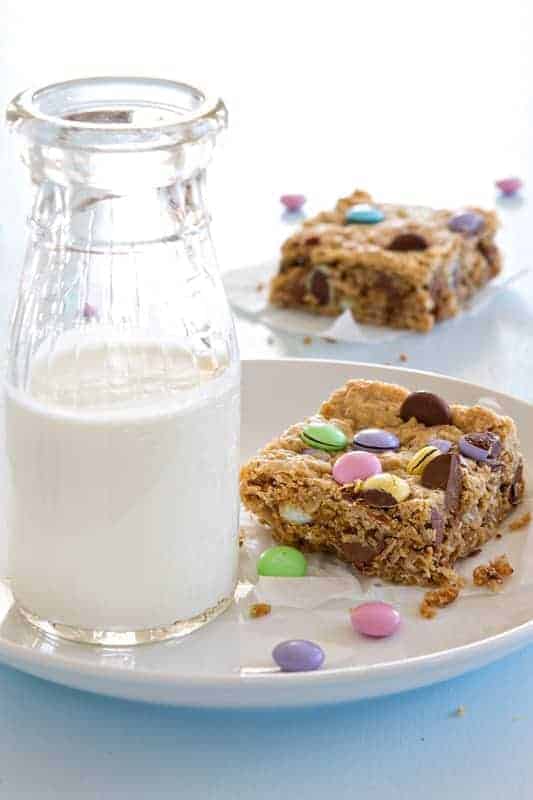 They baked up perfectly in about 30 minutes and by the time I returned from Target they were ready to sample. If I'm being honest, I most definitely prefer Monster cookies in bar form.
They're thick, chewy, just a little gooey, and definitely the perfect way to use up a little leftover Easter candy. I can only imagine how good these Monster Cookie Bars would be with chopped Snickers, Reese's Cups or Twix.
If you're hoarding leftover Easter candy like it's your J-O-B, it's time to let it go. You've got to make this Monster cookie bars recipe STAT.