Happy New Year! I hope you are all having an incredible start to 2013.
First, I'd like to say thank you to all of you that have taken time out of your hectic holiday schedules to contact me via email or Facebook – your kind words truly brought joy to my Christmas.
Many of the emails were questioning my absence here on MBA for the past few weeks. Simply put, I needed a break. I have undergone a few changes in my personal life and things just got a bit too overwhelming for me.
Despite the fact that I missed blogging in the worst way during my hiatus, I feel refreshed, rested and ready to bake up a storm.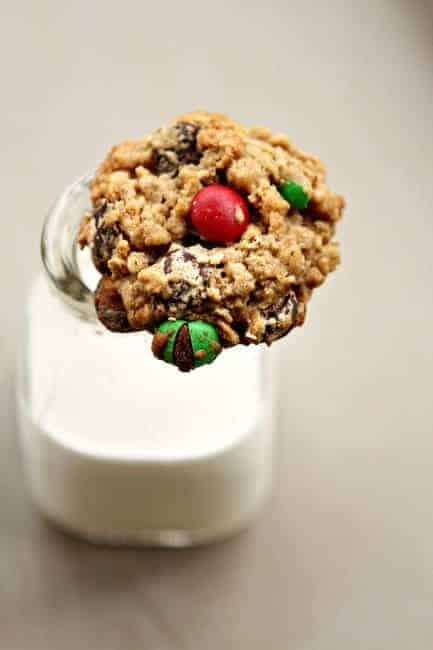 The first recipe I'll be sharing with you are for Monster Cookies. My mom and I whipped these together over the holidays and I happened to snap a few photos of them in a makeshift studio on her patio.
If you're anything like me, you need to ease back into regular life with a little comfort thrown in after the stress of the holidays. Monster Cookies are exactly that kind of comfort. Will they set the world on fire? Probably not. But at the end of the day, with a cup of decaf tea and Revenge on a Sunday night, they help remind me that everything is just fine.
Besides, what's not to love about Monster Cookies? Oatmeal, candy, raisins.. you name it, this cookie's got it. Sometimes going old-school is exactly what you need to get you back into the groove.
I missed you guys.
[pinit]

Monster Cookies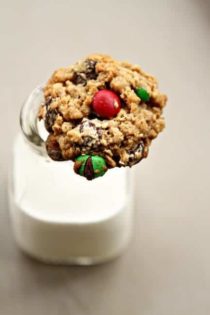 Ingredients:
3 large eggs
1 1/4 cups packed light brown sugar
1 cup granulated sugar
1/2 teaspoon salt
1 teaspoon pure vanilla extract
1 12-ounce jar crunchy peanut butter
1 stick (1/2 cup) unsalted butter, softened
1 cup M&M's
1/2 cup semi-sweet chocolate chips
1/4 cup raisins, optional
2 teaspoons baking soda
4 1/2 cups quick-cooking oatmeal (not instant)
Directions:
1. Preheat the oven to 350 degrees F. Line cookie sheets with parchment paper or nonstick baking mats.
2. In the bowl of a stand mixer fitted with the paddle attachment, or in a an extra large bowl with an electric mixer, combine the eggs and sugars. Mix well. Add the salt, vanilla, peanut butter, and butter. Mix well. Stir in the chocolate candies, chocolate chips, raisins, baking soda, and oatmeal. Drop by tablespoons 2 inches apart onto the prepared cookie sheets.
3. Bake for 8 to 10 minutes. Do not overbake. Let stand for about 3 minutes before transferring to wire racks to cool. When cool, store in an airtight container at room temperature.
Recipe adapted from Paula Deen via Food Network
All images and text ©
Follow Jamie on Instagram. We love to see what you're baking from MBA! Be sure to tag @jamiemba and use the hashtag #mbarecipes!