[pinit]
As I've briefly stated a couple times – I've gone through a pretty big life transition in the past 6 months. And without getting into all the dirty details, I'll simply say that I've found an incredible sense of balance during this time and I'm finally starting to feel like myself again. And feeling like myself is definitely good stuff.
"Every new beginning comes from some other beginning's end."
It's no big secret that I haven't been baking or cooking as much as I once was. I'm fairly certain you've all noticed that I've been posting less frequently. However, I realized the other day while uploading my post for Chocolate Cookies with Thin Mints that I really, truly miss my blogging routine and of course my readers and blogging friends.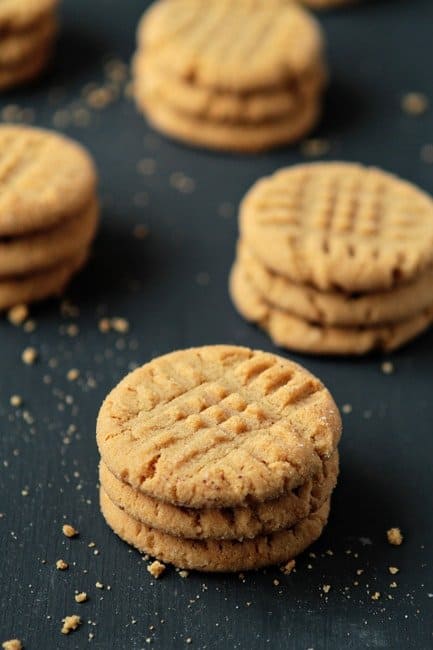 At that moment, I walked into my kitchen and stared at a barren pantry and fridge which were littered with Slim Fast (Chocolate Royal flavor in case you're interested), cans of soup and cucumbers that were certainly well beyond their prime. My flour and sugar containers were just about empty and there was not one single stick of butter in my refrigerator. Despite a lack of pretty much everything, I was determined to bake something.
The outcome were classic peanut butter cookies – you'll never catch this girl without a jar of PB – sweetened with honey and rolled in sugar. They're perfect for a little midday pick-me-up with a cup of tea or a surprise sweet treat for the kiddo's lunch box.
[pinit]

Honey-Peanut Butter Cookies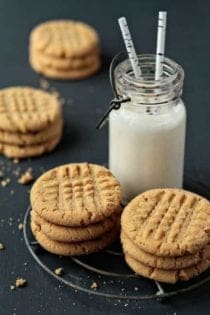 Ingredients:
1/2 cup butter flavored shortening (see note below)
1 cup creamy peanut butter
1 cup honey
2 large eggs, lightly beaten
2 teaspoons pure vanilla extract
3 cups Gold Medal all-purpose flour
1 cup sugar
1 1/2 teaspoons baking soda
1 teaspoon baking powder
1/2 teaspoon salt
1/2 cup of sugar for rolling dough balls
Directions:
1. Preheat oven to 350&deg F. Line baking sheets with parchment paper.
2. In the bowl of a stand mixer fitted with the paddle attachment, or in a large bowl with an electric mixer, beat shortening, peanut butter and honey on medium speed until well combined and fluffy - about 3 minutes.
3. Add eggs and vanilla mix well.
4. In a large bowl, whisk together flour, 1 cup of sugar, baking soda, baking powder and salt. Gradually add the dry ingredients into the peanut butter mixture and mix on low speed until combined.
5. Using a medium cookie scoop (about 2 tablespoons) form dough into balls, roll in sugar, and place on prepared baking sheets. Flatten with a fork. Bake in preheated oven for 10-12 minutes. Allow cookies to cool on baking sheets for about 5 minutes before removing to a wire rack to cool completely.
Notes:
- I have not attempted this recipe with butter, so I cannot attest to the results. If you try this peanut butter cookie recipe with butter instead of shortening, please let us know how they turn out.
- Cookies will store well in an airtight container at room temperature for up to 3 days.
My Baking Addiction adapted from Taste of Home
All images and text ©
Follow Jamie on Instagram. We love to see what you're baking from MBA! Be sure to tag @jamiemba and use the hashtag #mbarecipes!
Disclosure
This post is part of an ongoing relationship between My Baking Addiction and Gold Medal Flour. In June of 2012, My Baking Addiction attended a Farm to Table event in Kansas City to learn why Gold Medal has been America's flour of choice for 125 years. Although this is a sponsored post, the views and opinions expressed are our own and based upon our personal experiences with Gold Medal Flour.