These chewy peanut butter cookies are sweetened with honey for what just might be the most perfect after-school snack ever!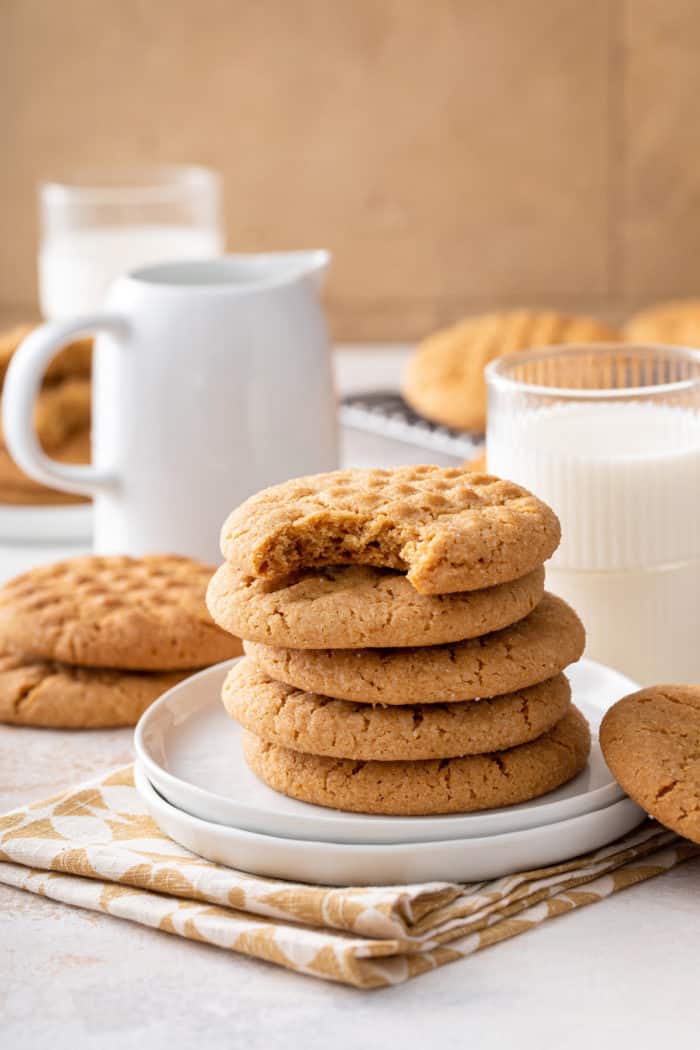 There's just something about peanut butter that makes you think about back-to-school season, right?
I know the majority of schools are nut-free these days, but I still think about peanut butter and jelly sandwiches as the quintessential childhood sack lunch.
Since peanut butter sandwiches aren't safe to send to school, I make peanut butter treats for an after-school snack instead.
Peanut butter and jelly bars? Yes! Peanut butter oatmeal bars? Yes! Honey peanut butter cookies? Yes, yes, and YES!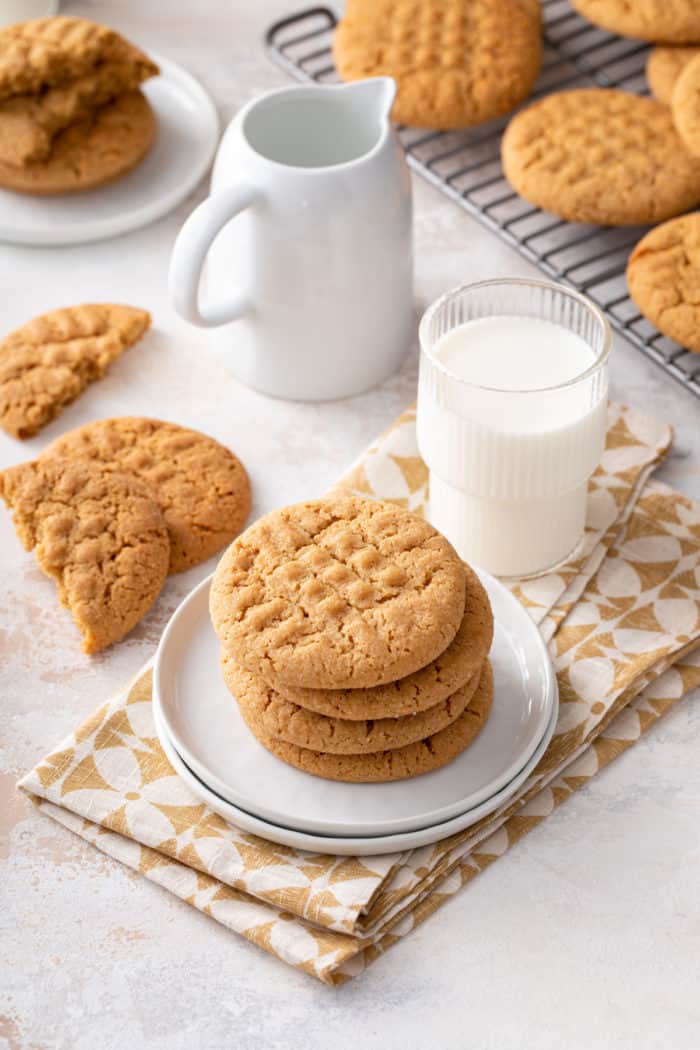 CHEWY PEANUT BUTTER COOKIES WITH HONEY
I know there are a lot of different peanut butter cookie recipes out there. I even have a few different versions on my site, from apple peanut butter cookies to peanut butter sandwich cookies to peanut butter blossoms.
Heck, even my no bake cookies have a healthy dose of peanut butter in them!
But when it comes to a classic peanut butter cookie, there are a few things I look for:
It needs to be chewy
It needs to be flavorful
It needs to have the classic criss-cross pattern on top
I have tried so many peanut butter cookies that were hard as rocks and tasted strongly of peanut butter but not much else. They just weren't what I was looking for.
But this recipe? It's exactly what I want.
These cookies stay nice and chewy, even after they cool. They have a lovely peanut butter flavor that's subtly accented by the honey in the recipe, and they have that classic criss-cross on top.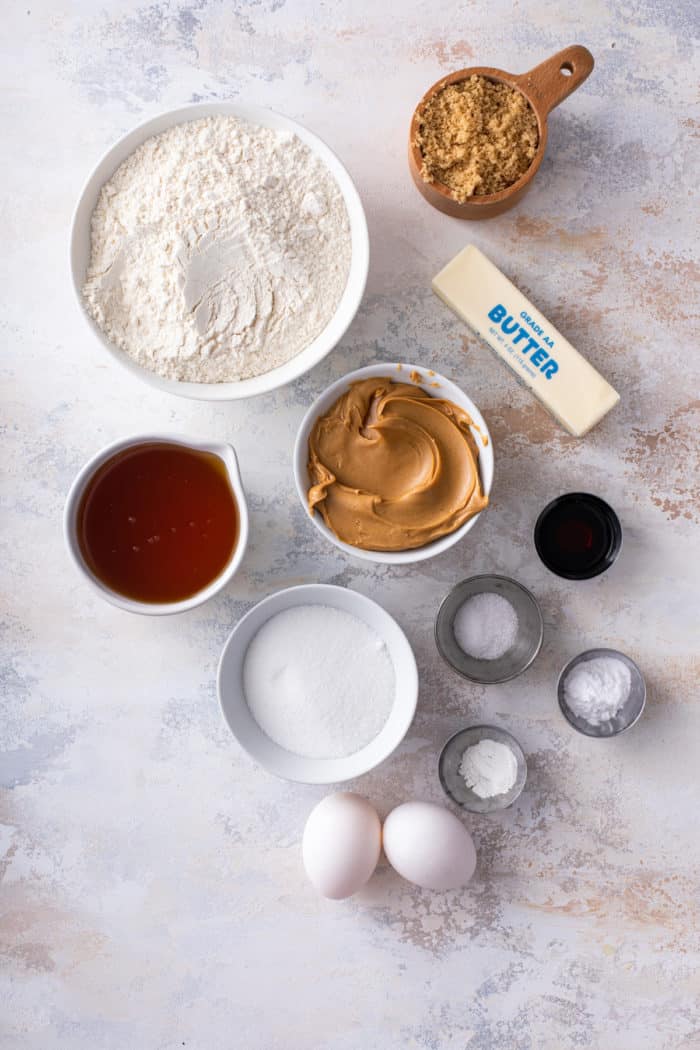 HOW TO MAKE THESE FAVORITE PEANUT BUTTER COOKIES
This is a pretty simple cookie recipe to whip up, so they're a great recipe to keep in your back pocket for any time you need a quick and easy treat.
Ingredients you'll need
The ingredients for this recipe are pretty standard if you do a lot of baking, especially cookies.
To make these honey peanut butter cookies, you'll need:
½ cup unsalted butter, softened
1 cup creamy peanut butter
1 cup honey
½ cup lightly packed light brown sugar
½ cup granulated sugar
2 large eggs
2 teaspoons pure vanilla extract
3 cups all-purpose flour
1 ½ teaspoons baking soda
1 teaspoon baking powder
½ teaspoon salt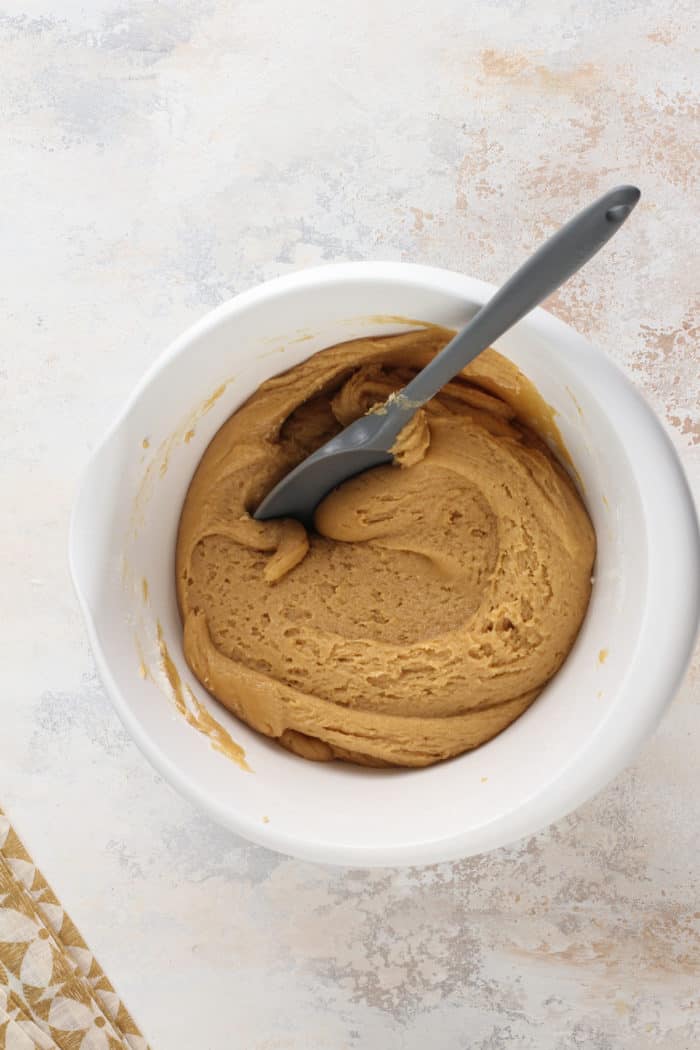 Yes, there's a whole cup of honey in these cookies! You can use any honey you like, but I recommend getting a nice, flavorful one. That way the flavor of the honey stands out to really complement the peanut butter!
Make sure you know how to soften butter and how to measure flour for this recipe. I also have a simple brown sugar substitute you can use if you find yourself out of brown sugar.
What kind of peanut butter to use
This recipe uses creamy peanut butter. Make sure you grab creamy peanut butter, not crunchy by accident!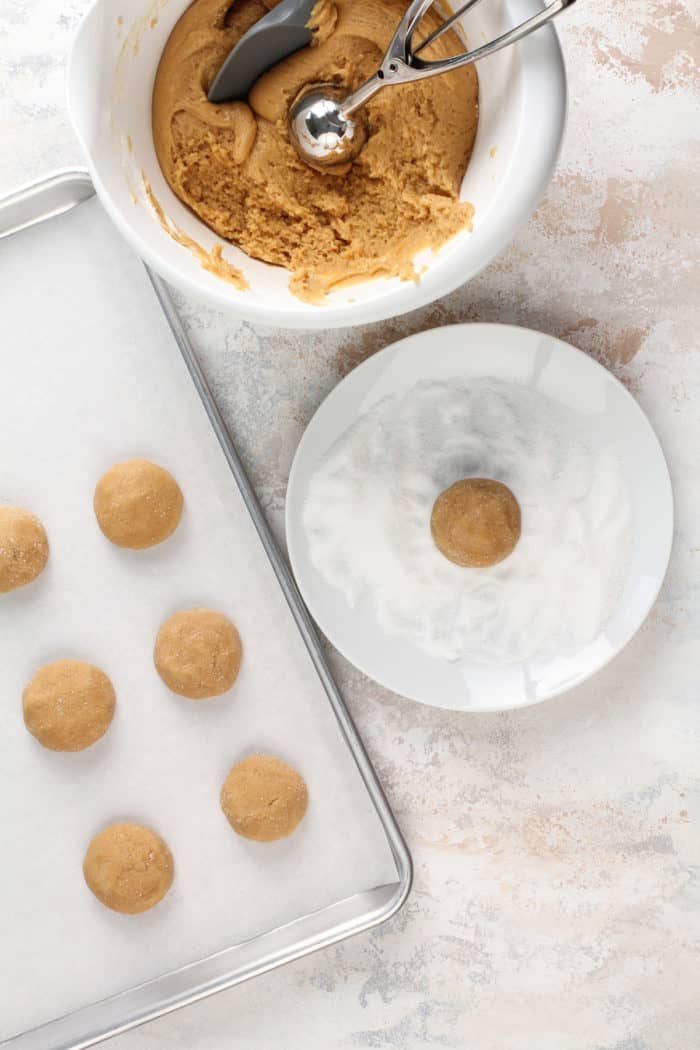 If you want to use natural peanut butter, I recommend using a no-stir natural peanut butter.
I don't recommend using the type of natural peanut butter that is just ground peanuts and nothing else. That type tends to be grainier and separates easily and doesn't work as well in recipes like these honey peanut butter cookies or peanut butter cake.
If you have a kiddo with a peanut butter allergy, you could swap in sunflower seed butter in this recipe instead.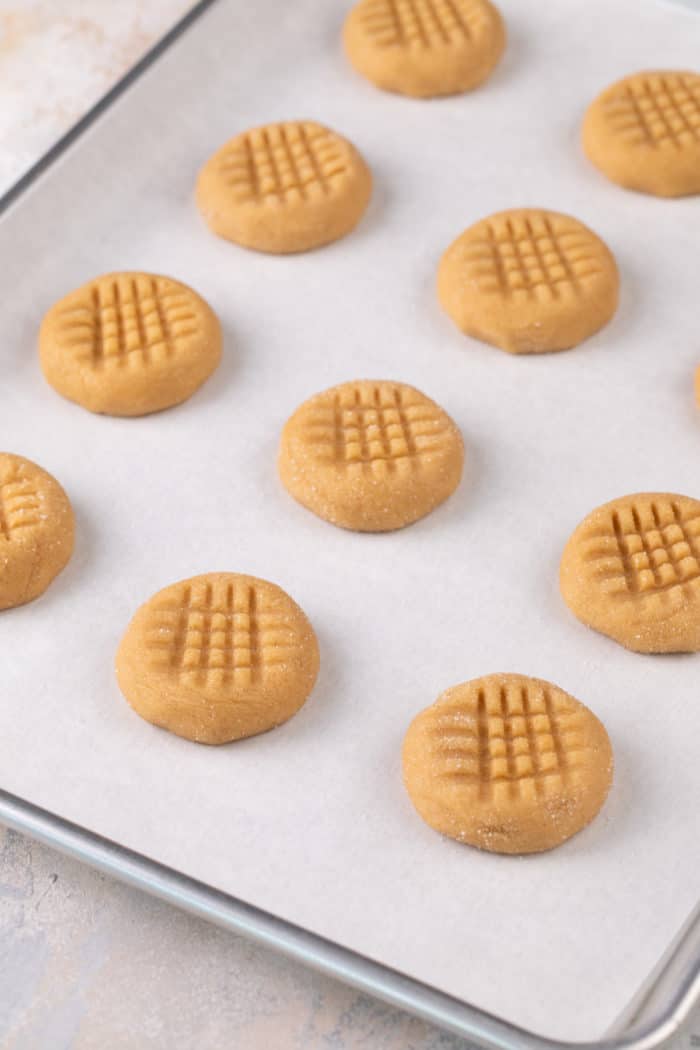 Making this recipe
To make these peanut butter cookies, start by creaming together the softened butter, peanut butter, honey, and both sugars until light and fluffy. This will take about 3 minutes.
Add in the eggs and the vanilla extract and mix well.
Whisk together the remaining dry ingredients and gradually add this mixture to the peanut butter mixture, mixing on low speed until just combined.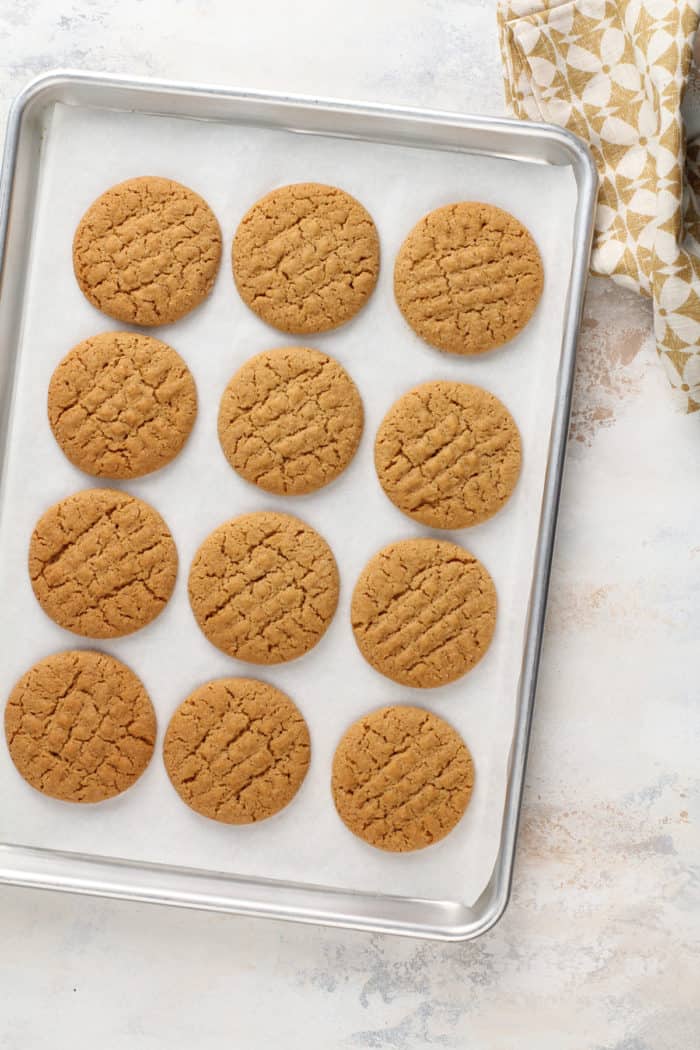 Use a medium cookie scoop to portion out 2-tablespoon balls of dough. Roll each ball in granulated sugar and place on a parchment-lined baking sheet.
Use the tines of a fork to flatten the cookies and create a crosshatch pattern on top.
Bake the cookies for 10-12 minutes or until dry on top and just golden around the edges. Make sure not to overbake them! You want them to stay chewy.
Let the cookies cool on the baking sheet for a few minutes before transferring to a wire rack to finish cooling.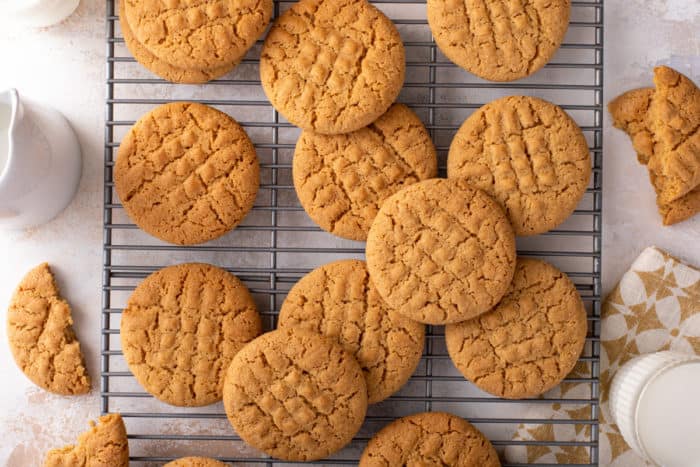 STORAGE TIPS
These honey peanut butter cookies will keep in an airtight container at room temperature for up to a week. They're the perfect excuse to pull out your favorite cookie jar!
You can also freeze the cookies, either before or after baking.
To freeze the dough, follow the instructions in my tutorial on how to freeze cookie dough. Then you can pull out as many dough balls as you like, whenever you like, and have freshly baked cookies in just a few minutes.
To freeze the baked cookies, just toss them in a zip-top freezer bag or an airtight container and freeze for up to 3 months. Let thaw at room temperature for a couple of hours before enjoying.