Peanut Butter Blossoms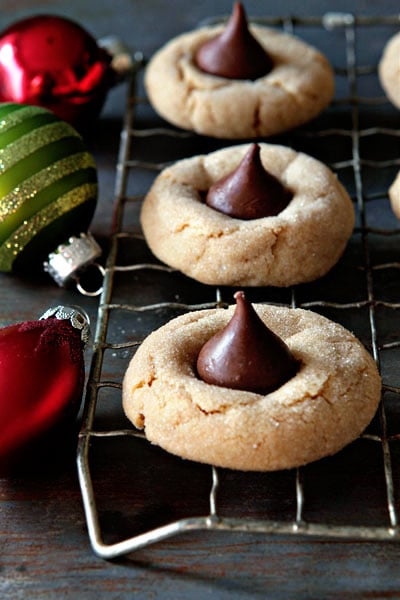 Many of you know that I teach school full time – more specifically junior high. I teach in a separate facility that works with students that require a pretty structured environment due to behavior issues.
I found myself with an extra period each Friday and had to figure out something to do with the 50 minutes that would both keep the kids busy and force them to interact with each other in a positive manner. I remember sitting at the computer when it hit me – I could have them cook and bake together.
Within this flash of brilliance, there was one problem. Our school kitchen lacked pretty much every single piece of baking/cooking equipment aside from an oven, refrigerator and freezer. Our school breakfasts and lunches get delivered from an off-site company, so the drawers revealed a sorry assortment of slotted spoons and a search of the cupboards only turned up some sheet pans.
Refusing to let this minor detail defeat me, I decided to send a few emails to some incredibly generous companies. Within days, the amazing people at Chicago Metallic, KitchenAid, Le Creuset, and OXO were arranging to outfit my little makeshift home-ec kitchen with the tools necessary to bake and cook with my students.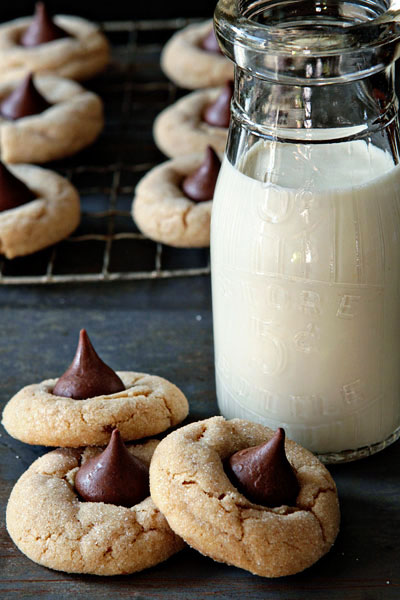 I've pretty much relinquished all control over what we cook and bake to my students. I allow them to choose the recipes, create the shopping lists and make the dish from start to finish (minus any knife work). Although I was a little bit nervous with the whole process, the students have displayed an amazing amount of teamwork and enthusiasm – honestly, I couldn't be more proud of them.
Last week, we decided to make Peanut Butter Blossom Cookies. I thought there's no more perfect time of year to introduce them to this classic chocolate-peanut butter cookie. The kids were all about the OXO "mini ice cream scoop" and were pretty amazed that the Hershey Kisses didn't completely melt into a puddle.
I originally thought that I would snag of few of the cookies we made at school to photograph, but the kids were so eager to share the cookies with their peers and families, I couldn't bring myself to take any of them for photos. Instead, I baked up a batch this weekend and overnighted them to my dad along with another dozen holiday cookies – a recipe that will make its appearance later this month.
A huge thank you to Chicago Metallic, KitchenAid, Le Creuset, and OXO for allowing my students to channel their creativity and curiosity in a positive way. Your generous donations of safe, quality kitchen equipment are sure to bring big smiles for years to come.
Peanut Butter Blossoms
Ingredients:
1 cup shortening

1 cup peanut butter

1 cup packed brown sugar

1 cup white sugar

2 eggs

1/4 cup milk

2 teaspoons vanilla extract

3 1/2 cups all-purpose flour

2 teaspoons baking soda

1 teaspoon salt

1/2 cup white sugar for decoration

2 (9 ounce) bags milk chocolate candy kisses, unwrapped
Directions:
1. Preheat oven to 375 degrees F. Line two baking sheets with parchment paper.
2. In a large bowl, cream together shortening, peanut butter, brown sugar, and 1 cup white sugar until smooth. Add in the eggs one at a time, beating until fully incorporated. Mix in milk and vanilla.
3. In a large bowl, combine flour, baking soda, and salt. Gradually add to the peanut butter mixture until well blended.
4. Shape tablespoonfuls of dough into balls, and roll in remaining white sugar. Place cookies 2 inches apart on the prepared baking sheets.
5. Bake in preheated oven for 10 to12 minutes. Remove from oven, and immediately press a chocolate kiss into each cookie. Allow to cool completely; the kiss will harden as it cools.
Notes:
- This makes a lot of cookies, but it's perfect for cookie exchange prep or holiday parties.

- I have not attempted this recipe using butter instead of shortening.

- Store cookies in an airtight container at room temperature for up to 3 days.
My Baking Addiction from allrecipes
All images and text ©
Follow Jamie on Instagram. We love to see what you're baking from MBA! Be sure to tag @jamiemba and use the hashtag #mbarecipes!
This post may contain affiliate links. We are a participant in the Amazon Services LLC Associates Program, an affiliate advertising program designed to provide a means for us to earn fees by linking to Amazon.com and affiliated sites.