Peanut Butter Cup Cookies…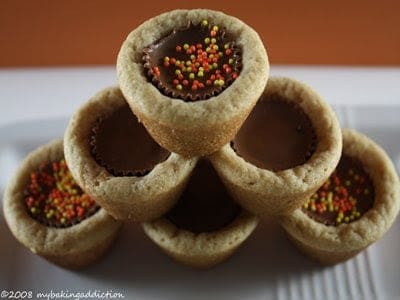 So Halloween was a big fat bust at my house…Ya see I live a small development that is considered private; therefore, does not allow soliciting. Now don't get me wrong, I love that fact that I am not awakened on Saturday mornings to the sound of my doorbell and some dude trying to sell me knives, vacuum cleaners, etc. However, this rule seems to really deter the little kiddos all dressed up in their spook-tacular gear from knocking on my door.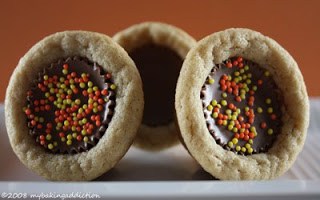 As a precautionary measure, the boyfriend hit up Walmart for some treats…only to come home with bags of Christmas candy. Oh yes, all my Halloween candy wrappers were covered with snowflakes, bulbs, and reindeer…we laughed and tossed the sweet goodies into a bowl perched by the front door. Well 6 o'clock rolled around and then 7…and then 8. When trick-or-treat came to close we had a whopping total of four kids present themselves on our doorstep…2 of them being the next door neighbors! So needless to say I was left with a ton of candy…Reese's Miniature Peanut Butter Cups to be exact. So I decided to leap into action in an attempt to get the stuff off my counter…and thus not on my ass. My objective was to bake something so the boyfriend could take them to work and I would not be left staring at the peanut butter cups all day. I knew if they stayed in the house I would succumb to the pressure and chow down til my teeth hurt!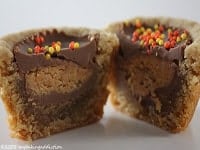 PEANUT BUTTER CUP COOKIES from allrecipes
Ingredients
1 3/4 cups all-purpose flour
1/2 teaspoon salt
1 teaspoon baking soda
1/2 cup butter, softened
1/2 cup white sugar
1/2 cup peanut butter
1/2 cup packed brown sugar
1 egg, beaten
1 teaspoon vanilla extract
2 tablespoons milk
40 miniature chocolate covered peanut butter cups, unwrapped

Directions
1. Preheat oven to 375 degrees F (190 degrees C).
2. Sift together the flour, salt and baking soda; set aside.
3. Cream together the butter, sugar, peanut butter and brown sugar until fluffy.
4. Beat in the egg, vanilla and milk. Add the flour mixture; mix well.
5. Shape into 40 balls and place each into an ungreased mini muffin pan.
6. Bake at 375 degrees for about 8 minutes. Remove from oven and immediately press a mini peanut butter cup into each ball. Cool and carefully remove from pan.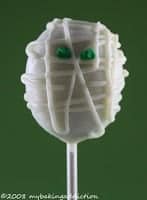 Oh and staying with the Halloween theme, here is my feeble attempt at mummy pops. I made these last week and totally forgot to take pics. This was the one lone mummy left…although not the best one, you get the idea. Check out Bakerella's site for more Halloween themed cake pops! I hope you all had a Boo-tiful October 31st!
This post may contain affiliate links. We are a participant in the Amazon Services LLC Associates Program, an affiliate advertising program designed to provide a means for us to earn fees by linking to Amazon.com and affiliated sites.