Rum Balls are a classic holiday treat. Boozy, chocolatey and rich, store these beauties in the refrigerator for several days for an even better flavor!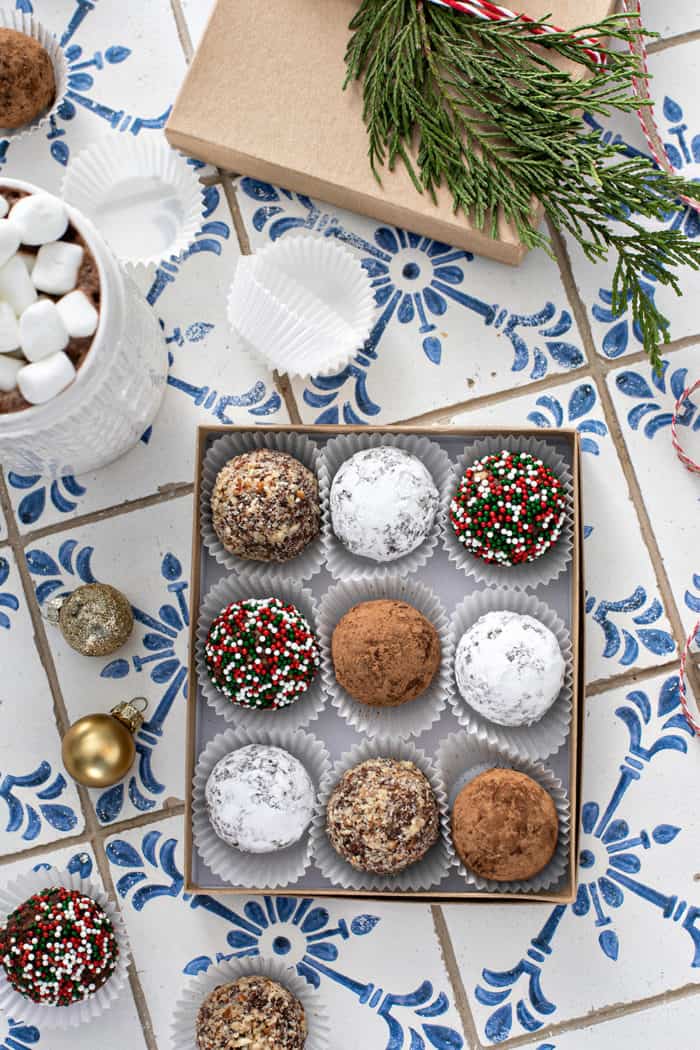 Ohio is clearly a little confused in terms of the weather right now. It was sunny and almost 50 degrees today which is a little disappointing considering Christmas is in 4 days and last year we were expecting a huge winter storm around this time.
What can I say? I'm all for a white Christmas.
Despite the warm and sunny weather, we're checking off items on our holiday baking list one by one.
I've got all the ingredients for peanut butter blossoms, snowball cookies, gingerbread cookies, saltine toffee, peanut brittle and of course, rum balls.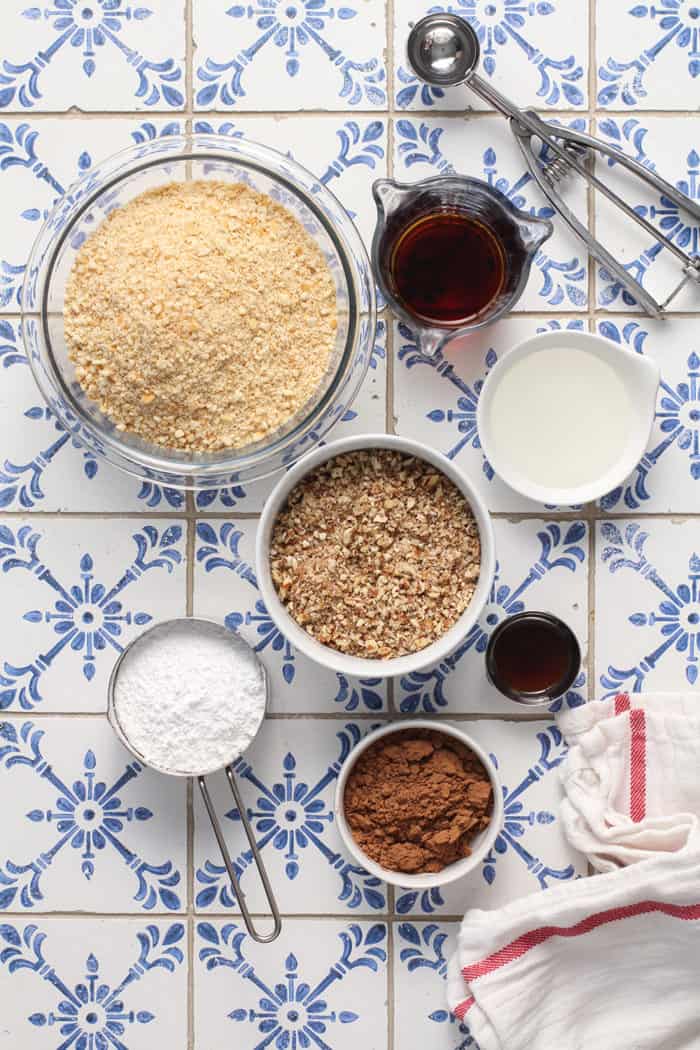 WHAT ARE RUM BALLS?
I was probably around 30 years old before I had a rum ball.
Can you believe it? These are such a holiday classic, yet somehow I just missed the boat for 30 years.
I'm glad that I finally figured out what all the fuss was about, though, because these babies are well worth making.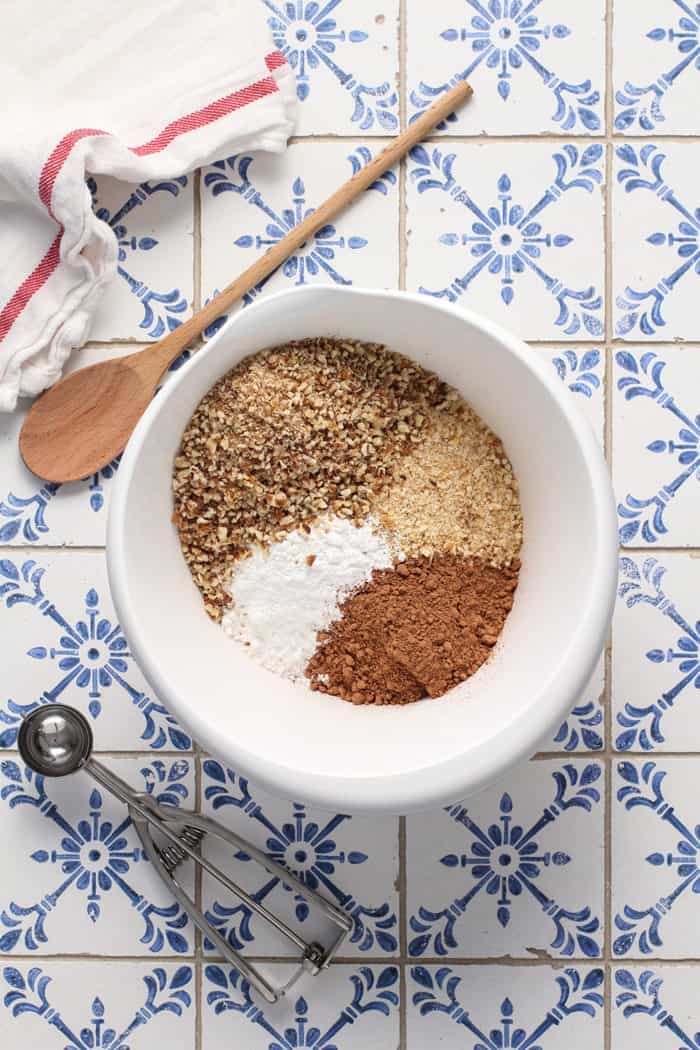 Rum balls are pretty similar to turtle cookie balls or peppermint oreo cookie balls — just…boozier.
Rum balls are bite-size homemade treats made with vanilla cookie crumbs, pecans, cocoa, confectioners' sugar, and spiced rum.
These do taste like spiced rum, so keep that in mind. Although if rum isn't your favorite, you could try making them with bourbon instead.
Don't worry about getting drunk from rum balls. Because there is only 4 ounces of rum in the entire batch, you'd have to eat quite a few!
If booze isn't your thing, you might try my no-bake cookies or my simple homemade truffles as easy no-bake holiday gifts.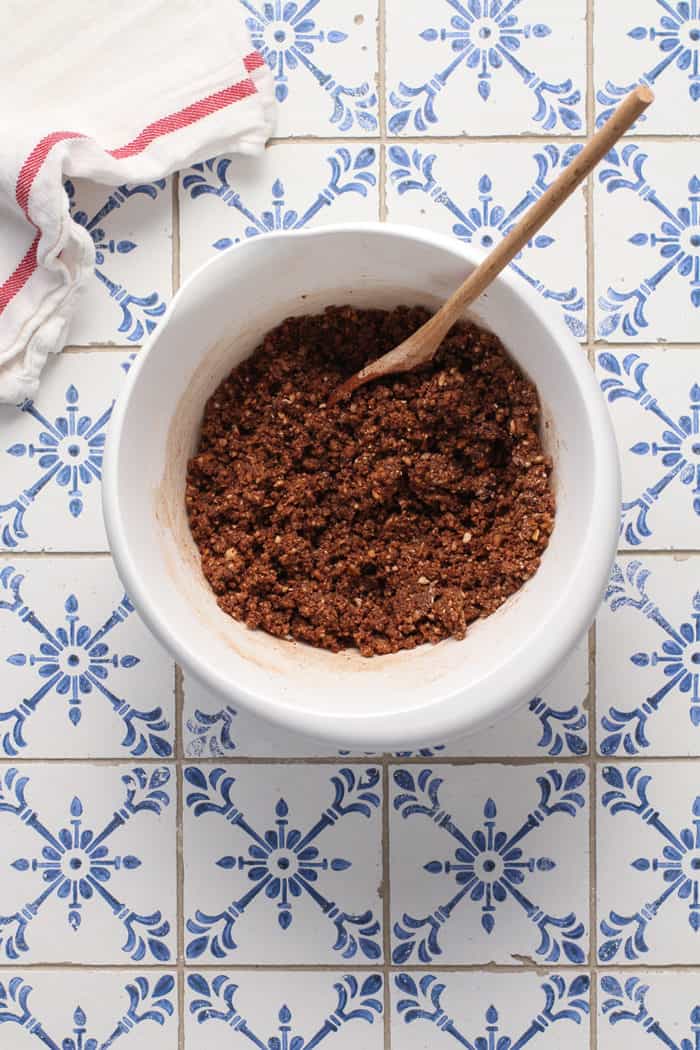 HOW TO MAKE RUM BALLS
Rum balls are incredibly easy to make. They're a great option if you need a treat to share but don't want to turn on the oven!
Grab a very large bowl to mix everything in, as well as a silicone spatula or a sturdy wooden spoon.
You're also going to need to crush up some vanilla wafers. You can use a food processor, or put the cookies into a ziptop bag, close it, and use a rolling pin to crush the cookies.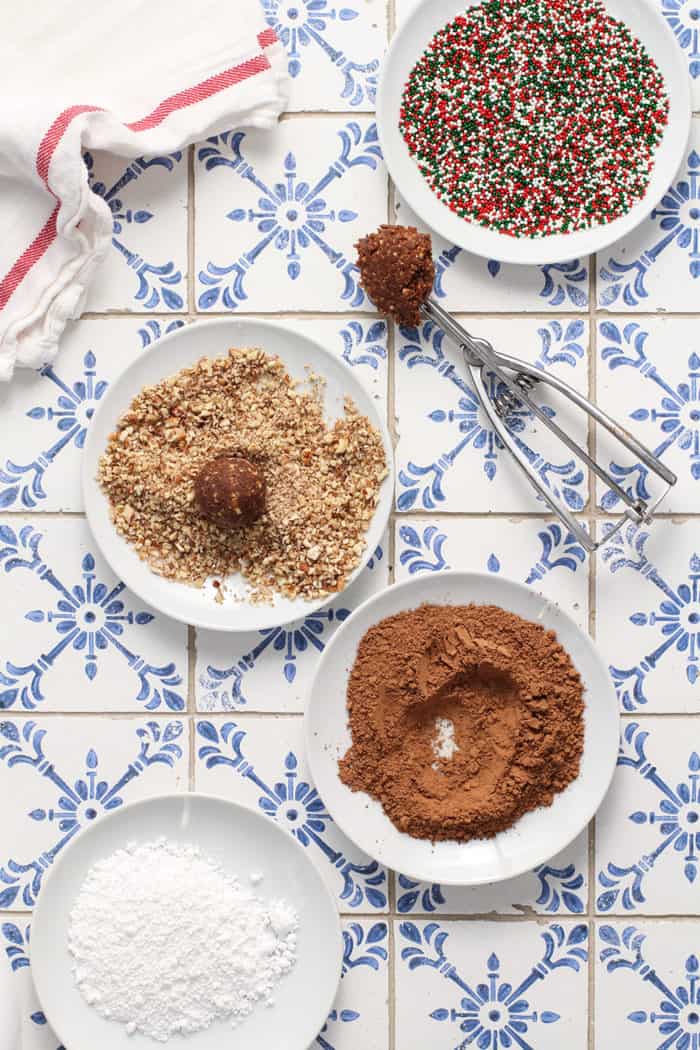 Pour the crushed vanilla wafers into the bowl and add the rest of the dry ingredients to have everything evenly dispersed.
Drizzle in the vanilla, corn syrup, and rum. Stir well to fully incorporate, making sure there are no dry bits.
To make sure they are wet enough, scoop up a bit of the mixture and squeeze it into a ball in your hands. If it stays in a ball shape, you're ready to roll!
Add small amounts of crushed wafers or more rum as needed to get the perfect texture.
Use a cookie scoop to roll the mixture into 1-inch balls, then toss them in a shallow bowl filled with your favorite coating.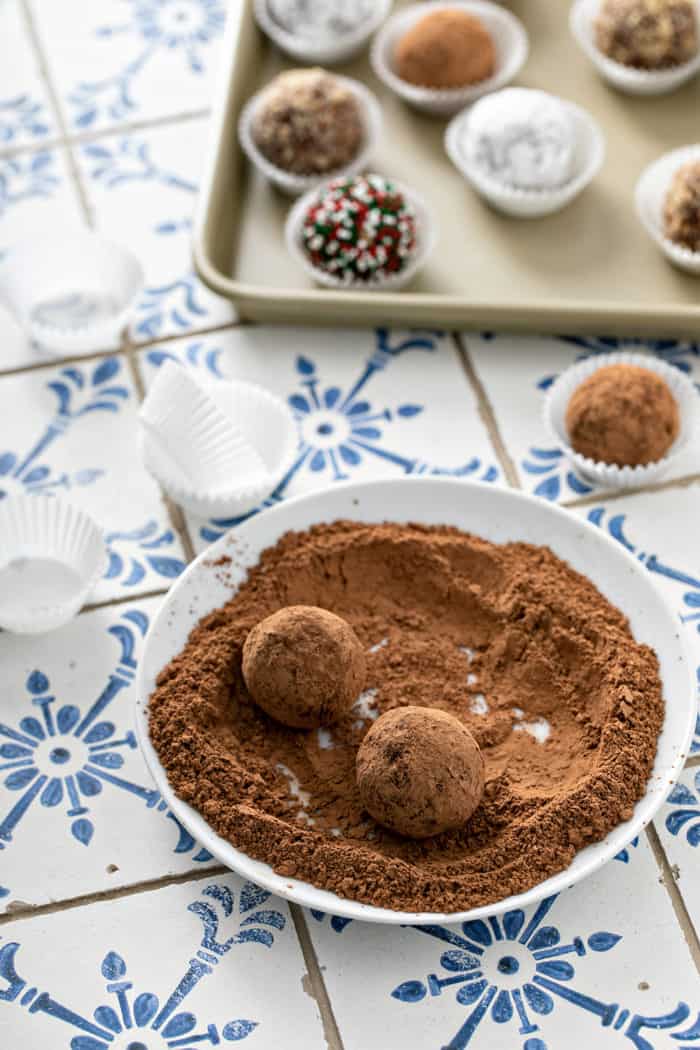 RUM BALL VARIATIONS
Wondering what you could roll your rum balls in?
You could use cocoa powder, powdered sugar (confectioners' sugar), crushed nuts, sprinkles, shredded coconut, or whatever else strikes your fancy — any of them are delicious.
Remember that you can do a little bit of everything, too! This recipe makes about 20 large rum balls, so I think it's fun to do several of a few different toppings.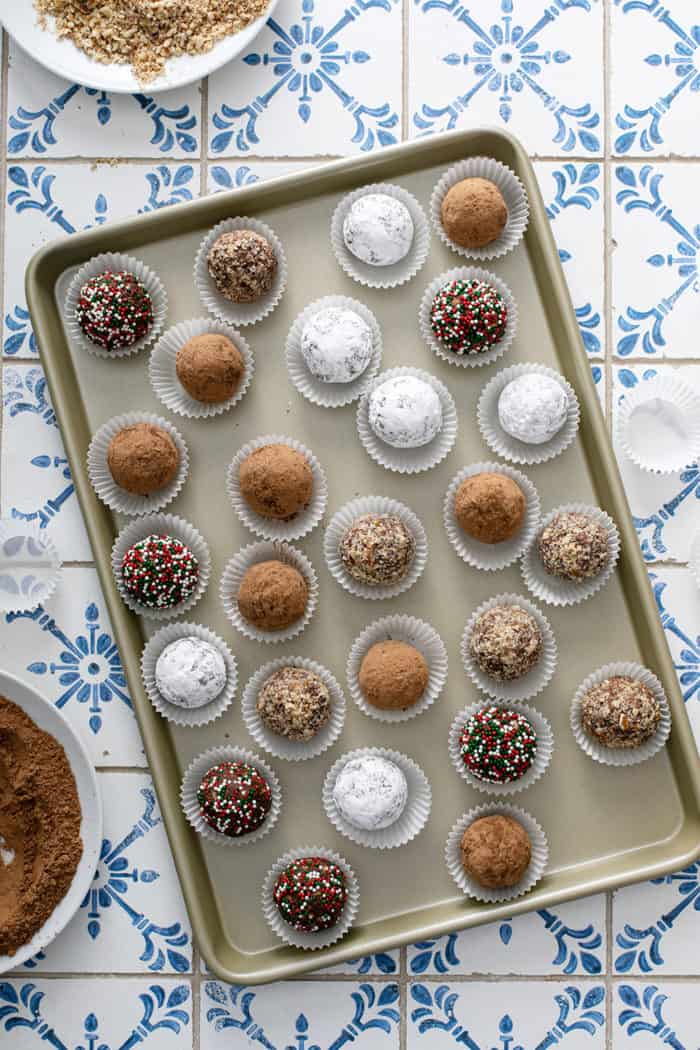 If you roll them in powdered sugar, keep in mind that you may want to re-roll them just before serving, as the powdered sugar tends to absorb a bit while they rest in the refrigerator.
You can also change up the flavor of your rum balls by trying different rum flavors. Instead of spiced rum, try:
Dark rum
Coconut rum
White rum
Vanilla rum
Bourbon
Out of vanilla wafer cookies? No problem! Rum balls can be made with other kinds of crushed cookies too, like graham crackers or butter cookies.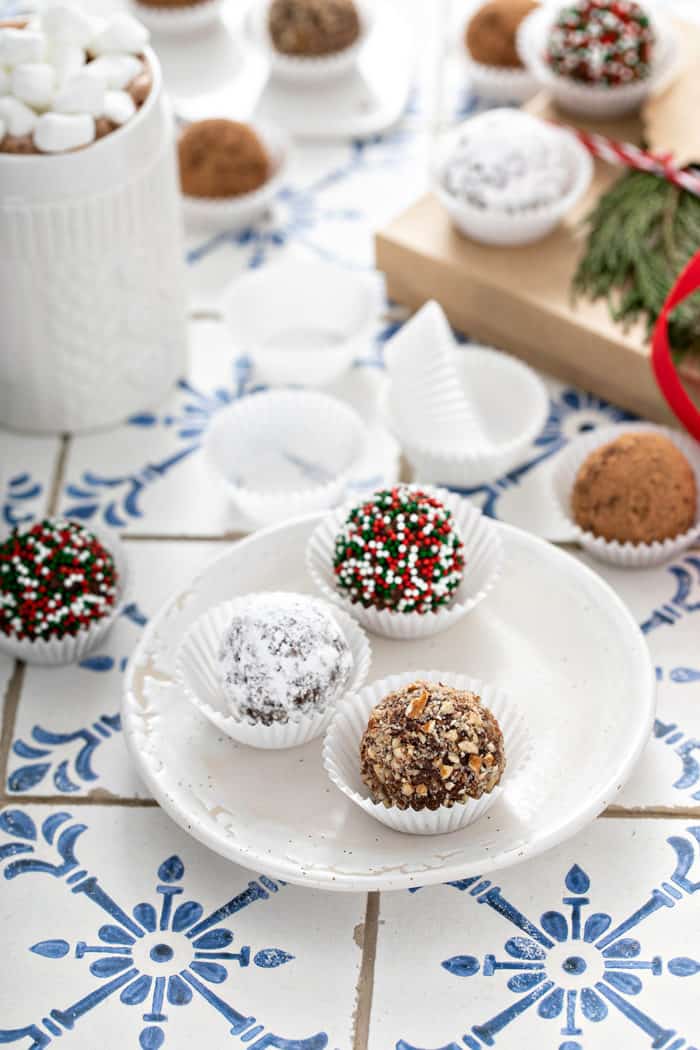 STORAGE TIPS
Here's the best thing about this recipe: They actually taste better when they're made in advance AND they last forever in the refrigerator.
Ok, maybe not forever. But they will last for quite some time!
Much like fruitcake cookies, rum balls taste better when they've had a few days to sit and let the flavor develop.
Just pop them into an airtight container and stick them in the fridge for at least 2 days, and up to a couple of weeks.
You don't need to store rum balls in the refrigerator as long as you keep them in a cool, dry place, but I find they have the best flavor and last the longest when kept cold.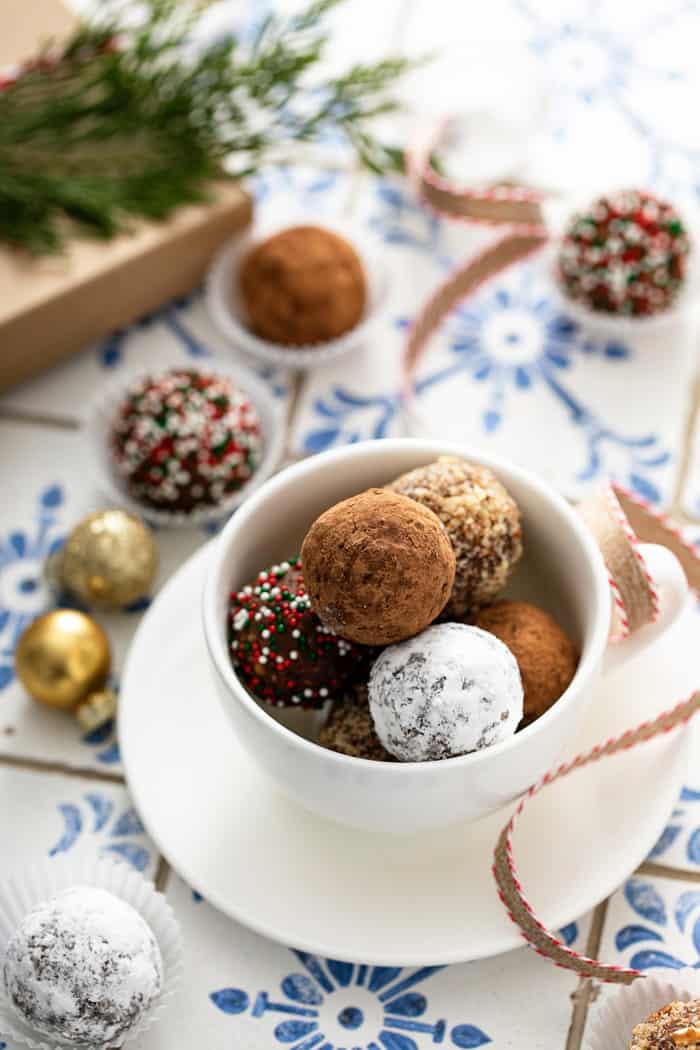 I keep mine chilled, packed in a holiday tin lined with wax paper, so they're ready to go in case unexpected company comes by.
Not sure when you might need your rum balls? Freeze them for longer storage! You can freeze rum balls for up to 2 months.
I recommend packing them with as little air as possible, so if you have a vacuum sealer that will work great.
You can also simply use a ziptop freezer bag and remove excess air before sealing. This will keep your rum balls fresh and delicious!
To thaw, simply remove them from the freezer and place in the refrigerator until they are soft enough to bite.
This is such a great make-ahead recipe for holiday parties, gift giving, or your own personal dessert stash.