If you think of Gingerbread Cookies when you think of the holidays, then this is the recipe for you! These traditional cookies are flavored with plenty of ginger, a hint of orange, and are delightful when decorated with your favorite icing.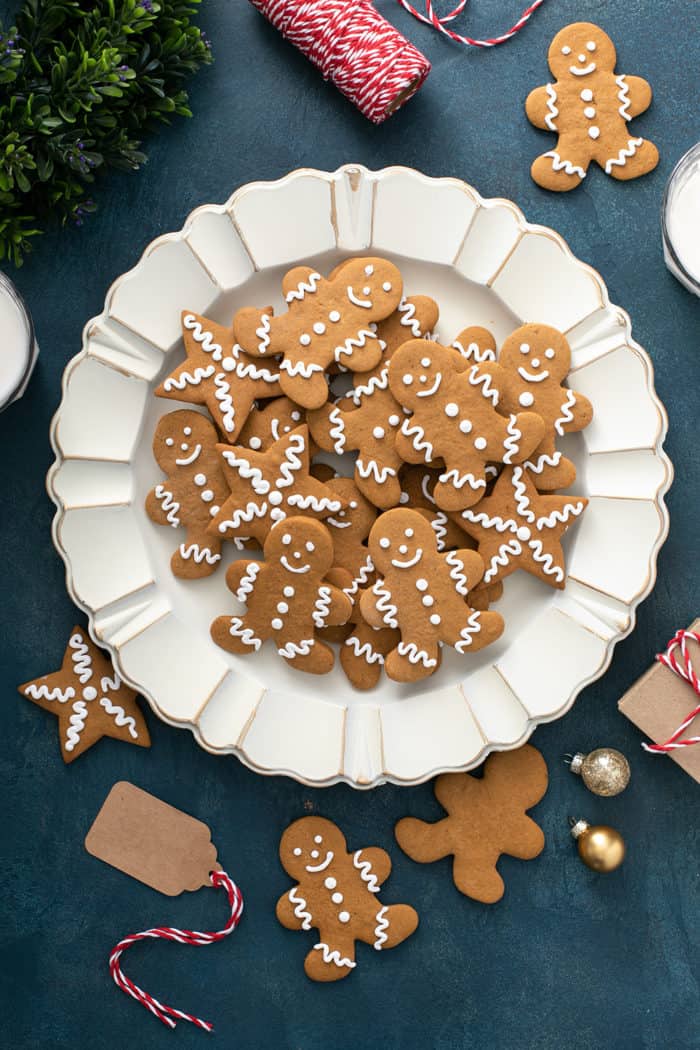 I'm one of those moms that packs cute lunches for my girl. Whether it's ghost shaped sandwiches and cucumbers cut out to look like tiny spiders during Halloween, or adorable little Christmas tree shaped pepperoni and cheese pieces served with gingerbread cookies for a sweet treat – I am that mom and I wouldn't have it any other way!
Now that Elle is a bit older, I am super excited about getting her into the kitchen during winter break to create some new holiday baking traditions and of course, pass down some from my childhood.
First on our list are homemade gingerbread cookies. They're not only adorable, but also perfectly festive and so fun to make with kids.
Of course we'll also be whipping up some of our other family favorites like peanut butter blossoms, snowball cookies, rum balls and Christmas cracker toffee.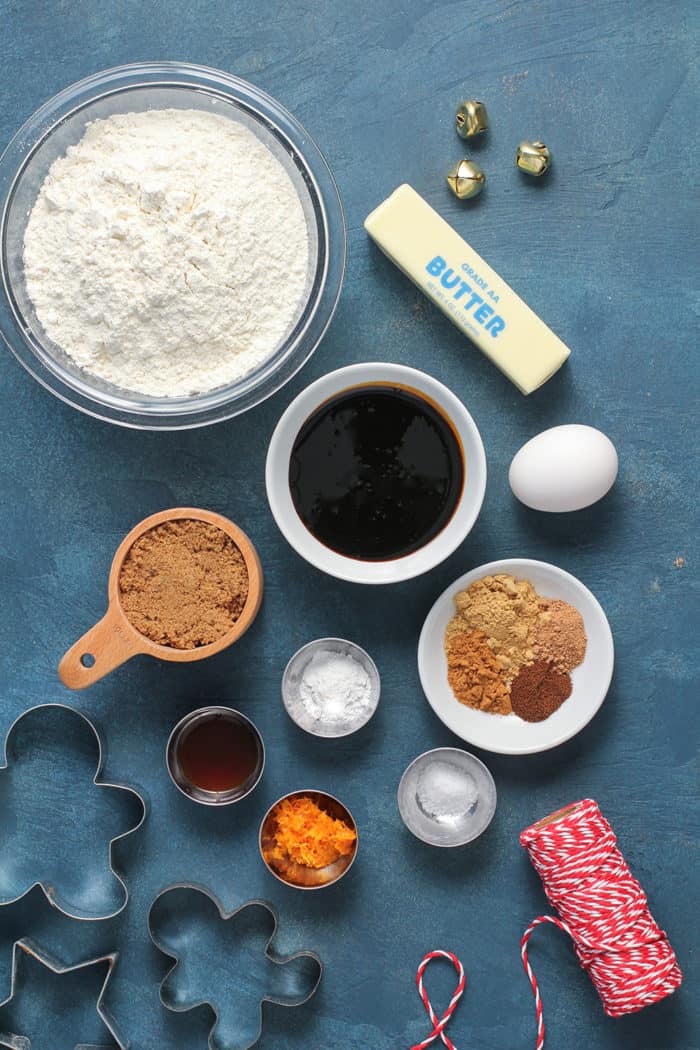 THE BEST GINGERBREAD CUTOUT RECIPE
I don't know about you, but there are a few flavors that just scream Christmas to me.
Peppermint is always a classic (Peppermint Oreo Balls are a must), cranberry is a surprising favorite (you've gotta try these Cranberry Gooey Butter Bars), and then there's gingerbread.
I don't know what it is about the combo of ginger and molasses that makes the holidays complete for me, but it's not really Christmas until I've had a batch of gingerbread.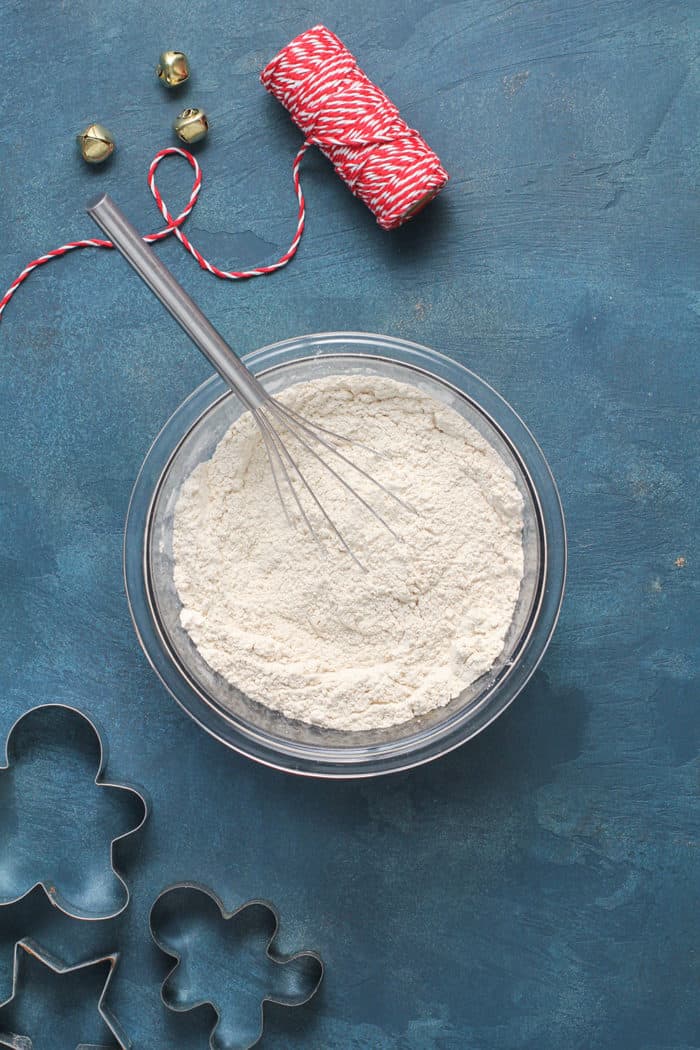 In the past I've shared Gingerbread Cake, and have even made soft and chewy Frosted Ginger Cookies and Crispy Ginger Cookies, but I realized that I have never shared a classic gingerbread cookie recipe until now!
If you're looking to make some classic gingerbread cutout cookies, this is the recipe for you.
I made sure to add plenty of ginger, along with a bit of nutmeg, cloves, and cinnamon, and tossed in a bit of orange zest for extra flavor.
These cookies hold their shape well after baking and are adorable decorated however you like.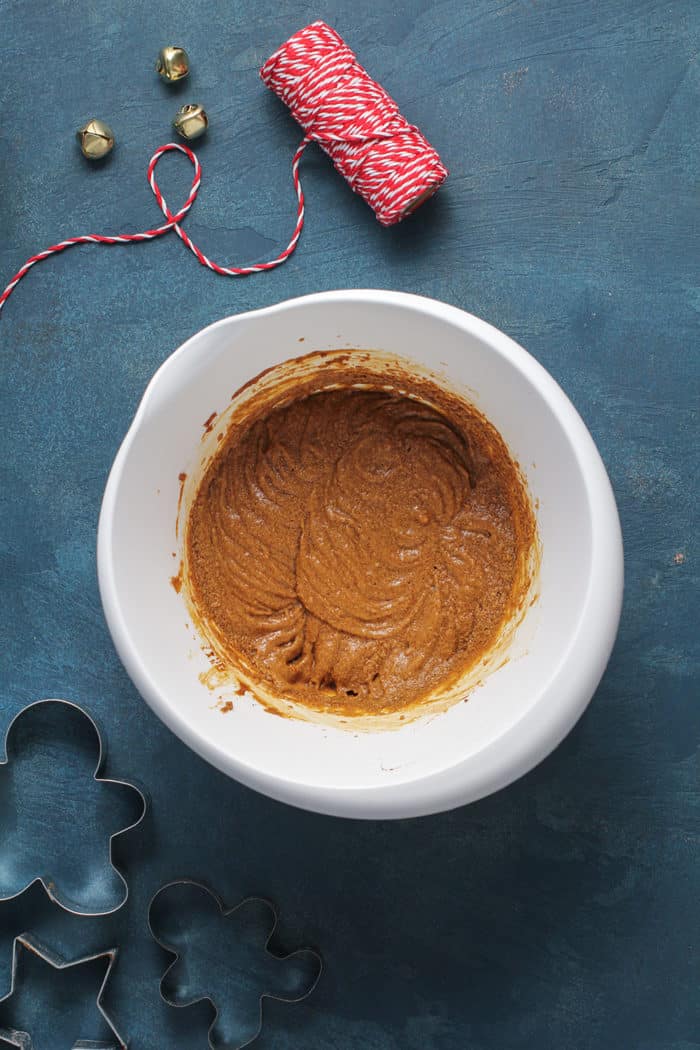 WHICH MOLASSES SHOULD YOU USE?
If you aren't familiar with baking with molasses, don't get intimidated at the store.
You'll want to get regular unsulfured molasses for these Gingerbread Cookies. Sometimes it'll be called "original" or "light" on the bottle, but you can also grab "full flavor."
Just make sure you do NOT use blackstrap molasses. Blackstrap molasses is bitter and will not be good in this recipe.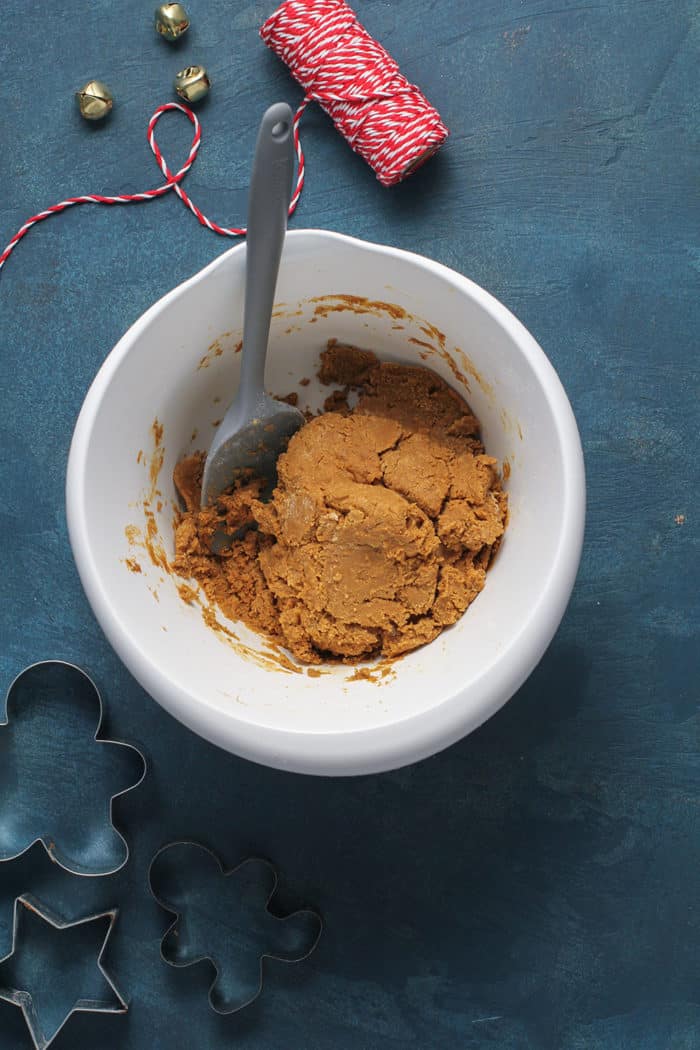 HOW TO MAKE GINGERBREAD COOKIES
Start by getting your ingredients measured out and ready to go:
3 cups flour
1 ½ teaspoons baking powder
1 tablespoon ground ginger
½ teaspoon nutmeg
½ teaspoon ground cloves
1 teaspoon ground cinnamon
½ teaspoon fine sea salt
½ cup unsalted butter, room temperature
1 teaspoon orange zest
½ cup molasses
½ cup lightly packed dark brown sugar
1 large egg
1 teaspoon vanilla extract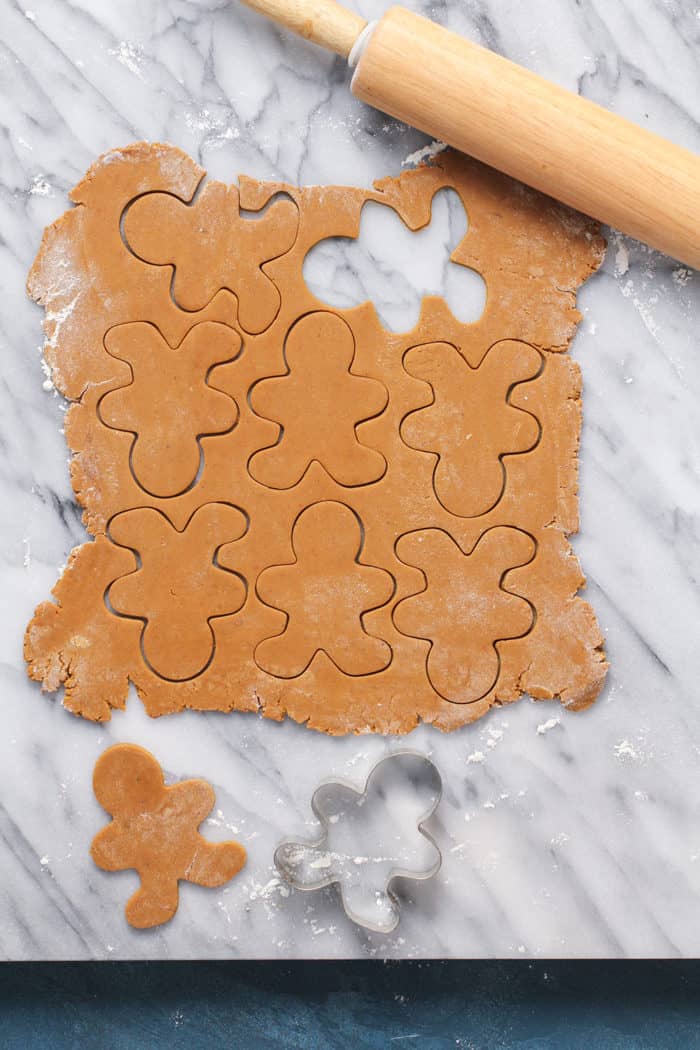 Whisk together the flour, baking powder, spices, and salt. Set these dry ingredients aside.
In the bowl of a stand mixer fitted with the paddle attachment, beat together the butter, orange zest, molasses, and dark brown sugar until the mixture has lightened in color and is well combined.
Add in the egg and the vanilla and mix until well combined.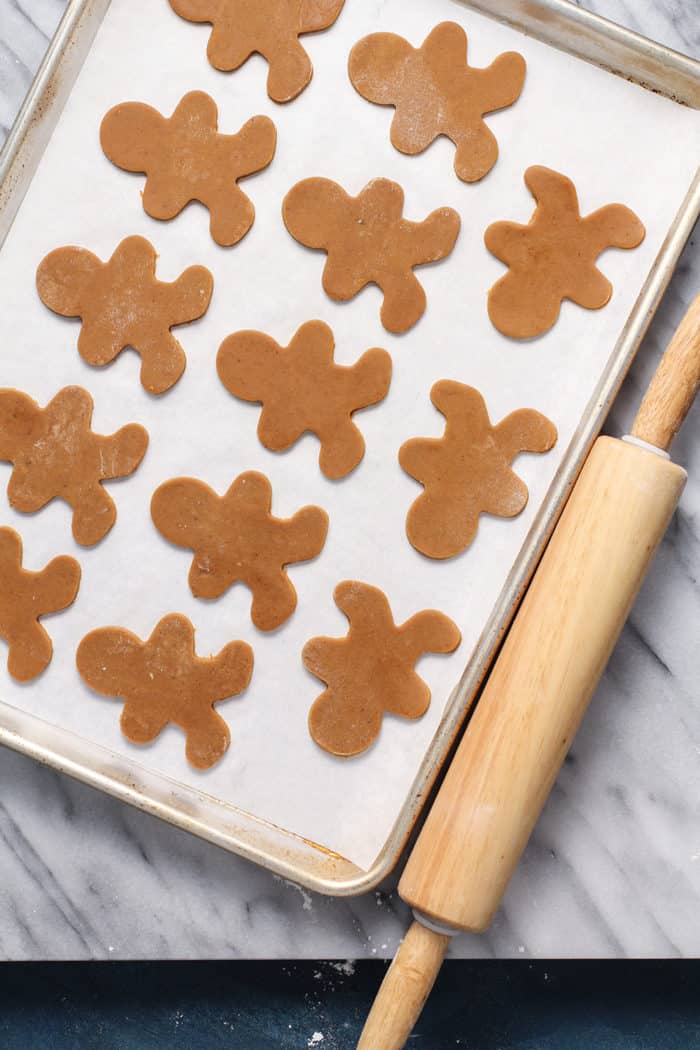 Slowly add in the dry ingredients while mixing on low speed. Mix until the dough just comes together and no pockets of dry ingredients remain. You don't want to overmix the dough or it could become tough!
Wrap the dough in plastic and form it into a disk, then refrigerate it for at least 1 hour.l
After the dough has chilled, you get to do the fun part: Cut out the cookies!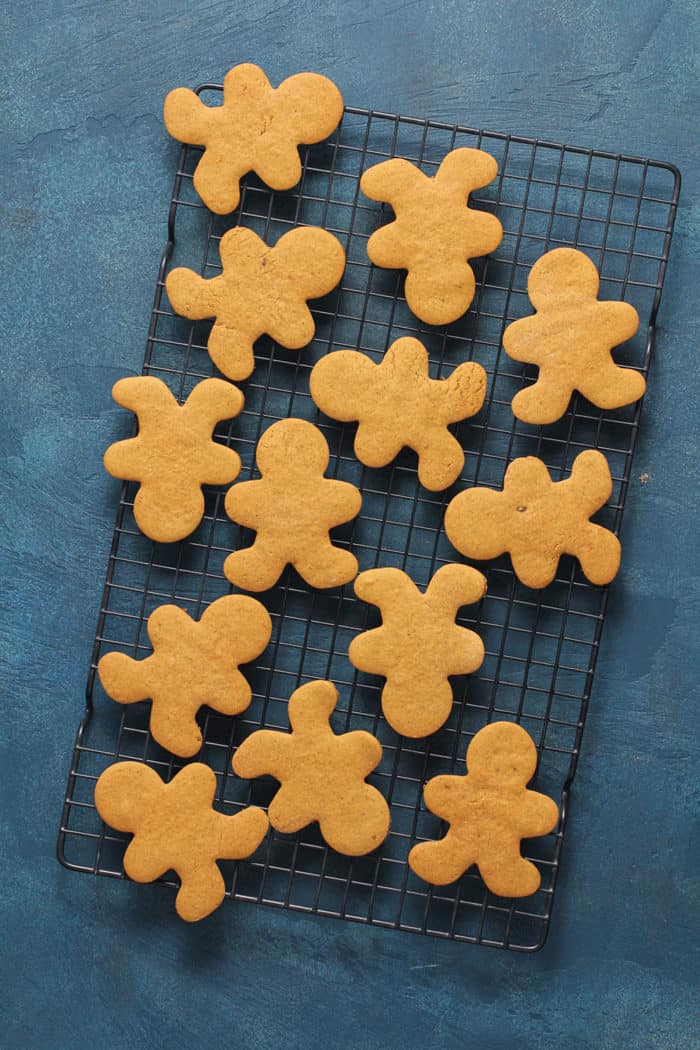 On a floured surface, roll out half the dough at a time to ⅛-inch thickness. Cut out shapes with your favorite cookie cutters and place them on lined baking sheets about ½-inch apart. The cookies will puff slightly but won't spread, so you can place them pretty close together.
Bake the Gingerbread Cookies for 9-11 minutes or until they are slightly puffed and the tops of the cookies are dry to the touch. Let them cool on the baking sheets for 1-2 minutes before moving them to a wire rack to cool completely.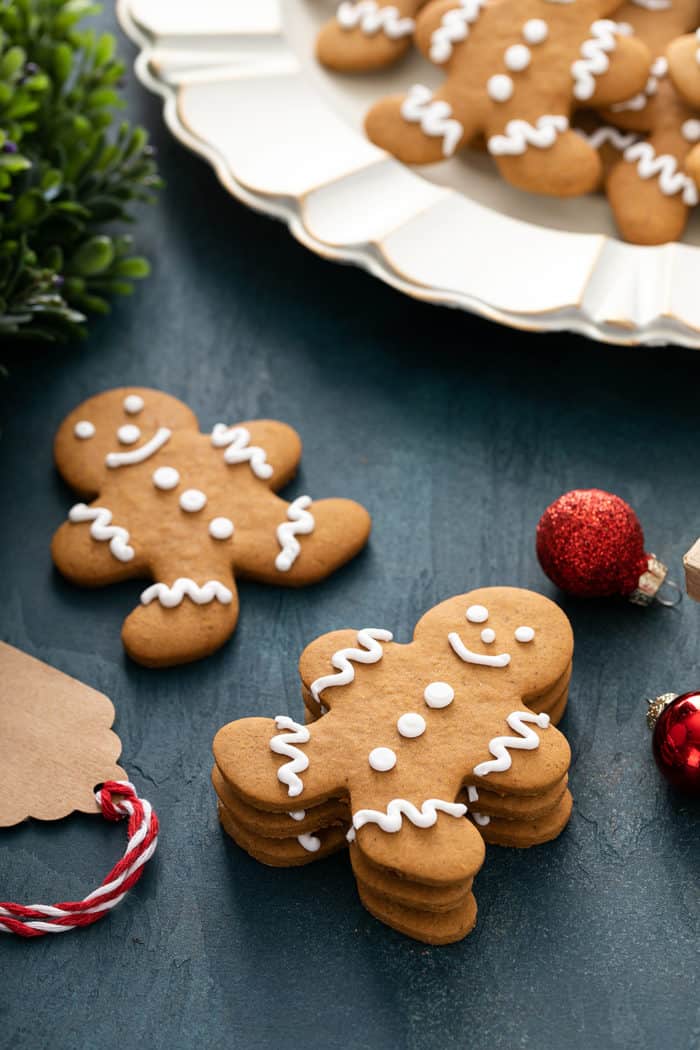 ICING FOR GINGERBREAD COOKIES
If you aren't the most artistic person in the world, don't worry. There are lots of different, fun ways you can decorate your Gingerbread Cookies!
You can use a buttercream frosting and the method I used for my Snowflake Sugar Cookies to make pretty gingerbread snowflakes that look impressive but are super easy to do.
For an icing that will harden but isn't as finicky as royal icing, try using sugar cookie icing to decorate your cutouts.
If cookie decorating really is your thing, you can always go for the gold and use royal icing!
And when in doubt, melt some white chocolate and use it to do an artistic drizzle over your cookies. Add some festive colored sugar and no one will think twice about how pretty they look.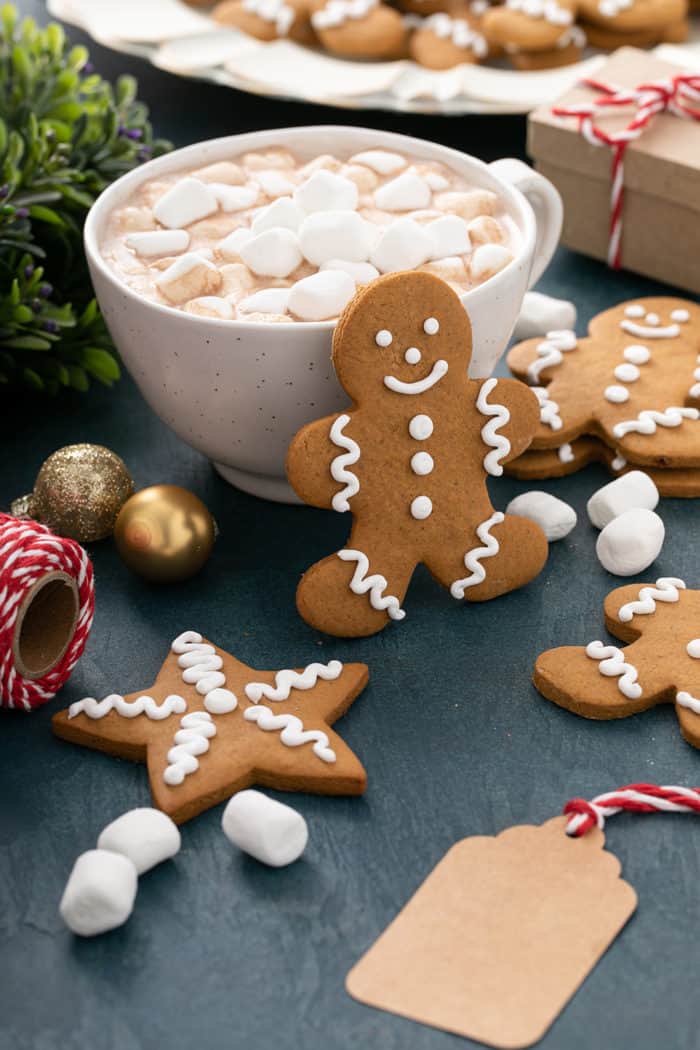 STORAGE AND FREEZING TIPS
If you're planning a big party, don't stress yourself out by making all of your Gingerbread Cookies the day before.
A great thing about these cookies is that they will store well in airtight containers for a few days.
But if you want to make them even earlier, make as many batches of cutouts as you like ahead of time and pop them into the freezer. Store them in airtight containers or zip-top freezer bags and freeze them for up to a month.
When you're ready to decorate your cookies, simply let them come to room temperature and decorate as you like! No one will guess that you baked them weeks in advance.