Looking for an easy way to decorate sugar cookies this winter? These Snowflake Sugar Cookies are made with a no-chill sugar cookie dough and a simple buttercream frosting. They look beautiful but are easy to make and decorate!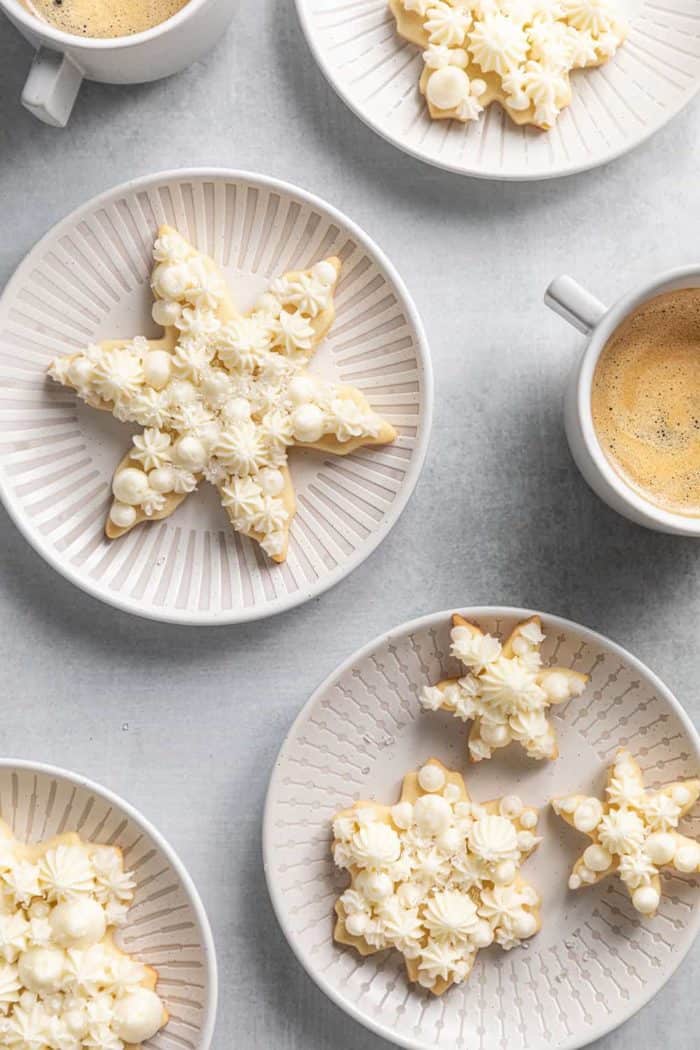 This post is sponsored by Challenge Butter. Thank you for continuing to support the brands that make My Baking Addiction possible.
I'm going to be honest: Cookie decorating is not necessarily my forte.
I can frost the best chocolate cake recipe to look nice. I can pipe homemade buttercream frosting onto funfetti cupcakes all day long.
But put me in front of a sugar cookie and a batch of royal icing and the result is not gonna be so pretty, okay?
But because I'm also me, I want to be able to make something pretty. I want to be able to make sugar cookies that look like they came out of a magazine.
Luckily, I figured out a way to make some beautiful seasonal sugar cookies that don't require any artistic talent.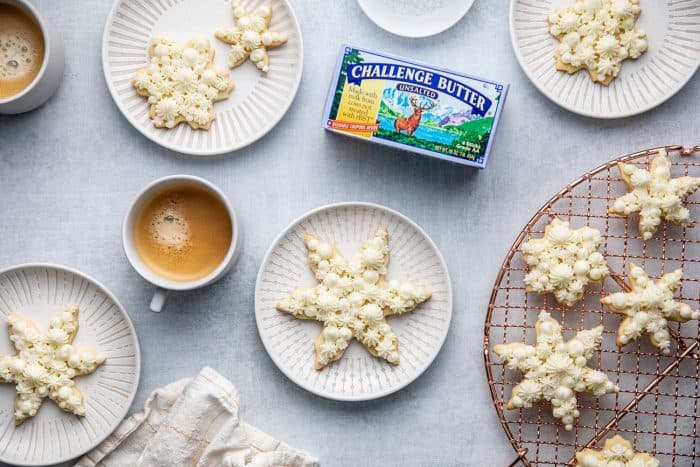 EASY HOLIDAY CUT-OUT SUGAR COOKIES
Enter these Snowflake Sugar Cookies.
To make these holiday cookies super easy, I decided to use the same decorated sugar cookie recipe that I used to make my Halloween Monster Decorated Sugar Cookies.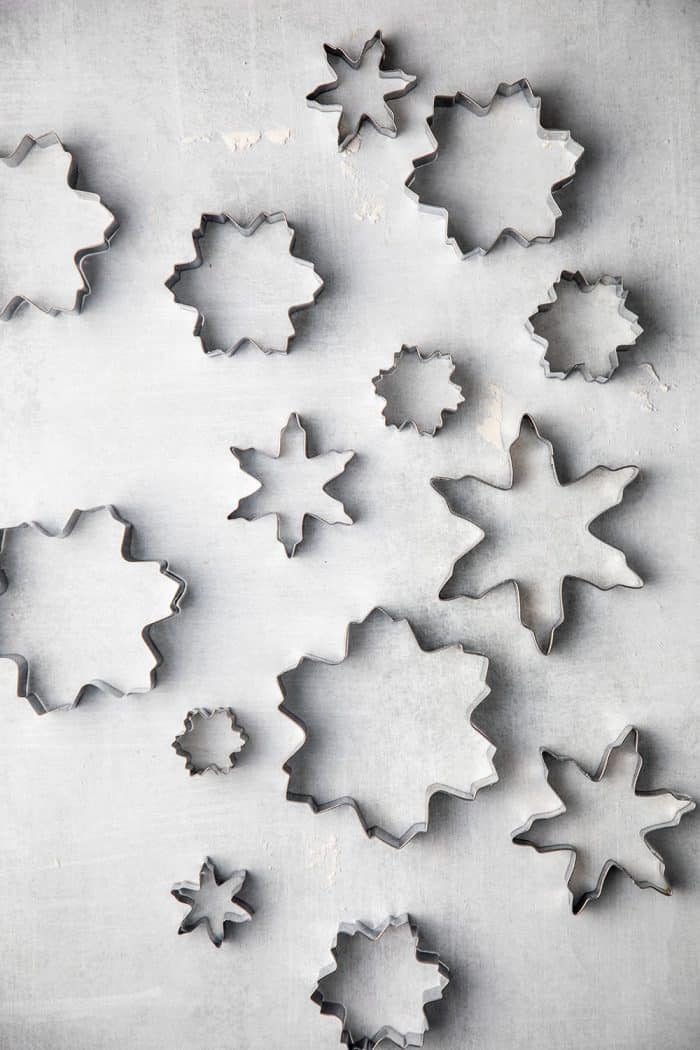 That's right. We're using the same no-chill sugar cookie dough and simple buttercream frosting as we used before. We're saving time by skipping the chilling time on the cookie dough and saving you from dirtying extra bowls by keeping all of the frosting white. Just like snowflakes!
But we'll get to the decorating in a minute. Let's talk about the flavor in these cookies.
Just because we're using an easy dough and frosting recipe doesn't mean we're going to skimp on flavor. A cookie can be beautiful and easy to make, but if it doesn't taste good, why bother??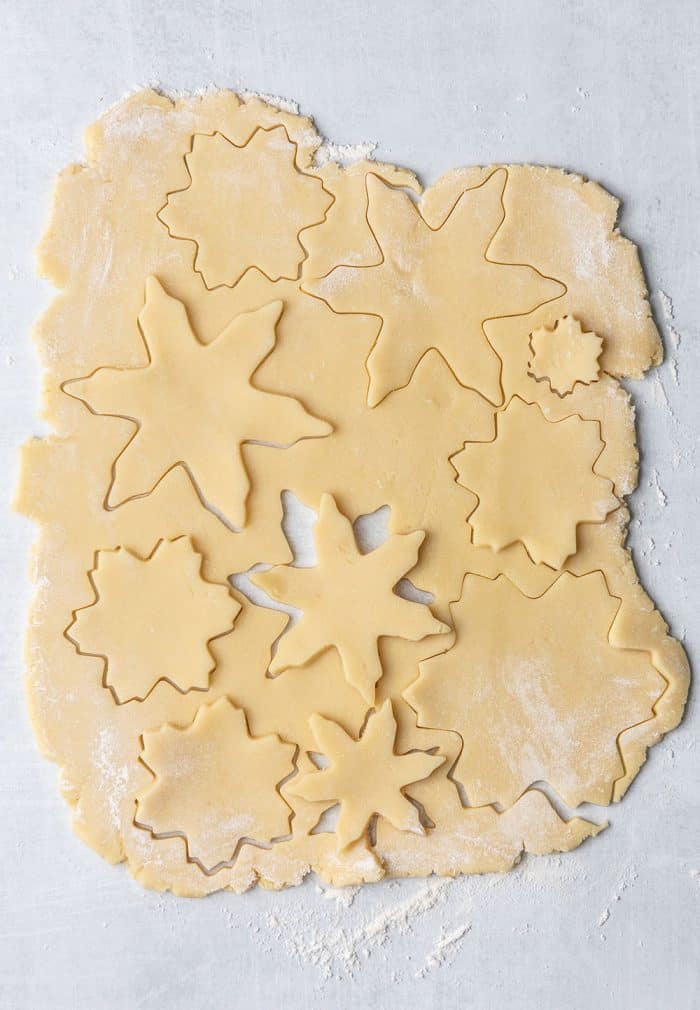 When I make cut-out sugar cookies, I want them to have a sweet, buttery flavor. That means that I reach for my favorite Challenge butter when I'm gathering my ingredients.
Challenge butter is churned daily from the freshest milk and made without any artificial preservatives, fillers, or dyes, so it adds the best butter flavor possible to my sugar cookies and frosting. When paired with the sweetness of the sugar and pure vanilla extract, the flavor of these Snowflake Sugar Cookies can't be beat!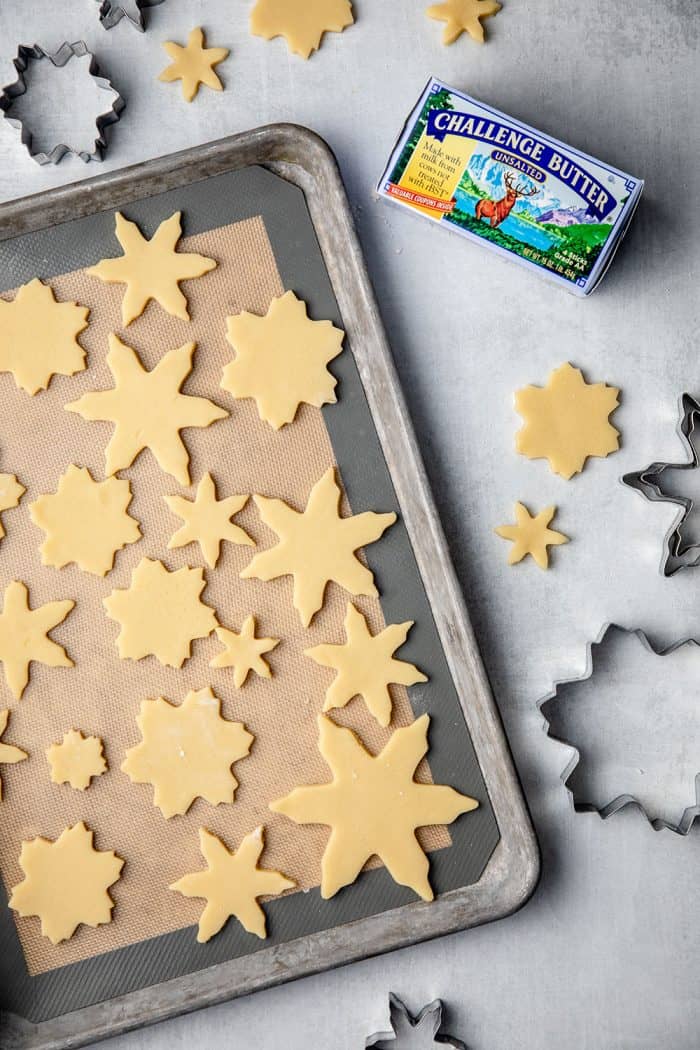 DECORATING IDEAS FOR SNOWFLAKE SUGAR COOKIES
You need just a handful of things to make these pretty snowflake cookies:
A batch of my decorated sugar cookie dough
A batch of my buttercream frosting
Snowflake-shaped cookie cutters
A set of assorted decorating tips
Piping bags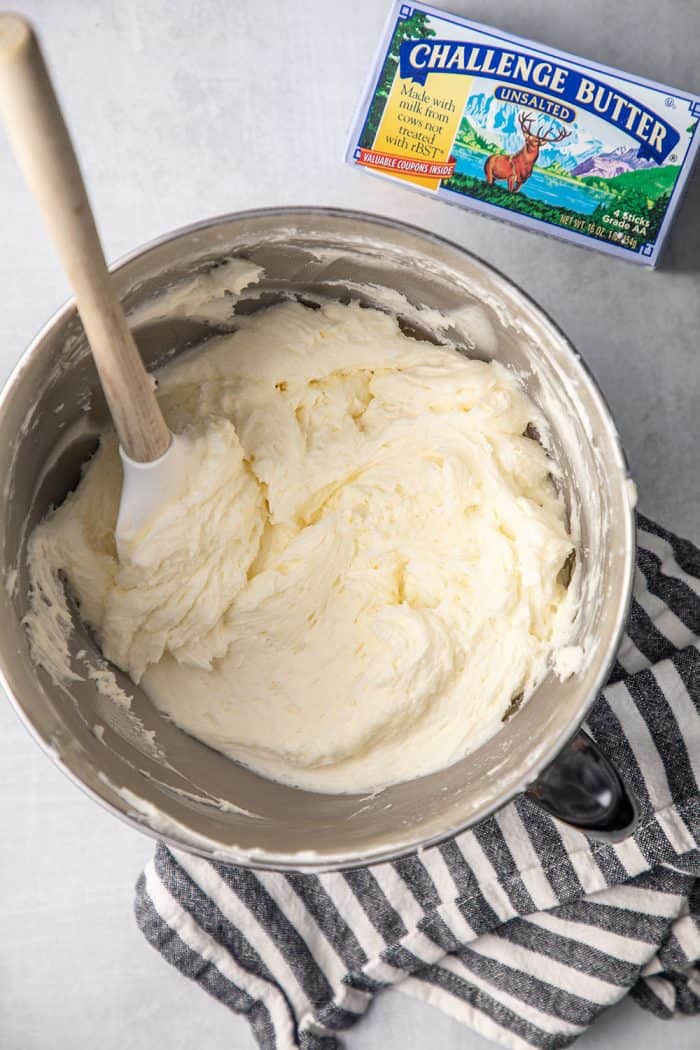 Since snowflakes are white, you don't even need any food coloring!
To make these cookies, cut out a variety of snowflake shapes and bake according to the recipe.
Load your frosting into a few piping bags fitted with a few different decorating tips. If you don't have piping bags, you can cut the corner off of a gallon-size zip-top bag and use that instead!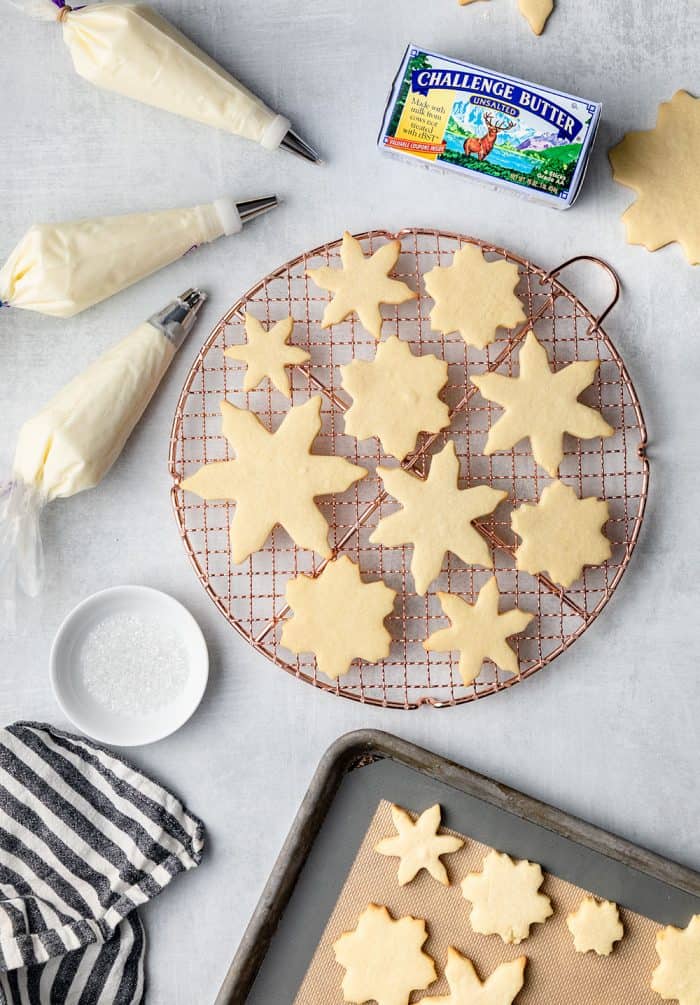 Once the cookies have fully cooled, pipe dots of the frosting onto the cookies using the different tips. The various tips will make an assortment of star and dot shapes on the cookies that will look pretty and wintery when the cookie is finished.
If you want to go the extra mile, you could sprinkle on some white sparkling sugar or add some sugar pearls, but I think they're quite pretty with just the frosting.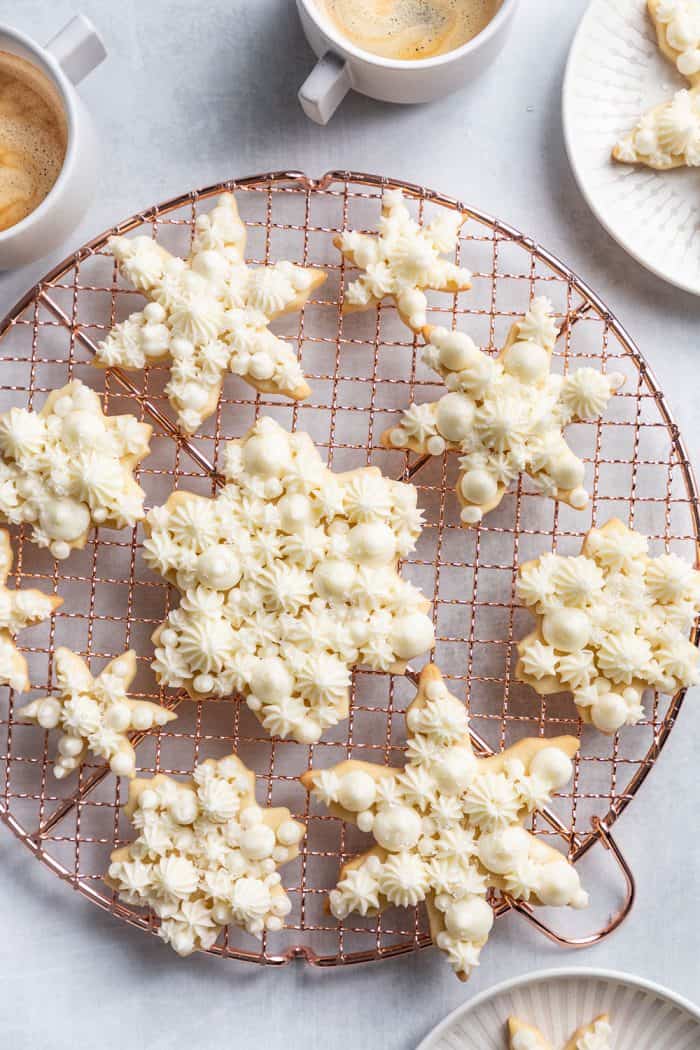 HOW TO PACKAGE THESE DECORATED COOKIES FOR GIFTING
If you're making these pretty Snowflake Sugar Cookies, you probably want to gift them to friends and neighbors, right?
Let the cookies rest on a rack or a board for a couple of hours until the frosting has crusted up.
You can then very gently package them up to gift. If you really want to make sure none of the frosting gets messed up, I would grab a few large bakery-style boxes from your local craft store. Then you can place them side-by-side in the box and tie it all up with a ribbon.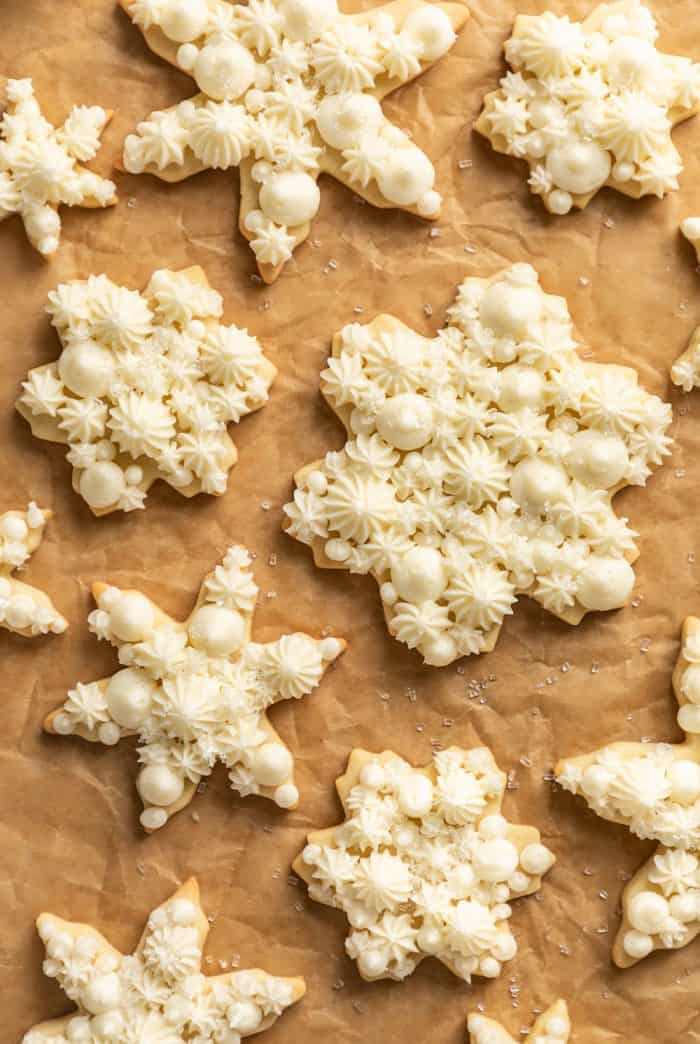 If you have to stack the cookies, do so very gently and don't stack them more than 2 high. Otherwise the weight of the top cookies will smash the frosting on the bottom cookies.
You could also arrange a few on a cute holiday plate and include that as part of your gift!
Whether you gift these pretty Snowflake Sugar Cookies or keep them all for yourself, I hope you enjoy making and decorating them as much as I did.