Halloween Monster Cookies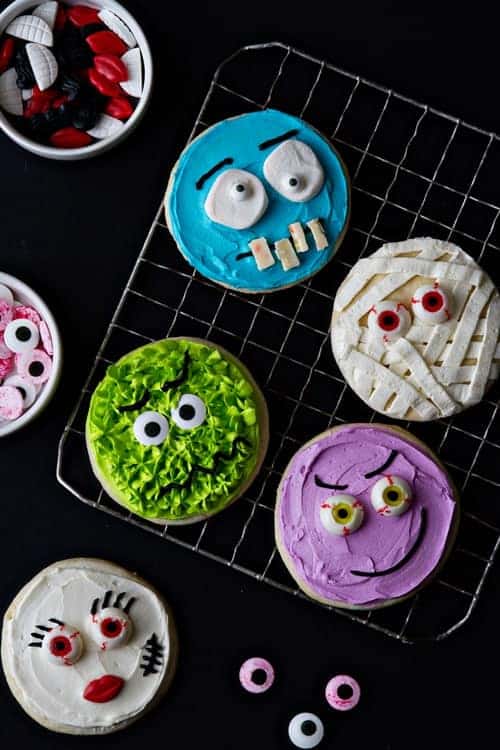 Halloween just got a little cuter with these neon-hued, super silly decorated monster cookies.
I don't do scary – nope, not this girl. I can't even watch the Walking Dead for longer than 5 minutes without nightmares for days. And I'm pretty proud to say that I've made my way through a ton of haunted houses without ever opening my eyes. In high school, I had a pretty solid game plan of strategically positioning myself in line and latching onto the person in front of me. Worked like a charm.
When the lovely folks at Challenge Butter asked me to create a Halloween inspired treat, I knew I wanted to make sweet, buttery sugar cookies. However, since I possess zero royal icing skills, I knew I'd be slathering and decorating them with my favorite buttercream recipe.
If you've followed MBA for any length of time, you are aware that I can't even do a teeny bit creepy for Halloween, so I pretty much cute-ify everything instead. While other blogs are creating spooktacular bloody cakes and witch finger cookies, this girl is busy making adorable spider cupcakes (yes, I just used the words adorable and spider in the same sentence) and Candy Corn Oreo milkshakes.
My latest Halloween recipe attempt is super cute, not ghoulish decorated Monster Cookies. As you can see, they turned out a little more like slightly spooky muppets. I mean, I colored them with neon gel dye for crying out loud. And I know you see a slightly less grouchy version of Oscar the Grouch, dontcha? That mummy with the bloodshot eyes – he's about as scary as I get.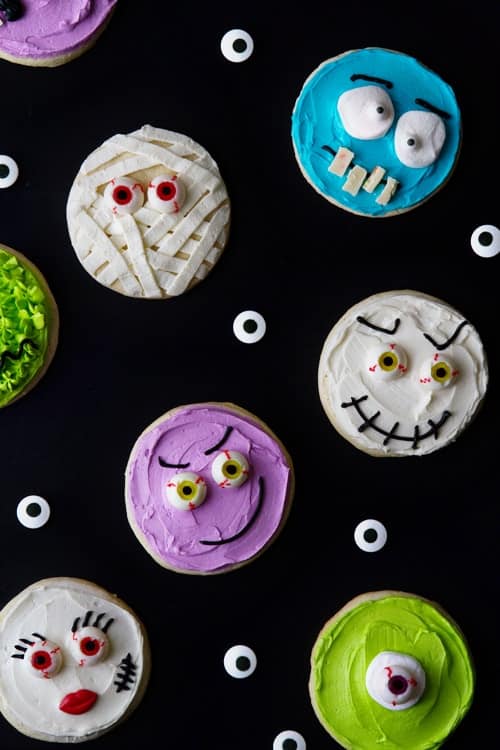 But I have to admit, I had a ton of fun coming up with each individual monster. And I really adore how bright and festive these guys are. Can't you just imagine them served up on pretty Halloween plates for a costume party dessert tablescape?
I'm super happy with the buttercream recipe too. Exceptionally textured, perfectly sweet and buttery, and it set up just right for slathering all over these crisp sugar cookies.
If you've never tried Challenge Butter – you most definitely should. It's made with 100% real cream and nothing else – nothing artificial here! The cream comes from cows not treated with the Growth Hormone rbST. While the jury is still out on that whole situation, I prefer to err on the side of caution, especially where Elle is concerned. So I'll reach for that label every single time.
I can feel good about making recipes with Challenge Butter, and now that Elle's eating solids here and there, treating her to a tiny taste of mama's favorite buttercream is a sweet memory for both of us. The quality of Challenge Butter can't be beat, and it's the perfect butter for baking and frosting making.
Make these Halloween Monster Cookies for an after school treat, a party tray, or just because. The kids will love adding eyes, teeth, and mustaches to your creations, and maybe even drawing on eyebrows too. It can be a fun afternoon activity when it gets a bit too chilly outside for hide and seek! (Which is also about as scary as my childhood past times got too.)
Disclosure: This post is sponsored by Challenge Butter. The views and opinions expressed on My Baking Addiction are my own, and based upon my experiences with Challenge Butter products.
This post may contain affiliate links. We are a participant in the Amazon Services LLC Associates Program, an affiliate advertising program designed to provide a means for us to earn fees by linking to Amazon.com and affiliated sites.