Halloween just got a little cuter with these neon-hued, super silly Halloween Monster Decorated Sugar Cookies.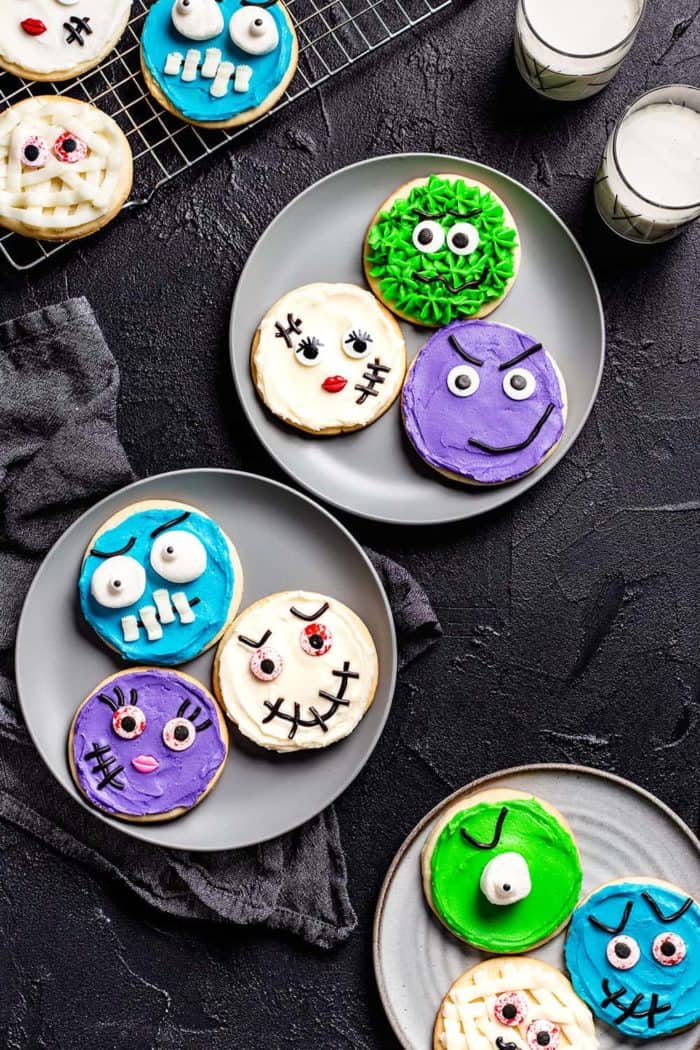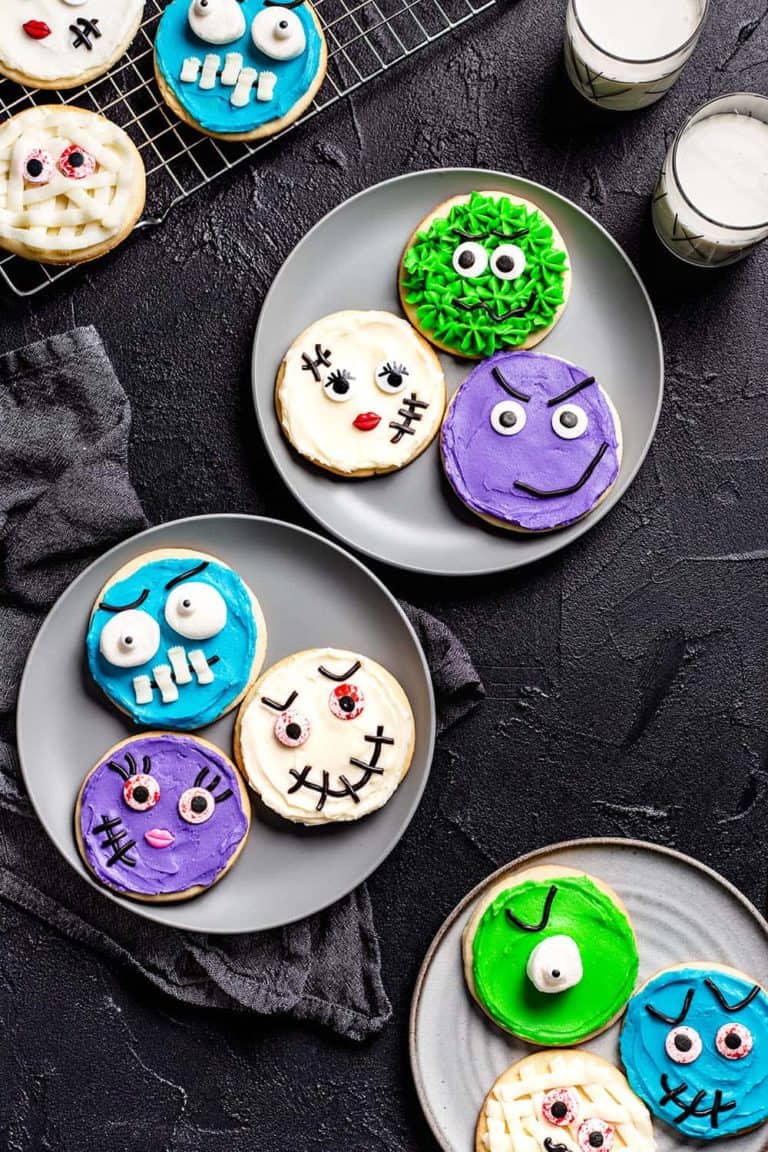 I don't do scary – nope, not this girl.
I couldn't even watch the Walking Dead for longer than 5 minutes without nightmares for days. And I'm pretty proud to say that I've made my way through a ton of haunted houses without ever opening my eyes.
In high school, I had a pretty solid game plan of strategically positioning myself in line and latching onto the person in front of me. Worked like a charm.
If you've followed this site for any length of time, you are aware that I don't really do creepy for Halloween, so I pretty much cute-ify everything instead.
While other blogs are creating spooktacular bloody cakes and witch finger cookies, this girl is busy making adorable spider cupcakes (yes, I just used the words adorable and spider in the same sentence) and Candy Corn Oreo milkshakes.
This year, I'm making super cute, not ghoulish, Halloween Monster Decorated Sugar Cookies.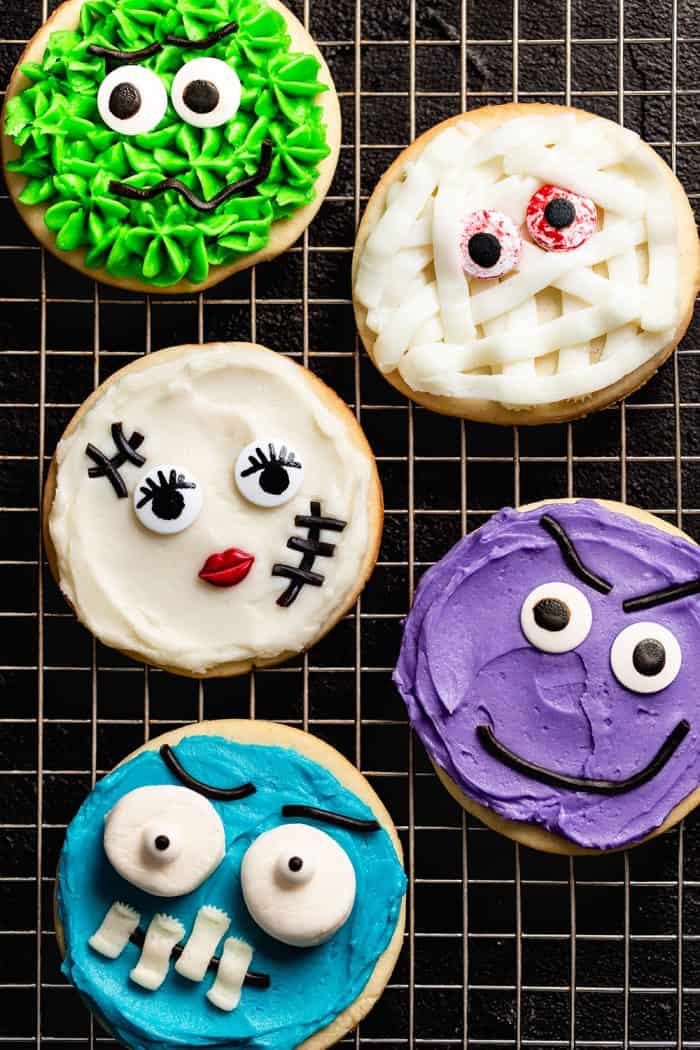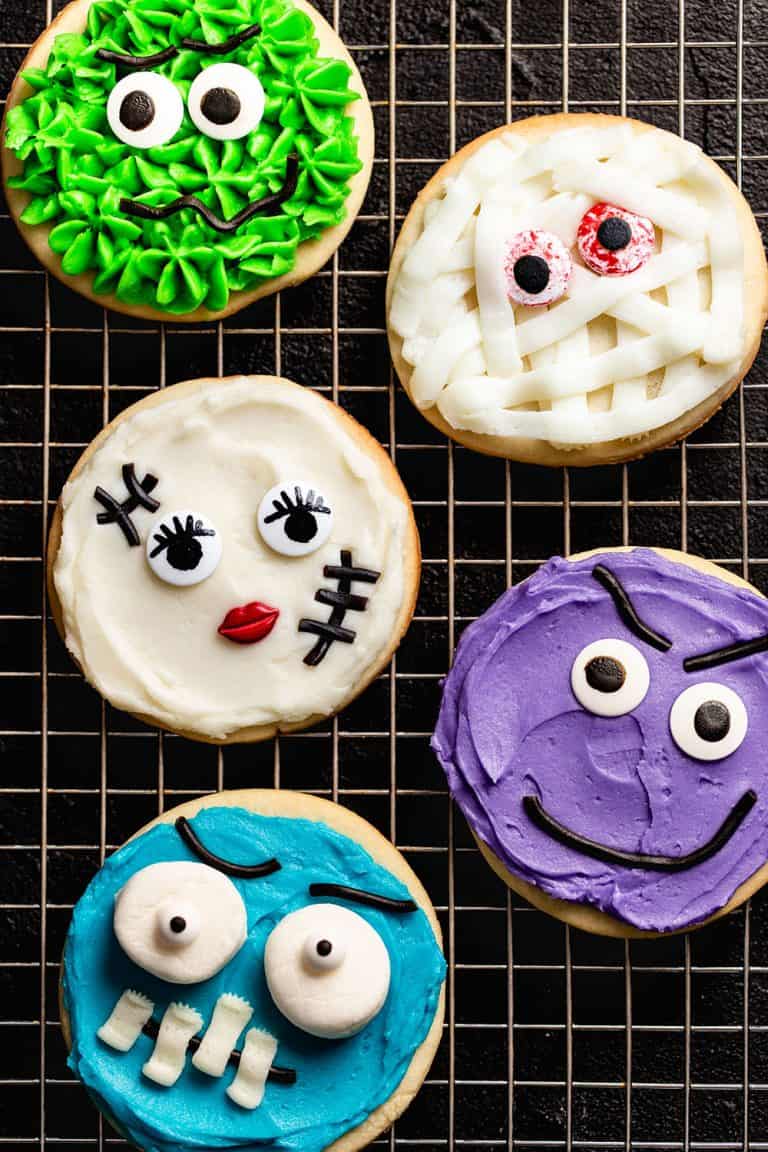 EASY DECORATED SUGAR COOKIES
I'll be honest with you: I possess zero royal icing skills.
So when I decided to make these Halloween Monster Decorated Sugar Cookies, I knew I'd be slathering and decorating them with a version of my homemade buttercream frosting.
It's an easy-to-make frosting recipe that's the perfect balance of sweet and buttery, thanks to Challenge butter, and pairs so well with the crisp cut-out sugar cookies.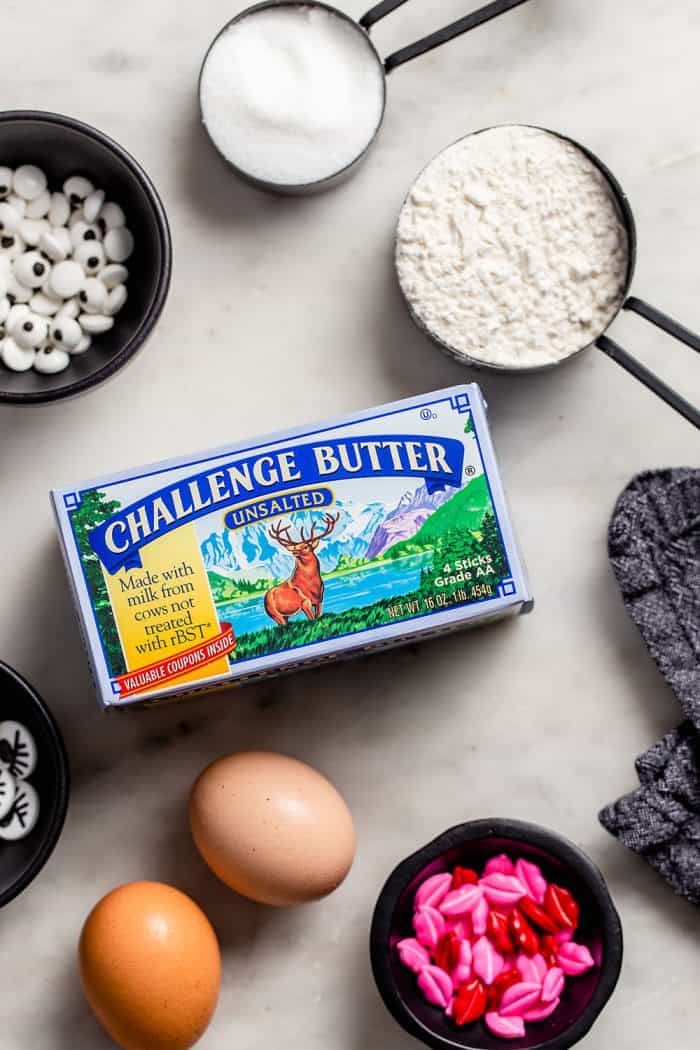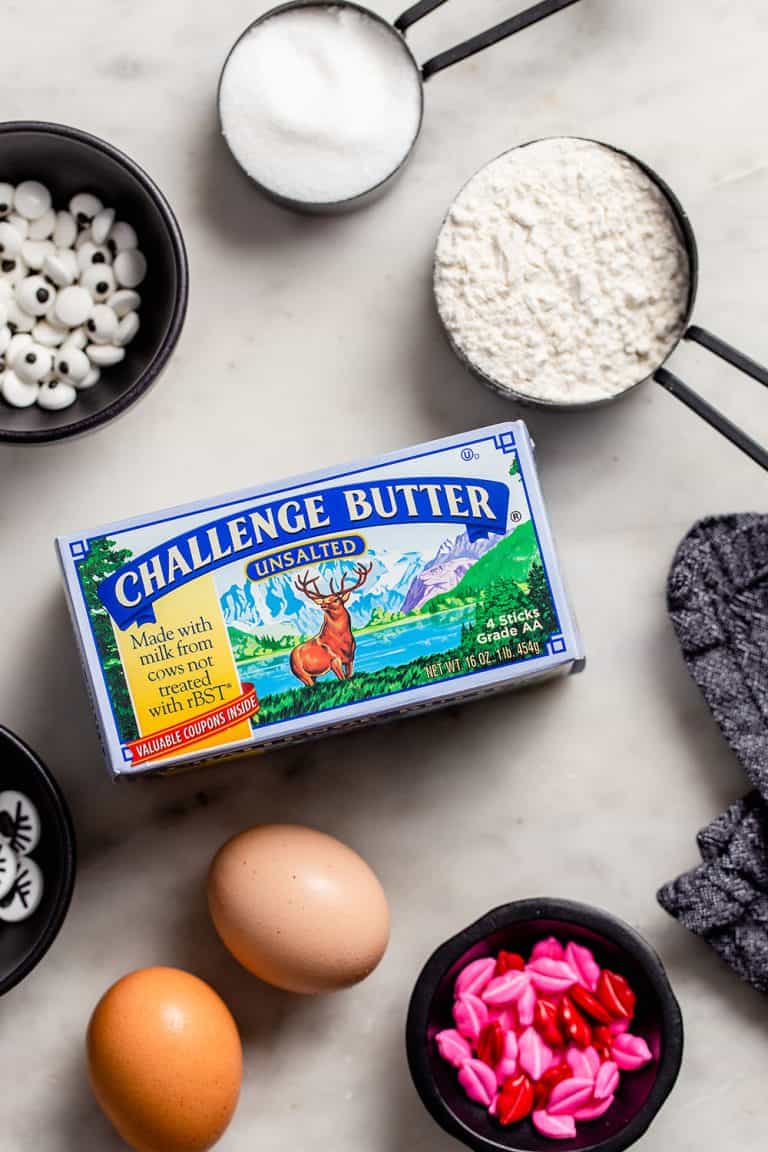 I think that getting that balance of sweetness and butteriness just right is the key to an excellent decorated sugar cookie. Because this recipe uses Challenge butter in both the cookie and the frosting, the butter flavor is spot on and is balanced by just the right amount of sugar.
To make this recipe even easier, I am using a no-chill sugar cookie recipe. You can roll, cut, and bake the cookies right after mixing the dough, without having to account for any chilling time.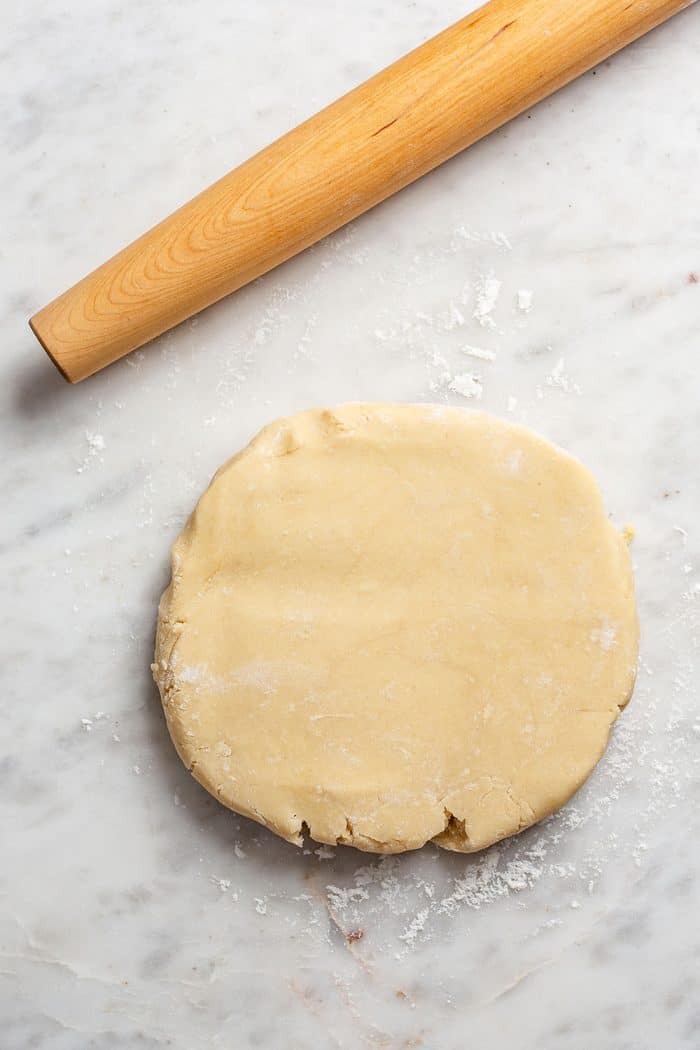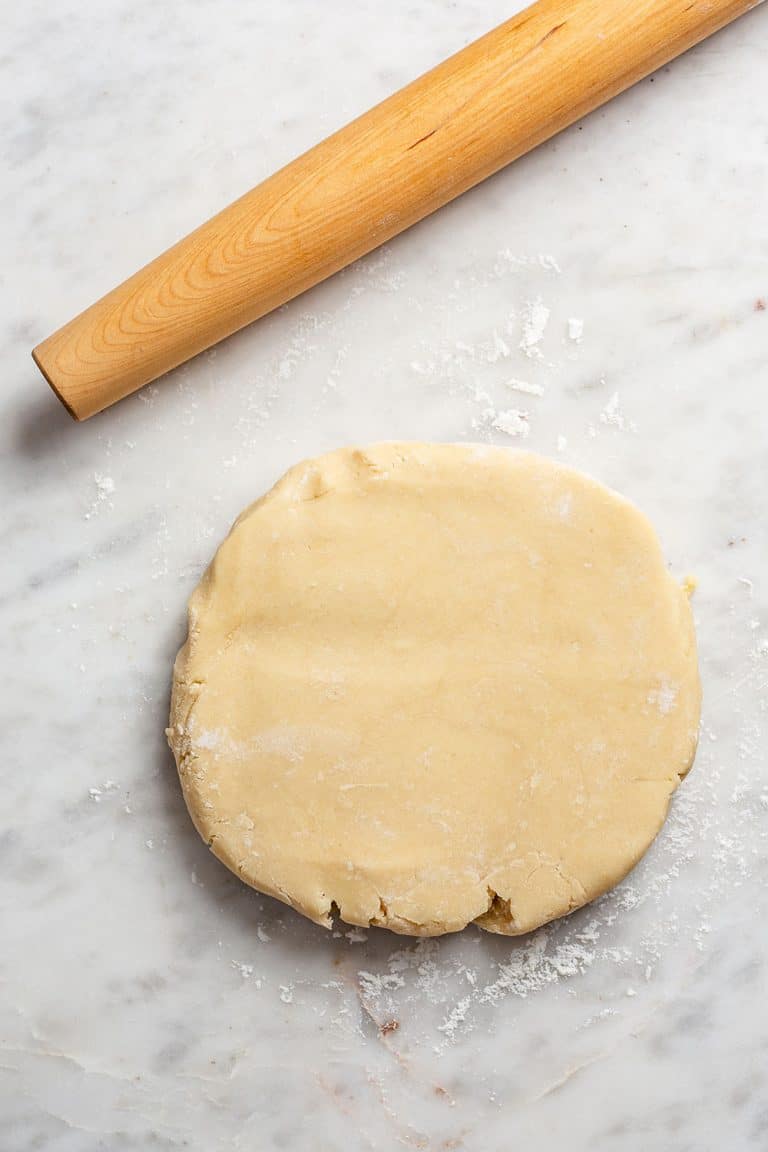 HOW TO DECORATE HALLOWEEN MONSTER SUGAR COOKIES
I'll be the first to admit that Halloween monsters might be the perfect way for me to decorate cut-out sugar cookies. After all, if it turns out a little…let's say "less than perfect"…you can just say that it's a really "scary" monster.
But I have to admit, even with my limited decorating abilities, I had a ton of fun coming up with each individual monster. And I really adore how bright and festive these guys are.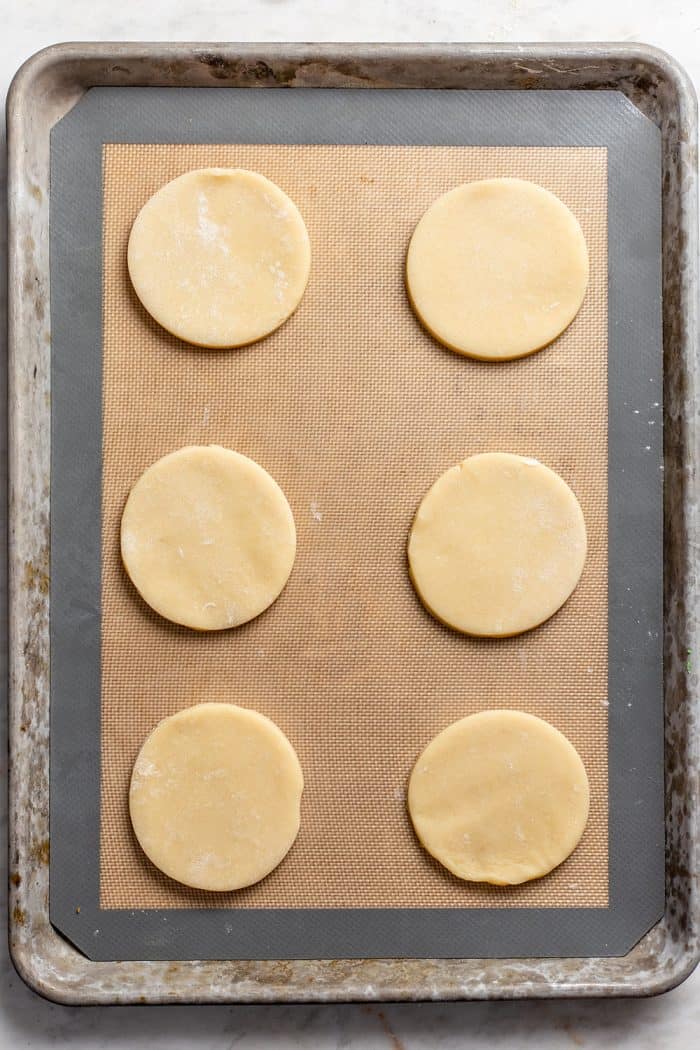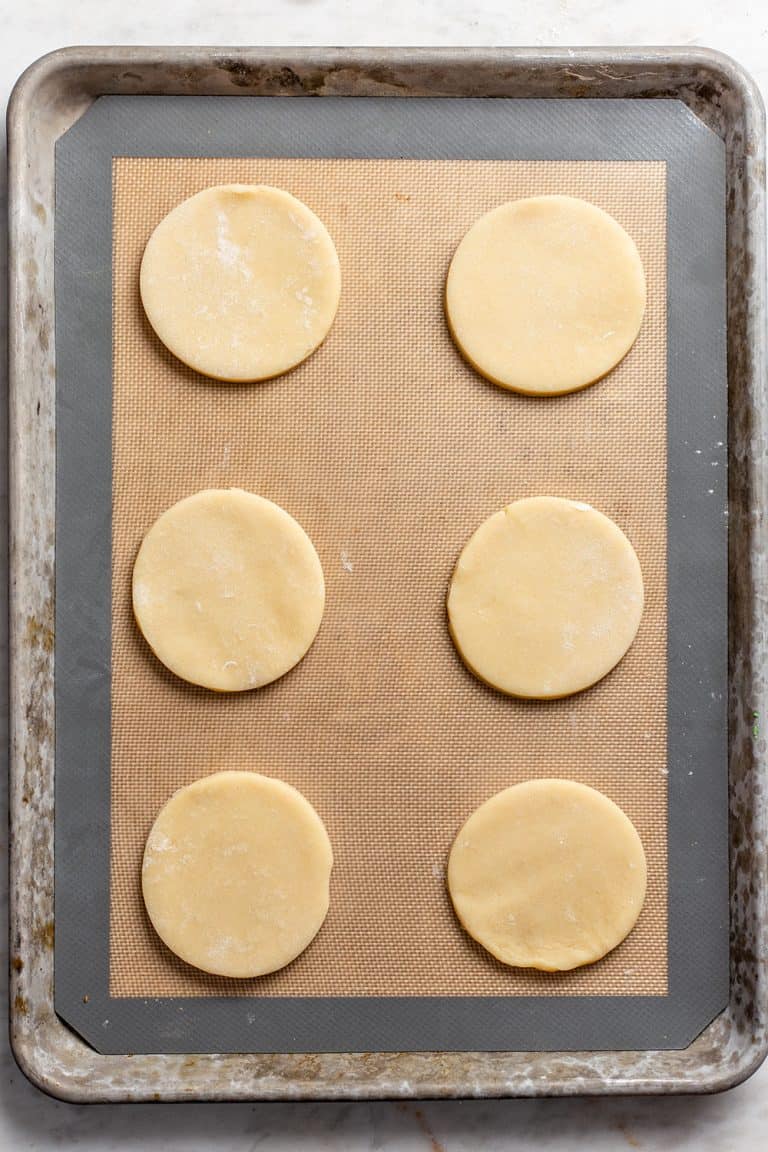 To decorate these cookies, start by separating out your buttercream frosting into a few bowls and using gel food coloring to color it any hue you like. Blue, purple, green, black, or even leaving some of it white…anything goes here!
Use an offset spatula or butter knife to spread the frosting onto the cooled cookies or use any piping tips you happen to have to pipe on the frosting.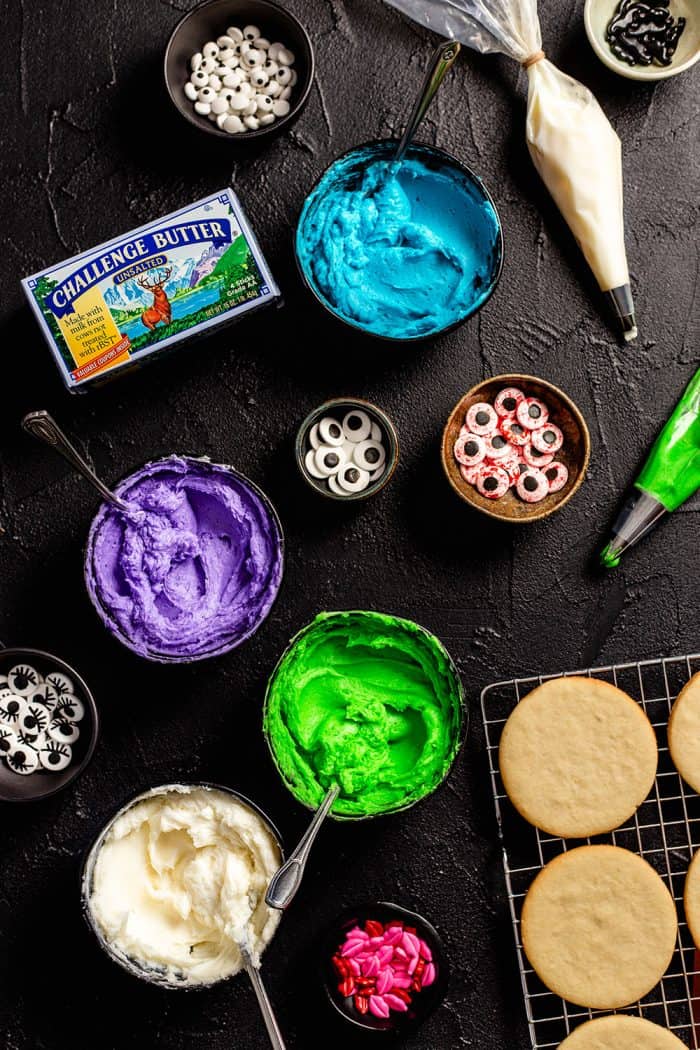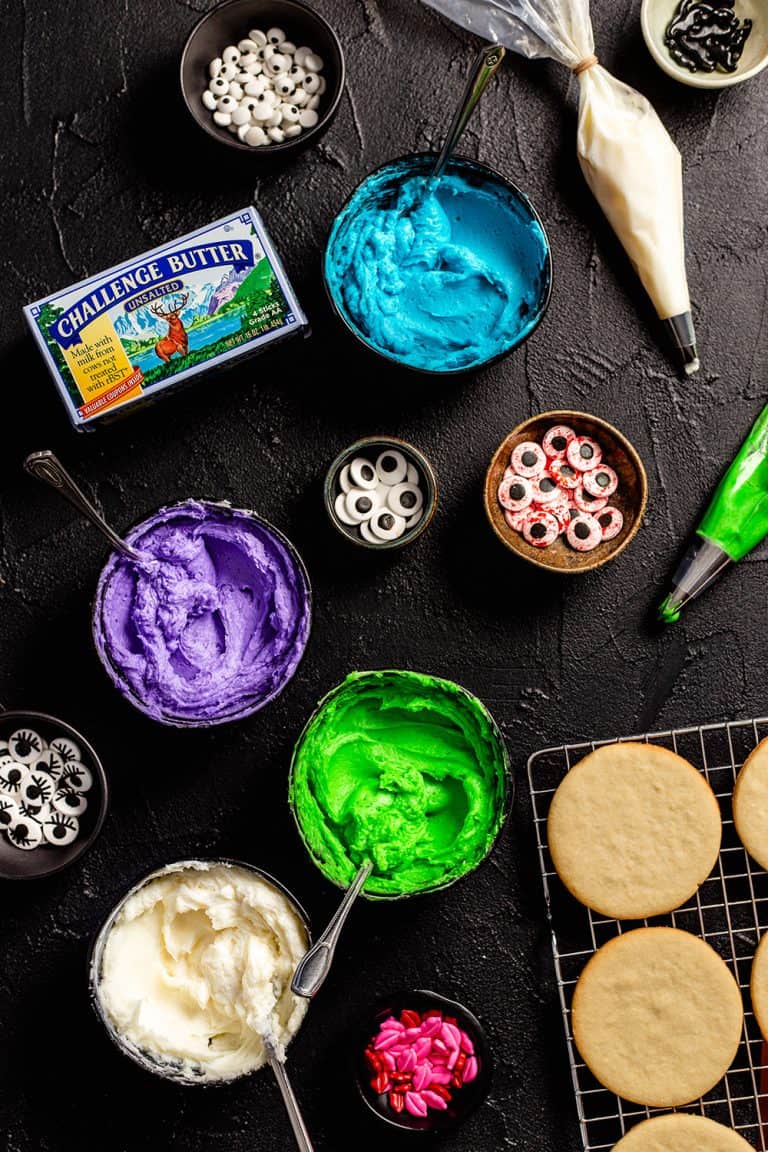 Star tips make great "fur" and basketweave tips are perfect for making mummy "bandages."
Remember, even if you mess up the piping, you can just say that you created a new kind of monster!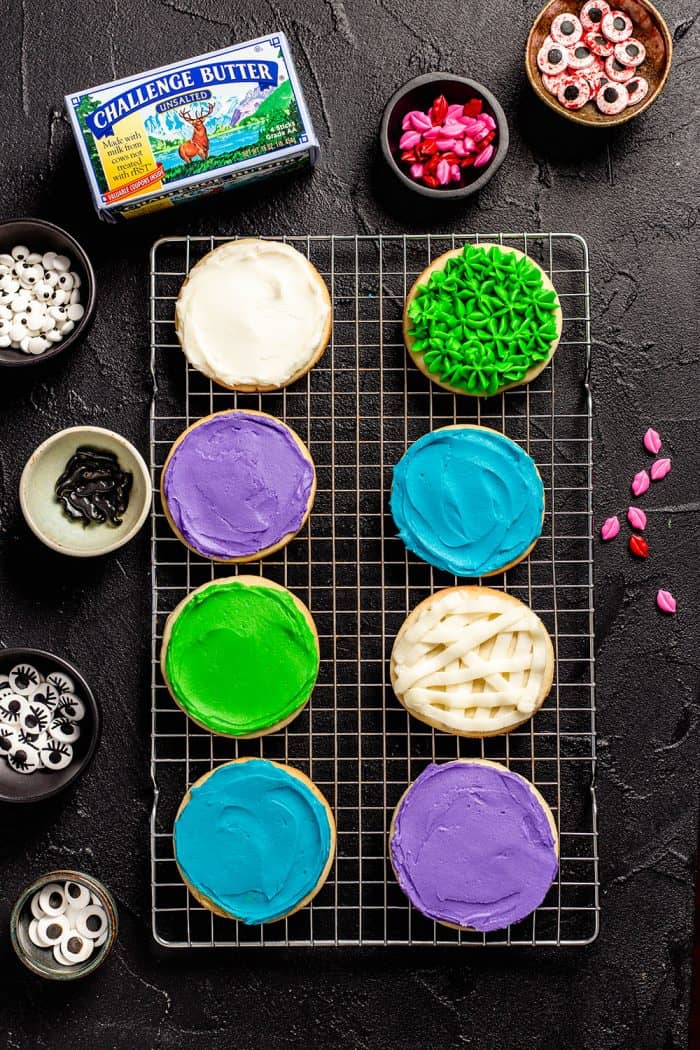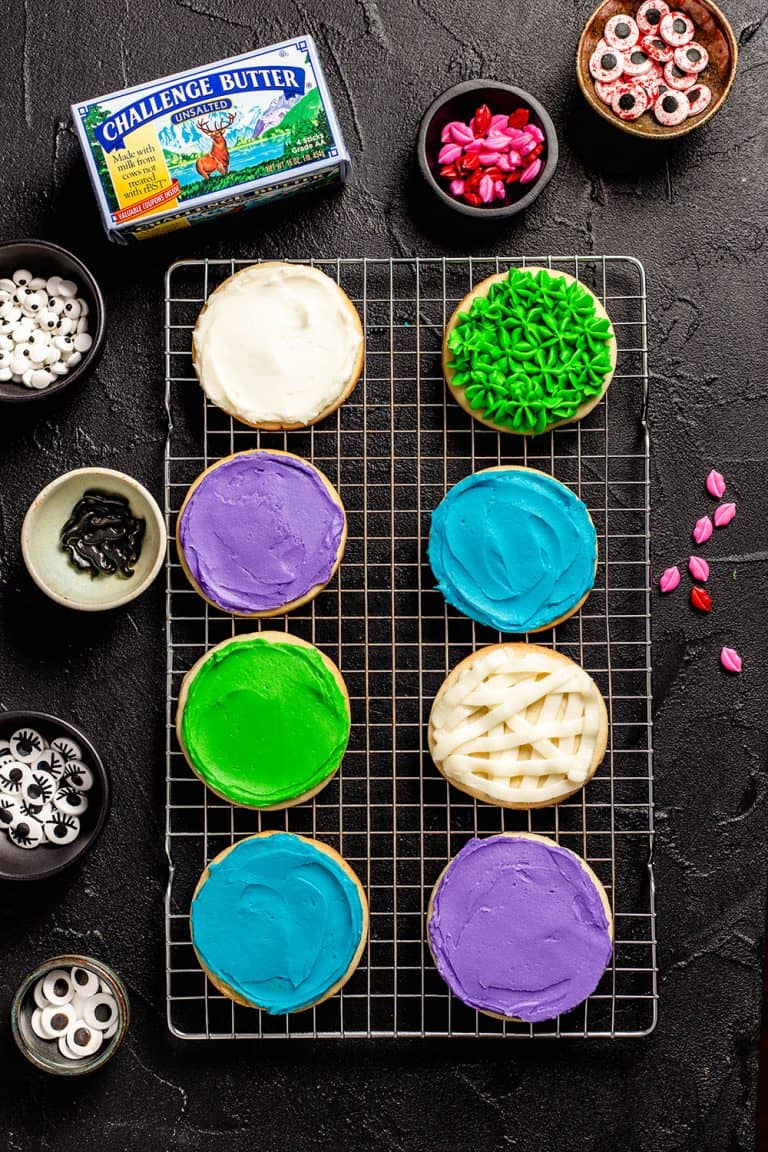 Now it's time to add some candy decorations. Candy eyes, candy lips, black licorice laces are all super fun to use. Even candy you already probably have around the house such as mini marshmallows and chocolate chips could work!
These decorations are meant to be fun, especially if they're a bit imperfect. Just think of how much fun it would be to set out cookies, different colored frosting, and candy decorations and let your kids' imaginations run wild!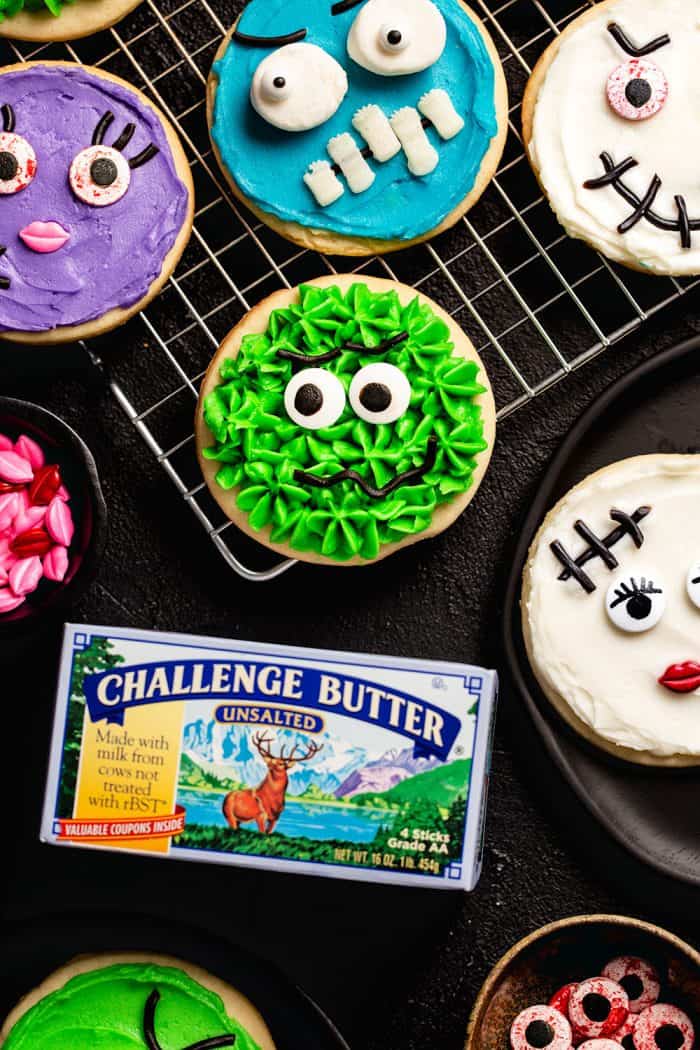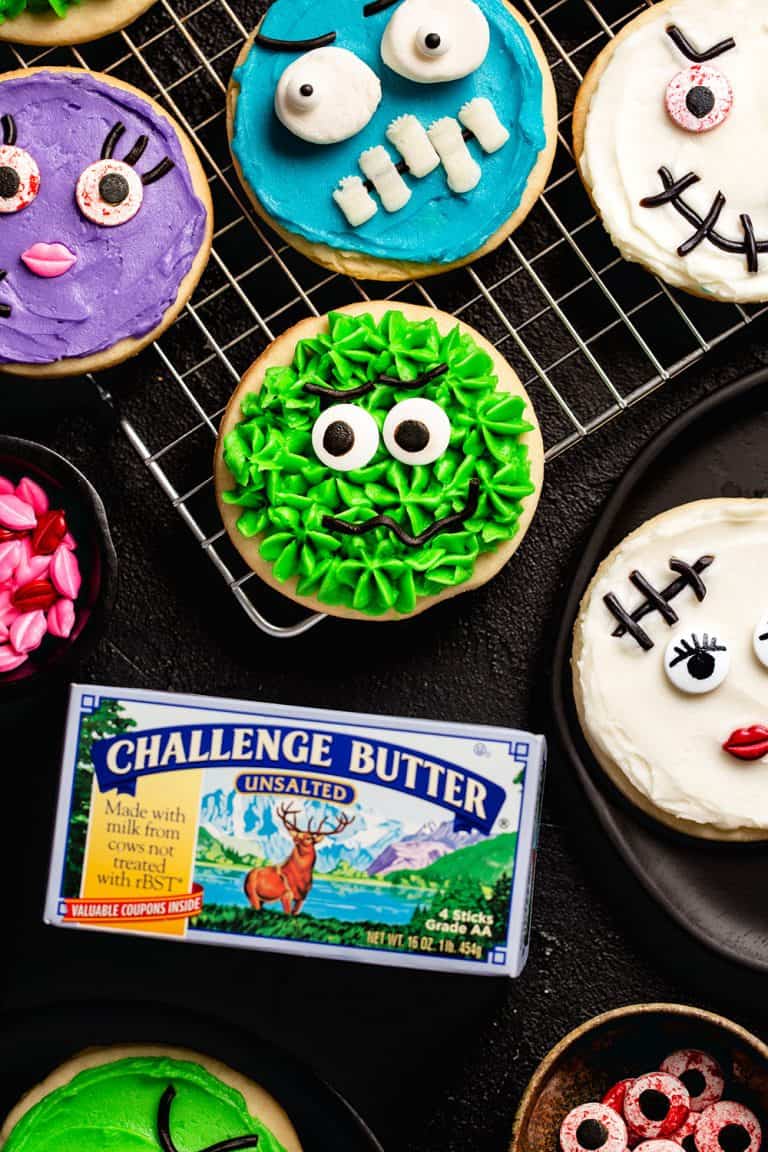 HOW TO STORE DECORATED SUGAR COOKIES
One of the things I love most about Halloween Monster Decorated Sugar Cookies is that they last a while. I've had them stay good for up to a week without getting stale or soft when kept in an airtight container.
Now, the buttercream frosting won't get hard like royal frosting will, but it will crust up enough to gently stack these cookies. If you're stacking them, I recommend putting a piece of parchment paper between each layer.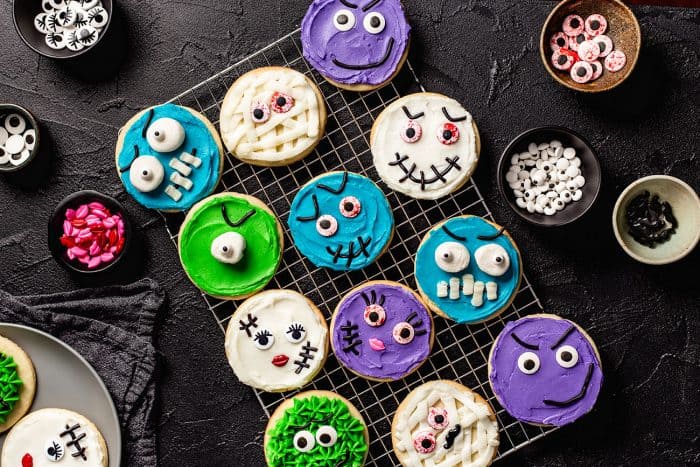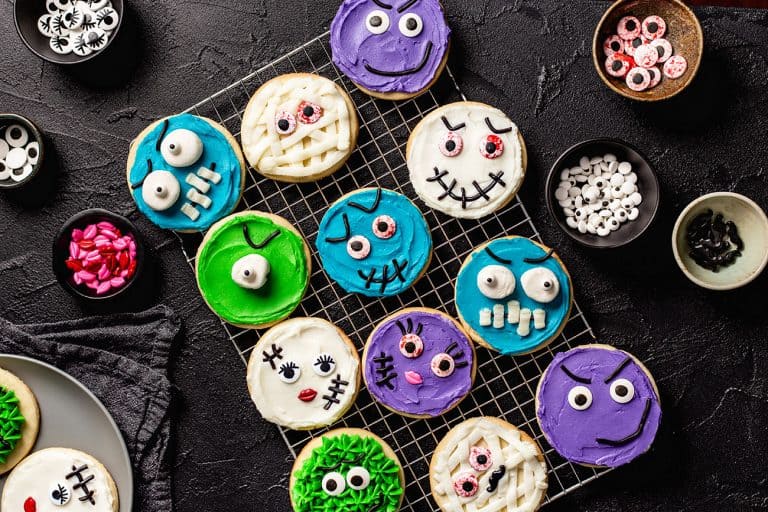 You could even put them in individual Halloween bags if you'd like for easy delivery to friends and neighbors.
I have also frozen the frosted sugar cookies successfully. Depending on what candy decorations you choose to use, some candies may not freeze or thaw well, so do be mindful of that before freezing.
Not that I expect you have many of these cute little cookies left – they're just as delicious as they are adorably spooky!