Halloween Cupcakes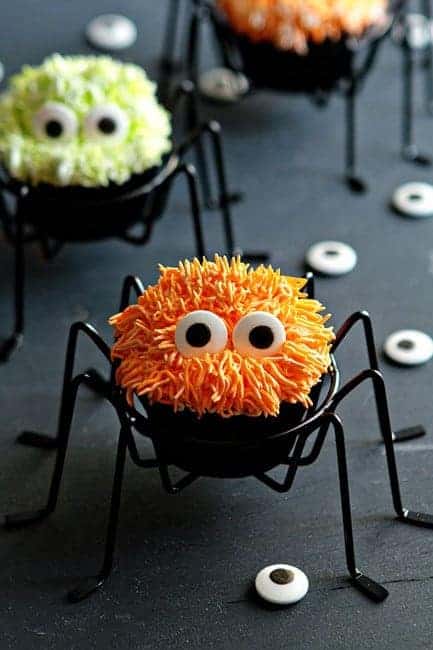 Two simple and cute Halloween Cupcake creations that are perfect for any Halloween party.
One of my biggest character flaws is my inability to be punctual. Yep, I'm that person that shows up to pretty much everything at least five minutes late. It's a thing – a quirk if you will, that annoys just about everyone in my life.
Admittedly, I take longer than average to get ready. I'm a dilly-dallier, that likes to watch YouTube while I put on makeup and I can never decide on what to wear – ever. If Eric sees my curling iron plugged in, he knows it's gonna be awhile. Again, it's a thing.
Ya see, my dad snapped a photo of these spider cupcakes after he happened upon them at a local grocery store. I fell head over heels for their super cute, almost Muppet like look. I immediately hopped online and purchased the spider cupcake stands from Amazon, with the intention of having them made and posted by mid-October. Yeah, clearly that didn't happen.
I'll tell ya what did happen though – leftover frosting and cupcakes, so naturally, ghost cupcakes had to become a reality!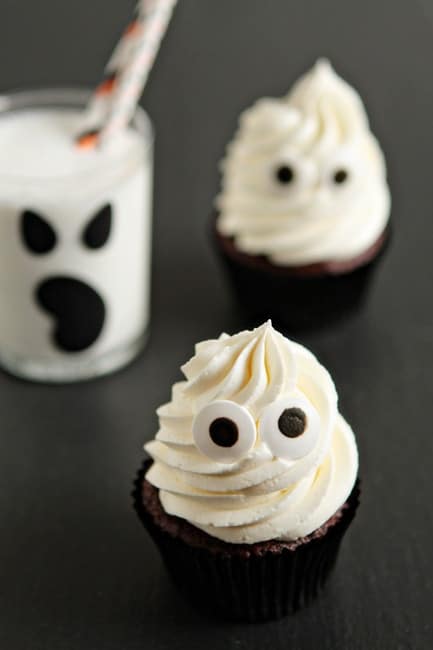 Let's view these Halloween cupcakes as last minute inspiration for all of you procrastinators out there. They're super delicious, and in my opinion, couldn't be cuter. Plus, with a little help from a Doctored Up Cake Mix, you can totally pull them off one day before Halloween!
Product Information – Spider Cupcakes
– black cupcake liners
– gel paste food coloring
– Wilton 233 Piping Tip
– Wilton Candy Eyes
– Spider Cupcake Stands (alternately you can use Wilton Licorice Strings)
Product Information – Ghost Cupcakes
– black cupcake liners
– large star piping tip
– Wilton Candy Eyes
Halloween Cupcakes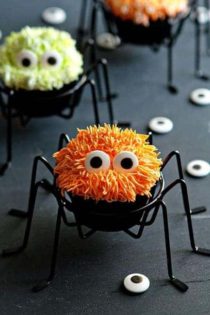 Ingredients:
1 (15.25 ounce) package devil's food cake mix (see note below)
1 (3.4 ounce) package instant chocolate pudding mix
3/4 cup sour cream
3/4 cup vegetable oil
3 large eggs, lightly beaten
2 teaspoons pure vanilla extract
1 tablespoon instant espresso granules dissolved in 1/2 cup warm water (see note below)
Directions:
Preheat oven to 350 degrees F. Line muffin tin with paper liners or spray with non-stick cooking spray.
In the bowl of a stand mixer, fitted with the paddle attachment, or with a hand mixer in a large bowl, beat together the cake and pudding mixes, sour cream, oil, eggs, vanilla and espresso water mixture. Beat for about two minutes on medium speed until well combined.
Using a large cookie scoop, distribute the batter between 24 muffin wells; about 3 tablespoons of batter per well.
Bake in preheated oven for 18-22 minutes or until the tops of the cakes spring back when lightly touched. Allow cupcakes to cool inside muffin tins for about 10 minutes.
Remove cupcakes from muffin tins and allow to fully cool on a wire rack. Once cupcakes are cool, top with your favorite buttercream recipe.
Notes:
My favorite Devil's Food Cake is Betty Crocker – Pudding in the mix.
If you don't have instant espresso granules, you can sub in 1/2 cup warm coffee.
The espresso in this recipe really just deepens the chocolate flavor, but if you aren't into the whole coffee thing, just use 1/2 cup warm water.
If you are using a different flavor of cake mix and pudding, simply omit the espresso granules and simply use 1/2 cup warm water.
All images and text ©
Follow Jamie on Instagram. We love to see what you're baking from MBA! Be sure to tag @jamiemba and use the hashtag #mbarecipes!
This post may contain affiliate links. We are a participant in the Amazon Services LLC Associates Program, an affiliate advertising program designed to provide a means for us to earn fees by linking to Amazon.com and affiliated sites.