Two simple and cute Halloween Cupcake creations that are perfect for any Halloween party.
One of my biggest character flaws is my inability to be punctual. Yep, I'm that person that shows up to pretty much everything at least five minutes late. It's a thing – a quirk if you will, that annoys just about everyone in my life.
Admittedly, I take longer than average to get ready. I'm a dilly-dallier, that likes to watch YouTube while I put on makeup and I can never decide on what to wear – ever. If Eric sees my curling iron plugged in, he knows it's gonna be awhile. Again, it's a thing.
Ya see, my dad snapped a photo of these spider cupcakes after he happened upon them at a local grocery store. I fell head over heels for their super cute, almost Muppet like look. I immediately hopped online and purchased the spider cupcake stands from Amazon, with the intention of having them made and posted by mid-October. Yeah, clearly that didn't happen.
I'll tell ya what did happen though – leftover frosting and cupcakes, so naturally, ghost cupcakes had to become a reality!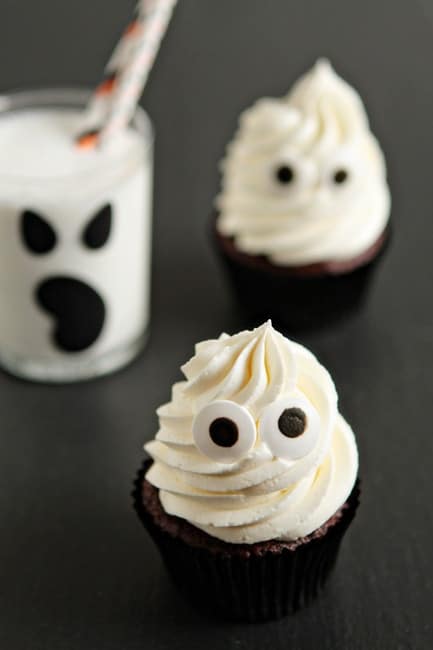 Let's view these Halloween cupcakes as last minute inspiration for all of you procrastinators out there. They're super delicious, and in my opinion, couldn't be cuter. Plus, with a little help from a Doctored Up Cake Mix, you can totally pull them off one day before Halloween!
Product Information – Spider Cupcakes
– black cupcake liners
– gel paste food coloring
– Wilton 233 Piping Tip
– Wilton Candy Eyes
– Spider Cupcake Stands (alternately you can use Wilton Licorice Strings)
Product Information – Ghost Cupcakes
– black cupcake liners
– large star piping tip
– Wilton Candy Eyes