Chocolate cookies with peanut butter chips…do I even need to write anything else? Seriously, I have said it many times…I am not a huge chocolate fan, but when chocolate is paired with peanut butter…I am all over it! These cookies caught my eye while browsing allrecipes.com and now my cookie recipe rotation will never be the same again!
Yup folks, this is a winner, a real winner they are chocolatey, soft and all kinds of delicious! Brian rated them a 10, but he rates most chocolate based cookies a 10 (I truly don't even know why I bother to ask anymore)…I rate them a 7, but they may teeter on an 8 fresh outta the oven when they are all hot and gooey!
So, if ya have a midweek hankering for something full of chocolatey goodness, get into your kitchen and whip these together tonight!

Peanut Butter Chip Cookies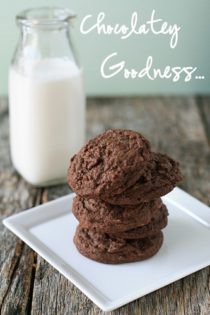 Ingredients:
1 cup butter
1/2 cup peanut butter (creamy or crunchy will work just fine)
1 1/2 cups white sugar
2 eggs
2 teaspoons vanilla extract
2 cups all-purpose flour
2/3 cup unsweetened cocoa powder
3/4 teaspoon baking soda
1/2 teaspoon salt
2 cups peanut butter chips
Directions:
1. Preheat oven to 350 degrees F (175 degrees C). Grease cookie sheets.
2. In a medium bowl, cream together the butter, peanut butter and sugar. Once the butter and sugar are well combined, stir in the eggs and vanilla. Combine the flour, cocoa, baking soda and salt, stir into the creamed mixture. Finally, fold in the peanut butter chips.
3. Drop cookies by heaping teaspoonfuls onto the prepared cookie sheets.
4. Bake for 8 to 10 minutes in the preheated oven, until set. Cool on wire racks.
Notes:
- If you're like me, eat one that's fresh out of the oven… all piping hot and full of gooey goodness.
adapted from allrecipes
All images and text ©
Follow Jamie on Instagram. We love to see what you're baking from MBA! Be sure to tag @jamiemba and use the hashtag #mbarecipes!
[pinit]