It's getting hot here in Ohio and with the heat comes nasty humidity, which means some sweltering afternoons. So, for the second installment of my Clean Out the Pantry series, I decided to make something to alleviate the heat – Rocky Road Ice Cream!
I adapted a recipe from allrecipes to fit what I had in the pantry and fridge. This ice cream came out surprisingly delicious, in fact I think it may be my favorite so far, but I am a huge marshmallow fan!! The ingredients are super simple and I guarantee that many of you bakers have most, if not all the ingredients on hand.
I think you could toss any number of random pantry items in this ice cream and make it even more amazing. Think coconut, dried cherries, pecans… oh the possibilities! Now, get in your kitchen, clean out your pantry and make something delicious!!!
Have a great day and thanks for visiting!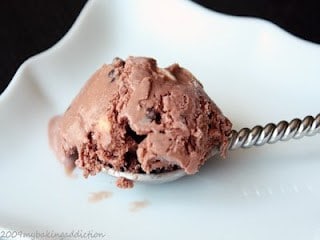 Rocky Road Ice Cream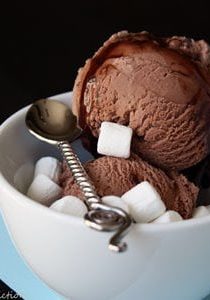 Ingredients:
1 (14 ounce) can sweetened condensed milk
1/2 cup unsweetened cocoa powder
1 1/2 cups heavy cream
1 1/2 cup 2% milk
1 tablespoon vanilla extract
1/2 cup chopped peanuts
1/2 cup miniature chocolate chips
1 cup miniature marshmallows (more for garnish if you desire)
Directions:
1. In a medium saucepan over low heat, cook and stir condensed milk and cocoa until smooth and slightly thickened, about 5 minutes.
2. Remove from heat , and allow to cool slightly. Whisk in heavy cream, milk, and vanilla.
3. Refrigerate until cold.
4. Pour mixture into the canister of an ice cream maker, and freeze according to manufacturer's directions. Stir in nuts, chocolate chips and marshmallows halfway through the freezing process.
adapted from allrecipes
All images and text ©
Follow Jamie on Instagram. We love to see what you're baking from MBA! Be sure to tag @jamiemba and use the hashtag #mbarecipes!
[pinit]