No-churn ice cream is made with 3 simple ingredients, without any ice cream maker required! Enjoy this creamy vanilla ice cream or swirl in your favorite sauces or mix-ins to make it your own.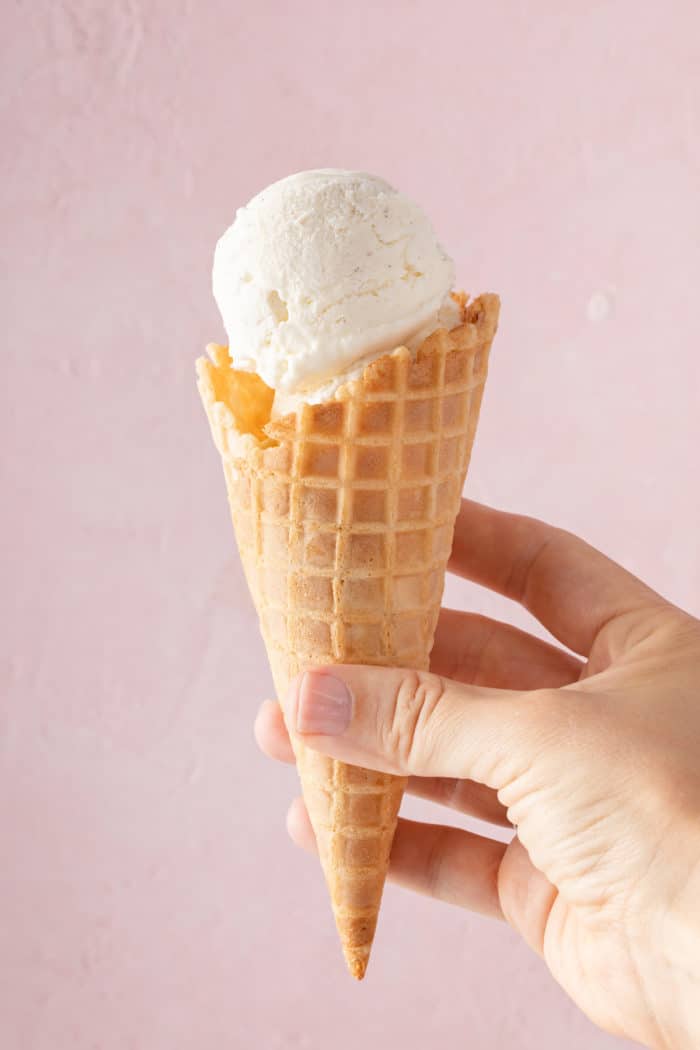 This post contains affiliate links.
It's ice cream season!
It seems like these days you are never too far away from great ice cream, whether you're having it shipped to your house or there's a new boutique ice cream shop opening up in your town.
But just because it's easy to find great ice cream doesn't mean I don't also like making great ice cream at home.
And the absolute easiest way to make a batch of flavorful, creamy ice cream at home? This no-churn ice cream recipe.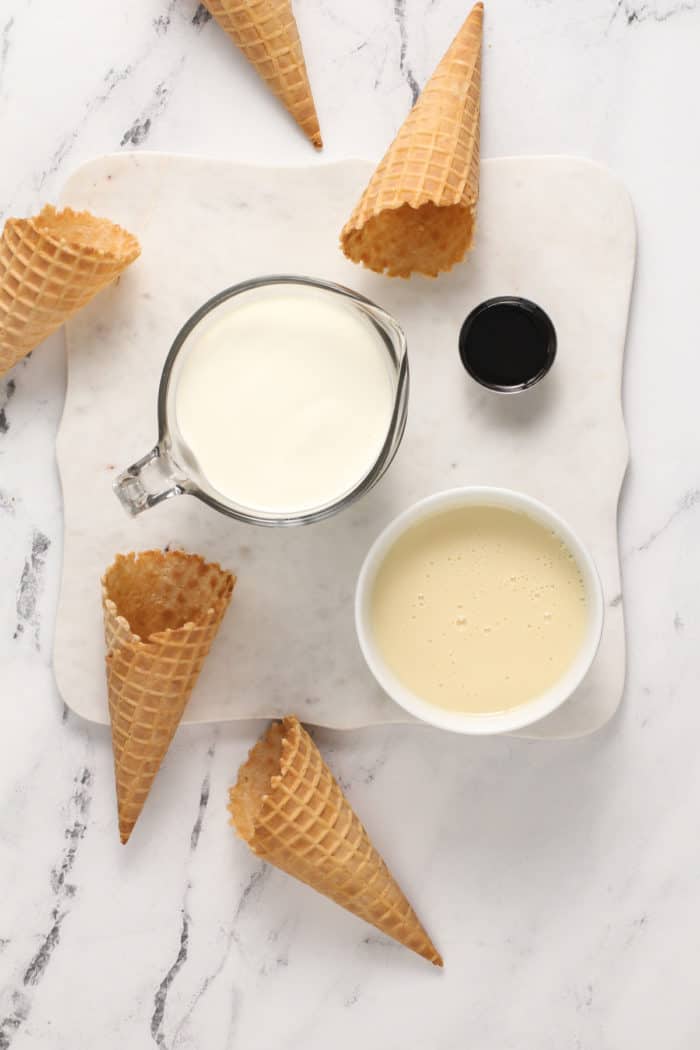 WHAT IS NO-CHURN ICE CREAM?
If you've never tried making ice cream at home, you might not realize there are two main ways you can make homemade ice cream.
Many ice cream recipes require using an ice cream maker. While there are a lot of affordable ice cream makers out there these days, and while I love making recipes like rocky road ice cream and key lime pie ice cream, I don't always want to pull out my ice cream maker.
Thankfully, there is a way to make ice cream at home without any fancy equipment: No-churn ice cream!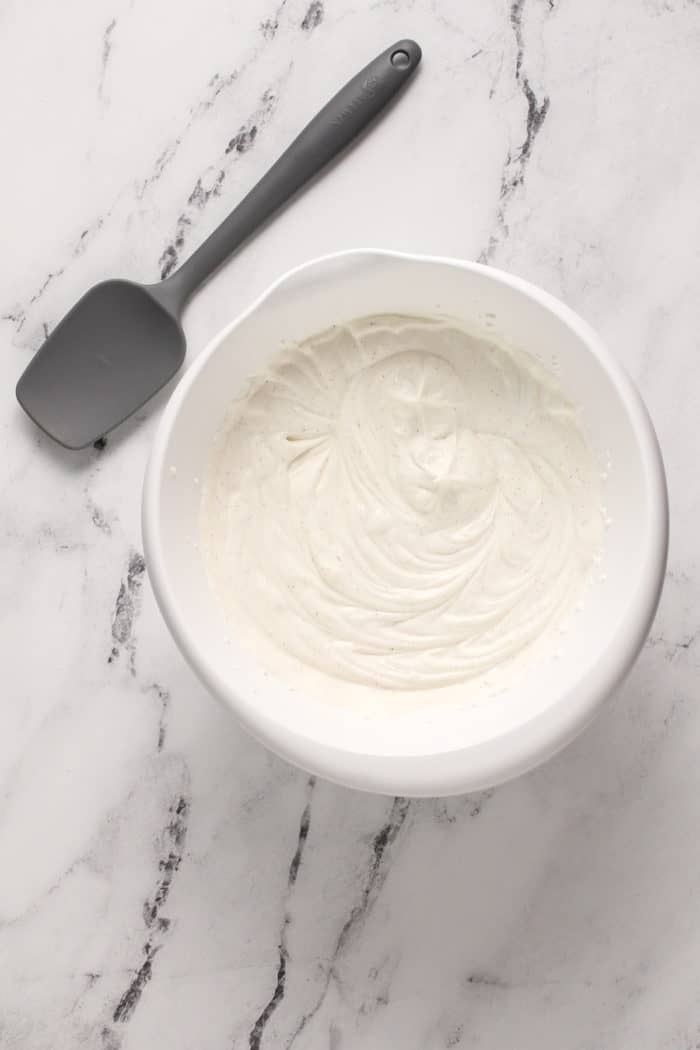 When you make no-churn ice cream, you mix together the ice cream base and put it directly into the freezer to harden. You don't have to churn it in an ice cream machine first.
No-churn ice cream is unbelievably simple to make and you'll be surprised to see how rich and creamy it is! It's the perfect ice cream for beginners or for anyone who doesn't have the patience to churn their ice cream.
I really love this recipe because you can use it to make a delicious, classic vanilla ice cream, or you can add your favorite sauce or mix-in to flavor the ice cream however you like!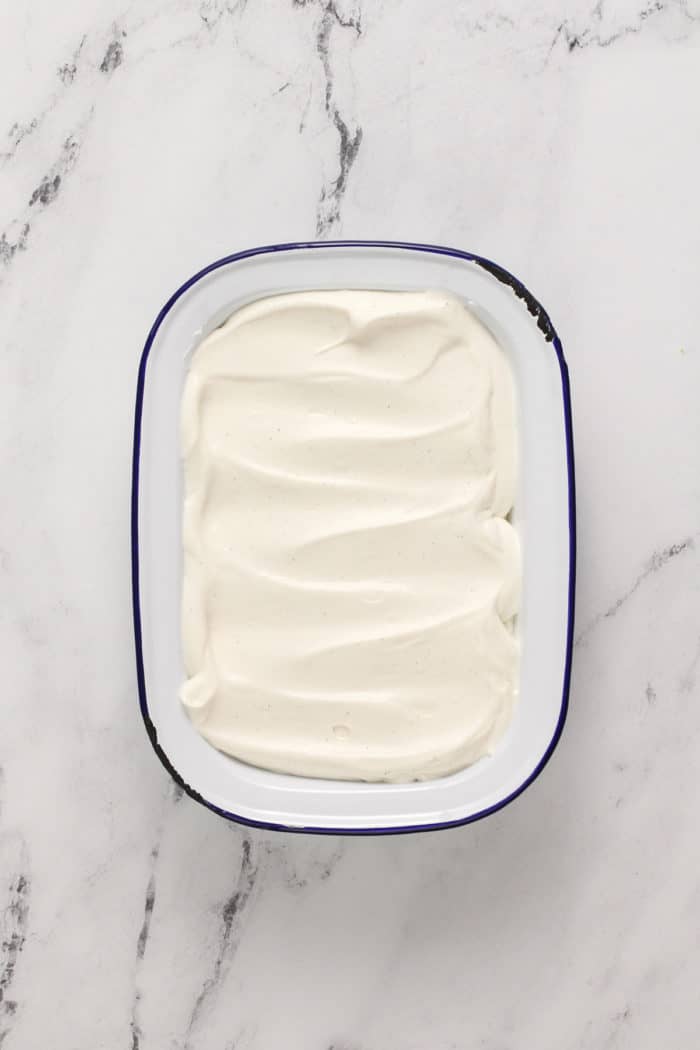 HOW TO MAKE VANILLA NO-CHURN ICE CREAM
The base of this recipe is a creamy vanilla ice cream. Let's walk through how to make this before we talk about how to add your favorite flavors.
Ingredients you'll need
Guess what? You'll only need THREE ingredients to make the base of this ice cream:
Whipping cream
Sweetened condensed milk
Vanilla extract or vanilla bean paste
I know that it seems impossible that you could get a great ice cream from only 3 ingredients. I was skeptical the first time I made this no-churn ice cream, too, but I was amazed at how delicious it was!
Because you only use 3 ingredients, I do recommend using a pure vanilla extract or vanilla bean paste if you can. Try to avoid the imitation stuff – it just won't taste right here.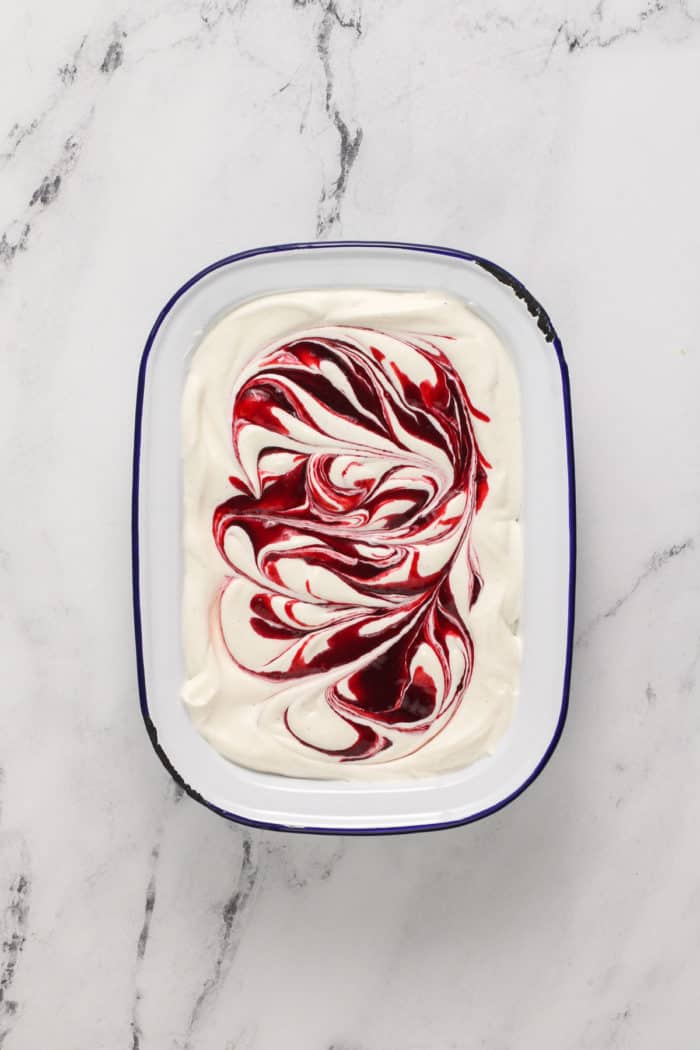 Tools you'll need
Since you don't need an ice cream maker for this recipe, there's a good chance you already have what you need to make your ice cream.
You'll need a big mixing bowl and a stand mixer or electric hand mixer. That's it!
You'll also need a container to freeze your ice cream in. I like to use a reusable ice cream tub, but any 1 ½-quart freezer-safe container will work.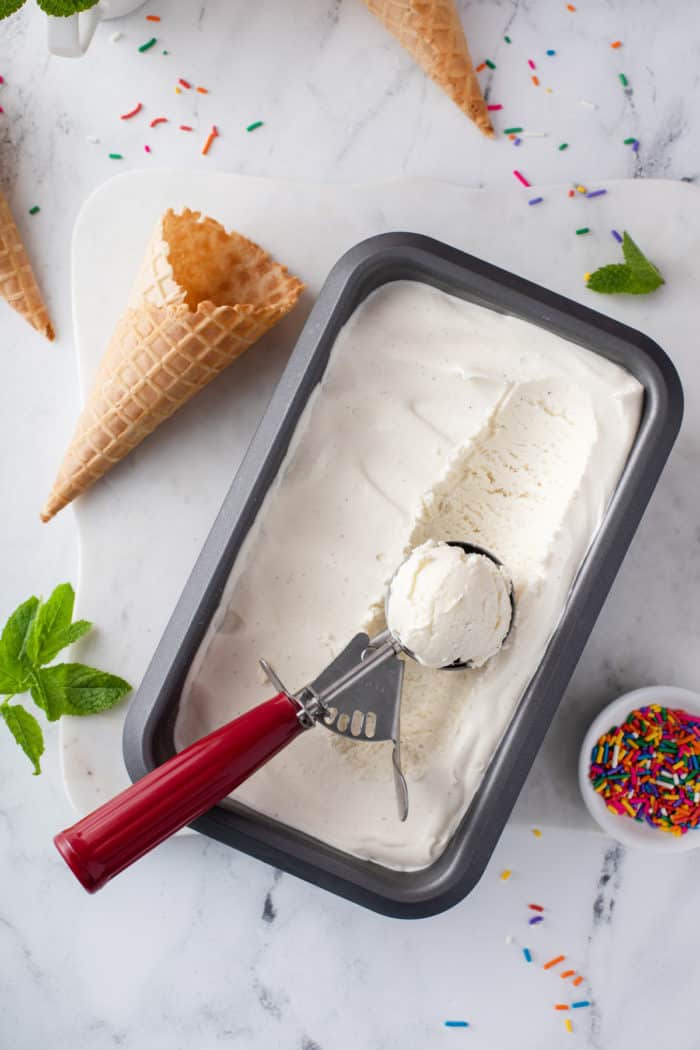 Making this recipe
If you've made homemade whipped cream, you can make this ice cream.
Use your electric mixer to whip the cold cream until it holds stiff peaks. This usually takes about 4 minutes.
Turn the mixer to low and slowly stream in the condensed milk and the vanilla, then mix on low until the mixture is combined. This should only take about 1 minute.
From there, you can add the ice cream base to your covered container and pop it into the freezer. It'll be fully set after freezing overnight, but you should have a scoopable ice cream within about 4-5 hours.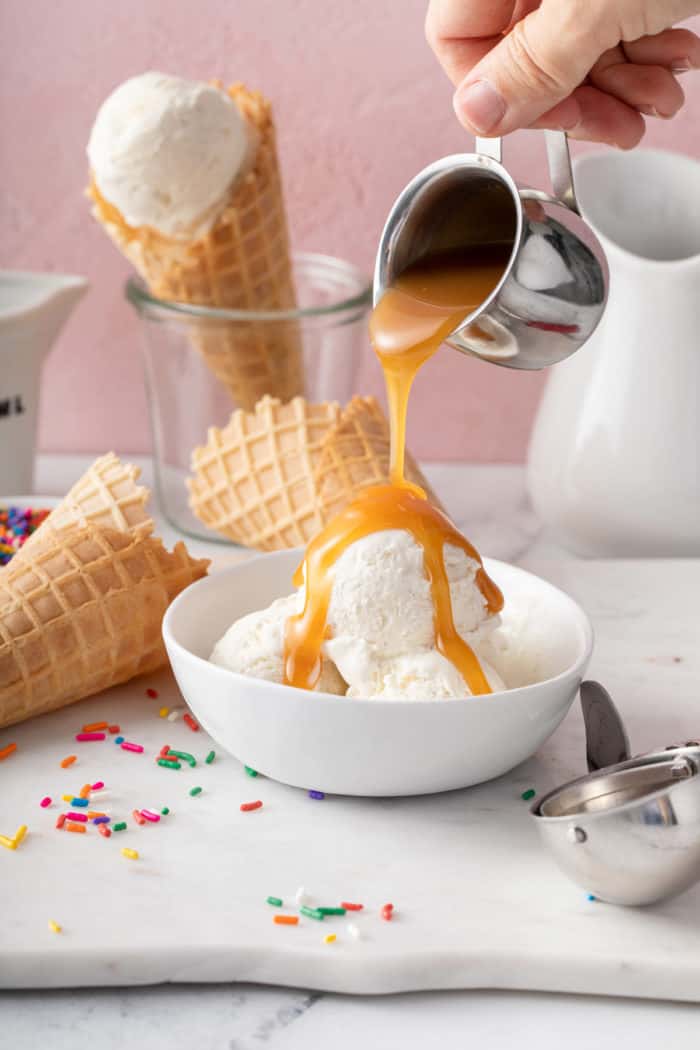 FLAVOR OPTIONS
One of the things that makes me so obsessed with this no-churn ice cream recipe is all of the flavor possibilities!
Between sauces and mix-ins, you could make anything from roasted berry ice cream to s'mores ice cream to mint ice cream!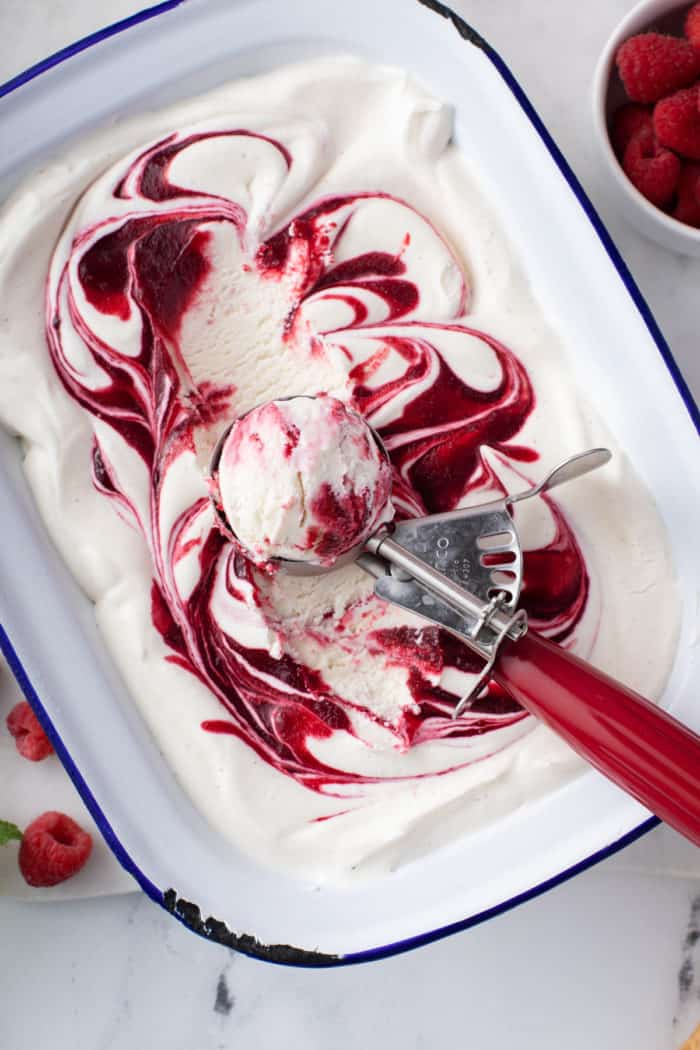 One of the easiest ways to flavor your ice cream base is by swirling in ½ cup of your favorite sauce. Here are some of my favorites to use:
You can also fold in your favorite toppings, such as chocolate chips, mini marshmallows, cookie pieces, or diced fruit before freezing.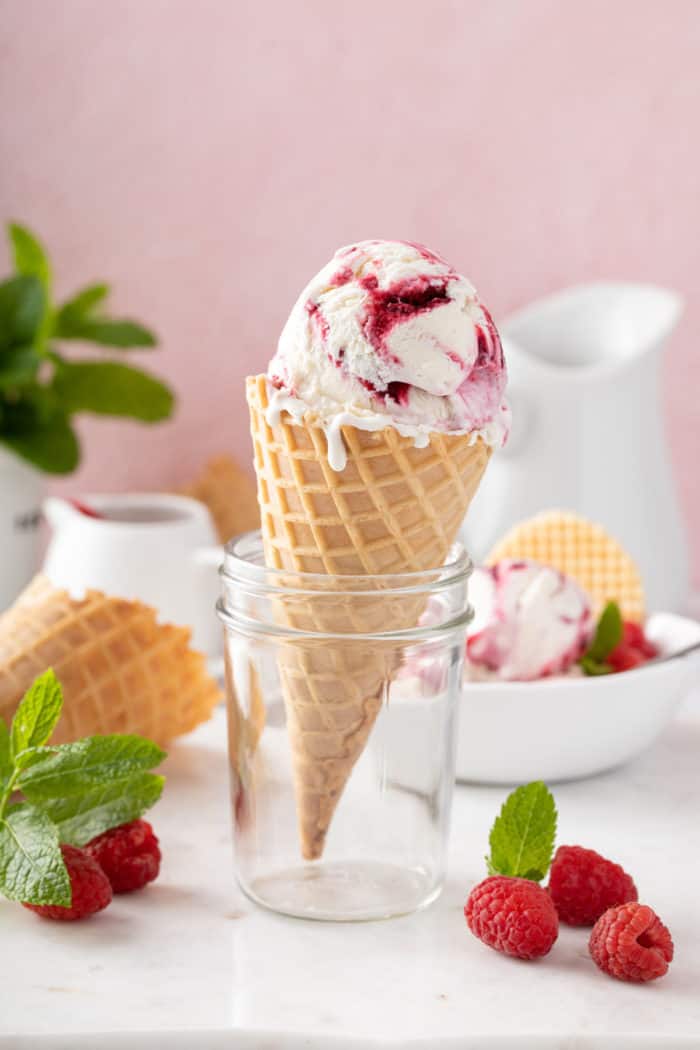 How to add mix-ins to your ice cream
To add a sauce, pour half of the ice cream base into your freezer container.
Spoon on half of the sauce, then pour in the rest of the ice cream base. Spoon the rest of the sauce on top and use a butter knife, chopstick, or skewer to swirl the sauce through the vanilla ice cream base before freezing.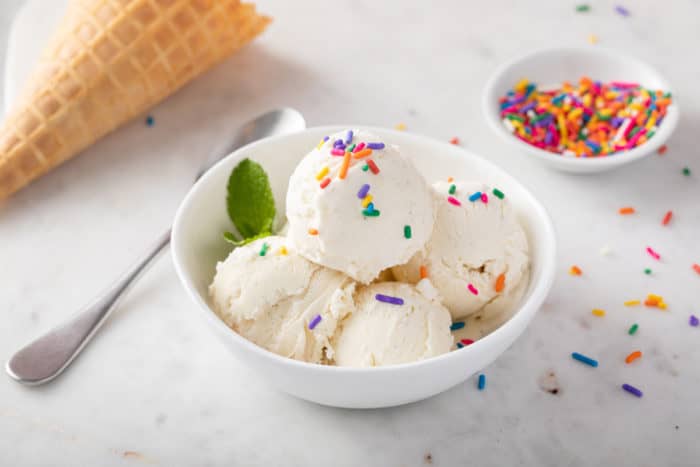 If you want to add a mix-in such as chocolate chips, gently fold them into the ice cream base before pouring it into the freezer container.
Whether you enjoy this as vanilla ice cream or turn it into your favorite flavor, the creamy texture and simplicity of this recipe will turn it into one of your favorites!