Summer temperatures are in full force here in Ohio, so I thought I would make some lemon sorbet and post a giveaway to help ya beat the heat!
This is another recipe from the Williams Sonoma Ice Cream book that I fell in love with last month. I purchased one from ebay to pass along to one of you! This book is full of cool treats that range from super basic recipes to recipes that will please the pickiest of palettes.
I have never made sorbet before, so I thought this would be a great recipe to try and post for all of my lovely readers! I adore lemon flavored items in the summer, plus I had purchased a large bag of them from the market. This recipe is also perfect for a warm day because you do not have turn on the oven to get a tasty, refreshing dessert… plus it requires very little prep work!
Now the giveaway: if you win, you will receive the Williams Sonoma Ice Cream recipe book, an ergonomic (I like the word ergonomic for some reason) ice cream scooper to dish out all your delectable creations, and a jar of ice cream toppers. Oh, and as usual, I will throw in a couple of surprise items as well!!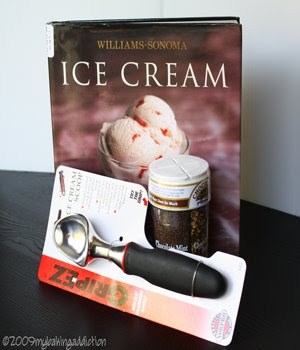 How do you win? Giveaway Ended!
Post a comment telling me your favorite way to beat the summer heat! *Tweet about this giveaway and post a link on my post to your tweet for an extra chance to win!
The Rules
1.) Open to U.S.A. residents only.
2.) One winner will be chosen on 7/3/09 by using random.org.
3.) Make sure that I have a way to contact you when you leave a comment; either through your
blog or an email.
4.) One comment per person, please. Plus one *tweet entry; totaling 2 entries per person.
5.) I will contact the winner via email or commenting on the winner's site.
6.) You have until 7/7/09 to claim the giveaway, or I will have to choose another winner.
Notes:
1. This giveaway is brought to you by me and is in no way affiliated with Williams Sonoma or any other products being given away.
2. The Williams Sonoma Ice Cream book was purchased from ebay; it is not brand new, but it is in great condition!
Thanks for stopping by and good luck!
Lemon Sorbet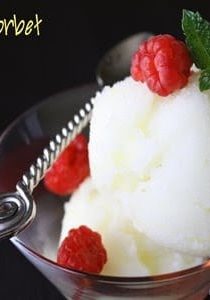 Ingredients:
1 1/4 cups of water
1 cup plus 3 tablespoons sugar
1 heaping tablespoon of grated lemon zest
1 1/2 cup lemon juice
Directions:
1. In a small, heavy saucepan, combine the water and sugar. Bring to a boil over medium-high heat and cook, stirring occasionally, until the sugar disolves and the syrup is clear, about 1 minute.
2. Remove the syrup from the heat, add the lemon zest, and set aside to steep for about 20 minutes. Cover and refrigerate until chilled, 2-3 hours.
3. Add the lemon juice to the syrup and stir to combine. Pour into an ice cream maker and freeze according to the manuafacturer's instructions. Transfer the sorbet to a freezer safe container and freeze the sorbet until firm, at least 3 hours or up to 3 days, before serving.
Notes:
- If using Meyer lemons, decrease the sugar by three tablespoons.
adapted from Williams-Sonoma Ice Cream Book
All images and text ©
Follow Jamie on Instagram. We love to see what you're baking from MBA! Be sure to tag @jamiemba and use the hashtag #mbarecipes!
[pinit]