Key Lime Pie Ice Cream is a tart and sweet ice cream version of your favorite key lime pie! Simply whisk the base together and churn it in your ice cream maker – no extra cooking or chilling required.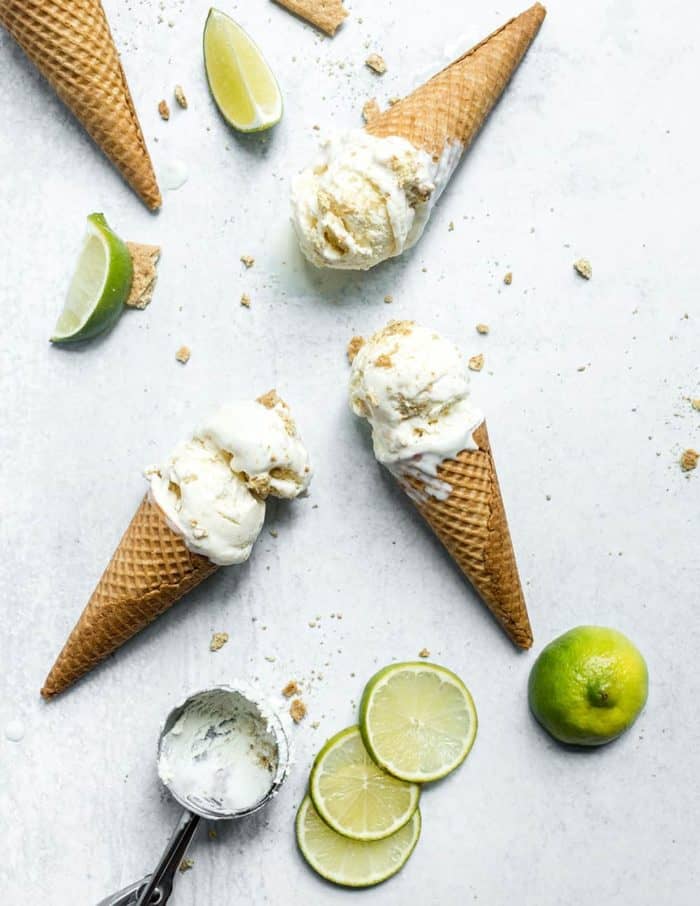 It's been so hot here the last few days that I've barely turned on my oven. And to be quite honest with you, nothing has even sounded remotely appealing.
When it's this hot, I'm all about watermelon, cantaloupe, frozen grapes and cold sandwiches, so I've been on a bit of a baking hiatus except for testing a few things coming your way this fall.
One thing I can handle making though is ice cream. Especially when it's Key Lime Pie flavored ice cream!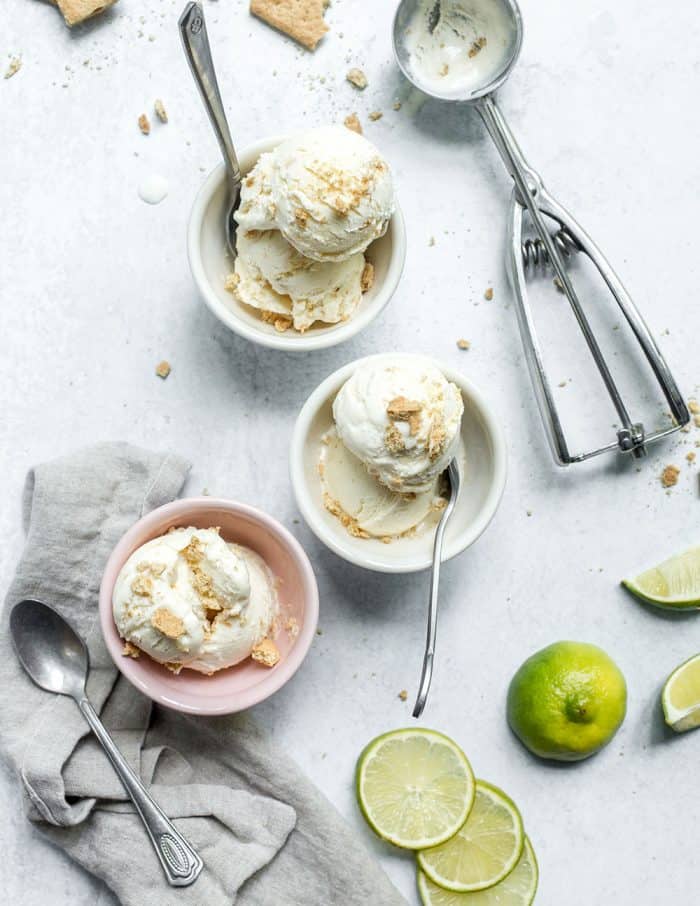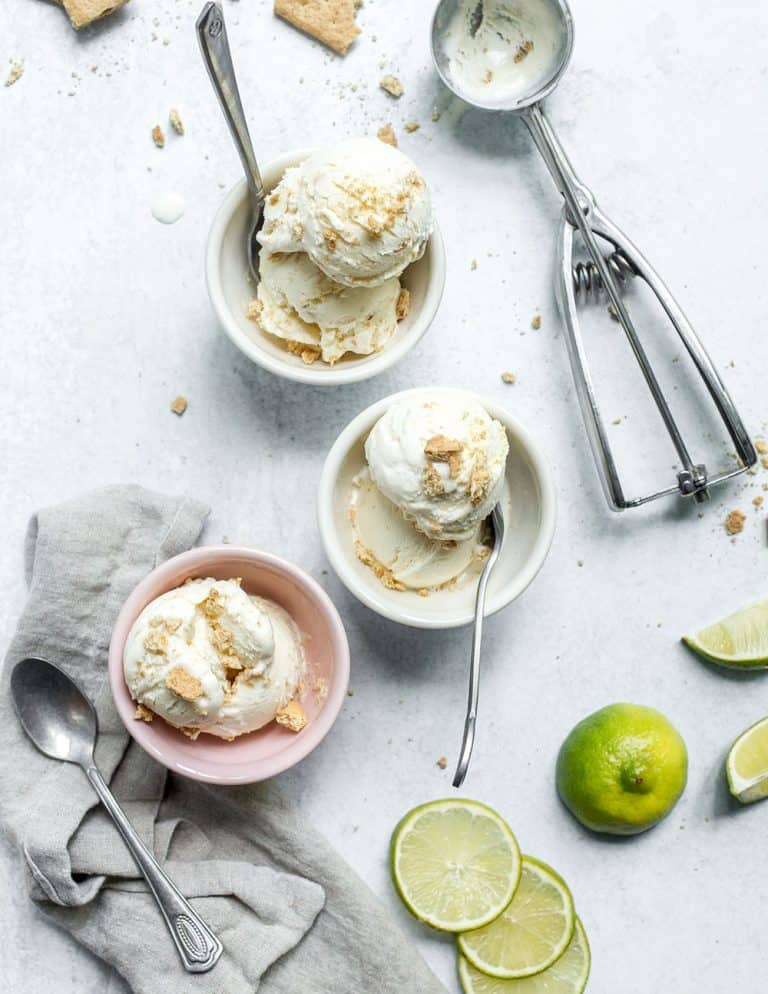 EASY KEY LIME PIE ICE CREAM RECIPE
Homemade ice cream is one of those perfect summer foods.
Cold, sweet, creamy, and honestly…so much better than most of what you can buy at the store.
The only downside to a lot of ice cream recipes is having to cook and then chill the custard base before you can churn it.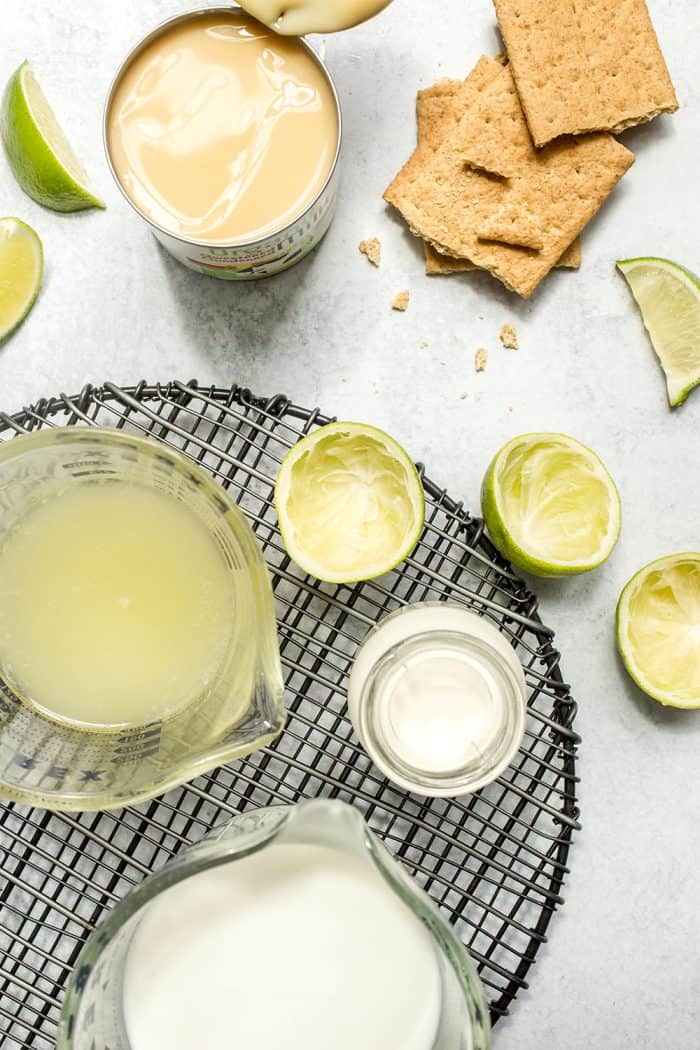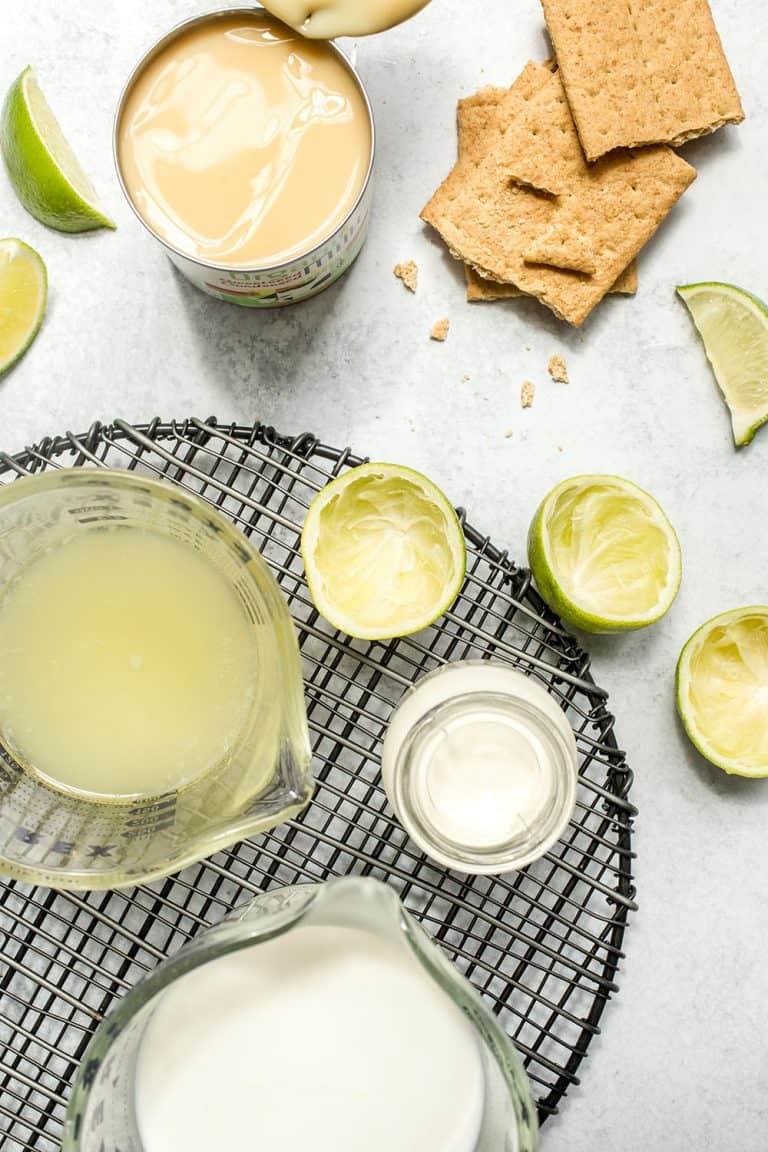 I love these ice creams and the mouth feel that you get from a base made with eggs, but I don't love the advance planning they require.
That's reason number one why I love this ice cream recipe: no cooking or chilling required. Which means no having to think ahead. I can think about Key Lime Pie Ice Cream in the morning and be eating Key Lime Pie Ice Cream that evening.
The other reason I love this recipe is because I am obsessed with all things key lime right now.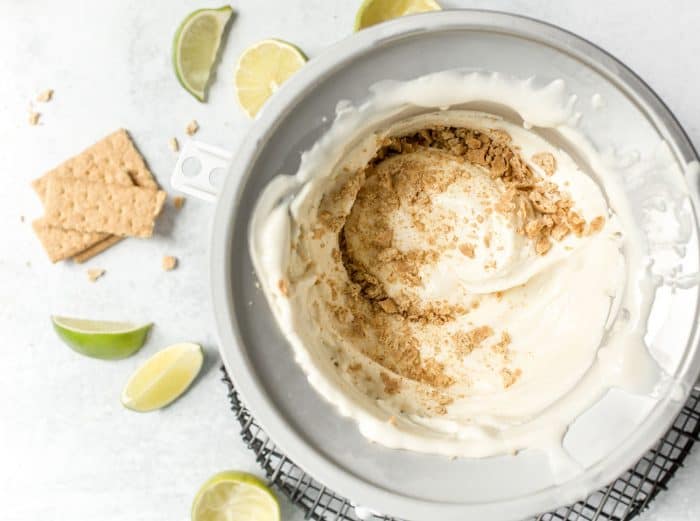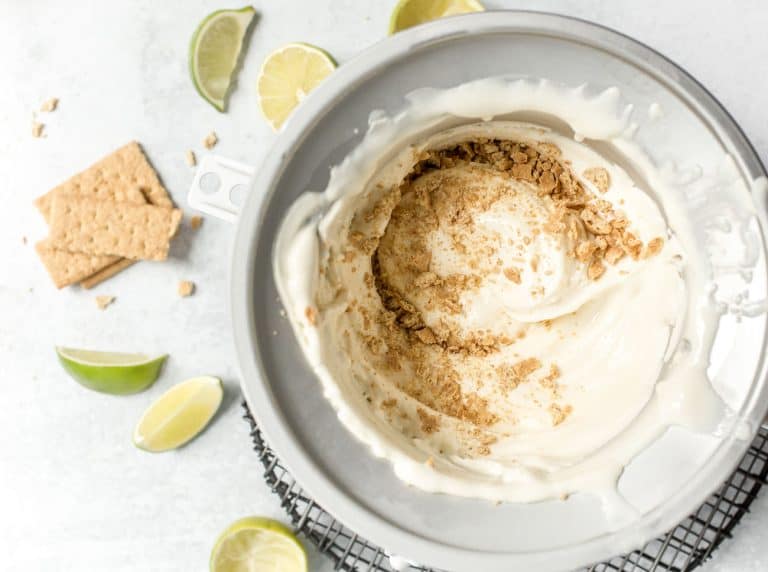 Key Lime Pie Bars, Key Lime Cheesecake, Key Lime Pie Marshmallow Treats…it's seriously hard to say no to that tart key lime flavor and the sweetness and creaminess of sweetened condensed milk.
Making this ice cream is so easy: Just whisk together the ingredients and then churn it according to your ice cream maker's manufacturer instructions.
The ice cream base is sweetened with sweetened condensed milk, which also gives the ice cream an amazing creamy texture.
Some graham cracker crumbs folded into the churned ice cream adds extra texture and even more of that key lime pie feel to this recipe.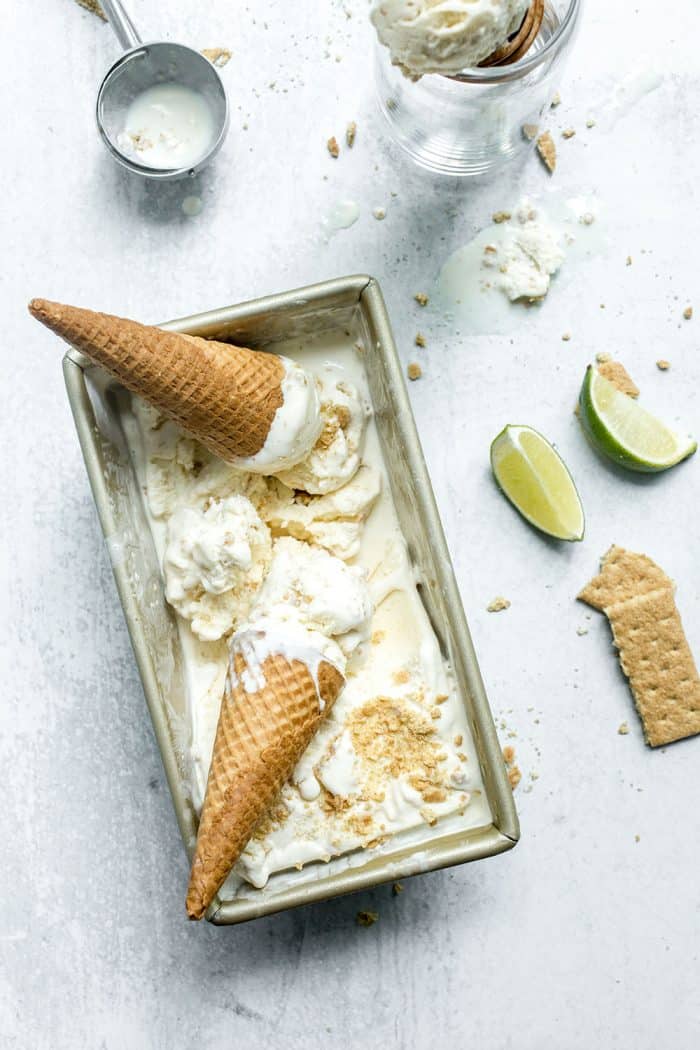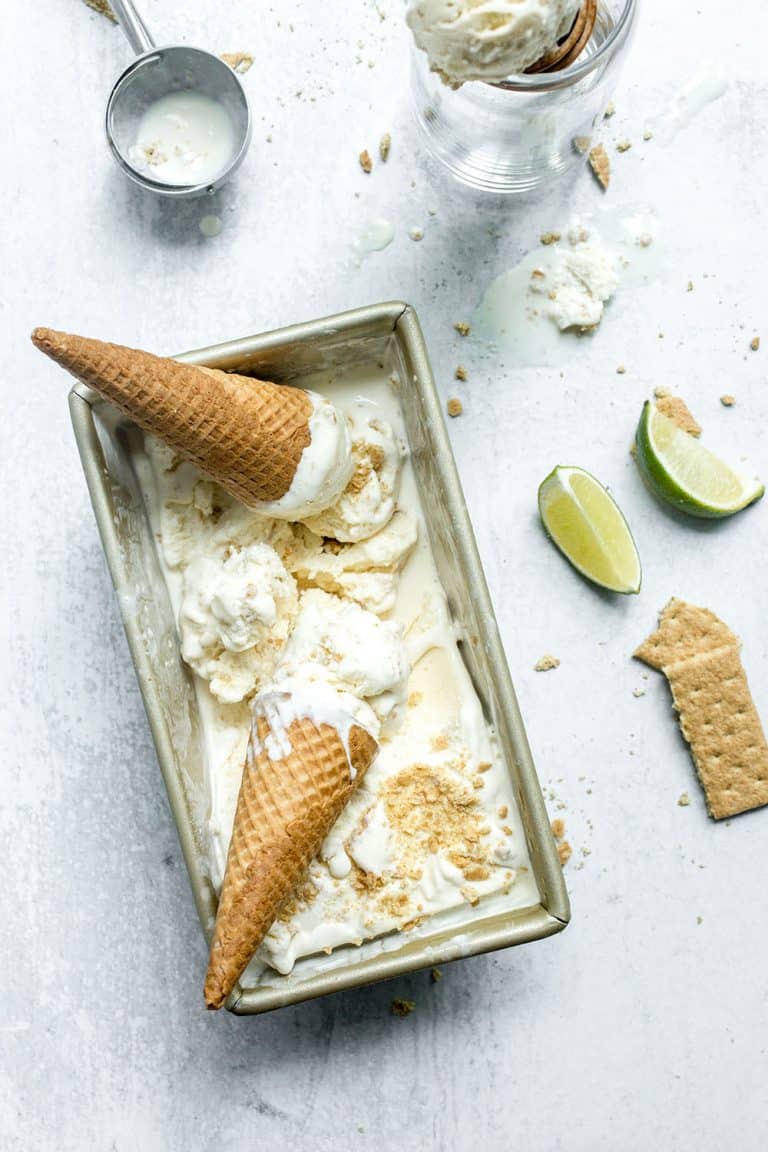 DO YOU NEED TO USE FULL-FAT MILK AND CREAM?
If you're going to make homemade ice cream, just go for it and make it with all the fat and flavor.
Basically, that is my way of saying that yes, you need to use the full-fat milk, cream, and sweetened condensed milk in this recipe.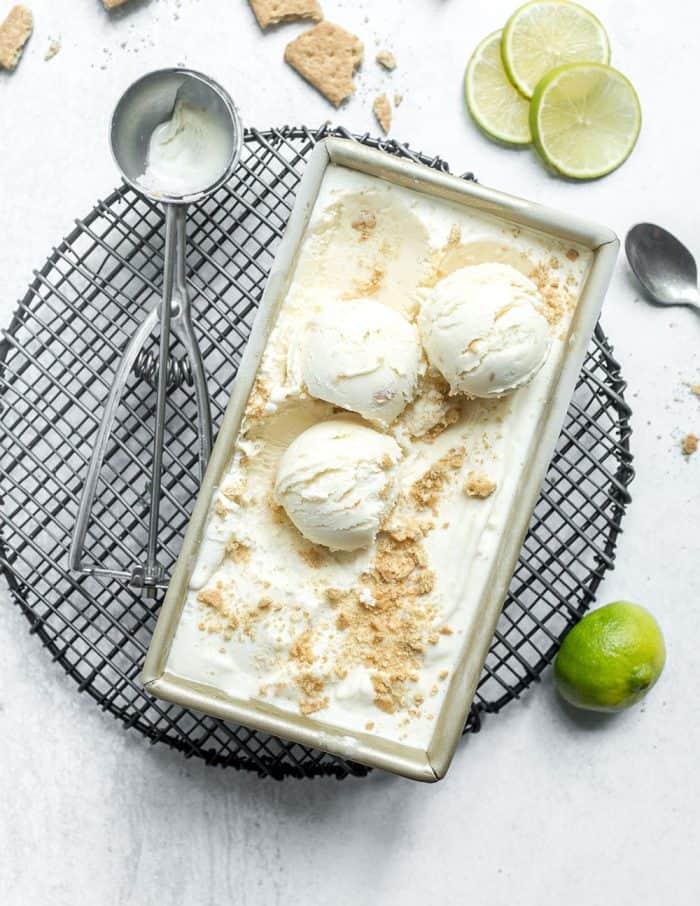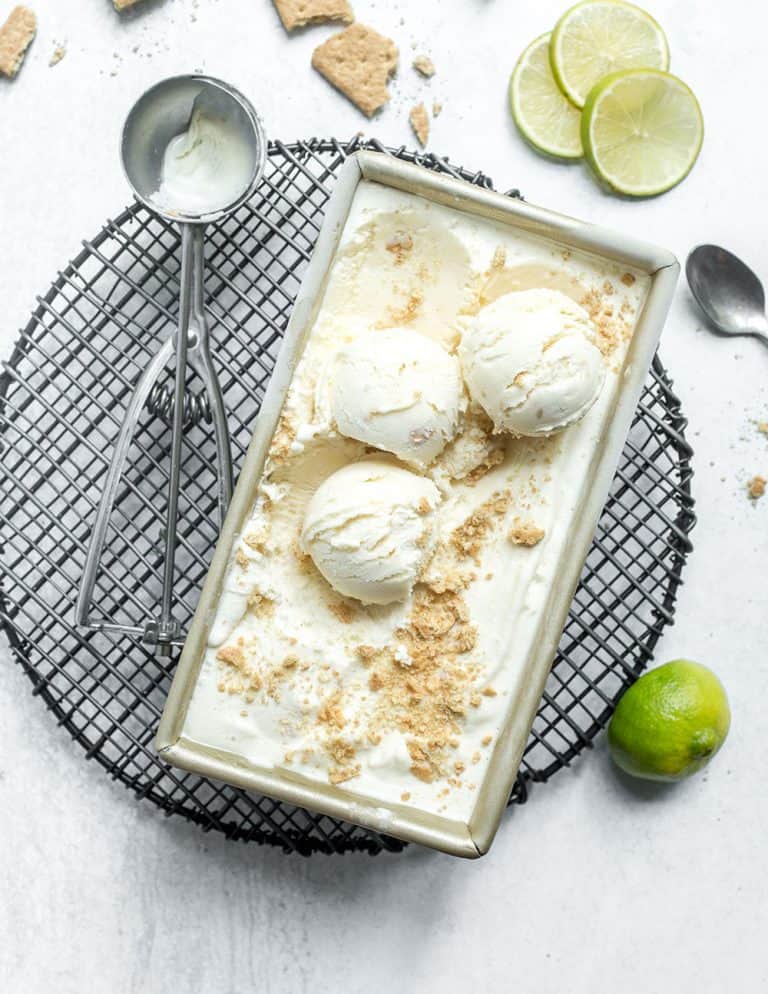 I find that making ice cream with low-fat dairy results in an icy ice cream. And we want a nice creamy ice cream.
Just consider this ice cream to be a special treat. YOLO…right?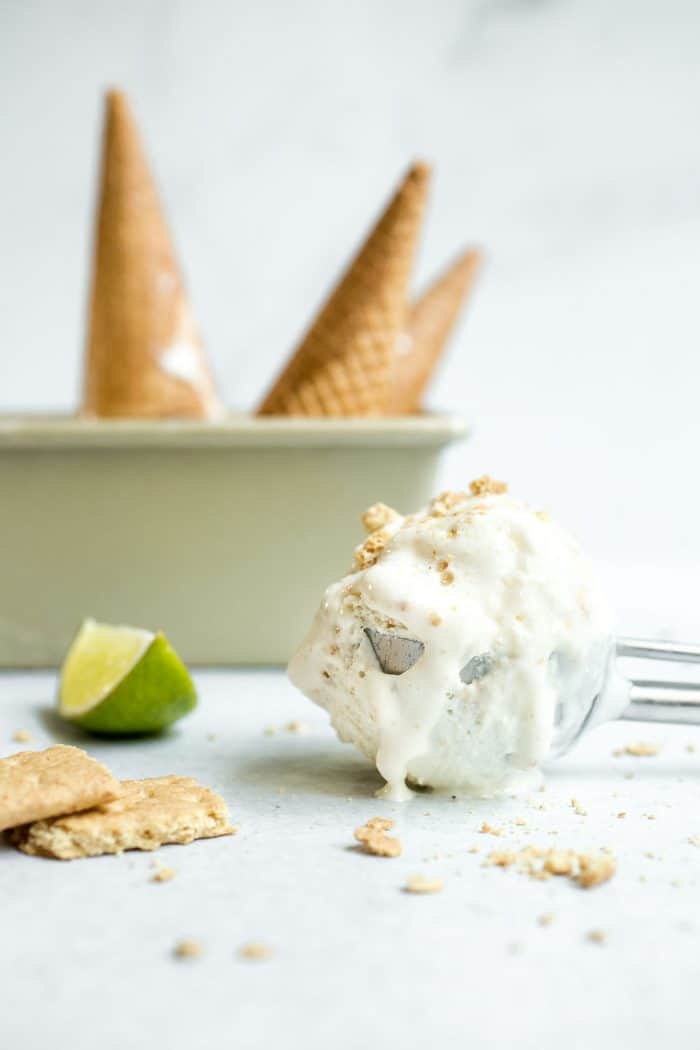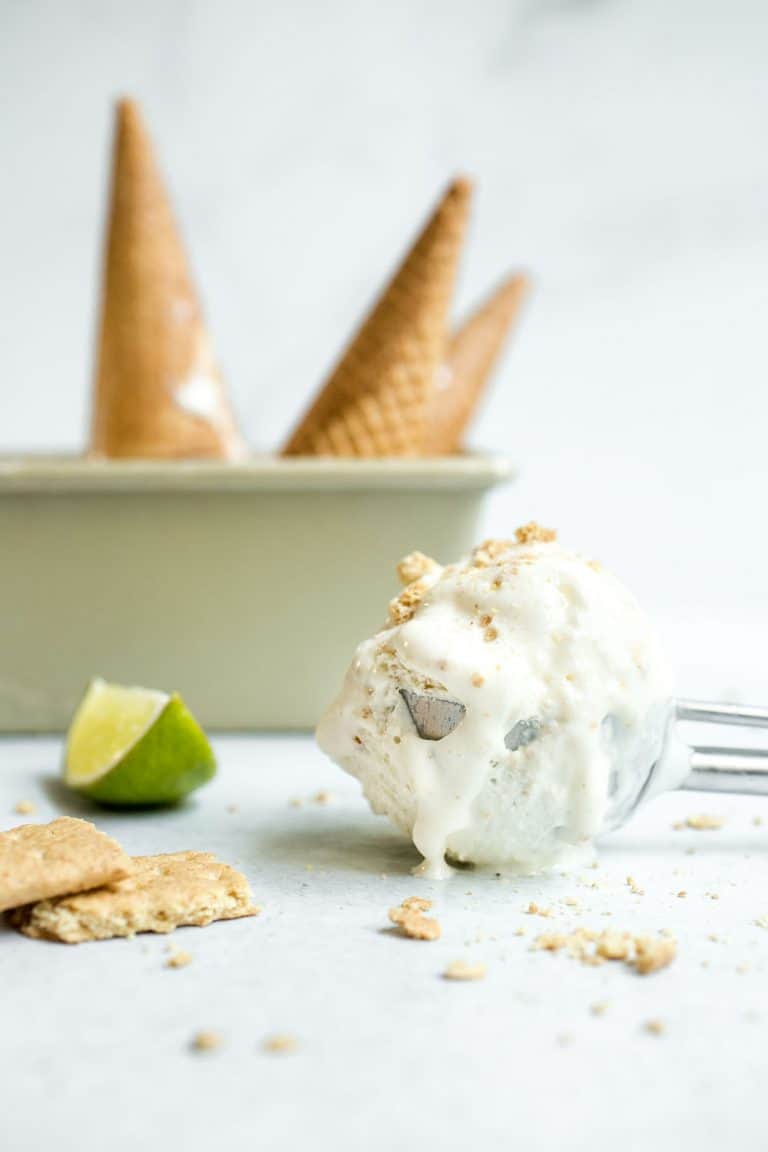 WHAT IF I DON'T HAVE AN ICE CREAM MAKER?
This particular ice cream recipe is churned in an ice cream maker. Ice cream makers are pretty inexpensive these days and don't take up a ton of space, so if you like making homemade ice cream – even just a few times a year – it might be worth getting one.
If you don't have an ice cream maker, you can still make homemade ice cream using a no-churn recipe. My No-Churn Roasted Berry Ice Cream is a great recipe. This No-Churn Chocolate Ice Cream is a great option if you're really craving a chocolate ice cream.