Key Lime Pie Bars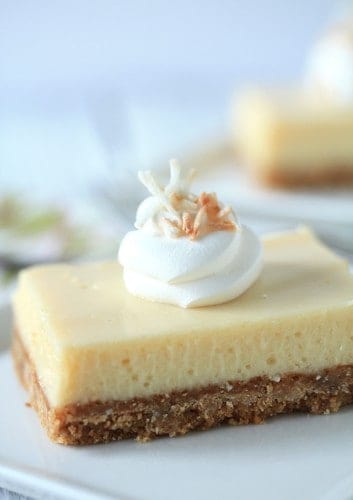 I had a brilliant idea the other night, although I am sure my brilliant idea is nothing new to the culinary world…I went with it anyway and pretended that I was inventing something fabulous!
My idea? Well, it was to make Key Lime Pie and incorporated coconut into the crust. See, I told ya…not very original! Another key component of my not-so-brilliant plan was to use my favorite Key Lime Pie recipe, but bake it in a square springform pan so I could cut the pie into bars. I was pretty impressed and loved the results of the key lime pie bars; they are portable and easy to eat without a plate and fork. Portability is always a key factor when taking sweet treats to the co-workers!
The coconut flavor was subtle, but definitely recognizable as another layer of flavor; however, next time I may pump up the coconut factor by adding a little bit of coconut extract to the crust. These bars scream summer and were devoured by Brian's co-workers. The whipped cream and toasted coconut garnish made them extra special. I think these would be absolutely perfect for Easter brunch and may just include them on my Sunday spread! If you want to make the filling more limey, simply add a tad of green food coloring!
If you have not entered the giveaway for a Hip Hostess Apron Giveaway, definitely check it out! Have a fabulous week!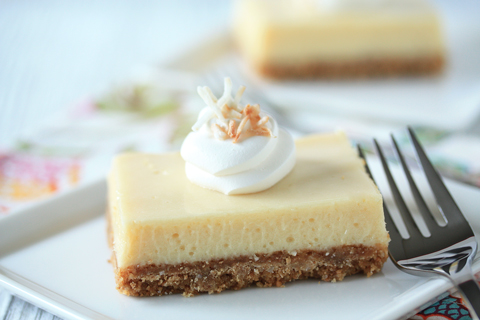 [pinit]
This post may contain affiliate links. We are a participant in the Amazon Services LLC Associates Program, an affiliate advertising program designed to provide a means for us to earn fees by linking to Amazon.com and affiliated sites.