Fundamentals: How to Toast Coconut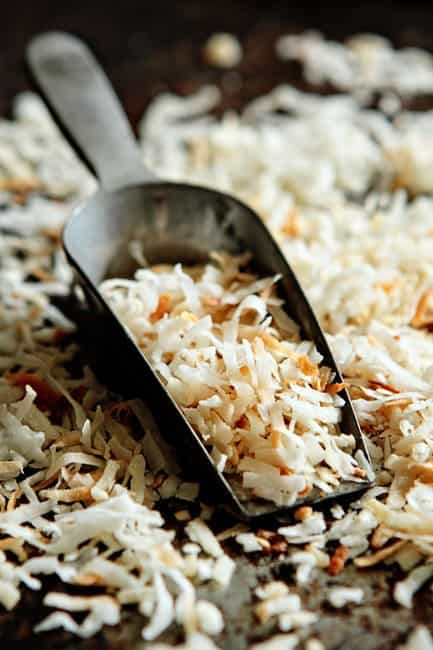 I think we're all well aware that I bake more than the average person. Being in the kitchen so much makes me take for granted the tasks that are second nature for me. That doesn't necessarily mean that they're second nature for you. After all that's why I started the Fundamentals series to begin with – which I've been a little lax with, by the way.
While toasting coconut for an upcoming recipe, I thought the simple process would be the perfect way to get the Fundamentals series back in motion.
Coconut can add flavor and texture to many desserts such as cupcakes, dessert bars and cookies. Shredded or flaked coconut straight from the bag has a great flavor but, in my opinion, it can be a tad chewy. If you'd like the coconut to have a crisp texture, it is really simple to toast at home. Toasting the coconut will also bring out a richer, nuttier flavor and will add more depth to your favorite dishes and desserts.
There are two techniques for toasting coconut. You can use the stove top or the oven. Personally, I am a big fan of the stove top method. I find I have a little more control since I am able to keep a constant eye on the coconut, plus frequent stirring allows for a more evenly toasted finished product.
If you have a topic that you'd like to see covered in an upcoming Fundamentals post, send us an email at questions@mybakingaddiction.com.
How to Toast Coconut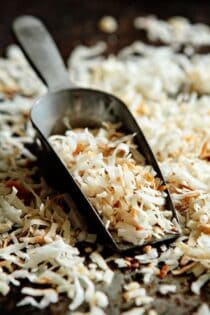 Ingredients:
shredded, shaved or flaked coconut
Directions:
Stove Top Method
Place desired amount of coconut flakes in a large skillet.
Cook over medium heat, stirring frequently, until the flakes are mostly golden brown.
If the coconut is sweetened it tends to brown faster so, it will take less time.
Oven Method
Preheat oven to 325°F.
Spread coconut flakes on a baking sheet in a thin layer and bake in preheated oven. The flakes will toast very quickly and won't take more than 5-10 minutes.
After a few minutes stir the coconut to help ensure even color. Remember, sweetened flakes will take less time because sugar speeds the toasting process.
Notes:
If you have unsweetened flakes and would like to sweeten them up a bit, you can place a pound of unsweetened coconut flakes in a zip top bag with 2 tablespoons of confectioners sugar. Give them a good shake and voilà – you have sweetened coconut.
All images and text ©
Follow Jamie on Instagram. We love to see what you're baking from MBA! Be sure to tag @jamiemba and use the hashtag #mbarecipes!
This post may contain affiliate links. We are a participant in the Amazon Services LLC Associates Program, an affiliate advertising program designed to provide a means for us to earn fees by linking to Amazon.com and affiliated sites.