Ever wondered how to toast coconut? Making it yourself is the easiest thing to do! Learn 3 simple methods for taking your shredded coconut to the next level.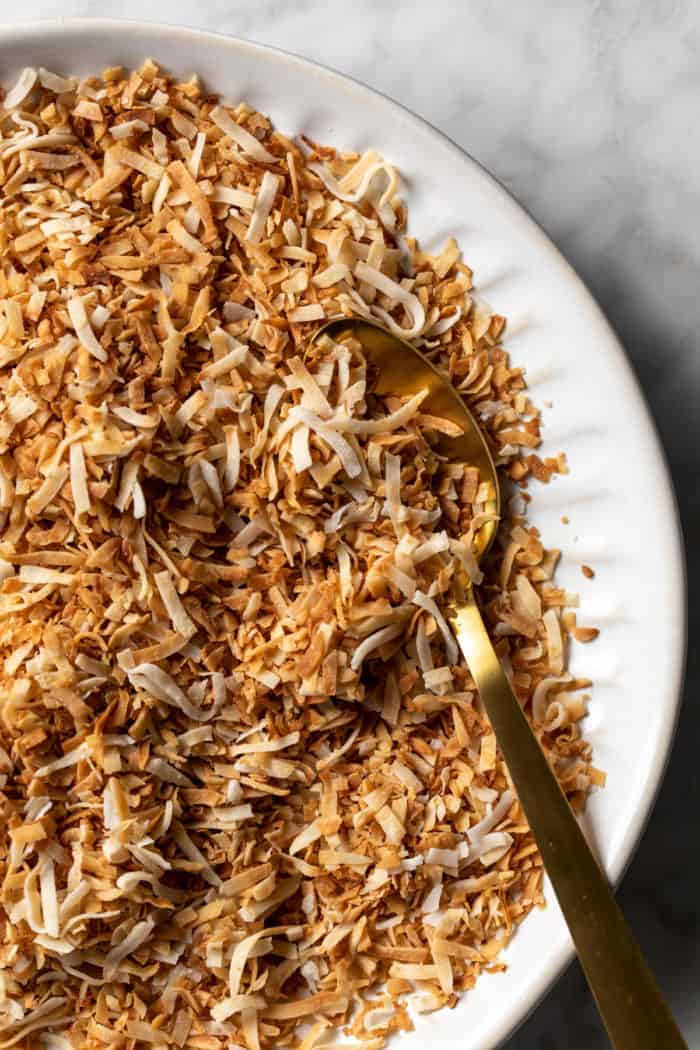 Toasted coconut is one of my favorite ingredients to add to baked goods. Although I love me some coconut straight from the bag, toasted coconut is definitely my favorite.
Did you know that coconuts made their own way around the world? Of course, traders brought them with them on travels 2,000 years ago, but because it can float, it's also thought that the coconut spread itself throughout the subtropics.
I know that's a little more history than I regularly delve into, but coconuts are pretty fascinating. And tasty. Plenty tasty.
I find that coconut is one of those ingredients that most people either love or hate. I definitely fall into the love category.
If you also love it, find out how to toast coconut to make it even more delicious! I've got 3 simple methods to share with you, so let's get to it.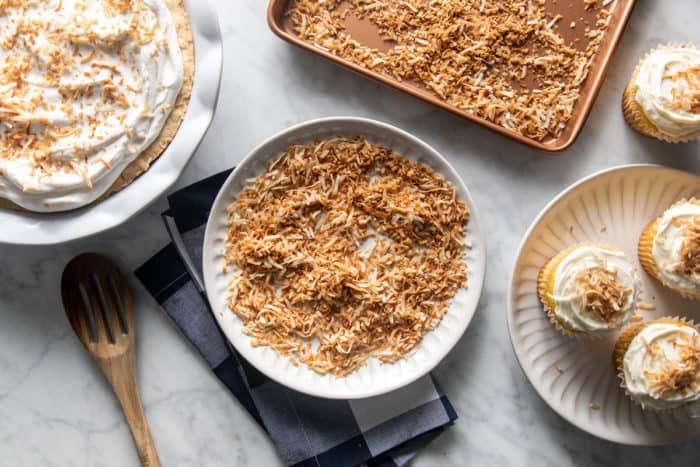 WHY TOAST YOUR COCONUT?
Toasting coconut is a lot like toasting nuts in the sense that it really adds depth and brings out a lovely nuttiness that adds great flavor and texture to whatever recipe you add it to.
Toasted coconut also smells amazing and has an amazing, crisp texture. While untoasted coconut is chewy, toasted coconut is more crispy.
You don't necessarily need or want to toast coconut every time you use it in a recipe, but it is definitely the right move in a lot of cases!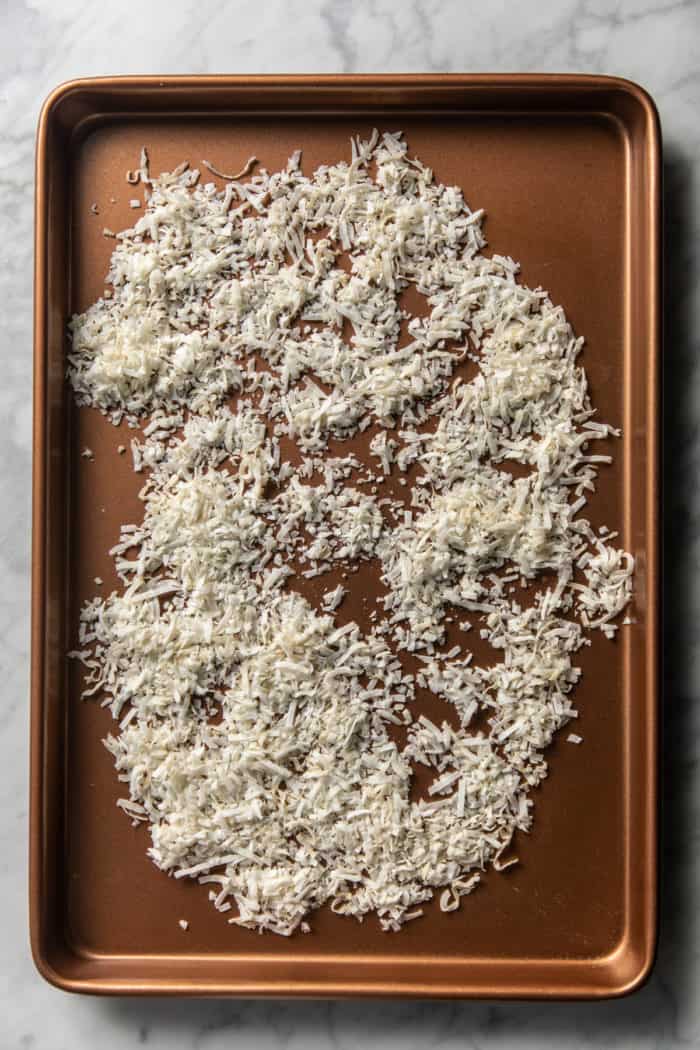 HOW TO TOAST COCONUT
Sure, you can buy toasted coconut in most baking aisles, but it usually has extra preservatives to keep it fresh. I'd much rather toast my own, especially since it's SO easy!
Seriously, toasting your own coconut is just as simple as whipping up a buttermilk substitute or learning how to brown butter.
I have 3 methods for toasting coconut that I like to use. In this post, we're covering:
How to toast coconut in the oven,
How to toast coconut on the stove, and
How to toast coconut in the microwave.
All of these methods work for both sweetened and unsweetened coconut. However, keep in mind that the added sugar in sweetened coconut will make it toast faster than unsweetened coconut.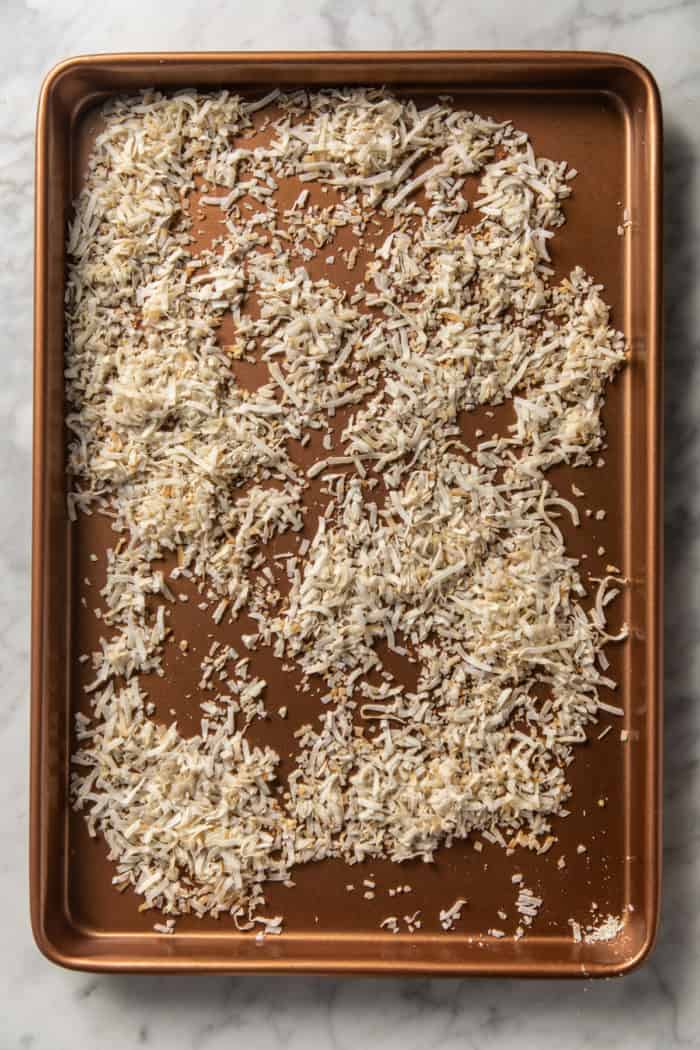 In the oven
If you're already turning your oven on, you may as well use it to toast your coconut.
To do this, preheat the oven to Preheat oven to 325°F.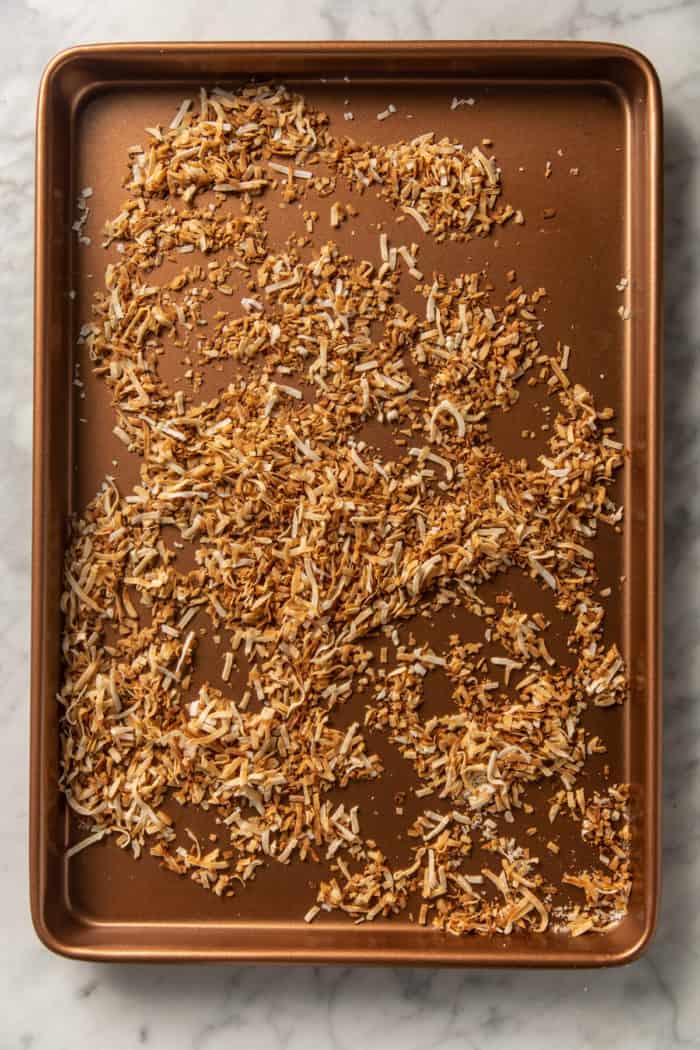 Spread the coconut in a thin layer onto a baking sheet. Bake for 5-10 minutes, stirring every few minutes to help the flakes toast evenly.
As soon as the coconut is toasted to your liking, move it to a bowl to cool and to stop the cooking process.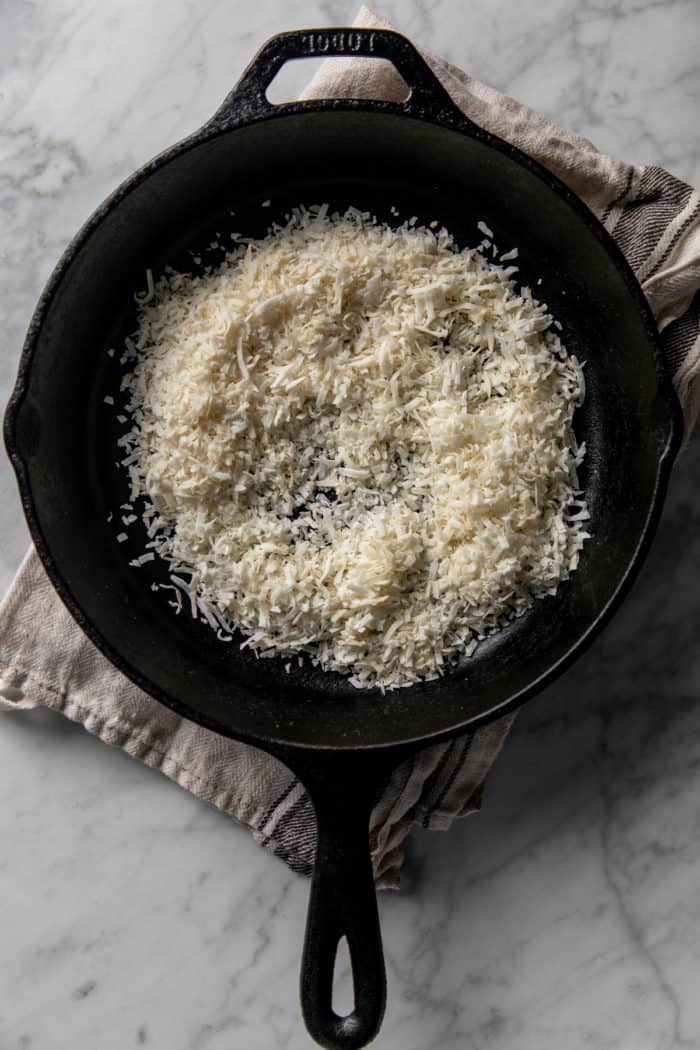 On the stove
Personally, I am a big fan of the stove-top method and it's the one I use most.
I find I have a little more control, since I'm able to keep a constant eye on the coconut, plus frequent stirring allows for a more evenly toasted finished product.
(But the oven and microwave definitely do the trick, too!)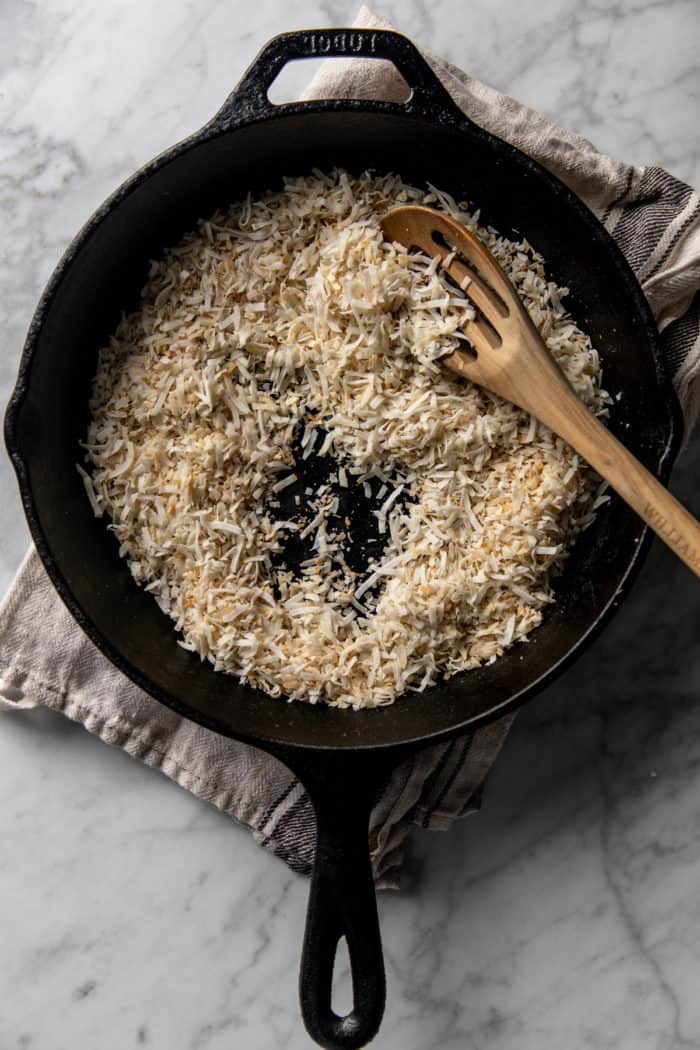 To toast coconut on the stove, place your coconut in a large skillet over medium-low heat. Stir the coconut frequently as it cooks.
Once the coconut is evenly golden to your liking, move it to a bowl to cool and stop the cooking process.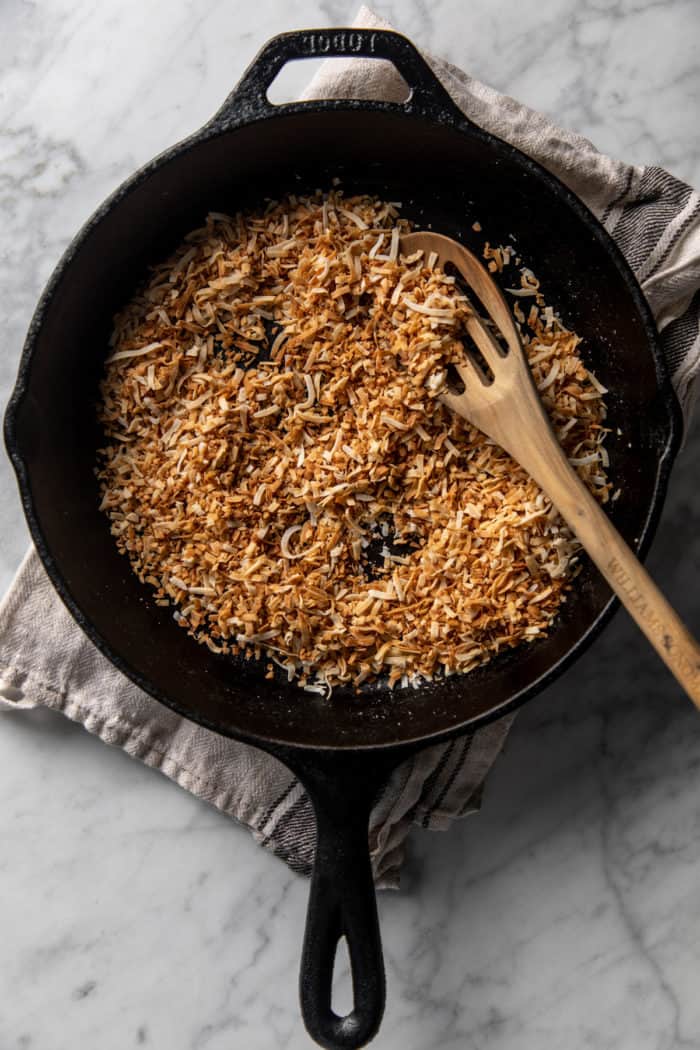 In the microwave
Like I mentioned, you can actually toast coconut in the microwave and as you can imagine, it's super quick.
Start by spreading about ½ cup of shredded coconut on a microwave-safe plate.
Microwave the coconut in 30-second increments, stirring each time. Continue cooking and stirring in 30-second increments until the coconut reaches the desired level of toastiness.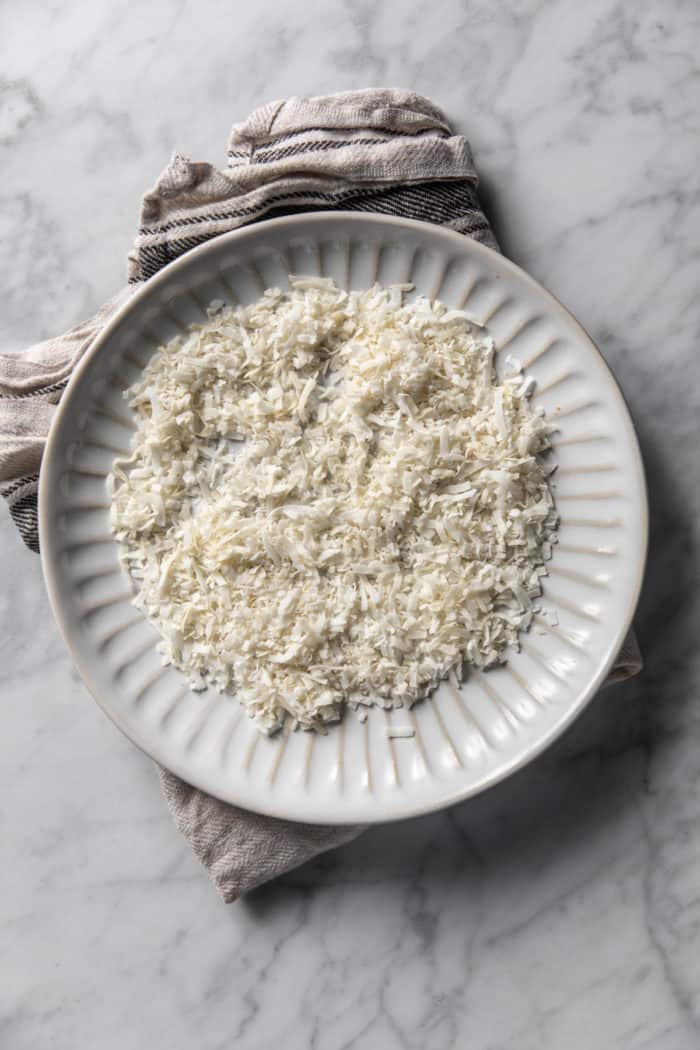 USES FOR TOASTED COCONUT
There are SO many ways to use toasted coconut!
From caramel coconut chocolate chip cookies and chocolate zucchini bread to key lime coconut cheesecake and coconut cream pie, coconut is one of my favorite flavors to bake with, especially during the spring and summer months.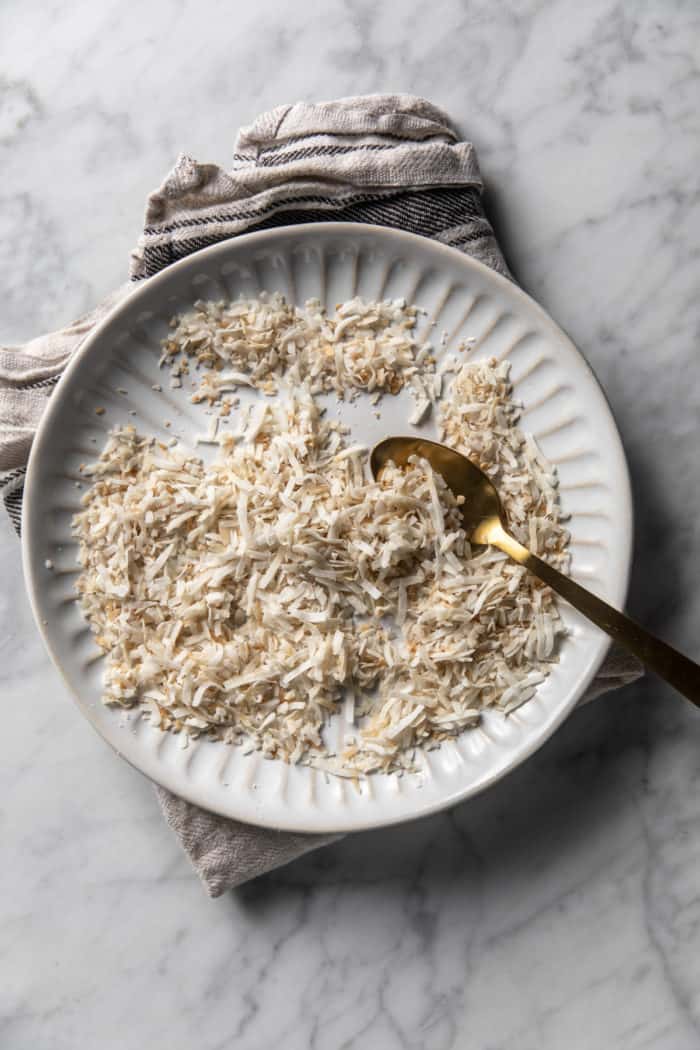 Toasted coconut can add flavor and texture to desserts like coconut cupcakes and would be incredible folded into key lime pie ice cream, but it's also fantastic in homemade truffles and mini trifles.
I also love it layered in with greek yogurt and fresh berries for a delicious breakfast parfait.
The coconut world is your oyster, and all it takes is a few minutes to toast it up. Let's get to work!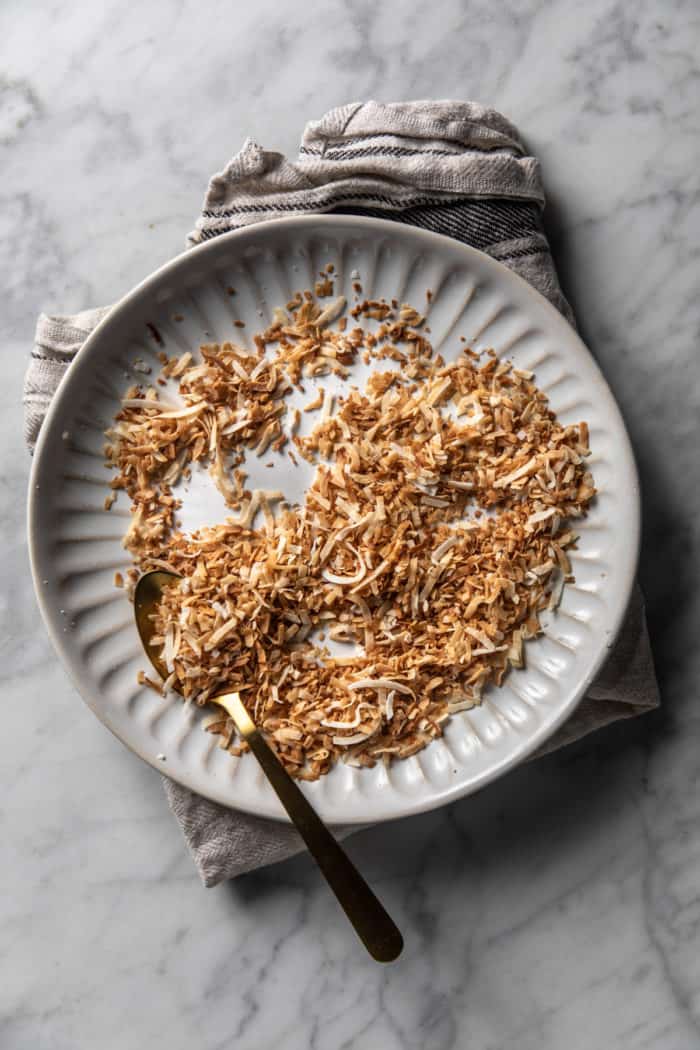 CAN YOU SWEETEN UNSWEETENED COCONUT?
Here's a little bonus tidbit for you:
If you have unsweetened shredded coconut and would like to sweeten it up in a pinch, you can place a pound of unsweetened shredded coconut in a zip-top bag with 2 tablespoons of powdered sugar.
Give the bag a good shake and you're good to go!
I wouldn't toast coconut after you've added sugar – the sugar might burn, and you'd end up with a wasted ingredient.