This Coconut Cream Pie tops a shortbread cookie crust with a coconut filling and pillowy whipped cream. Add toasted coconut on top for the perfect finish!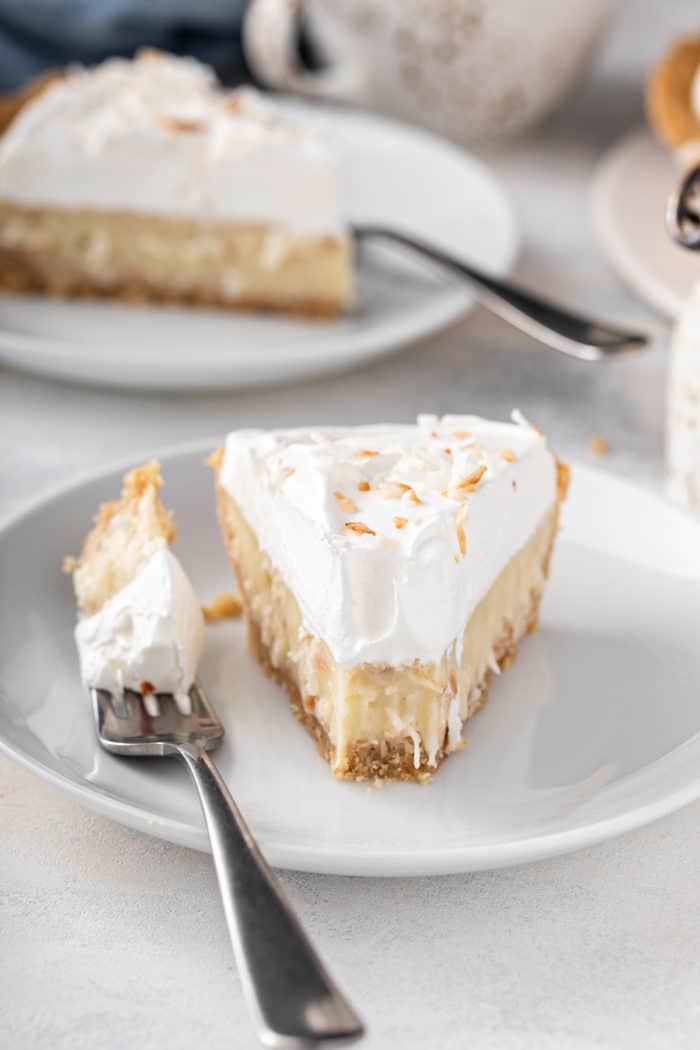 Are you more of a cake person or a pie person?
When it comes to actual baking, I tend to be more of a cake person. I struggle with traditional pie crusts, so I'm way more likely to make cake recipes or cheesecake recipes than most pies.
But when it comes to eating, I'm an equal-opportunity dessert lover. I don't think I've met a pie I didn't like, whether it was Pecan Pie or Strawberry Pie or this Coconut Cream Pie.
And the best part of this Coconut Cream Pie? No tricky crust to make. Even if you're a little afraid of pies like I am, you can totally make this one!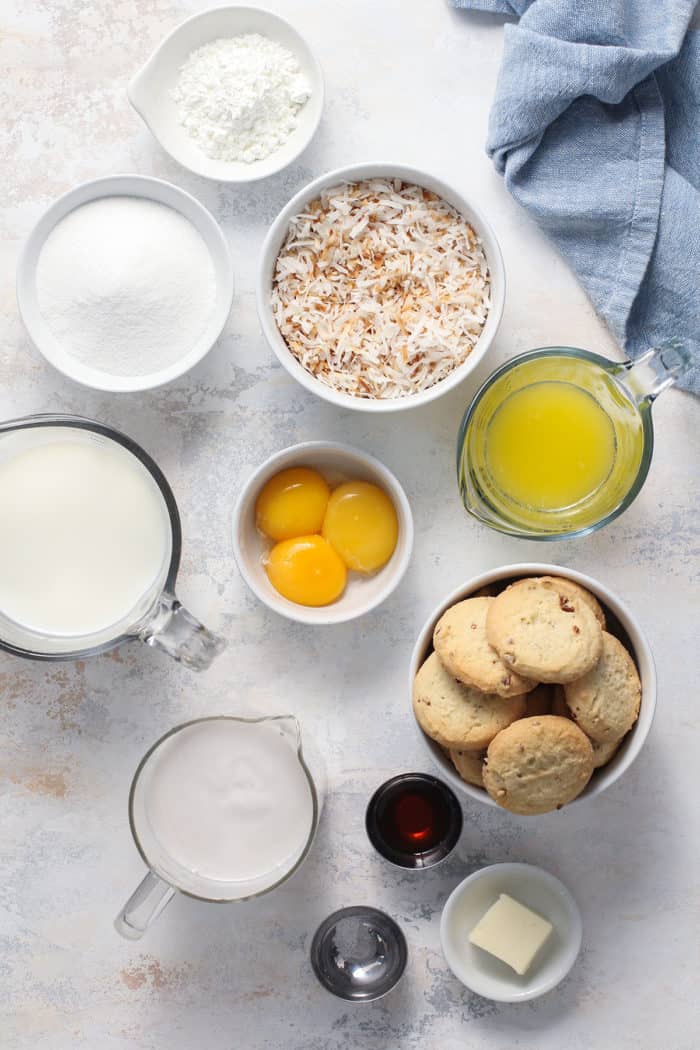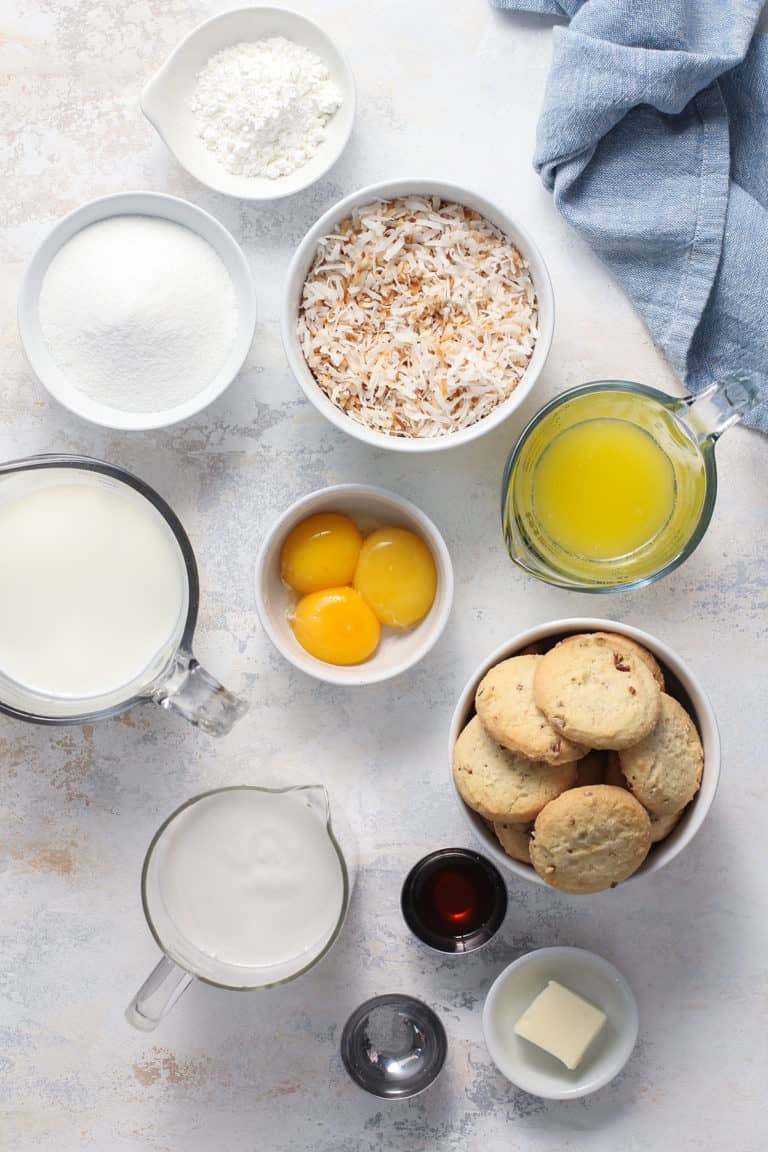 WHAT IS COCONUT CREAM PIE?
You've probably heard of cream pies – coconut cream pie, banana cream pie, chocolate cream pie – but did you know what it means?
Cream pies have a creamy filling that is usually cooked on the stove and then added to the crust. The pie is then chilled in the refrigerator to set.
Even though the filling is a type of custard, cream pies are different from custard pies because they aren't baked in the oven to set.
As you might have guessed, Coconut Cream Pie has a creamy coconut filling that is made on the stovetop, spooned into a crust, and is then topped with sweetened whipped cream.
My version uses a crust made from Pecan Sandies cookies, a filling based off of my Homemade Vanilla Pudding recipe, and a simple homemade whipped cream.
Don't forget some extra toasted coconut on top for flavor, texture, and to make it look pretty!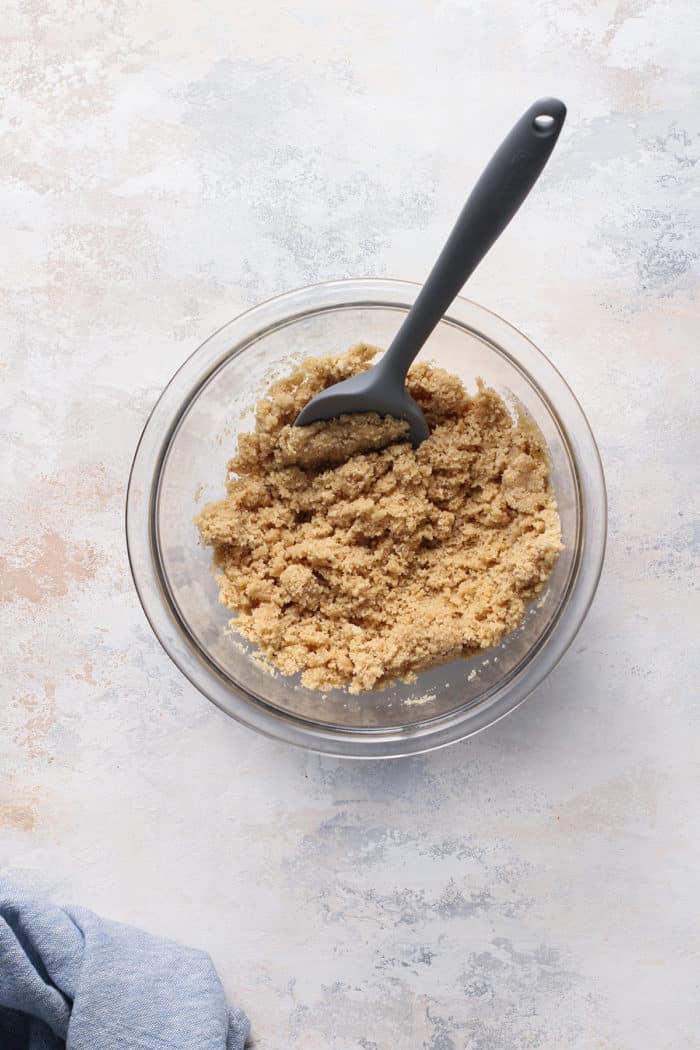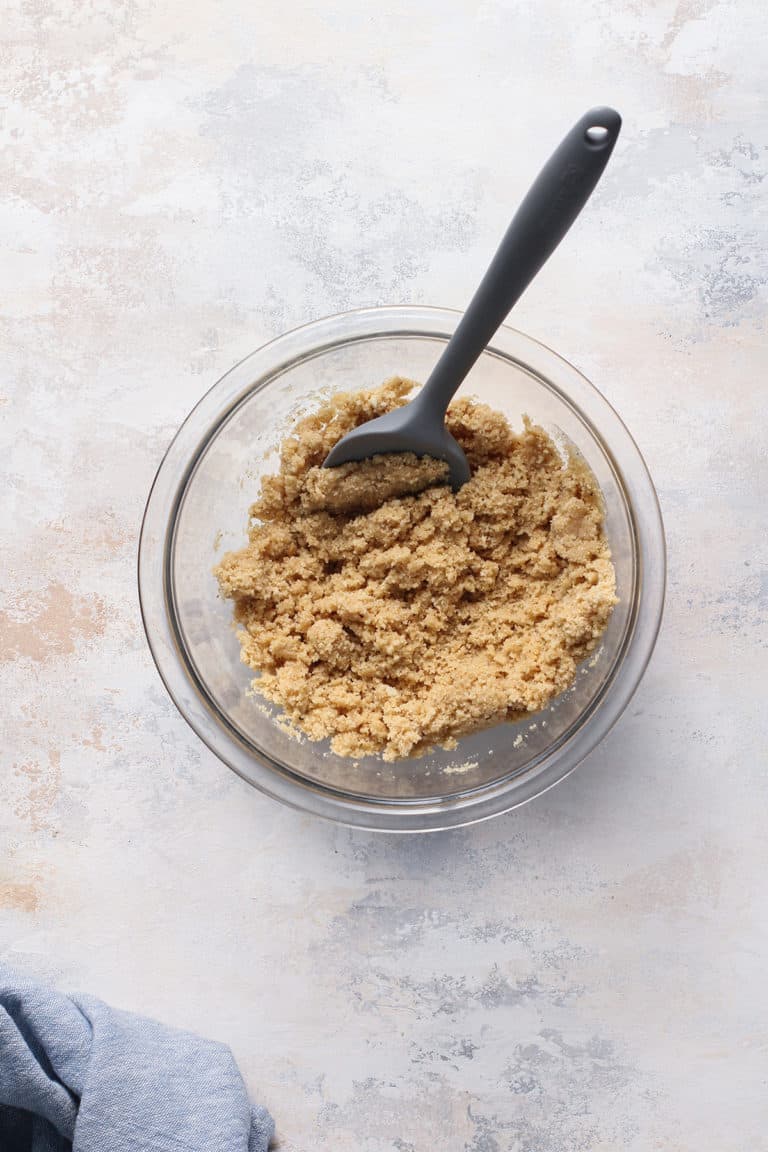 HOW TO MAKE COCONUT CREAM PIE
Don't be intimidated by needing to make a crust, filling, and topping for this pie. I'm going to walk you through it and you'll see that it's easier than you think!
Ingredients you'll need
Most of the ingredients you need to make this pie are pretty standard:
8 ounces Pecan Sandies or classic shortbread cookies: I personally like to use Pecan Sandies cookies for my crust, but you can use a classic shortbread cookie if you prefer.
3 tablespoons unsalted butter, melted: This will bind together the cookie crumbs to form the crust
1 ¼ cups sweetened flaked coconut, toasted: If you've never toasted coconut before, I have some tips for how to toast coconut.
1 ½ cups whole milk: Combined with the coconut milk, this will form the base of the pudding that serves as the pie filling
3 tablespoons cornstarch: This helps to thicken the filling
1 ½ cups unsweetened, canned coconut milk: Using coconut milk in the filling gives it even more coconut flavor. Make sure you use canned coconut milk, not the stuff from the carton!
Pinch of salt: Remember that we always use salt when baking to help balance flavor.
¾ cup sugar: Sugar adds just the right amount of sweetness to the pie
3 egg yolks: Eggs also help thicken the filling, as well as give it a really silky, lovely texture
1 tablespoon unsalted butter: Just a little bit of butter added to the filling gives it a nice, buttery finish
1 teaspoon pure vanilla extract: Just like salt, vanilla adds great flavor!
Homemade whipped cream or whipped topping: Don't forget the topping for your beautiful Coconut Cream Pie!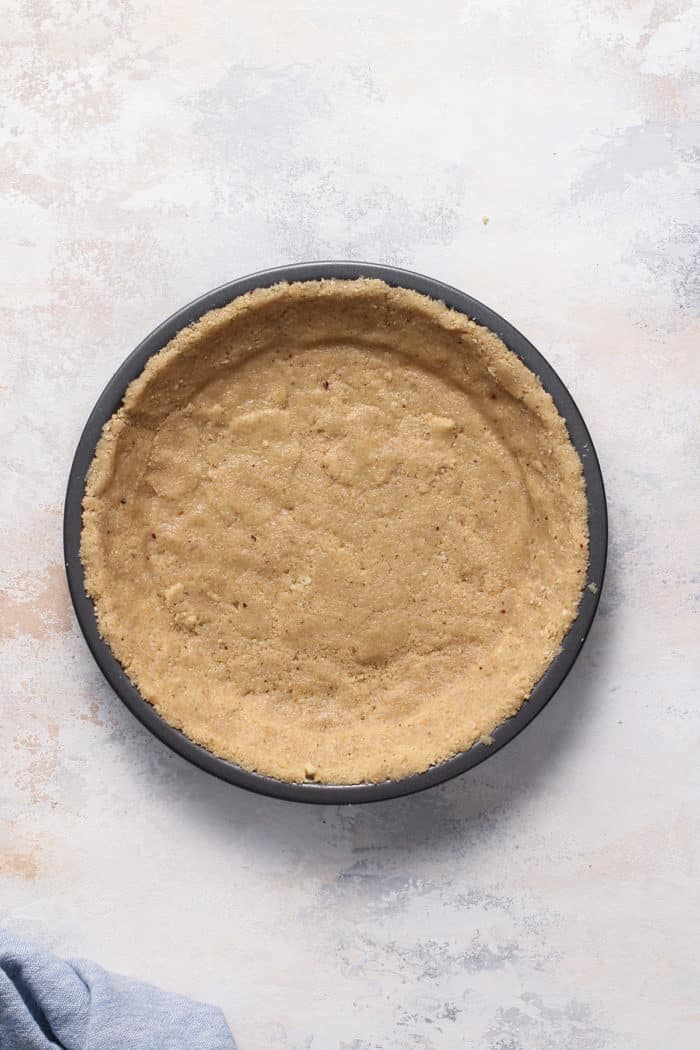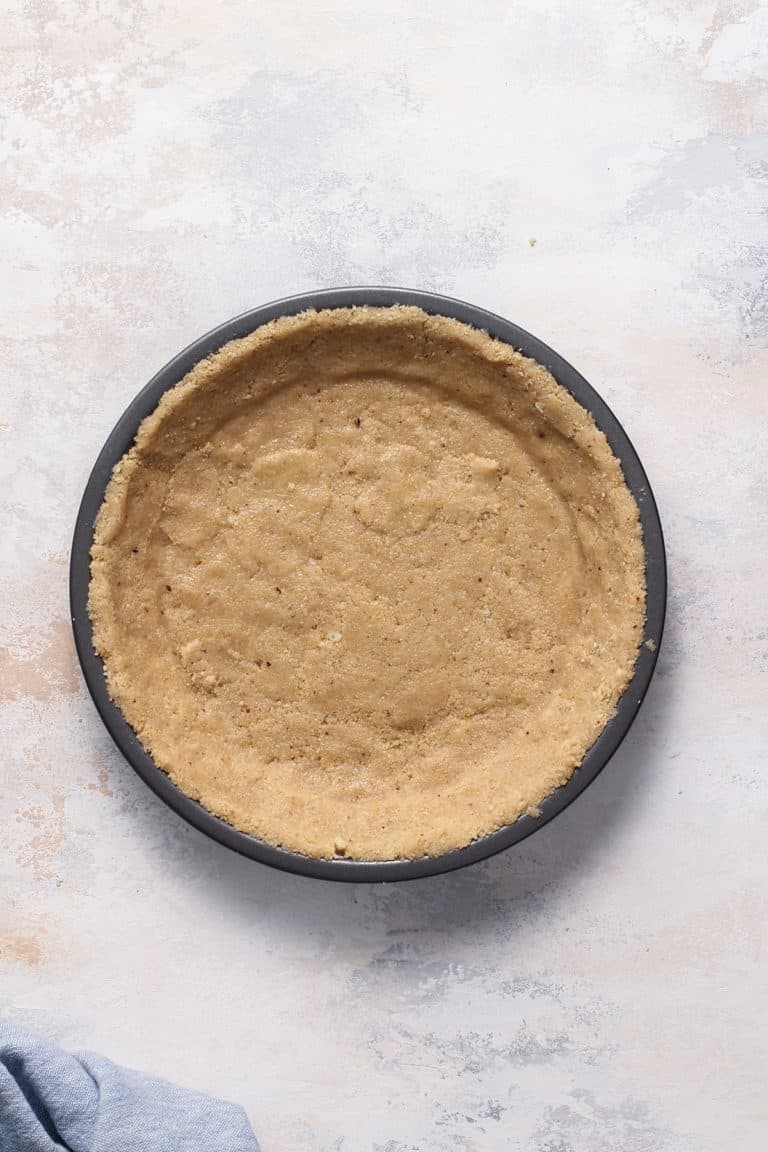 Tools you'll need
In addition to some measuring cups and spoons and a few bowls, you will need:
9-inch pie plate or springform pan
Food processor
Medium saucepan
Making this recipe
Start by preparing the crust. Grease your pie plate or springform pan. You can use either – taking the pie out of the springform pan is sometimes easier, so use whichever you prefer or have on hand.
Pulse the cookies in a food processor to make about 2 cups of crumbs. Mix these together with the melted butter, then press the mixture into the bottom and up the sides of your prepared pan.
Bake the crust for 8 minutes. This is the only baking we will do for this pie! Let the crust cool while you work on the filling.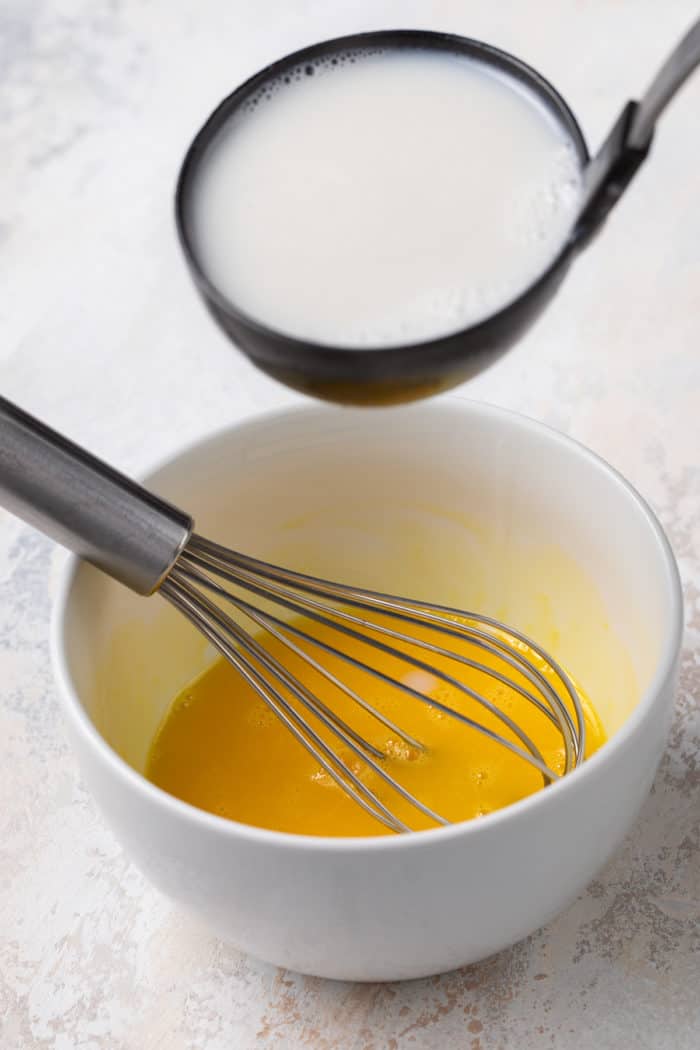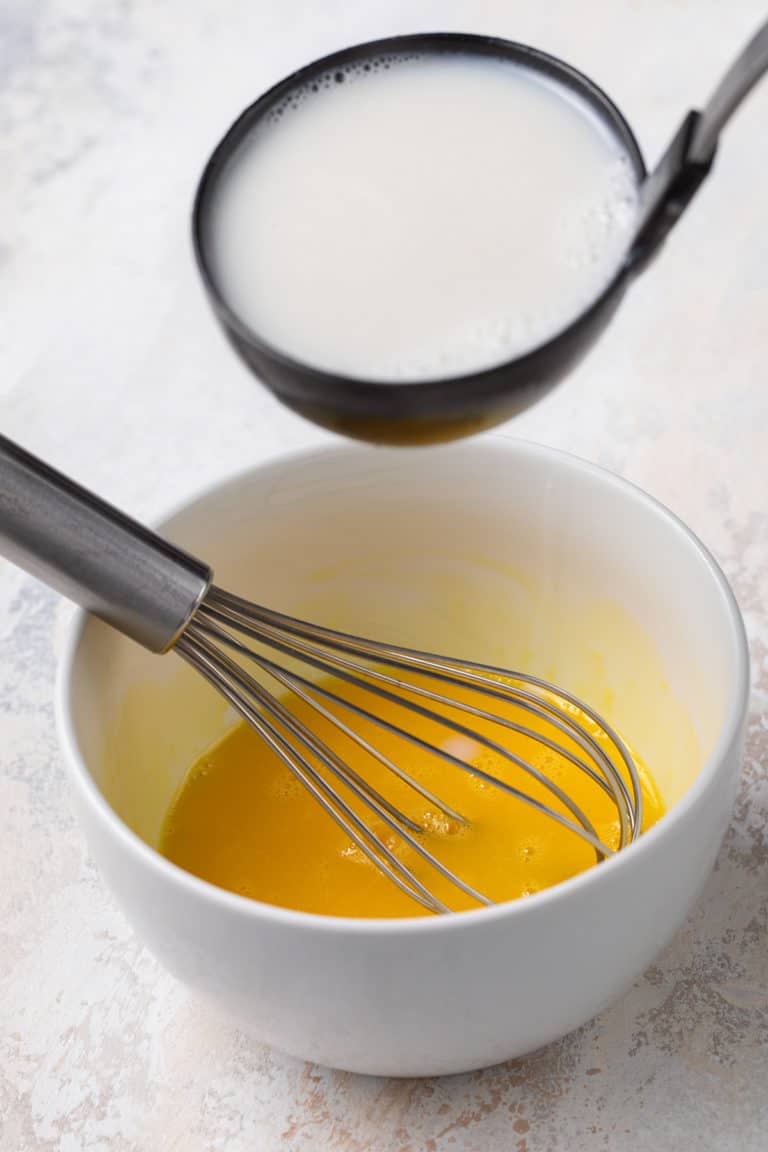 To make the filling, start by whisking together ¼ cup of the whole milk with the cornstarch. Set that aside.
In the saucepan, whisk the rest of the whole milk with the coconut milk, salt, and sugar. Put this mixture over medium heat until it is steaming, but not boiling. Make sure not to let it boil!
While the milk heats, whisk the egg yolks in a small bowl. Once the milk is steaming hot, slowly stream ½ cup of the milk into the egg yolks while whisking constantly. This is called tempering and will bring up the temperature of the eggs so they don't scramble once we add them to the hot milk.
Add the now-warmed egg yolks into the pot, followed by the cornstarch mixture. Cook everything over medium heat, whisking constantly, until the filling starts to simmer and has thickened.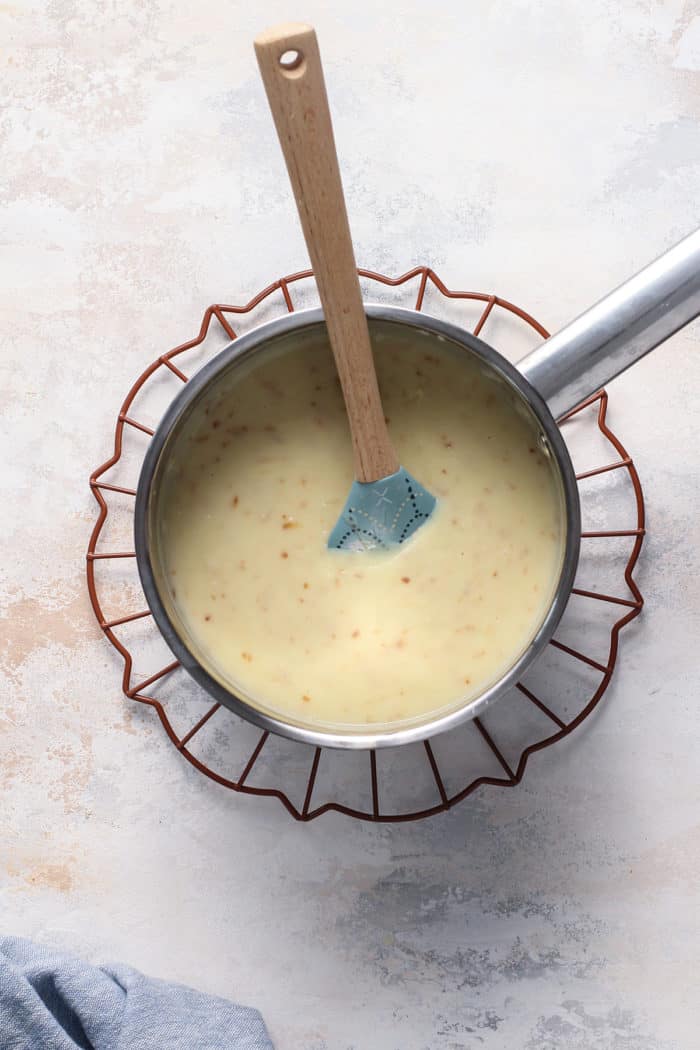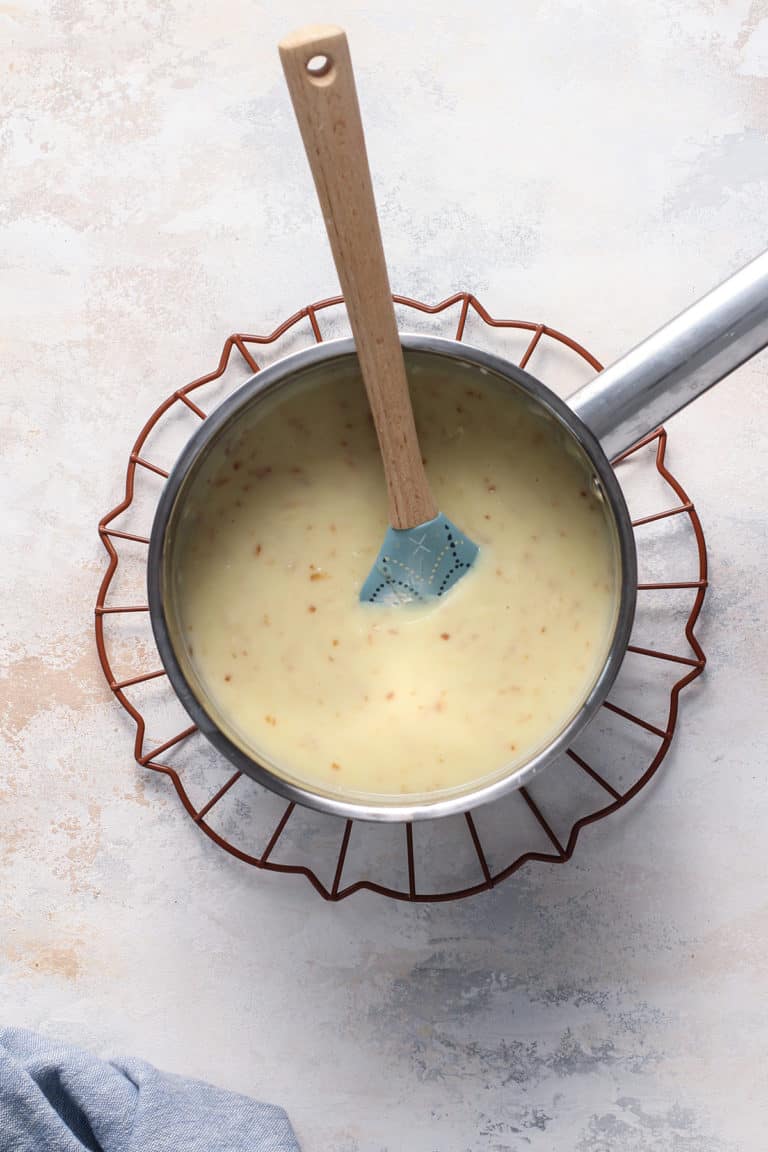 Immediately remove the filling from the heat and whisk in the butter and vanilla, followed by 1 cup of the toasted coconut.
Add the filling to the prepared crust. Let it cool before refrigerating for several hours, until the pie is completely chilled.
Before serving, make some sweetened whipped cream and dollop it on top of the pie. Garnish with more toasted coconut for a picture-perfect finish!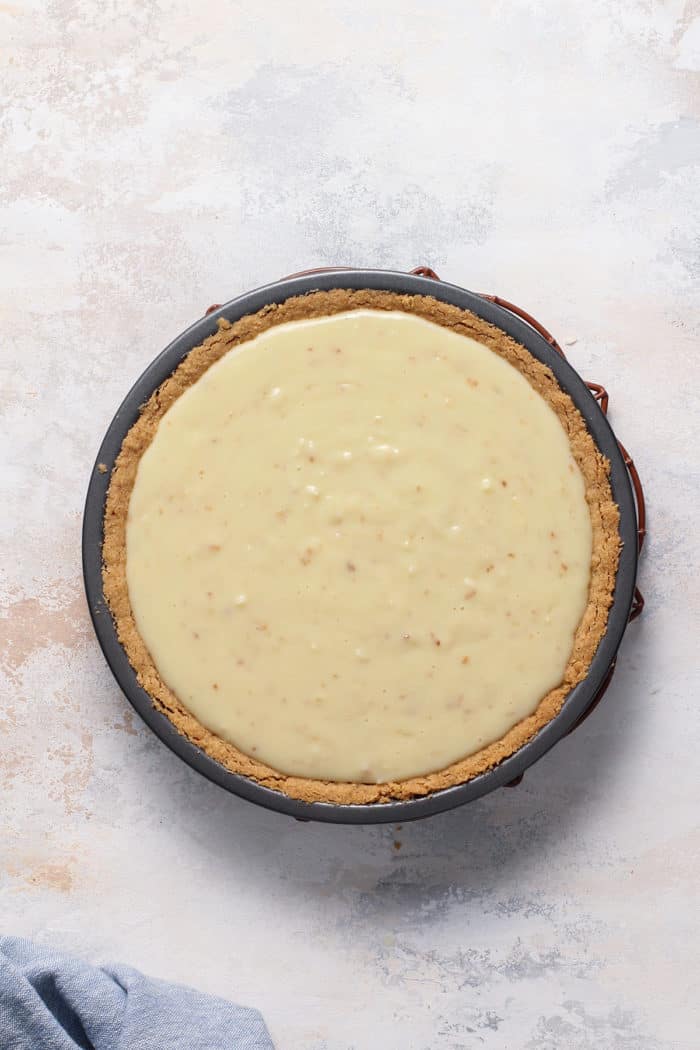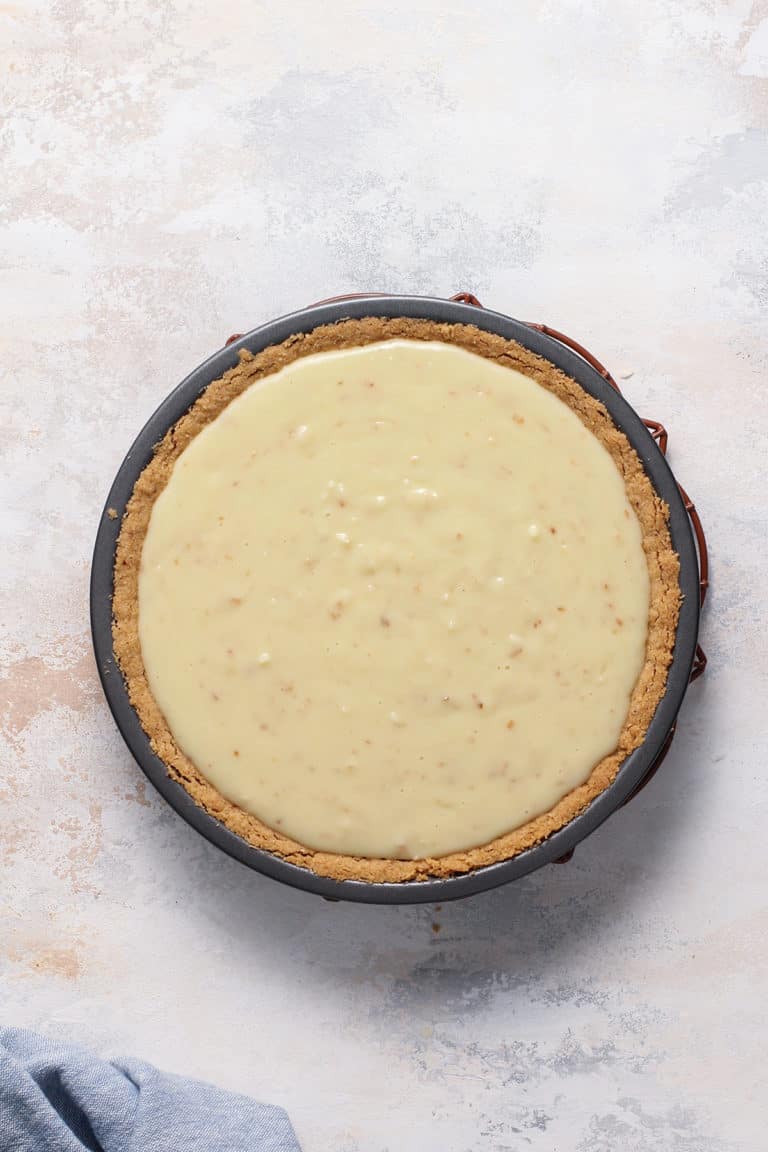 RECIPE SUBSTITUTIONS
I've shared how I prefer to make my Coconut Cream Pie, but there are a few swaps you can make if you want. After all, there's no one right way to make a classic pie like this!
Crust alternatives
I personally love the flavor and texture of the shortbread cookie crust paired with the silky coconut filling for this pie. Not to mention, it's easier to make than a traditional pie crust!
I know a lot of people like their Coconut Cream Pies with a more standard crust. You can always use a flaky pie crust (or a store-bought pie shell) instead. Just make sure you fully bake the crust before adding the filling.
You could also use a graham cracker crust if you prefer!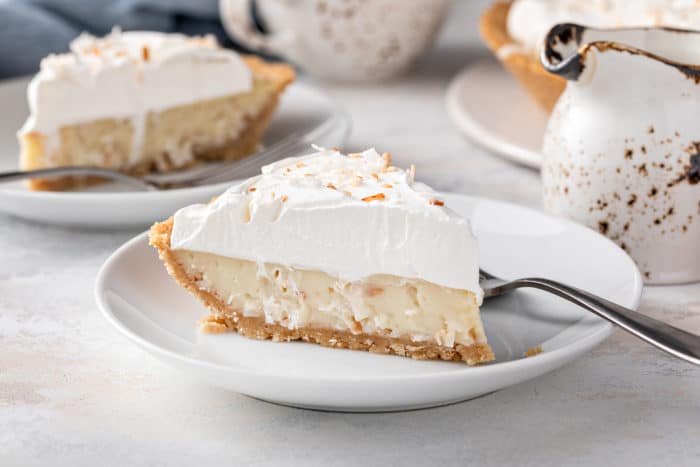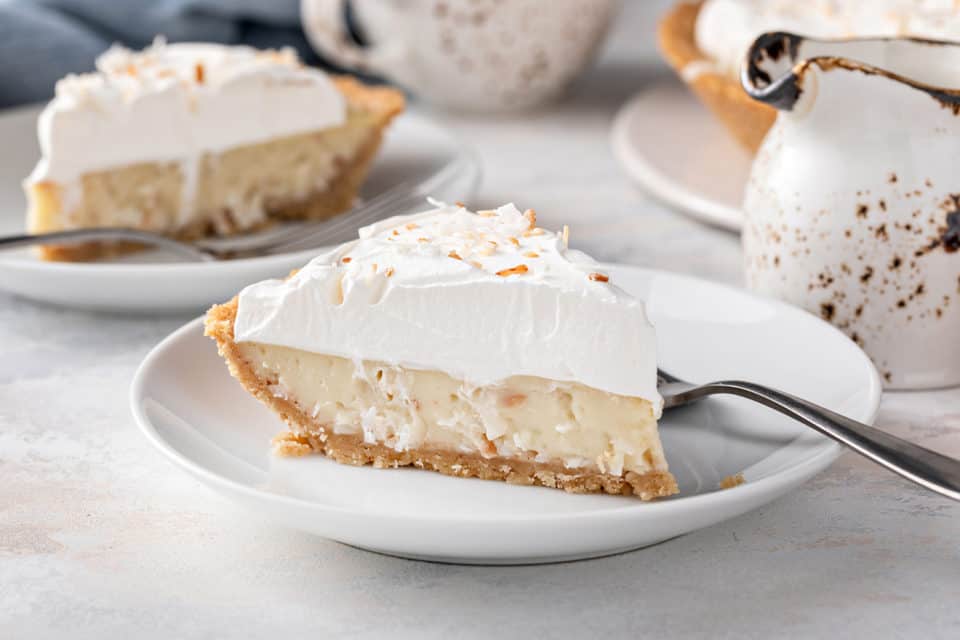 Filling alternatives
The filling for this pie is pretty standard. I use both whole milk and canned coconut milk to give plenty of coconut flavor to the pie.
If you don't have canned coconut milk or don't want to use it, you can replace it with whole milk or even half-and-half. Just remember that the final pie won't have as much coconut flavor.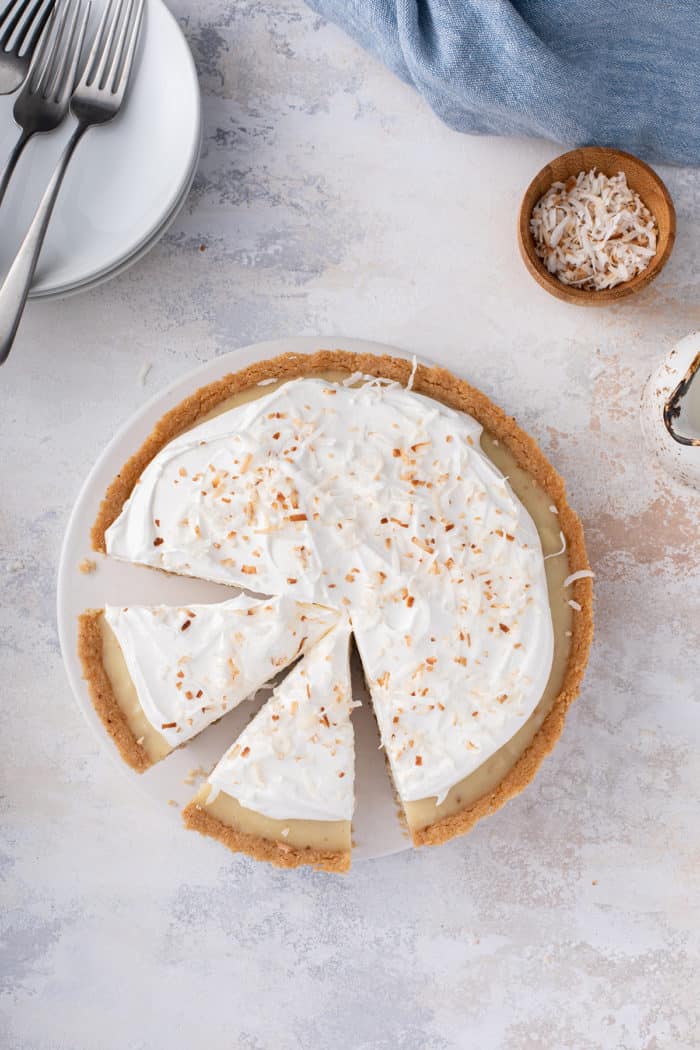 Topping alternatives
Homemade whipped cream is the perfect way to top off a homemade Coconut Cream Pie, but that doesn't mean it's the only way.
You can totally use thawed Cool Whip if you prefer. It would make topping the pie super fast and easy!
Some Coconut Cream Pie recipes call for topping the pie with a meringue instead of whipped cream, similar to a lemon meringue pie. It's totally delicious but also a bit trickier to do.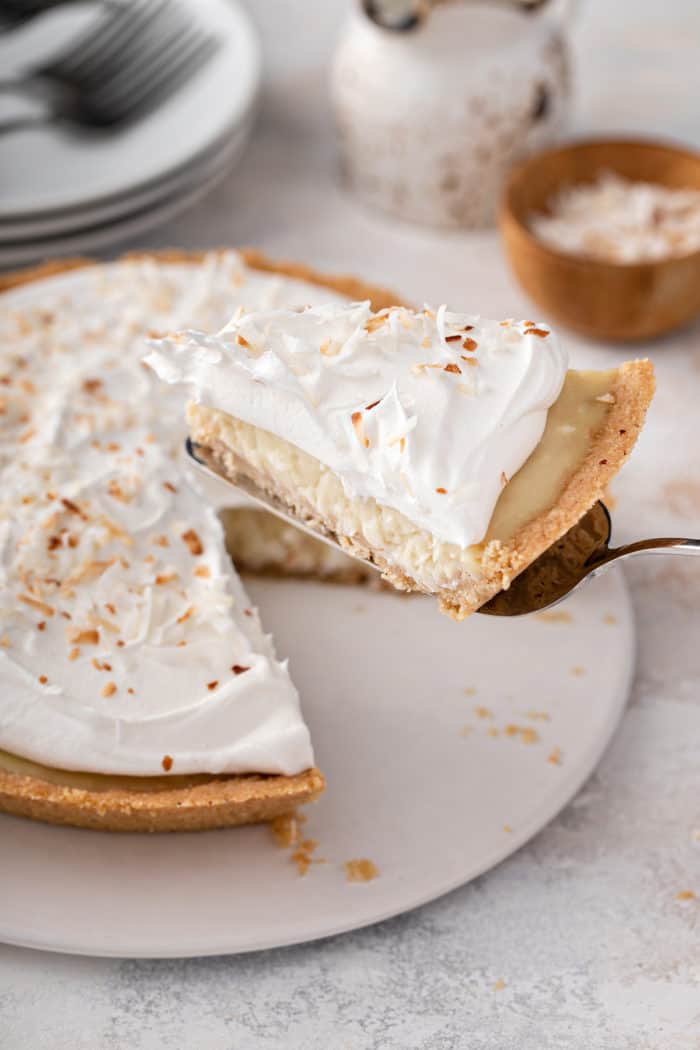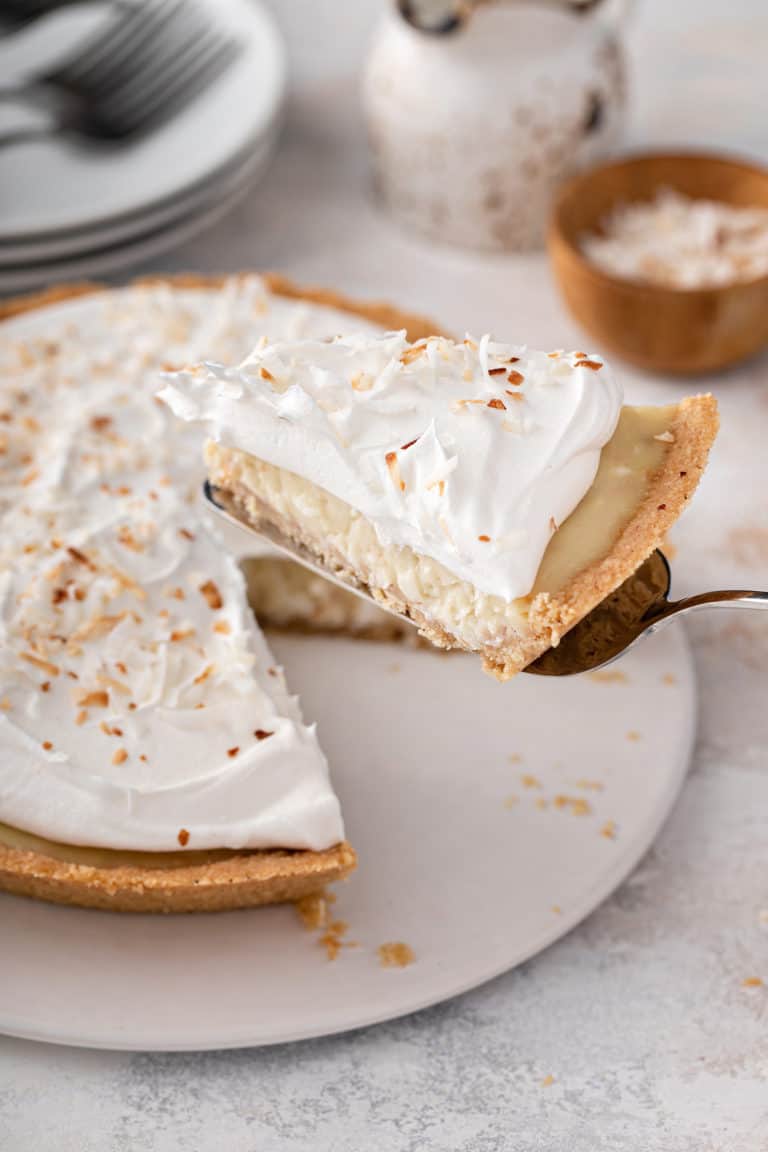 STORING COCONUT PIE
Obviously there is a lot of dairy and eggs in Coconut Cream Pie, so it shouldn't be a surprise that you need to keep this pie refrigerated!
I like to wait until just before serving to make the whipped cream and add it to the top of the pie, that way it is super fresh.
Grab the chilled pie from the fridge, whip your heavy cream, and dollop it onto the pie. Keep any leftover pie covered in the refrigerator for up to 2 days.
The whipped cream may start to weep or deflate a bit after being in the refrigerator for a day or two. If you know you won't be eating most of the pie right away, you could top each slice with whipped cream individually to help it store better.
If you have any coconut lovers in your life, try your hand at making them this Coconut Cream Pie. I can guarantee they will love it!