This Fresh Strawberry Pie is one of the best ways to show off those sweet summer strawberries. This recipe is made without jello and pairs the strawberries with a pretzel-pecan crust for a slice of pie inspired by strawberry-pretzel salad.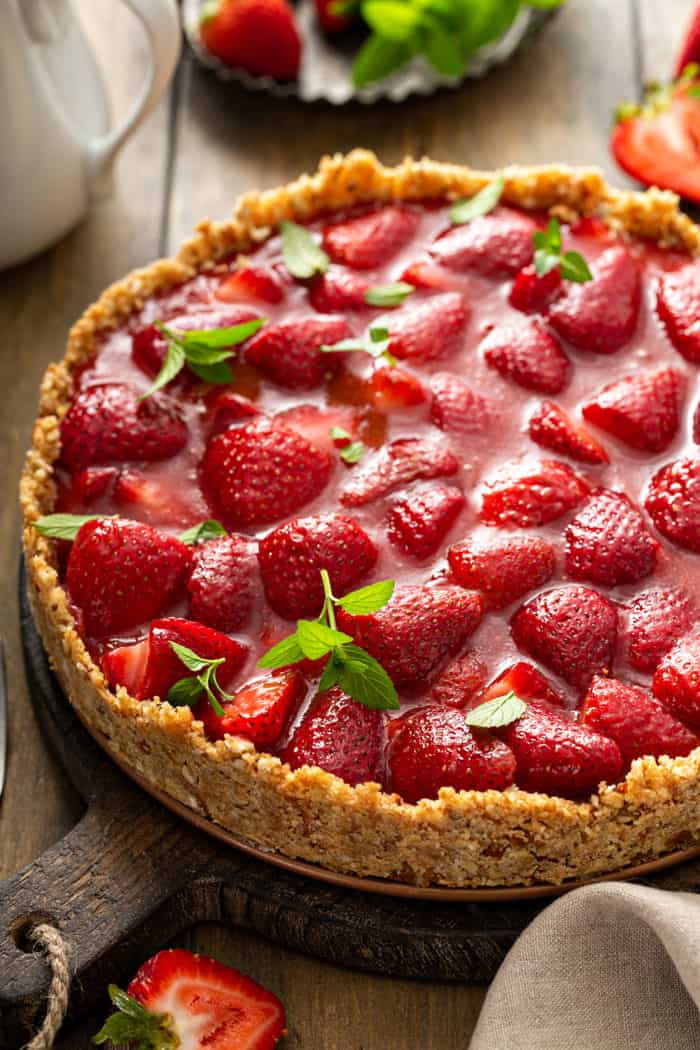 If you've been following My Baking Addiction for any length of time, you're probably well aware of the fact that I don't post many pies around here. Pie crust just isn't my thing even though I kind of really wish it was.
But if I can skip the typical pie crust and sub in a shortbread cookie crust (like in my coconut cream pie) or a delicious crust loaded with pretzels, pecans and graham cracker crumbs, I'm all in.

This no-bake Fresh Strawberry Pie is bursting with gorgeous summer strawberries and is sure to quickly become your new go-to summer dessert!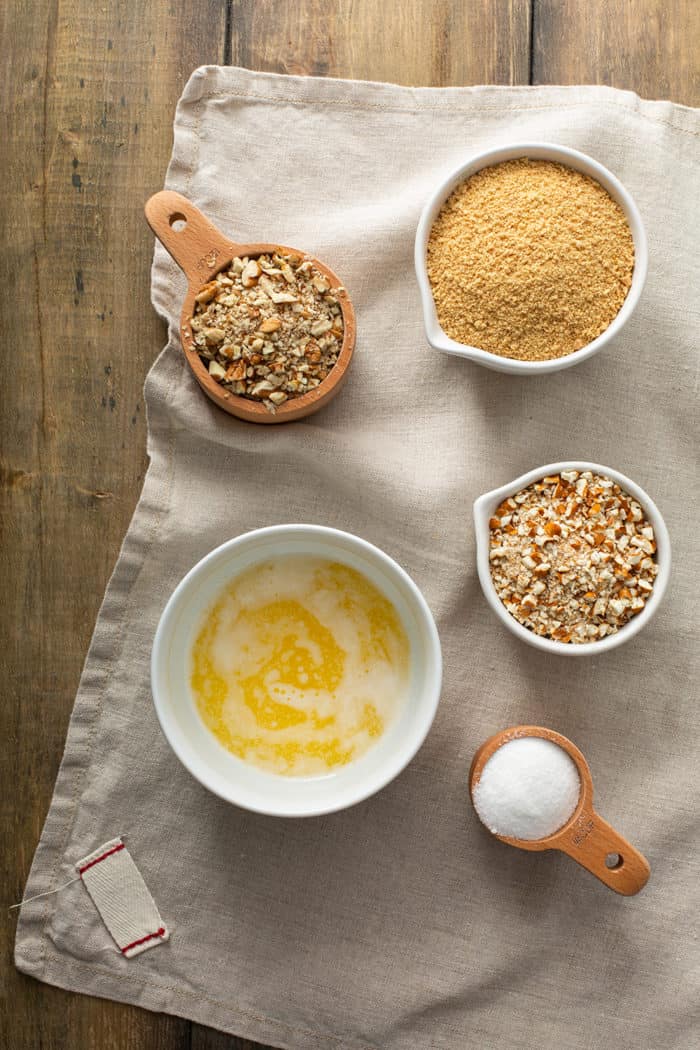 STRAWBERRY PIE WITHOUT JELLO
When I shared my No-Bake Frozen Cheesecake with you, I told you how I paired it with a crust made from graham crackers, pretzels and pecans inspired by Strawberry Pretzel Salad.
Of course that made me wonder how that crust would be on a strawberry pie. And when an idea like that gets in my head, it won't leave until I make it happen.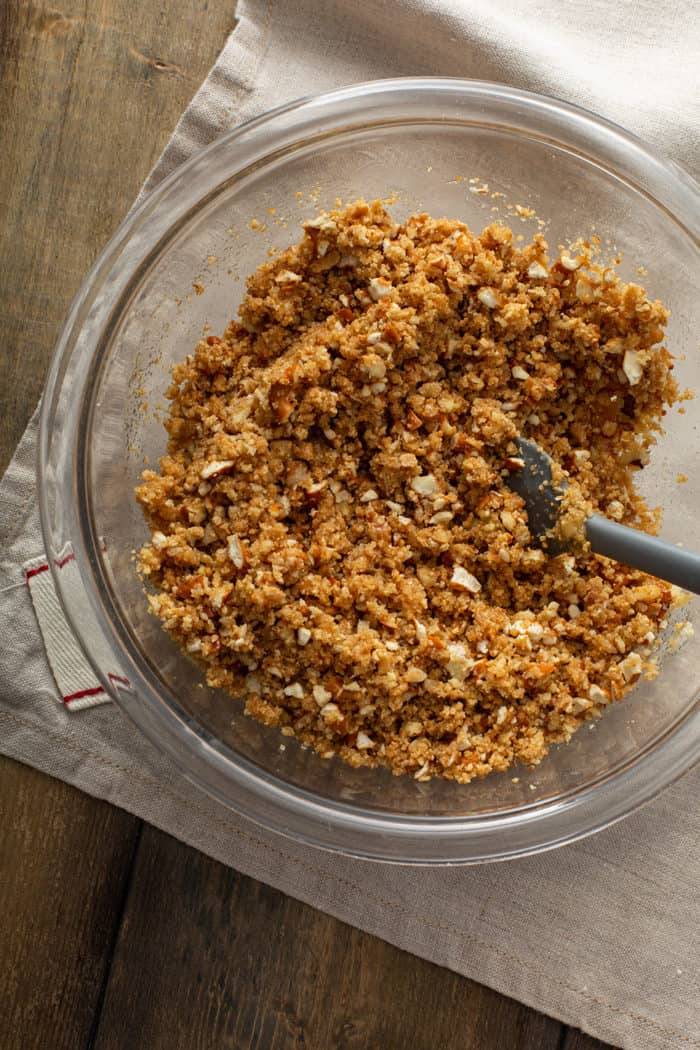 Even though my Strawberry Pretzel Salad uses jello, I wanted to try to make a strawberry pie without any gelatin in it. I know not everyone is able to eat jello and I figured I could work out a way to make a pie that sets well without it.
Instead of using jello to set the pie, my Fresh Strawberry Pie filling uses:
2 pounds fresh strawberries
¾ cup granulated sugar
⅓ cup boiling water
3 tablespoons cornstarch
1 teaspoon vanilla extract
That's right, there are 2 full pounds of strawberries in this pie! I don't joke around when it comes to fresh summer strawberries, ok?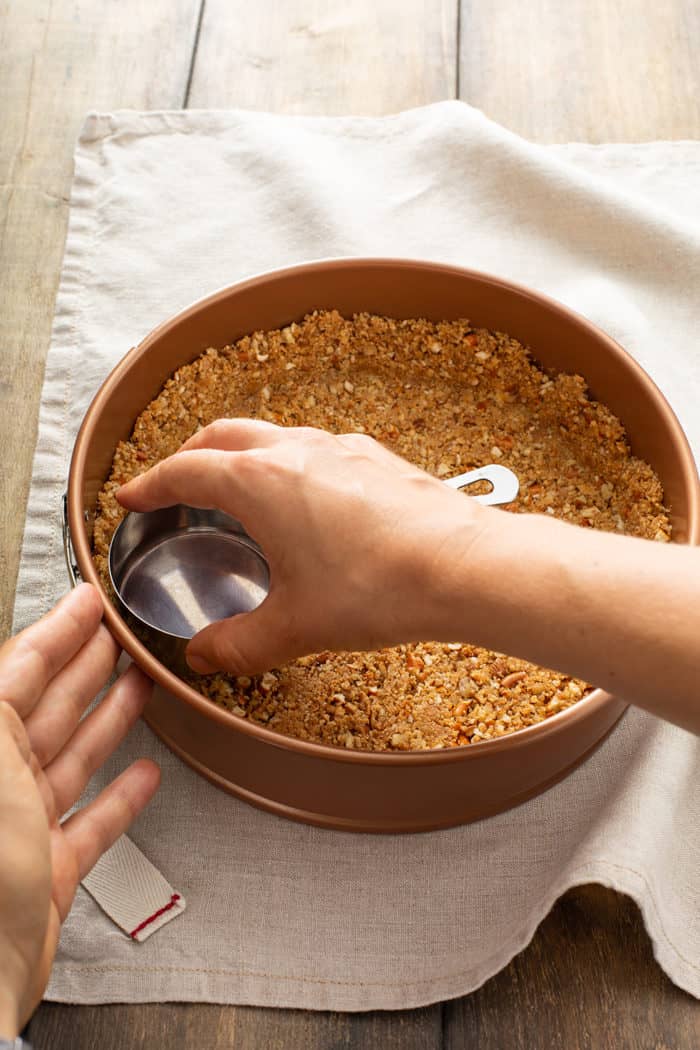 HOW TO MAKE THIS FRESH STRAWBERRY PIE
This Fresh Strawberry Pie is completely no bake. Even the crust!
Start by mixing together graham cracker crumbs, coarsely chopped pretzels, chopped pecans, granulated sugar, and melted butter for the crust. Press that into the bottom and part way up the sides of a springform pan.
The first time I made this pie, I put it in a regular pie plate. But getting a clean slice out was really hard, so I gave it a try in the springform pan. Trust me, it's much easier to cut and serve this way!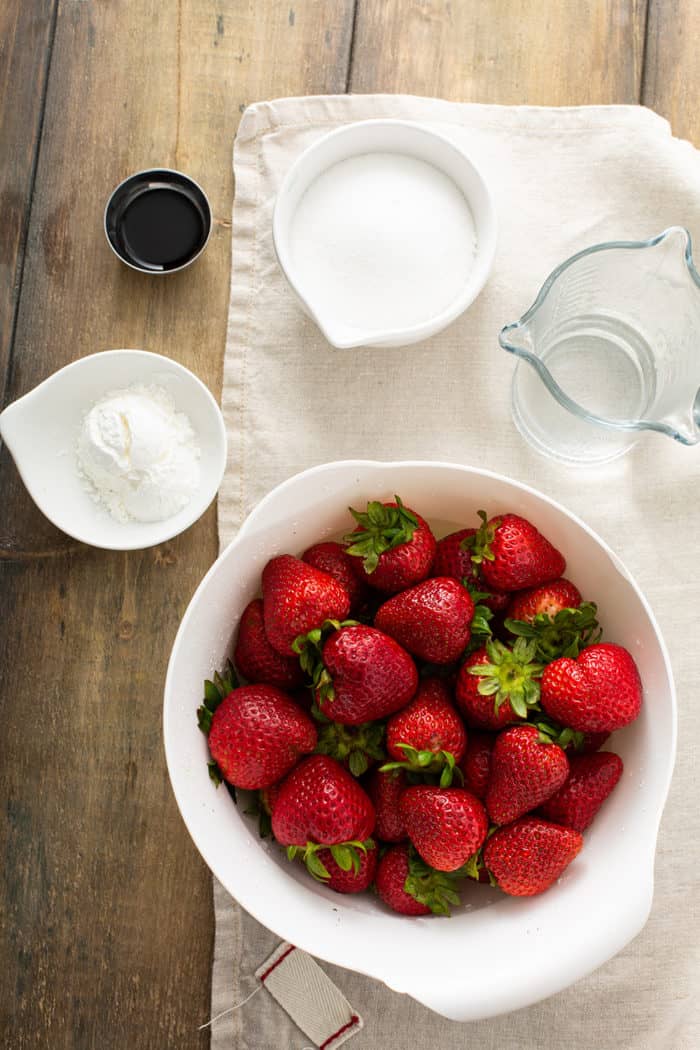 I like to pop the crust in the fridge to chill while I make the filling.
To make the filling, puree 1 ½ cups of the fresh strawberries in a blender or food processor. Add the boiling water, cornstarch, and sugar and puree until smooth.
Add this mixture into a saucepan and bring it to a boil over medium heat, stirring constantly. Boil it for 3 minutes and don't stop stirring it!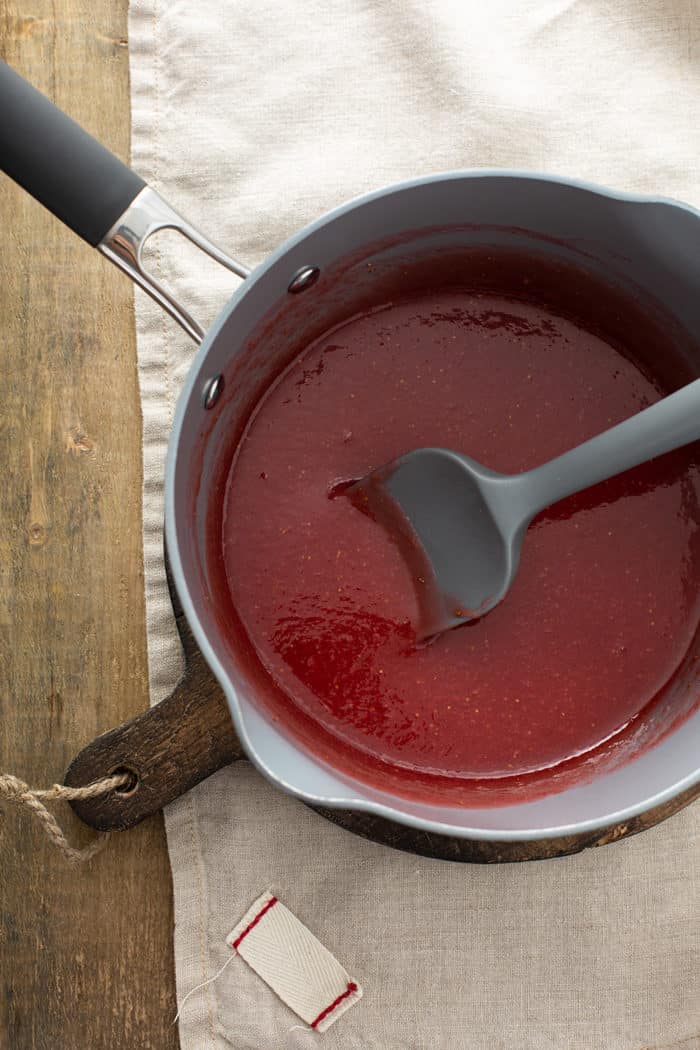 After it has boiled for 3 minutes, remove it from the heat and stir in the vanilla extract. Let it rest for a few minutes while you prepare the rest of the strawberries.
Stir the strawberries into the glaze and immediately pour this into the crust. Chill the pie for 2 hours before removing the outer ring of the springform pan, cutting and serving with homemade whipped cream.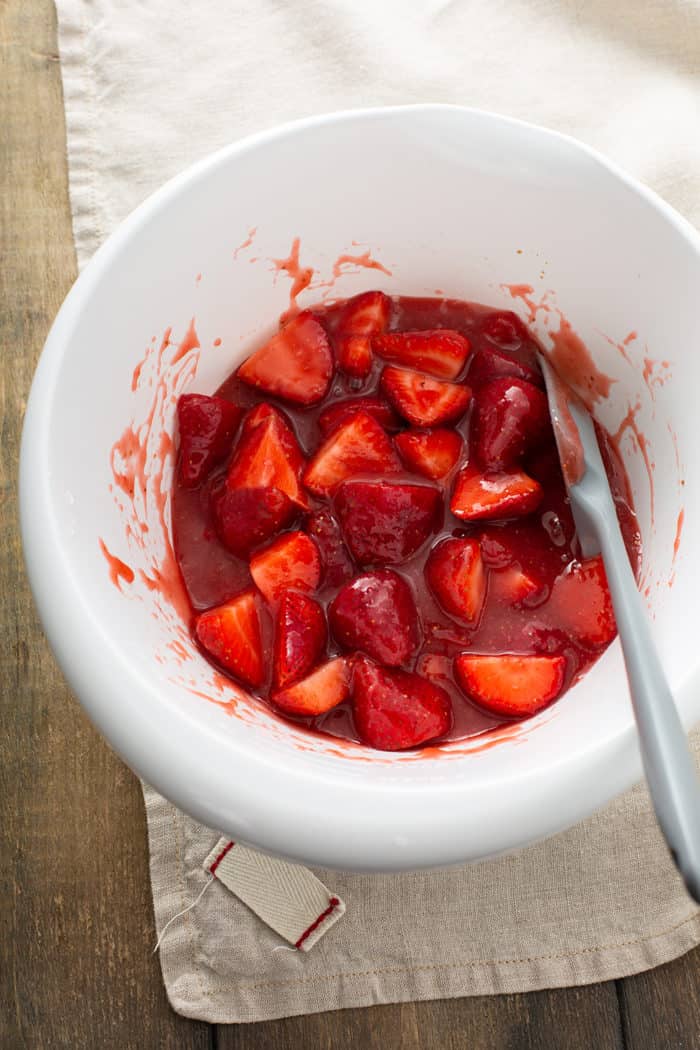 TIPS FOR MAKING THIS PIE
I have made this pie a few times now, so I have a few tips and tricks to share:
If you don't want to use the pretzel crust, use a graham cracker crust instead. I love the sweet-salty combo of the pie filling with the pretzel crust, but it'll still be delicious with a more traditional graham cracker crust!
Press the crust into the pan with the bottom of a measuring cup. Using the flat bottom of measuring cup will help you really get the crust packed in tightly and will help make it more even than if you used your hands.
Look for smaller strawberries. Smaller strawberries are often sweeter and will be easier to prep for this pie. If you can only find large strawberries, I would cut them into quarters or even eighths so the pie is easier to cut and serve later.
Don't skip the boiling water. This recipe calls for boiling water for a reason! I tried making it without boiling the water first and it didn't set as well. I couldn't tell you the science behind it. All I can say is that I've tested it multiple times and this is what works for me.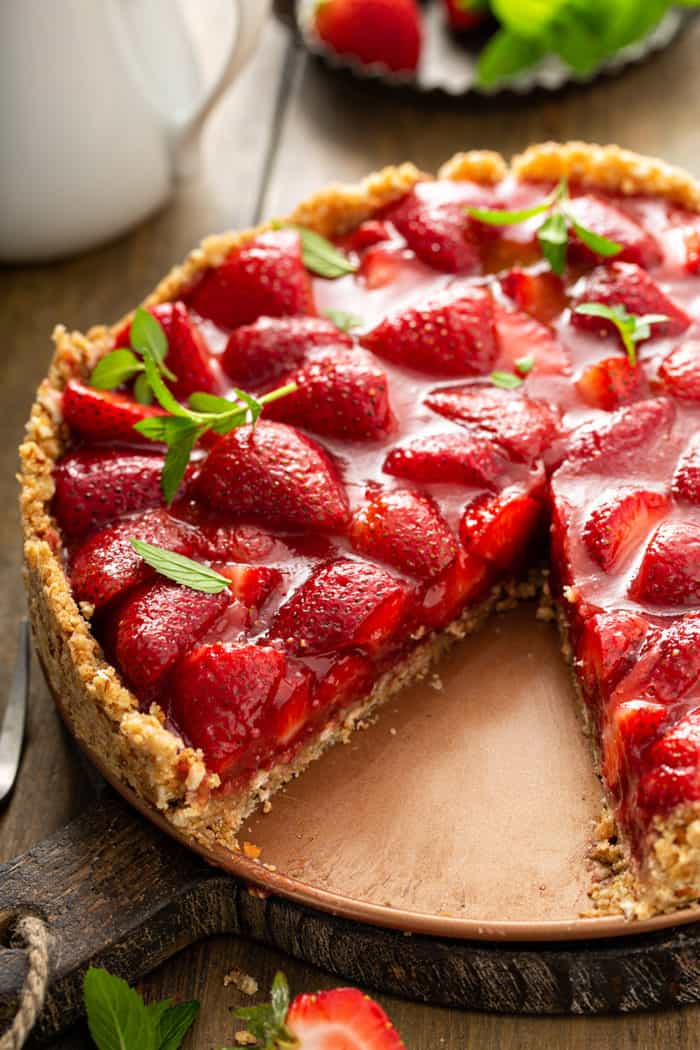 CAN THIS RECIPE BE MADE AHEAD?
Fresh Strawberry Pie really needs to be eaten the same day it is made. Once it sets, you can wait a few hours before slicing it, but it's best to serve it within several hours. Otherwise, the strawberries start to weep.
The leftovers will still taste good the next day, but the texture won't be as nice.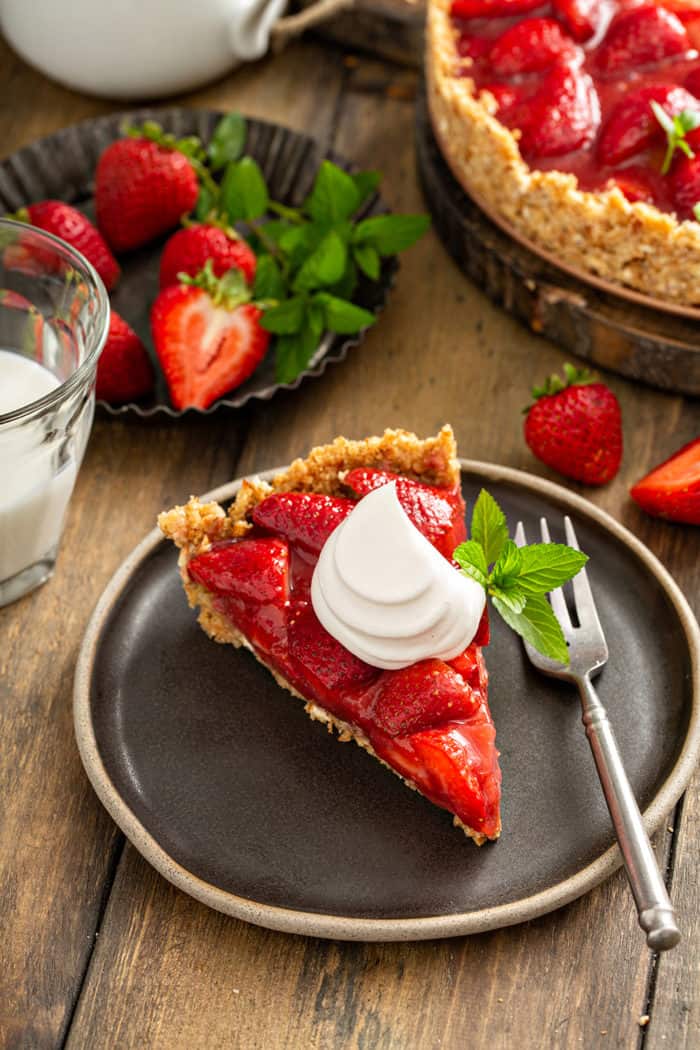 You will also need to keep this pie chilled until serving it and you cannot freeze it for later.
If you're looking for a pie that uses your summer berries and can be made the day before, check out this baked strawberry pie.
Consider this recipe to be one of those rare treats you make when strawberries are at their peak. It'll be worth it!