No-Bake Frozen Cheesecake is the perfect way to celebrate summer. A sweet and salty crust combines with a layer of smooth cheesecake filling and fresh berries to create a delicious dessert for summer entertaining.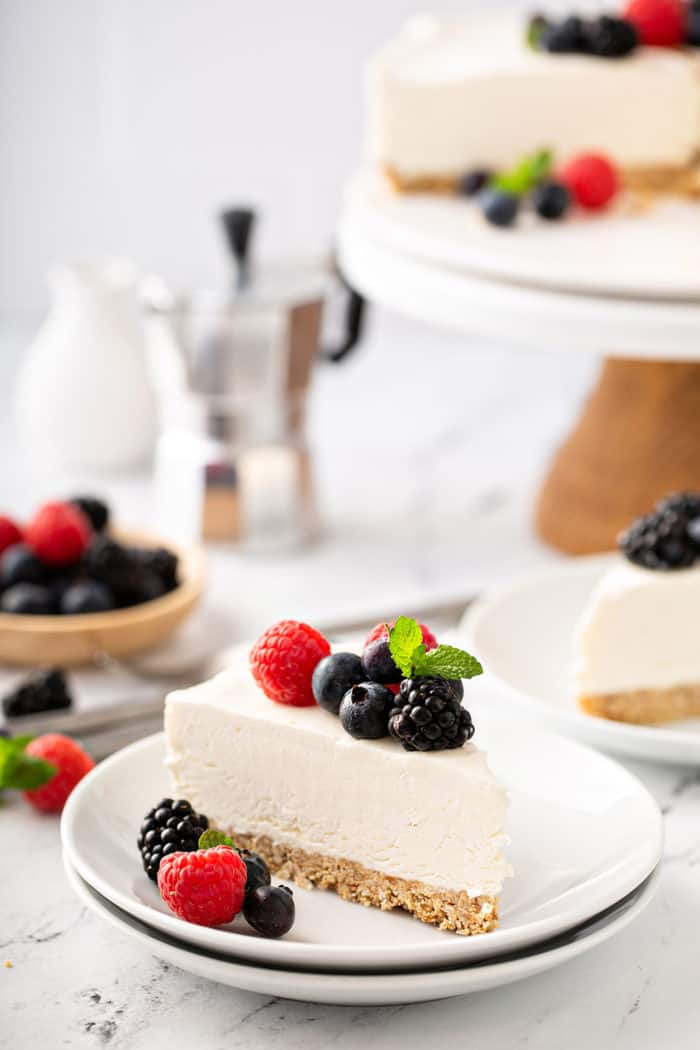 It's that time of year when I start thinking about simple summer recipes to share with you.
As the temps heat up, we're outside most of the day, so I bake a lot less than I do throughout the fall and winter months.
Even though I'm not cranking up the oven as much as I normally do, I still want to share easy, delicious recipes that are perfect for the summer months and this frozen cheesecake is all of those things.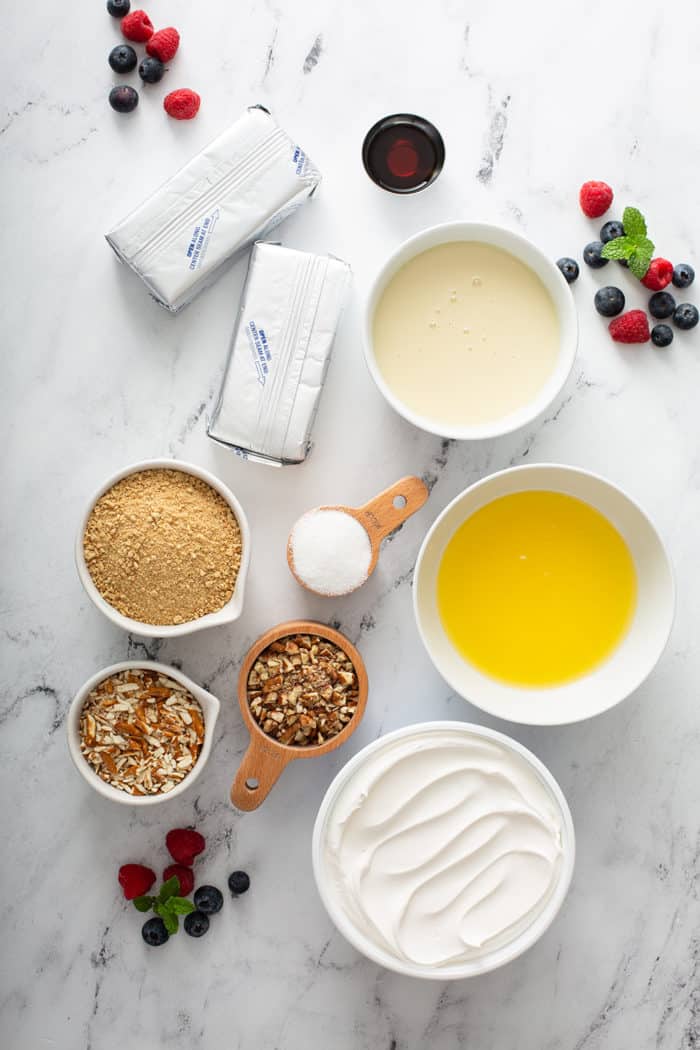 THE PERFECT SUMMER CHEESECAKE
If you read MBA on a regular basis, you know that I am a huge fan of no-bake desserts. They're quick, easy, always a crowd pleaser.
With temps soon to be on the rise here in the midwest, it seemed time to bust out my favorite frozen cheesecake recipe.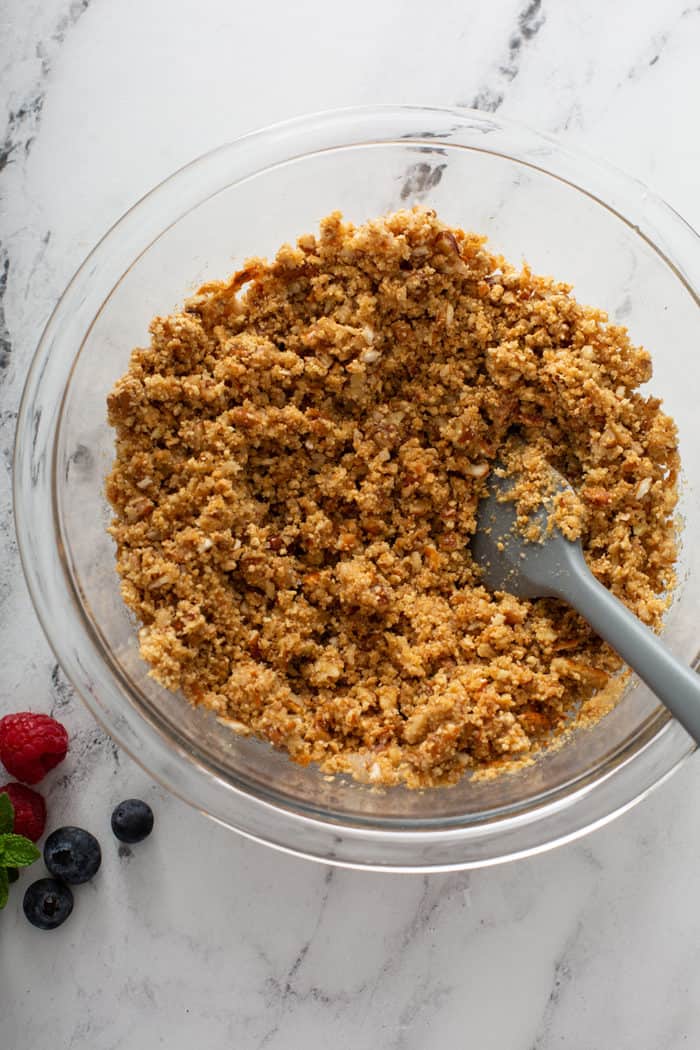 This No-Bake Frozen Cheesecake is a mash-up of two of my favorite recipes: Frozen Samoa Pie and Strawberry Pretzel Salad. I turned them into one epic summer treat worthy of any occasion.
I combined a sweet and salty crust with a smooth and creamy cheesecake filling. I popped the cake into the freezer for a couple of hours and topped it with loads of fresh berries right before serving.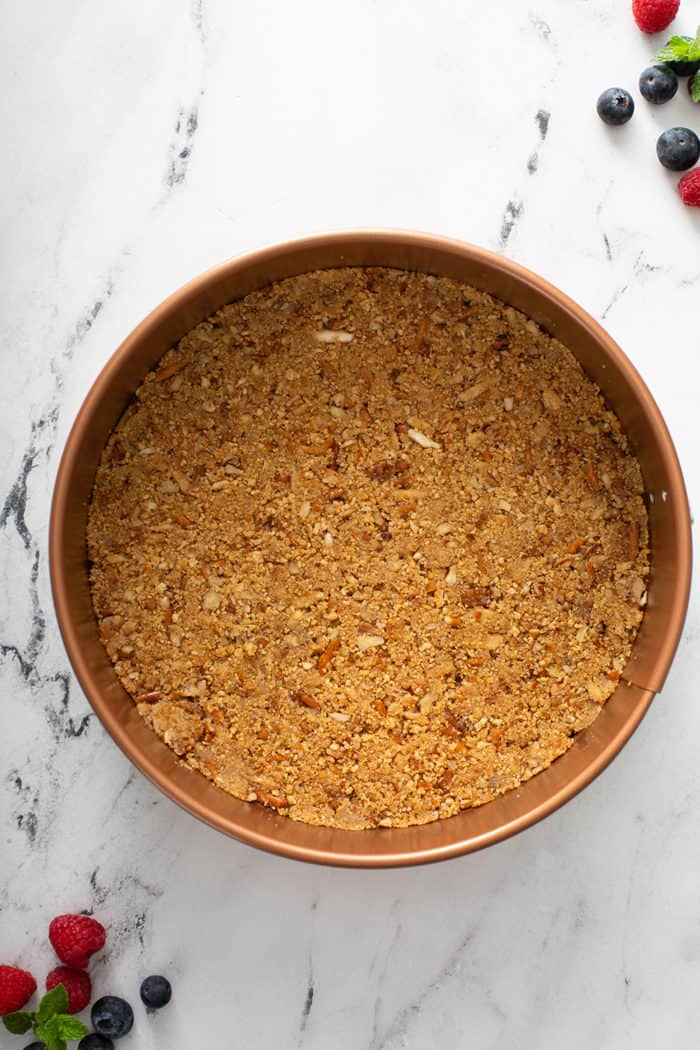 About that sweet and salty crust? I used a combination of graham cracker crumbs, crushed pretzels and finely chopped pecans. It really takes the traditional graham cracker crust up to a whole new level.
I seriously could just eat this crust with a spoon. Okay, truth time. I may have snacked on the crust just a little bit.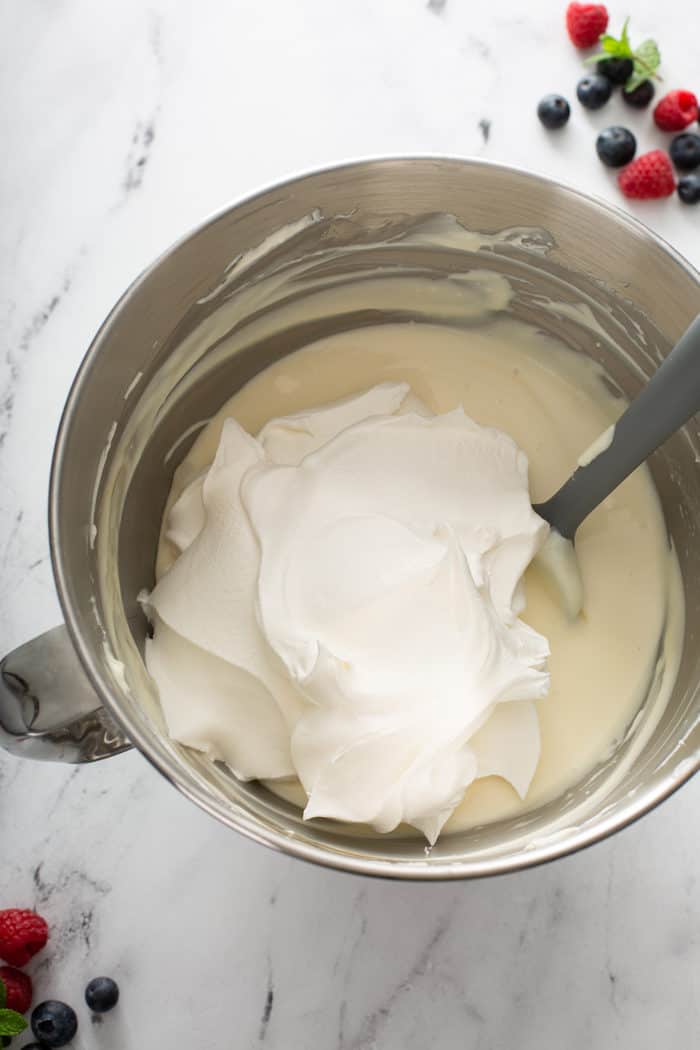 NO-BAKE CHEESECAKE FILLING WITH CONDENSED MILK
The filling for this cheesecake is incredibly simple. It only uses 4 ingredients:
Cream cheese
Sweetened condensed milk
Frozen whipped topping
Pure vanilla extract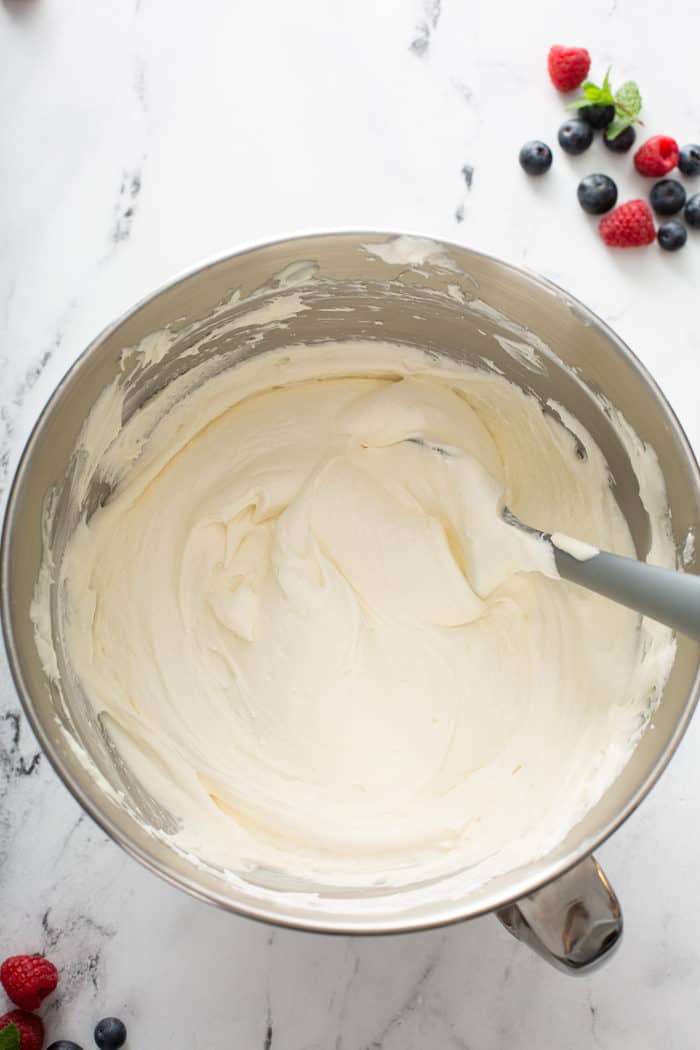 Typical cheesecake fillings, like Vanilla Cheesecake, use eggs and cream. Since we aren't baking this filling, this one doesn't have any eggs in it.
Instead, it uses a combo of Cool Whip and sweetened condensed milk to get that beautiful cheesecake texture, sweeten the filling, and make it perfect for freezing!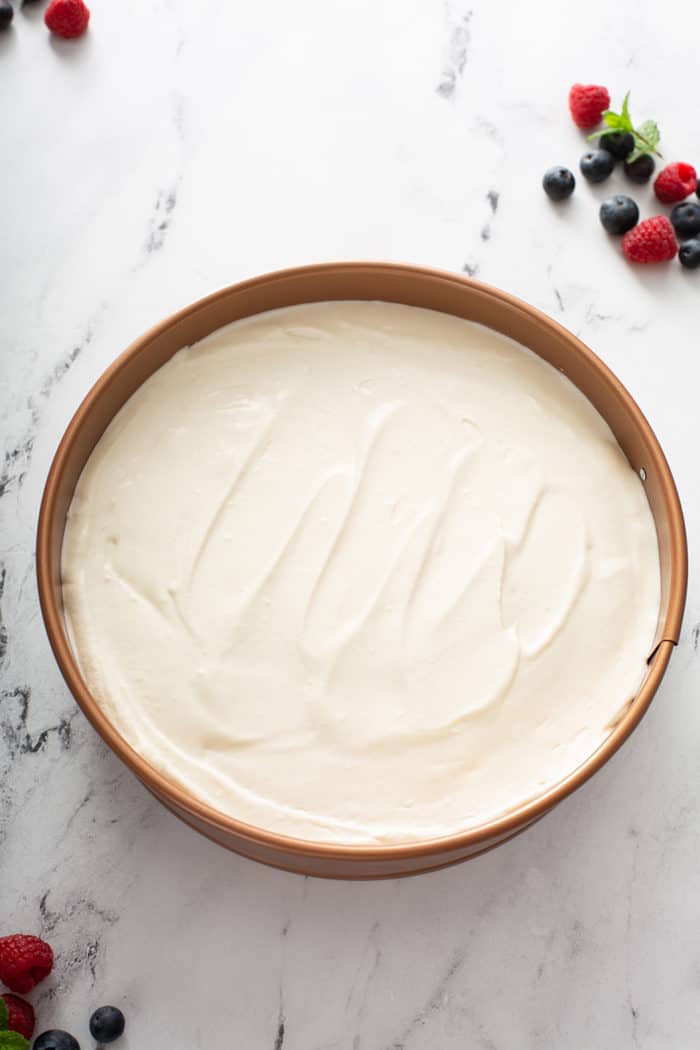 HOW TO MAKE NO-BAKE FROZEN CHEESECAKE
This entire cheesecake only takes about 15 minutes to prep, so it's a great option if you don't have a lot of time to spend mixing something together.
Start by stirring together the graham cracker crumbs, chopped pretzels, chopped pecans, sugar, and melted butter for the crust. Press the crumbs into the bottom of a springform pan.
The crust is done! Easy peasy.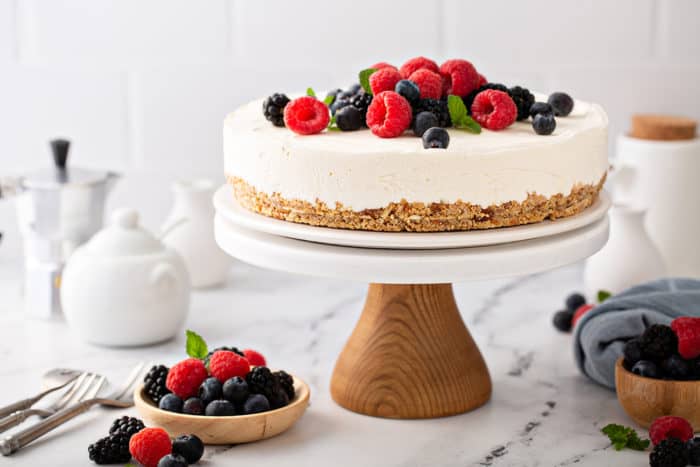 To mix together the filling, beat the cream cheese with an electric mixer for about 3 minutes to get it nice and creamy. Add in the sweetened condensed milk and beat for another 2-3 minutes.
Fold in the thawed whipped topping and vanilla with a spatula. Pour the filling into the crust, then cover the pan with foil and freeze for at least 4 hours.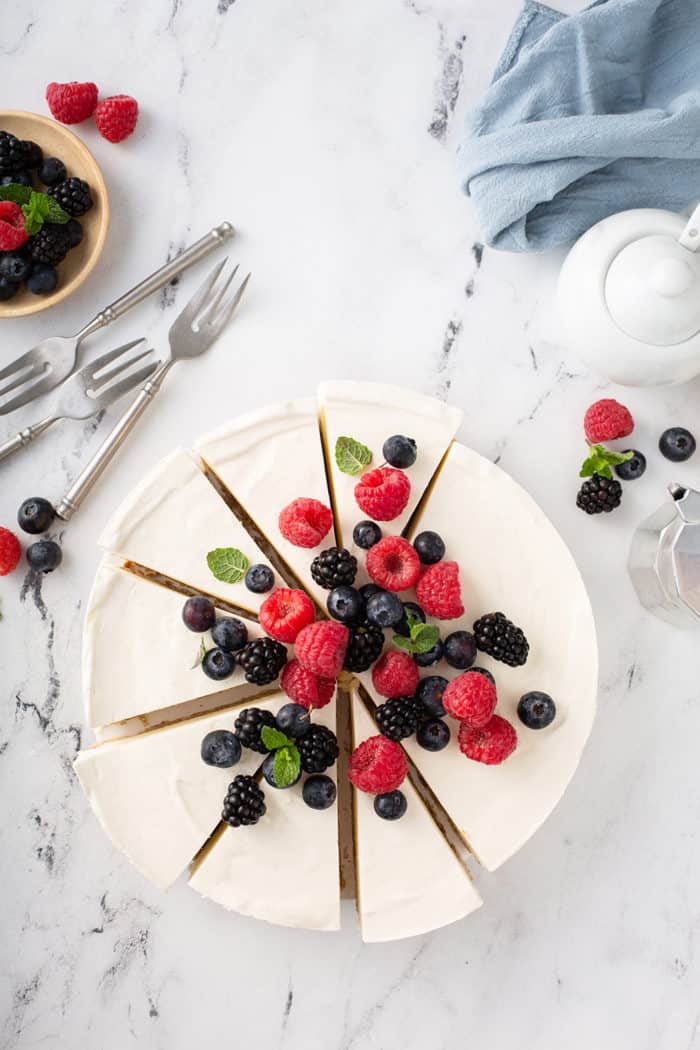 I recommend topping the cheesecake with fresh berries, but you could top it with anything you like! Homemade cherry pie filling, homemade blueberry sauce, strawberry sauce, or salted caramel sauce are all great options.
You could turn this No-Bake Frozen Cheesecake into single-serving cheesecakes just as easily by putting them in individual ramekins. But there's something about presenting your barbecue crowd with a big, beautiful cheesecake that cools them down, too. Gotta love it.