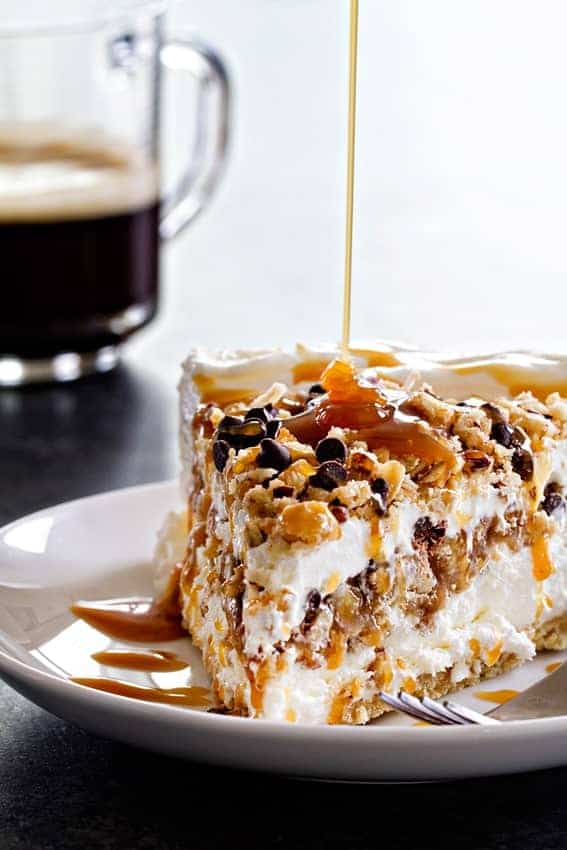 Frozen Samoa Pie is pretty much a chocolate-caramel-coconut lover's dream. Layers upon layers of those delectable flavors, in one frozen treat!
This is post is sponsored recipe development on behalf of Fisher Nuts. Thank you for continuing to support the brands that make My Baking Addiction possible.
Oh, friends. Do I have a treat for you today! Anyone who knows me knows that I can get down on some Samoas. I mean, chocolate. Caramel. Shortbread. And coconut. What's not to love? Personally, I think the only thing missing is the sweet crunch of some tasty pecans.
So today, I solved that problem by whipping up a Frozen Samoa Pie. This Frozen Samoa Pie is made with shortbread crust, creamy cheesecake-ish layers, and a surprise filling layer heavy on the homemade caramel sauce, toasted coconut, and chocolate. What more could you ask for in a pie, really?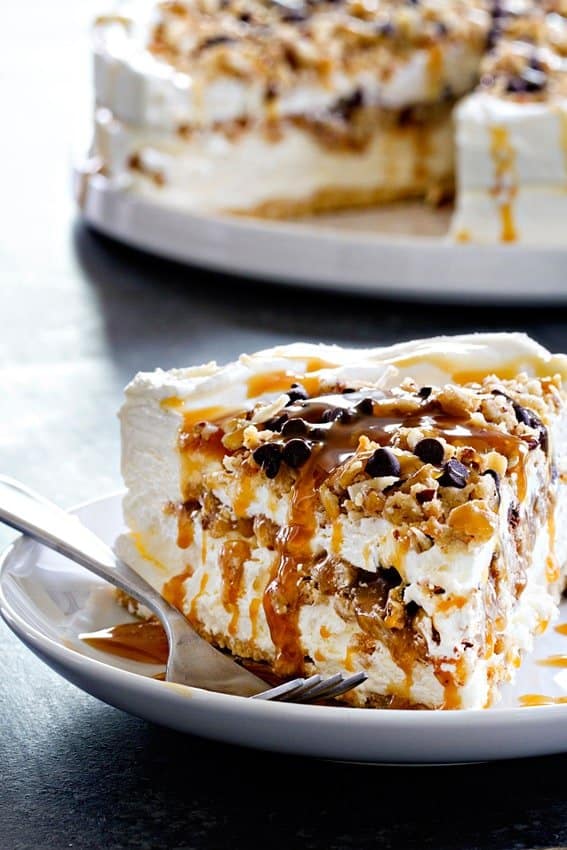 The thing I really love about this pie is all the complex toasty flavors. By baking the shortbread crust for a few minutes, you get to an almost brown butter sugar cookie level of nuttiness. Then you add in roasted pecans and toasted coconut, which add layer upon layer of complex flavor – as toasting pretty much anything will do. Add in the creamy tang of cream cheese based filling and chocolate – well – everything is better with chocolate, right?
This is the kind of pie you make for company and then quietly devour by yourself. The kind of pie that makes a bad day better, a good day spectacular. I make a lot of desserts, you guys, and I love a lot of desserts. But when you present me with a pie that has all my favorite Girl Scout Cookie flavors, plus the crunch of toasted pecans? I'm done for. DONE FOR. I bet you will be too.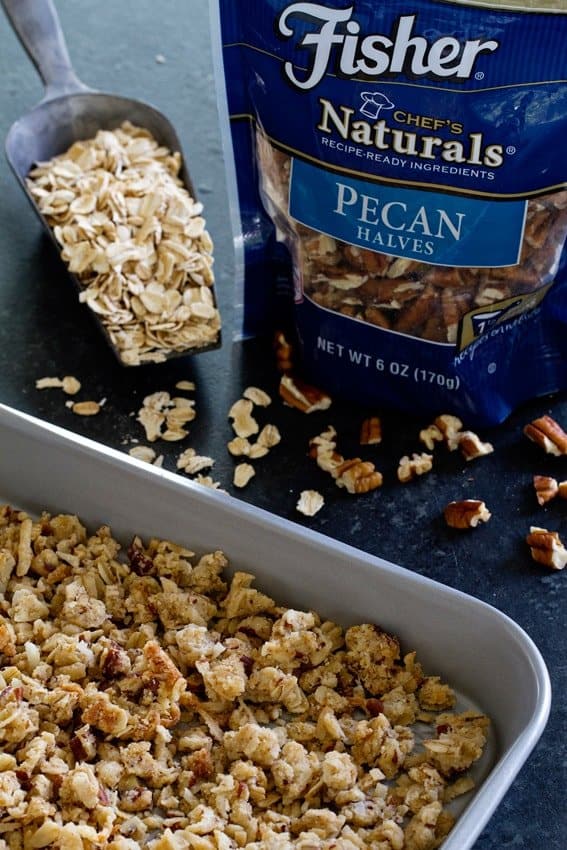 If you've never toasted pecans, or any nut, for that matter, before, I have a great guide; Fundamentals: How to Toast Nuts. It covers pretty much every baking and snacking nut you can think of.
You really should always take the time to toast (or roast) nuts. (And coconut for that matter, but I loooove me some toasty coconut.) Flavors of both nuts and coconut become so much more complex once they've been heated up a little bit. It's worth the extra time, and so long as you use parchment paper or a baking sheet liner, it's hardly any extra cleanup.
Especially in a pie like this. Frozen Samoa Pie may be the best dessert of summer yet. Yeah, I said it.