Homemade Blueberry Sauce comes together in just a few minutes. Try a spoonful with your morning yogurt, dolloped over a stack of pancakes, or spooned on top of cheesecake for a delicious treat!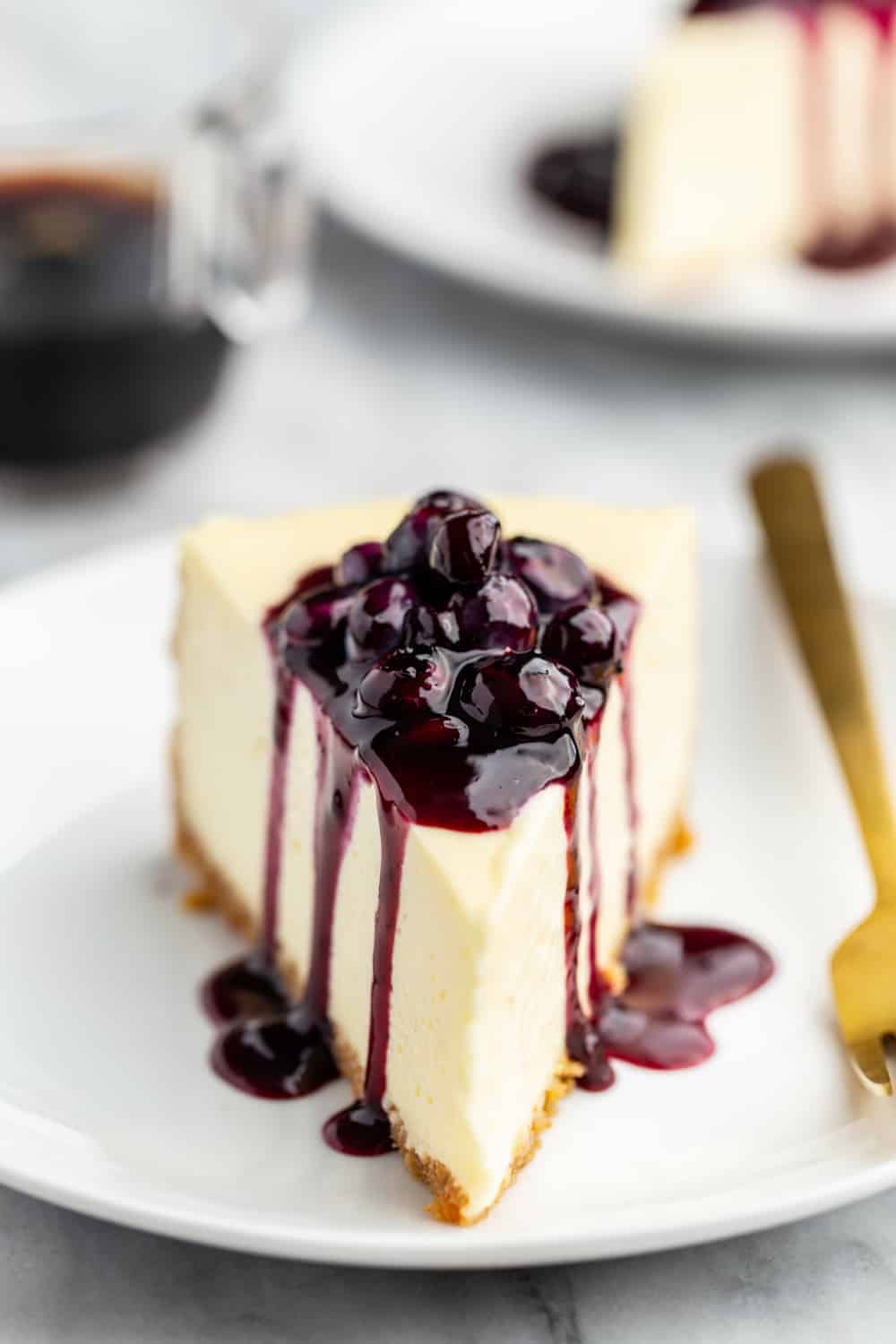 I seriously can't get over the fact that our little babe goes back to school in a month.
I don't know if it was the fact that it rained the entire month of June or what, but summer has flown by and I'm all kinds of sad about it.
We're trying to pack as much as we can into these remaining weeks while still saving time for just chilling out at home, eating ice cream and creating some pretty epic chalk designs on the driveway.
If I'm being honest, I have some serious anxiety about her going from half-day to full-day school. Trust me, she's definitely ready, it's Mom that's not.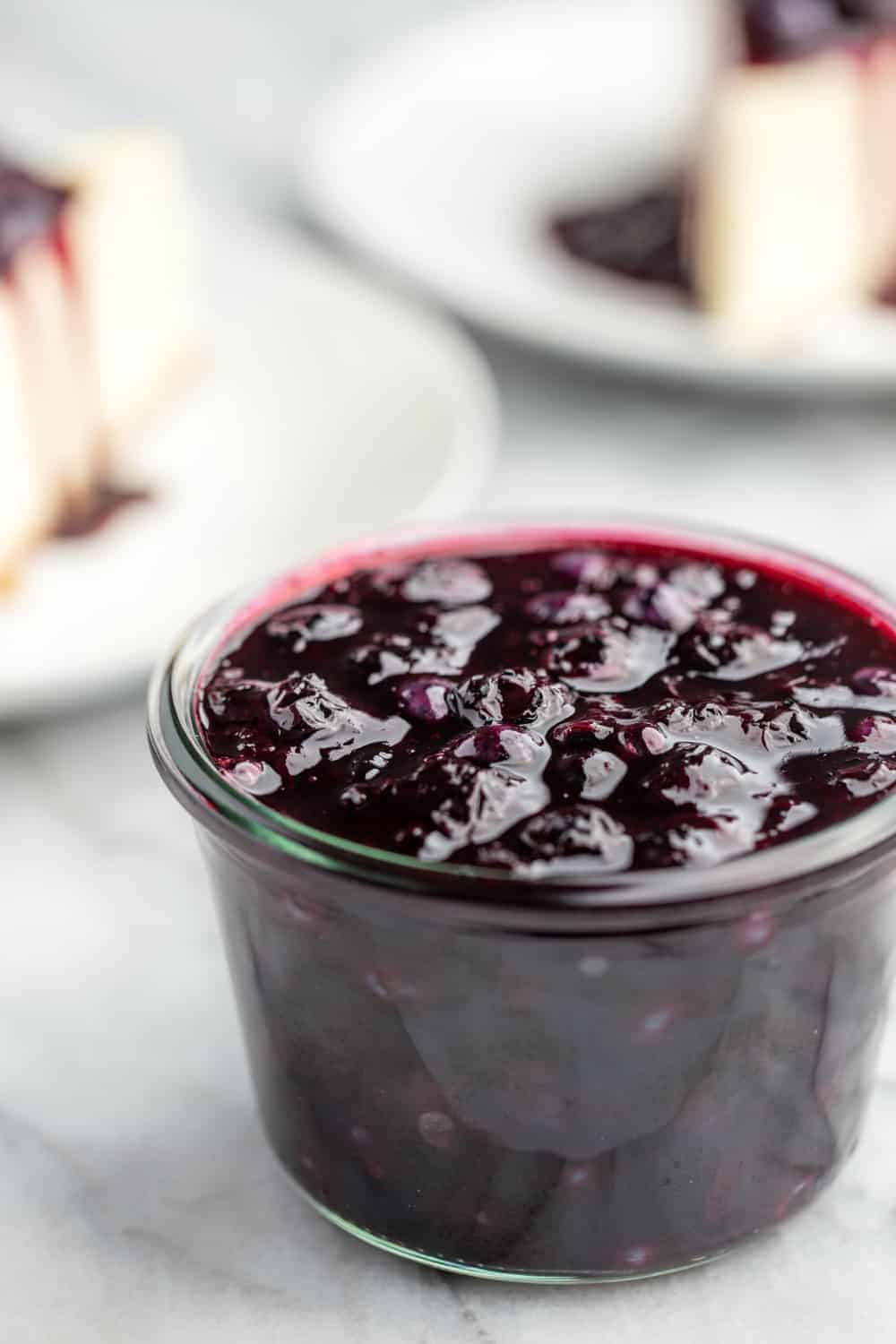 I just get this overwhelming feeling of missing her so much every single time I think about it. But I'm putting on a brave face and pumping her up for this new adventure, even though I get all teary-eyed every time we browse the school supply aisles at Target.
Everyone told us that time flies, but I just didn't really get it until now.
One of the things we love to do together is bake – when it's not sweltering outside. Whether it's sweets for Elle's lemonade stand or just a little quality time in the kitchen, we've been whipping up chocolate chip cookies, pineapple coconut cake and testing several cheesecake recipes to share with all of you!
If you caught my post for graham cracker crust last week, you know I'm going to share my favorite recipe for vanilla cheesecake this week. But first, I wanted to share this homemade blueberry sauce with you because it is the perfect cheesecake topping!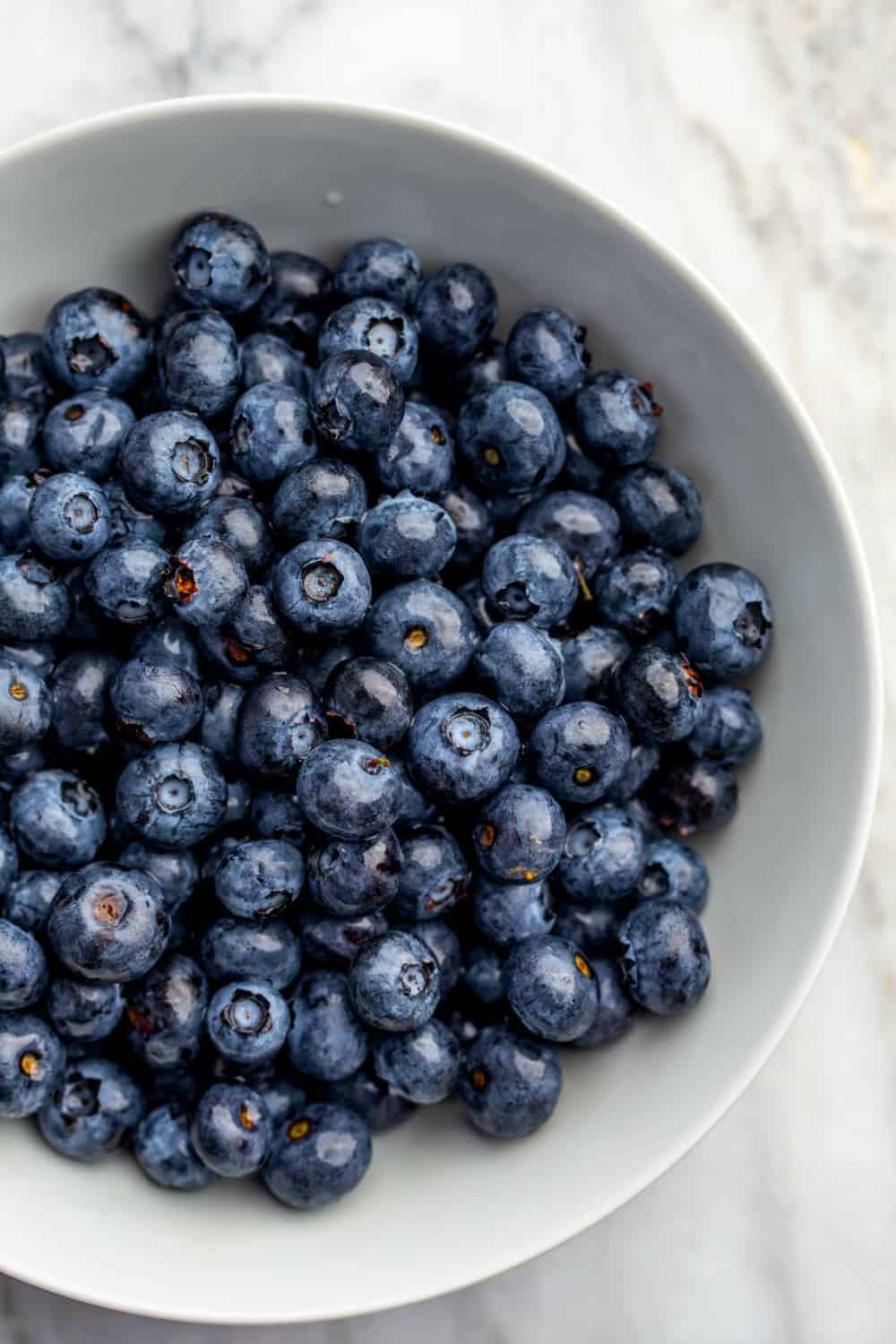 HOW TO MAKE BLUEBERRY TOPPING FOR CHEESECAKE
I love homemade blueberry sauce. Spooned over a slice of vanilla cheesecake? It's absolute heaven.
The thing I love the most about blueberry sauce? The fact that it comes together on the stovetop in less than ten minutes with just a few staple ingredients.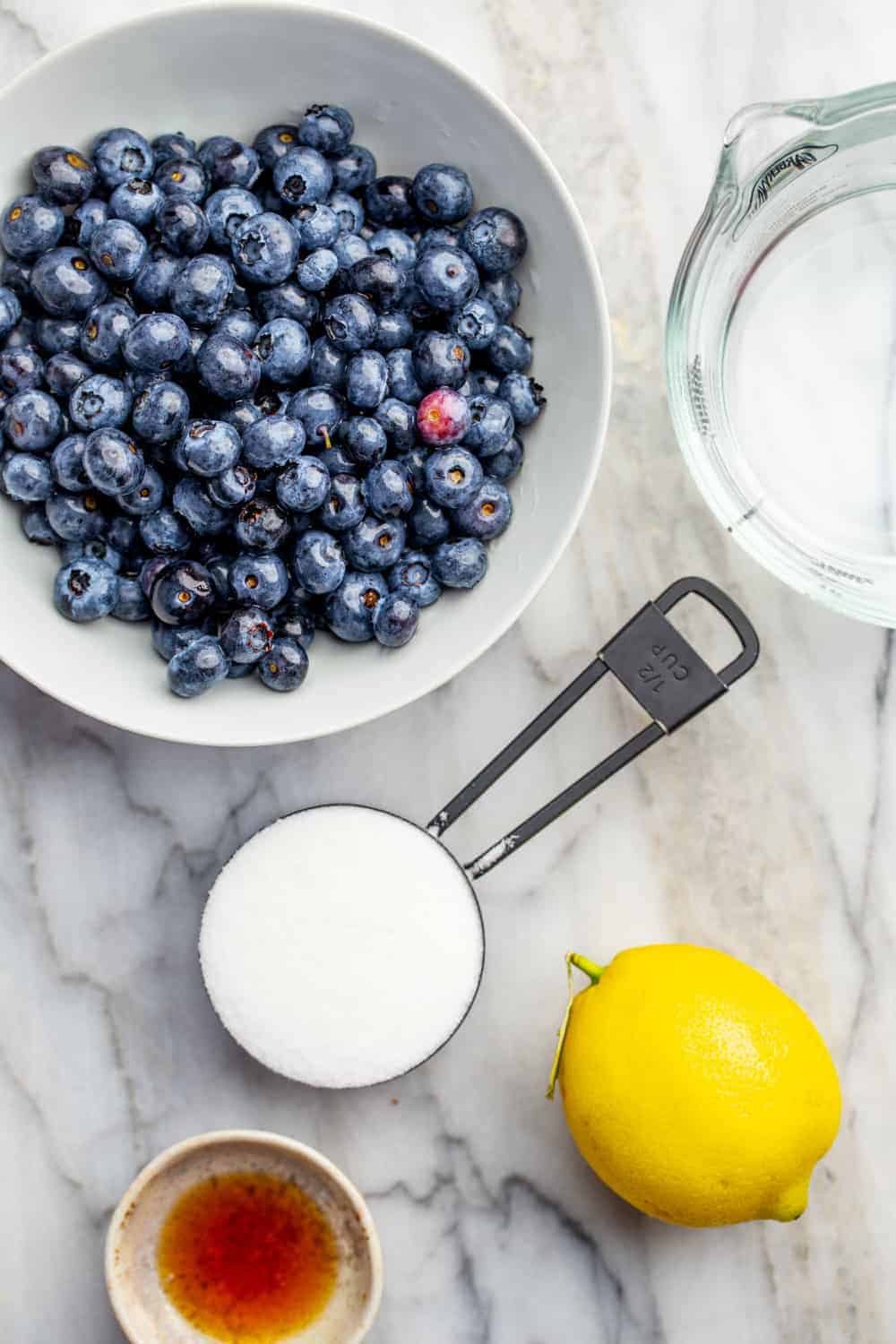 That's right. Fresh or frozen blueberries, water, sugar, lemon juice and cornstarch are all you need.
To start, throw the blueberries, a little bit of water, sugar and lemon juice in a saucepan. Bring this mixture to a low boil, stirring frequently.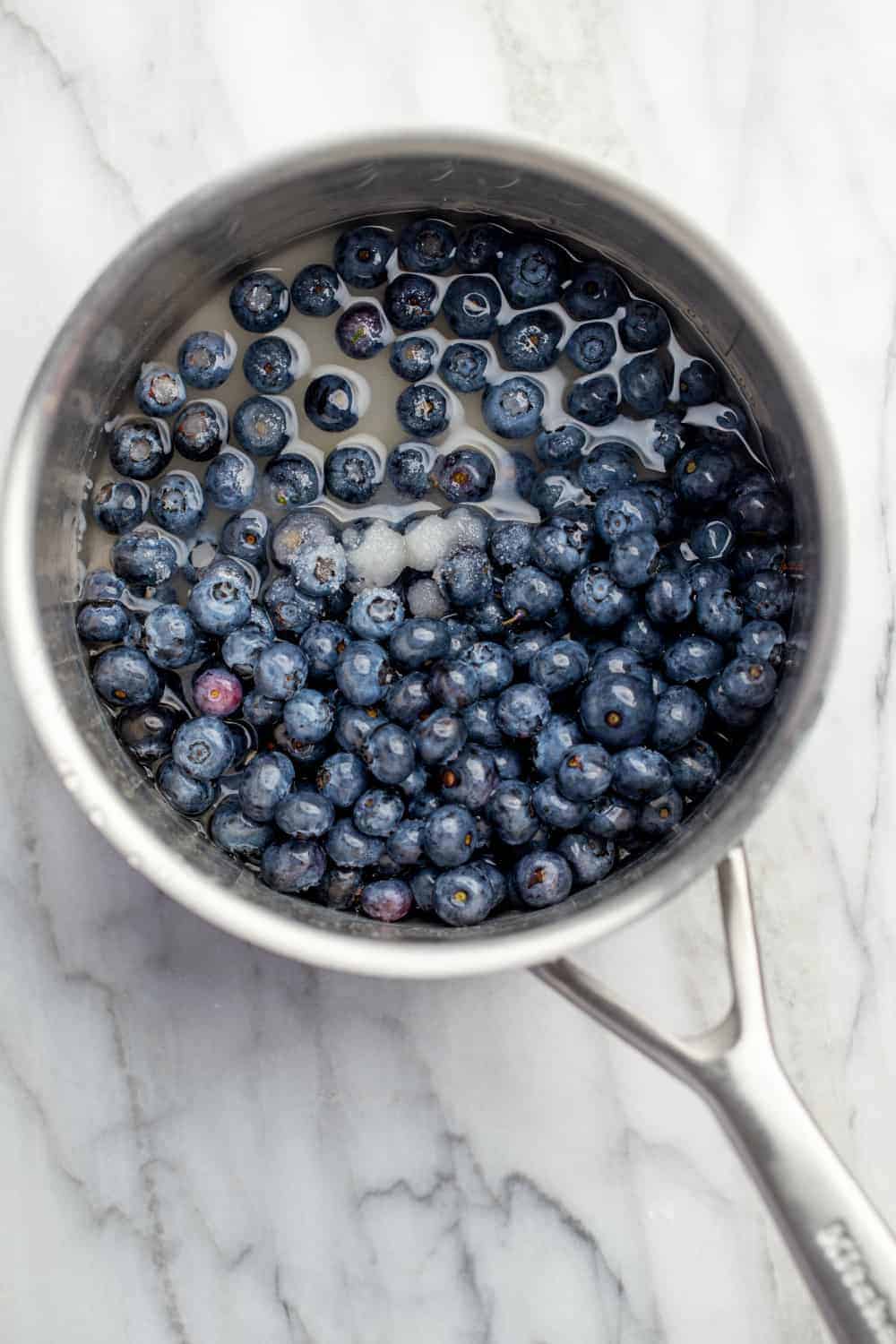 While the blueberries get bubbly and happy, mix together a slurry with cornstarch and cold water.
Did you know if you add cornstarch to hot liquid, it will clump up? That's why it's important to make a slurry, or a mixture of cornstarch and a cold liquid, when using cornstarch to thicken a recipe. Add the slurry to your dish and the cornstarch won't clump!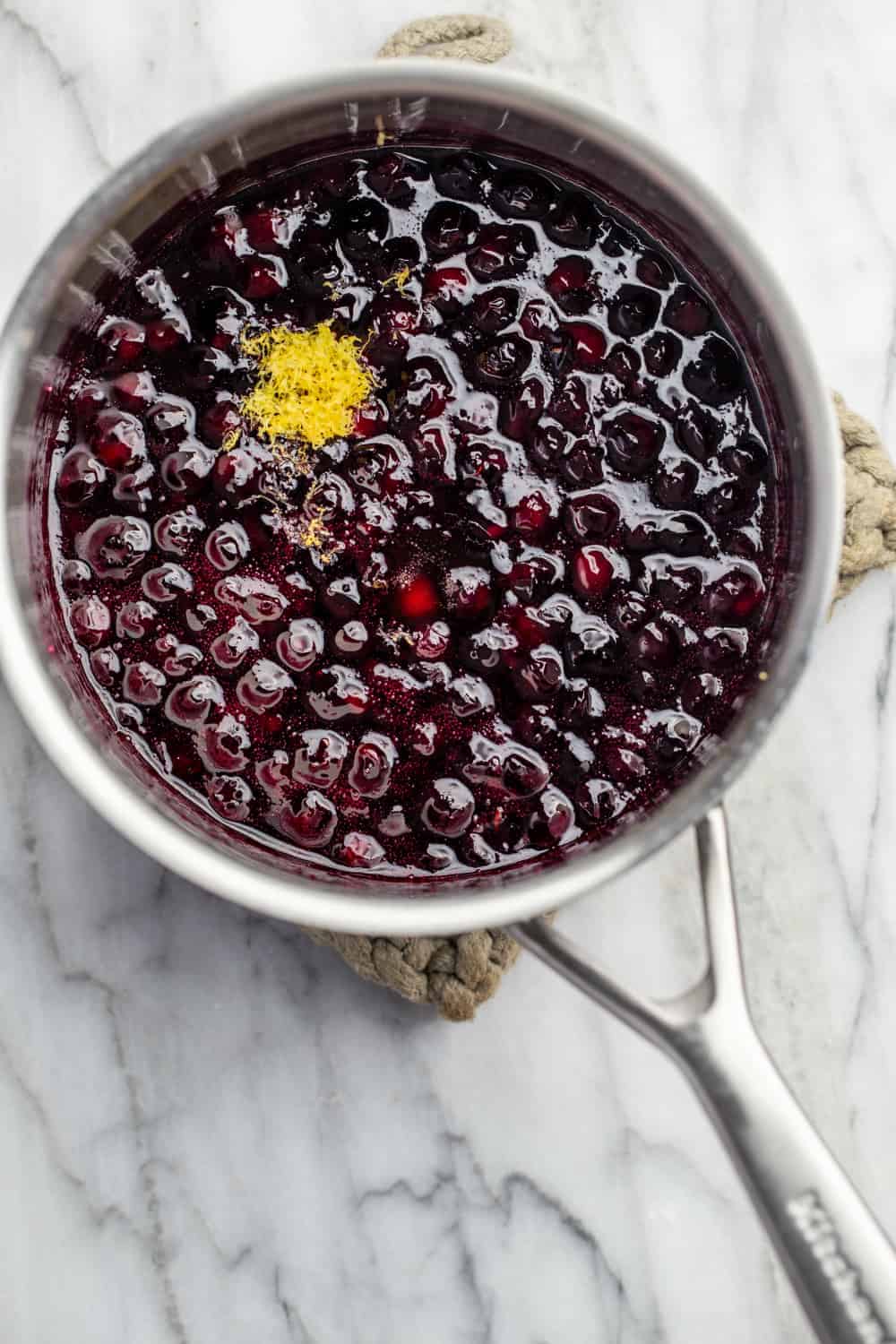 Add the slurry to the blueberries and stir, but be careful not to crush the blueberries!
Once the blueberry sauce has thickened, remove it from the heat and stir in vanilla and lemon zest for some extra flavor if you'd like.
Out of lemons? You can use orange juice and zest instead.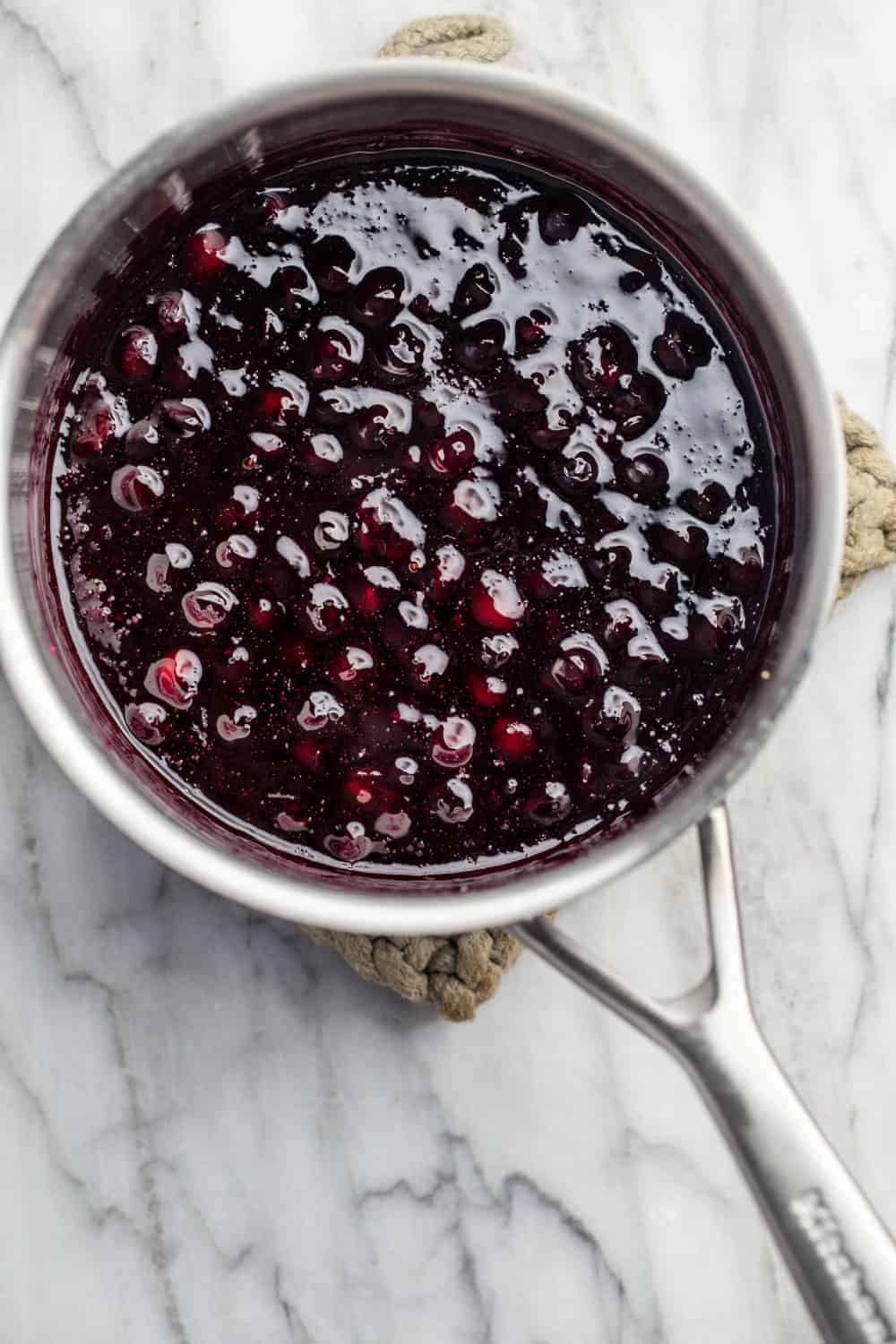 HOW ELSE CAN YOU USE BLUEBERRY SAUCE?
So if my recent posts on how to soften cream cheese, making graham cracker crust and how to bake cheesecake in a water bath haven't made it clear enough, cheesecake is pretty much my fave. Which means serving blueberry sauce as a cheesecake topping is pretty much my fave.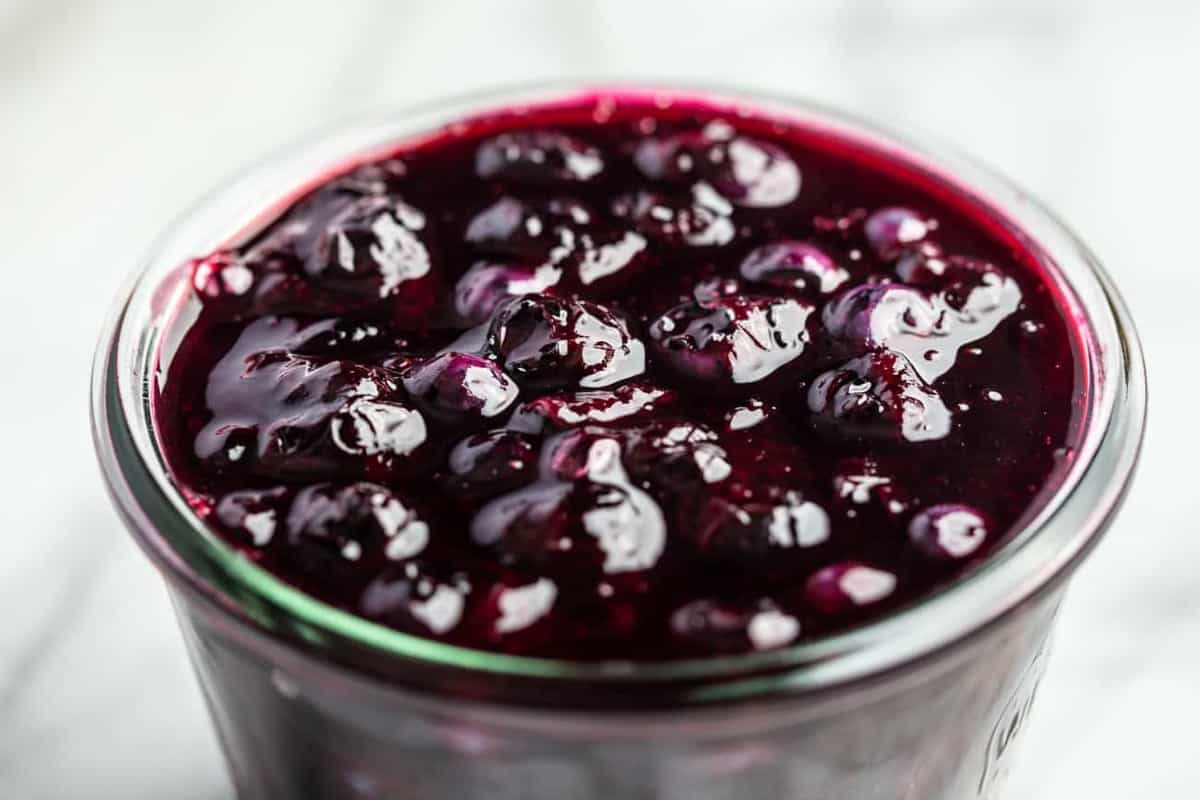 But I also love serving blueberry sauce in a ton of other ways.
I like to stir a spoonful into vanilla Greek-style yogurt and top with a sprinkle of Coconut Pecan Granola for a fun and tasty afternoon snack.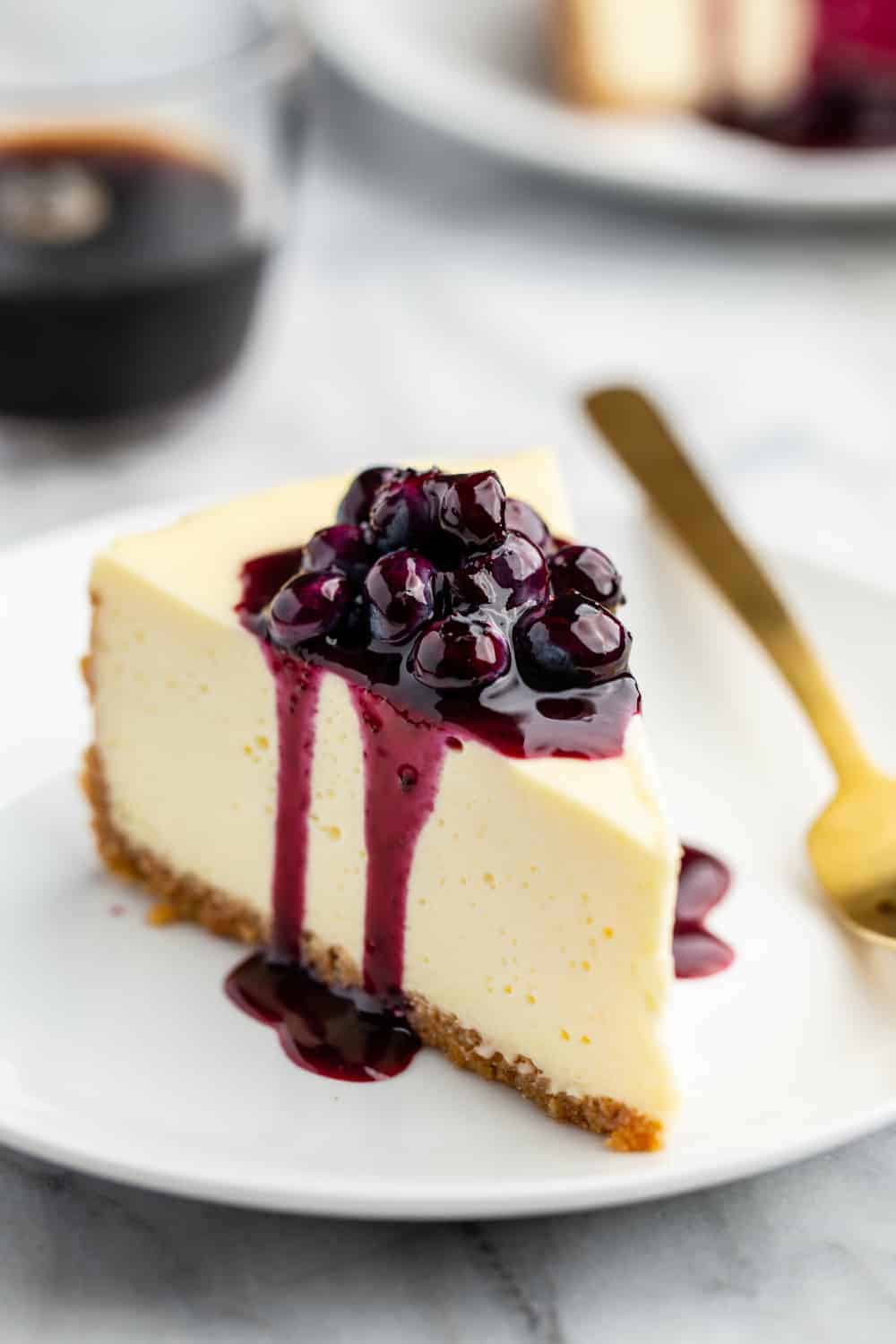 It's also absolutely delicious spooned over a stack of mascarpone pancakes or vanilla bean waffles for breakfast. Or make blueberry trifles or use it to top cream cheese pound cake for dessert.
Whether you're serving this sauce up with breakfast, dessert or a midday snack, it's sure to please the blueberry lover in your life!