Six out of seven days a week I wake up completely content to start my morning with an iced coffee and no breakfast. Most of the time I eat a light breakfast because I know I should, not because I actually have a feeling of hunger.
However, there is something about Sunday mornings that make me ravenous and want to consume a morning meal chock full of eggs, bacon and waffles.
I love waffles. There is something about the crisp texture and the way syrup pools within the waffle divots that makes me a very happy girl. My dad gave me a Waring Pro Waffle Maker that I became completely obsessed with it… for about a minute.
The novelty wore off and I put in the cupboard for about three months. However, I pulled in out last week and rekindled my love affair with this fantastic appliance by making vanilla bean waffles with homemade blueberry sauce.
I like my waffles kind of well done, so I crank up the number on my waffle iron to 4 to ensure a nice crispy exterior. These waffles were absolutely delicious; perfect crisp texture with a heavenly vanilla scent and flavor.
These were deliciously addictive with both maple syrup or the homemade blueberry sauce. Have a fabulous weekend and I hope I sparked a craving for some waffles!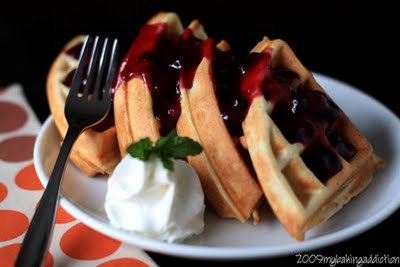 Vanilla Bean Waffles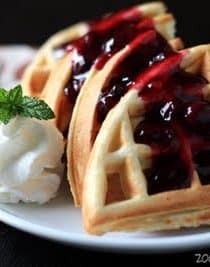 Ingredients:
For the Waffles
2 eggs
2 cups all-purpose flour
1 3/4 cups milk
1/2 cup vegetable oil
2 tablespoons white sugar
4 teaspoons baking powder
1/4 teaspoon salt
1/2 teaspoon Beanilla vanilla paste
For the Blueberry Sauce
1 cup fresh or frozen blueberries
2 tablespoons water
1/2 cup orange juice
1/4 cup and 2 tablespoons white sugar
2 tablespoons cold water
1 tablespoon and 1-1/2 teaspoons cornstarch
1/4 teaspoon almond extract
Directions:
For the Waffles
1. Preheat waffle iron. Beat eggs in large bowl with hand beater until fluffy. Beat in flour, milk, vegetable oil, sugar, baking powder, salt and vanilla bean paste, just until smooth.
2. Spray preheated waffle iron with non-stick cooking spray. Pour mix onto hot waffle iron. Cook until golden brown. Serve hot.
For the Blueberry Sauce
1. In a saucepan over medium heat, combine the blueberries, 1/4 cup of water, orange juice, and sugar. Stir gently, and bring to a boil.
2. In a cup or small bowl, mix together the cornstarch and 1/4 cup cold water. Gently stir the cornstarch mixture into the blueberries so as not to mash the berries. Simmer gently until thick enough to coat the back of a metal spoon, 3 to 4 minutes. Remove from heat and stir in the almond extract. Thin sauce with water if it is too thick for your liking.
Notes:
- I found the orange to be a very prominent flavor in the blueberry sauce. When I make this again, I will cut back on that flavor.
- both recipes adapted from allrecipes
All images and text ©
Follow Jamie on Instagram. We love to see what you're baking from MBA! Be sure to tag @jamiemba and use the hashtag #mbarecipes!
[pinit]