Chocolate Eggnog Waffles are a warm and cozy way to welcome the holiday season. Don't forget the whipped cream!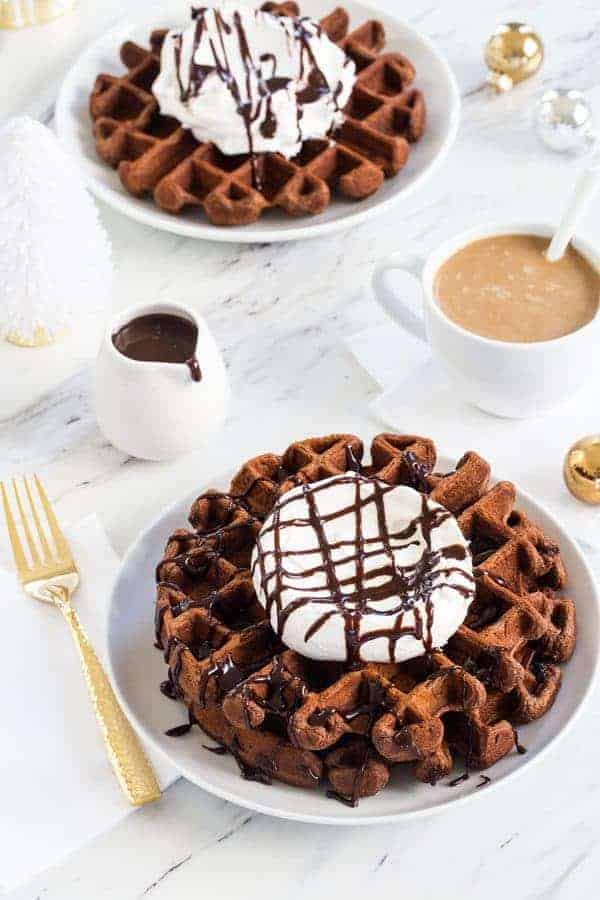 This post is sponsored by NESTLÉ® TOLL HOUSE®. All thoughts and opinions are my own. Thank you for continuing to support the brands that make My Baking Addiction possible.
I have something to tell you, and you might not want to hear it. Only six Fridays until Santa comes down the chimney. SIX. Me? I'm totally stoked by that fact. But I know there are lots of people that just started panicking that Christmas is right around the corner.
I'm here to save the day. Really. No one's gonna care that they got re-gifted a candle that you didn't love the scent of, when they've got these Chocolate Eggnog Waffles piled high in front of them, dolloped with whipped cream and drizzled with chocolate sauce. I swear.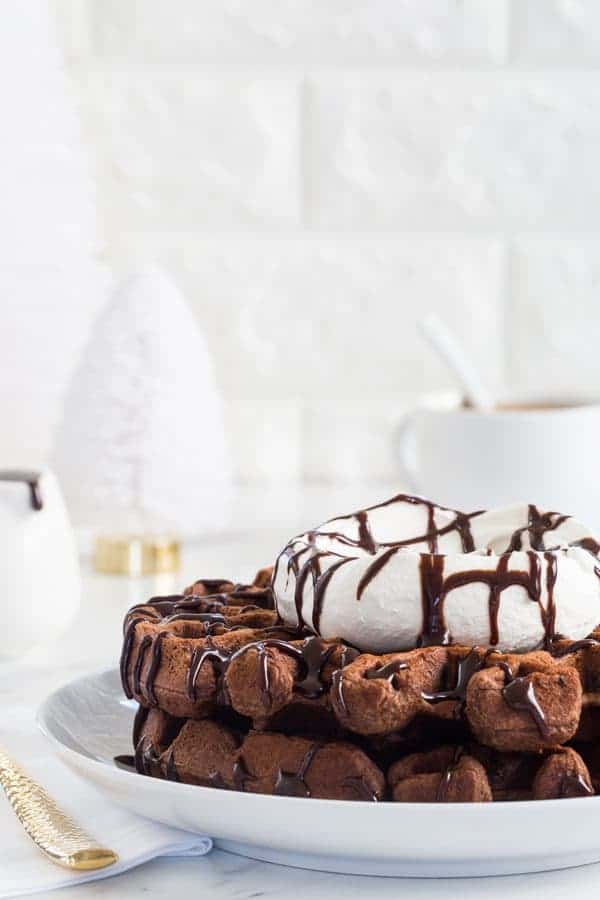 I can't be the only one that stalks the refrigerated section of the grocery store, just waiting for eggnog to appear once the winter turns chilly. I love it for all sorts of baking, from cupcakes and muffins to scones and now these Chocolate Eggnog Waffles. It adds a richness and holiday sweetness that can't be replicated any other way.
In the past, I hadn't ever considered pairing chocolate with eggnog, but I'd been thinking about making some eggnog waffles for a while, and while I was picking it up at the store, I also saw a huge display for NESTLÉ® TOLL HOUSE® Baking Cocoa and Semi-Sweet Chocolate Morsels.
It IS that time of year, when all the baking supplies get devoted displays, and they certainly are inspiring.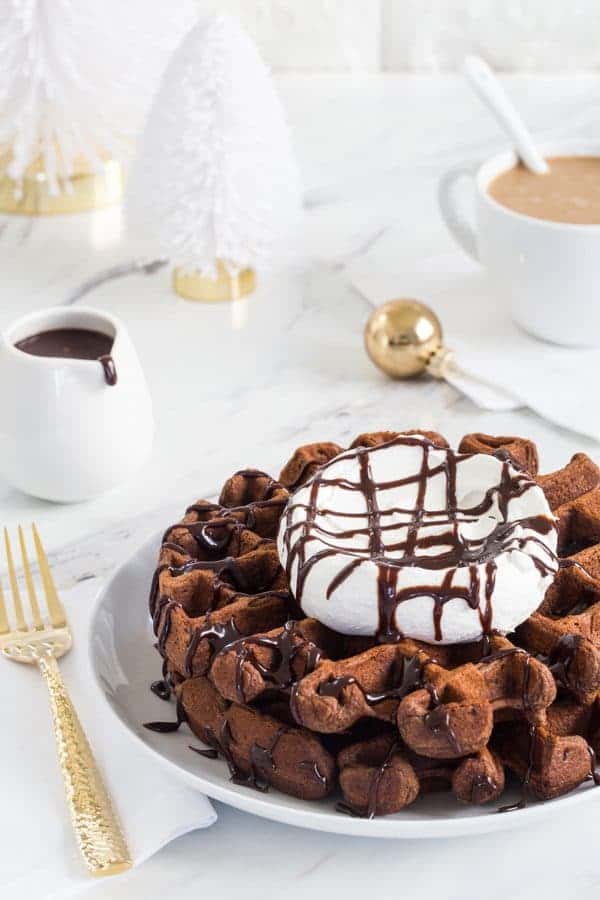 The first time I made these waffles for Eric and Elle, their eyes were big as saucers. I mean, who doesn't love starting the day with a giant pile of chocolate waffles, you know? Especially when there's whipped cream involved.
But just one bite, so rich with eggnog, silky with chocolate, and flavorful with all the wintery spices you can handle.. well, it's downright holiday perfection.
It's not often I want to wax poetic about waffles, you guys, but if I'm going to, it's going to be these extra special Chocolate Eggnog Waffles.
They're wonderful for any morning this winter, and could make any breakfast perfect. They'll keep crisp and warm in a toaster oven or regular oven on the warm setting, and all you need is a can of whipped cream, or even a little chocolate sauce for drizzling over the top to make them ridiculous.
I love using NESTLÉ® TOLL HOUSE® morsels of any flavor in waffles, because they hold together just well enough to be all gooey and melty when you cut into them, but not turn into a chocolatey mess in the waffle iron.
They create little pockets of perfect, melty chocolate that will keep you smiling, bite after bite. In these Chocolate Eggnog Waffles, those little pockets of melty semi-sweet chocolate kept my 2 year old going back for more and more. And just maybe her Mama and Daddy too.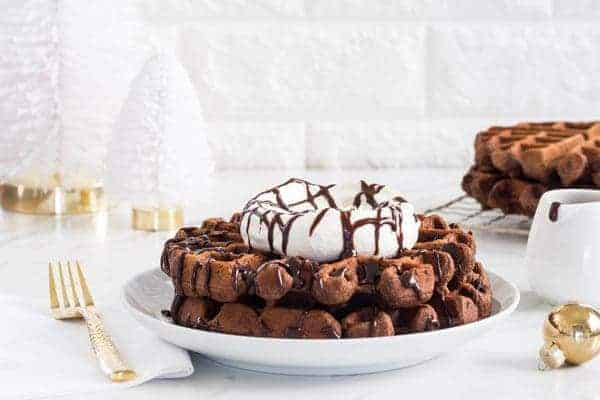 If white chocolate is your thing? You could definitely try NESTLÉ® TOLL HOUSE® Premier White Morsels too. They'd be amazing in these waffles.
I can't think of anyone that wouldn't love these waffles on Christmas morning. Especially Santa!