Pumpkin Pecan Bars
Pumpkin pecan pie bars with a homemade sugar cookie crust, pumpkin filling and a pecan streusel topping. With a gluten-free option.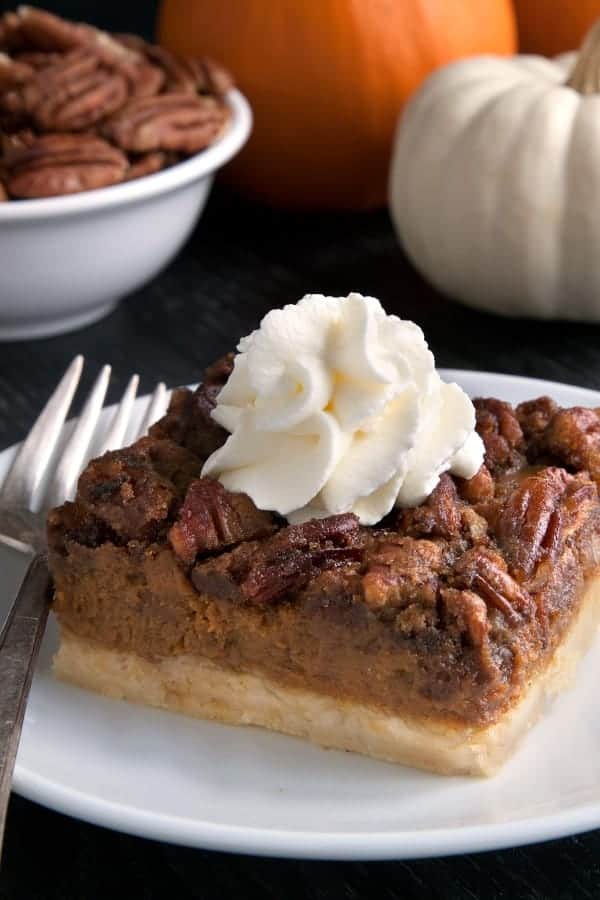 I've been wanting to combine pumpkin and pecan pie for a while now. A combination of the two just sounded more delicious than a plain pumpkin or plain pecan pie!
I originally wanted to make a pumpkin pecan pie, but the filling plus topping was just a little bit too much for a pie dish. Then I went with mini pies, and though super cute, they took forever to prepare and kind of stuck to the muffin liners. So here we have the easiest and least fussy version – pumpkin pecan pie bars!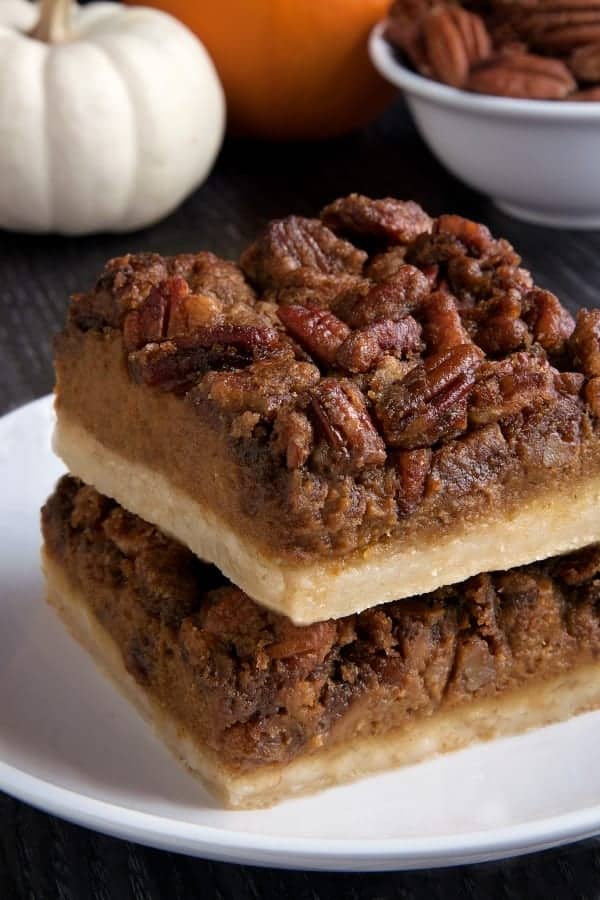 My favorite part of these bars is the crust. I've never been a big fan of crust (unless we're talking chocolate cookie crust, like in these mini pumpkin cheesecakes!) but this isn't your ordinary crust.
There's half a cup of sugar in there, making this more of a sugar cookie-like crust. And it's awesome.
If you have any gluten-free family members, this is a great treat that you can easily make gluten-free. I used this gluten-free flour mix, which is a 1-to-1 sub for all-purpose flour.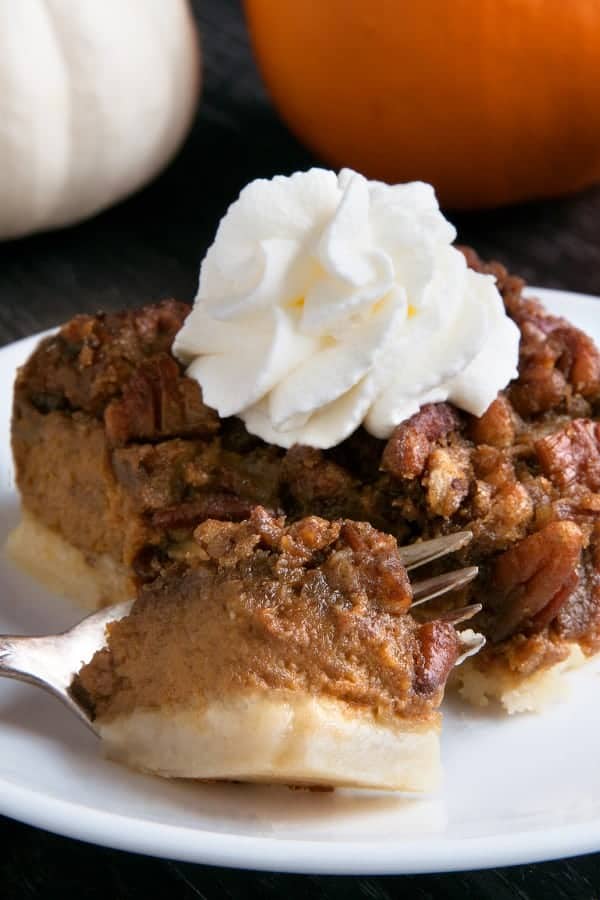 That's all you need to make this recipe gluten-free! And honestly, it's just as delicious as the all-purpose flour version. If you have that flour, then you can also make these pumpkin cupcakes which are honestly the best pumpkin cupcakes I've ever had!
The filling is the same one I used in my gluten-free pumpkin pie streusel bars recipe. It goes perfectly with the pecan topping and is just the right texture.
I first tried making more of a traditional pecan pie topping with eggs but it was just weird on top of the pumpkin. So I went with a pecan topping that's more streusel-like. Nobody seemed to mind! These bars were gobbled down in record speed.

Pumpkin Pecan Bars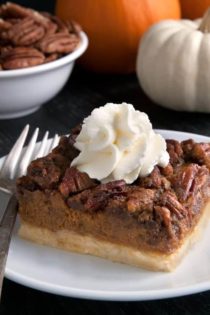 Ingredients:
For the crust:
1/2 cup unsalted butter, room temperature
1/2 cup granulated sugar
1 teaspoon vanilla extract
1/4 teaspoon salt
1 cup + 2 tablespoons all-purpose flour or 1-to-1 gluten-free baking mix for a gluten-free version*
For the pumpkin filling:
1 15-ounce can pumpkin puree
1/3 cup granulated sugar
1/3 cup brown sugar
2 1/2 teaspoons pumpkin pie spice
1 teaspoon vanilla extract
1/4 teaspoon salt
1/2 cup evaporated milk
2 large eggs, room temperature
For the pecan topping:
1/2 cup brown sugar
1/4 cup all-purpose flour or 1-to-1 gluten-free baking mix for a gluten-free version
1 1/2 teaspoons cinnamon
1/4 teaspoon salt
1/4 cup unsalted butter, room temperature
1 1/2 cups chopped pecans
* If you need these bars to be gluten-free, make sure all your ingredients are certified gluten-free.
Directions:
Preheat oven to 350 degrees F and line an 8″×8″ pan with a piece of parchment paper.
Prepare the crust. In a medium mixing bowl, cream together the butter and sugar until light and fluffy.
Add in the vanilla, salt and flour. Mix on low until well combined (it'll be crumbly).
Press onto the bottom of the prepared pan and bake for 15-17 minutes until it just starts to brown around the edges.
Let cool at least 15 minutes while you prepare the filling.
In a large mixing bowl, stir together all the pumpkin filling ingredients except for the eggs. Once well combined, add the eggs and whisk until thoroughly combined. Set aside.
Prepare the pecan topping. In a medium mixing bowl, mix together the sugar, flour, cinnamon and salt.
Use your hands to incorporate the butter and once well combined, stir in the chopped pecans.
Pour the pumpkin filling evenly over the partially cooled crust and then carefully sprinkle the pecan topping over the filling.
Bake for 40 minutes or until the topping is golden brown and firm and the middle is set.
Let cool completely and then cut into bars. Store at room temperature for 1 day or refrigerate for up to 3 days.
All images and text ©
Follow Jamie on Instagram. We love to see what you're baking from MBA! Be sure to tag @jamiemba and use the hashtag #mbarecipes!
This post may contain affiliate links. We are a participant in the Amazon Services LLC Associates Program, an affiliate advertising program designed to provide a means for us to earn fees by linking to Amazon.com and affiliated sites.