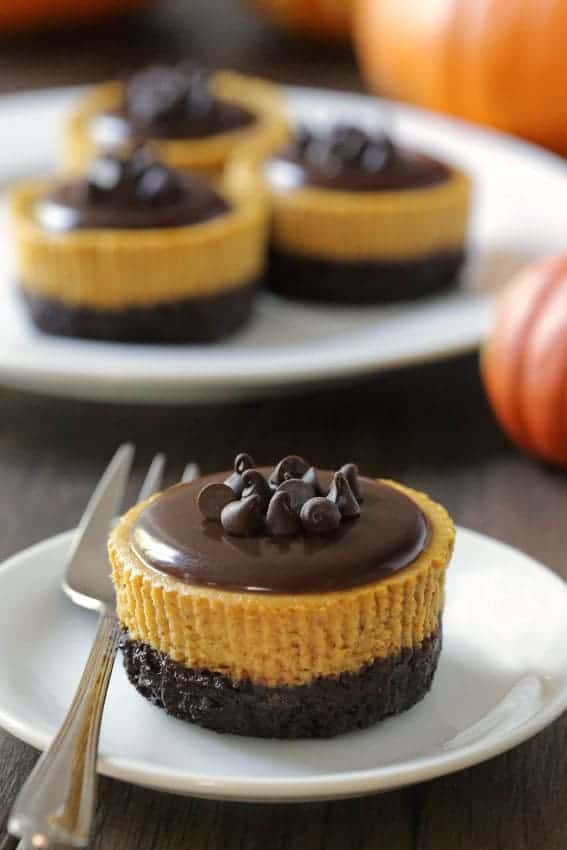 These gluten-free mini pumpkin cheesecakes are the perfect make-ahead Thanksgiving dessert and can also be made with all-purpose flour.
Thanksgiving is by far my favorite holiday. I love Christmas but it's way too stressful! Maybe it's different in your family but in mine, it seems as though the entire month of December is filled with Christmas stress. And sometimes a little too much drama! Not only that, but I much prefer Thanksgiving food.
I made these gluten-free mini pumpkin cheesecakes back in September as a trial run and have been enjoying one a week from the freezer. For those of you who want to get as much of their Thanksgiving preparation done in advance as possible, these are perfect!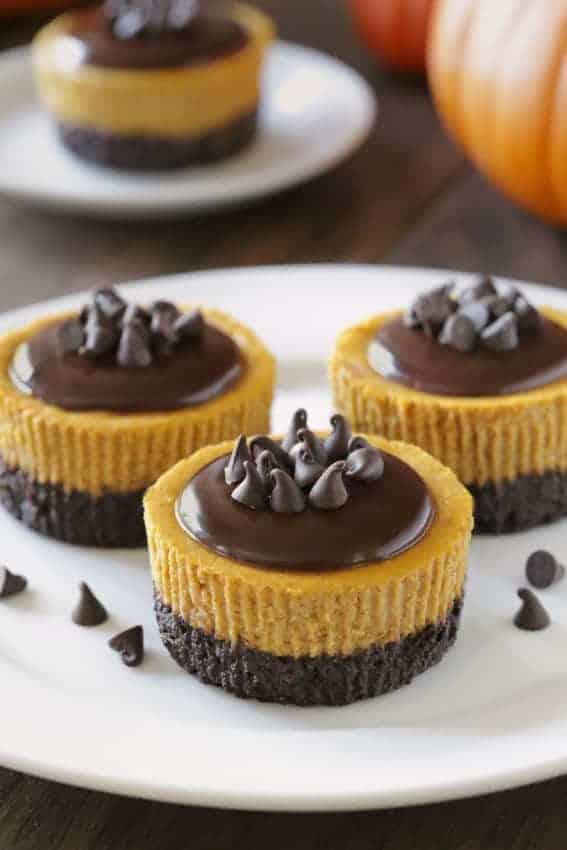 Freeze them in their wrappers, unwrap and pour some ganache on top before serving. I used to try to time everything so that all the food, including dessert, would be piping hot and fresh from the oven.
Luckily, I've seen the errors in my ways and now prepare as much as possible in advance!
I adapted the chocolate cookie crust from my mini peanut butter cheesecakes. You can use all-purpose flour, a gluten-free baking flour mix that's a 1-to-1 sub for all-purpose flour (like this one, or buckwheat flour.
If you use buckwheat flour, the crust will be very bubbly and even soupy looking when baking. It's the weirdest thing – but it works out in the end! The three different versions are all equally delicious so use whatever works best for you.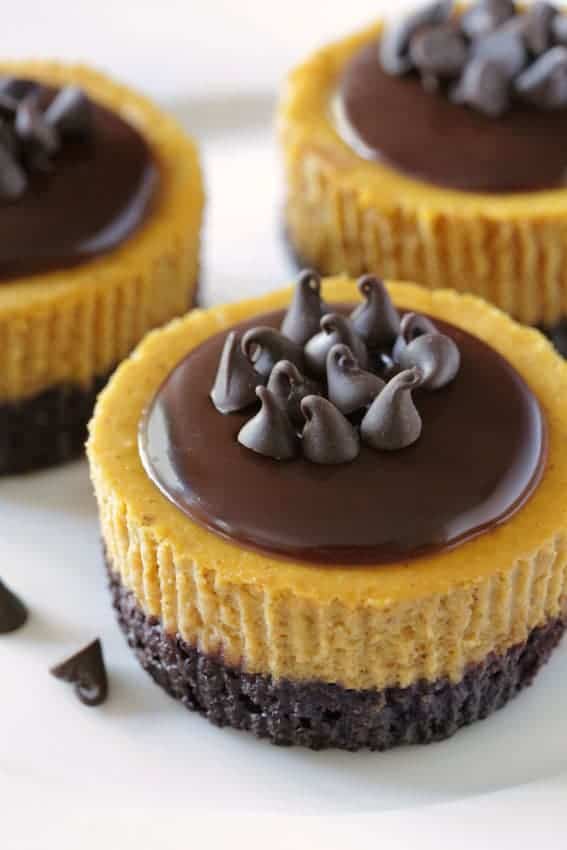 If you don't like the pumpkin and chocolate combination, the almond flour based crust in these gluten-free mini cheesecakes would be perfect!
I'd leave out the lemon zest and add about a teaspoon of cinnamon and maybe even a little ginger. And as for the pumpkin cheesecake – it's quite heavily spiced, just the way I like it! If you're not wild about pumpkin pie spice, feel free to reduce it.
So what are you favorite make-ahead Thanksgiving recipes? My planning has only gone as far as the most important element – dessert.
Looking for more gluten-free holiday desserts? Be sure to check out these Gluten-Free Pumpkin Pie Streusel Bars and these Gluten-Free Mini Caramel Pecan Tarts.
If you haven't already, you're definitely going to want to whip up a batch of my Homemade Pumpkin Pie Spice!
Mini Pumpkin Cheesecakes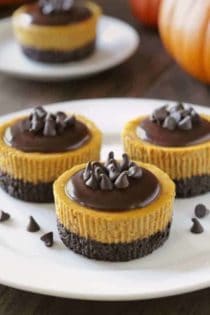 Ingredients:
For the Crust
6 tablespoons granulated sugar
6 tablespoons gluten-free 1-to-1 baking flour, buckwheat flour (or all-purpose flour for a non-gluten-free version)
6 tablespoons cocoa powder
pinch of salt
4 1/2 tablespoons unsalted butter, softened
For the Cheesecake
1 8-ounce package cream cheese, room temperature
1/4 cup brown sugar
1/4 cup granulated sugar
1 tablespoon molasses
1 cup canned pumpkin puree (not pumpkin pie filling)
1 teaspoon vanilla extract
pinch of salt
2 1/2 teaspoons pumpkin pie spice
3 large eggs
For the Ganache
1/2 cup whipping cream or heavy cream
1 cup semi-sweet chocolate chips
Note: If you need these cheesecakes to be gluten-free, make sure all your ingredients are certified gluten-free.
Directions:
For the Crust
Preheat the oven to 350°F and line a muffin pan with 12 muffin liners. Note that this crust recipe does not work in regular pie pans and only as mini cheesecakes.
In a large mixing bowl, mix together the sugar, flour, cocoa powder, and salt. Using an electric hand mixer, beat in the butter at low speed until thoroughly combined and a dough forms. If you have trouble incorporating it, use your hands. It'll be sticky.
Divide the dough between the muffin liners (I used 19 grams of dough per liner). Press the dough down with the bottom of a shot glass. If using gluten-free 1-to-1 baking flour or all-purpose flour, bake for 11-13 minutes or until the surface of the crust no longer appears wet. Move on to the next step. If using buckwheat, bake for 14 minutes. The crusts will appear very bubbly and liquid. Remove from the oven, let cool for a minute, and then use the shot glass again to lightly press down (which will remove the holes).
After baking, the crust will still be soft but will firm slightly as it cools. Let cool for 10 minutes while you prepare the cheesecake.
For the Cheesecake
Turn the oven down to to 325°F.
With an electric hand mixer, beat the cream cheese at medium speed until light and fluffy.
Add the brown sugar, granulated sugar, molasses, pumpkin puree, vanilla extract, salt and pumpkin pie spice and beat on low until well combined.
Add the eggs one at a time, beating on low after every addition until thoroughly incorporated. Do not over mix!
Fill each muffin liner to the top with cheesecake batter and bake for 20 minutes or until the middles of the cheesecakes are set and don't jiggle when the pan is tapped.
Remove from the oven and let the cheesecakes cool in the pan.
Once completely cool (about 1 hour), remove the cheesecakes from the pan and refrigerate for at least 2 hours or until ready to serve. The wrappers come off neatly before and after refrigeration.
Refrigerate the cheesecakes in an airtight container for up to 3 days.
For the Ganache
In a small saucepan over medium-low heat, warm the cream just until hot, steamy and on the verge of simmering. Remove from the heat.
Pour this over the chocolate chips and stir until all the chocolate chips are completely melted.
Let cool for about 20-30 minutes or until room temperature before pouring over the chilled cheesecakes.
All images and text ©
Follow Jamie on Instagram. We love to see what you're baking from MBA! Be sure to tag @jamiemba and use the hashtag #mbarecipes!