These fuss-free gluten-free mini cheesecakes are perfect for parties or potlucks and couldn't be any easier to make!

I really love cheesecake. Like really love it. But you won't find a single recipe for a full-sized cheesecake on my blog because I rarely find myself with a reason to make 16 servings of cheesecake.
If I made a cheesecake without a real purpose or some place to send it, I'd eat a copious amount, get sad and then make something else to help me get over my grief. It's a vicious cycle. With these gluten-free mini cheesecakes, you get everything you could want from a cheesecake but with built-in portion control! Eat one or two and freeze the rest.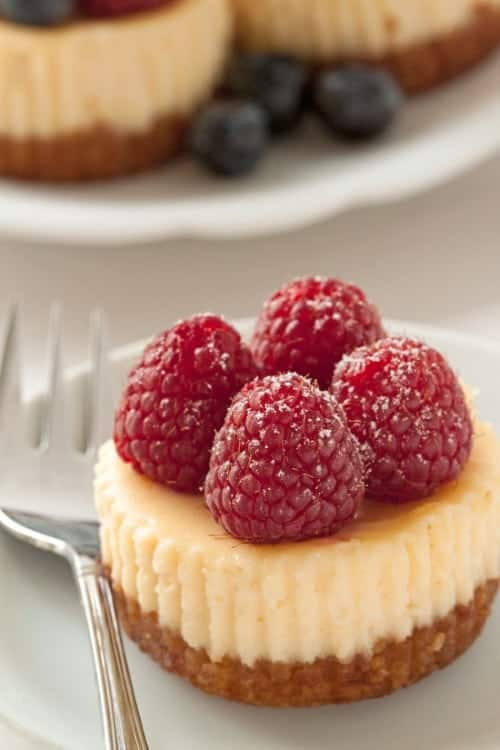 The other reason I don't make full cheesecakes is that it's just so much more fussy than making mini cheesecakes! You don't need to worry about water baths, cracks in the filling or refrigerating the cheesecake overnight. I don't know about you, but when I make dessert, I want it now and not to wait for what feels like an eternity. In the directions, I say to chill the cheesecakes for 2 hours before serving, but if you're in a hurry (or just really want your cheesecake!) you can pop them in the freezer for about 30 minutes.
I've had some less than stellar gluten-free crusts in the past but this one is perfect! Pre-baking the crusts and letting them cool slightly prevents the crust, which is almond flour based, from getting soggy. If you don't have almond flour, you could use another type of nut flour or meal. I'm thinking hazelnut meal would be tasty!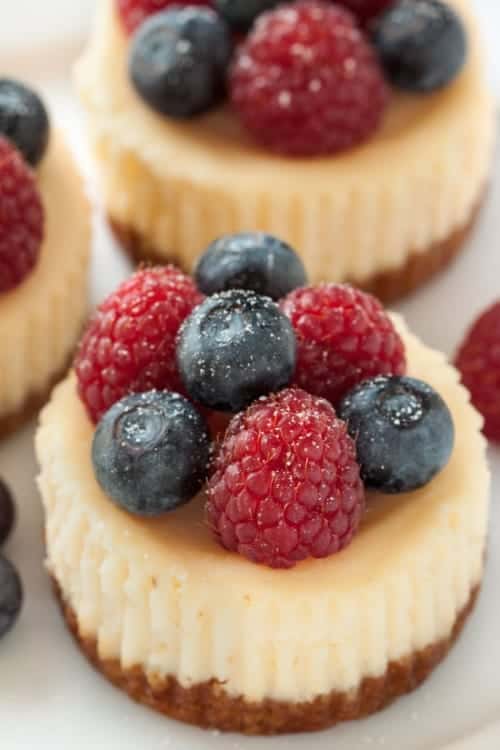 I added a bit of lemon zest to the crust to liven it up and don't recommend skipping this step because the crust would taste pretty neutral otherwise. Alternatively, you could add lime or orange zest or even a little extract to the crust if you want it a little more zippy. And the filling? So rich, creamy and smooth! I used just a little less sugar than often called for but none of my taste testers missed it or even noticed.
You can decorate the mini cheesecakes simply with blueberries and raspberries like I did or use a dessert sauce, like my honey sweetened strawberry sauce. And if it's already too hot to bake and you need some cheesecake now, try Jamie's no-bake lemon Oreo cheesecakes (but make sure to use gluten-free ingredients, if necessary!)