Whether you're hosting a smaller gathering this year or are simply looking for a twist on the traditional dessert spread, these Mini Pecan Pies are just begging to be added to your Thanksgiving menu! You'll never believe how easy these sweet, bite-size pies are to make.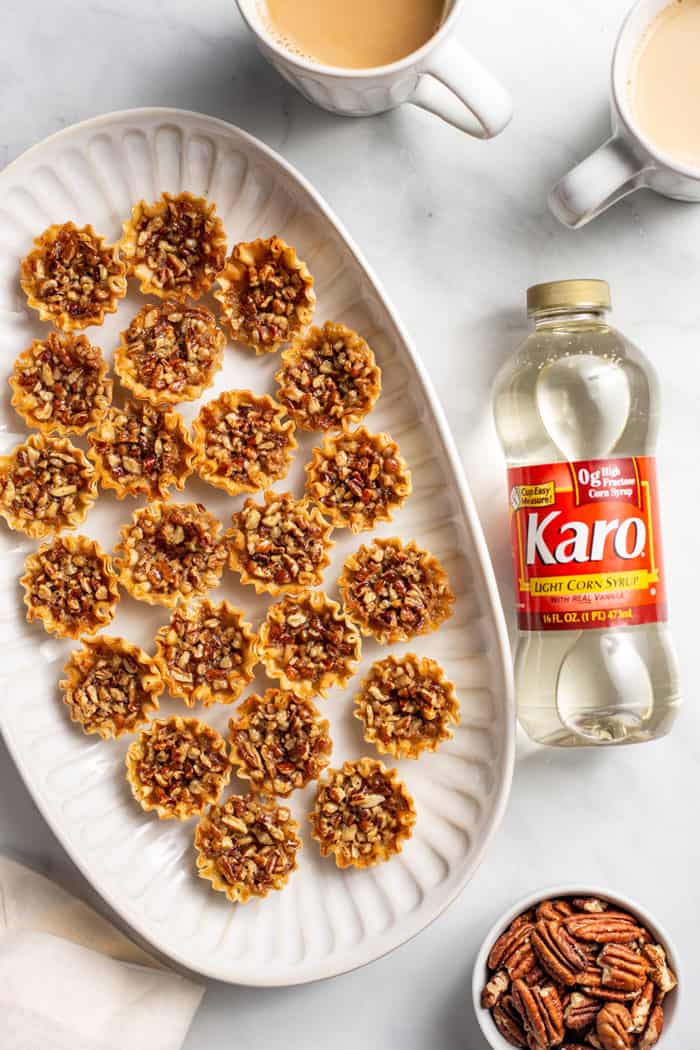 This post is sponsored by Karo® Corn Syrup. Thank you for continuing to support the brands that make My Baking Addiction possible.
I don't know about you, but the last couple of years have brought me to a place of really appreciating simplicity.
I think many of us have come to cherish our families even more and value every moment we get to spend with them.
So even though I am still planning to cook for Thanksgiving this year – I am who I am, ok? – I think that I'm going to be looking for ways to keep it simple so I can spend less time in the kitchen and more time laughing around the dinner table with my loved ones.
That means an easy breakfast like Make-Ahead Breakfast Casserole, simple appetizers and sides like Cranberry Cream Cheese Dip and Cranberry Fluff, and these fuss-free Mini Pecan Pies for dessert.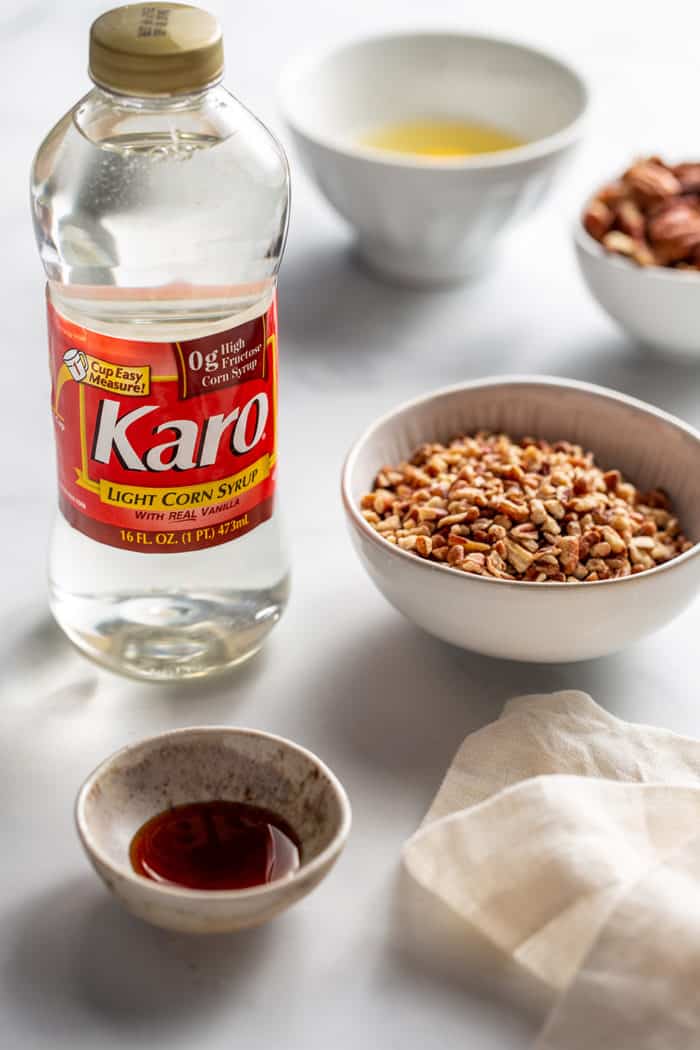 MINI PECAN PIES IN PHYLLO SHELLS
I have a secret to share with you: I love serving pie for Thanksgiving Dessert, but sometimes I struggle with pie crust.
My pies always turn out delicious and they're always worth it in the end (last year's Chocolate Pecan Pie was a total hit), but sometimes getting the crust ready takes me longer than I want it to.
So when I was thinking about how to keep my Thanksgiving fuss-free this year, I knew that Mini Pecan Pies were the way to go.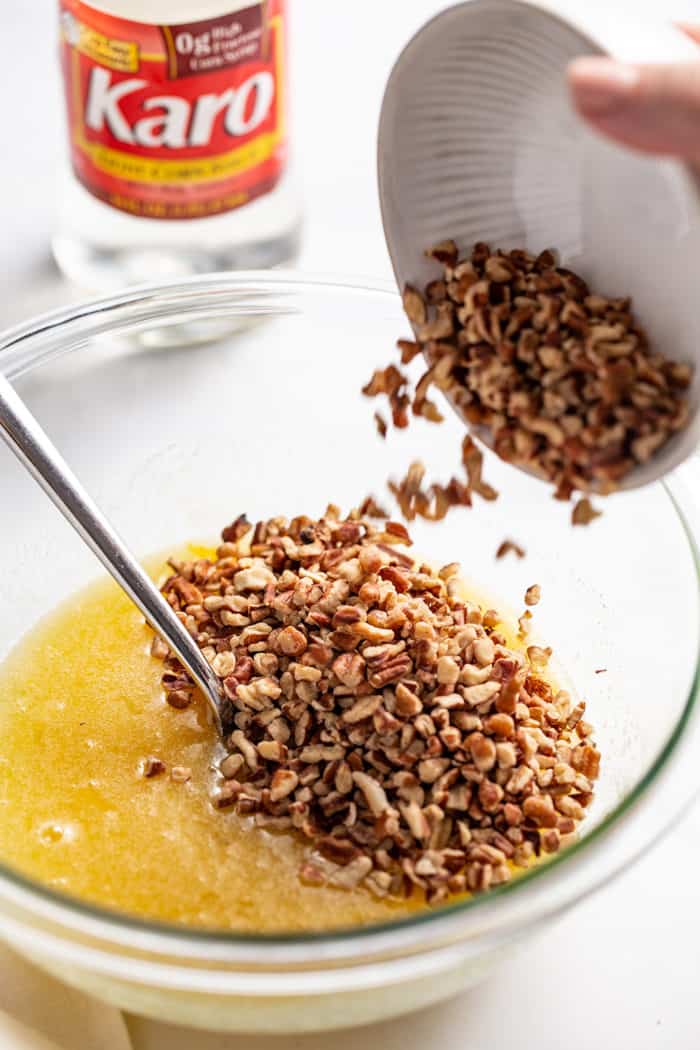 I decided to scale down the filling from Classic Pecan Pie and add it to mini phyllo shells instead of a full-size pie crust.
Because the recipe follows in the footsteps of over 100 years of southern mothers and grandmothers and uses Karo® Corn Syrup, I knew that the filling would have the perfect gooey texture to compliment the toasty pecans.
The end result is perfect bite-size pies with a silky filling that you can whip up and bake in about 30 minutes.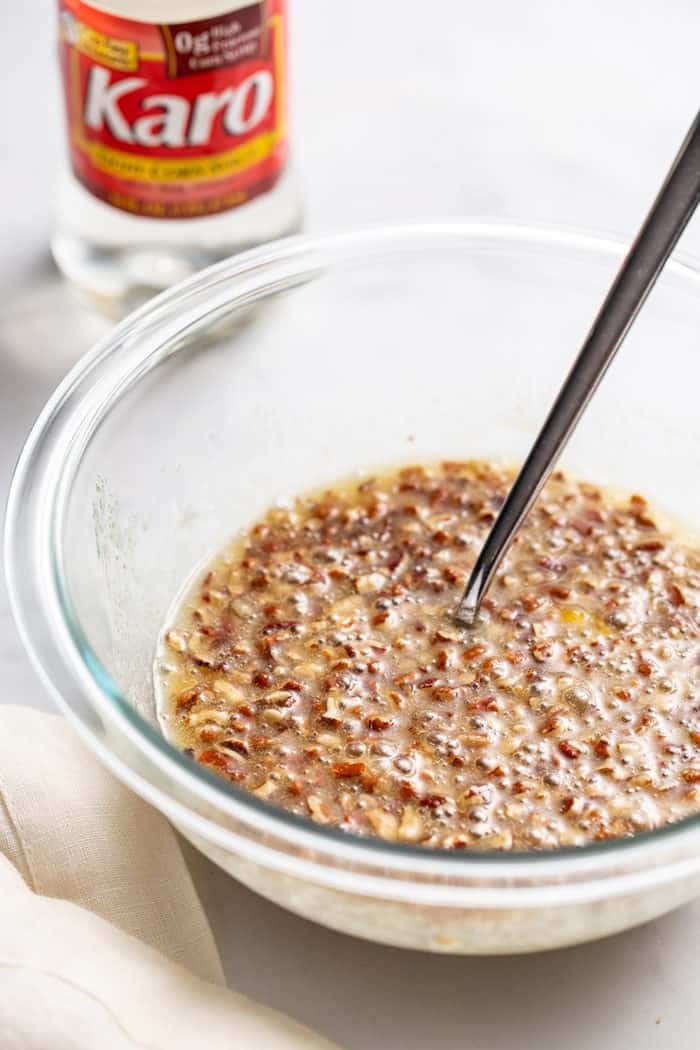 HOW TO MAKE THESE MINI PECAN PIES
Because we're basing this recipe off of Karo®'s own Homemade Pecan Pie recipe, the list of ingredients is super simple:
⅓ cup Karo® Light Corn Syrup
1 large egg
⅓ cup granulated sugar
1 tablespoon unsalted butter, melted
½ teaspoon pure vanilla extract
½ cup finely chopped pecans (pecan chips)
30 mini phyllo pastry shells
Karo® Light Corn Syrup will add the perfect amount of sweetness and keep the sugars in the filling from crystallizing in the oven, which means the pies will be perfectly silky every time.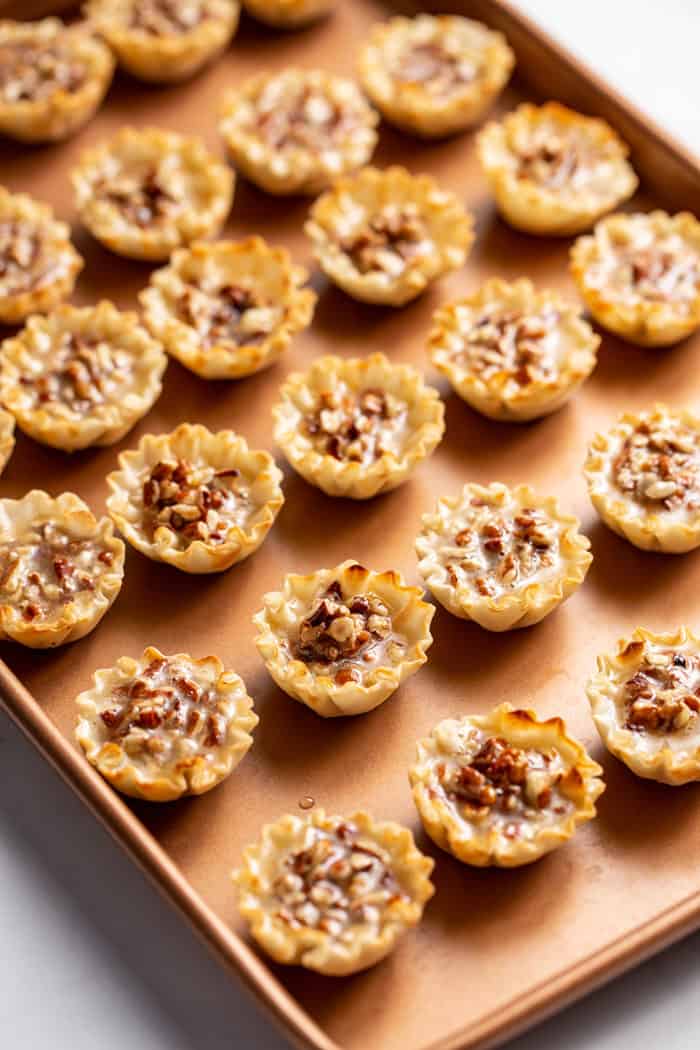 You can find pecan chips in the baking aisle with the other nuts, but if your store does not carry them, you can always finely chop the pecans yourself.
Mini phyllo pastry shells are available in the freezer section of just about every large grocery store these days. You can always make your own mini phyllo cups if you prefer, though.
Start by preheating the oven to 350°F. In a medium bowl, mix together the corn syrup, eggs, sugar, butter and vanilla using a spoon. Stir in the pecans.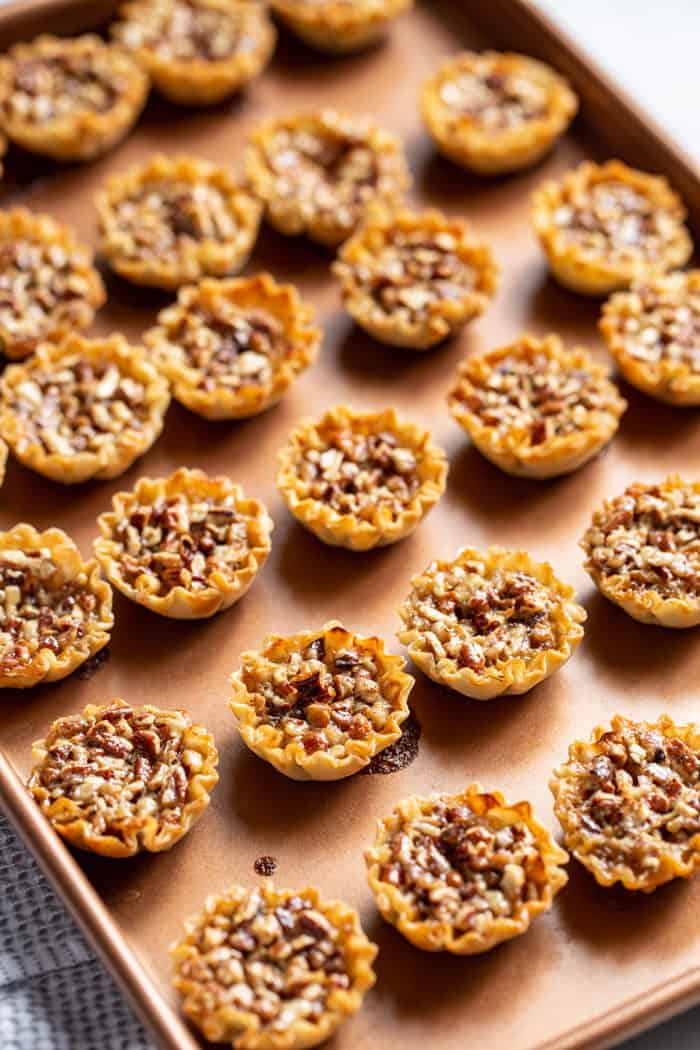 Place the phyllo shells on a baking sheet. Spoon 1 teaspoon of the pie filling into each shell, then bake for about 15 minutes.
It took me less than 15 minutes to get these Mini Pecan Pies ready to go in the oven, so with the 15-minute baking time, they were out of the oven and on the cooling rack in about 30 minutes.
It really doesn't get any simpler than that!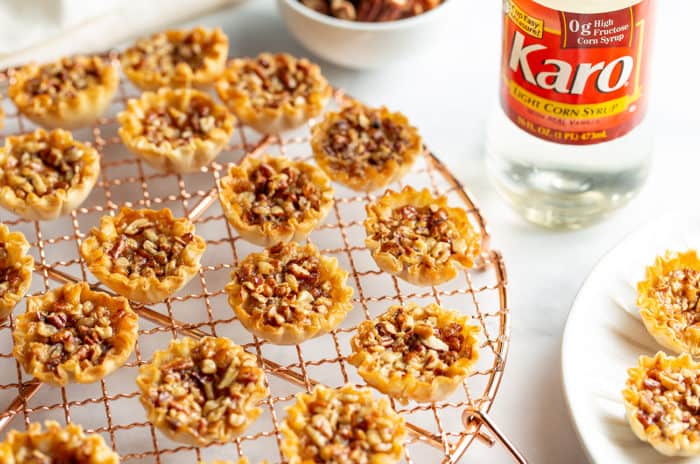 HOW TO TELL IF THE PIES ARE DONE
Sometimes it can be tricky to know exactly when pecan pie is done because of the crust that the pecans form at the top of the pie.
With a traditional pecan pie, the best way to know when it's done is to use an instant-read thermometer. The pie is done when the center reaches 200°F.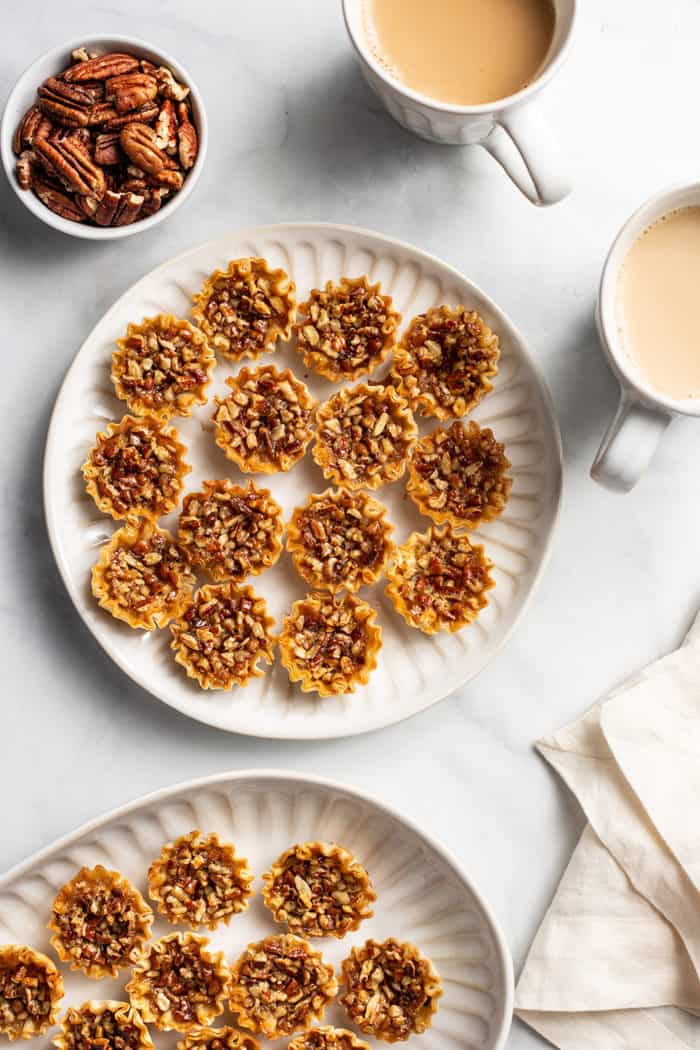 Since these Mini Pecan Pies are so small, using an instant-read thermometer doesn't always work as well. So instead, we'll pay attention to how the pies look and feel.
You'll know the pies are done when the filling is puffed in the center and springs back when lightly tapped.
I know it's tempting to dig in as soon as these mini pies come out of the oven, but make sure you let them cool before you serve them!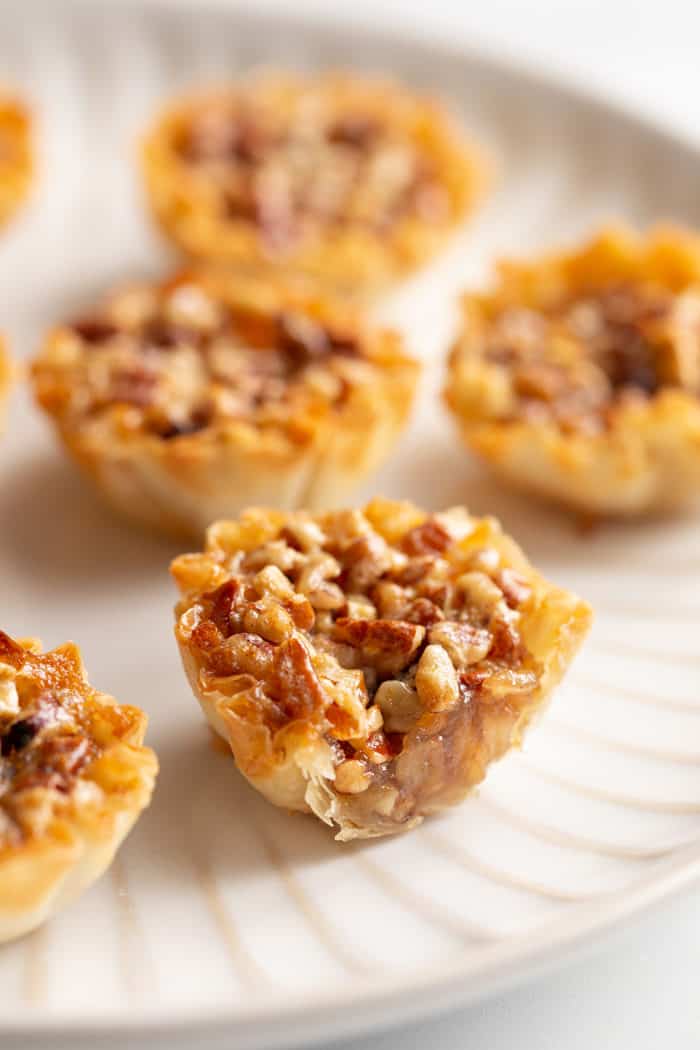 STORAGE AND FREEZING TIPS
Since this pecan pie filling uses eggs, if you aren't planning to serve your pies within a couple of hours of baking them, you should plan to store them in the refrigerator.
Mini Pecan Pies will last, in an airtight container, in the refrigerator for up to 3 days.
You can also freeze these mini pies to enjoy later.
To freeze, place the fully cooled pies in a zip-top freezer bag or seal them with a vacuum sealer.
Then freeze! The pies will last at least a couple of months in the freezer.
To enjoy the pies, simply thaw, unwrap and reheat for about 10 minutes in a warm oven (around 350°F). Don't forget to top them with a tiny dollop of homemade whipped cream if you like!