Easy Cranberry Cream Cheese Dip is one of the quickest appetizers you could possibly make! All you need is two ingredients to pull together a snack fit for a holiday party or simply snuggling up to watch a festive movie.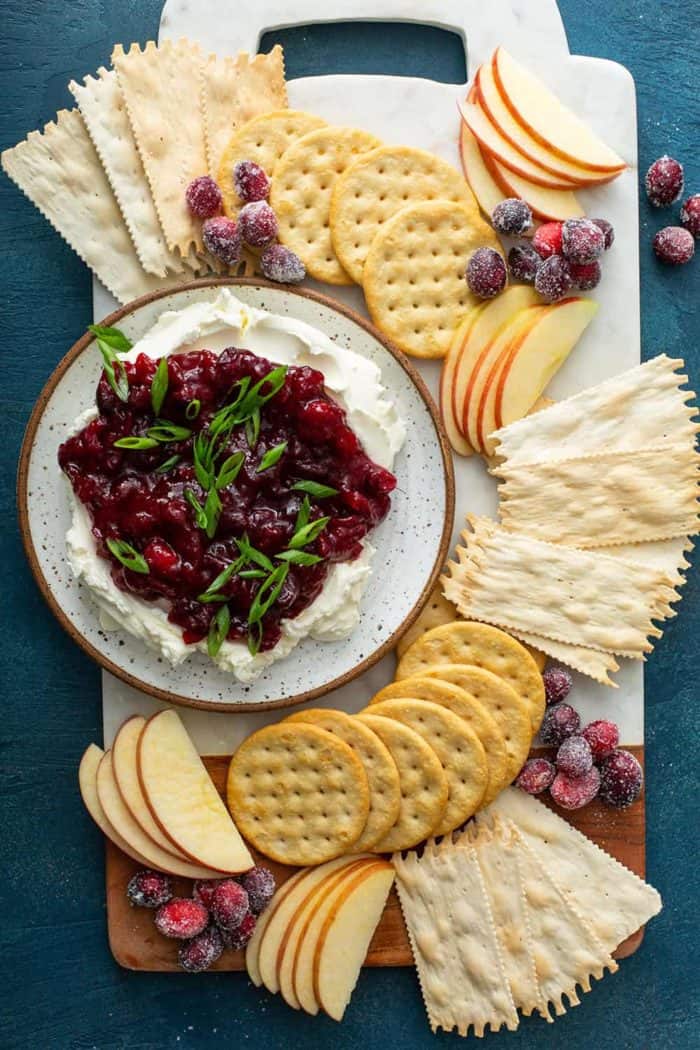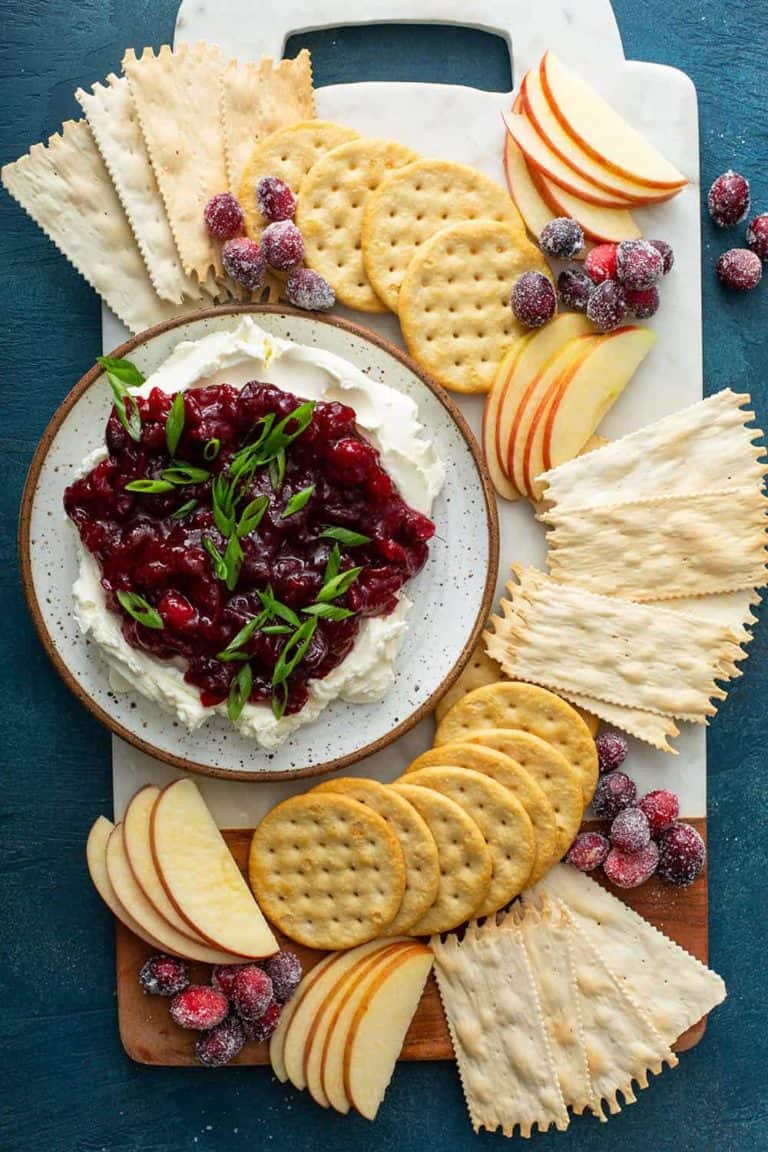 If you saw my recent recipes for French Onion Dip and Pumpkin Dip, you might remember me saying that I have been in total dip mode these days.
If fact, I just made a trip to Trader Joe's this week to re-up on some of my very favorites.
And while I love a store-bought dip as much as anyone, you really can't go wrong with a homemade dip that comes together in minutes.
Especially when it uses up a little bit of those Thanksgiving leftovers and looks super festive for the holidays.
Hello, cranberry cream cheese dip.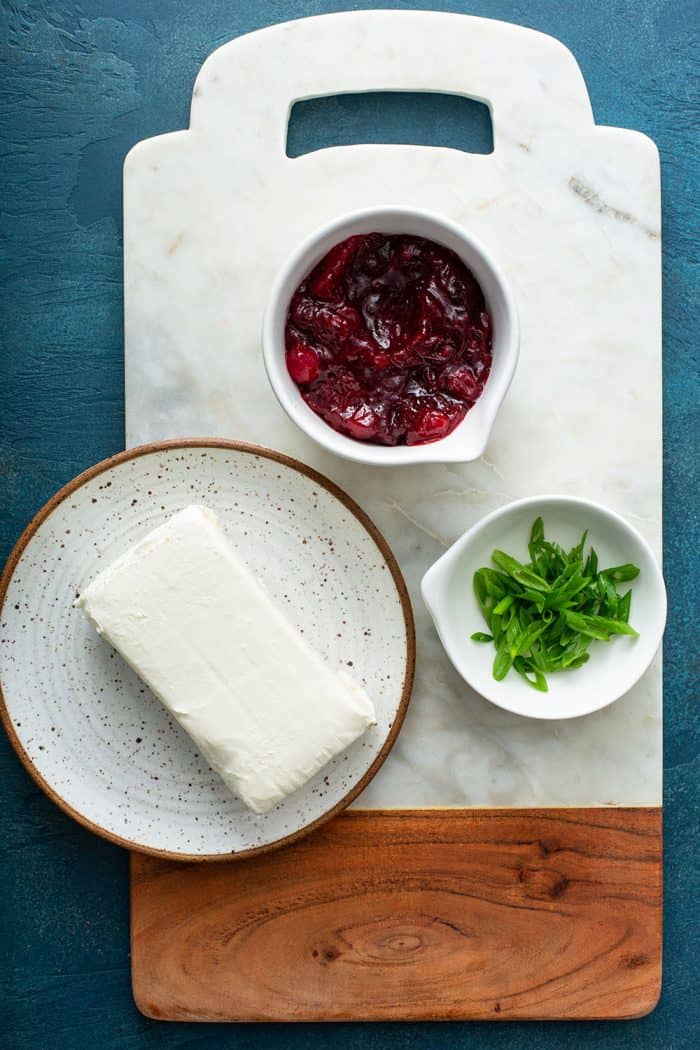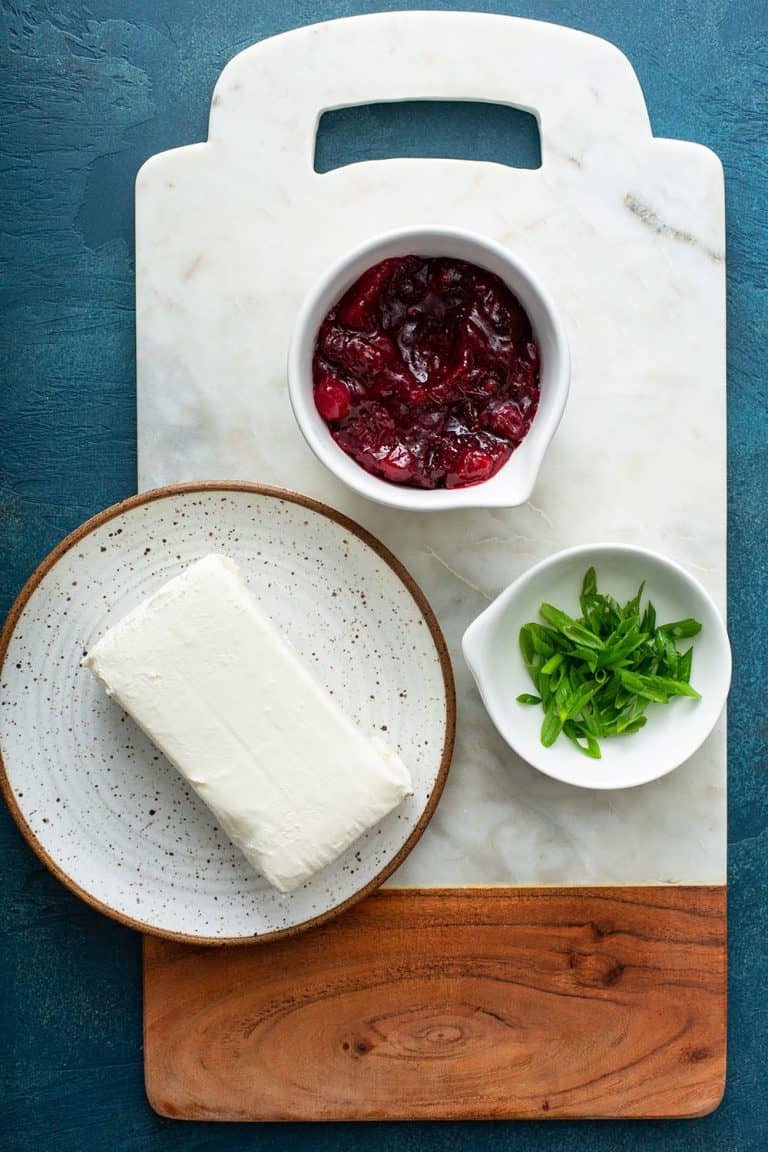 THE EASIEST WAY TO USE LEFTOVER CRANBERRY SAUCE
When I shared my Homemade Cranberry Sauce recipe, I promised you I was going to share a couple of easy appetizer recipes that use leftover cranberry sauce.
We've all found ourselves after Thanksgiving is over, realizing we have a weird amount of cranberry sauce left. Too much to throw out, but not enough to use for another full holiday meal.
And as much as people love a turkey sandwich, you can only eat so many turkey sandwiches with cranberry sauce on them.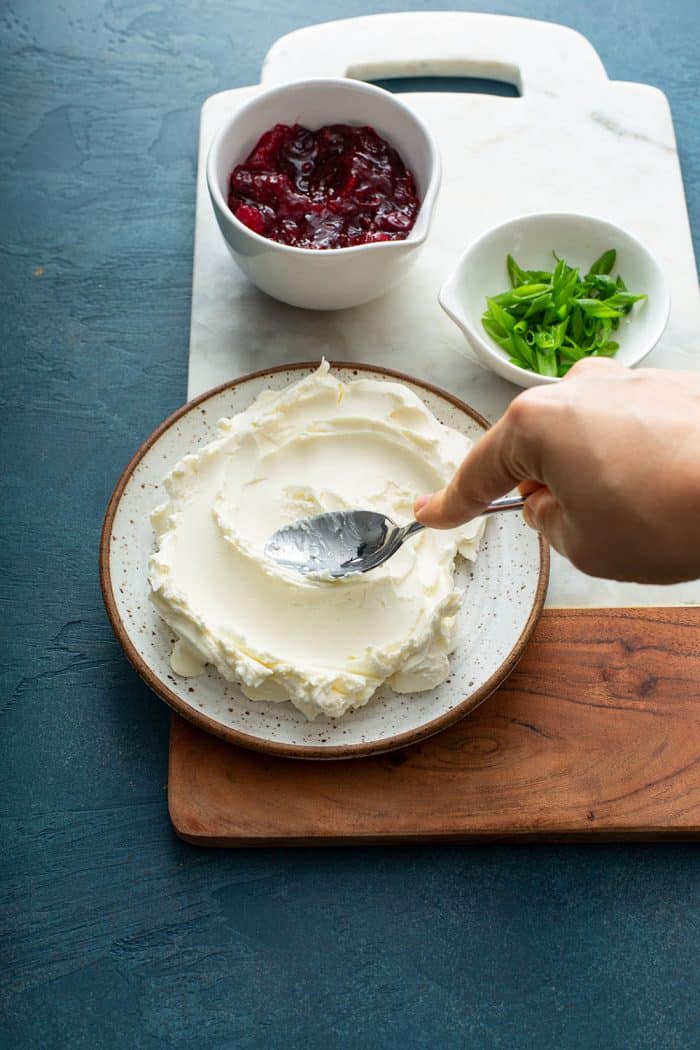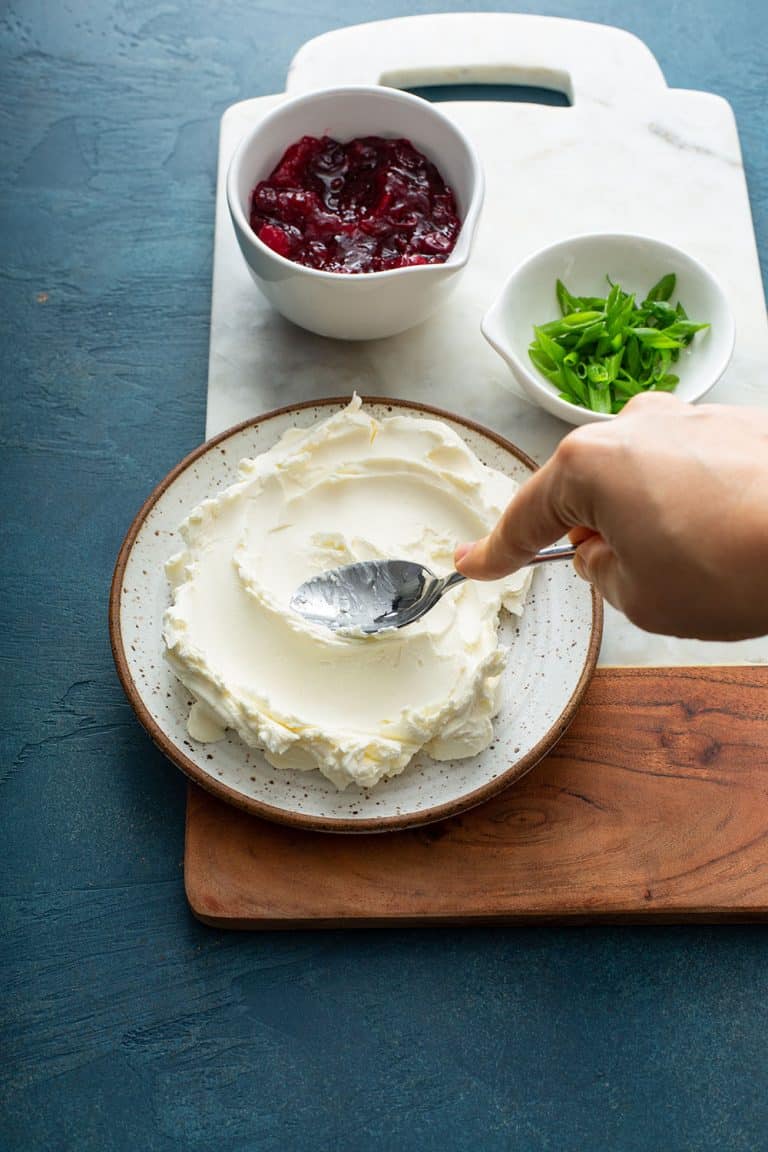 When I find myself wondering what to do with leftover cranberry sauce beyond the basics, I turn to a couple of super easy appetizers. Even if we aren't having holiday parties this year, that doesn't mean we can't make ourselves some snacks for a Christmas movie marathon, right?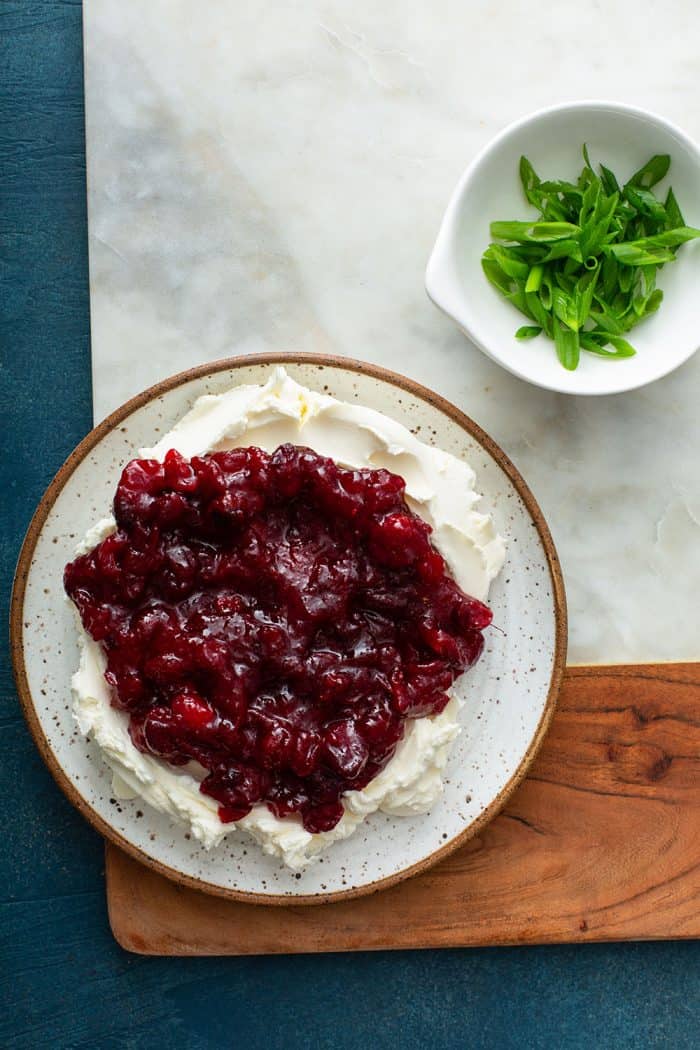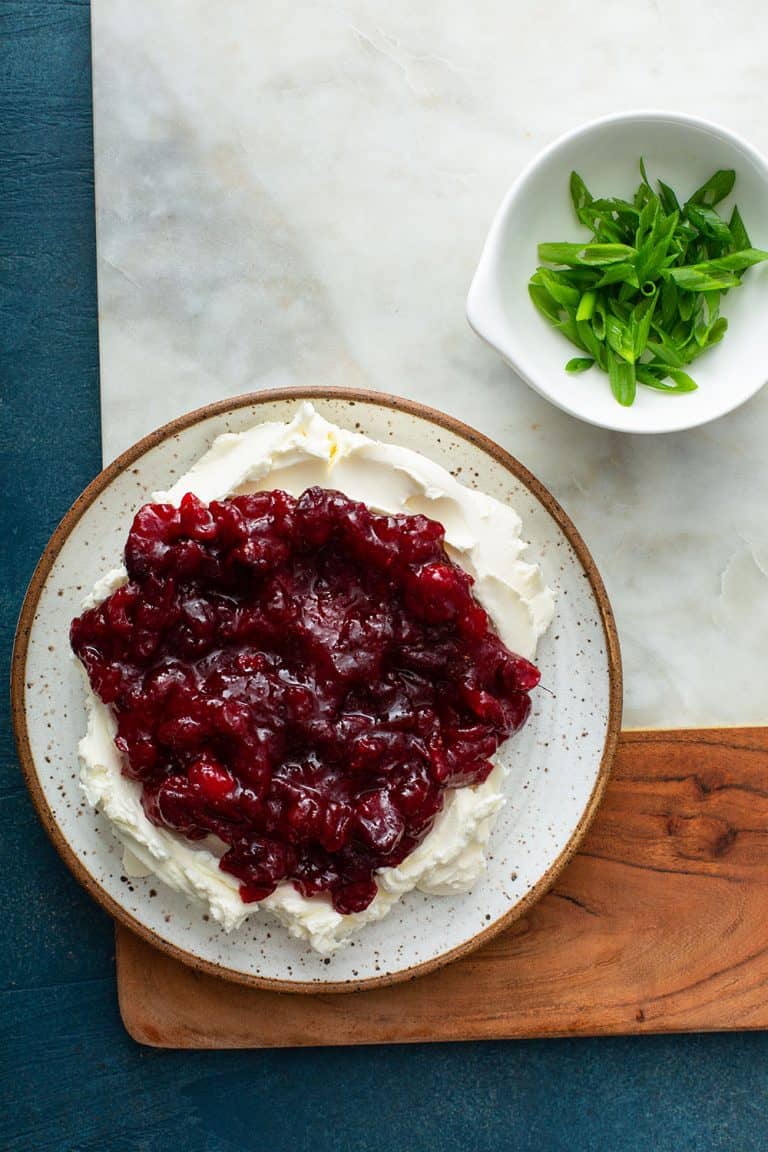 Today's recipe for Cranberry Cream Cheese Dip is so easy it hardly counts as a recipe. It only requires 2 ingredients:
Cranberry sauce
Softened cream cheese
That. Is. It.
Now, I like to grab some sliced green onions for garnish to brighten things up, but that's not even technically required.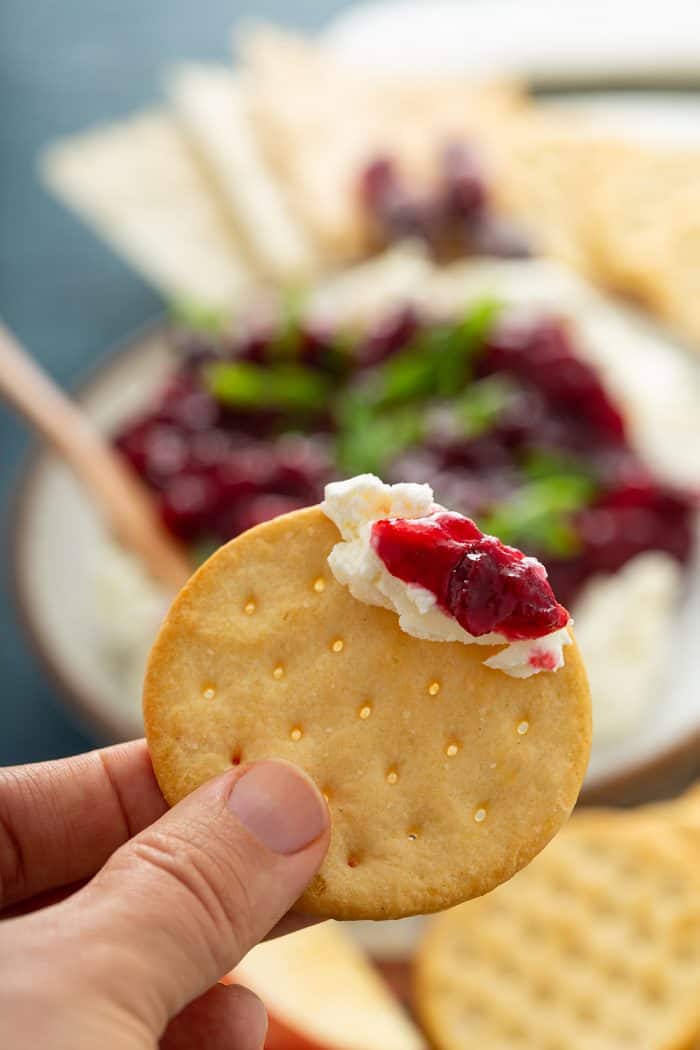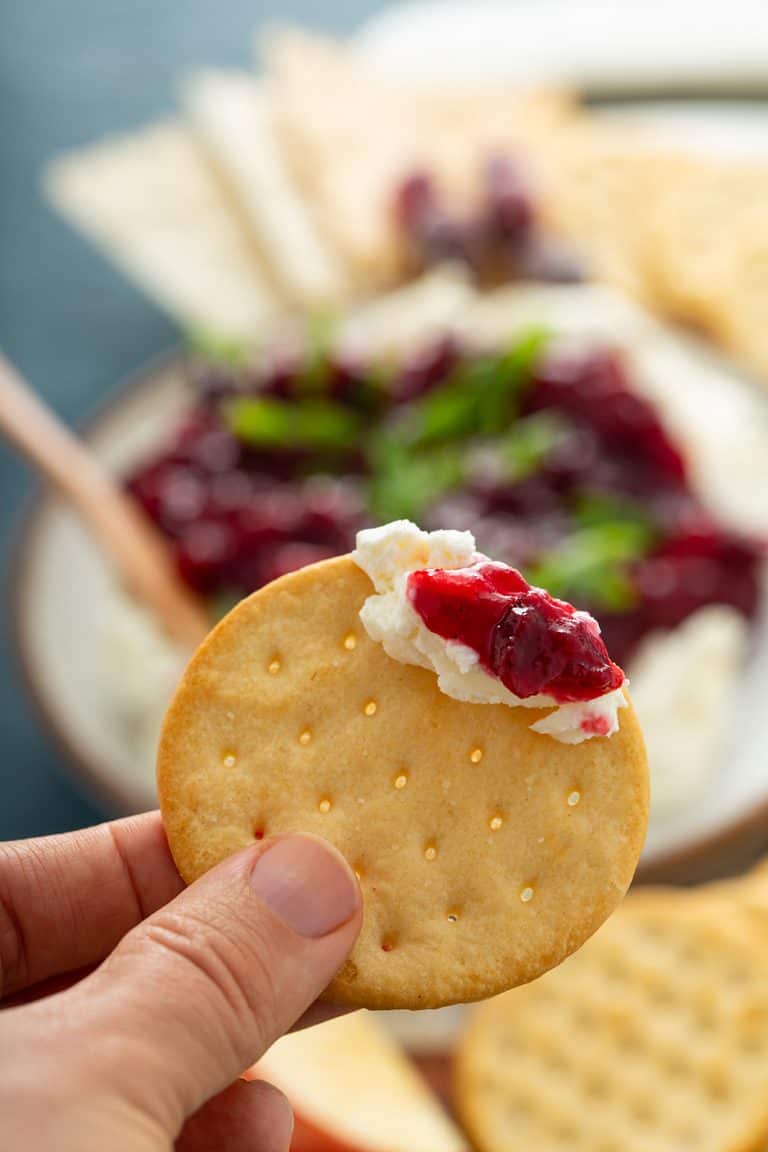 HOW TO MAKE CRANBERRY CREAM CHEESE DIP
If you've got about ½ cup of leftover cranberry sauce, a block of cream cheese, and a plate, you can make this dip.
I like to make my Cranberry Cream Cheese Dip with my homemade cranberry sauce, but my friend Stephie has tried this with her Texas Cranberry Chutney, which has some jalapeños in it for a little kick.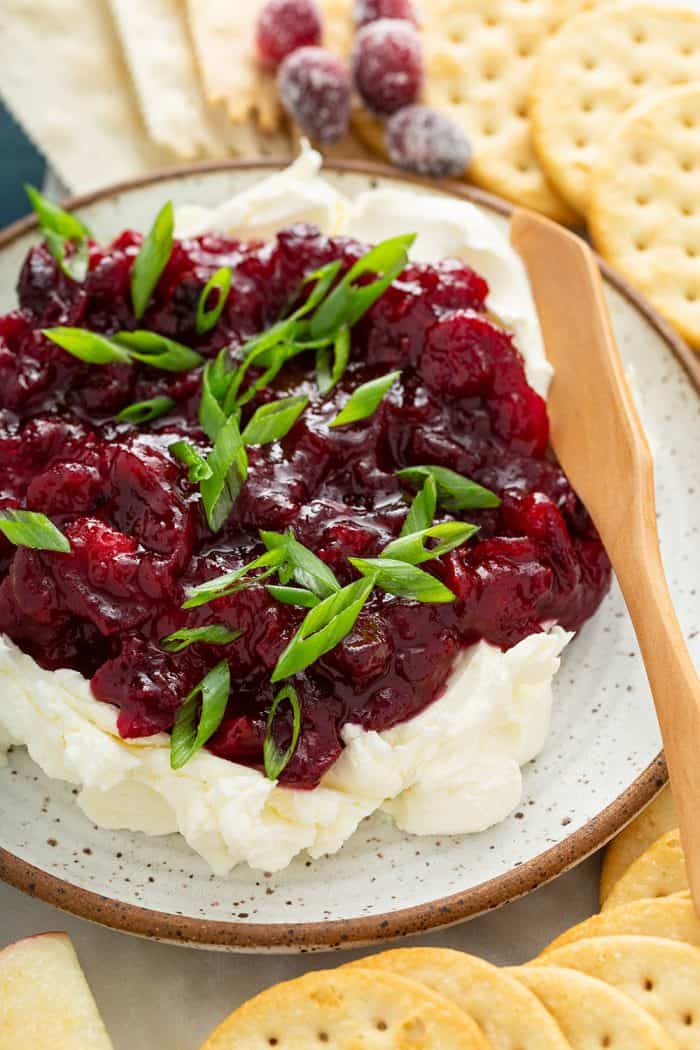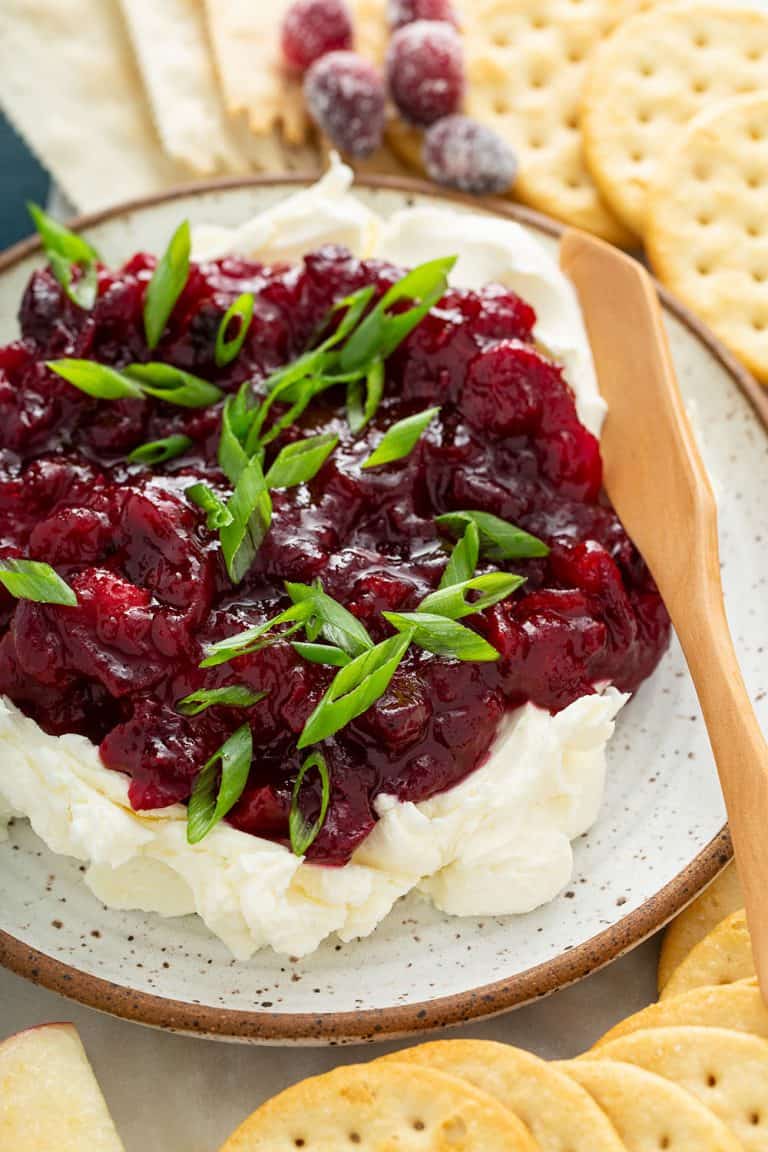 Whichever route you choose to go, you really can't go wrong.
Grab a plate and spread the softened cream cheese onto it. (Use my tips for how to soften cream cheese if you forgot to pull it out of the fridge ahead of time!)
If you're really feeling lazy or pressed for time, you don't even have to spread the cream cheese out. Just set the block of cream cheese on the plate!
Top the cream cheese with the cranberry sauce. Garnish with some sliced scallions if you'd like.
Voila! In less than 5 minutes, you have an easy and delicious snack to put out for guests or hoard for yourself.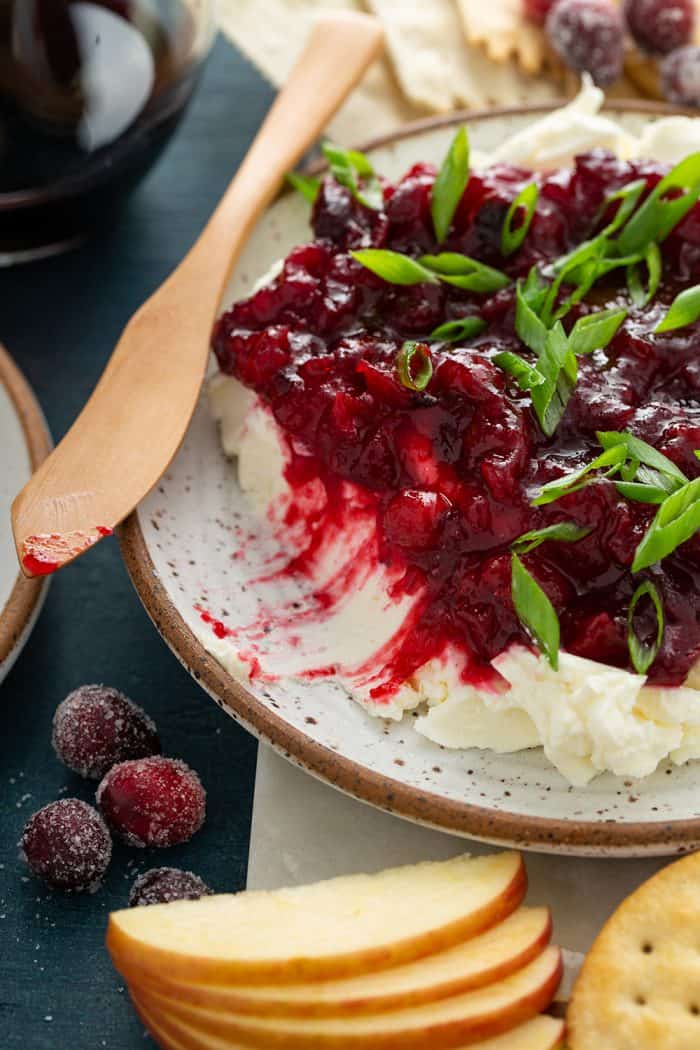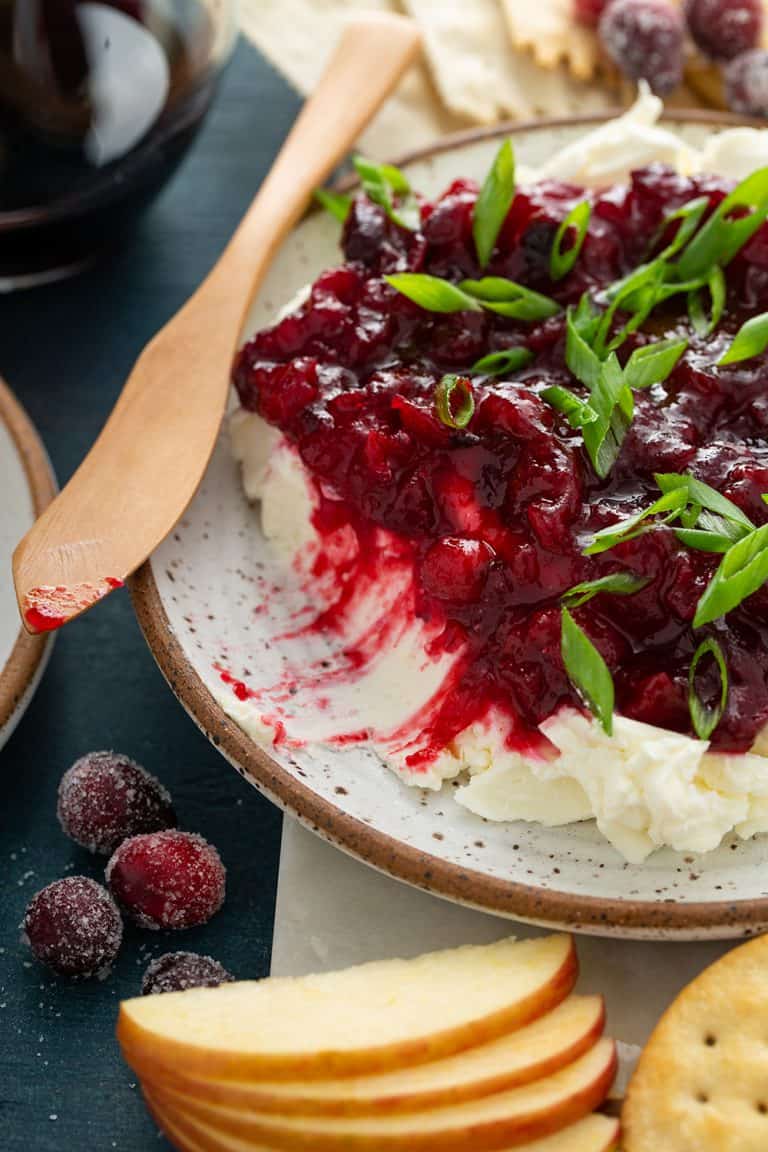 HOW TO SERVE THIS DIP
If you ask me, there's no shame in grabbing the plate and digging in with a box of Wheat Thins while you watch back-to-back Hallmark Christmas movies.
But if you really want to be a little classier…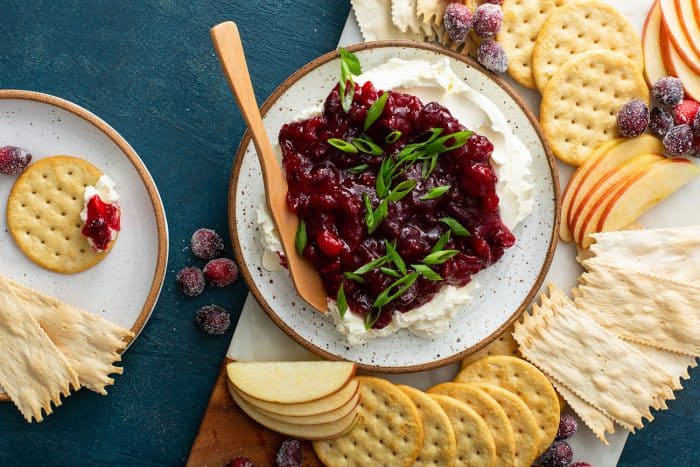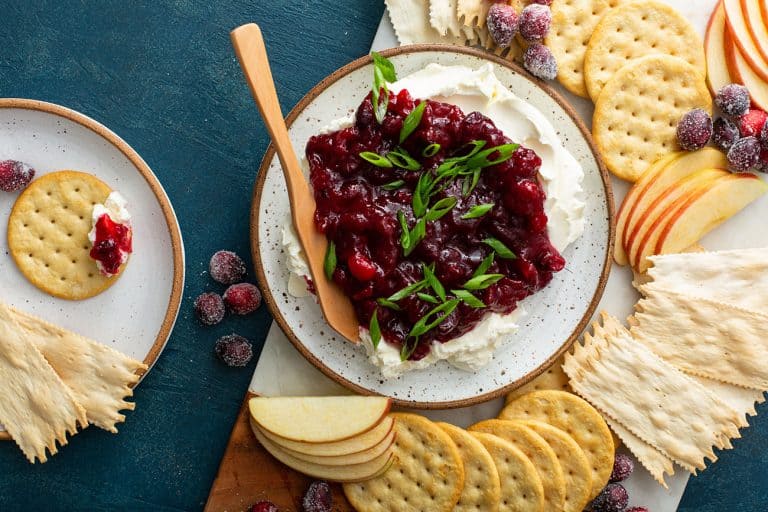 I like to serve Cranberry Cream Cheese Dip alongside an assortment of crackers. I also like to throw some fresh fruit – such as sliced apples or even some grapes – and maybe some Cranberry Brie Bites and candied pecans or chai spiced candied pecans onto the platter.
It makes for an impressive-looking snack platter that will take you maybe 10 minutes tops to pull together.