Tart, fresh cranberries combine with sugar, orange juice and a splash of Grand Marnier to create an incredibly delicious and unbelievably easy Homemade Cranberry Sauce.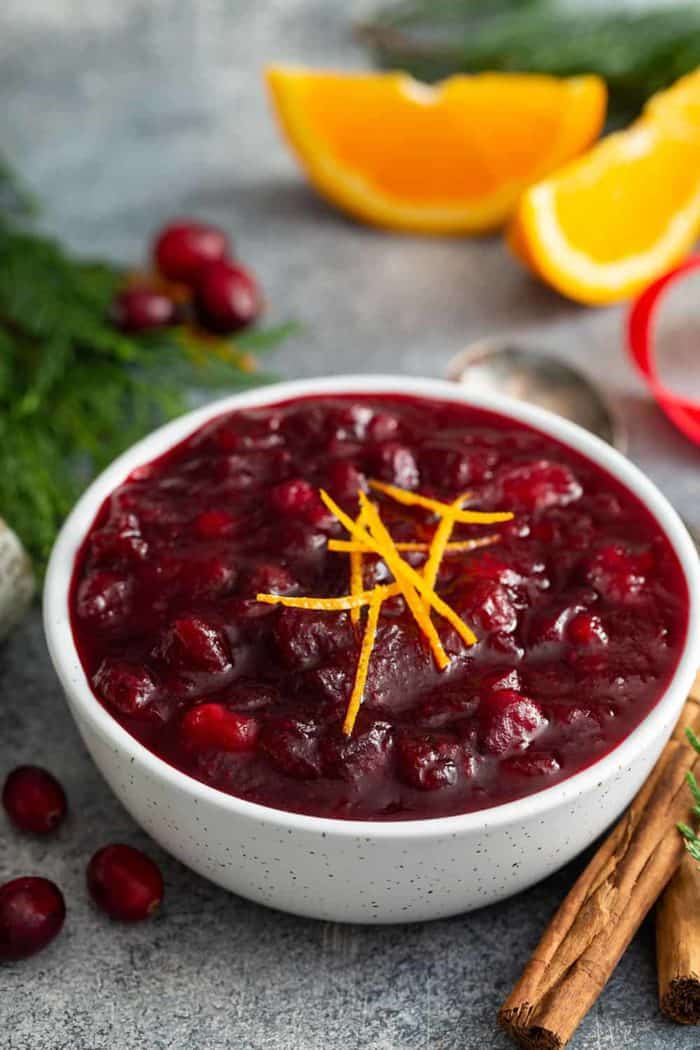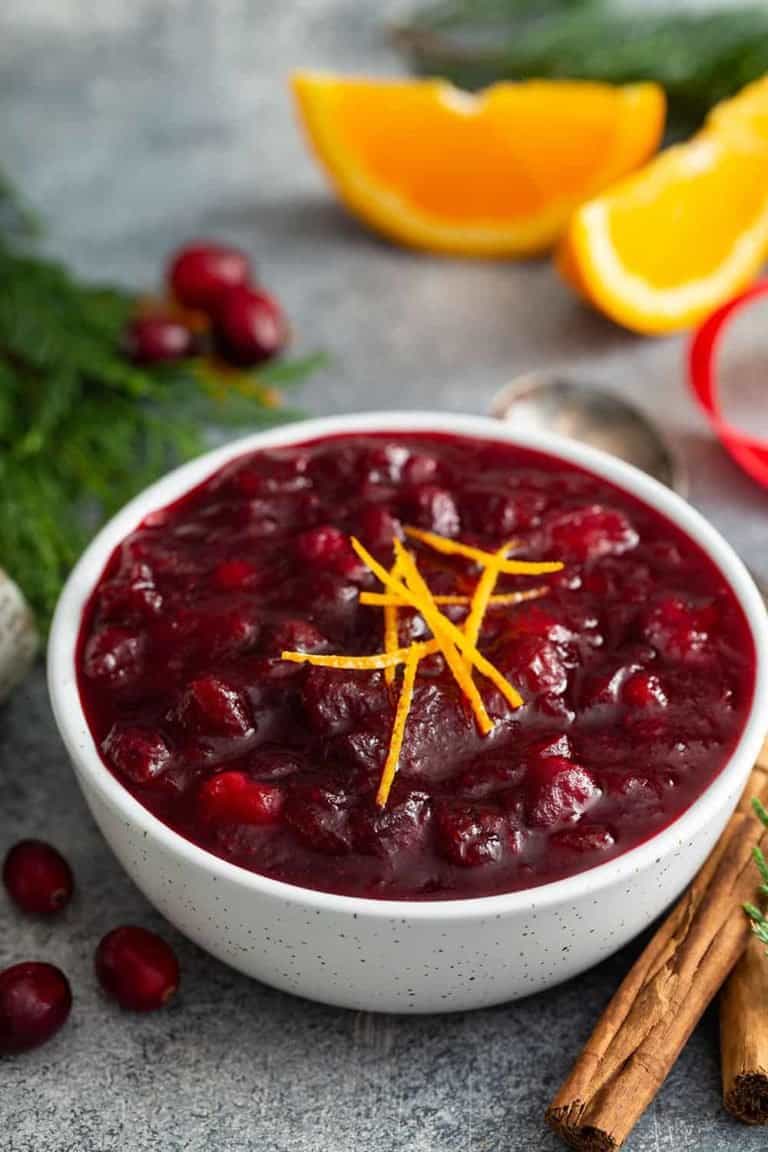 Homemade Cranberry Sauce is one of those holiday recipes that I pretty much make just for me.
I love the stuff and will happily eat it for days after Thanksgiving with buttered Parker House Rolls or toast, as a topping for Greek yogurt or ice cream and even as sandwich spread with leftover turkey and ham.
I think people will forever equate cranberry sauce with the jiggly stuff that slides out of an aluminum can and they just don't know what they're missing when it comes to homemade cranberry sauce. But that's totally okay because it means more for me!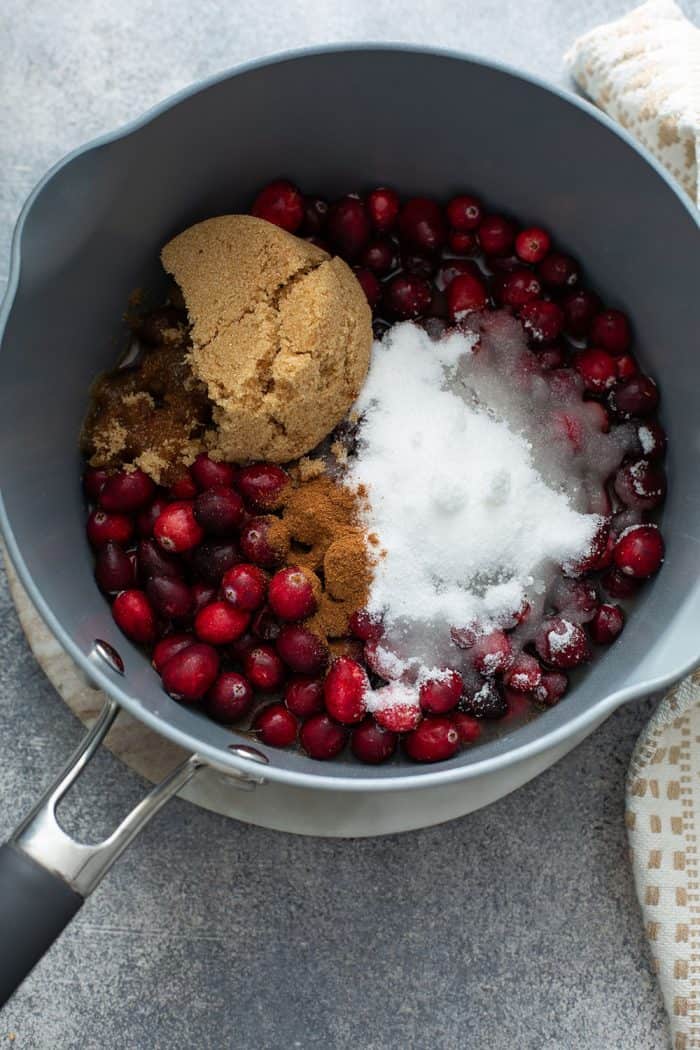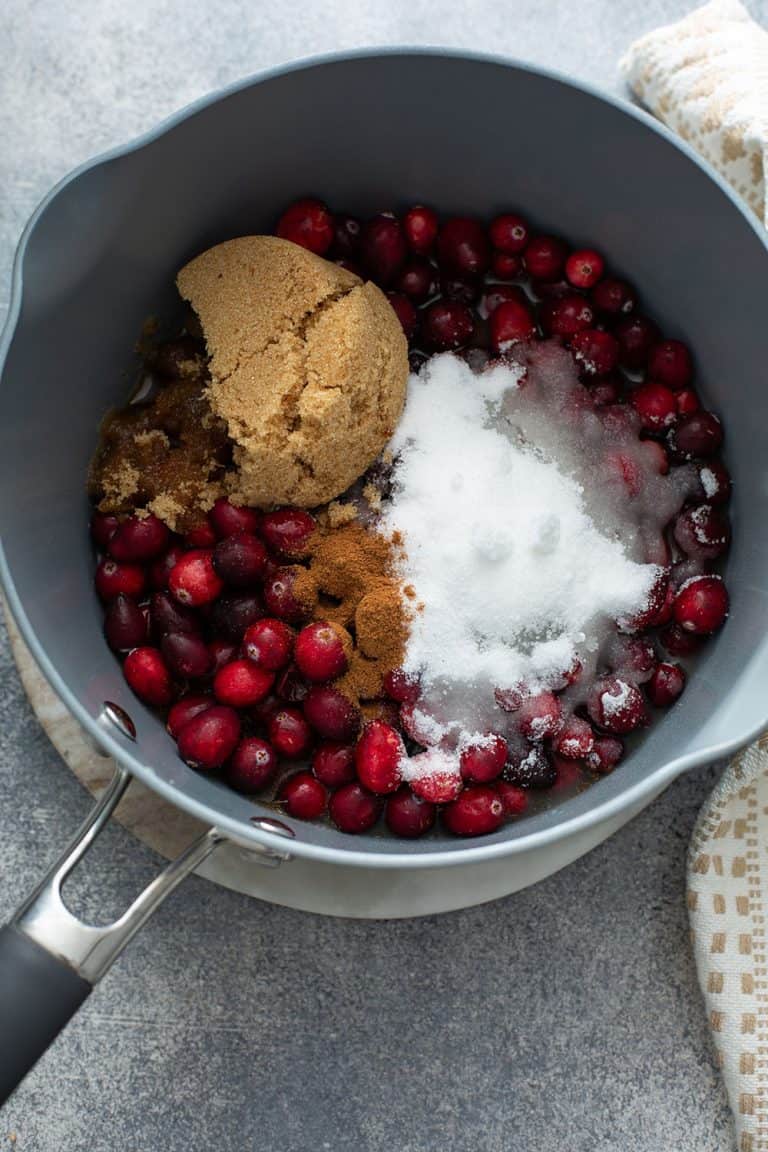 MY FAVORITE CRANBERRY SAUCE
I have a confession to make: I'm a self-proclaimed turker disliker.
Not a hater, just a disliker. No matter how it's cooked – fried, brined, roasted, smoked – it's just not my fave. I'm a side dish girl through and through. I'd rather dig into the Baked Macaroni and Cheese, Corn Casserole, Sweet Potato Casserole, or Garlic and Herb Parker House Rolls.
But I'll definitely dabble with the bird if it's slathered in a bit of Homemade Cranberry Sauce.
Now, I know it's ridiculously easy to pop open a can of store-bought cranberry sauce and jiggle it out onto a pretty, festive plate. But trust me, Homemade Cranberry Sauce is almost as easy. I promise.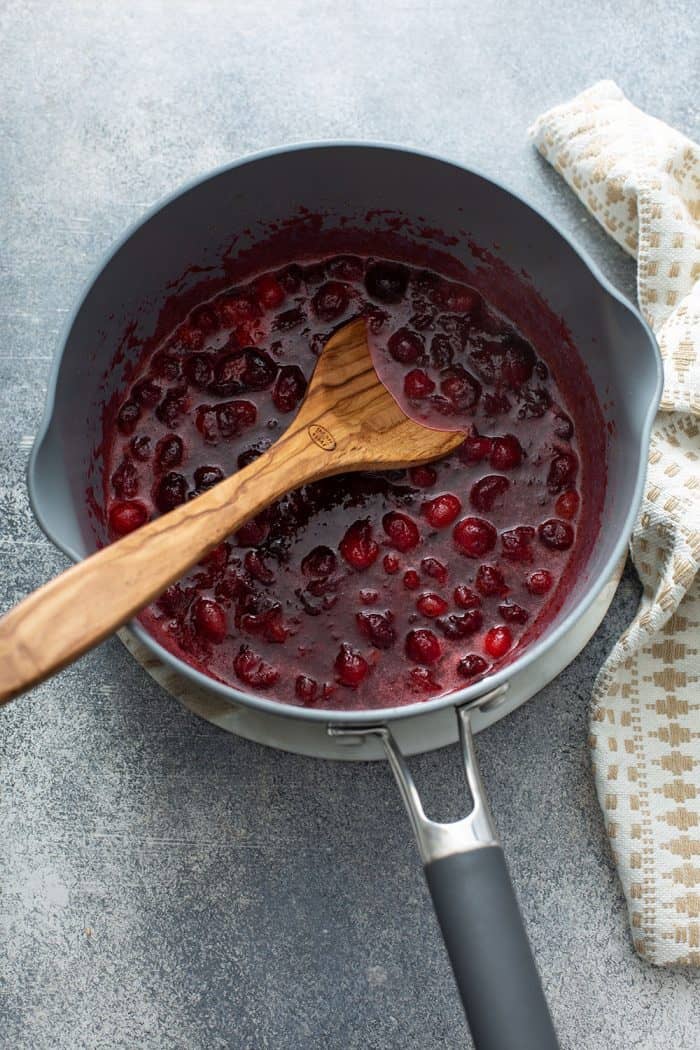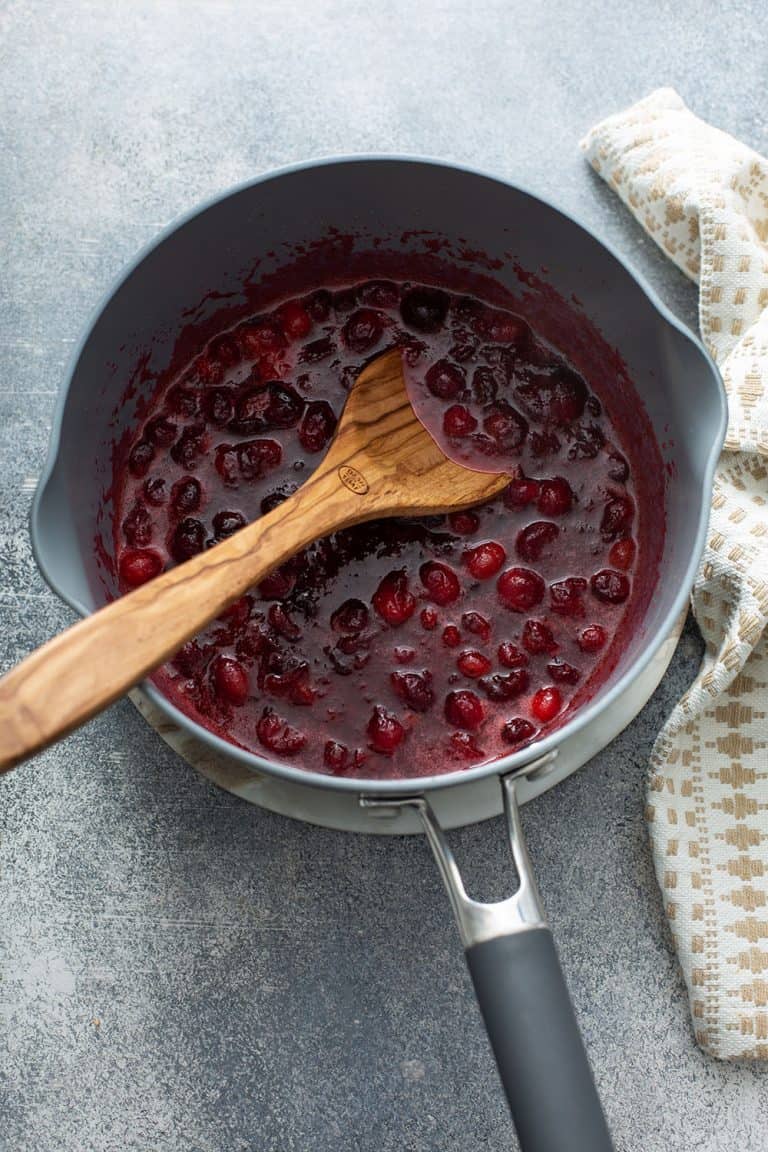 The other promise I can make is that it'll be about 10x more delicious than the canned stuff.
Since cranberries and orange go together like peas and carrots (don't believe me? Try my Cranberry Orange Bread), I had to bring some orange flavors into my cranberry sauce recipe. Cue the orange juice and some Grand Marnier.
The result is tart, fresh cranberries cooked with brown and white sugars, freshly squeezed orange juice, a touch of spice and just a hint of Grand Marnier. The flavors blend together to create a bright spot on your Thanksgiving plate that both teases the palate and provides a little freshness from all the heavy, gravy-laden sides.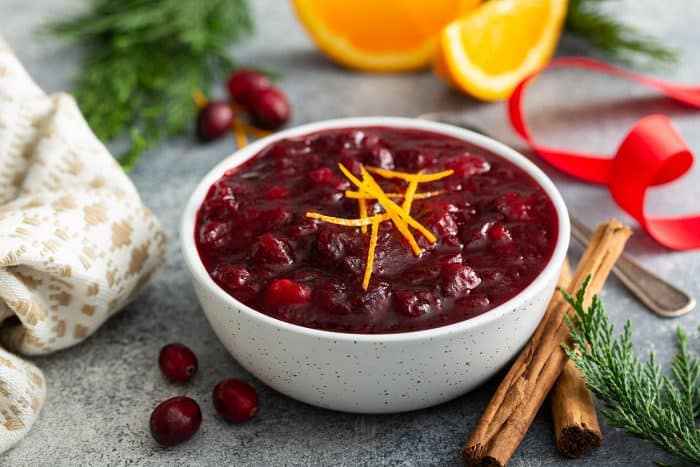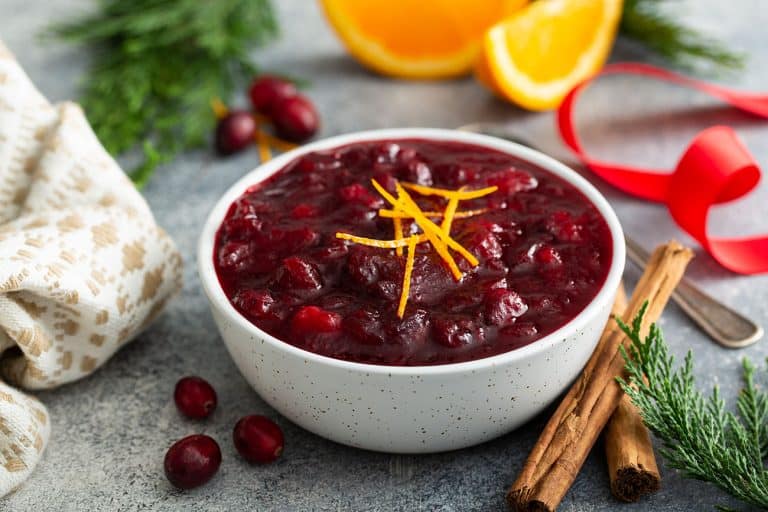 HOW TO MAKE MY EASY CRANBERRY SAUCE
I promised you easy. Here's where I deliver.
Want to know how to make this cranberry sauce?
Add all of the ingredients except the Grand Marnier to a saucepan.
Cook over medium heat, stirring frequently, for about 10 minutes or until the cranberries start to pop.
Remove from the heat, add the Grand Marnier, and let cool before serving or refrigerating for later use.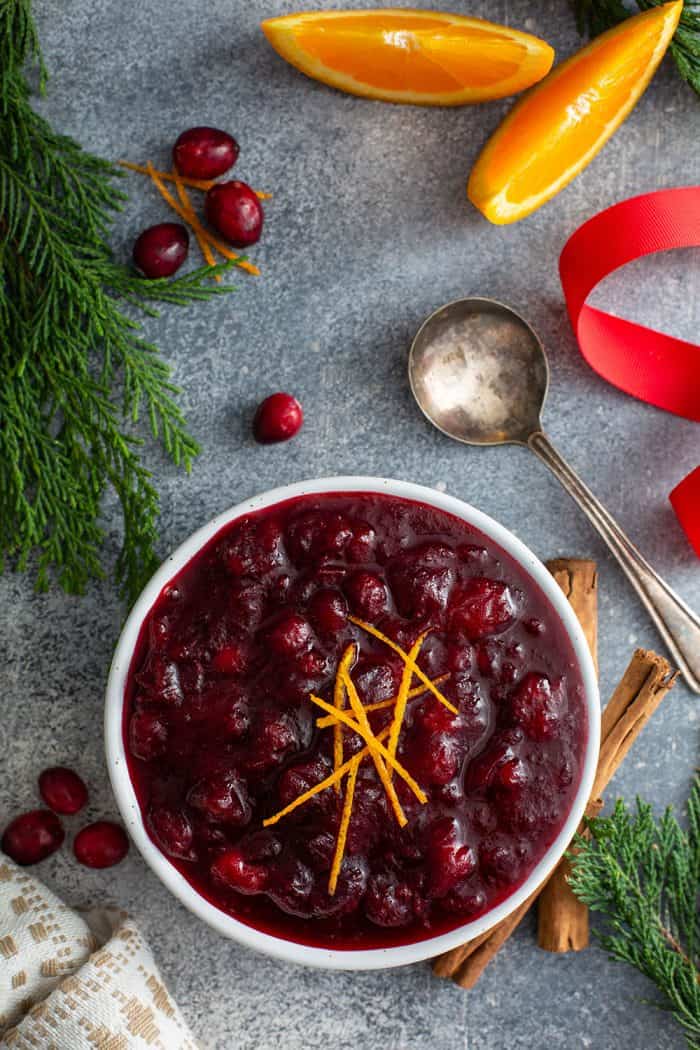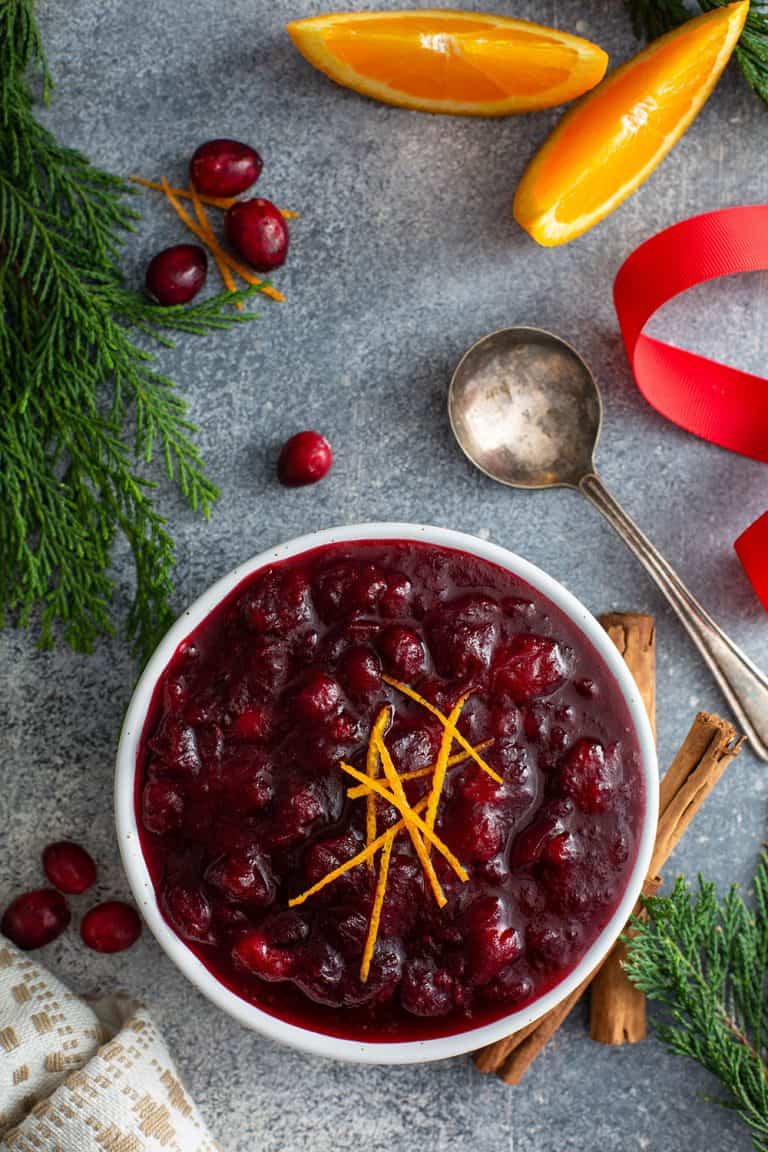 Yeah, that's it!
The sauce will seem a bit thin when you first remove it from the heat, but it'll thicken as it cools. That's because cranberries contain a lot of pectin (the stuff that makes jams and jellies nice and thick) that gets released when they're cooked.
If you prefer your cranberry sauce warm or at room temperature, whip this up a bit before you sit down to dinner. If you like it cold, make it a day or two before and keep it in an airtight container in the fridge until Thanksgiving dinner.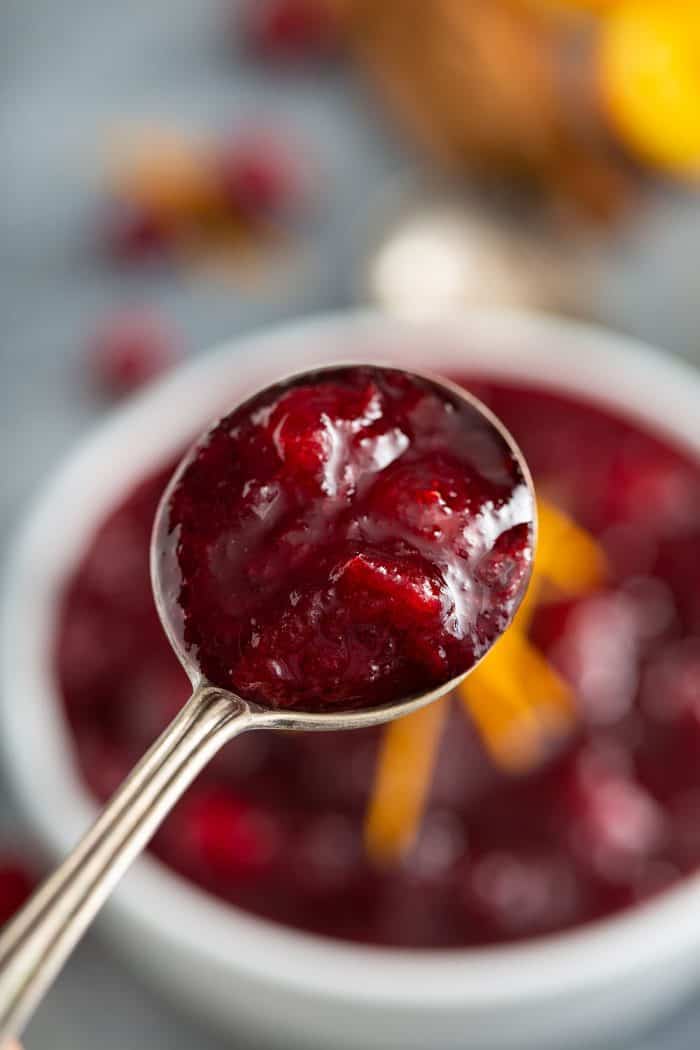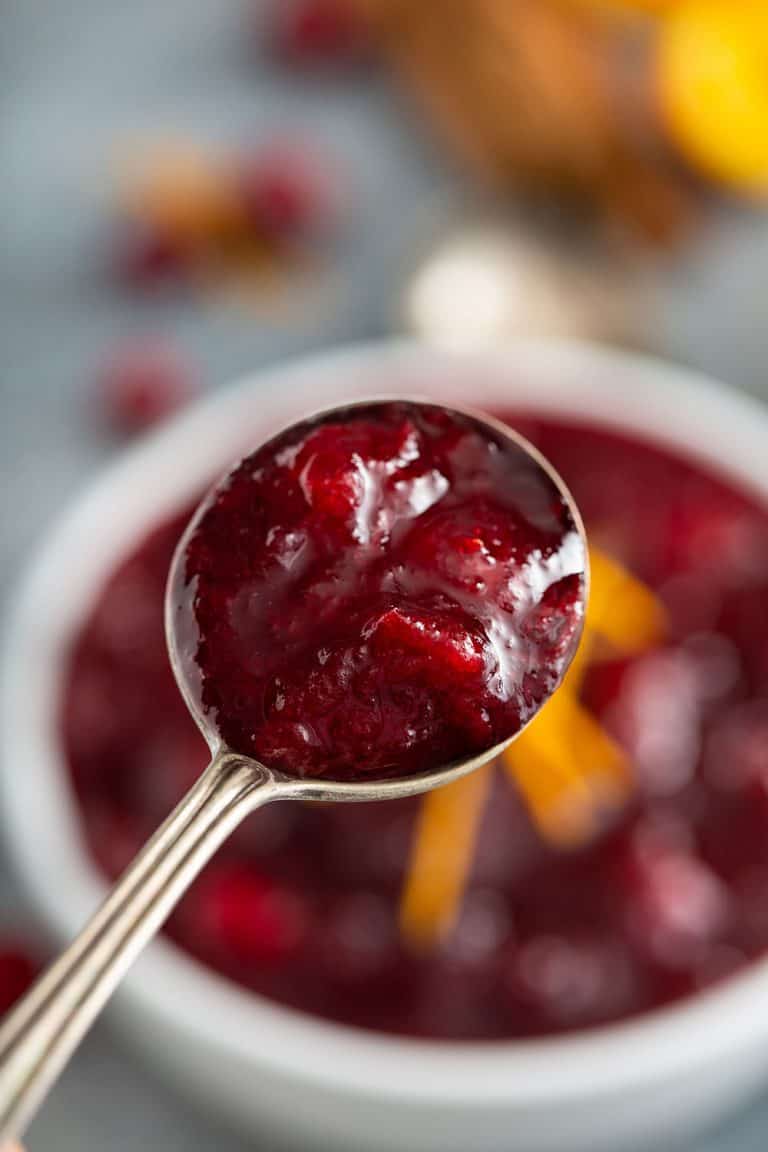 CAN YOU FREEZE HOMEMADE CRANBERRY SAUCE?
Cranberry sauce is one of those sides that freezes wonderfully.
If you want to be super on top of your turkey-day prep, make this a week or two ahead of time and pop it in the freezer in an airtight container. Let it thaw overnight in the refrigerator before serving.
You can also freeze any leftover cranberry sauce, although there are lots of fun ways to use leftover cranberry sauce!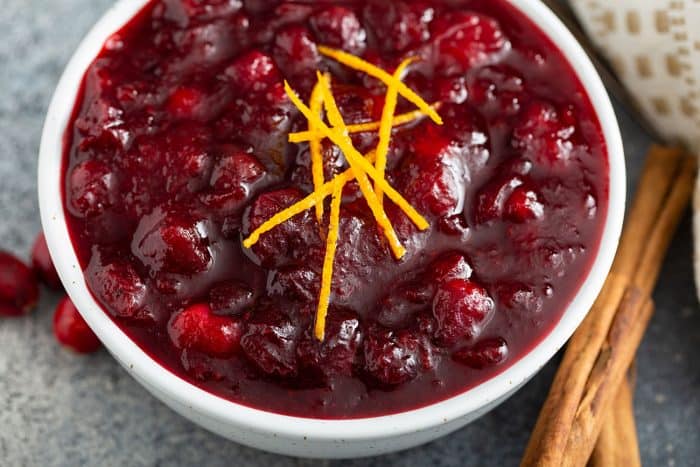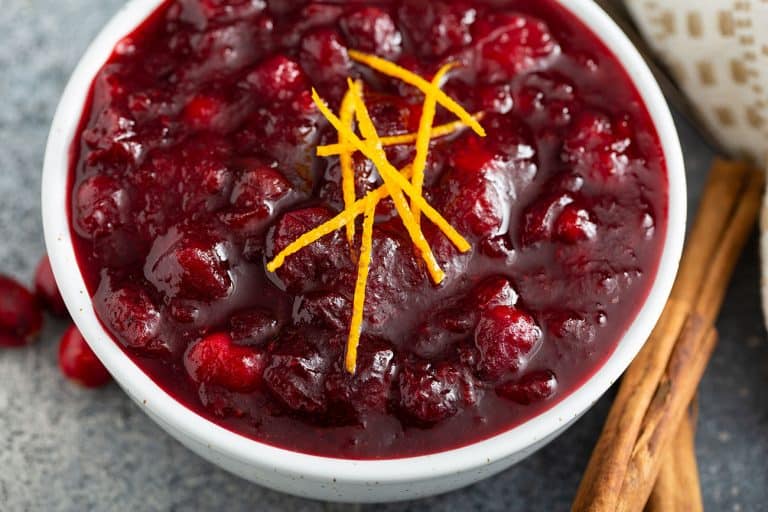 WHAT TO DO WITH LEFTOVER CRANBERRY SAUCE
So you have some leftovers on your hands, huh?
Not to worry, I've got plenty of ideas for using up some of those leftover cranberries.
Of course, I am always a fan of slathering some of the leftover sauce on a turkey sandwich with a little bit of mayo. Don't knock it until you've tried it – it's amazing!
My Cranberry Fluff is also a great way to use any leftover cranberry sauce. If you're over sweets just after Thanksgiving, tuck some sauce away in your freezer to make mid-winter when you're craving some tart cranberries in a sweet, fluffy dessert.
You could even try using some in place of jam in these Leftover Cranberry Sauce Bars (similar to my Apple Pie Bars).
And for some super simple appetizers or snacks, you have to try Cranberry Cream Cheese Dip and Cranberry Brie Bites!