Soft, buttery Parker House Rolls are a holiday classic. Serve these homemade dinner rolls with Cranberry Butter to make them even more festive for your Thanksgiving table!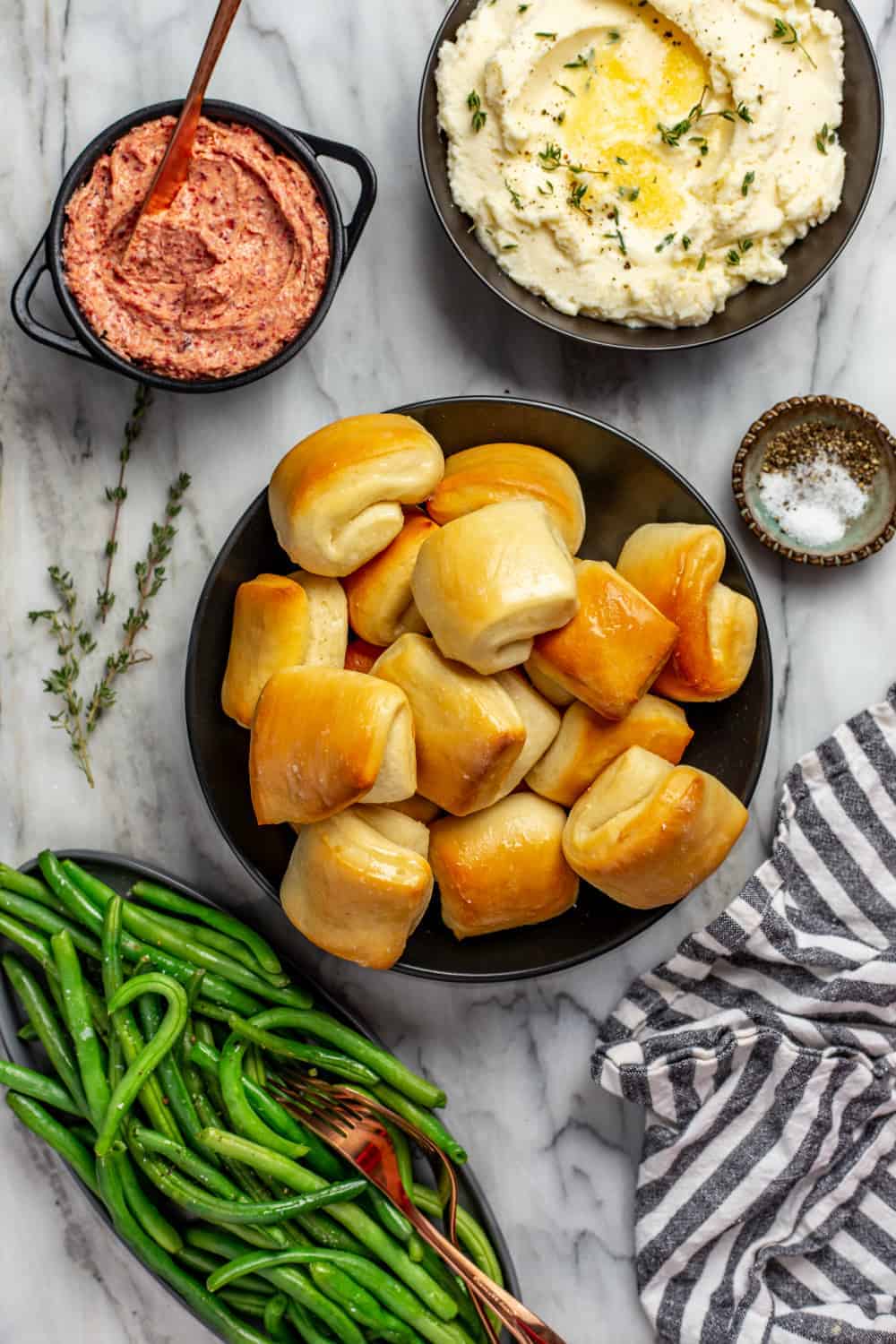 Well, October is officially over, friends. If you're at all like me, this means your Halloween decor is coming down and it's time to start thinking about Thanksgiving.
If you've been following My Baking Addiction for some time, you know that I love Thanksgiving and that I'm pretty much a total control freak when it comes to Thanksgiving dinner.
This year, I'm sticking with my absolute favorite staple recipes like mashed potatoes, sausage and apple stuffing, and sweet potato casserole, but there's a new roll in town, my friends. Soft, buttery, Parker House Rolls.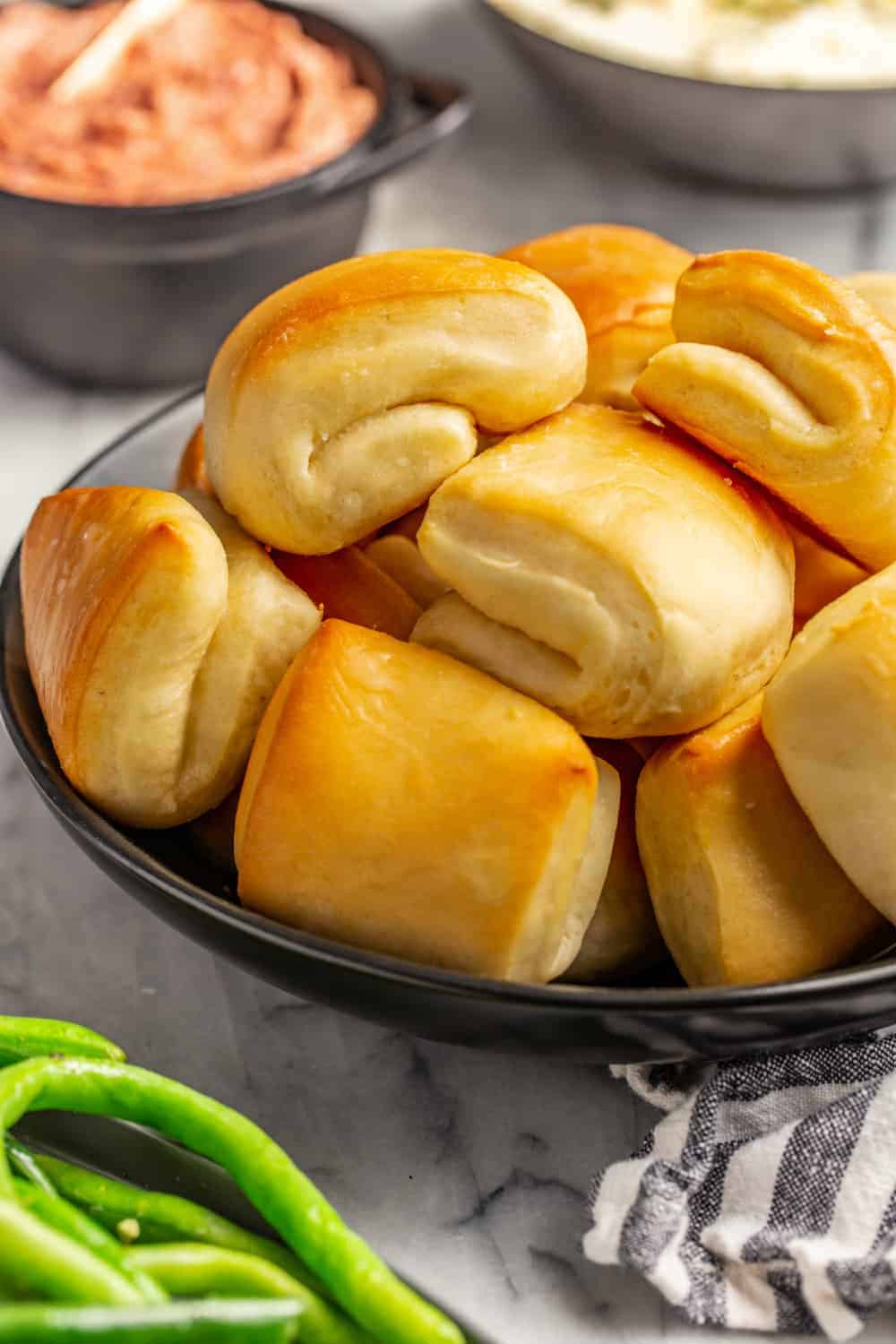 WHAT ARE PARKER HOUSE ROLLS?
Even if you've never had Parker House Rolls, I am willing to bet that you've at least heard of them. You may have wondered what exactly is a Parker House Roll.
Parker House Rolls were invented at the Parker House Hotel in Boston in the late 1800s. These dinner rolls are known for being brushed with butter before the dough for each roll is folded in half, then brushed with butter as soon as they come out of the oven.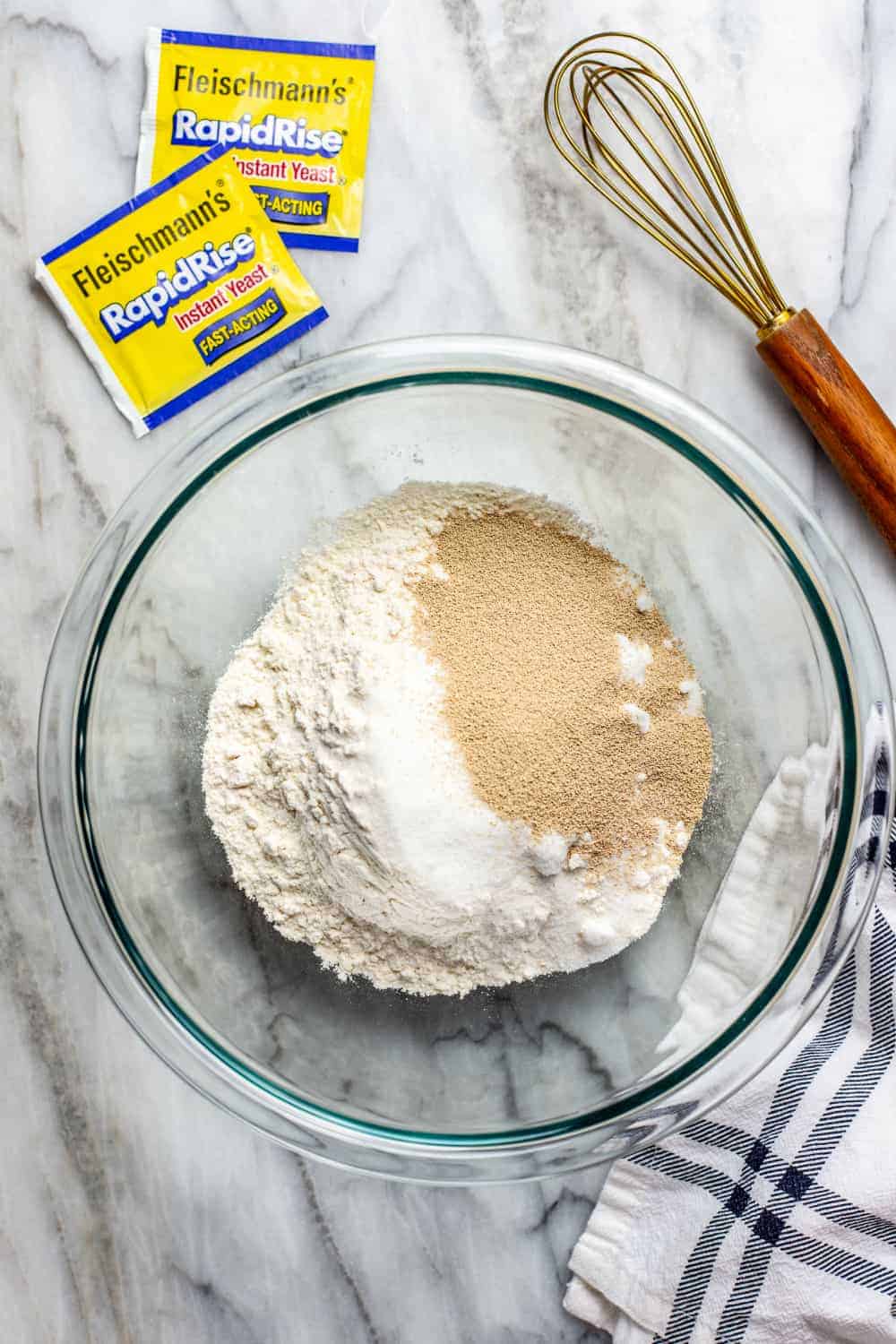 These classic rolls are made with an enriched dough, or one that has milk, eggs and butter added to it (similar to Go-To Dough or Maple Chai Cinnamon Rolls). They bake up soft and fluffy and, of course, super buttery.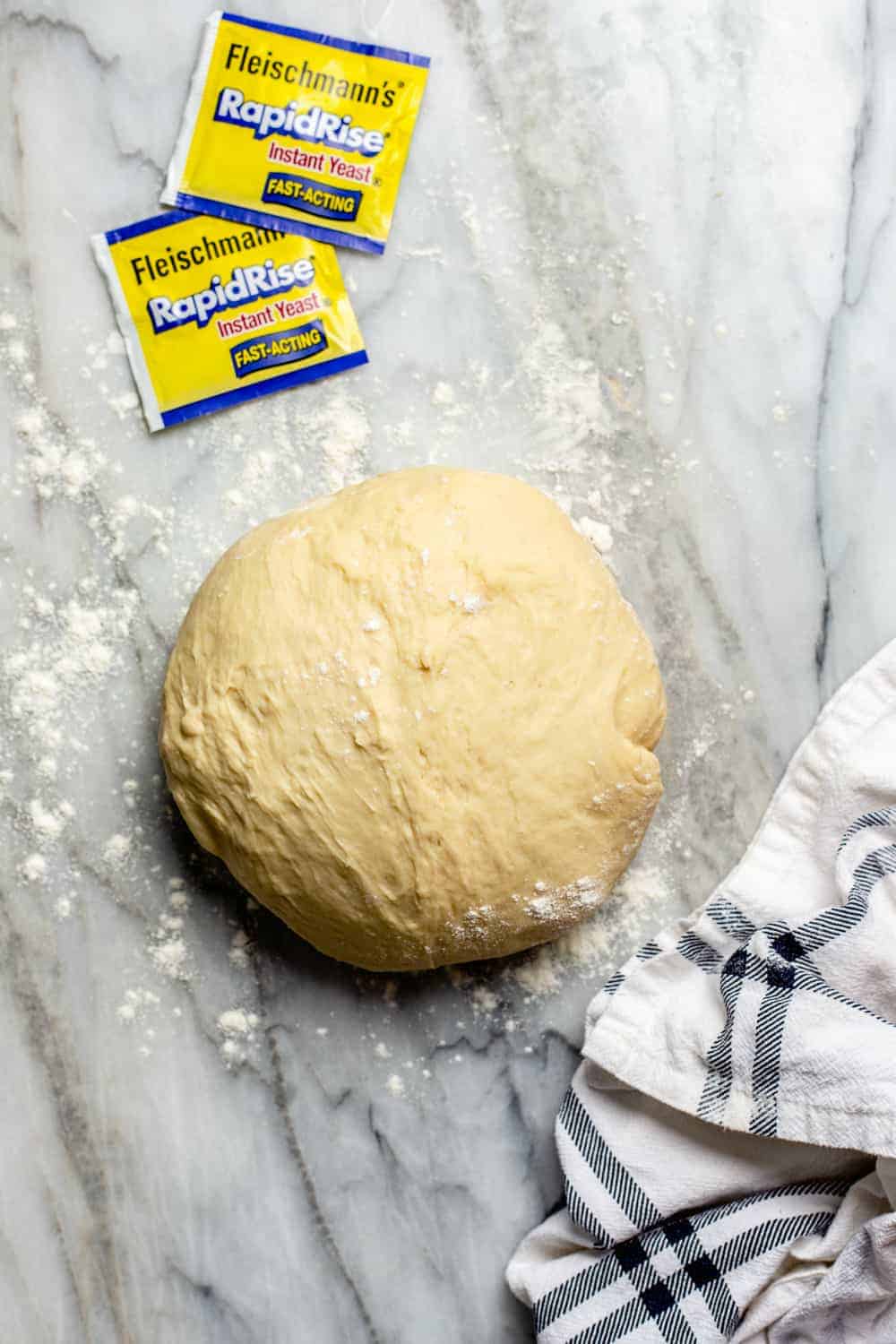 CAN YOU MAKE PARKER HOUSE ROLLS AHEAD OF TIME?
One of the biggest questions I see asked in relation to Parker House Rolls is if they can be made ahead of time.
This question makes sense – after all, there's a lot to do to get a holiday meal on the table. Of course people want to spread some of the labor out over the course of a few days.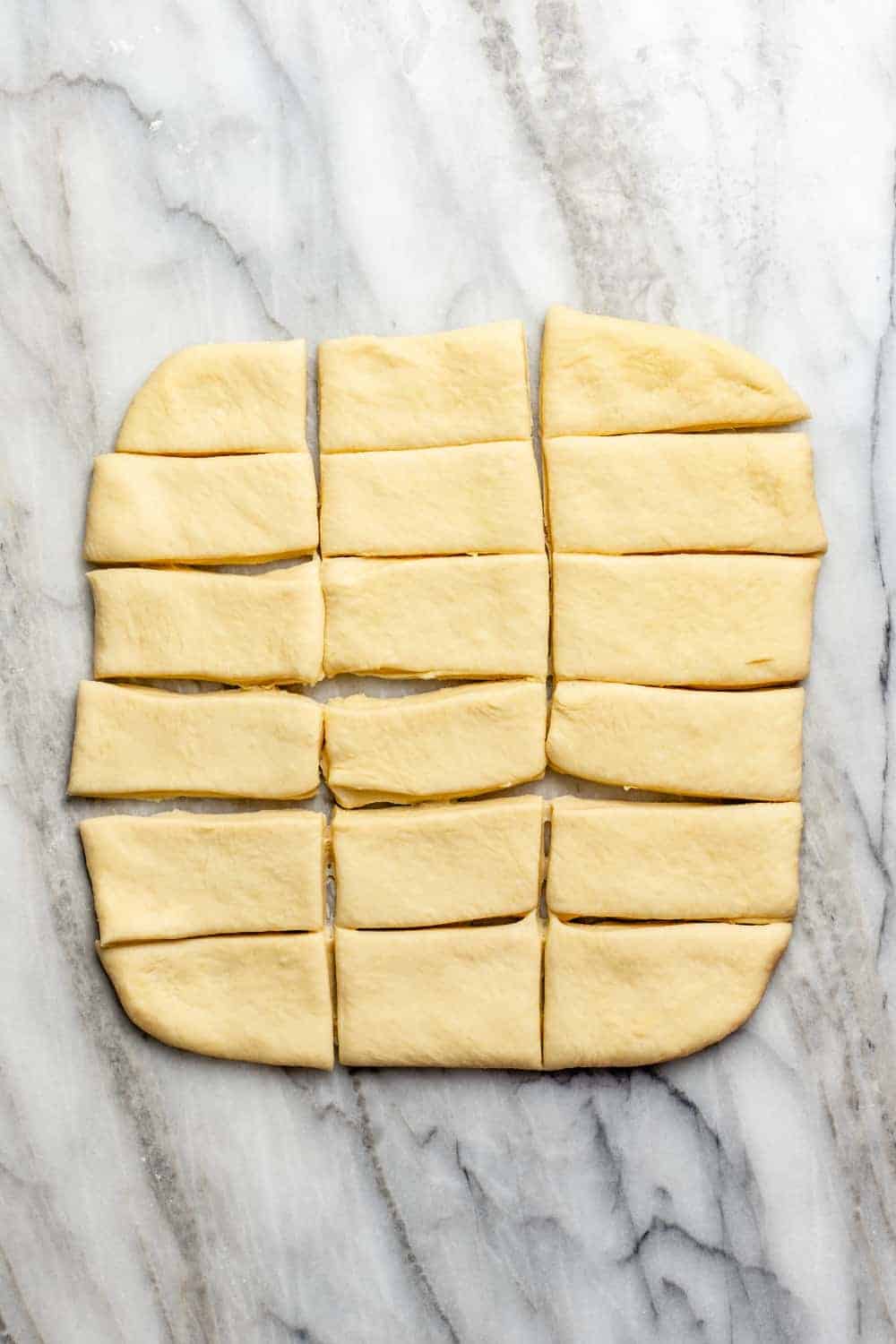 Luckily, with this recipe, the answer is absolutely YES!
This Parker House Rolls recipe comes from my friends over at Fleischmann's® Yeast and I love it because you can make these dinner rolls all in one day or spread the process out over two days if you wish.
Because this recipe uses Fleischmann's® RapidRise® Yeast, it only requires a 10 minute resting period before you get to shaping and the final rise of the dough.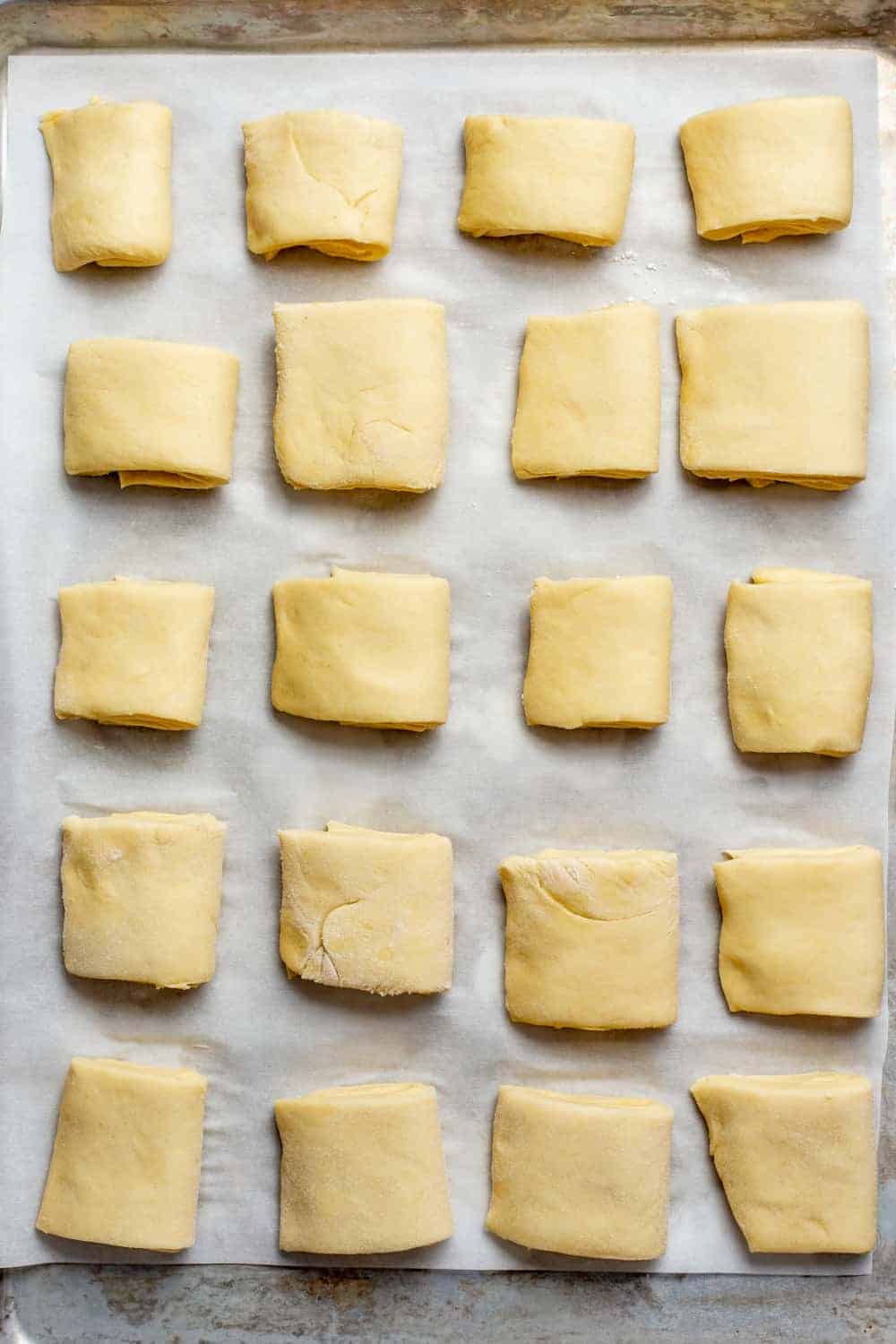 The RapidRise® Yeast is already saving you a good bit of time, but you can make these even more holiday-schedule-friendly by placing the kneaded dough in a greased bowl, covering it with plastic wrap and allowing it to rest in the refrigerator for anywhere from 12 to 24 hours.
15 minutes of work and your roll dough will be ready to shape and bake the next day. How easy is that?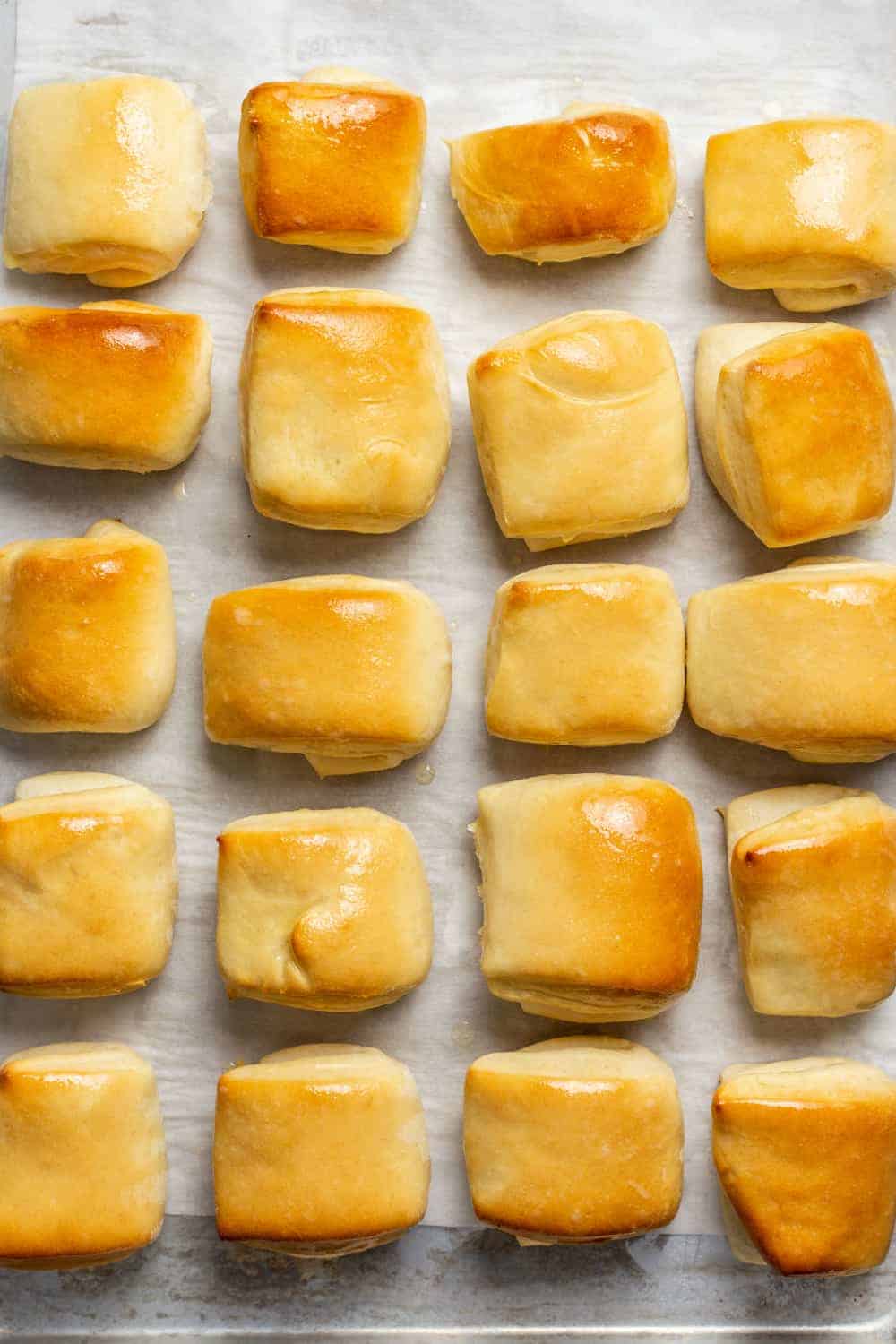 HOW TO SHAPE PARKER HOUSE ROLLS
The shape of Parker House Rolls is a big part of what makes them…well, Parker House Rolls. So how exactly DO you shape them?
The easiest way is to roll out the dough, then cut it into even rectangles. I like to use a pizza cutter or a dough blade to make cutting the dough super easy.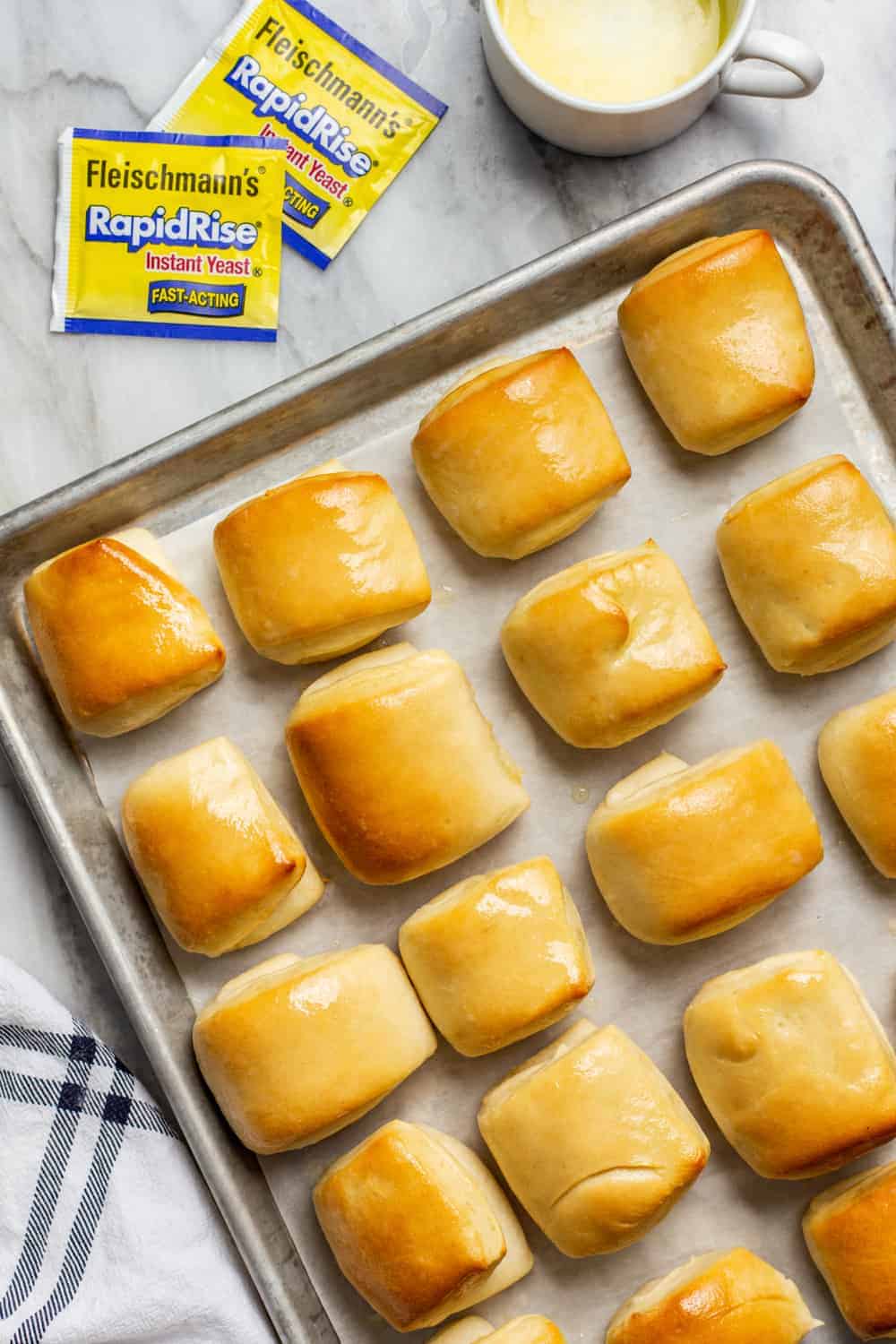 Then, brush each rectangle with melted butter and, using the dull edge of a knife, crease each rectangle slightly off-center and fold each one at the crease.
Arrange your rolls on greased baking sheets with the shorter side of each roll facing down. After baking, brush the rolls with extra butter and serve them alongside tart and sweet Cranberry Butter for an extra special touch!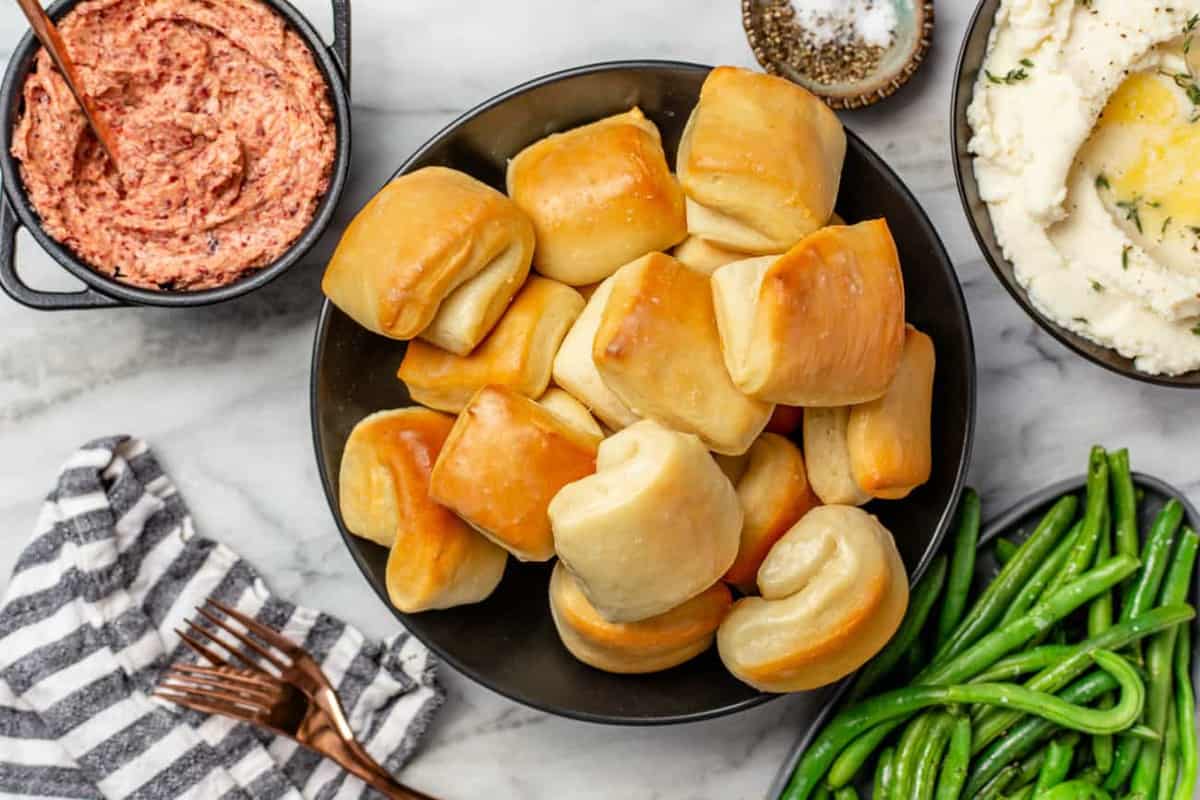 HOW TO MAKE CRANBERRY BUTTER
Serving these homemade rolls with Cranberry Butter is certainly optional, but really does make them extra festive for the holidays.
Flavored compound butters are easy to make but look so impressive on a holiday table alongside Parker House Rolls or Potato Rolls. Plus, it's another element you can make in advance, shortening your day-of to-do list!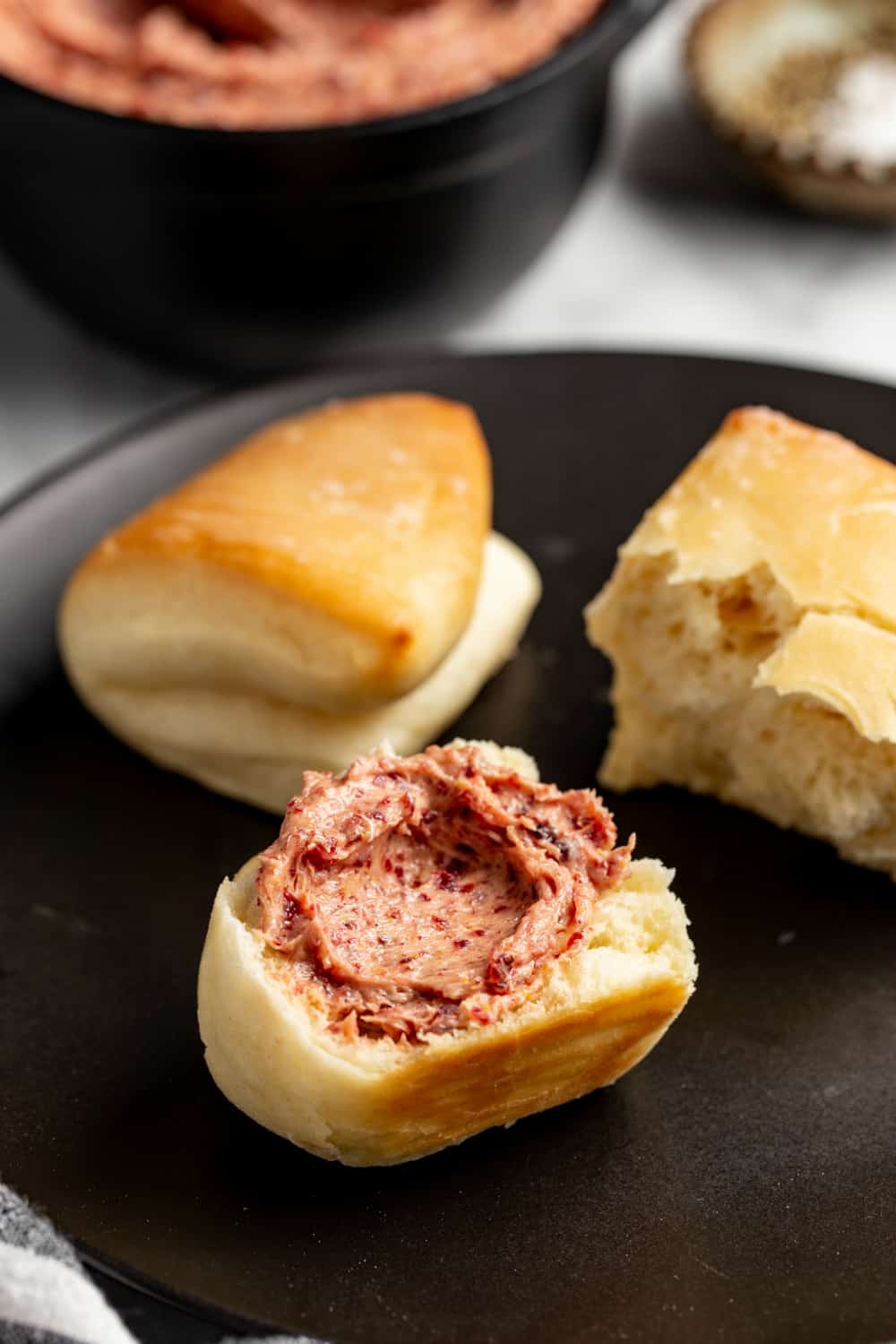 I like to make my Cranberry Butter in the food processor, making it easier to mix the cranberries evenly throughout the softened butter.
(Psst! Forgot to set your butter out to soften ahead of time? Follow my tips for how to soften butter quickly!)
In addition to dried cranberries, I add honey, orange juice and zest, and just a pinch of cinnamon to this butter. You might want to make extra, because you'll definitely want to have some of this sweet-tart butter left over for your morning toast.