Bake up some fresh sweet potatoes to make Sweet Potato Casserole with Streusel Topping. The easy brown sugar and pecan streusel is a delicious addition to the traditional marshmallow topping, and one that your friends and family will love!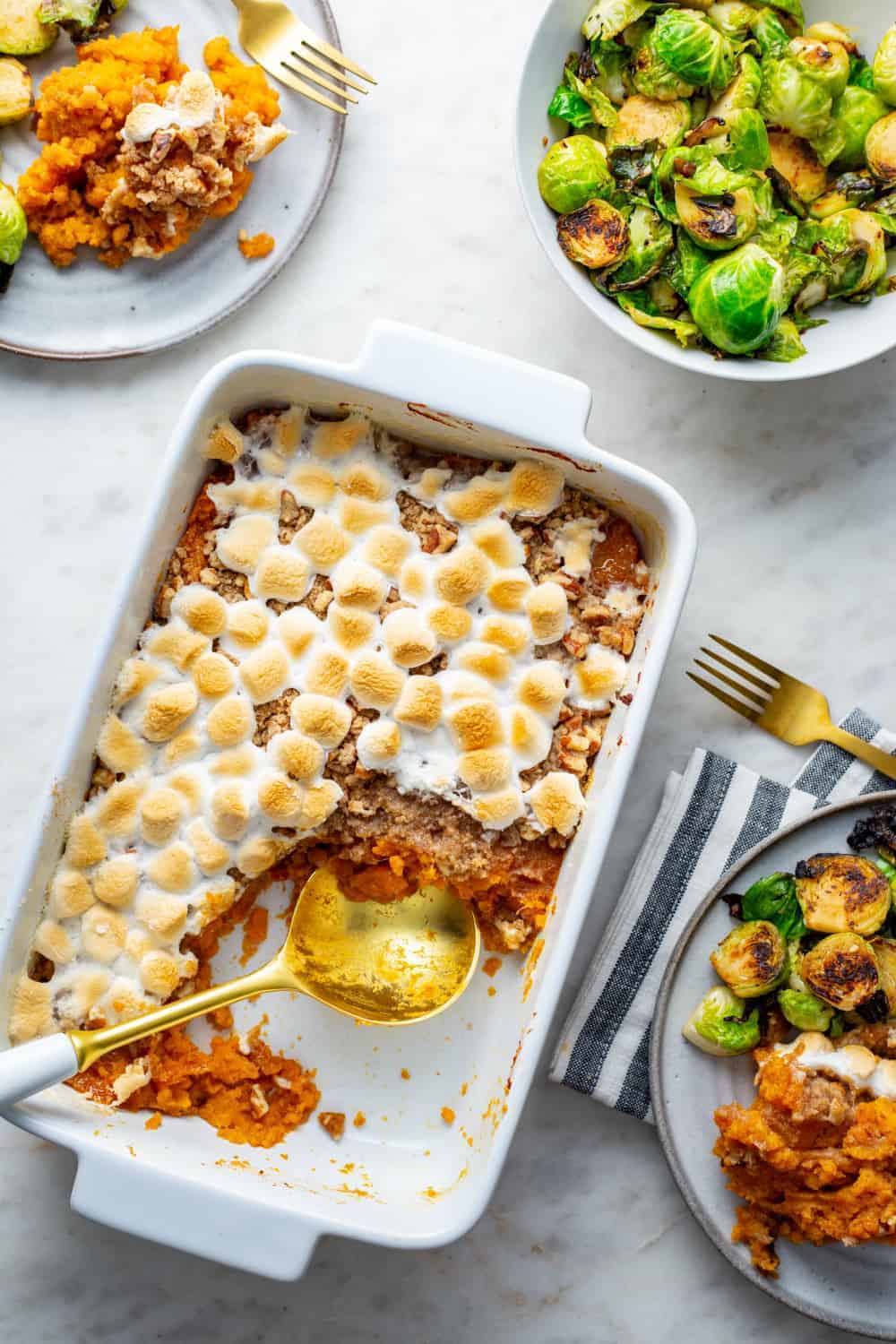 I don't know about where you are, but here in the Midwest, it is finally – FINALLY – feeling like fall.
The weather is cooler and perfect for snuggling under blankets with a cup of coffee. The leaves are changing. Sweaters are being worn.
And my brain is already thinking ahead to Thanksgiving.
I know, I know. We still have to get through Halloween first. But then we get to one of the best holidays of the year!
So I am going to say it's not too early to start planning my Thanksgiving dinner menu. Right? Starting with a classic: Sweet Potato Casserole.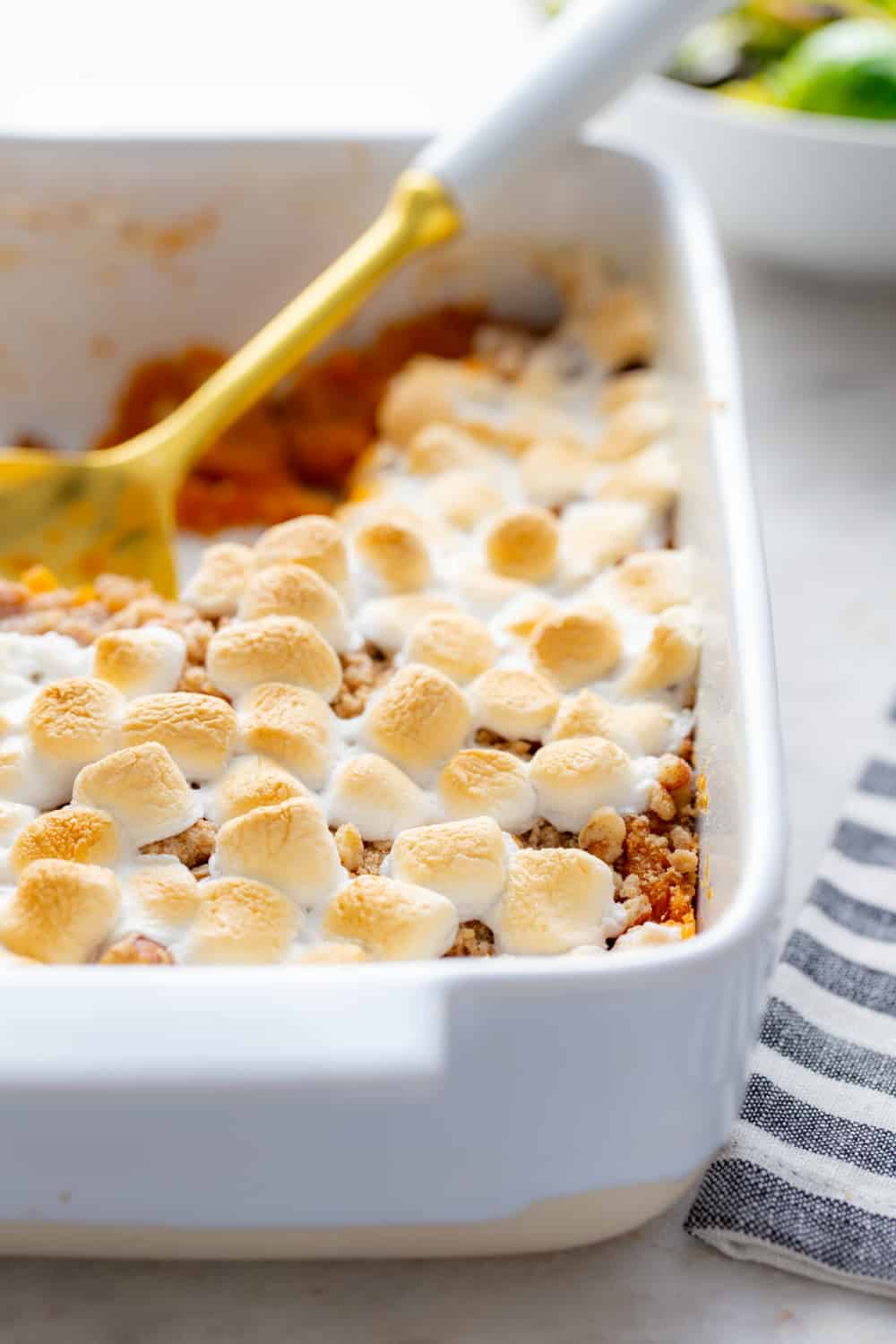 SWEET POTATO CASSEROLE WITH TWO TOPPINGS
Growing up, I wasn't too fond of sweet potatoes, so every holiday dinner I would take a spoonful of my Nana's sweet potato casserole and systematically remove and eat every single toasted mini marshmallow from my serving – leaving behind a pile of untouched canned sweet potatoes.
In fact, I am pretty certain that's what 10 out of 12 family members did.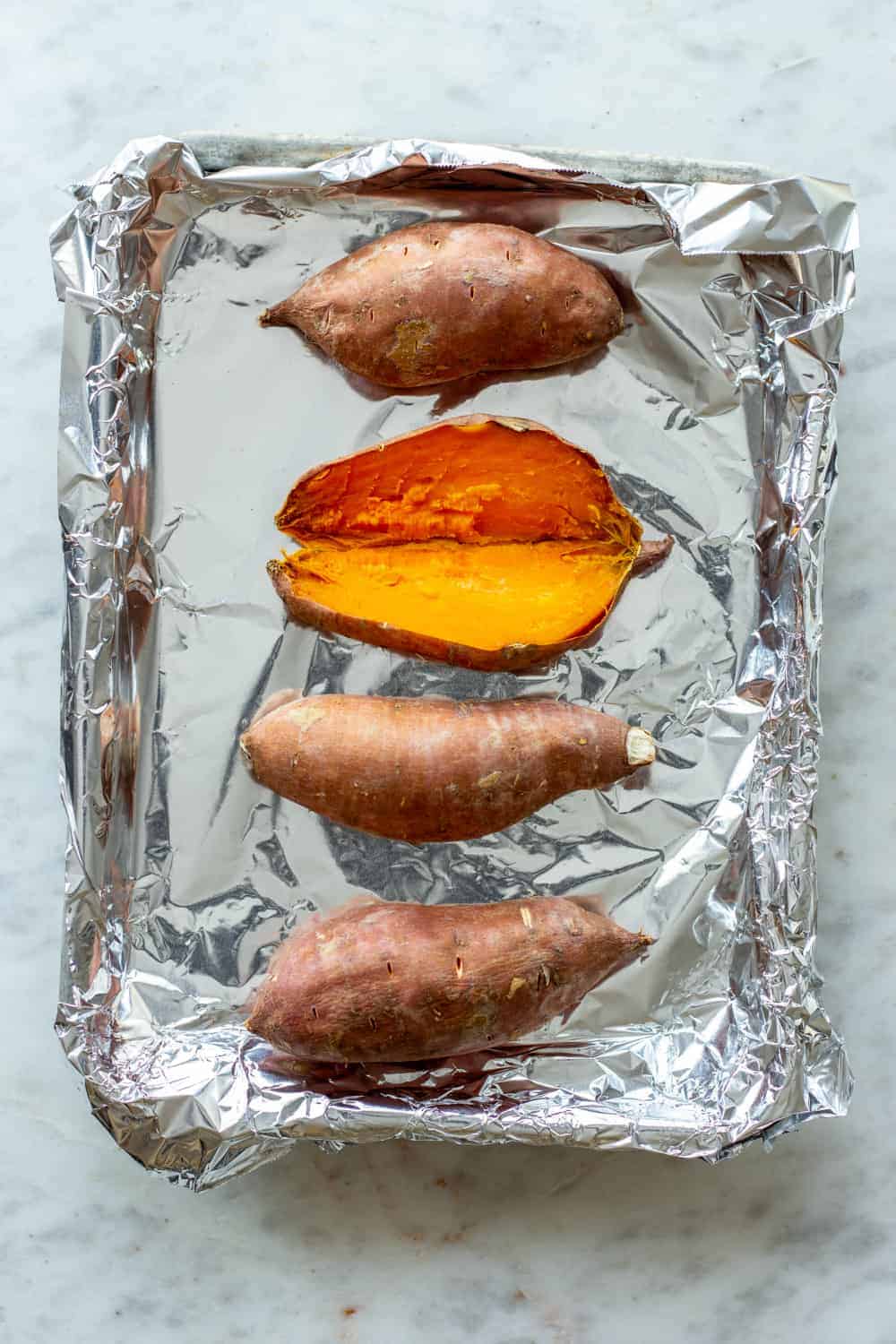 I decided to take the flavors of Nana's casserole, which was brimming with brown sugar, vanilla and a little cinnamon – but kick it up a notch by using freshly baked sweet potatoes and not one, but two toppings.
First I topped the casserole with a layer of pecan-infused streusel topping for added texture and sweetness. This first topping is made with brown sugar, cinnamon, and my favorite Challenge Salted Butter.
I try to be conscious of the quality of the ingredients I use on a daily basis, but especially on special holidays. I trust Challenge Butter wholeheartedly and have been using their products in my kitchen for years, so of course I reach for them when making holiday side dishes such as Sweet Potato Casserole.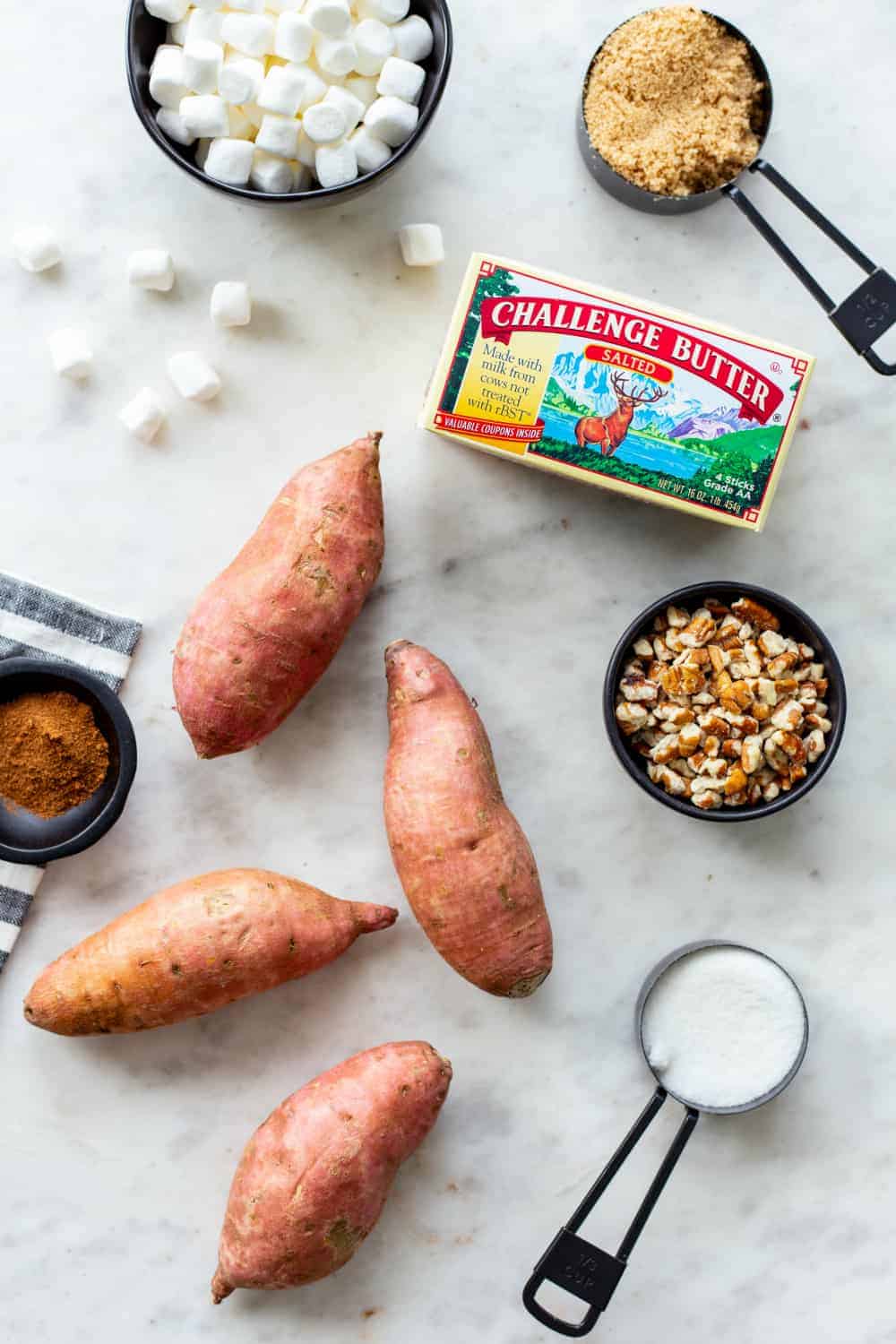 I suppose if you were not a fan of marshmallows on your sweet potatoes, you could stop there with just the streusel.
But me? Inside I'm still the little kid who loves those mini marshmallows.
So after some time in the oven for the streusel to get crisp, I sprinkled on a healthy handful of marshmallows for good measure.
The result was this gorgeous Sweet Potato Casserole with Streusel Topping – sweet potato perfection that will be a welcomed side dish to any holiday spread.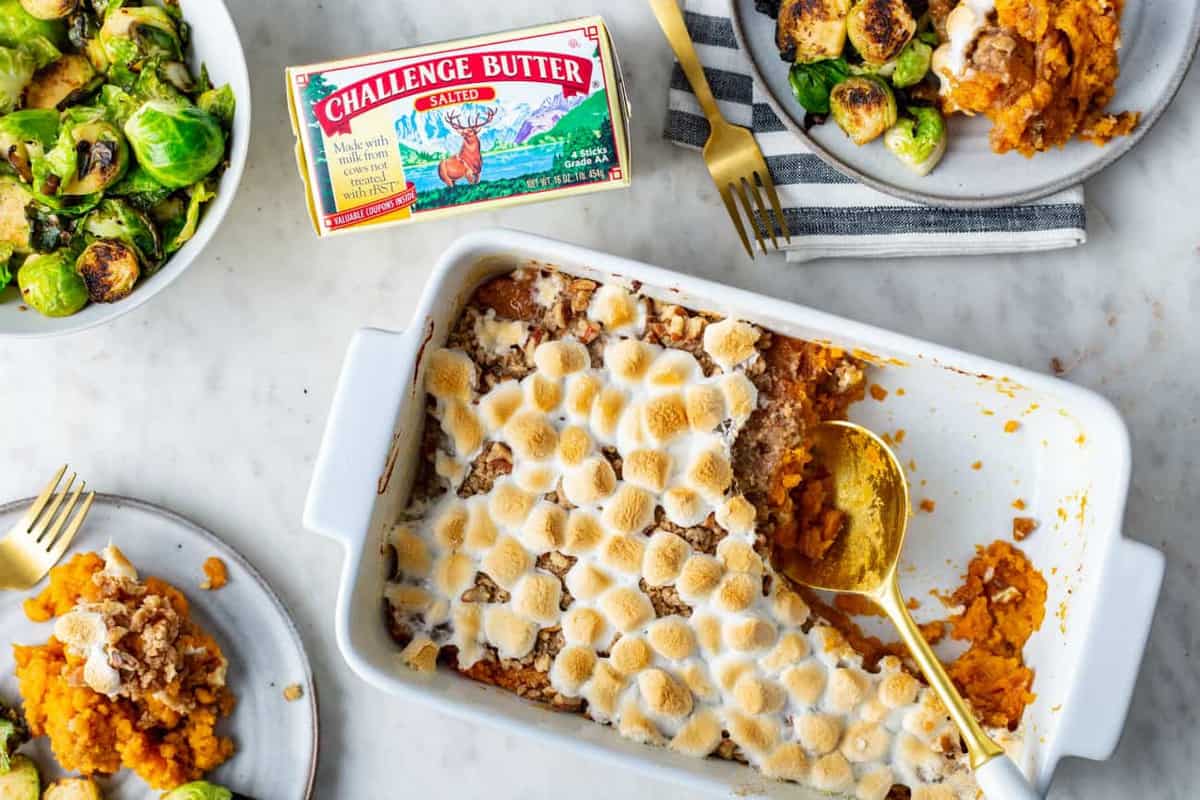 HOW TO COOK SWEET POTATOES FOR CASSEROLE
I loved the way my Nana made a lot of her recipes, but I just couldn't bring myself to use canned sweet potatoes as the based of my Sweet Potato Casserole with Streusel Topping.
Instead, I decided to use fresh sweet potatoes and bake them off before making the casserole.
To cook the sweet potatoes for casserole, prick washed sweet potatoes all over with a fork and place them on a foiled-lined baking sheet. Bake the potatoes for 75-90 minutes or until they are nice and soft and cooked through.
Once they're cooked, let the sweet potatoes cool slightly before using them to make the casserole.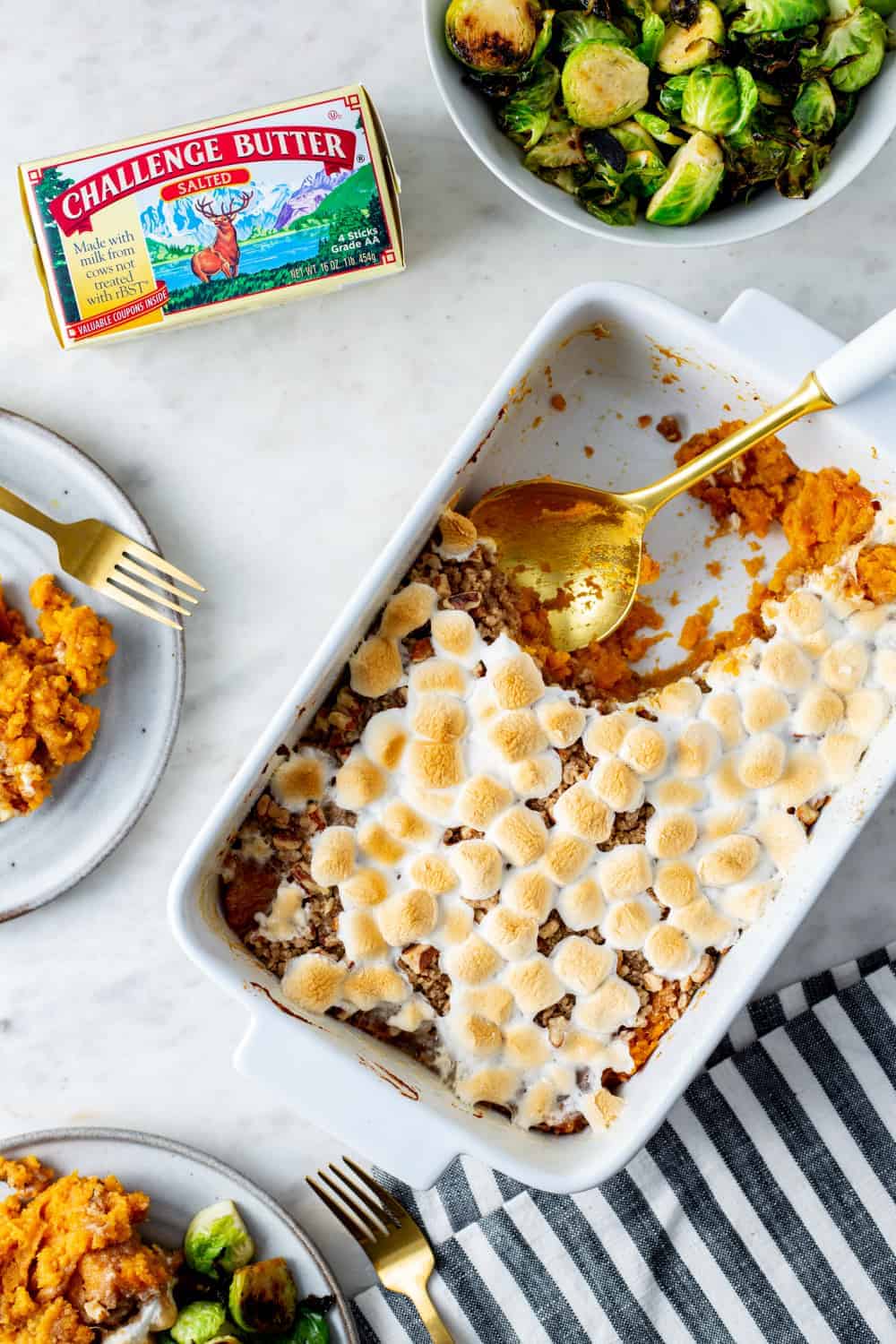 Yes, 75-90 minutes is a while to wait while the potatoes bake, but I like to use that time to clean the house or prep other dishes such as scalloped potatoes, feta cheese ball or sweet and salty cheesecake.
You can also bake the potatoes a day or two before you plan to make your Sweet Potato Casserole.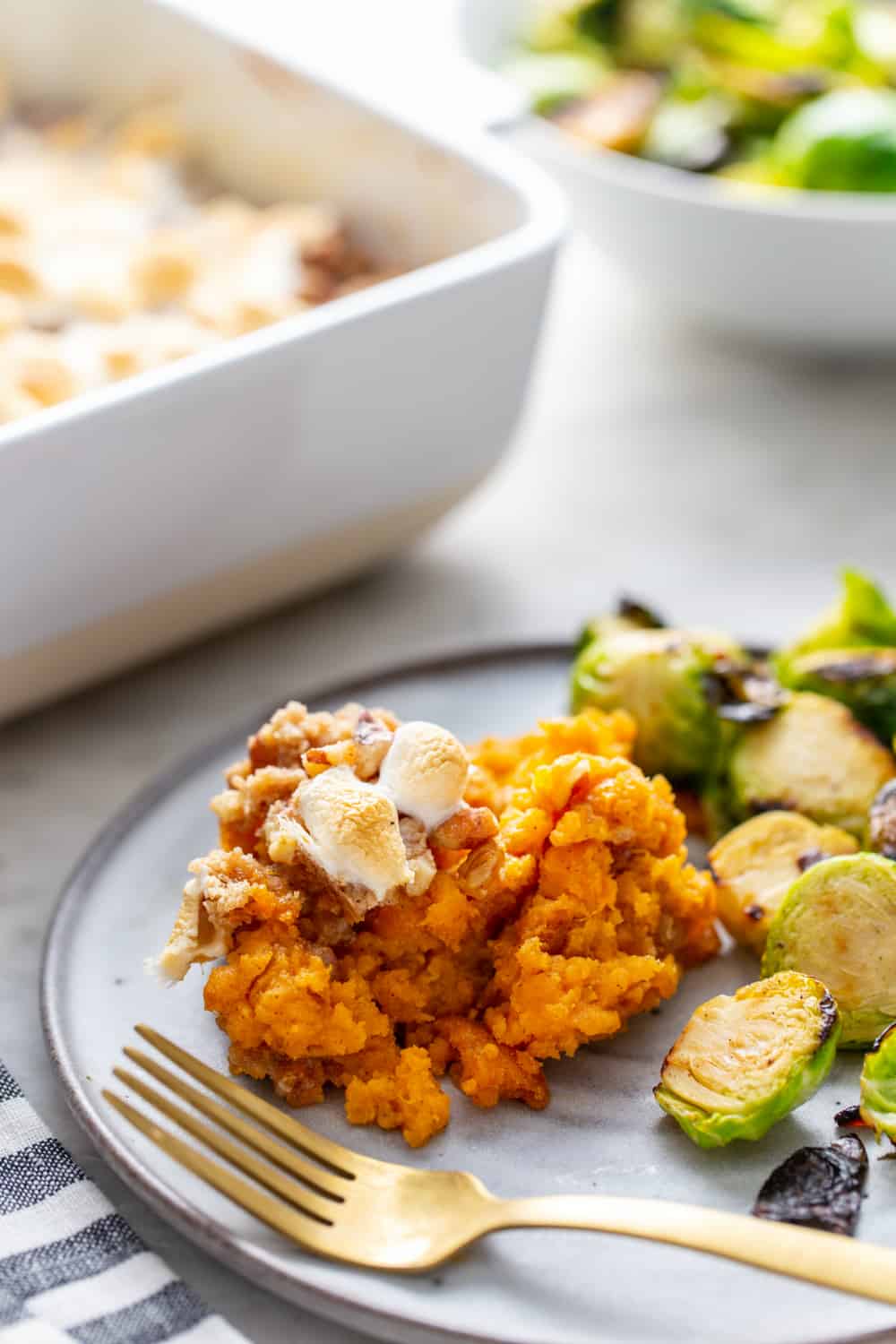 CAN YOU MAKE SWEET POTATO CASSEROLE AHEAD OF TIME?
The biggest question I get for holiday recipes is whether they can be made ahead of time. No one really wants to do 100% of their holiday dinner prep the day-of.
Luckily, you can absolutely make this Sweet Potato Casserole with Streusel Topping ahead of time. Simply prepare the sweet potato portion of the casserole, spread it into the prepared casserole dish, cover and refrigerate until ready to bake.
In a separate bowl, mix together the streusel topping, cover and refrigerate.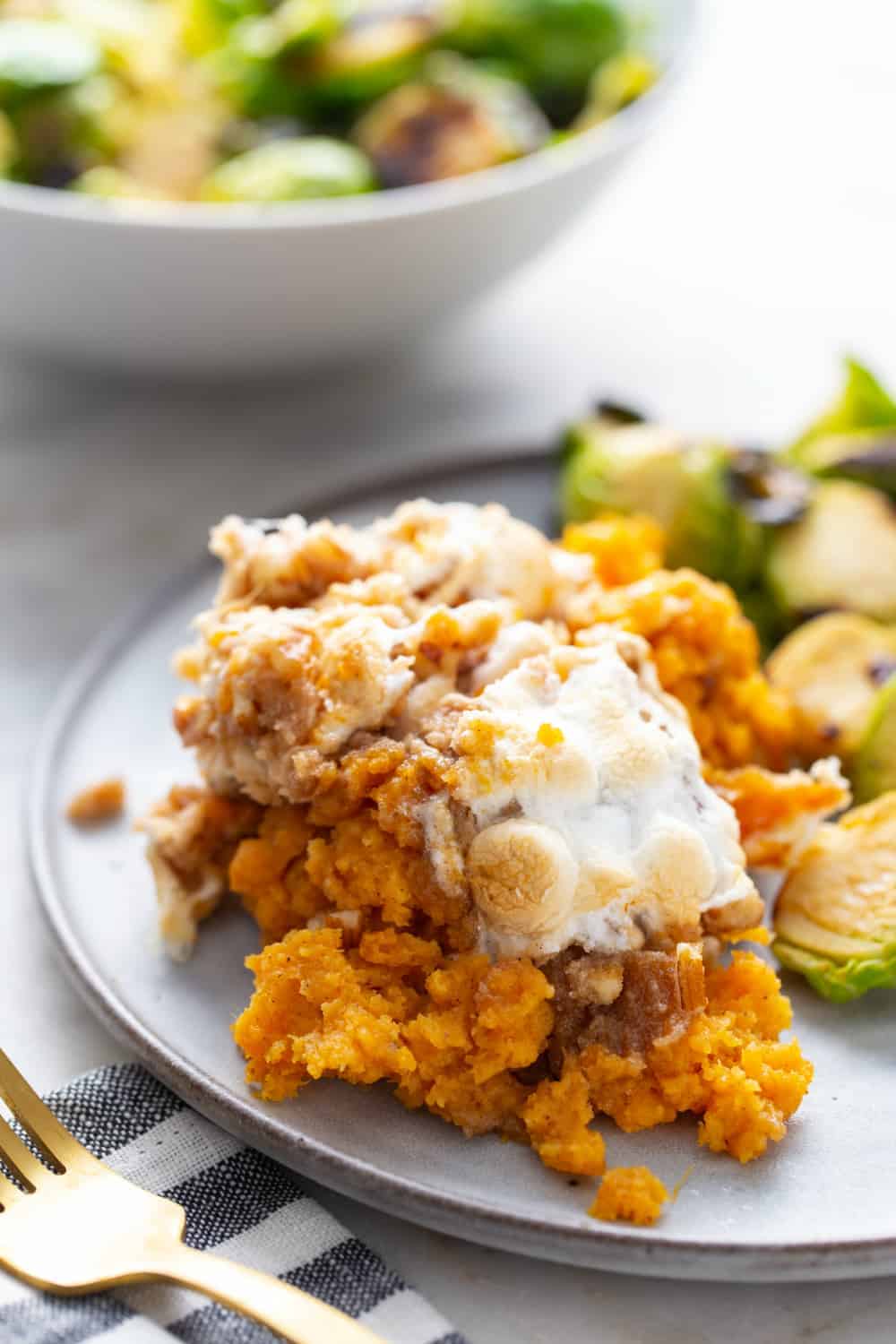 When you're ready to bake the casserole, sprinkle the topping onto the casserole and bake as directed, finishing with the mini marshmallows.
If you're using a glass casserole dish, I recommend letting the casserole come to room temperature before placing it in the oven.
Enjoy this Sweet Potato Casserole with Streusel Topping this holiday season. I know you'll love the sweet, pecan- and marshmallow-filled topping with the creamy sweet potatoes.