Creamy, decadent Homemade Scalloped Potatoes are right at home alongside your holiday ham. This dish is deceptively simple to make but will impress all of your dinner guests.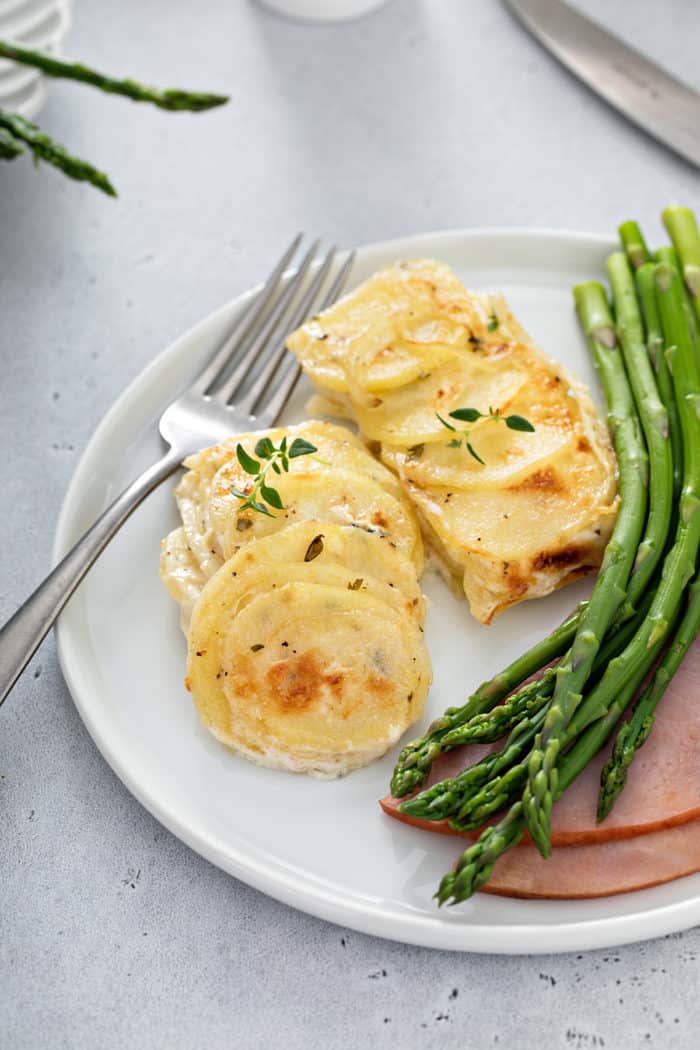 This post contains affiliate links.
I've never met a potato that I didn't like.
Knowing how to bake potatoes is obviously a must, and I can't get enough of Garlic Mashed Potatoes or Air Fryer Roasted Potatoes.
And that's not even mentioning tots. Let's just say we could have a sub-site called My Tater Tot Addiction without much effort.
Growing up, scalloped potatoes often frequented our dinner table and were usually peppered with pieces of leftover ham or slices of kielbasa. It was a quick, inexpensive dinner that was sure to please everyone around the table.
I remember searching for a homemade scalloped potatoes recipe a number of years ago. I actually remember doubting the recipes because I thought there was no way something so incredibly rich, decadent and delicious could be so simple. I was wrong.
Homemade Scalloped Potatoes are not only easy, they are also quite inexpensive and versatile. The beauty of scalloped potatoes is that although they are simple and economical, they can also be quite impressive – which makes them perfect for gracing any holiday table from Easter to Christmas.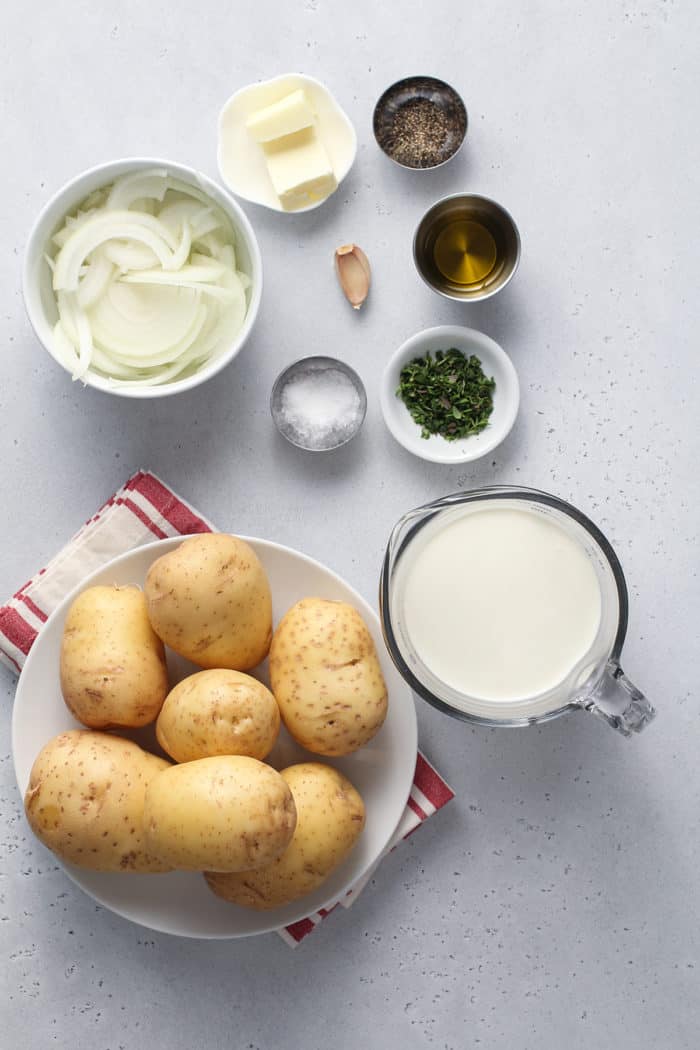 WHAT ARE SCALLOPED POTATOES?
Scalloped potatoes are thinly sliced potatoes that have been baked in a cream or milk-based sauce.
Other ingredients often include butter (what isn't made better with butter?) and onions or fresh herbs.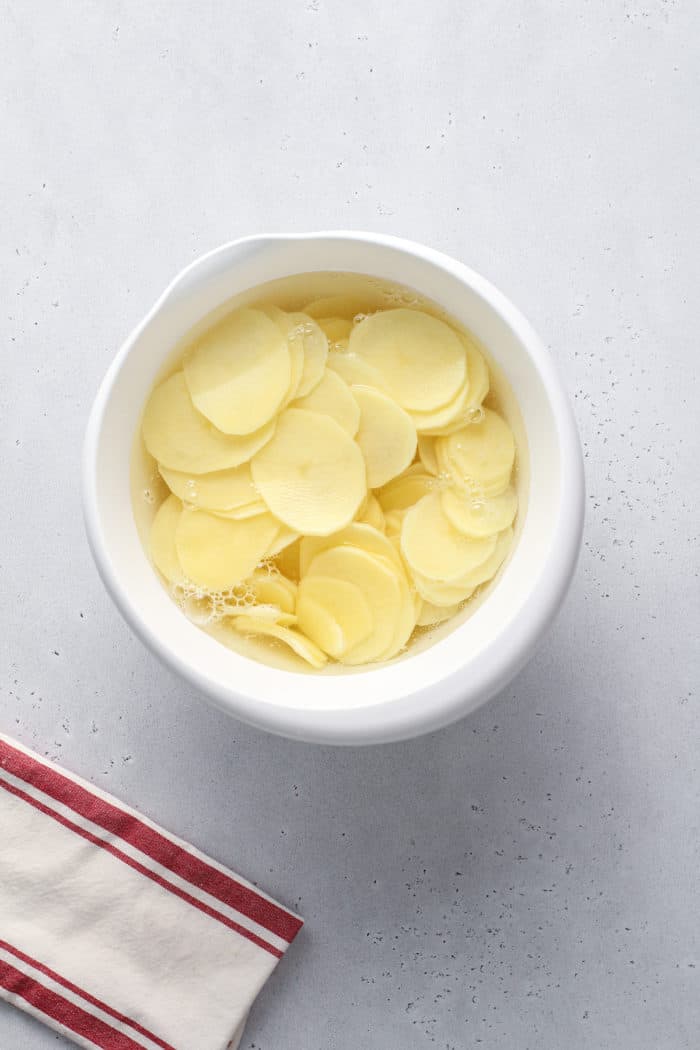 WHAT IS THE DIFFERENCE BETWEEN SCALLOPED AND AU GRATIN POTATOES?
Confused about the difference between scalloped potatoes and au gratin potatoes, or potato gratin? That's because the difference between the two dishes isn't always very clear!
The most common answer is that au gratin potatoes have cheese and scalloped potatoes do not.
But there are plenty of scalloped potato recipes that use cheese, so even that doesn't always hold true.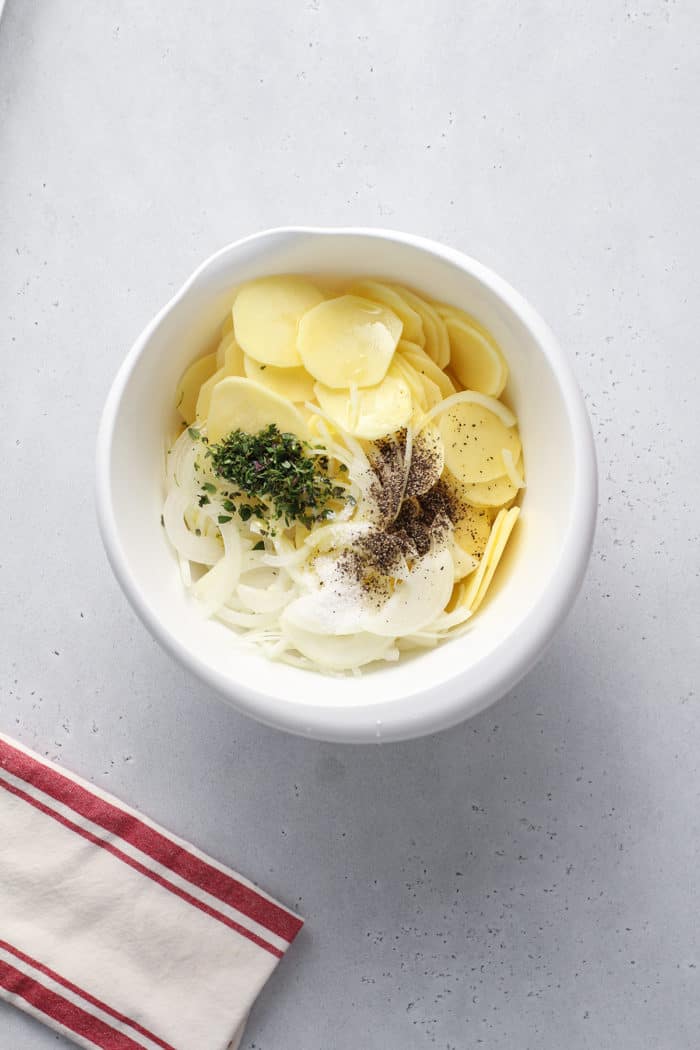 Generally though, scalloped potatoes are a bit simpler, while au gratin potatoes are a bit more decadent and usually have some kind of cheesy and/or crunchy topping.
This Homemade Scalloped Potatoes recipe does not call for cheese, but I won't tell anyone if you decide to sprinkle some in!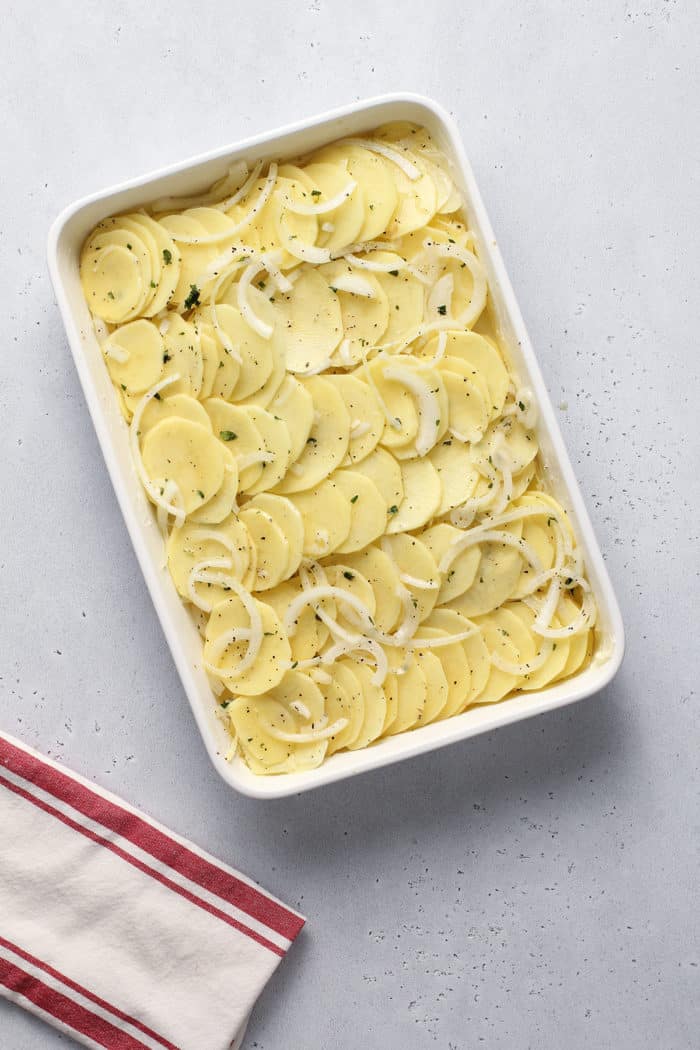 HOW TO MAKE HOMEMADE SCALLOPED POTATOES
This recipe is so easy to make, you'll wonder why you didn't think to try your hand at them sooner!
Ingredients you'll need
These ingredients are very basic. You might even have everything you need already in your kitchen:
Yukon gold potatoes: I prefer to use the gold potatoes because they have a lower starch content.
Large garlic clove: You didn't expect me to not include garlic, did you? The flavor it adds is subtle here, but so good.
Unsalted butter, room temperature: Didn't set your butter out to soften ahead of time? Not to worry – learn how to soften butter quickly.
Medium yellow onion, thinly sliced: Trust me, you'll love what the onions add to this dish!
Finely chopped fresh thyme: I love pairing thyme with potatoes. It goes so well with the cream and onions, too.
Fine sea salt, black pepper and olive oil: Three staples in so many of my savory recipes!
Heavy cream: One of the stars of this dish. The cream makes a luscious sauce for the cooked potatoes! It's heavenly.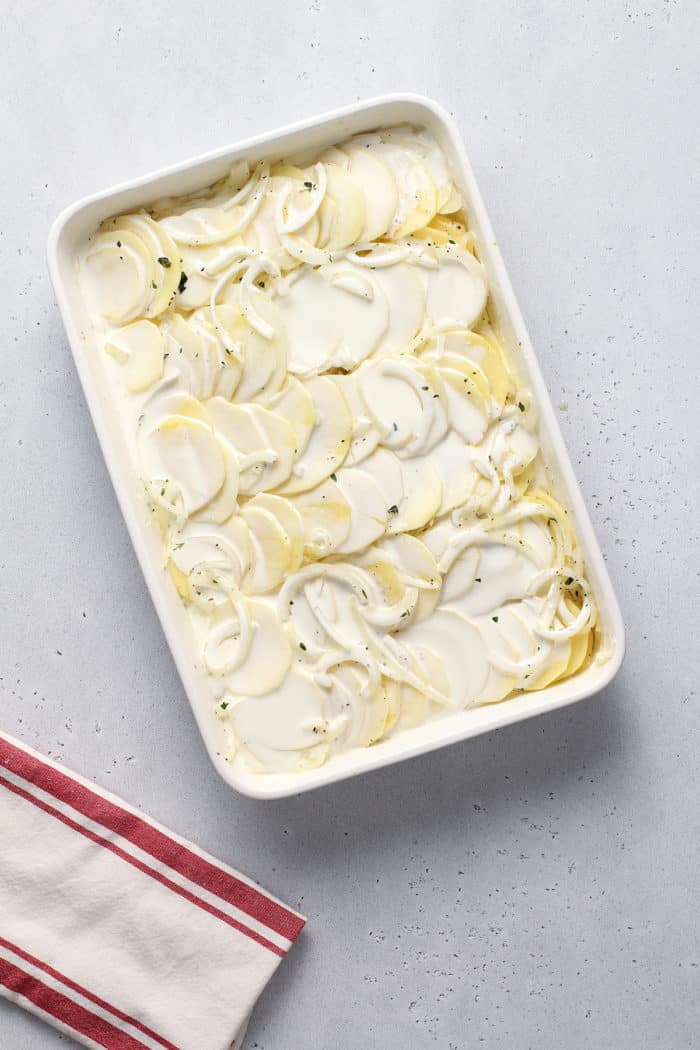 Making this recipe
You'll want to start by thinly slicing the potatoes. I like to use a mandoline to do this so that I can make sure all of the slices are the same thickness. Just be careful when using a mandoline – they're very sharp!
Once the potatoes are sliced, place them in a bowl of cold water and let them soak for about 10 minutes. This helps draw out some of the excess starch so our Homemade Scalloped Potatoes don't end up gloopy.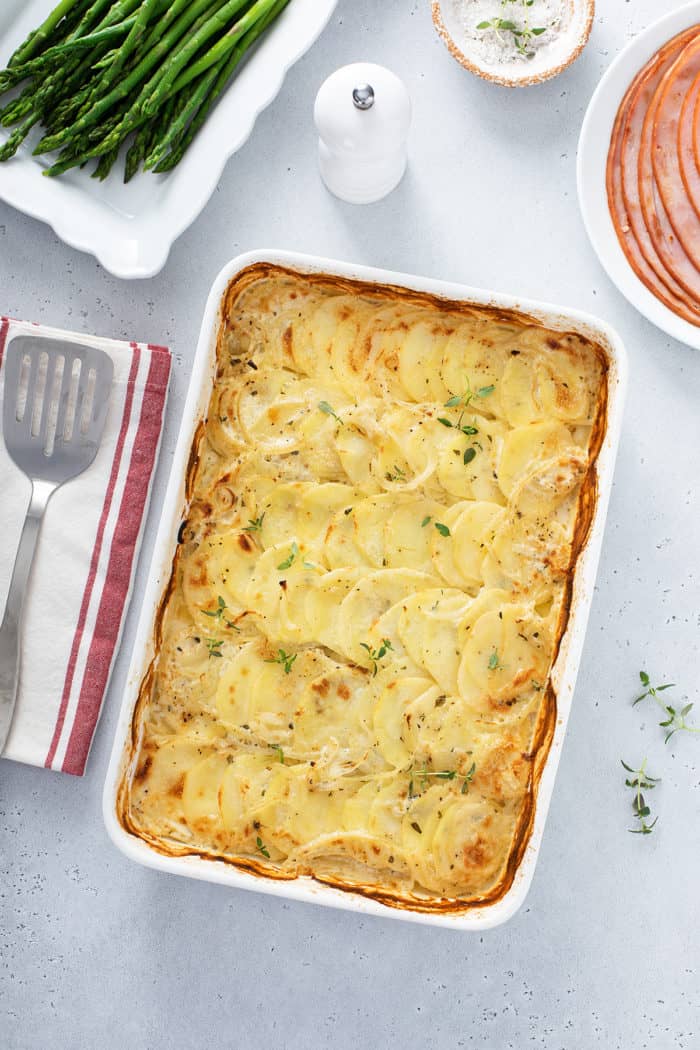 While the potatoes are soaking, cut the garlic clove in half and rub the cut sides on the bottom and sides of a glass or ceramic baking dish, then butter the pan. Don't be fooled – this actually adds a lot of nice flavor to the final dish!
After the potatoes have been drained, toss them in a bowl with the onion, thyme, salt, pepper, and olive oil. Shingle the potatoes and onions into the baking dish so they fit evenly across the bottom.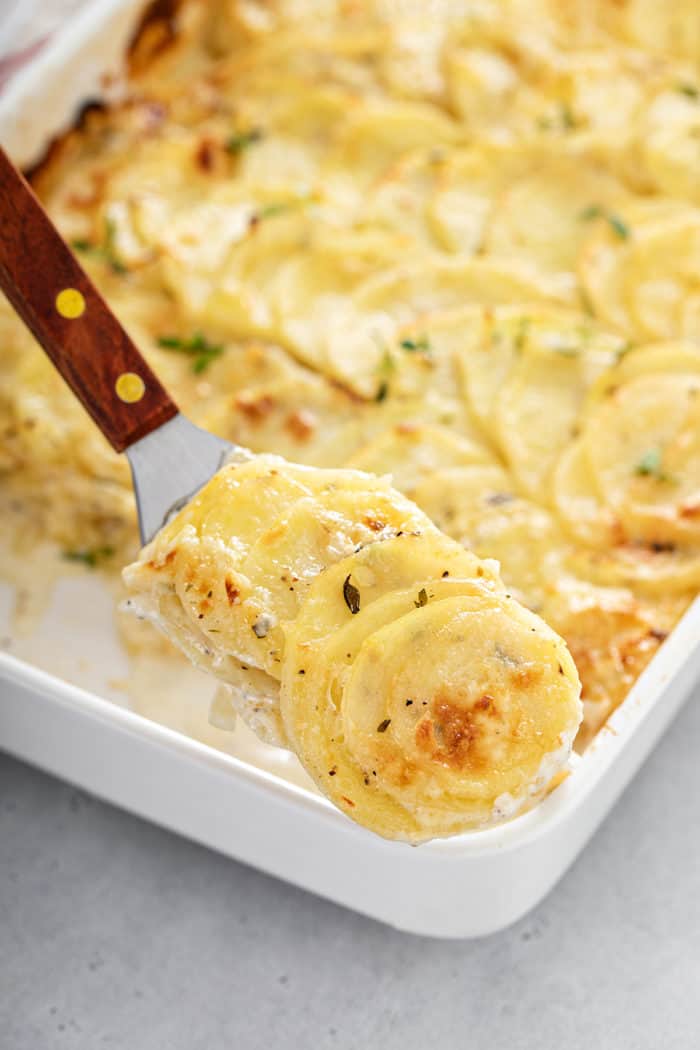 Pour the cream over the potatoes. Cover the pan with foil and bake for about an hour.
Once the potatoes have fully cooked, you can remove the foil and place the pan under the broiler for a few minutes if you'd like a nicely browned top.
I like to let the potatoes cool for 5-10 minutes before serving them, just to let the potatoes and the sauce settle into each other and tighten up a bit.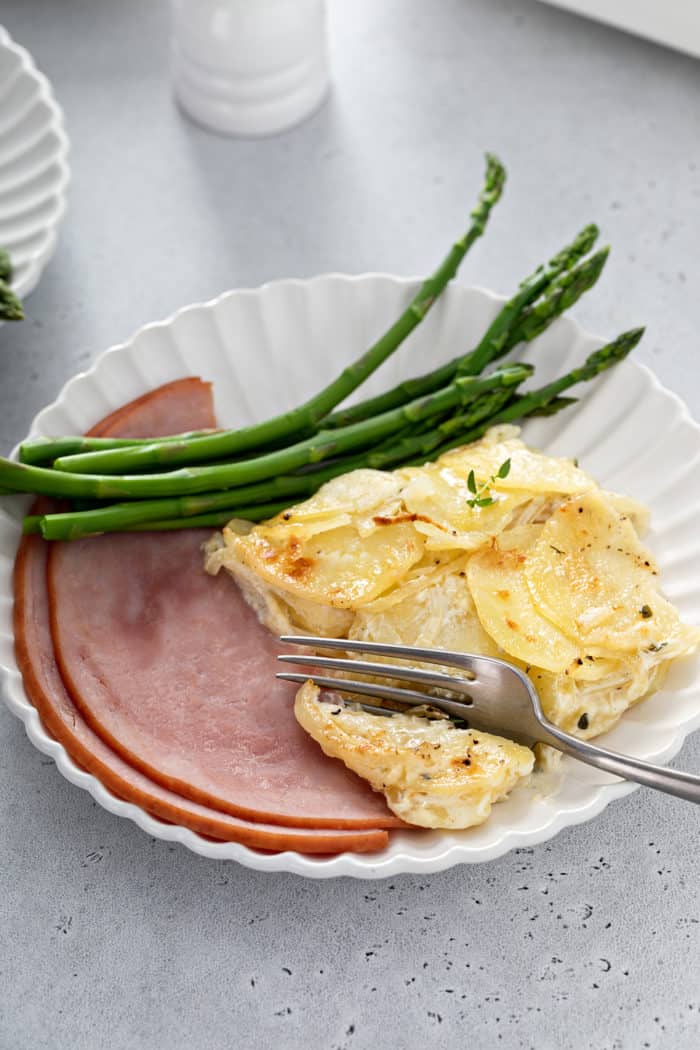 MAKE AHEAD
If you're making these Homemade Scalloped Potatoes for a holiday meal, you might want to prep them ahead of time.
To do that, assemble the potatoes and bake, covered with foil, for 50-60 minutes. Let them cool and then cover and refrigerate overnight.
When you're getting ready to serve dinner, cover the scalloped potatoes with foil and reheat them in a 350°F oven for about 20 minutes or until hot.
If you'd like, you can remove the foil and finish them off under the broiler for 5-10 minutes.
Serve these Homemade Scalloped Potatoes up alongside a beautifully beef roast or ham at your next holiday gathering, or on Tuesday night next to some kielbasa and a green leafy salad. The choice is yours, but no matter how you choose to enjoy them, I promise you won't regret trying this recipe on for size.