Want to make roasted potatoes but don't want to turn on the oven? Grab your air fryer and make these Air Fryer Roasted Potatoes instead!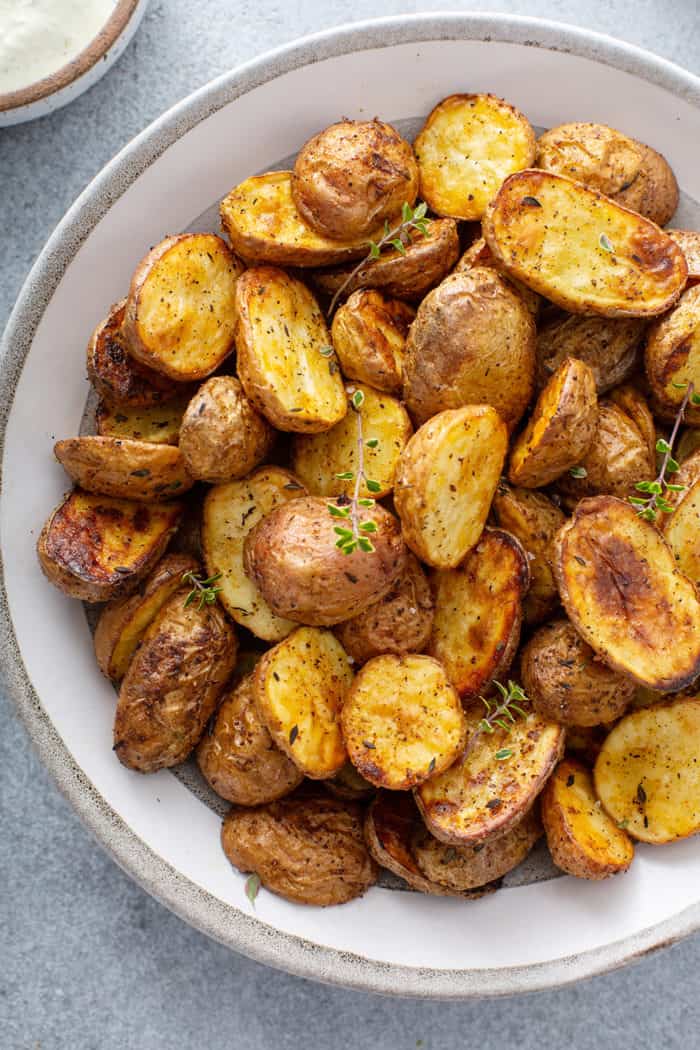 Are you looking for a super simple side dish that is quick and also delicious? I've got ya covered with this recipe for Air Fryer Roasted Potatoes.
Whether I'm serving them up with grilled chicken, filet mignon, a juicy burger, or even hot dogs, these potatoes are one of my go-to side dishes for summer.
Speaking of hot dogs, have you ever made them in the air fryer? I swear they're almost as good as grilled! Toss them in at 350° for about 8 minutes and you have hot dog perfection.
Okay, enough about hot dogs, let's get back to these awesome Air Fryer Roasted Potatoes.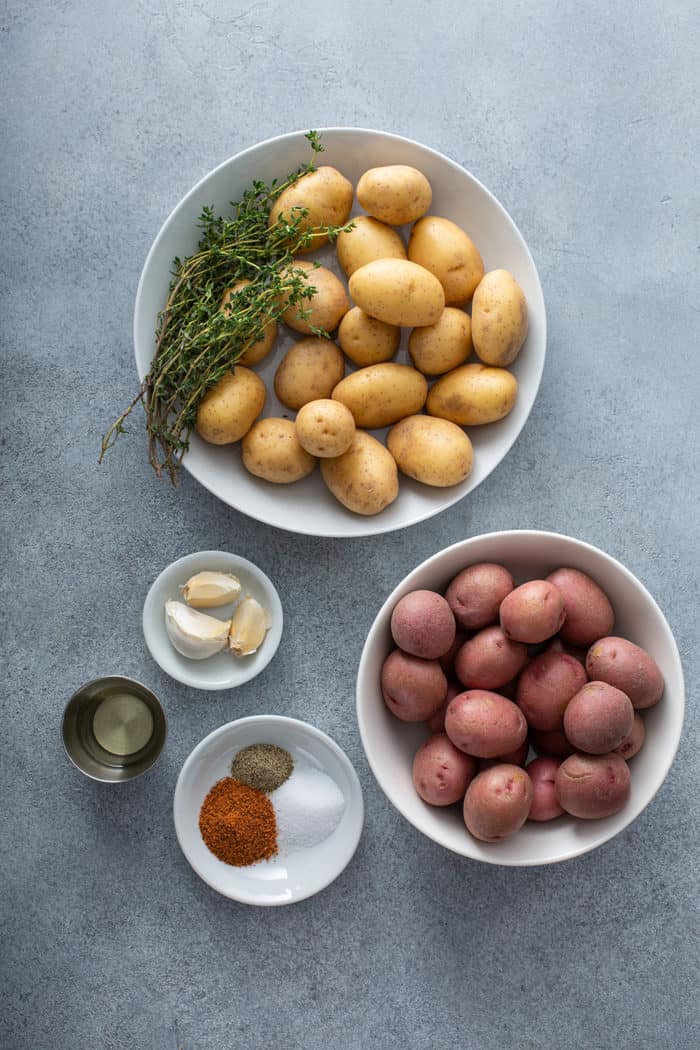 CRISPY AND DELICIOUS AIR FRYER ROASTED POTATOES
During the fall and winter, I have no problem cranking up my oven to roast potatoes or heating up a pot of oil to fry Jo Jo Potato Wedges.
But once the temperatures start to soar above 80 degrees, I'm not exactly excited to turn the oven on high enough to get crispy roasted potatoes.
I got an air fryer a couple of years ago and fell in love with it after learning how to bake potatoes in it. Then I made perfect Air Fryer Brussels Sprouts in it and was really sold on this gadget.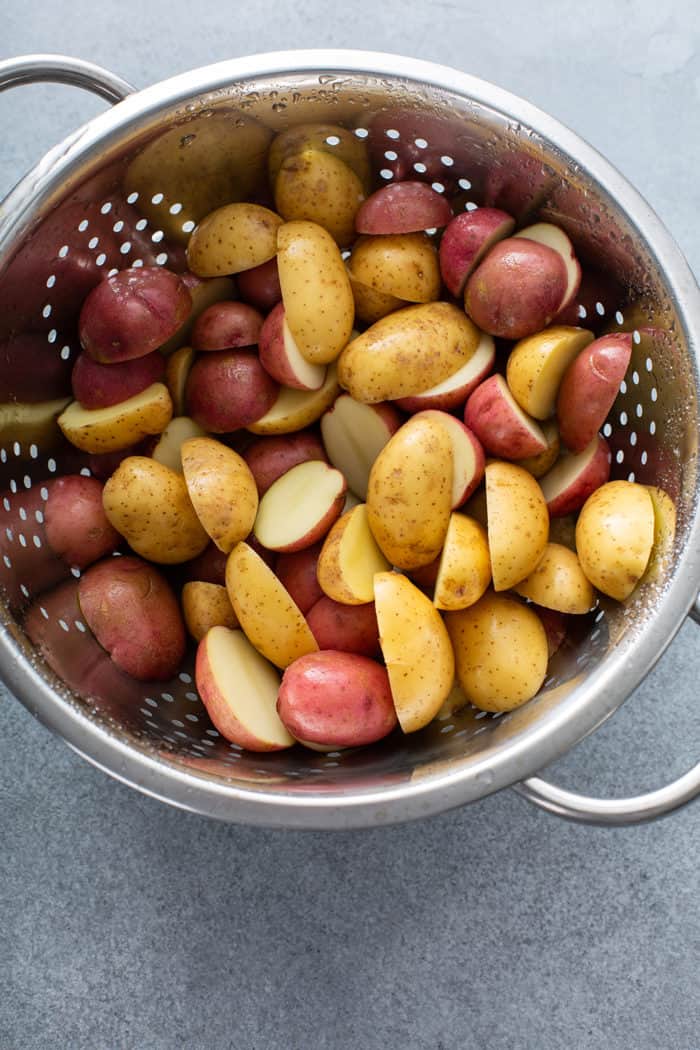 One of the things I like about using my air fryer is that it doesn't heat up my kitchen the way that turning on the oven does. It's also convenient if I'm already using my oven for something else.
Not to mention that it gets vegetables super crispy.
When I make these Air Fryer Roasted Potatoes, I keep the seasoning pretty simple with some salt, pepper, and cajun seasoning. I'll add some fresh thyme and garlic cloves while the potatoes are cooking, and sometimes I'll toss the cooked potatoes in some whole grain mustard before serving.
You can really add whatever kinds of seasonings you like to these potatoes, such as adding ranch seasoning for garlic ranch potatoes or adding in some rosemary.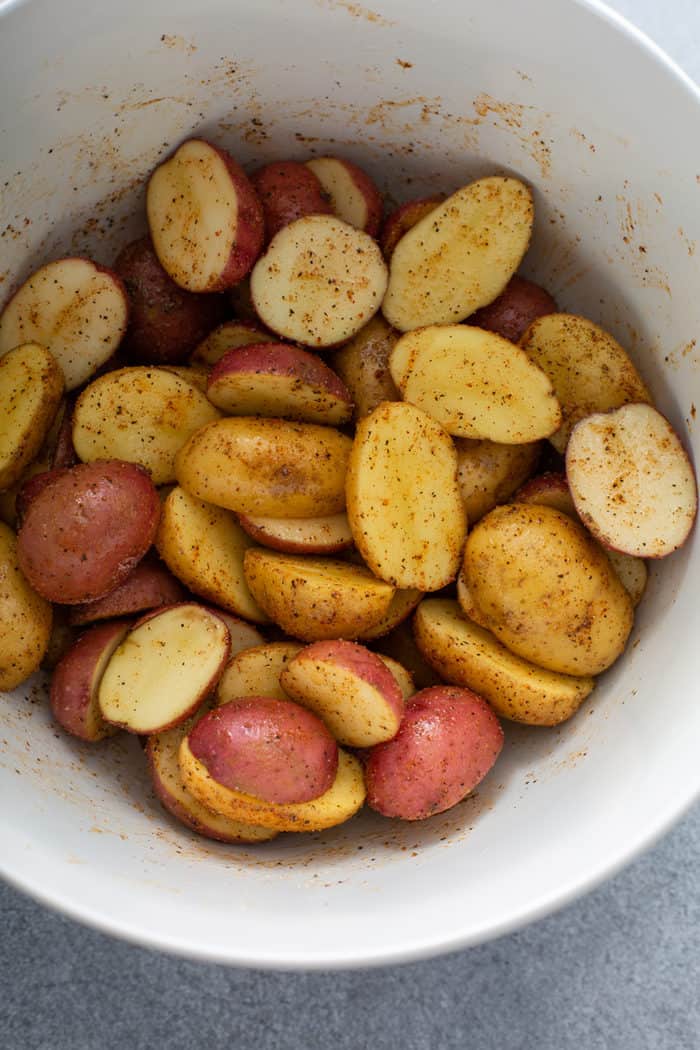 MAKING ROASTED POTATOES IN AN AIR FRYER
The process for making roasted potatoes in your air fryer isn't that much different from making them in the oven:
Preheat your air fryer
Cook the potatoes for 10 minutes
Stir the potatoes
Cook for another 8-12 minutes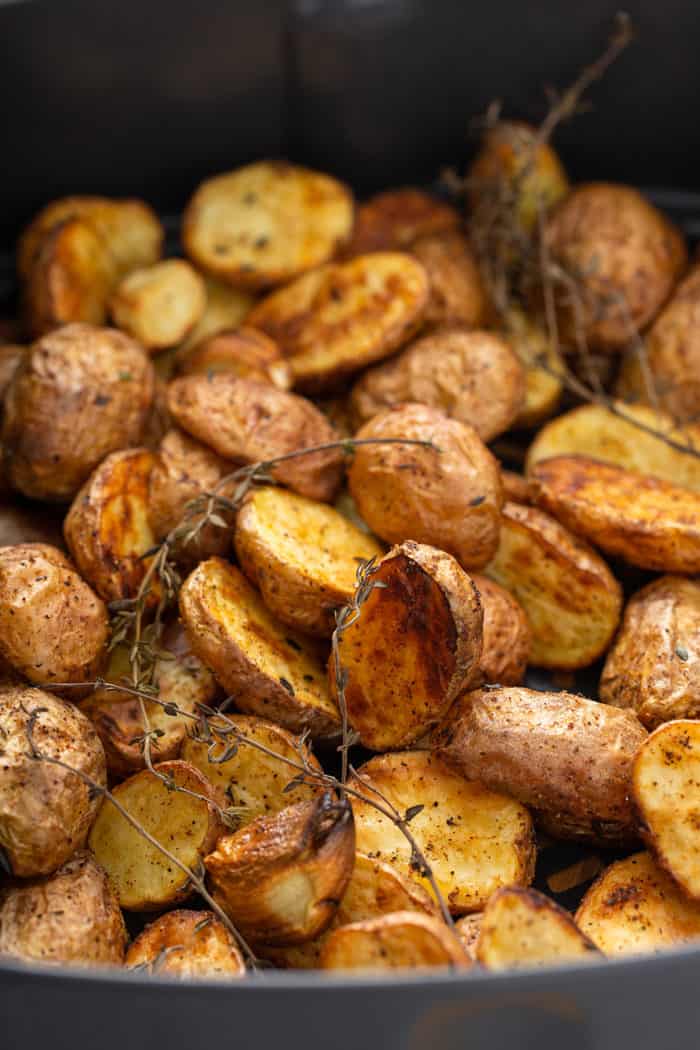 Start by preheating the air fryer to 400 degrees for 10 minutes. You want the air fryer super hot when you add the potatoes so they get as crispy as possible.
While the air fryer preheats, cut the potatoes in half lengthwise. I like to use a mix of petite gold potatoes and petite red potatoes, but you can use whatever you like best. Just make sure the pieces are all similar sizes so they cook evenly.
Rinse the cut potatoes under cool water and let them drain really well.
Toss the potatoes with the olive oil and seasonings. Add the potatoes to the preheated fryer basket, along with some fresh thyme and smashed garlic cloves if you like.
Cook the potatoes for 10 minutes, then give them a stir. Cook them for another 8-12 minutes, until they are crispy on the outside and fork-tender on the inside.
Remove the potatoes to a serving bowl and take out the sprigs of thyme and the garlic cloves, if you used them. Season with additional salt and pepper, if needed. You can also toss them with some whole-grain mustard if you like.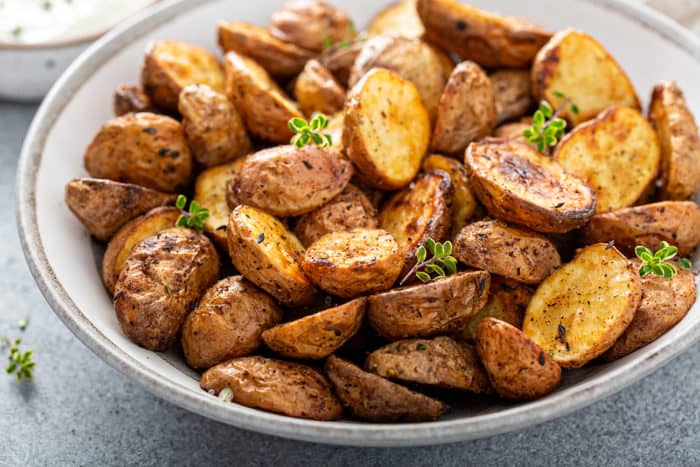 WHAT TO SERVE WITH THESE AIR FRYER POTATOES
There are about a million ways to serve up these potatoes!
Serve them as a side with Easy Meatloaf, Ritz Cracker Chicken, or Baked Pork Chops. They're delicious dipped in garlic aioli!
They are also a good alternative to french fries alongside Old Fashioned Baked Beans and Cheeseburger Sliders or Italian Beef Sandwiches.
And don't forget about breakfast! Serve them with bacon and some fried eggs for a classic diner-style breakfast.