Italian Beef Sandwiches are easy to make using the Crockpot. Topped with cheese and giardiniera, these sandwiches are a cozy comfort food for a dinner or game day snack.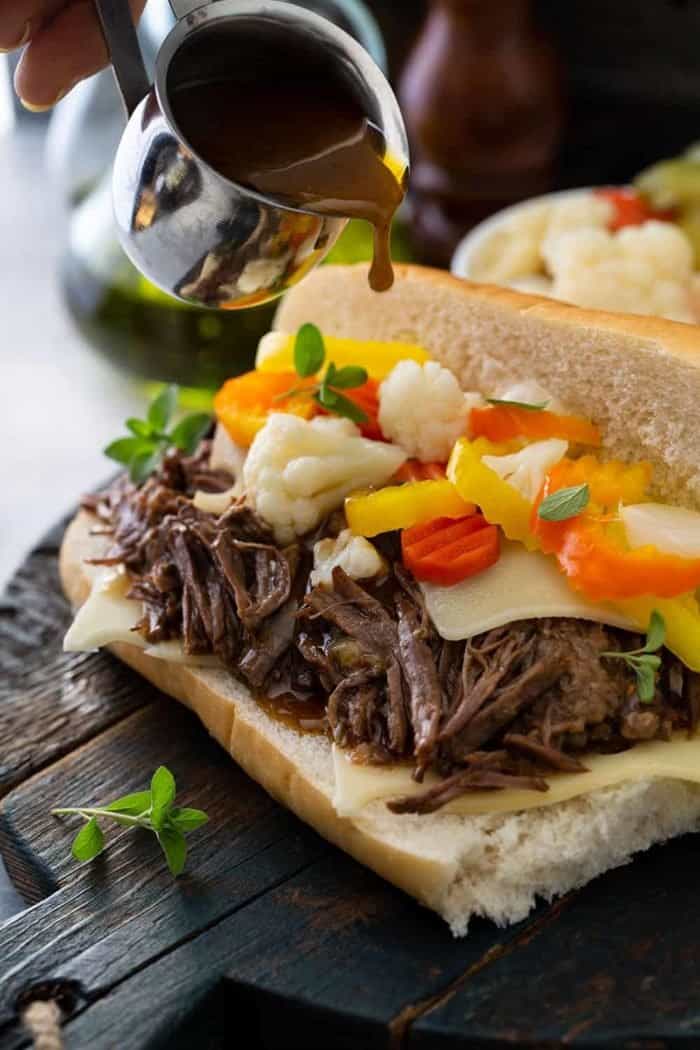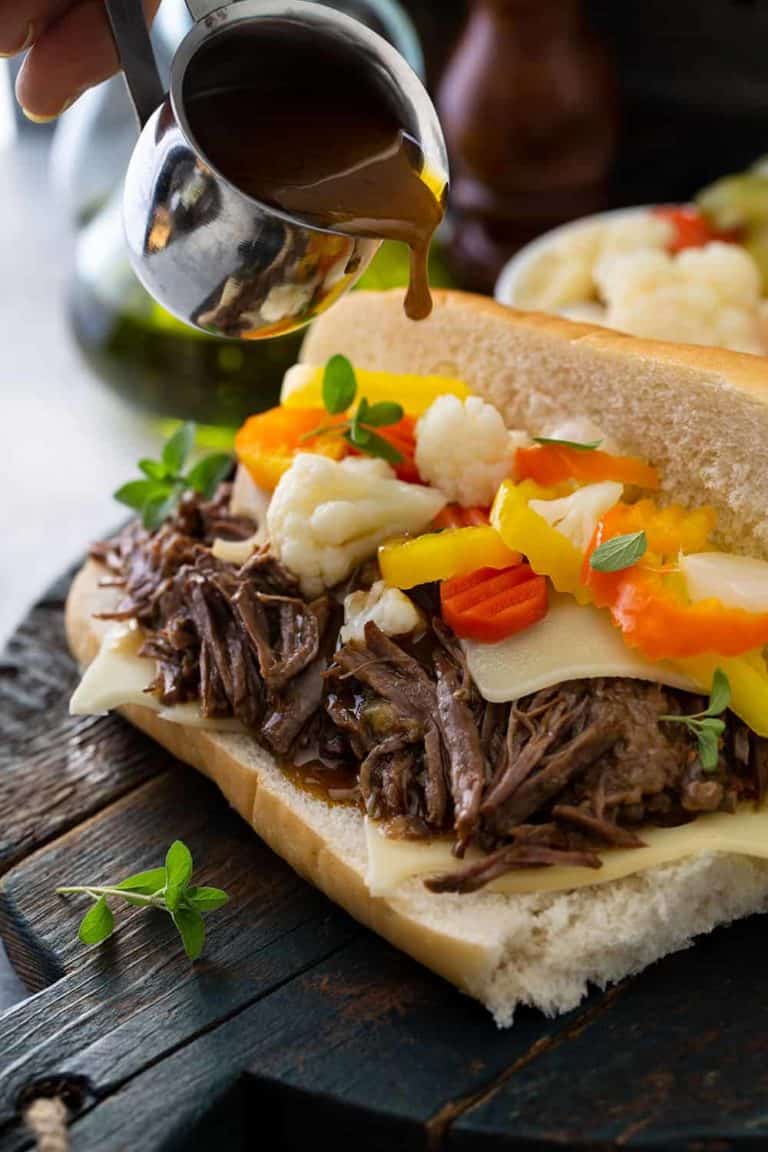 I don't know about you, but I am all about that slow cooker life right now. In fact, I just bought a new fancy one after my older one started burning everything – even on low.
There's just something about tossing a few ingredients into a slow cooker that makes me happy – especially on busy weeknights.
This slow cooker Italian Beef is simple to throw together, but is full of flavor and just perfect for leftovers!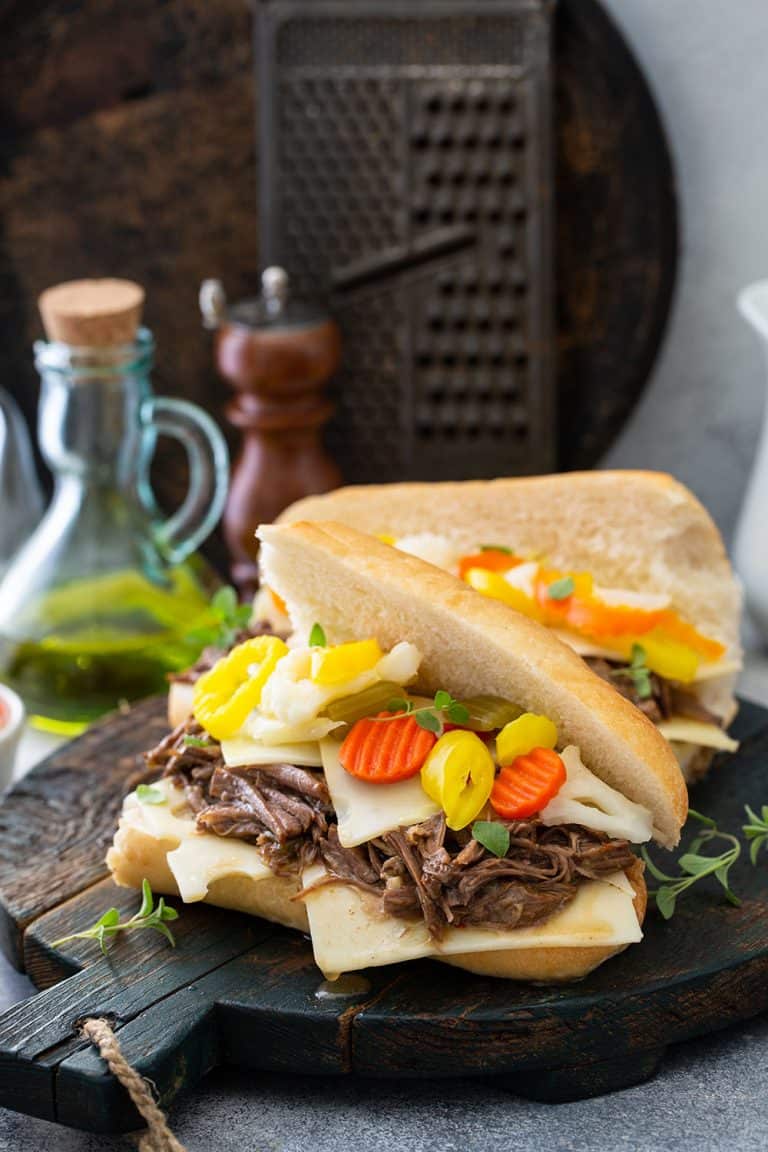 WHAT IS ITALIAN BEEF?
If you've never been to Chicago or aren't from the Midwest, you might not be familiar with Italian Beef Sandwiches.
Italian beef is beef that has been seasoned, slow cooked, and either shredded or thinly sliced, then served on an Italian roll with giardiniera and au jus.
Italian beef originated in Chicago and is one of the city's iconic foods, but don't worry if you've never been to Chicago before. I promise that anyone can enjoy these comfort food sandwiches at home!
Since I don't live near Chicago, it's sometimes hard for me to find the "traditional" Chicago-style rolls or giardiniera, so this recipe is my own spin on the classic.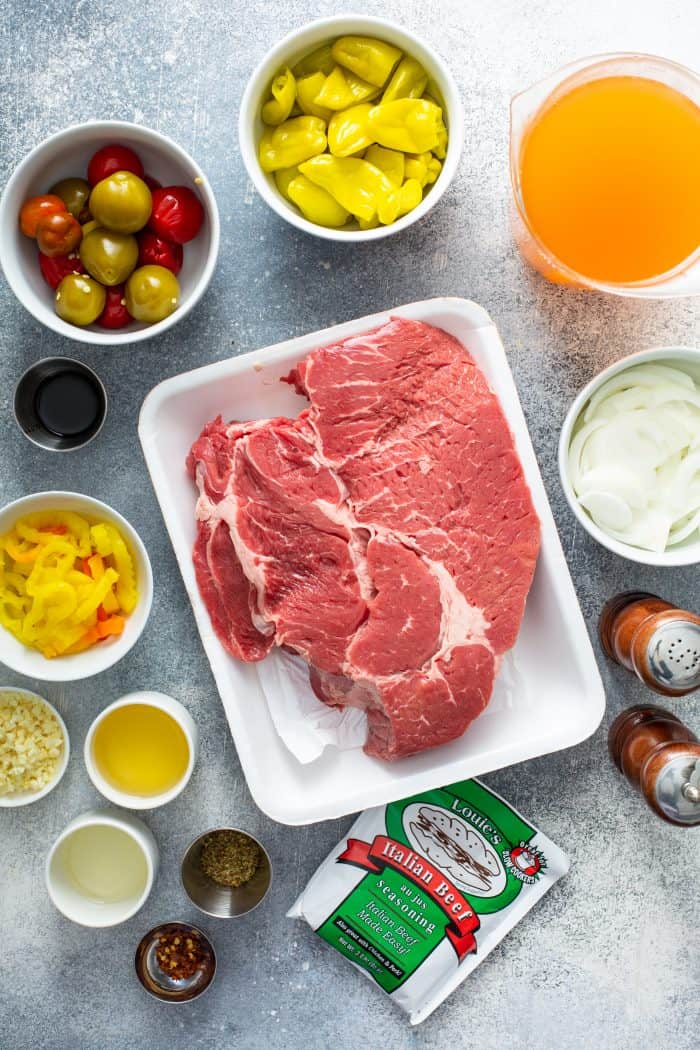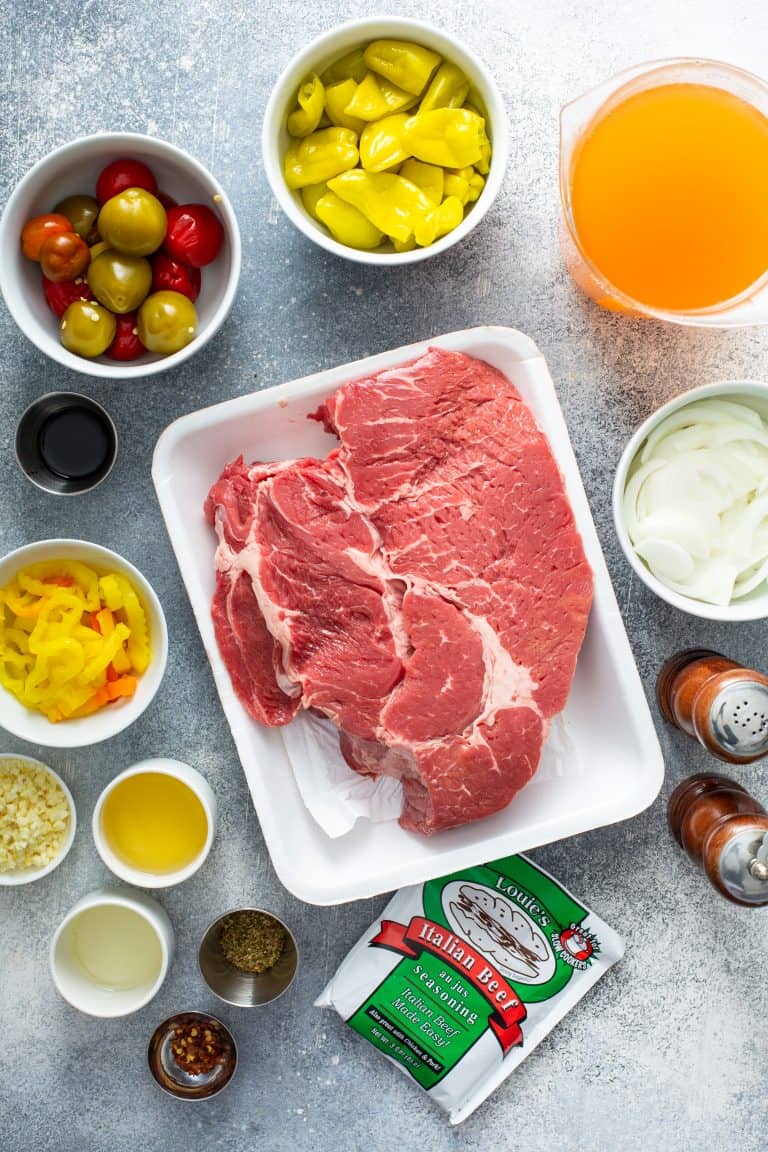 WHAT INGREDIENTS DO I NEED?
Most of the ingredients to make Italian Beef Sandwiches are pretty straightforward: chuck roast, onion, garlic, beef stock, and Worcestershire sauce.
But there are a few ingredients that are what really make this into Italian Beef, and not just your average pot roast.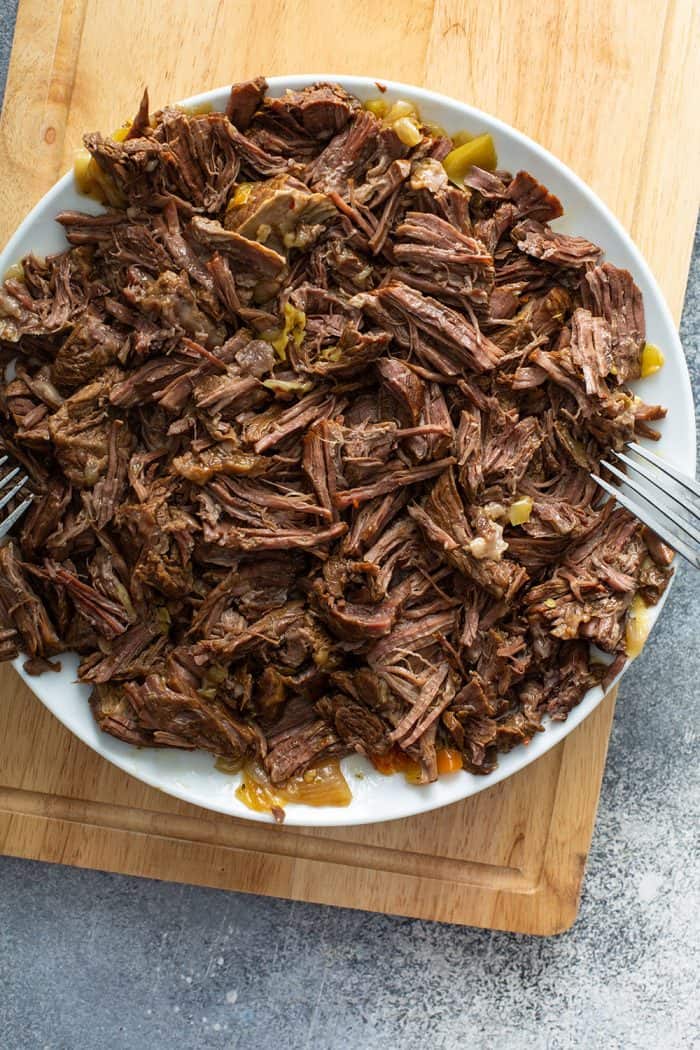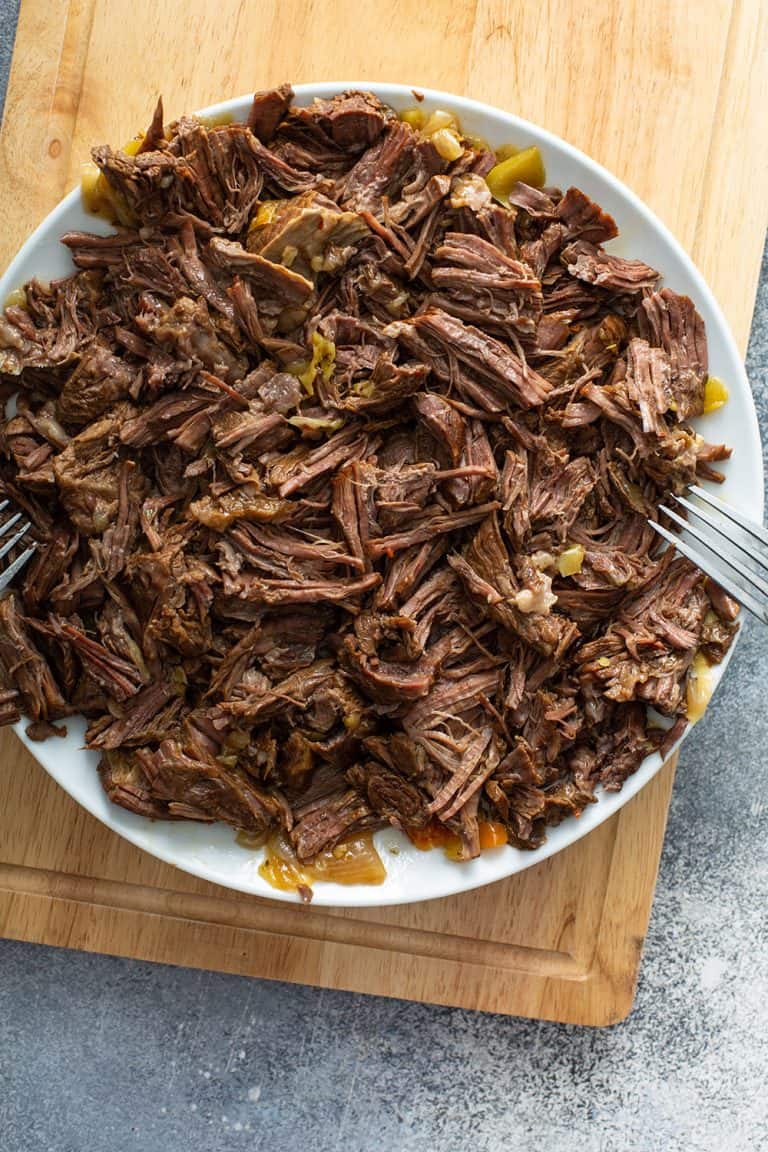 Aside from the beef itself, the star ingredients for these sandwiches are:
Italian beef seasoning
Pickled sweet cherry peppers
Pepperoncini peppers
Banana peppers
Giardiniera mix or spread
I'm not here to tell you what brand of things you have to buy, but I do have a few opinions when it comes to this recipe, okay?
My favorite seasoning for this recipe is Louie's Italian Beef Seasoning. I like to add a little extra dried oregano, but that's really the only extra seasoning I need when using this brand.
As for all of the pickled stuff? I really like Mezzetta brand. There are other good brands of giardiniera and pickled peppers, but the Mezzetta brand is easy to find at most grocery stores and all of their stuff is good.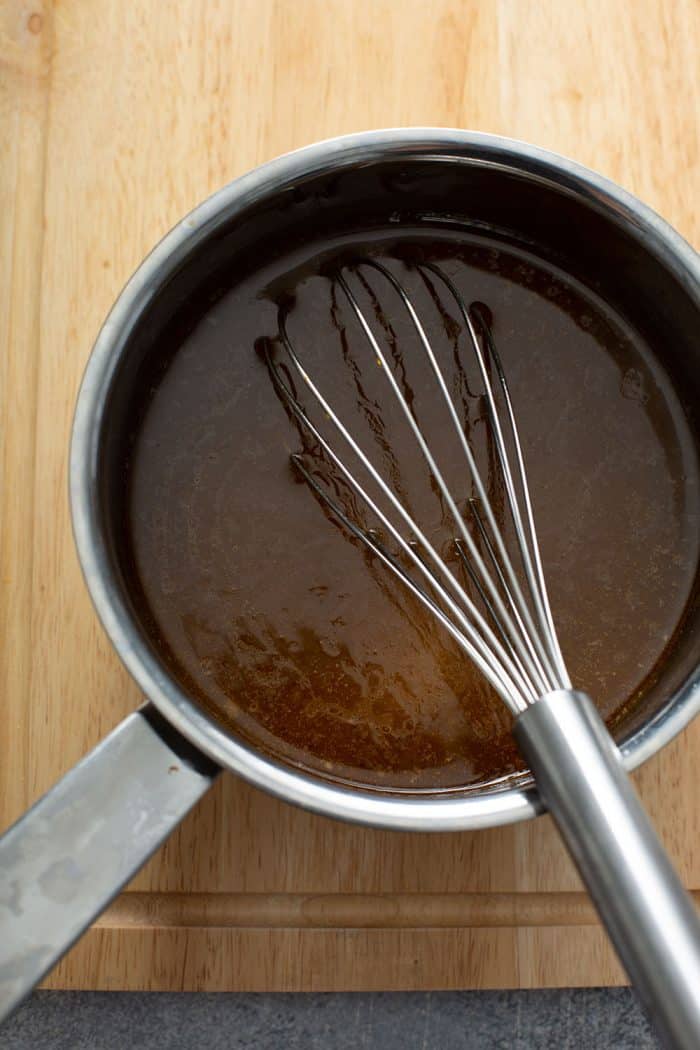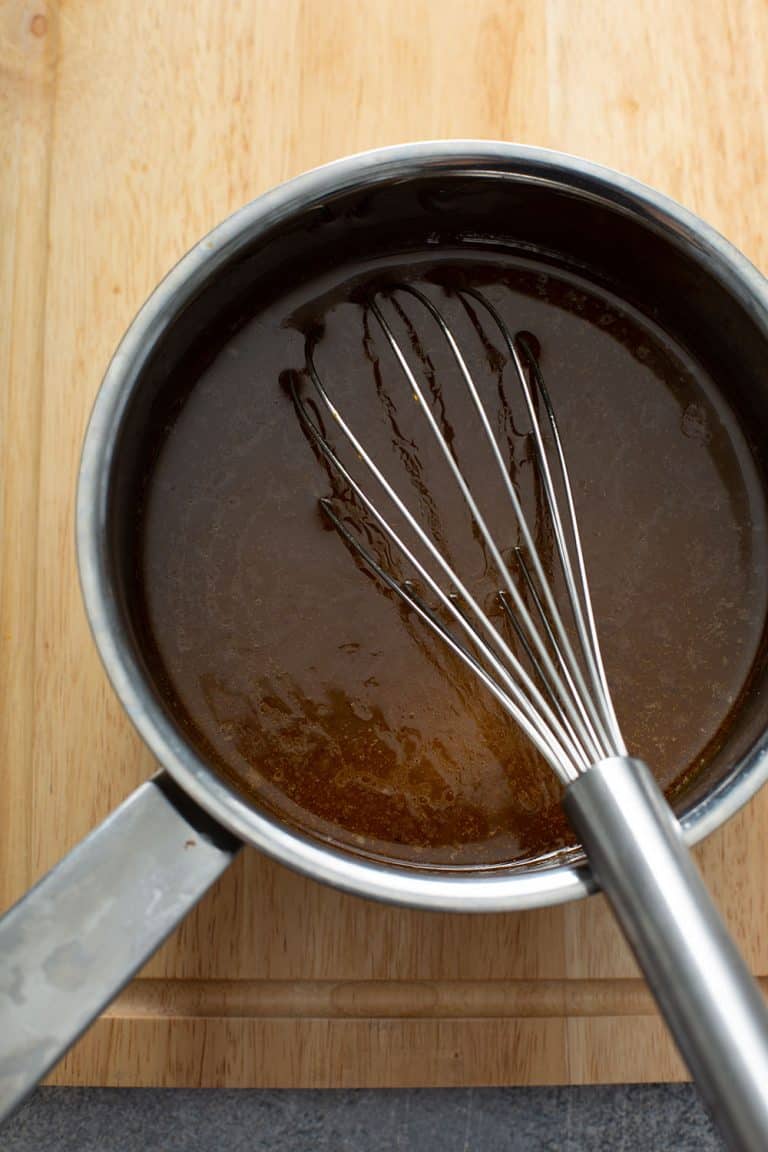 WHAT IS GIARDINIERA?
We like to top our Italian Beef Sandwiches with sliced banana peppers and giardiniera, but you really only need the giardiniera to be really traditional.
Giardiniera is a relish of pickled vegetables. It usually has peppers, carrots, cauliflower, celery, and gherkins.
Giardiniera can be mild or hot, so it's easy to amp up the spice if you like things really hot. You can make homemade giardiniera, but there's no shame in buying it from the store.
While I tend to buy mild to medium banana peppers and pepperoncini for the beef itself, I like to top my sandwich with a nice hot giardiniera. You could use hot peppers throughout the recipe, though, if everyone in your family is all about the heat!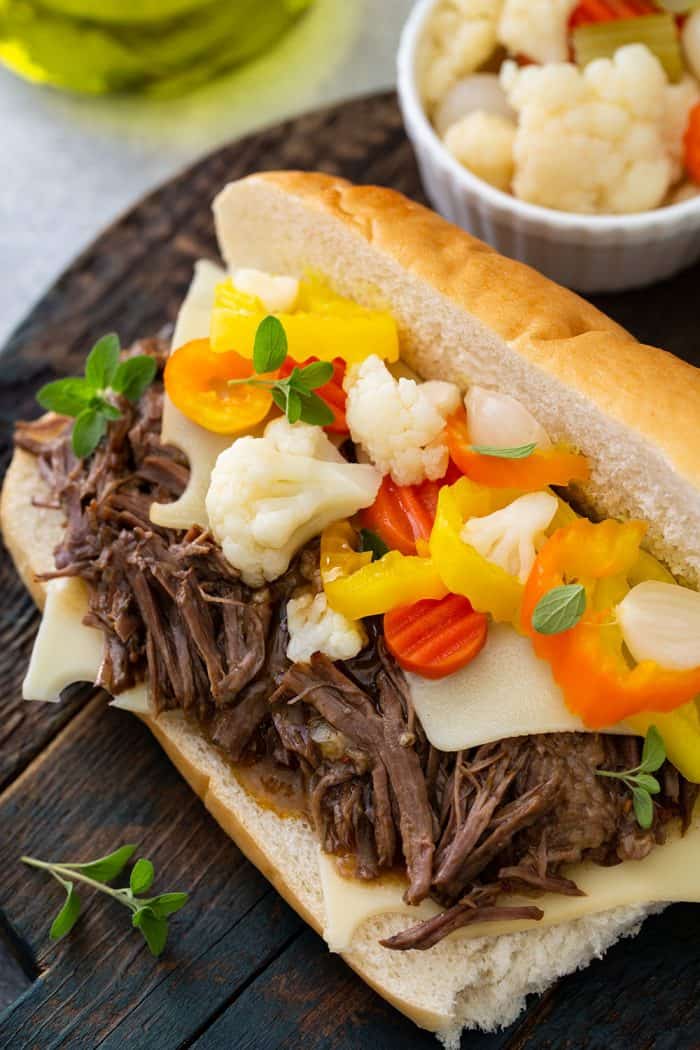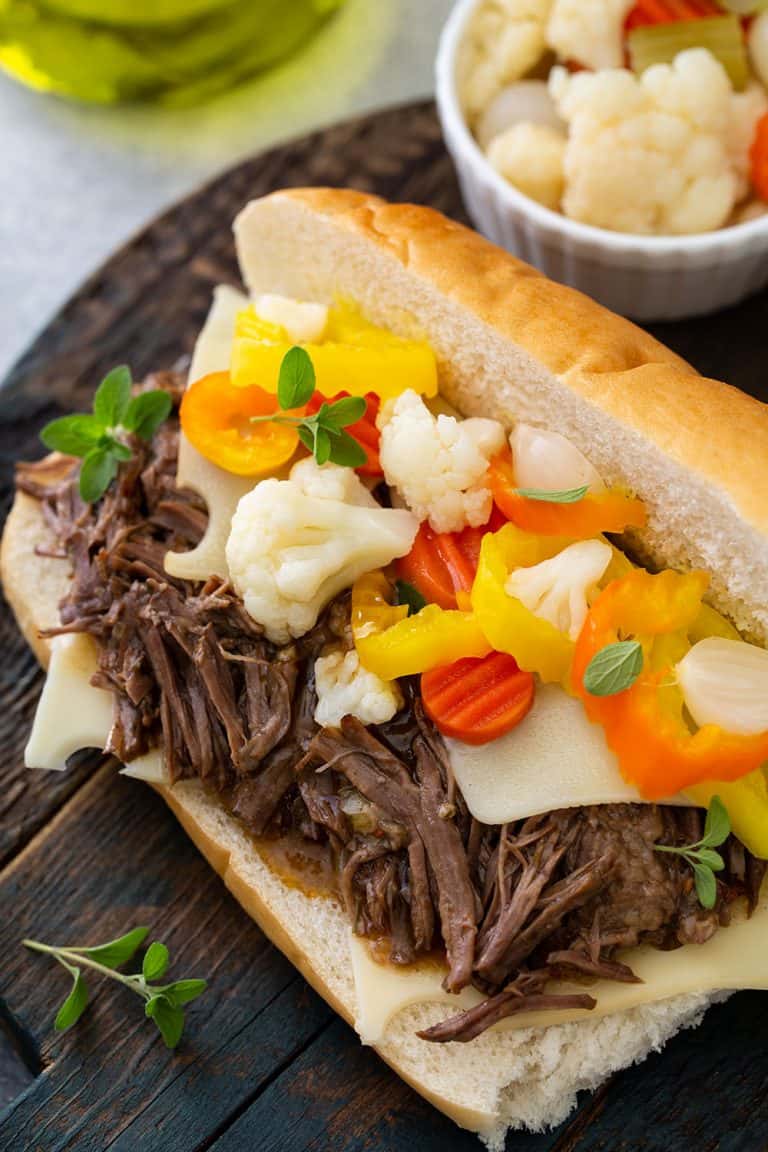 HOW TO MAKE ITALIAN BEEF SANDWICHES
Just like with my Easy Crockpot Pulled Pork, we're gonna use the slow cooker to do most of the work for us.
Start by searing your roast in a Dutch oven or cast iron skillet. While you can technically skip this step if you're short on time, it really adds a lot of flavor.
Once the meat is seared, add it to a large Crockpot with the sweet cherry peppers, the pepperoncini, some of the banana peppers, onions, garlic, and all of your seasonings and beef stock.
I also add some of the sweet cherry pepper brine to add some extra brininess to the gravy later on.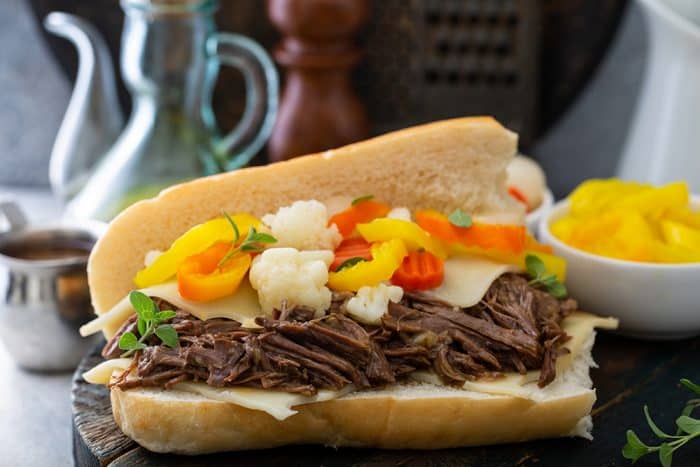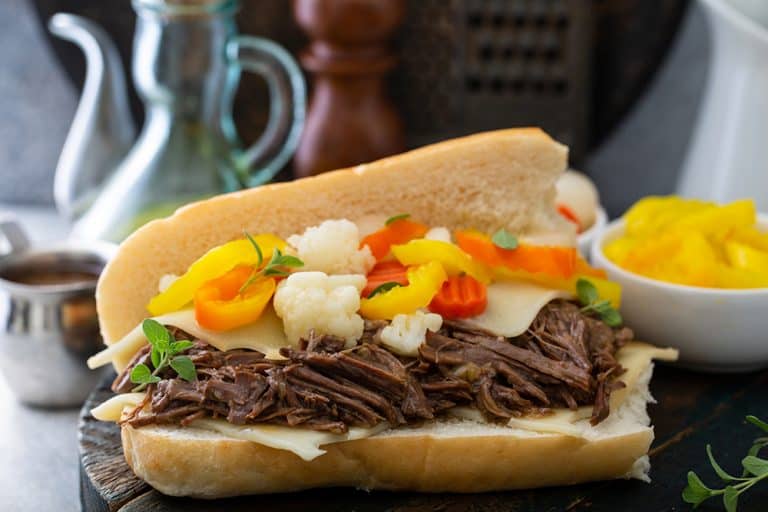 From there, let your Crockpot do its thing for 8-10 hours. Go to work, do some chores, take a nap…it's up to you.
When the meat is done cooking, it'll be super tender and falling apart. Take it out of the slow cooker and shred it up.
Then strain the rest of the solids from the cooking liquid and add the liquid to a saucepan. Simmer it until it has reduced considerably and thickened. This is your au jus!
Assemble your sandwiches with a hearty portion of the meat on a hinged roll, such as a French roll, Italian roll, or hoagie roll. Top it with sliced cheese if you like, and plenty of banana peppers and giardiniera.
I like to drizzle the au jus over my sandwich, but my husband prefers to dip his. If you want to really serve it like they do in Chicago, dip the entire sandwich into the au jus before serving!
(I'm not into mushy bread, though, so I'll stick to drizzling my au jus.)
Serve it up alongside Jo Jo Potato Wedges, chips with French Onion Dip, or a salad with homemade Blue Cheese Dressing to make a full, hearty meal.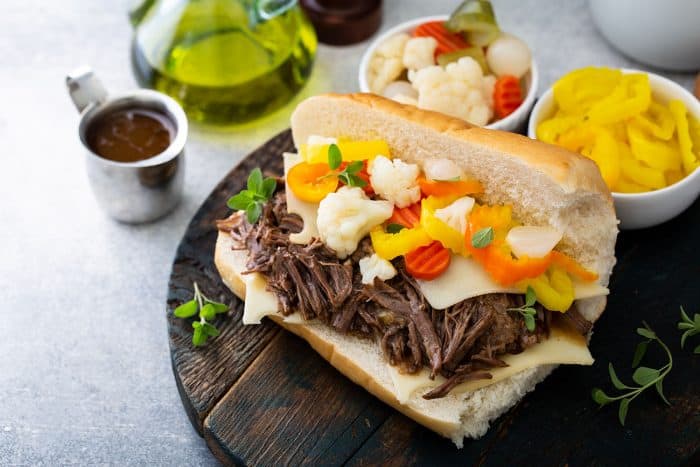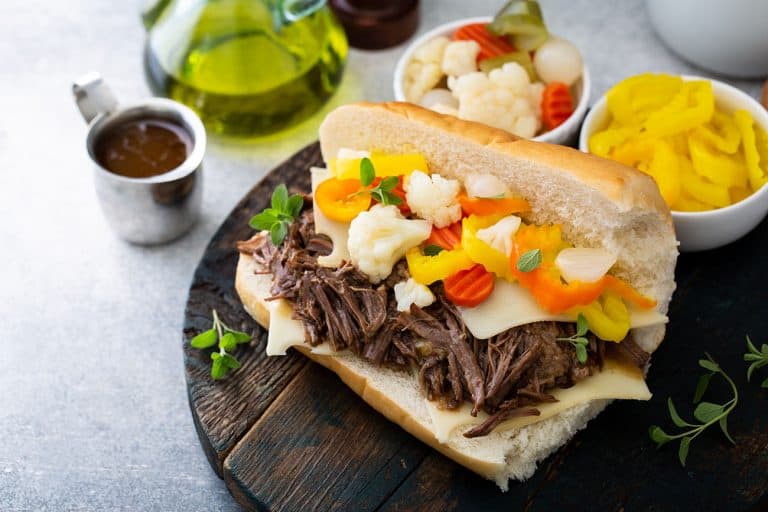 CAN YOU FREEZE ITALIAN BEEF?
The nice thing about making slow-cooked beef like this is that it freezes well.
You could cool and freeze the meat immediately after cooking, then make the au jus before you serve it. Or you could make the au jus and freeze it in a separate container from the Italian beef.
You could also freeze it all in one big batch or portion it out into smaller containers for making just a couple sandwiches at a time.
Either way, it's a great recipe to make ahead for easy weeknight dinners, or even take to a friend or loved one who needs a bit of a pick-me-up dinner! Comfort food is always a win.